Valet Public Space Redesign, Masterplan Redesign, Italian City Landscape Architecture Images
Valet Public Space Redesign in Milan
11 Apr 2021
Valet Public Space
Design: Vudafieri Saverino Partners
Location: Milano, northern Italy
A new cityscape for Milan: here comes Valet, a strategy to transform roads into urban gardens Valet is a project for rethinking public space, creating new outdoor areas, pedestrian spaces, dehors for dining and socialising.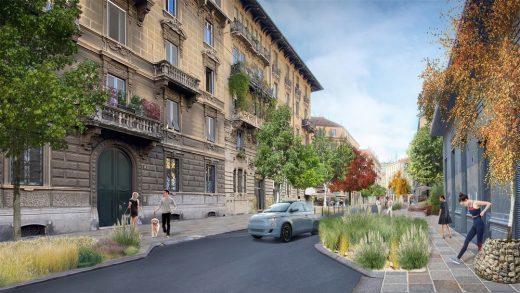 Redesigning roads means changing the face of the city, improving its economic and social life. A case study in downtown Milan.
The history of cities tells of a constant process of adaptation, modification and evolution. Often conditioned by great historical events like migrations, wars, epidemics and climate change. The Covid-19 pandemic will also impact the urban system, focusing attention on the conversion of public spaces and imposing temporary measures to manage social distancing but above all prompting reflections on how to trigger processes of economic and social renaissance. The key to development will be the neighbourhoods, with interventions that make them increasingly livable, people-friendly, safe, accessible and economically dynamic.
This is the context that spawned Valet: a city development strategy that puts roads at the centre. Born out of an idea of Milan based architecture studio Vudafieri-Saverino Partners, the project was developed by a team that involved two other Milanese architectural practices:
PRR Architetti and Lorenzo Noè.
Valet is a parklet system that generates new open-air spaces for shops and terraces for restaurants, transforming roads into livable spaces that are green and friendly. The key is the prefabricated system of modular plates.
Italcementi's high-tech lightweight concrete elements For their choice of materials, the designers called on the support of Italcementi, Italian leader in building products and solutions. The research and innovation centre of Italcementi has developed high-tech lightweight concrete elements oriented toward sustainability, specific for urban paving: draining, with recycled materials, photocatalytic to reduce pollutants, aesthetic to combine beauty, safety and practicality, clear-coloured to combat high temperatures and reduce, especially in summer, the "heat island" effect that overheats urban centres.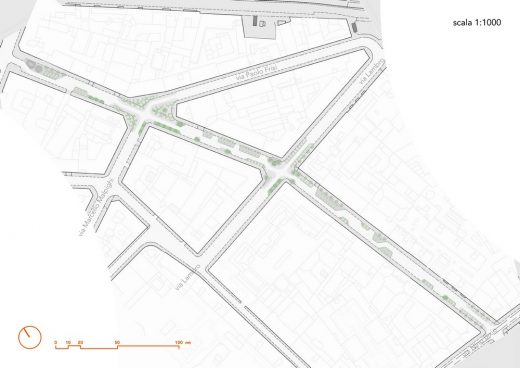 Elements built in concrete transform the carriageway or rest areas into pavements that are on a level with the pedestrian area. A system designed to reduce construction times and costs: lightweight but very strong, modular and readily industrialised, it can be adapted to suit any solution and can be installed on any road easily without any preparatory work. The plates have been designed as motherboards on which to set the greenery and other elements that transform the street setting: shrubs and trees, awnings and sun-shades, furniture and lighting.
The aim is to achieve a complex, open streetscape where the elements dialogue with one another and the passers-by, on foot, by bike or by car, feel they are in a world asking to be explored. A scenario where greenery is front and centre: shrubs mark boundaries and protect, while trees attract and shade. The species planted will be chosen with the idea of improving the acoustic relationship between the road and populated area decreasing temperature peaks in summer by providing shade.By converting the new social distancing rules into opportunities, the project aims to encourage sociality, where people retake possession of public spaces, streets become gardens and crossings becomes squares. Valet enables the transformation of entire neighbourhoods into green sites that are friendly and safe and enjoy better thermal and acoustic inertia.
Valet uses only part of the parking spaces, reducing the section of the carriageway in order to help lower the speed of cars and transforming the road into a "compatible mixed traffic zone". Redeveloping the road means acting on people's quality of life, the profitability of
commercial activities and the aesthetic impact of the urban landscape.
The parklet is an example of tactical urbanism: an innovative way of doing urban planning, based on interventions that aspire to create new public spaces. These interventions allow to experiment a different use of city spaces and implement long-term strategies to promote
neighbourhood liveability.
The parklet is an extension of the pavement that offers more space and services for citizens using the street. They are extensions of the pedestrian area designed for people, offering somewhere to stop, sit and rest while various activities take place.
Case study: Melzo Street in Milan
The first venue for an urban application of Valet is Melzo Street. Located in the Porta Venezia district, this is an ideal example of the transformative power of its applied design. Vudafieri-Saverino Partners, PRR Architetti and Lorenzo Noè have worked with citizens, dealers and local authorities to define a tangible redevelopment proposal and face the challenge of an economic and social recovery.
The intervention postulates the conversion of the entire road into an area with a 30 kph speed limit. The carriageway – which retains the one-way direction – is narrowed down by subtracting surface area from parked cars. This strategy allows the pavement to be widened on both sides, through the use of parklets.The track thus loses its straight line nature in favour of a route dotted with inlets, recesses and widenings.
These are useful not only as areas for placing bars and restaurants' dehors, but also to reduce driving speed. Simplified in this way, the carriageway is shared between cars and bicycles, leaving to pedestrians the broad pavements: areas equipped with street furniture and greenery that make it an ideal place to stop and socialise.
The birth of the project: 2020, chronicle of a new beginning
The quality of our lives has changed considerably over the last 50 years, a result of the integration of services and technologies that have improved many aspects of home and work.
If we look at city streets, however, little has changed: even today, the way they are designed is based on the idea of stimulating car traffic, rather than inviting people to stop and enjoy the scene.
The story of 2020 has introduced a new element into design: the rules of distancing, which have to be complied with if we are to combine safety and sociality. This new, apparently detrimental and hopefully temporary situation has generated Valet: the opportunity to put people back at the centre.
A working group has thus been set up to rethink the role of streets as the most important infrastructure for giving cities back their people-centric neighbourhoods while at the same time allowing activities such as bars and restaurants to use public land and arrange tables and
chairs in a coordinated and not random way, while respecting distancing between visitors.
The historical context of all thisis one in which cities are progressively reducing the centrality of the car. It is precisely this rediscovered space that generates the most interesting opportunities for redesigning street layout and functions, putting people and greenery where
cars and parking spaces used to be.Valet Manifesto: the road-centric city When people think of cities, they often refer to a set of buildings, monuments, infrastructure and roads. In actual fact, the origin of each of these elements is related to the presence of the people who live in them and pass through them. The way people move around the city, enjoy its spaces and meet up with each other, defines how it operates and, consequently, the quality of life of its inhabitants. Even more than buildings, cities are characterised by the public spaces that remain between buildings. Spaces where people hang out, meet, socialise, where economic activities are carried on and services provided. Roads set the stage for city life, and on average they account for 25% of their surface area.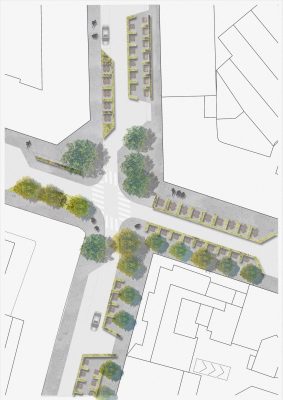 Working on the form and function of urban roads, the quality of their furnishings, the relationship between the different categories that use them – pedestrians, cyclists, motorists, commercial services, etc. – means working on the most important infrastructure to change the
very face of the city, improve the quality of life of the inhabitants and the economic viability of the businesses that stand on those roads. In a historical period dominated by urban concentration, where the urbanisation of population is one of the greatest challenges of the century, working on how streets are designed and conceived is a key issue for the future of the planet.
Valet: benefits and positive externalities of the system
1. Promotion of slow mobility
2. Decrease in the level of congestion: flows are slower but more fluid; median speed increases
3. Reduction in the number of road accidents
4. Revitalisation and diversification of trade are incentivised
5. More tourists and visitors are attracted
6. Real estate values (sales and rentals) increase
7. Social integration interactions are encouraged to grow
8. A higher level of perceived security is created
9. Temporary extension of catering areas with social distancing
10. Increased greenery reduces solar radiation, diminishing temperature peaks in summer
11. Traffic reduction and the presence of greenery improve the noise ratio between road and inhabited area.
12. The significant, structural and permanent inclusion of green spaces, significantly modifies the perception of quality of urban spaces, transforming "no-places" in socially oriented public spaces
Valet Public Space Redesign in Milan, Italy – Project Information
Credits Concept: Vudafieri-Saverino Partners, Tiziano Vudafieri e Claudio Saverino
Arhitectural Project: Vudafieri-Saverino Partners, Lorenzo Noè Studio, Stefano Rigoni PRR Architetti
Press Office: Nemo Monti
Vudafieri-Saverino Partners
Faithful to the Milanese creative atelier tradition, the studio's work, guided by Tiziano Vudafieri and Claudio Saverino flows between architecture, interior design, retail fashion, hotel and food design, facing both the great urban, landscape and society themes along with
residential, commercial and industrial location architecture.
Vudafieri-Saverino Partners has offices in both Milan and Shanghai and over the years has developed projects in almost every country and continent.
Stefano Rigoni – PRR Architetti
After graduating from the Faculty of Architecture of the Milan Polytechnic with a social housing project in the historic center of Lima, Peru, from 1992 to 1995 he moved to Berlin, where he worked at the studio of arch. K.T. Brenner, following competitions, projects and realizations, including, as Project Manager, the construction of the Block 109 tertiary building on Friedrichstrasse. In 1996, after a short collaboration with the architect Dante Benini's studio, he founded PRR Architetti with Sara Pivetta and Stefania Restelli, today with offices in Milan and Saronno. With PRR Architetti he works in both the public and private sectors, developing projects in Italy and abroad on an architectural and urban scale, informed by great attention to the issues of economic sustainability, the durability of materials and technical simplification. In PRR Architetti he personally follows the development, management and implementation of the studio's projects; he was Local Architect for the construction of the Israel Pavilion in Expo Milano 2015. As artistic director of companies in the construction sector, he has developed new lines of microbuildings and prefabricated reinforced concrete components. Since 2010 he has been involved in the institutional activities of the Order of Architects of Milan, where he is currently a Secretary Councilor.
Lorenzo Noè
Graduated from Politecnico of Milano, Lorenzo Noè opened his own professional studio in 1993 that deals with the design of architectures and public spaces.
During the last twenty years the studio has developed many kinds of public projects: hospitals, schools, parks and public spaces. The approach to the project is based on two simple concepts: the architecture is knowledge of the world and it affects everyone.
The involvement of the client and keeping a limited budget are stimulating and not obstacles to creativity. Less conventional assignments like temporary accommodations of tactical urbanism and urban gardens are part of the firm's activity.
Some works have been selected for national and international awards such as the Far Eastern Prize Virtual Architecture (2000) and the Gold Medal for Italian Architecture (2012). The project of via Regina Public Garden in Brienno won the first prize of the Biennale of Public
Spaces in Rome for the historical cities section in 2011, the Urban Quality and Innovation Prize – 8th edition in 2013 and the special jury prize WAN Landscape Award in 2014. Besides the activity of the studio, Lorenzo Noè is a teacher too.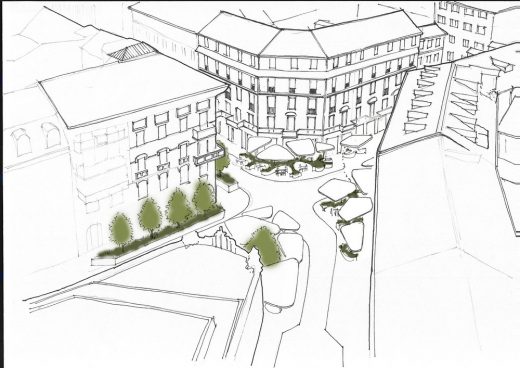 Valet Public Space Redesign in Milan images / information received 110421
Location: Milano, northern Italy, southern Europe
Milan Architecture
Contemporary Architecture in Lombardy
Residenze Carlo Erba
Design: Degli Esposti Architetti, Eisenman Architects, AZstudio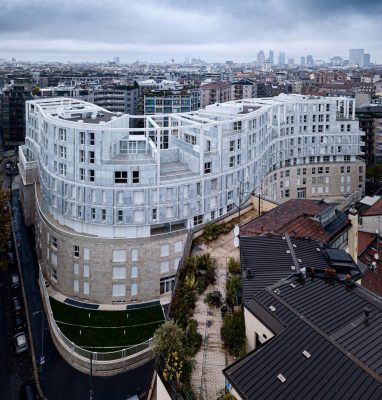 photo courtesy of architects
Residenze Carlo Erba Milano
New Milan Football Stadium Building
Architects: Populous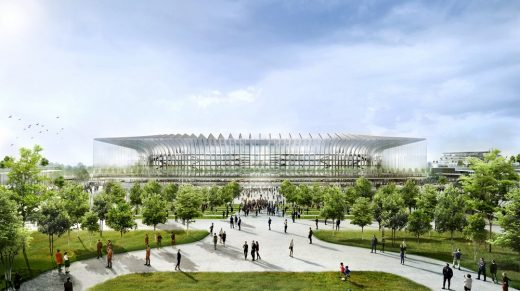 image Courtesy architecture office
New Football Stadium: The Cathedral
MEET Digital Arts Center
Design: CRA-Carlo Ratti Associati and Italo Rota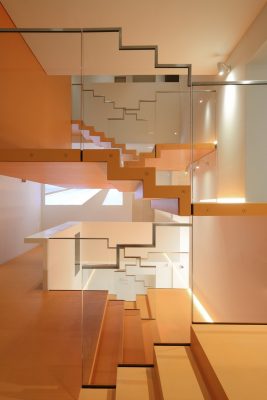 photograph : Michele Nastasi
MEET Digital Arts Center
Generali Tower
Design: Zaha Hadid Architects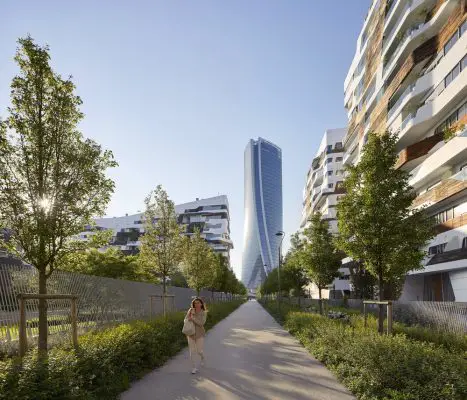 photo © Hufton + Crow
Generali Tower Building Milan
Biophilic Office Building Designs
Contemporary Biophilic Office Architecture
Biophilic Office project, BRE, Watford, England, UK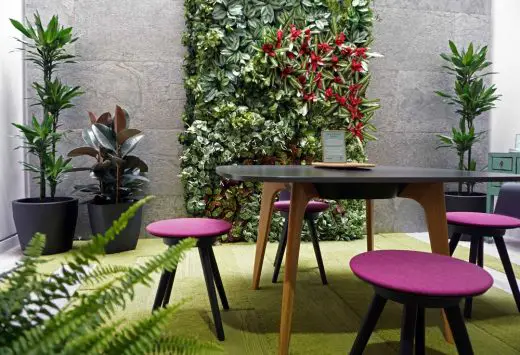 image Courtesy of BRE
Biophilic Office Project at BRE, Watford
World first biophilic design research project connects buildings with nature – A live office refurbishment will provide environmental and human data as evidence for positive health and wellbeing impacts on office occupants.
Acciona Ombú Office Building, Madrid, Spain
Design: Foster + Partners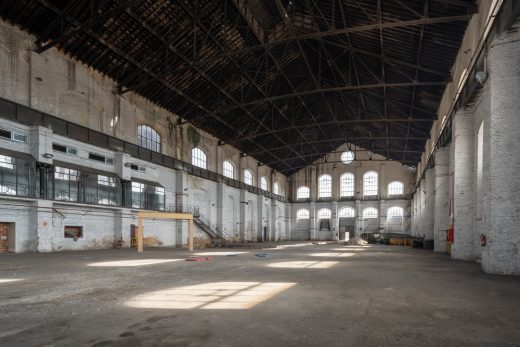 image © Rubén Pérez Bescos / Foster + Partners
Acciona Ombú Office Building
Construction on a new office building for Acciona, the Spanish sustainable infrastructure and energy company, is in full swing. The project seeks to revitalise an abandoned old industrial building built in 1905, creating a sustainable exemplar for building reuse and breathing new life into the surrounding area.
MITOSIS Biophilic Regenerative Ecosystem , Soest, The Netherlands
Architects: GG-loop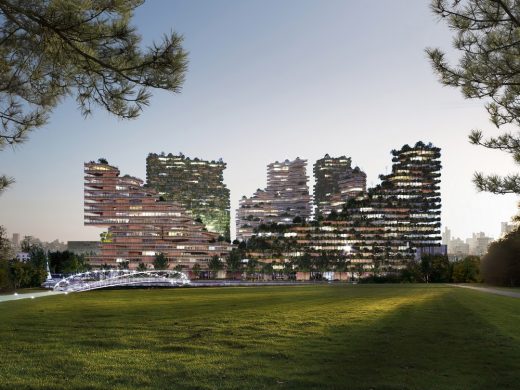 image courtesy of architects practice
MITOSIS Biophilic Regenerative Ecosystem
MITOSIS Biophilic Regenerative Ecosystem answers the need for healthy homes has hardly ever been more apparent than during the current global condition. The current efforts to reduce the negative impacts of buildings are inadequate.
Comments / photos for the Valet Public Space Redesign in Milan page welcome