Triennale Milano Ukrainian Pavilion News, 23rd International Exhibition Italian Development, Design Italy
Triennale Milano – Ukrainian Pavilion
1 March 2022
Location: Milan, Italy, Europe
The Triennale Milano: Ukrainian Pavilion
In light of the invasion of Ukraine, Triennale Milano announces that it will be hosting a panel to address how the Ukrainian Pavilion of the forthcoming 23rd International Exhibition can address the conflict and provoke action on the 9th of March at 6:00PM (CET).
Hosting Ukrainian artists, curators, historians and philosophers, the panel will present the series of events (meetings, reflections, conversations) to be hosted at Triennale Milano in the six month lead up to the unveiling of the Ukrainian Pavilion at the 23rd International Exhibition.
Triennale Milano – Ukrainian Pavilion 2022
Triennale Milanon Invites Artists, Intellectuals, And Scientists From Around The World To A Platform Of Dialogue On Ukrainen
• The panel will address how the Ukrainian Pavilion at the forthcoming Triennale Milano International Exhibition can address the conflict and provoke international action
• Panelists include Ukrainian philosophers, curators, artists, journalists and historians
• First meeting: March 9, 2022 at 6:00PM (CET)
• Live stream available
On the occasion of the 23rd International Exhibition, which will open at the beginning of the summer, Triennale Milano intends to guarantee the presence of the Ukrainian Pavilion, together with the pavilions of the many other countries that have signed up for the next International Exhibition.
To this end, Triennale Milano intends to promote a series of events (meetings, reflections, conversations) in preparation for the Ukrainian Pavilion. These events will be presented at a public meeting on March 9, 2022 at Triennale, and will involve Ukrainian and international artists, intellectuals, and scientists who are committed to defending the values of freedom, democracy and dialogue between peoples across the world.
Among them the Ukrainians Mikhail Minakov, philosopher, Katia Kabalina, curator, Katerina Pischickova, political scientist, Anna Zafesova, journalist, Yevgenia Belorusets, artist, Konstantin Sigov, historian, Antonii Baryshevskyi, pianist, Anna Gadetska, Program Director Open Opera Ukraine, and Albert Saprykin, Co-Founder & Head Kyiv Contemporary Music Days, along with many other exponents of the most diverse disciplines and backgrounds, whose names are being added by the hour.
Since 1928, Triennale Milano is the only international cultural institution to form part of the BIE Bureau International des Expositions. Stefano Boeri, President of Triennale Milano, says that: "In such dramatic times, we believe that a cultural institution like Triennale Milano can act as a relay station, making known what is happening in Ukraine and giving voice to Ukrainian culture in Italy and around the world, making it possible to exchange the opinions and the information between the various cultures and their institutions that the war today risks cutting off at any moment."
Planeta Ukrain, the platform preparing the way for the Ukrainian Pavilion at the next Triennale, will be curated by the writer Gianluigi Ricuperati with Lidiya Liberman, actress, and Anastasia Stovbyr, pianist, and will be active during the six months leading up to the next Triennale Milano International Exhibition.
War will not triumph over dialogue and interaction.
9 March 6:00pm (CET)
Triennale Milano: Ukrainian Pavilion images / information 010322 from Alpha — Kilo
More news from Triennale Milano:
The installation consists of the faithful reconstruction of Ettore Sottsass's mid-1960s oeuvre, Casa Lana.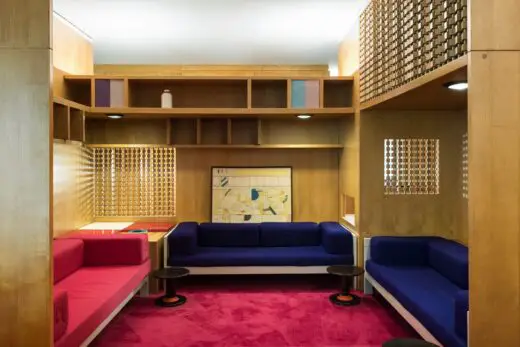 photograph © Triennale Milano – foto Gianluca Di Ioia
Sala Sottsass at Triennale Milano
Biography
Ettore Sottsass (September 14, 1917 – December 31, 2007)
Ettore Sottsass was born in Innsbruck, Austria, in 1917. He received a degree in Architecture from the Turin Polytechnic in 1939, after which he opened his own architecture and design office in Milan, in 1947. Parallel to his professional work, he held solo shows for his paintings in Italy and abroad, participated in group art exhibitions and was showcased at several editions of the International Exhibition of Triennale Milano.
His collaboration with Olivetti began in 1958 and lasted for over thirty years, during which he received three Compasso d'Oro design awards. Among the items he designed for Olivetti are: Elea, the first Italian electronic calculator, in 1959; Tekne 3, Praxis 48, the red portable typewriter Valentine and Sistema 45. Throughout the 1960s and early 1970s, Sottsass's work explored the themes that would become central to his designs in the years to come: it was during this period that he laid the foundations for what would later be called Nuovo Design Italiano.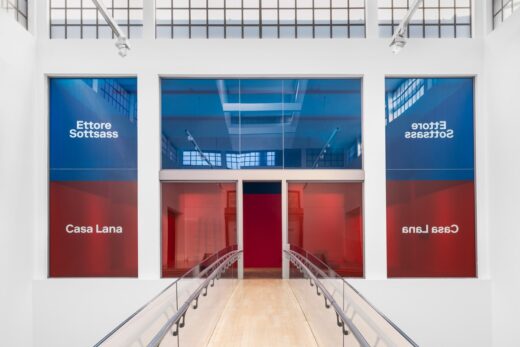 photo © Triennale Milano – foto Delfino Sisto Legnani e Alessandro Saletta – DSL Studio
Sottsass' Ceramiche delle Tenebre were made in 1963 and the 100 plates, titled, Offerte a Shiva were made in 1964. Of the same year are the first pieces of furniture in wood/ceramic for Poltronova. His Superbox were designed in 1965 and 1966 and so are the large ceramic pieces Menhir, Ziggurat, Stupas, Hydrants and Gas Pumps, showcased in Milan at Galleria Sperone in 1967. The show at Centro Fly Casa, Milan, opened in 1966, while the exhibition Paesaggio per un Pianeta Fresco opened in Stockholm in 1969. Finally the ceramics Tantra, Fumo and Yantra belong to the years 1968- 70 and the Mobili Grigi for Poltronova to 1970. In 1970, after a tour of conferences in different British universities, Sottsass received an honorary degree from the Royal College of Art in London.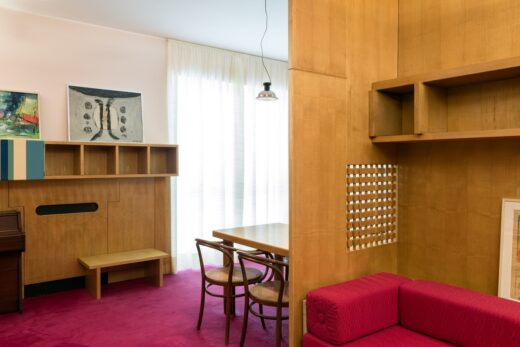 photo © Triennale Milano – foto Gianluca Di Ioia
In the second half of the 1960s, Sottsass starts Pianeta Fresco, a magazine coedited by Allen Ginsberg and Fernanda Pivano and he is involved in the first debates on Radical Architecture, followed, during the beginning of the 1970s, by several conceptual counter-design works. Other designs of note are for Italy: The New Domestic Landscape (MoMA,1972); the silkscreen series Il Pianeta come Festival, 1972; the tables and stools for BBB and Tappeto Volante for Bedding Brevetti, 1974.
Throughout these years, Sottsass didn't stop writing and publishing for Domus, Casabella, and other magazines and books. In 1978, 1979 and 1980, he participated in the exhibitions of the Alchymia group. In 1980 he founded Sottsass Associati Studio and Memphis.
In 1981 the first Memphis exhibition opened in Milan (shows will follow until 1987). Memphis, gathering internationally known architects and designers, quickly became the symbol of Nuovo Design and point of reference for all contemporary avant-garde directions.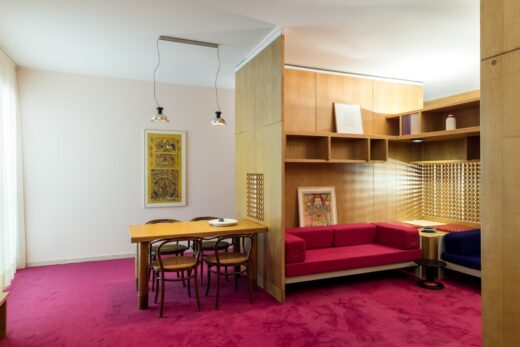 photo © Triennale Milano – foto Gianluca Di Ioia
In 1988, with Barbara Radice, Sottsass founded the magazine Terrazzo, in which the themes of Nuovo Design Italiano, explored by Memphis, were developed and extended to architecture and contemporary culture. Starting from 1985, Sottsass began focusing again on architecture.
Built designs: Wolf House (Colorado 1987-89); Bischofberger House (Zurich 1991-96); Olabuenaga House (Maui, Hawaii 1989-97); Nanon House (Lanaken, 1995-98) and Mourmans House (Lanaken, 1998-01); Yuko House (Tokyo 1991-93); VanImpe House (Sint-Lievens-Houtem 1996-98); Zhaoqing Resort and Golf Club (China 1994-96); Jasmine Hill Houses (Singapore 2000).
In 1994, a large Sottsass retrospective was held at Center Pompidou, Paris.
In 2004, the Capodimonte Museum in Naples held a large exhibition of his photographic work.
In 2005 the retrospective was held at MART, Rovereto.
In 2006 the retrospective was held at LACMA, Los Angeles.
In 2007 Vorrei sapere perché (I'd like to know why) the last show, in Trieste.
His works are in the permanent collections of a wide range of museums: Centre Georges Pompidou, Paris; Musée des Arts Décoratifs, Paris; Victoria & Albert Museum, London; Stedelijk Museum, Amsterdam; MoMA, New York; Metropolitan Museum, New York; Musée des Arts Décoratifs, Montreal; Israel Museum, Jerusalem; National Museum, Stockholm.
Among the last recognitions he was awarded: 1992, the title "Officier de l'Ordre des Arts et des Lettres" of the French Republic; 1993, honorary degree from Rhode Island School of Design; 1994, iF Product Design Award, Hannover; 1996, honorary degree from the Royal College of Art, London and Design Award from Brooklyn Museum, New York; 1997, Oribe Award from the City of Gifu, Japan; 1999, honorary degree from Glasgow School of Art; 2001, honorary degrees from London Institute of Art and from the Milan Polytechnic.
Always in 2001 he received the title of "Grande Ufficiale per l'Ordine al Merito" from the President of the Italian Republic. In 2003 he was made "Commandeur de l'Ordre des Arts et des Lettres" from the Minister of Culture of the French Republic. In 2005, Sottsass received the Gold Medal and First-Class Diploma for "Benemeriti della Cultura e dell'Arte" from the President of the Italian Republic.
Location: Milan, Lombardy, northern Italy
Milan Architecture
Contemporary Milanese Architecture
Milan Building Designs – chronological list
Milan Architecture Tours – city walks by e-architect
Milan Architects Offices – architectural firm contact details on e-architect
Milan Architectural Designs
New Milan Football Stadium Building
Architects: Populous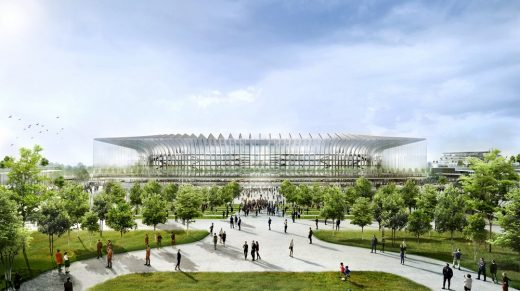 image Courtesy architecture office
New Football Stadium: The Cathedral
Corso Italia
Redevelopment Architects: SOM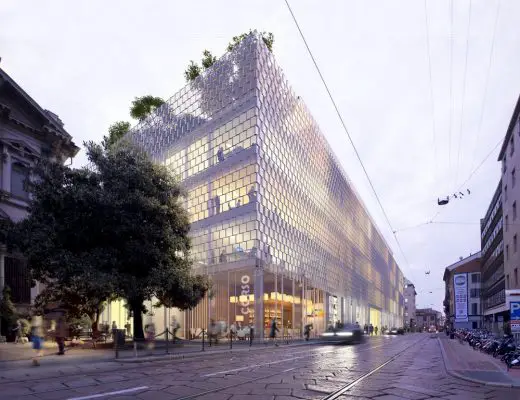 image : SOM
Corso Italia 23
MEET Digital Arts Center
Design: CRA-Carlo Ratti Associati and Italo Rota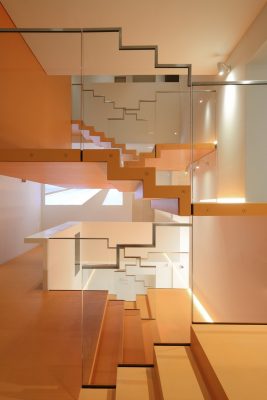 photograph : Michele Nastasi
MEET Digital Arts Center
Ukraine Architectural Designs
Ukraine Building Designs
Ukraine Architecture Designs – chronological list
Dnipro Metro Stations, Dnipro
Architecture: Zaha Hadid Architects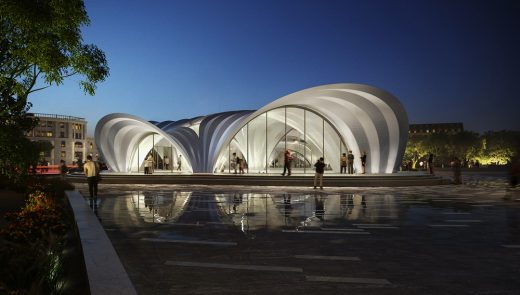 render © ATCHAIN
Dnipro Metro Station
Shelestm Vyshhorod, Kiev, Ukraine
Architects: YODEZEEN studio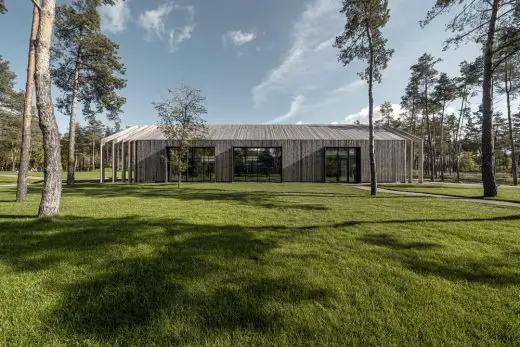 image courtesy of architects practice
Shelest Restaurant, Vyshhorod Building
Cube House, Bucha, Kyiv Oblast
Architecture: Yakusha Design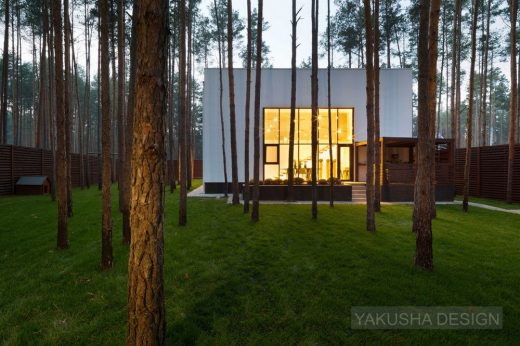 image courtesy of architects
Cube House in Bucha, Kyiv Oblast
Comments / photos for the Triennale Milano: Ukrainian Pavilion page welcome