Melbourne Building News 2021, Victoria Architecture, Architects, Australia Property Designs Archive
Melbourne Building News 2021 + 2020
Key Australian Architectural Developments in Victoria: Built Environment Archive
Post updated 2 January 2023
New Melbourne Buildings : current, chronological list
Melbourne Architecture Tours by e-architect for groups
Melbourne Houses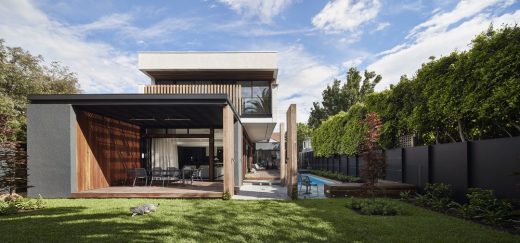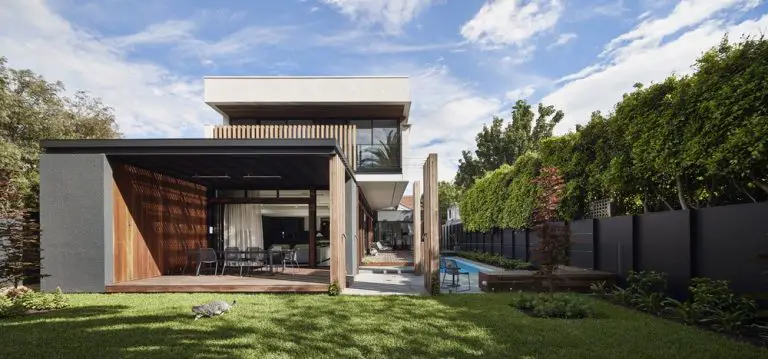 photograph : Peter Bennetts
Melbourne Architectural News 2021
Melbourne Building News 2021, chronological list:
5 Dec 2021
Bloom, Clyde North
Design: Sora Interiors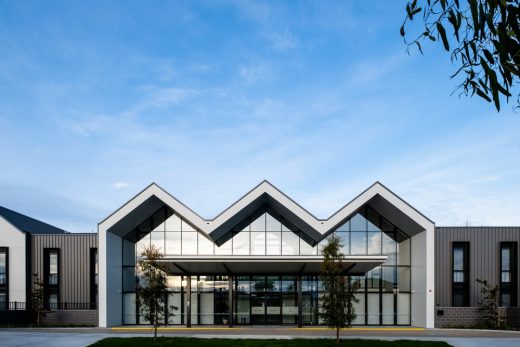 photograph : Oliver Lagascae
Bloom Care Home, Clyde North Melbourne
CHT is seeing a growing demand for holistic residential aged care communities, exemplified by our recent completion of a boutique aged care home called Bloom, located in the outer-Melbourne suburb of Clyde North. Commissioned by family-owned aged care provider Luson Health the residence responds to a burgeoning desire for aged care environments.
30 Nov 2021
Anne and Eric Smorgon Active Living Centre, Caulfield, Victoria
Architect and Interior Design: DesignInc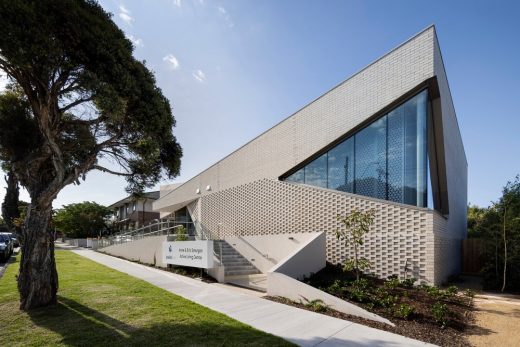 photo : Dianna Snape
Jewish Active Living Centre, Caulfield
For older people who live independently in their own homes, maintaining relationships with their community is vital. When Jewish Care engaged DesignInc Melbourne to develop their new Anne and Eric Smorgon Active Living Centre in Caulfield, Melbourne, the brief sought a 'connection centre' that would enrich the lives of their community.
3 Dec 2021
Tandem House, Hawthorn
3 Dec 2021
Hobsons Bay Hotel, Williamstown, Victoria, Australia
Design: Fiona Drago Architect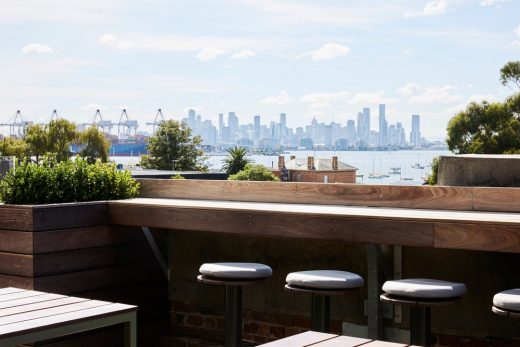 photo : Rebeccan Newman
Hobsons Bay Hotel, Williamstown
Hobsons Bay Hotel has returned to its roots as a neighbourhood pub with a variety of indoor and outdoor spaces spread over three levels, including a new roof deck with spectacular city views. The Hobsons Bay Hotel has stood on its corner in the Melbourne port of Williamstown for more than one hundred years.
15 Oct 2021
Kew Courtyard House
29 Sep 2021
Monash School of Biological Science, Clayton 3800
Design: Kosloff Architecture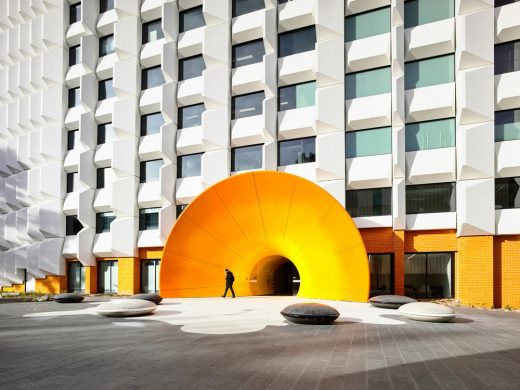 photo : Derek Swalwell
Monash School of Biological Science, Clayton
The Monash School of Biological Science project embraces our environmental responsibility to adapt existing building stock and in doing so addresses the question of what it means to re-skin an existing 1960's modernist building in a contemporary manner. The project was undertaken as a collaboration between Kosloff Architecture, artist Callum Morton and Monash Art Projects (MAP).
29 Sep 2021
Pascoe Vale Primary School, Pascoe Vale, Victoria
Design: Kosloff Architecture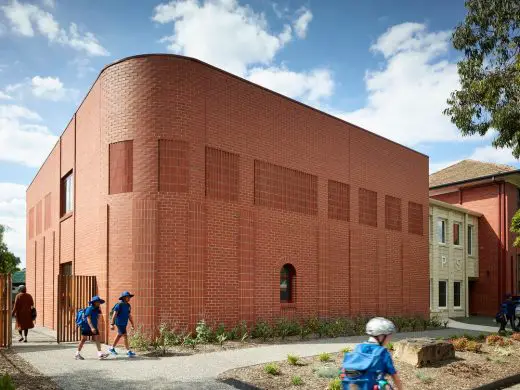 photo : Derek Swalwell
Pascoe Vale Primary School, Victoria
Pascoe Vale Primary School is home to a fine example of neo-classical school design, a two-story building by the Chief Architect of the Public Works Department (1922-1929), E. Evan Smith. This building is listed by Heritage Council Victoria as significant.
Sep 22, 2021
Australia 108 Melbourne – Emporis Skyscraper Award, 70 Southbank Blvd, Southbank, VIC 3006
Design: Arney Fender Katsalidis Architects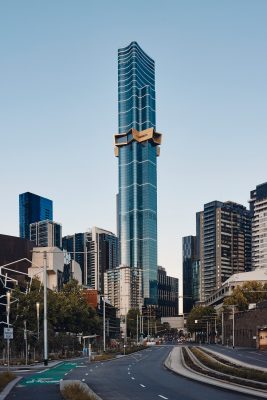 photo © Peter Bennetts
This tower is one of the winners of a Emporis Skyscraper Award 2020
13 Aug 2021
Europa on Alma St Kilda Residence, St Kilda
Design: dwp | design worldwide partnership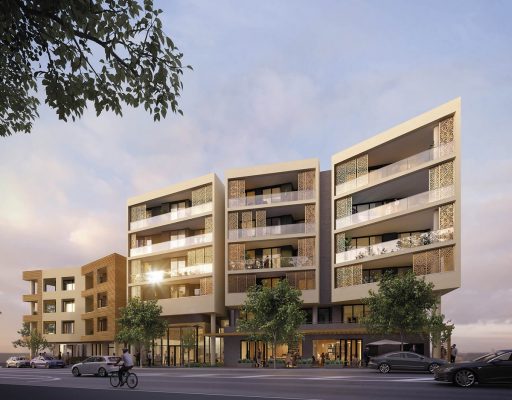 image courtesy of architects practice
Europa on Alma St Kilda Residence
dwp | design worldwide partnership is thrilled to have yet another project recognised for design excellence. Europa on Alma has been announced as a finalist in the Project of the Year – Ageing in Place category for the 9th Asia Pacific Eldercare Innovation Awards.
30 Jul 2021
Woolworths Fishermans Bend, Wirraway precinct, 477/481 Plummer St, Port Melbourne
Design: Hames Sharley


photo courtesy of architects office
Woolworths Fishermans Bend
23 July 2021
Mpavilion 2021 Design By MAP Studio (Venice), Queen Victoria Gardens, Southbank Arts Precinct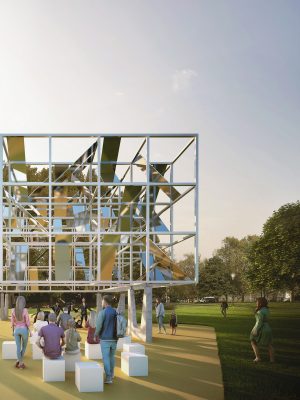 image courtesy of Naomi Milgrom Foundation
Melbourne MPavilion 2021 Building design by MAP Studio
Melbourne, Australia: The Naomi Milgrom Foundation released the design for MPavilion 2021, the seventh MPavilion in an ongoing series, by MAP studio (Venice) architects Francesco Magnani & Traudy Pelzel. The geometric, kaleidoscopic design—'The LightCatcher'— has been envisioned as an urban lighthouse, set to illuminate MPavilion's diverse program of free cultural events over the summer.
21 Jul 2021
Oakleigh Recreation Centre, 2A Park Road, Oakleigh, VIC
Design: dwp | design worldwide partnership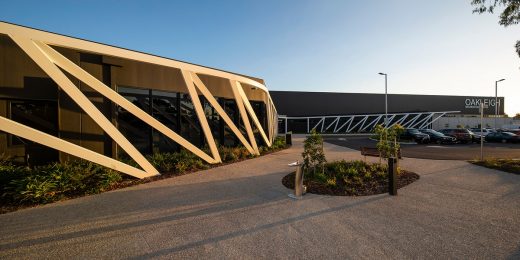 image Courtesy architecture office
Oakleigh Recreation Centre, City of Monash
The recent redevelopment of the Oakleigh Recreation Centre for the Monash City Council is the award winner for 'Community Facility of the Year' at Park and Leisure Australia's state (VIC/ TAS) 2021 Awards for Excellence.
29 June 2021
STH BNK by Beulah
Design: ASPECT Studios with Grant Associates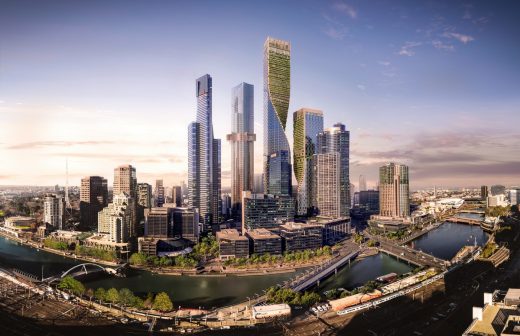 image courtesy of architects office
STH BNK by Beulah Melbourne
As momentum continues to build on Beulah's unprecedented STH BNK by Beulah development, world renowned urban design practice Grant Associates and international design practice, ASPECT Studios, have been formally announced as the project's landscape architects.
22 Jun 2021
Council House 2
Design: City of Melbourne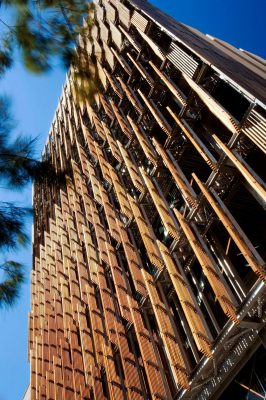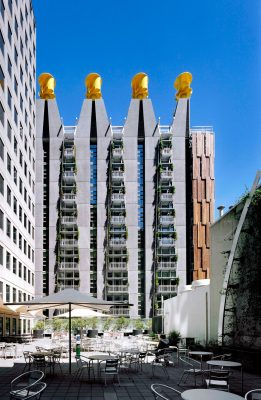 photograph : Dianna Snape
Council House 2
The CH2 office building was designed in collaboration with City of Melbourne to be a holistic system with its occupants as participants. The design follows a model that promotes a more interactive role between the city and nature.
21 Jun 2021
600 Church Street, Cremorne
Architects: Wood Marsh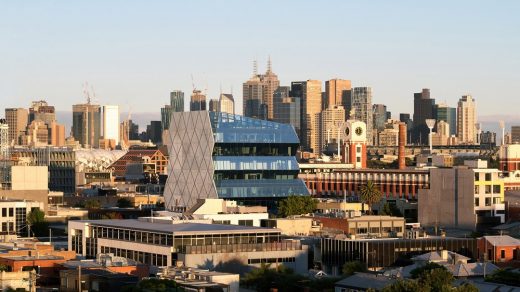 photograph : Willem-Dirk du Toit
600 Church Street Building
Sitting in contrast to the industrial grit of Cremorne as a progressive commercial building, 600 Church Street reinforces its corner allotment, boldly ascending as a monolithic crystalline glass formation. The building's faceted outer shell is an intentionally ambiguous interplay with scale.
15 Jun 2021
Craftworks Office Building, Abbotsford
Design: CHT Architects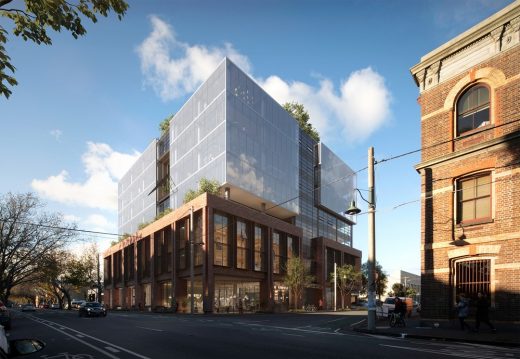 photograph : Binyan Studios
Craftworks Office Building
Holistic eco-urban commercial design fosters culture, community and collaboration.The exciting new nine-storey Craftworks project promises to create its own "creative ecosystem" in which commercial tenants and the community come together to share ideas, communal spaces and a holistic philosophy that fosters true community, culture, wellbeing and sustainability.
8 Jun 2021
There Cafe
Design: Ewert Leaf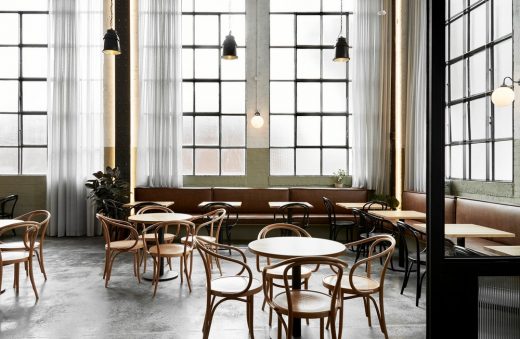 photo : Jenah Piwanskis
There Cafe Interior
Conceived as a shared meeting place, There Cafe is an uplifting and authentic hospitality proposition harnessed by the strength of its architectural setting. Housed in a 19th-century wool store, the pared-back interior celebrates the site's industrial character while softly layering new interventions; an evolution of its historic identity.
1 Jun 2021
Strathalan Integrated Community, Macleod, Melbourne, Victoria, Australia
Design: Billard Leece Partnership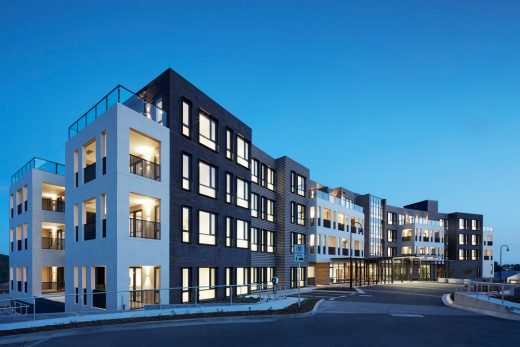 photo : Christine Francis
Strathalan Integrated Community
Strathalan Integrated Community offers luxury retirement living designed to facilitate a joyful and active ageing journey. BLP have worked closely with Baptcare to design a luxury boutique retirement living apartment complex in Macleod, complete with beautifully appointed community facilities.
17 May 2021
Still Light at 80 Collins Street
Architects: Woods Bagot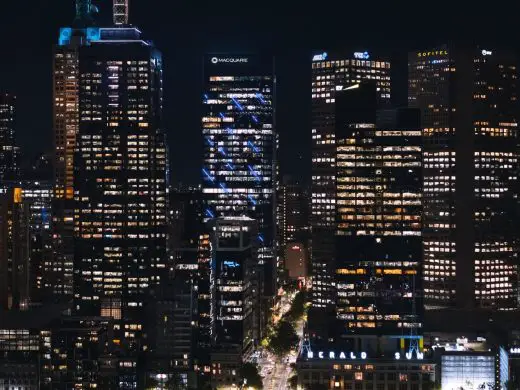 photo courtesy of Ramus
80 Collins Street Building
20 May 2021
Apartment 26
Design: Shelley Roberts Architects
Apartment 26 Interior
Tucked down a laneway, the Apartment 26 was reached only after proceeding up a very long set of stairs. From the beginning Manton Lane posed difficult site conditions, not least when a 5 m long stainless-steel kitchen bench had to be craned in through the balcony doors.
14 May 2021
St James Park Residences, Yarra Street, Hawthorn, Victoria
Design: CHT Architects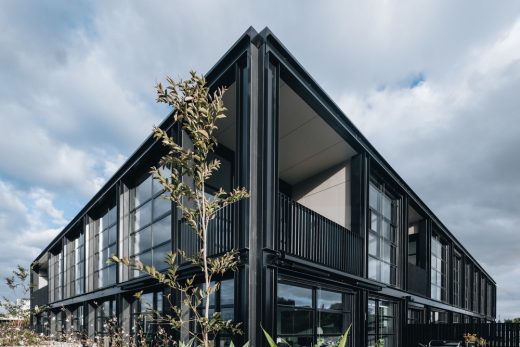 photograph : Oliver Lagasca Photography @olp_otography
St James Park Residences, Hawthorn
The recently completed St James Park boutique apartment project in Hawthorn, employs thoughtful, integrated design to maximise the site's stunning park-front location. Located at just five kilometres from the Melbourne CBD – each of the 19 residences in the five-level development was individually designed to provide uninterrupted views of the site's adjacent and leafy St James Park.
15 May 2021
The Orchards
Architects: CHT Architects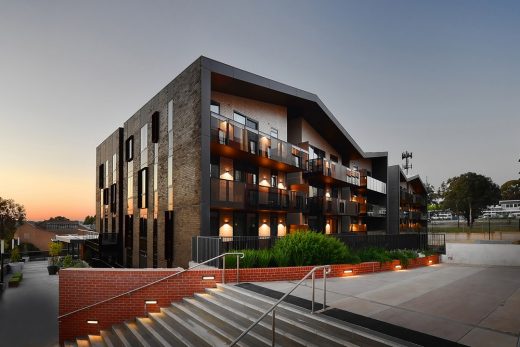 photograph : Kane Jarrod
The Orchards Homes
This residential retirement community that incorporates an on-site aged care facility reflects a key recommendation of the Royal Commission into Aged Care Quality and Safety by offering a 'whole of ageing' option for older Australians. Owned and managed by non-for-profit organisation Baptcare, The Orchards offers residents a range of specialised care and support services designed to help residents remain living independently for as long as possible.
27 Mar 2021
Coburg piazza, former Pentridge Prison, Coburg Quarter
Architects: ASPECT Studios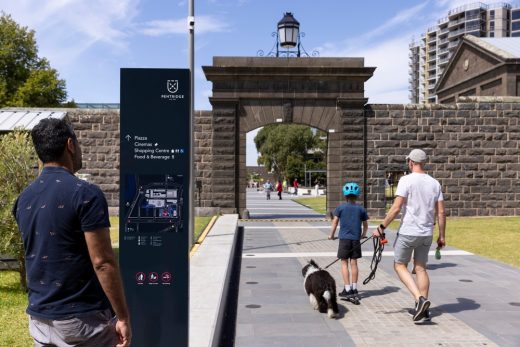 photo courtesy of architects office
Coburg piazza at former Pentridge Prison
The former Pentridge Prison in the northern suburb of Coburg has undertaken a transformation, turning a decommissioned landmark of controversial history into a new residential and retail precinct.
4 Mar 2021
Arbory Bar & Restaurant
Architects: Jackson Clements Burrows Architects (JCB)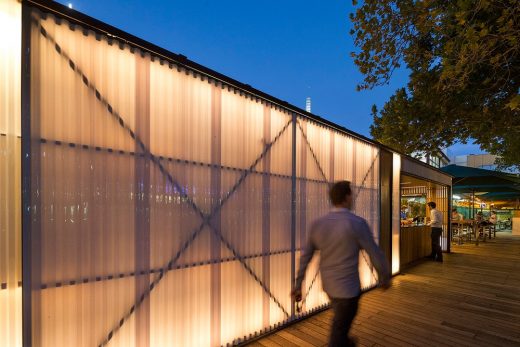 photo © John Gollings
Arbory Bar & Restaurant
The brief for the Arbory Bar & Restaurant was to convert a disused rail line into a publicly accessible contemporary restaurant and bar venue that would not only sit comfortably within the surrounding heritage context but also contribute positively to the local residents and the tourist experience of Melbourne.
3 Mar 2021
Mercedes Me Melbourne
Architects: Jackson Clements Burrows Architects (JCB)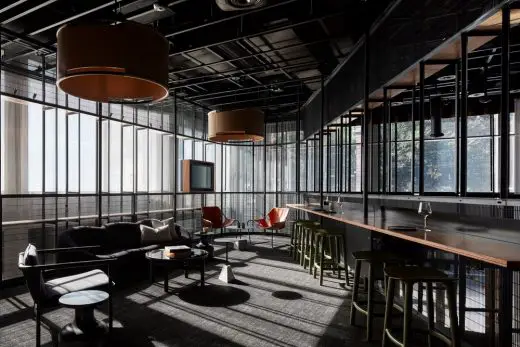 photo © Peter Clarke
Mercedes Me Melbourne Store
This is one of seven concept stores globally. Situated on the ground level of the Rialto, on the corner of Collins and King Streets, the site occupies a highly prominent position in an area of the city currently undergoing extensive regeneration.
12 Feb 2021
130 Lonsdale Street
Design: Gray Puksand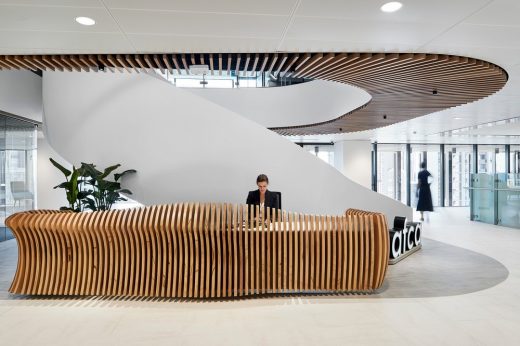 photo : Shannon McGrath
130 Lonsdale Street
Gray Puksand's recently completed fit-out is an agile, modern workspace that places the health and wellbeing of employees front of mind. The intent was to deliver an interior exuding a sense of calm and balance that essentially functions as a yin to the yang of the often high-intensity business.
27 Jan 2021
Beyond Rest, Collingwood
Design: FMD Architects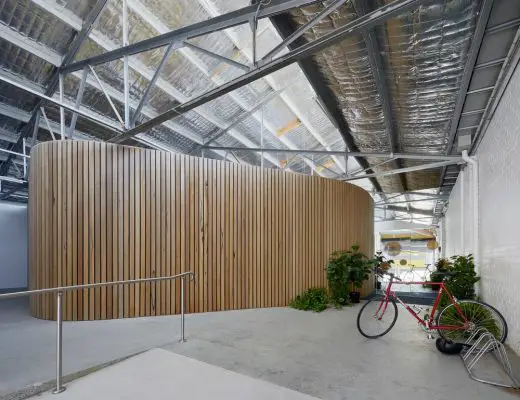 photo : Tatjana Plitt
Beyond Rest, Collingwood
Beyond Rest is a floatation centre housed in an industrial warehouse in Collingwood Melbourne. Float tanks are used for both relaxation and rehabilitation purposes by a wide ranging client base. This is a growing wellness industry which offers a range of physical and mental health benefits.
21 Jan 2021
Surgeon's Rooms, Melbourne Knox Hospital
Design: FMD Architects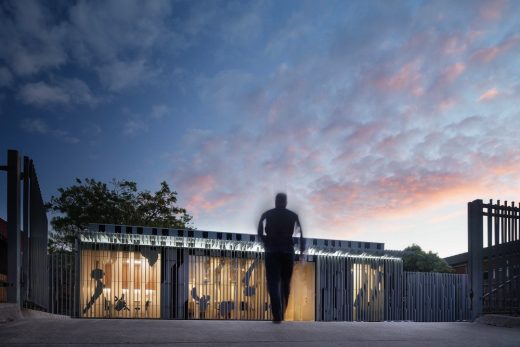 photo : John Gollings
Surgeon's Rooms, Melbourne Knox Hospital
The Surgeon's Rooms project is a renovation & extension the existing consulting rooms for Knox Orthopaedic Group, adjacent to Knox hospital. The main entry is via the Knox hospital car park, with the rear entry within a residential street.
8 Jan 2021
Markham Residence, Brunswick, Victoria, Australia
Design: Preston Lane Architects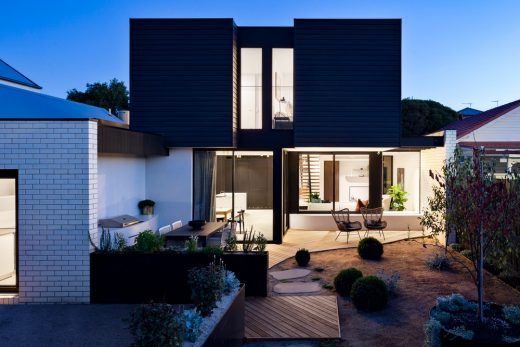 photo : Dylan James
Markham Residence
The Markham Residence is a significant heritage renovation to an existing unliveable house in Brunswick, Victoria. The client's brief for this project called for a four-bedroom house with two living areas as well as off street parking via a rear lane.
Victoria Building Updates 2020
Melbourne Architecture News in 2020
21 Dec 2020
Little Creatures Brewery, South Geelong, Victoria
Design: Robert Simeoni Architects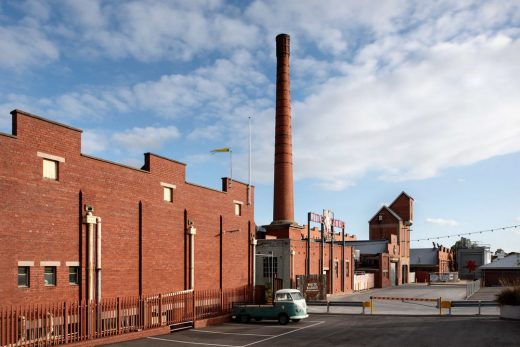 photo : Nicole England
Little Creatures Brewery, South Geelong
Little Creatures Brewery established its east coast base in 2012 taking over the historic textile mill, The Valley Worsted Mills, in the industrial area of South Geelong. The new premises enabled the brewery to expand its facilities from Fremantle in Western Australia and to breathe new life into the five former wool store buildings constructed with distinctive red Geelong brick.
14 Dec 2020
Seaford Lifesaving Club, Seaford, Victoria, Australia
Design: Robert Simeoni Architects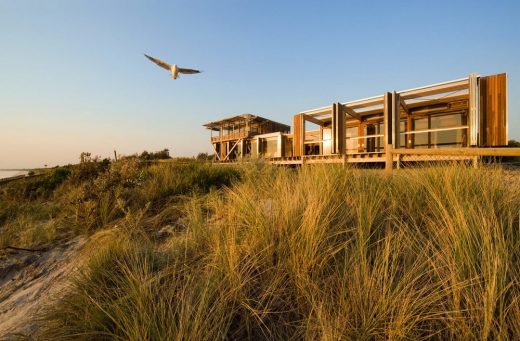 photography : John Gollings and Trevor Mein
Holy Name Church, Preston
The Seaford Lifesaving Club was conceived as more than just a single building, but rather a community space surrounded by a collection of buildings. The project further envisioned renewing the beach and shorefront as a community zone.
14 Dec 2020
The Ivy facade
Design: Robert Simeoni Architects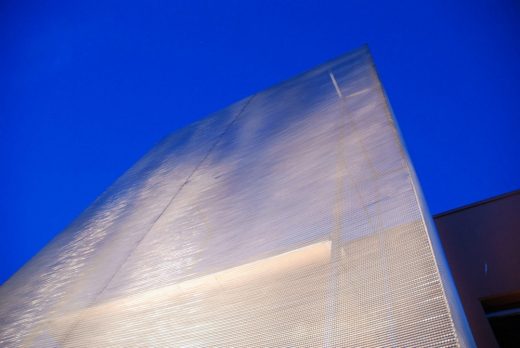 photograph : Robert Simeoni Architects
The Ivy, Melbourne Facade
The curtain façade provides differing levels of transparency and diffuse lighting internally while allowing the building to be illuminated from within. Its appearance, ranging from opaque to transparent, responds to the location of the viewer and to the daily variations in the ambient light conditions.
1 Dec 2020
Melbourne Parkade Car Park Building, 34 Little Collins Street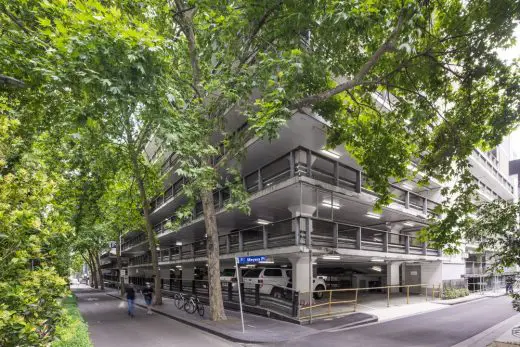 photo : Timothy Burgess
Melbourne Parkade Car Park Building
25 Nov 2020
Melbourne Arts Precinct
Design: Hassell + SO–IL Architects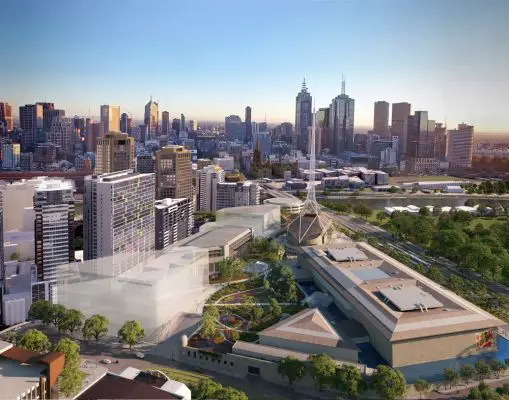 image courtesy of architects practice
Melbourne Arts Precinct Transformation
The Victorian Government announces funding approval for the $1.46B Melbourne Arts Precinct including the 18,000sqm of new open public space and gardens designed by HASSELL + SO – IL. "The objective of the Melbourne Arts Precinct Masterplan is to improve the functional aspects of the existing institutions, incorporate the two new facilities, and invigorate and maximize the public experience in this exciting new chapter of the precinct", claim the architects.
26 Aug 2020
Ocean 12
Architects: Cox Architecture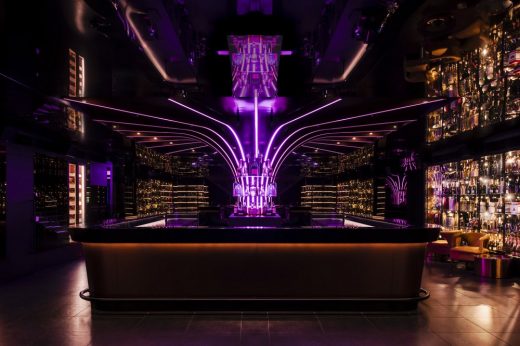 photograph © Tom Blachford
Ocean 12 Melbourne
A sumptuous venue, Ocean 12 transitions fluidly between a variety of indoor and outdoor spaces utilising light and colour to define spatial uses, graciously providing a refined backdrop for a range of premium hospitality offerings, leading visitors on a journey of delight, setting a stage and hinting at glimpses of the range of entertainment and leisure activities on offer throughout.
20 Aug 2020
MPavilion Book News
MPavilion: Encounters with Design and Architecture
Published by Thames & Hudson Australia in collaboration with the Naomi Milgrom Foundation, MPavilion: Encounters with Design and Architecture is the first publication on the MPavilion project and chronicles the first six remarkable years.
18 Aug 2020
Piccolo House, Dorcas Street
8 May 2020
Orchard Manufacturing, Rowville, Victoria, Australia
Architects: BENT Architecture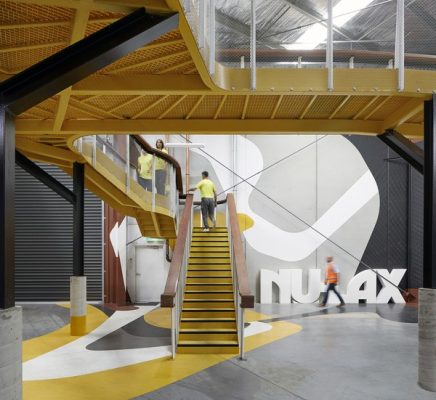 photography © Tatjana Plitt
Orchard Manufacturing Co. in Rowville
Orchard Manufacturing offers a new approach to factory design, one which creates a happy and healthy workplace inspired by nature. The company espouse a natural ethos, yet it's hard to imagine an environment further removed from nature than a manufacturing plant.
19 Apr 2020
Botanicca Corporate Park Scheme
Architects: Gray Puksand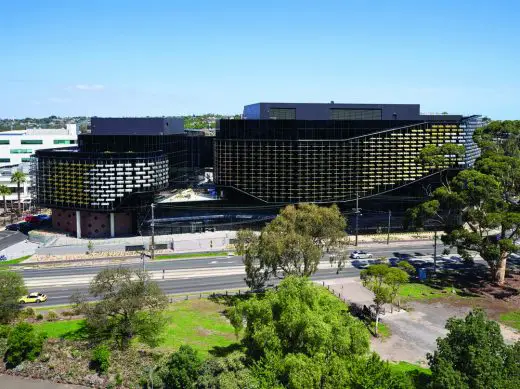 photography © Peter Clarke
Botanicca Corporate Park Scheme
Inspired by the colours of the native flora, specifically the River Red Gum, Botanicca tells the tale of its surrounding – bringing back to the site, the colours that existed over 200 years ago. The buildings slender shapes and perforated cladding enable the penetration of daylight while seamlessly connecting to the surrounding parkland.
6 Mar 2020
Galleria
Design: Plus Architecture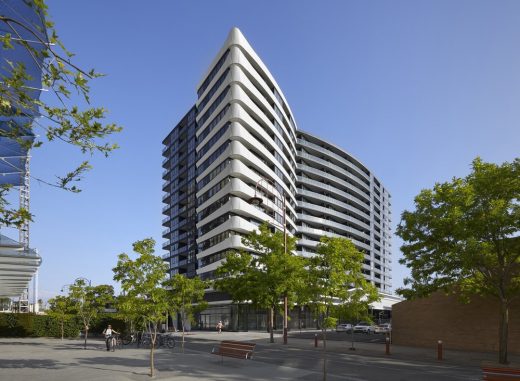 image : Tom Roe
Galleria Apartment Tower
Taking the form of a cluster of buildings, the architectural structure of Galleria features sinuous curve forms that interconnect and loop – creating a dialogue between the building form and seeking to reduce the visual bulk of the development from the pedestrian point of view.
5 Mar 2020
Little Sky Gelateria
Architect/Interior Designer: Ewert Leaf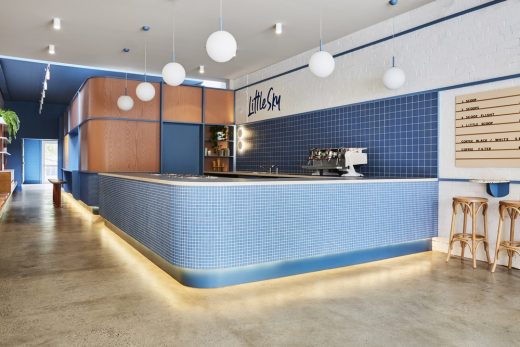 photograph © Fi Storey
Little Sky Gelateria in Brighton
The approach to this new building sought to create an insertion of 'playfulness' housed within a late 19th Century building framework. Encapsulating the company ethos was paramount; creating a welcoming venue and fostering a sense of community.
6 Feb 2020
Fairfield Primary School, Fairfield
Architects: NBRS ARCHITECTURE and Fleetwood Australia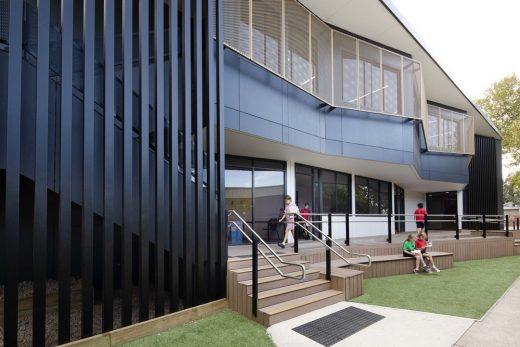 photography © Joe Vittorio
Fairfield Primary School
The award-winning new facilities have been designed with connectivity and transparency in mind.
2 Feb 2020
388 William Street
Architects: Elenberg Fraser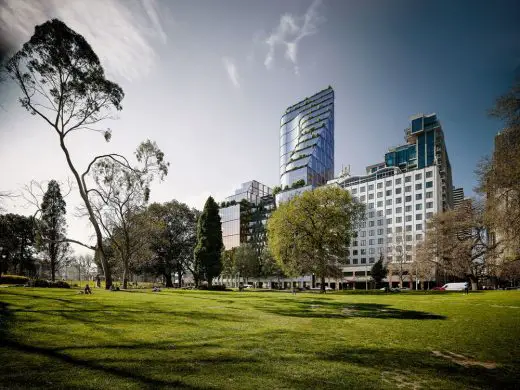 image : Pointilism
388 William Street Offices and Hotel
The world is in flux. Barriers and boundaries that defined us? Gone. The spaces we inhabit need a dramatic rethink.
25 Jan 2020
Luminary Apartments, Hawthorn, Melbourne, Victoria
Design: Plus Architecture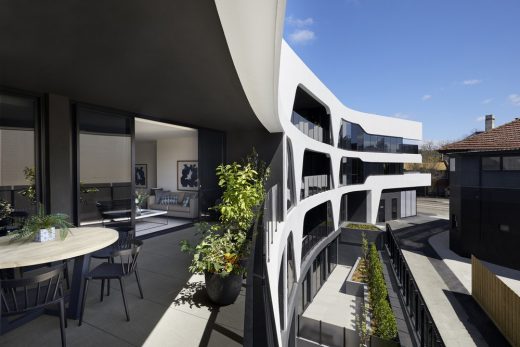 image : Tom Roe
Luminary Apartment Building in Hawthorn
Dramatic design meets luxury and sophistication at this property – a distinctive arrival in Hawthorn and a defining presence on a prominent site in this prestigious Melbourne suburb. The residential complex comprises twenty generously-sized apartments and four penthouses.
Melbourne Architecture News 2018 – 2019
Melbourne Architecture News 2019
Melbourne Architecture News 2018
More Melbourne building news 2021 online soon
Location: Melbourne, Victoria, Australia
Architecture in Melbourne
New Architecture in Victoria
Melbourne Buildings : A-K
Melbourne Building Designs : L-Z
Contemporary Australian Architectural Projects
Buildings / photos for the Melbourne Building News 2021 page welcome