Contemporary Melbourne houses, New Victoria properties, Modern Australia residence photos, Real estate designs
Melbourne Houses: Properties
Key Australian Residential Developments in Victoria: New Home Information + Images
post updated 11 September 2023
New Melbourne Buildings : current, chronological list
Melbourne Architecture Tours by e-architect
Melbourne Houses News in 2023
Melbourne Houses News, chronological list:
21 Aug 2023
Fenwick St, Kew
Architects: Edition Office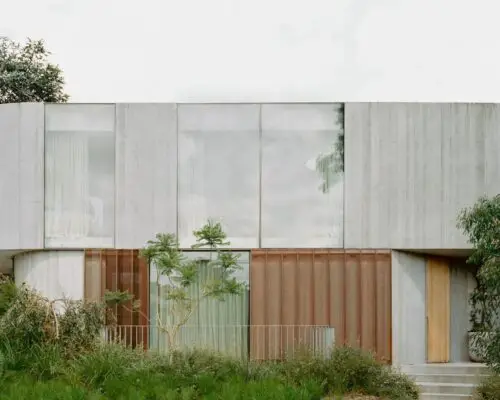 photo © Rory Gardiner
photos : Rory Gardiner, Lillie Thompson and Timothy Kaye
Fenwick St Residence Kew
Edition Office presents Fenwick St, a project located in Kew, Australia on a remarkable edge of the Birrarung/Yarra River, adjacent to Yarra Bend Park, with northern vistas to the valley beyond. Perched on the edge of the escarpment, with immediate views along the river as potent as the expansive horizon which unfolds to the north, the site allows unencumbered connections to landscapes which are rare this close to the city.
15 Aug 2023
New Street, Brighton, Victoria, Australia
Design: Ben & Ben Architects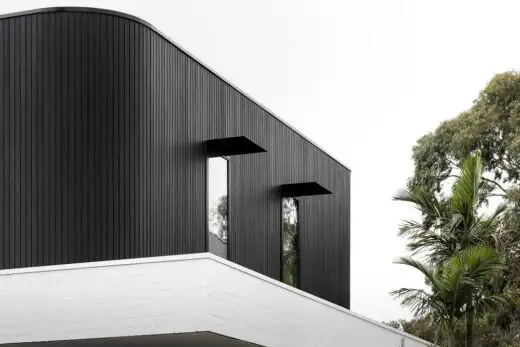 photo : Dylan James
New Street House, Brighton
New Street is a contemporary alteration and addition to the existing single-storey Edwardian residence in Brighton, proposes a new Living, Kitchen, Bathroom, additional two Bedrooms, and Ensuite amongst the extensive refurbishment works. The form sensitively responds to the low set heritage streetscape while providing enhanced contemporary amenity to its occupants.
31 July 2023
Roofscape House, Carlton
Design: Antarctica Architects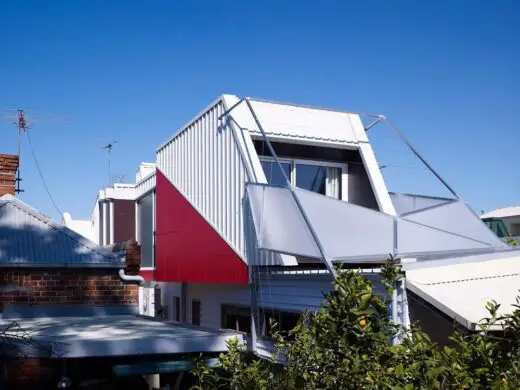 photo : Derek Swalwell
Roofscape House, Carlton
The Roofscape House project extends an existing single front terrace to provide a young family with room in which to live, work and grow. A previous alteration had renovated the kitchen and provided a new living and dining area; this new addition adds a study/guest room, two bedrooms upstairs and provides a ground floor family room.
28 July 2023
Bike House, southeast Melbourne, Victoria, Australia
Architecture: FMD Architects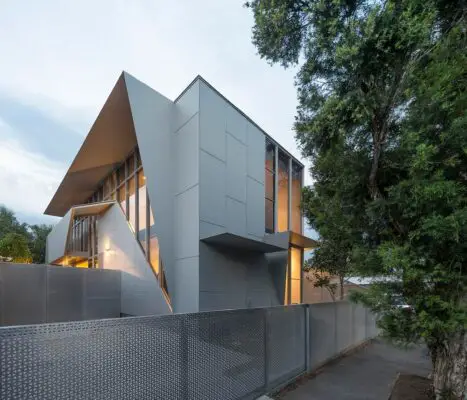 photo : John Gollings
Bike House, southeast Melbourne, Victoria
The Bike House site is a small 300 sqm suburban block in southeast Melbourne. The brief was to design a new dwelling to accommodate a family of 4 while also including flexible spaces which can change as the children grow and the needs change. A collection of bikes also needed to be accommodated internally and externally as these are a major form of transport for the family.
27 July 2023
Old Be-al
Design: FMD Architects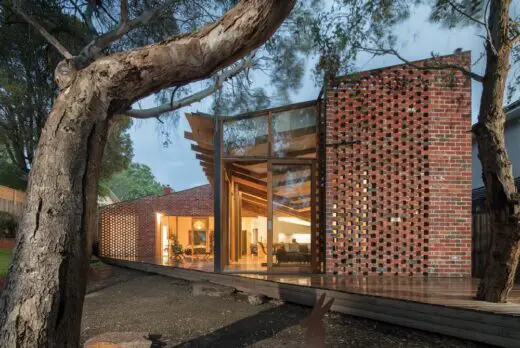 photo : John Gollings
Old Be-al House
Old Be-al is the loving nick-name given to the beautifully old, gnarled Mallee river redgum at the rear of this classic, single story brick veneer home from the inter-war period in Melbourne's inner-east.
Sunny House, Melbourne, Victoria
22 Jan 2023
Christmas House, Northcote, Melbourne, Victoria, Australia
Architecture: Taouk Architects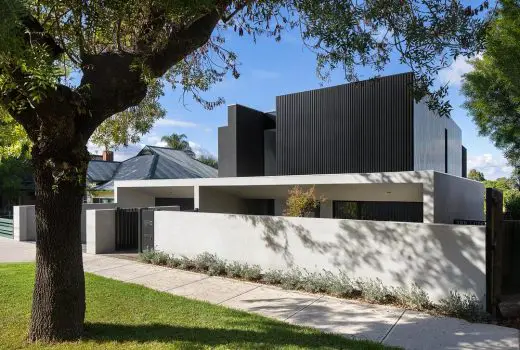 photo : Emily Bartlett
Christmas House, Northcote
The form of Christmas House was inspired by the sloping site and how we could create a bold point of difference on a site that sat far beneath the street level. We aimed to perch the building within the landscape, like a rock juxtaposed in nature and creating a monolithic street presence.
New Melbourne Houses 2022
Melbourne Properties, chronological list:
22 Dec 2022
Armadale Victorian Villa, Armadale, Victoria, Australia
Design: Kirby Architects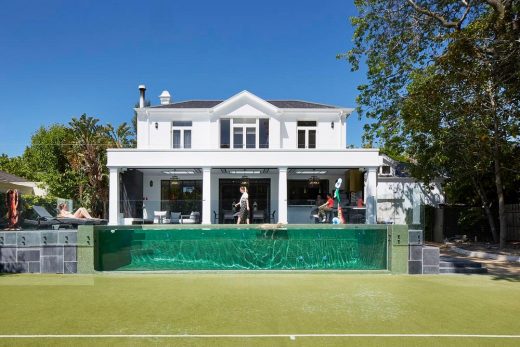 photo : Jacqui Henshaw
Armadale Victorian Villa
All successful projects have a unique quality that is often hard to put into words. Architects know this is because the space, building, precinct, or landscape provokes an emotional connection.
25 Nov 2022
Clifton Hill Courtyard House
Design: studio mkn & Eliza Blair Architecture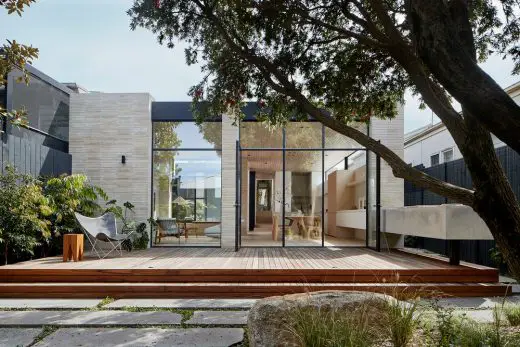 photo : Shannon McGrath
Clifton Hill Courtyard House, Victoria
This brick and glass extension fits snugly onto the back of a double fronted weatherboard worker's cottage in Clifton Hill. The Clifton Hill Courtyard House was designed to capture light from the north, as well as views of an existing bottle brush tree to the south, the layout responds to both the site and the family's desire for future flexibility.
25 Nov 2022
Hampton House Extension, Hampton
Architects: Architecture Works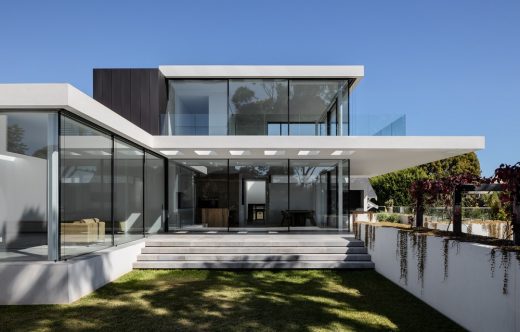 photo : Timothy Kaye
Hampton House Extension, Victoria
The Hampton House Extension client originally bought the property with a view to demolishing the original weatherboard Edwardian, however post purchase the house was then the Heritage listed, meaning we were compelled to retain the facade.
18 Oct 2022
Richardson St House, Middle Park
Architects: Chan Architecture Pty Ltd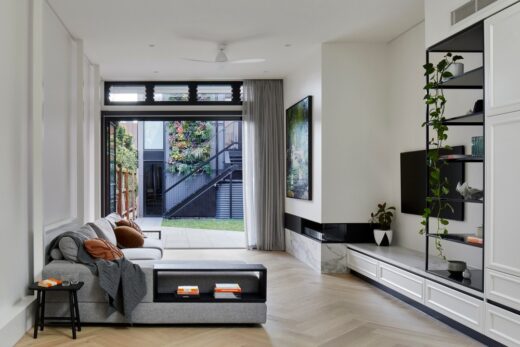 photo : Tatjana Plitt
Richardson St House, Middle Park, Victoria
Located on a long and narrow site in the bayside suburb of Middle Park, the Richardson St House project sought to renovate and restore a single fronted Victorian terrace and provide a spacious, light filled modern extension to the rear. Due to the heritage grading of the existing building and its' streetscape, the new works were designed to minimise it's visibility from the front by setting the rear extension well back from the street.
17 Oct 2022
Bournian, Strathmore, Melbourne, Victoria
Architects: FGR Architects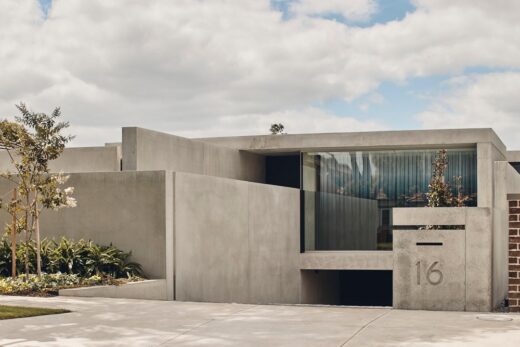 photo : Peter Bennetts
Bournian Court Yard Residence, Strathmore
Bournian – the Courtyard Residence resembles a rectangular origami of concrete and glass. The project's ambition is a design of calm expression, heightened experience and seamless function.
27 Sep 2022
Wakanui Trail House, Northcote
Architecture: Ben Callery Architects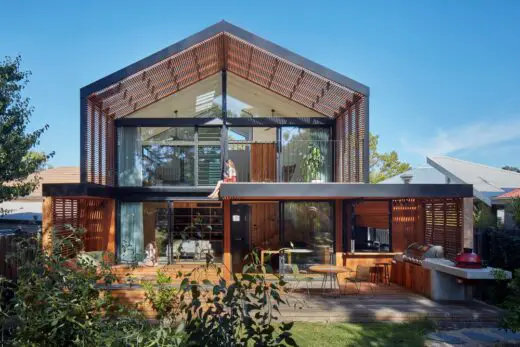 photo : Jack Lovel Photography
Wakanui Trail House, Northcote
Wakanui Trail House is a home for a family of avid campers that embodies their affinity for the outdoors, while offering a deep connection with our natural environment and fostering connections between family members within the house. The site backs onto Northcote's All Nations Park with a meandering trail through native bush and mature eucalypts.
14 Aug 2022
Washington Avenue House, East Malvern
Architecture: Chan Architecture Pty Ltd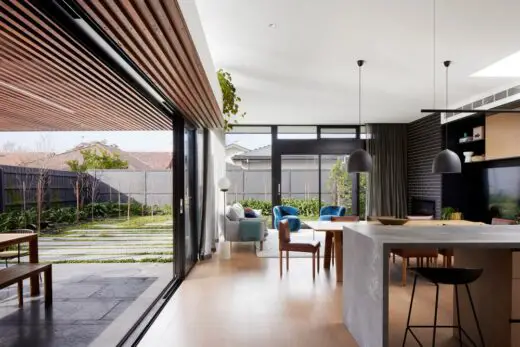 photo : Tatjana Plitt
Washington Avenue House, Malvern East Melbourne
Washington Avenue House is located on a typical quarter-acre site in the leafy suburb of Malvern East, this project sought to renovate and restore a double fronted Edwardian residence with a new modern extension added to the rear.
New Melbourne Houses 2021
Contemporary Melbourne Property Designs, chronological list:
18 Aug 2021
Narrandjeri House, Fitzroy North
Design: Public Realm Lab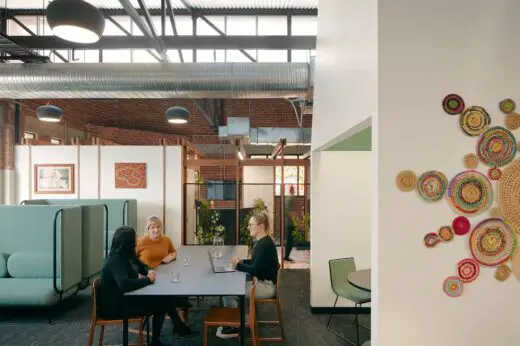 photo : Tom Ross
Narrandjeri House, Fitzroy, North Melbourne
Narrandjeri House is a heritage factory repurposed to create a flexible contemporary workplace that celebrates Aboriginal culture and creates a culturally safe space for staff and clients. Aboriginal Housing Victoria had long outgrown their heritage warehouse in Fitzroy and had started leasing surrounding spaces to house their over-flow teams.
18 May 2022
Ivanhoe Gardens, Ivanhoe, Victoria
Architects: CHT Architects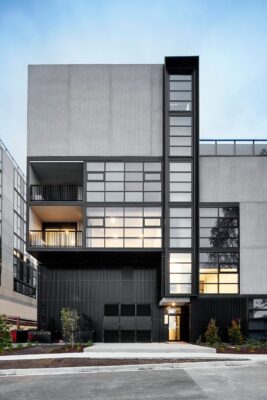 photo : Shannon McGrath
Ivanhoe Gardens
Named in recognition of its extensive central garden, Ivanhoe Gardens is a contemporary neighbourhood with 52 stunningly designed apartment homes. An array of on-site amenities such as a hammam spa, private dining room and residents' cinema imbue the residence with a sense of everyday luxury.
25 Apr 2022
Ceres House, Geelong, Victoria, Australia
Design Studio: Dan Gayfer Design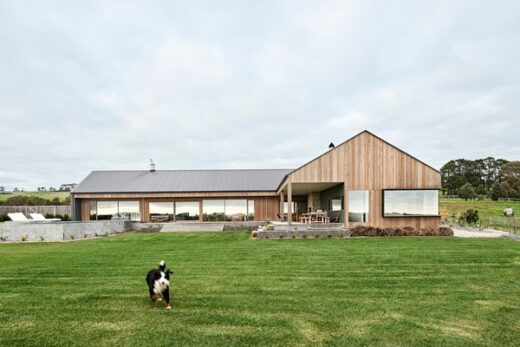 photo : Dean Bradley
Ceres House, Geelong, Victoria
Ceres House is Dan Gayfer Design's largest project completed to date. Located within the rolling hills of Ceres – a rural hamlet of Geelong – the project was virtually a new build and involved the simultaneous design of the residence, its interior and immediate exterior spaces.
13 Apr 2022
Ascot Vale
Architects: Taylor Knights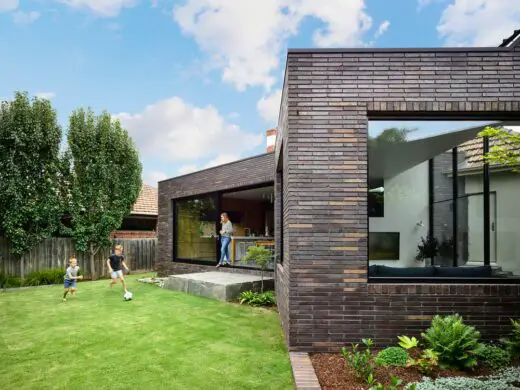 photo : Derek Swalwell
Mt Eliza House
Built by hand by the original owner, this 1940s period home in Ascot Vale is a labour of love. With all the grandeur to be expected of an art deco dwelling, the former building itself was quite modest in its construction, with just two bedrooms in the efficient arrangement.
14 Apr 2022
Xavier, Hawthorn,
Design: Bryant Alsop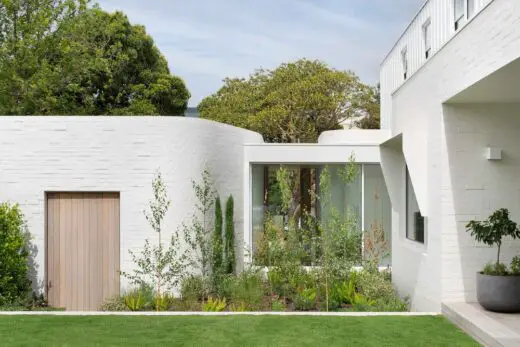 photo : Emily Bartlett
Xavier House, Hawthorn Property
Located at the end of a dead-end street, Xavier breaks away from its neighbourhood context by eliminating a front fence – a simple gesture that allows the site to spatially appropriate well beyond its title boundaries. The house then, in this context, becomes the physical barrier between the public and private realms – a layered, folding screen.
10 Feb 2022
Mt Eliza House
Architects and Interiors: BENT Architecture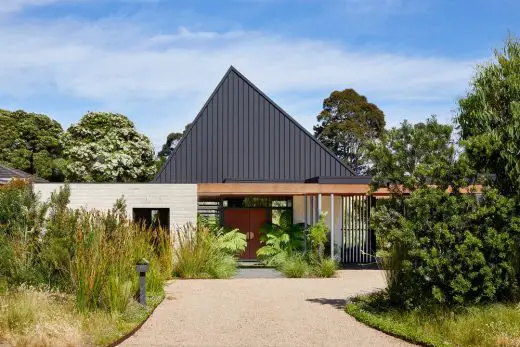 photo : Tatjana Plitt
Mt Eliza House
Australians are living longer and enjoying health and fitness long into their retirement, so isn't it time we created homes to support and enable this growing demographic? One of our passions here at Bent Architecture is designing for ageing in place.
7 Feb 2022
Malvern House, Malvern
Architects: Mckimm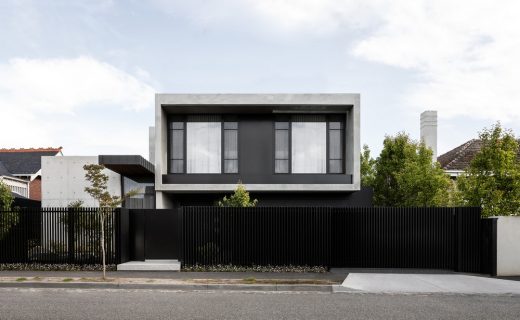 photo : Timothy Kaye
Malvern House
A feature round window is situated at the end of the breezeway, it is an unexpected focal point that captures your eye when you enter the Malvern House. Formed in concrete, it is a solid mass; weighted and bold. The frameless glass aperture punctuates the richness of the space.
31 January 2022
Brighton East House
Design: Ansari Architects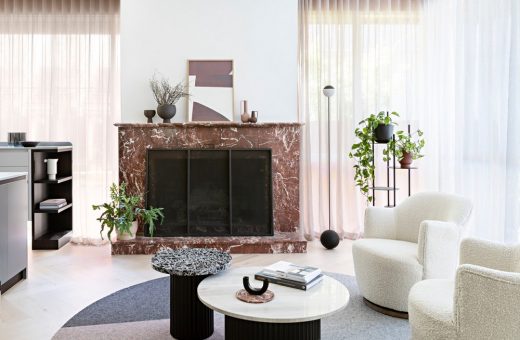 photo : Michelle Williams
Brighton East House
There were a number of obstacles to overcome with the Brighton East House project, a unique Tudor Revival style residence, which had both beautiful original brickwork and out-of-character features like a red marble fireplace. Originally, the owner's wanted a complete renovation of the property, but this wasn't possible due to time and budget restraints.
27 Jan 2022
Shadow House
Design: Thomas Winwood Architecture and Kontista & Co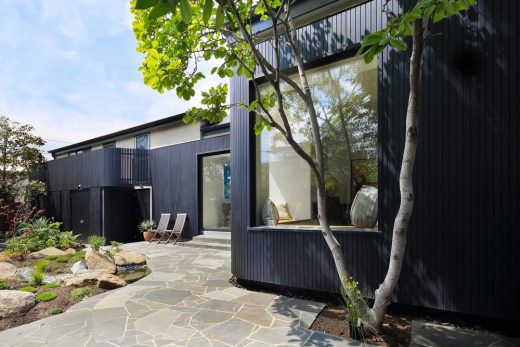 photo : Emily Bartlett
Shadow House
Extending the existing Victorian house on a corner site the project reinterprets the bay windows and scale and arrangement of internal spaces to create a new contemporary kitchen and living spaces at the rear of the existing house.
25 Jan 2022
Station House, Hawthorn East
Architects: Bryant Alsop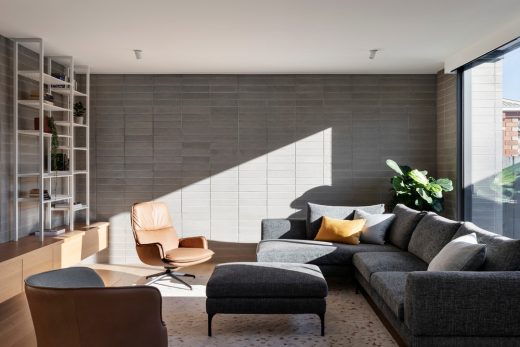 photo : Dylan James
Station House, Hawthorn East
The refurbishment and extension of Station House for a young family of 4 was driven by the desire to create space and light on a restricted, inner-east site. Carefully balancing heritage, council and building reg requirements the completed design is light-filled, voluminous and provides successful family zoning.
More Melbourne Houses on e-architect soon
Melbourne Houses 2021
3 Dec 2021
Tandem House, Hawthorn
Design: Fiona Drago Architect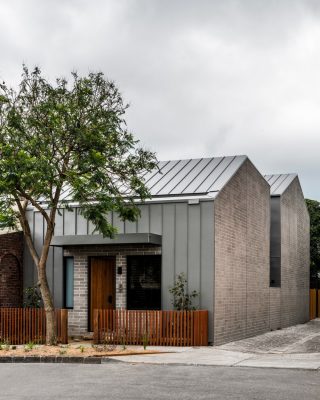 photo : Tom Blachford
Tandem House, Hawthorn
Hawthorn's Tandem House is for a family with young adult children who is scaling down from a large suburban property to a small modern urban block. The house is composed of two masses arranged in tandem along the depth of the site, while presenting as a single mass to the street.
1 Nov 2021
Malvern East House, East Malvern
Architecture: WYK Architecture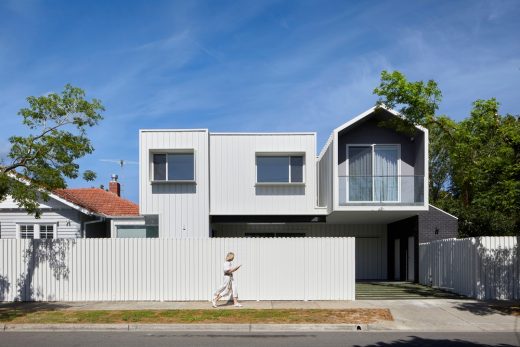 photo : Dave Kulesza
Malvern East House
The response to the Malvern East House design was to provide a distinctly different design to the existing heritage dwelling to identify the old from the new. It allows the heritage to stand apart and be recognised for what it originally was, a single storey bungalow. Sight lines and setbacks were essential from a heritage perspective.
26 Oct 2021
Eternity Life, West Footscray
Architects: k20 Architecture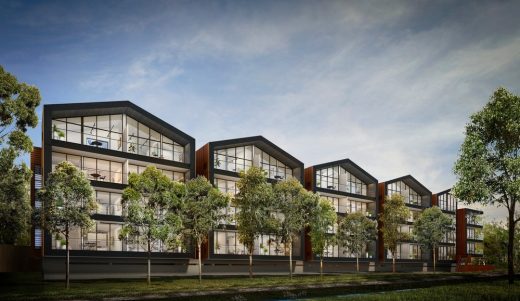 photo : Dave Kulesza
Eternity Life Apartments, West Footscray
Eternity Life is a high-quality sixty-one-unit residential mixed-use project in the heart of bustling West Footscray. Built with three pillars of sustainability (economic, environmental, and social) as the key design driver and situated next to Stoney Creek; Eternity Life is a sanctuary in the centre of an urbanised community.
21 Oct 2021
Strong Arm House
Design: MCK Architecture & Interiors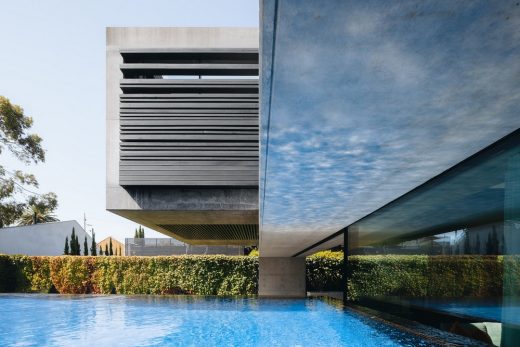 photo : Felix Mooneeram
Strong Arm House, Middle Park
Strong Arm House is the bold response to a demanding brief to suit a busy family of seven who requested a flexible and practical home to suit their evolving needs. A modest bungalow is reconfigured and extended via a contemporary addition to create a sense of place for the young family.
18 Oct 2021
C&L Residences, Collingwood, Melbourne, Victoria, Australia
Design: CHT Architects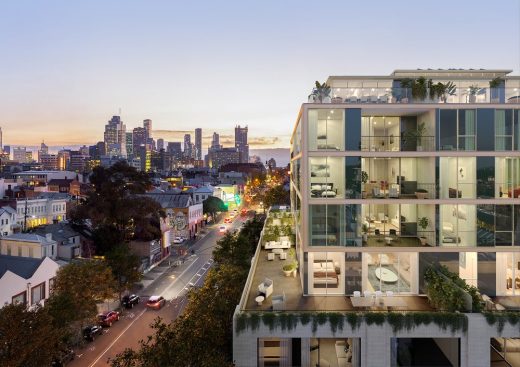 image : Oliver Lagasca
C&L Residences, Collingwood
Construction has commenced on the CHT Architects-designed C&L Residences in Collingwood, Australia. The development, scheduled for completion in 2022, has been created to support the City of Yarra's Community Infrastructure Plan, and meet a burgeoning demand for residential accommodation in the Collingwood area with 35 luxury apartments.
15 Oct 2021
Kew Courtyard House
13 May 2021
St Kilda Home
12 May 2021
Alumuna Residences
17 Apr 2021
Barwon Heads
Architecture: Adam Kane Architects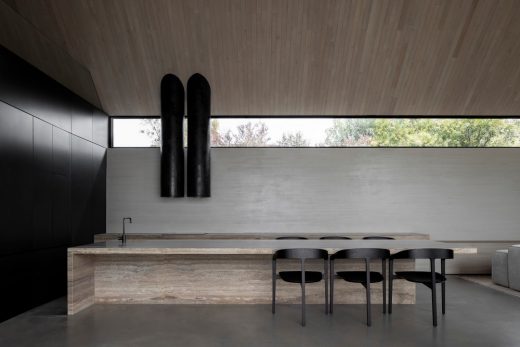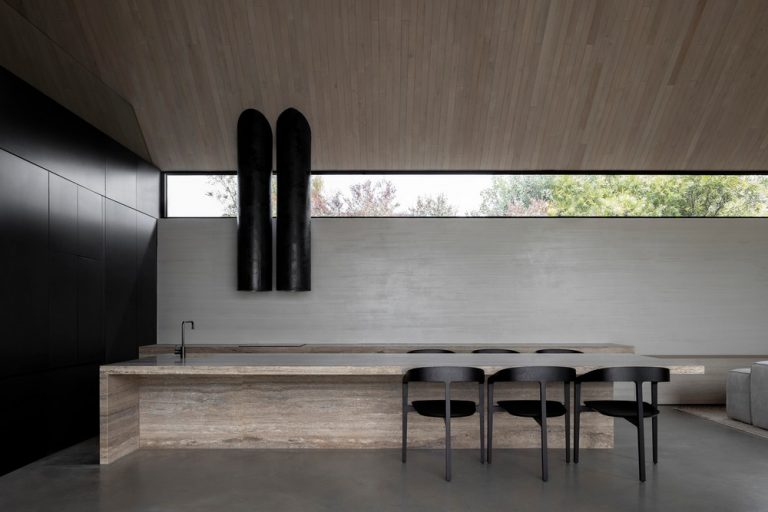 photo : Timothy Kaye
Barwon Heads House, Victoria
Adam Kane Architects has given new life to a run-down weatherboard cottage in coastal Barwon Heads, Victoria, transforming it into a contemporary home through the careful use of textural tones and deep understanding of the sense of space.
16 Mar 2021
POP-UP House, Essendon, Victoria
Architects: FIGR Architecture Studio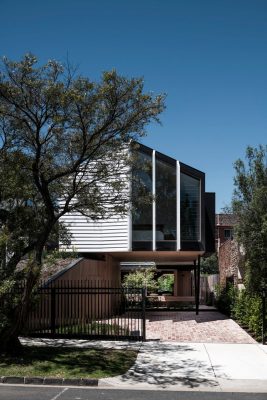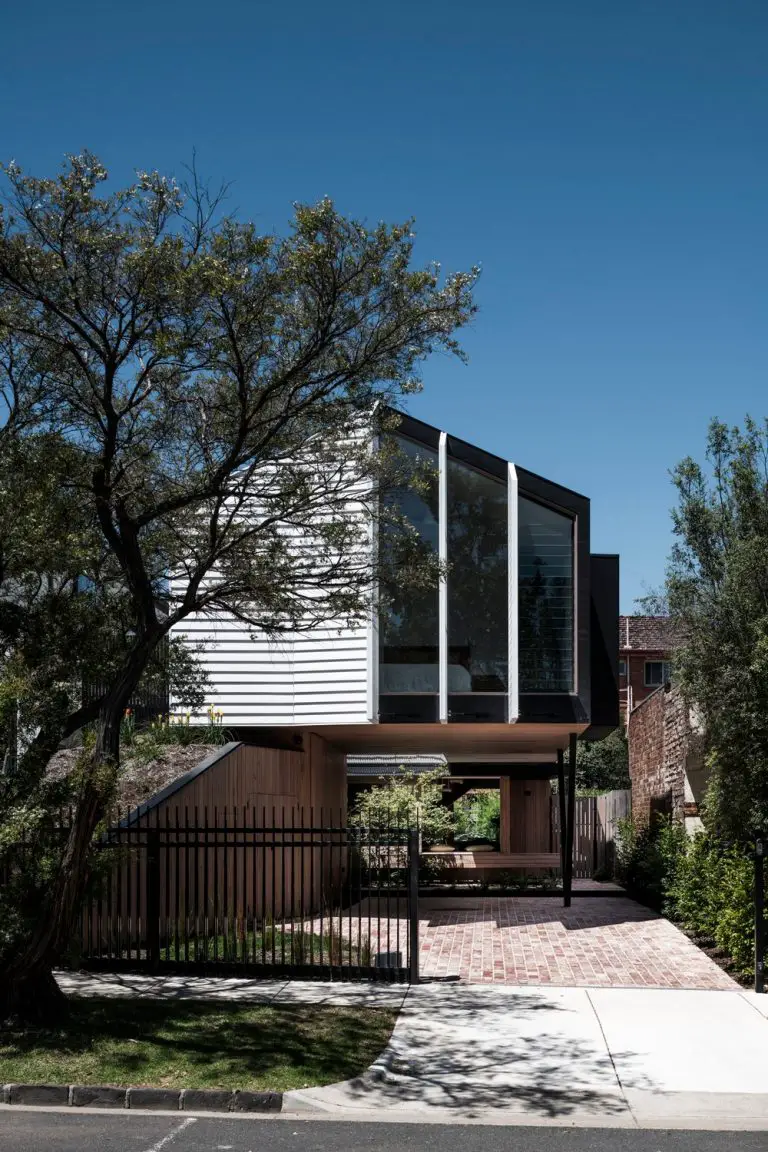 photo © Tom Blachford
POP-UP House, Essendon
POP-UP House attempts to counter the status quo of a new family home in a predominantly heritage setting. A common approach with new homes is to occupy most of the site whilst retaining a minimal front setback with a fortified sheer built form that shuts itself off from the public realm interface.
4 Apr 2021
Hampton House
20 Mar 2021
Inner City Downsize North Fitzroy
24 Feb 2021
Over Pool House, Hawthorn, Victoria
Design: Jane Riddell Architects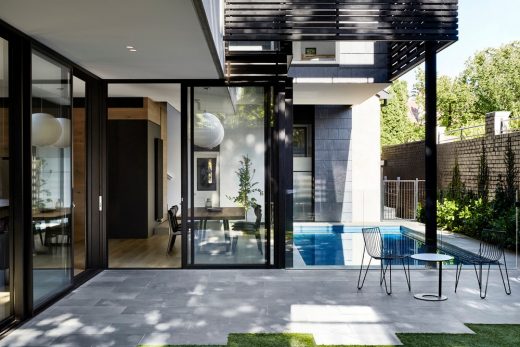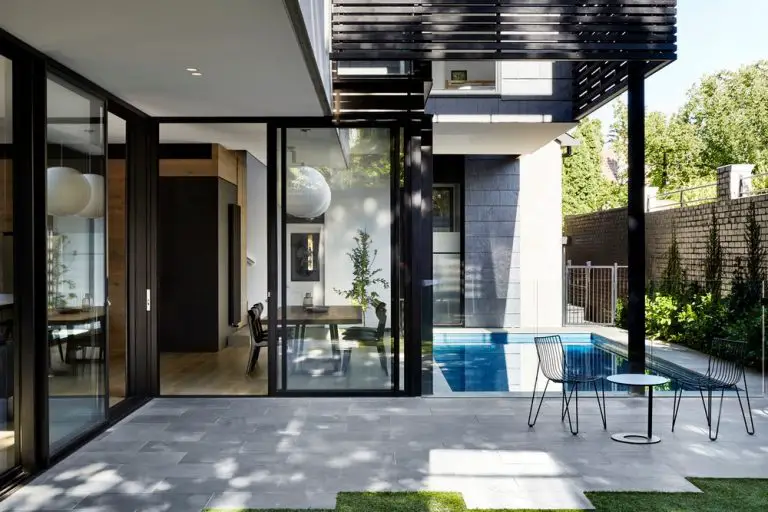 photograph : Tess Kelly
New House in Hawthorn
Over Pool House was designed to allow for contemporary family life to play out beyond the formal front rooms of an existing Victorian house. The pool sits at the threshold between old and new built form and provides the element of surprise as one moves between the two distinct parts of the house.
21 Feb 2021
Powell Street House, South Yarra
Design: Robert Simeoni Architects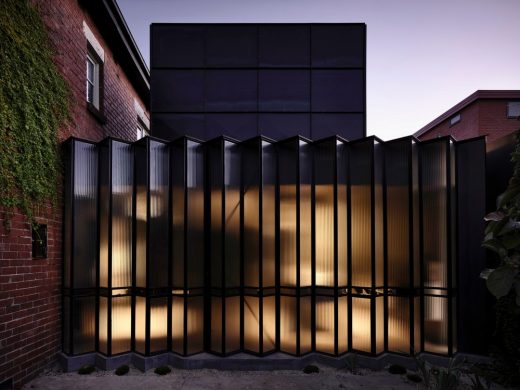 photograph : Derek Swalwell
Powell Street House, South Yarra
The existing 1930s duplex on a compact site in South Yarra comprised a ground floor and first floor apartment, each with its own external access. The owners wished to unite these two dwellings to form a single residence.
16 Feb 2021
130 Lonsdale Street
4 Feb 2021
Gold Street Residence
24 Jan 2021
Kardella Street Residence, East Malvern
8 Jan 2021
Markham Residence, Brunswick
Design: Preston Lane Architects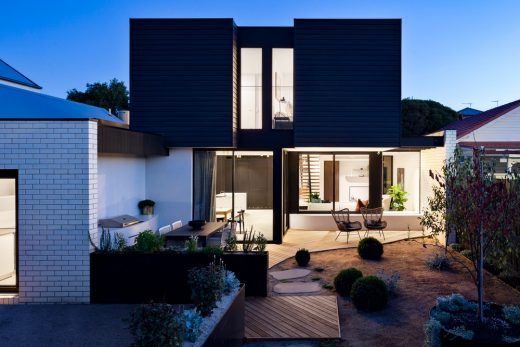 photo : Dylan James
Markham Residence
The Markham Residence is a significant heritage renovation to an existing unliveable house in Brunswick, Victoria. The client's brief for this project called for a four-bedroom house with two living areas as well as off street parking via a rear lane.
More contemporary Melbourne Houses online here soon
Melbourne Properties Summer – Autumn 2020
20 Dec 2020
Little Creatures Brewery, South Geelong
20 Dec 2020
Greeves Street House, Fitzroy
2 Dec 2020
Beaumaris Re-Modern
30 Oct 2020
Cross-Stitch House
Design: FMD Architects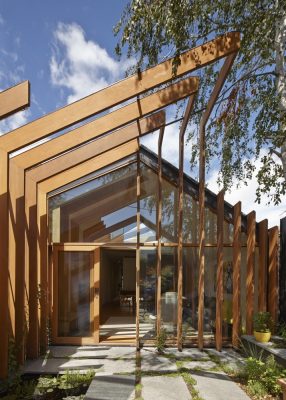 photo : Peter Bennetts
Cross-Stitch House
The brief for this new property in Victoria was to create new Living spaces, relocate the kitchen and bathroom and improve access to natural light. The functional requirements of the client were simple. The only particular requirement was to find a place in the design for 3 tapestries that her mother had made.
13 Oct 2020
Paperback House
30 Sep 2020
Ruxton Rise Residence
25 Sep 2020
Split House
21 Sep 2020
York Street Residence
21 Sep 2020
Small Grand Apartment
17 Sep 2020
Apartment 302, Sargood House
16 Sep 2020
Feng Shui House, North Melbourne
11 Sep 2020
Abode318 Apartments
7 Sep 2020
Malvern Garden House
1 Sep 2020
Colour Shingle House in North Melbourne
post updated 29 Aug 2020
Cloud House, North Fitzroy
Architect: McBride Charles Ryan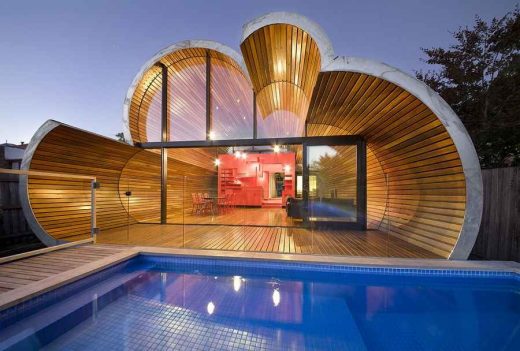 photo : John Gollings
Cloud House North Fitzroy
The Cloud House is an addition and renovation to a double-fronted Edwardian house in Fitzroy North.
24 Aug 2020
Gable House
20 Aug 2020
Piccolo House in South Melbourne
17 Aug 2020
Balnarring Beach House, Victoria
13 Aug 2020
Albert Park Residence
Architecture: Kestie Lane Studio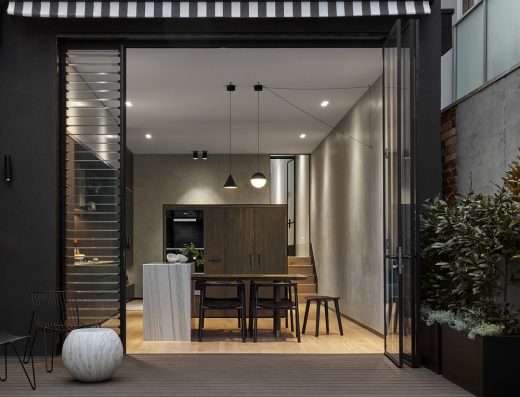 photograph : Peter Clarke
Albert Park Residence
The single fronted Victorian cottage was completely transformed from a dark and dis-functional residence to a light filled, highly detailed and functional home to suit the beautiful bayside location and lifestyle.
24 July 2020
Wildcoast House in Portsea, Mornington Peninsula, Victoria
Design: FGR Architects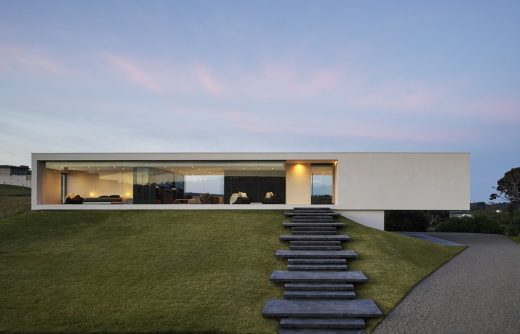 photograph : Peter Bennetts
Wildcoast House in Portsea, Victoria
FGR Architects has brought the best of simple, minimalist design to Wildcoast Road, Portsea, by creating a rectangular module home that effortlessly stands out amongst the establishment. The design is meticulous and considerate where upon first look, the family residence appears to be floating, as it sits perched on a crest.
27 Jul 2020
Hill House in Richmond
27 Jul 2020
Wildcoast House
More new Melbourne Houses online here soon
Victoria Properties Winter – Spring 2020
10 Mar 2020
Daylesford 1863, Daylesford, Victoria, Australia
Architecture: Moloney Architects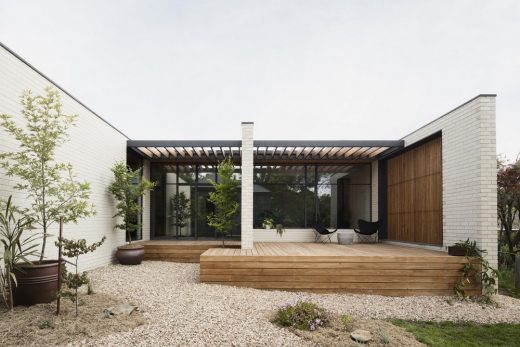 photograph : Ben Hosking
New House in Daylesford, Victoria
Conceived as a home in three parts, this new residence consists of a restored heritage home, a contemporary pavilion extension, and a linkway that invites us to stop and dwell.
23 Feb 2020
Olinda House
Architects: BENT Architecture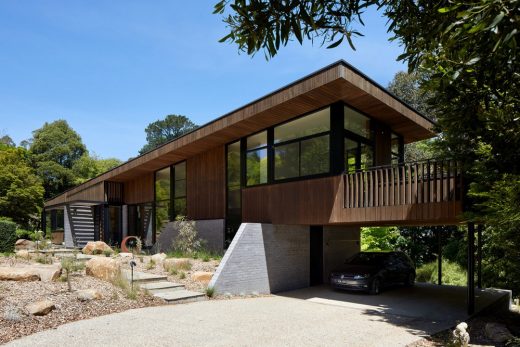 photograph © Tatjana Plitt
Olinda House in Melbourne, Victoria
This new residence in Victoria is the result of a love story between the owners and their site. Designed for vets and keen gardeners, Matt and Leanne, the home brings the outdoors in and means their daily lives are immersed in greenery.
7 Feb 2020
Bluff House, Hawthorn East
Design: NTF Architecture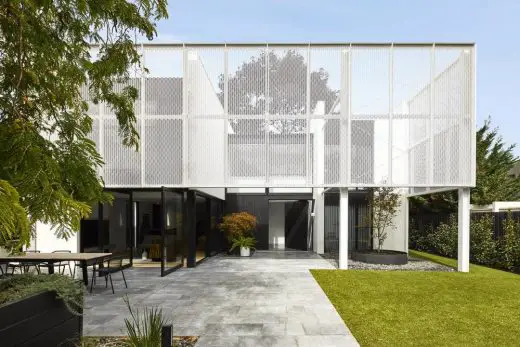 photograph : Dave Kulesza
Bluff House in Hawthorn East
This property client's brief called for an open plan home, with generous living spaces on both the ground and first floor. The original floor plan showed restraints in the functionality of day-to-day living, so NTF Architecture wanted to create a family home where easy living was acquired.
30 Jan 2020
Canterbury Road Apartments, Surrey Hills
Architects: Elenberg Fraser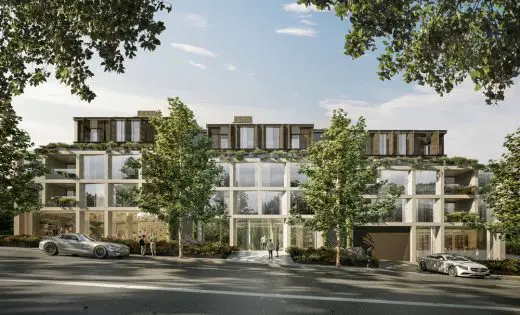 image : Pointilism
Canterbury Road Apartments in Surrey Hills
Located in leafy Surrey Hills, these suburban luxury residences along Canterbury Road visually extend to the lush landscape of Surrey Gardens.
21 Jan 2020
Sargood Street House, Toorak
Design: Megowan Architectural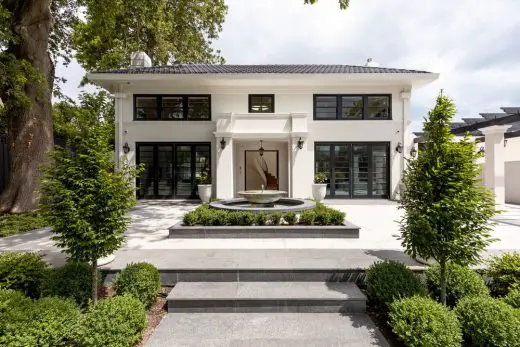 photograph : Elise Scott
Sargood Street House in Toorak
A total overhaul of renovations and extensions to an existing Art Deco home in Toorak. No surface was left untouched.
11 Jan 2020
Turn House, Fitzroy North, Melbourne, Victoria, Australia
Design: Rebecca Naughtin Architect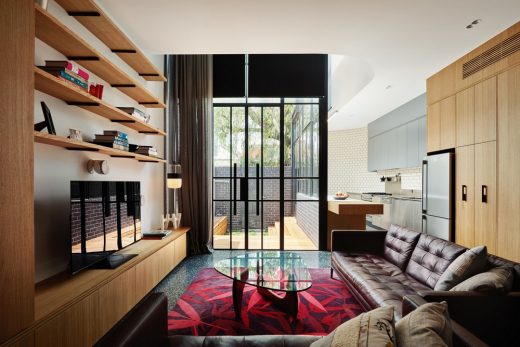 photograph : Daniel Fuge
House Extension in Fitzroy North
This is a small, single storey extension to an existing single fronted Victorian residence in North Fitzroy.
11 Jan 2020
Mid-Century Revival Residence
Design: Detail 9 Architects Pty Ltd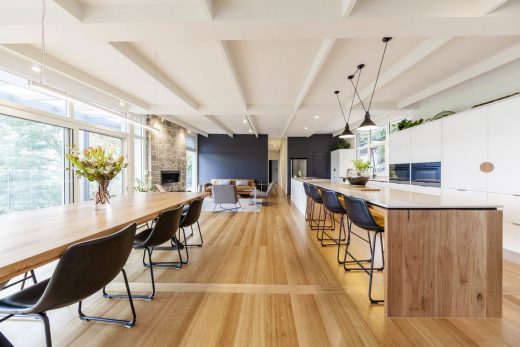 photograph : Matthew Forbes
Mid-Century Revival Residence
Collaboration is key to any successful outcome, so taking on this residential project was a great opportunity to partner with Secret Design Studio, Balwyn Builders and some fantastic clients.
6 Jan 2020
A House for All Seasons, Cremorne, inner suburb of Melbourne, City of Yarra, Australia
Design: POLY STUDIO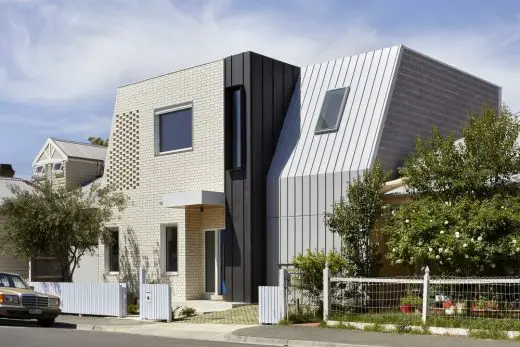 photo : Tatjana Plitt
A House for All Seasons in Cremorne
A contemporary house designed for the evolving needs of a young family within the context of a heritage streetscape in inner-city Melbourne.
5 Jan 2020
Roseberry Street House, Hawthorn East
Design: Chan Architecture Pty Ltd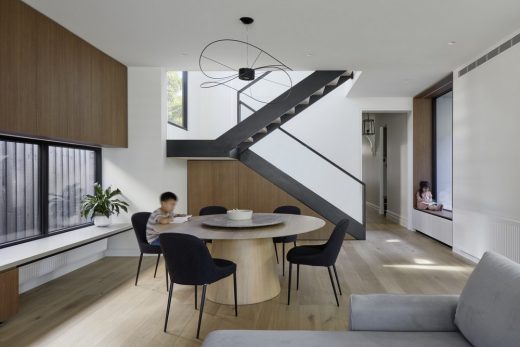 photo : Tatjana Plitt
Roseberry Street House Extension in Hawthorn East, VIC
This new property project was a rear and upstairs extension to a double fronted Victorian terrace house in Hawthorn East. The brief was to retain the character of the period home at the front of the house and design a spacious, light-filled modern extension to the rear.
More new Melbourne Houses online here soon
Victoria Properties 2010 – 2019
12 Dec 2019
Albert Park House Extension
Architecture: Modscape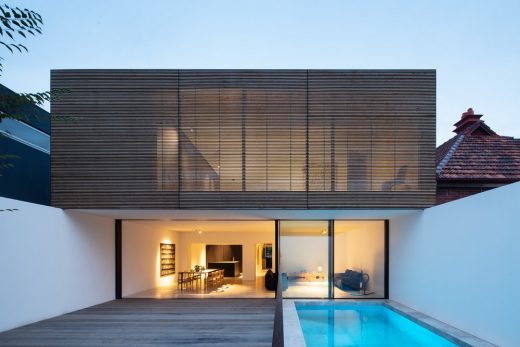 photograph : John Madden
Albert Park House Extension near Melbourne, Vic
Inspired by their client's brief for a minimalist, tranquil residence hidden away from the surrounding city, this architecture studio worked with the existing structure and added a new extension that would increase the amount of natural light and fresh air entering the house and provide an open living area with an intimate master retreat above.
4 Dec 2019
Swedish Summer House
Architecture and Interior Design: Hindley & Co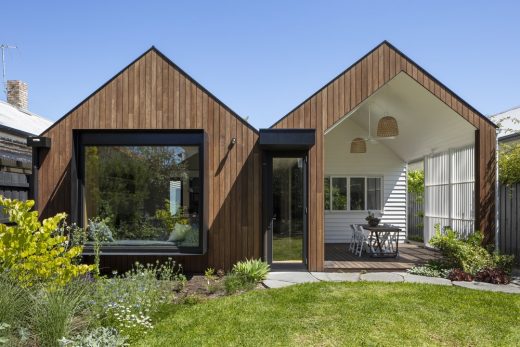 photograph : Greg Elms
Swedish Summer House Elsternwick
Hindley & Co are feeling the envisioned simpatico with the Yakisugi charred cladding on the Swedish Summer House style addition and garden studio.
24 Nov 2019
Hawthorn East House
20 Nov 2019
JP Courtyard House
6 Nov 2019
Studio Garage in Melbourne, House Extension
5 Nov 2019
Oak Grove Residence in East Malvern, Victoria
29 Oct 2019
Nightingale 2.0 Apartments
26 Oct 2019
House in the Woods, Donvale
28 Sep 2019
Connect Six House
Design: Whiting Architects in collaboration with Fisher & Paykel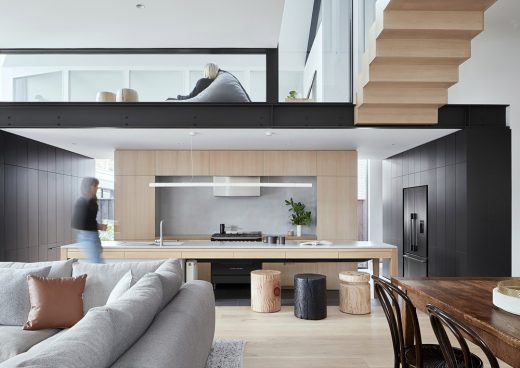 photograph : Shannon McGrath
Connect Six House
This unique space is bursting with contemporary design that skilfully preserves the history of the existing Edwardian home, originally built in 1915.
26 Sep 2019
Elmhurst House in Kew
21 May 2019
Mullum Creek House in Donvale, Victoria
20 May 2019
Moat's Corner
25 Mar 2019
Brace House, Albert Park
Design: Finnis Architects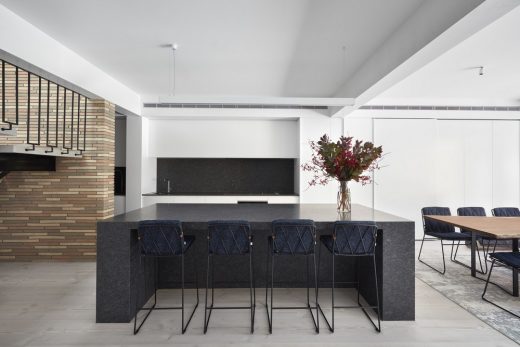 photograph : Tom Roe Photography
Brace House in Albert Park
The property was a process of retaining and celebrating the existing architectural language of a double fronted Victorian terrace whilst transforming the remainder of the dwelling into an adaptable, contemporary, modern family home.
24 Mar 2019
Yarrbat Ave House, Balwyn
Architects: K2LD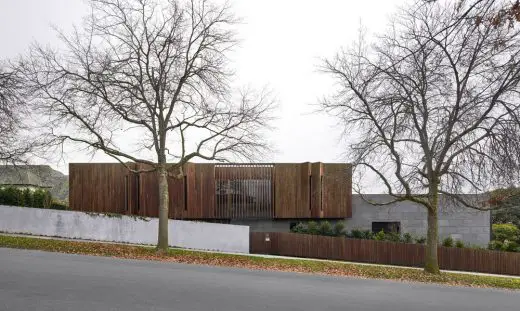 photograph : Jeremy Wright
Contemporary House in Balwyn
The property design for was heavily inspired by the site, with its large oak trees on Yarrbat Avenue coupled with the open view out to the Dandenong Ranges.
21 Mar 2019
St Andrews Beach House, Mornington Peninsula, Victoria
Design: Austin Maynard Architects
St Andrews Beach House on the Mornington Peninsula
21 Mar 2019
Mornington Peninsula Properties
New Houses on the Mornington Peninsula
7 Mar 2019
Richmond Terrace
Architects: Robert Nichol & sons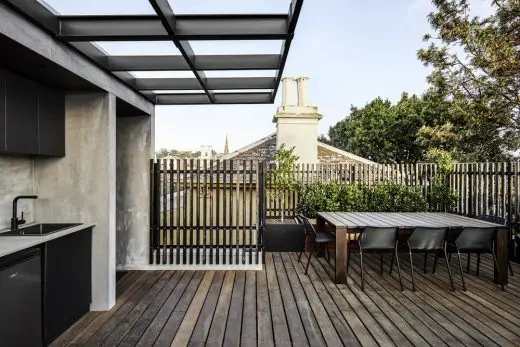 photograph : Lillie thompson
Richmond Terrace Property
This home rebuild retained only the front and rear walls of the residential building – and a substantial waffle slab cement ceiling – the previous interior, which was confusing and over-constructed, was completely removed.
4 Feb 2019
Tree House, Kew
Design: Andrew Child Architecture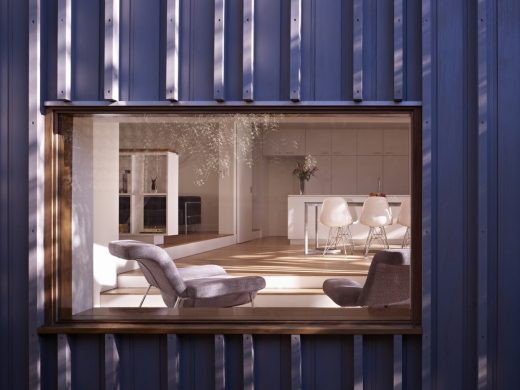 photo : Rhiannon Slatter
Tree House in Kew
Property upgrade of dark middle suburban Californian Bungalow into a light, modern 3 bedroom + study residence protecting a lovely cluster of huge trees in the backyard.
30 Jan 2019
Arrow House, Footscray, Victoria
Design: Mark Lam Architect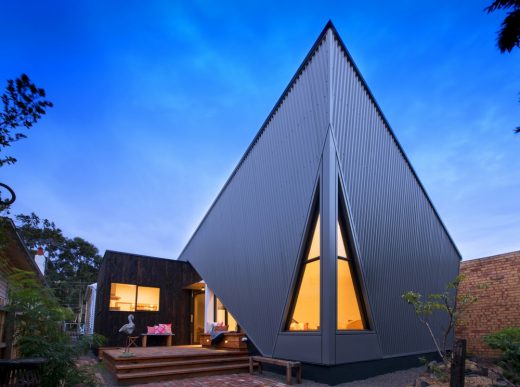 photo : Sarah Louise
Arrow House in Footscray
A renovation and extension to a Victorian weatherboard house in this inner Western Melbourne suburb, transforming the existing dilapidated double-fronted Victorian residence into an airy new home.
1 Jan 2019
Port Melbourne House, Victoria
Contemporary Melbourne Houses Archive
New Melbourne Homes up to and including 2018
Melbourne Homes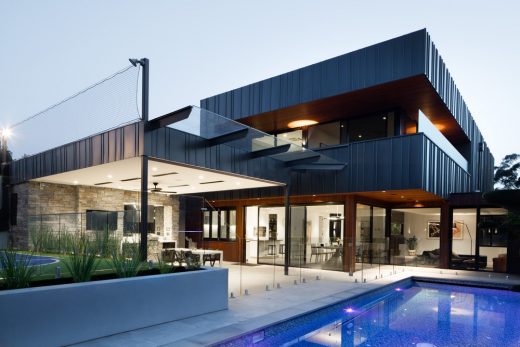 photograph : Nic Granleese
More Melbourne Houses online soon
Location: Melbourne, Victoria, Australia
Architecture in Melbourne
New Architecture in Victoria
Buildings / photos for the Melbourne Homes page welcome