Parkade Carpark Melbourne MPavilion, Naomi Milgrom Foundation Publication, Peter McIntyre Victoria Building Architect
Parkade Carpark Melbourne MPavilion
1 Dec 2020
Melbourne Parkade Car Park Building
Location: 34 Little Collins Street, Melbourne, Victoria, Australia
Mpavilion Announces Trailblazing, Adaptive Takeover Of Parkade Car Park
MELBOURNE, AUSTRALIA: The Naomi Milgrom Foundation, in collaboration with the City of Melbourne and Creative Victoria today announced that from 8 January 2021 MPavilion—Australia's most loved architecture and design event—will take residency at the architecturally significant Parkade Carpark designed by Melbourne architect Peter McIntyre AO at 34 Little Collins Street, Melbourne. As an extraordinary contribution to the City of Melbourne's recovery strategy, MPavilion Parkade, will be a highly-accessible cultural destination, hosting events, workshops, and performances designed to stimulate, entertain, and engage the public, 7-days-a-week.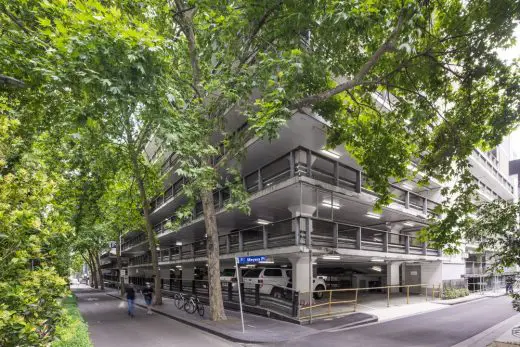 photo : Timothy Burgess
In a timely example of 'adaptive re-use'—the process of reusing an existing building for a purpose other than that for which it was designed—MPavilion will use the Parkade car park as a new home for its unique, multi-faceted program of public events and community experiences. The Parkade was designed by Peter McIntyre of one of Australia's most prominent architectural firms known as Mclntyre Partnerships. His extraordinary portfolio includes Parliament Station, The Jam Factory, The Butterfly House, and the 1956 Olympic swimming pool.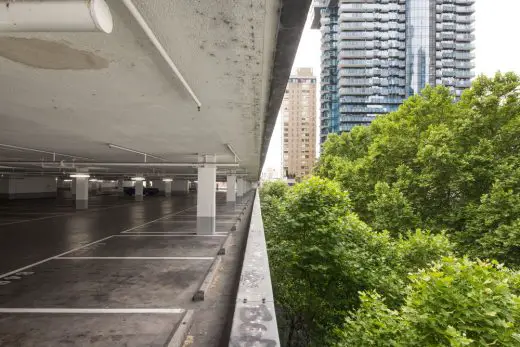 photo : Timothy Burgess
Built c1960-70, the Parkade was originally a carpark with offices and later modified. This adaptive re-use expands upon the broader conservational message of MPavilion's January program, which has been curated under the theme  'Preservation: Propagating Knowledge.' During this first month of 2021, MPavilion will present a far-reaching series of events exploring conservation, protection, reinvention, and maintenance in a growing city.
Naomi Milgrom AC, the Naomi Milgrom Foundation founder said: "It's exhilarating to collaborate with the City of Melbourne, Creative Victoria, and our wonderful partners to make MPavilion Parkade a reality. In 2021, MPavilion's thoughtful adaptation of Parkade car park honours the site as an important part of Melbourne's architectural history while giving it new life and significance. With this bold reimagining of such a central space, MPavilion demonstrates the possibilities that pre-existing sites can offer Melburnians as we reanimate the city post-Covid. MPavilion Parkade is the embodiment of design as a social practice—a sustainability-conscious, community-bolstering action that empowers hundreds of designers and creatives in the process."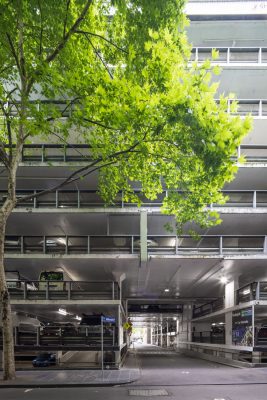 photo : Timothy Burgess
City of Melbourne's Lord Mayor Sally Capp said: "Our city's economic recovery is just beginning, and we need new and innovative activations and events to encourage people to rediscover everything that Melbourne has to offer. MPavilion Parkade will be a major drawcard while showcasing the famous creativity of our city. The City of Melbourne has been a supporter of MPavilion, and the program for January 2021 is truly something special." 
Parkade architect Peter McIntyre also commented:  "I am absolutely delighted the MPavilion will be using the car park—it's a very imaginative idea. It's a useful thing to do with it because cars are on their way out. In the end, looking back on it, it is a true modernist building. It followed those very early principles of modernism in that it was clearly functional, no-frills, no decoration, in some senses, very brutal. It's very complimentary that we are going to have MPavilion gathering there, and I never imagined that happening!"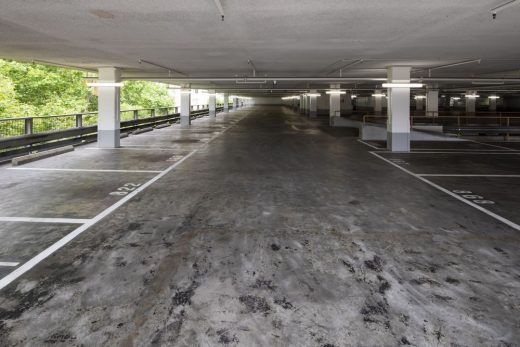 photo : Timothy Burgess
MPavilion's January theme 'Preservation: Propagating Knowledge' encompasses a vast spectrum of events that look to Indigenous knowledge and practices, the generation of adaptive spaces, communing with nature while empowering the young, and the embracing of radical new design approaches. As the primary location of January's program, MPavilion Parkade will play host to a huge array of experiences, conversations, activities, and more, including architectural and design events, jubilant live music performances, interactive installations, and fun workshops for kids and families on school holidays.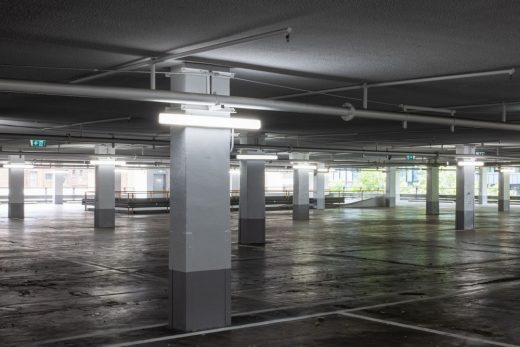 photo : Timothy Burgess
Key events of January include a conversation with Julian Burnside AO QC, circus classes presented by Westside Circus. a Chunky Move dance residency, a Margam dance class with Tara Rakjumar OAM and Nithya Gopu Solomon of Natya Sudha Dance Company, architectural film screenings curated by architect and filmmaker Toby Reed, a roller-disco, a concert for dogs (and their humans) with Henry Wagons (in partnership with Melbourne Music Week), a discussion about the power of tapestry with Architects Peter Williams AM, Amy Muir and Australian Tapestry Workshop Director Antonia Syme AM, a climate change meditation led by yoga instructor and founder of Mistletone Records & Touring Sophie Miles, a breathwork soundscape with Make It Up Club curator Nat Grant and artist Dina Smirnov, Yogabean yoga classes for kids, and much more.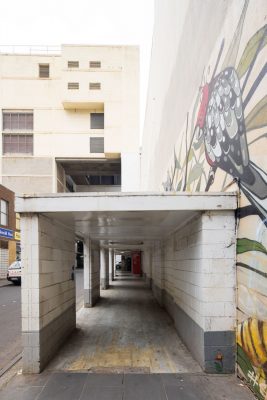 photo : Timothy Burgess
MPavilion's MProjects—a series of unique creations and residencies commissioned exclusively for MPavilion—includes the First Nations Early Career Writers Residency initiative, the BLAKitecture series of talks and events on Indigenous architecture, MPavilion education guides for schools, upcycled staff uniforms by fashion designer Chelsea Hickman, and physically-distanced stools for on-site events by interior designer and architect partners Holly Board & Peter Grove. Other highlights include collaborations with  Bakehouse Studios, Melbourne Music Week, and Open House Melbourne. This summer, MPavilion will also collaborate with Uptown—an outdoor art exhibition at the top of Bourke St—to present a series of talks, workshops and city walks. Details to be released soon.
With over 500 collaborators presenting 400 free public events, including talks, performances, kid-friendly activities, and installations, MPavilion this year has taken on a critical role in the city by adapting its program to support community needs. By making adaptive re-use of the Parkade car park, and reanimating the MPavilions of previous years— including Amanda Levete's MPavilion at Docklands, Bijoy Jain's MPavilion at Melbourne Zoo, and Rem Koolhaas & David Gianotten's MPavilion at Monash University—MPavilion is responding to the challenges of the pandemic with creativity, community, and a revival of Melbourne's outdoor and public spaces.
An expansion of this season's events beginning completely online, MPavilion's lively January program will primarily unfold in-person, in real physical locations across the city—including MPavilion Docklands and MPavilion Monash. The rest of MPavilion's highly accessible online events, talks, Hope St Radio at Melbourne Zoo streams, and Summer Reading Lists can be enjoyed on the MPavilion website's specific event pages, the MPavilion Library, or the MPavilion YouTube channel.
MPavilion is supported by principal partners, the City of Melbourne, the State Government of Victoria through Creative Victoria, RACV, and major partner Dexus.
For further program details, please visit www.mpavilion.org
Key dates and useful links:
About Peter McIntyre
In a career spanning over 70 years, architect Peter McIntyre AO has had a significant influence on Melbourne's urban landscape. Educated at Trinity Grammar School, Royal Melbourne Institute of Technology and Melbourne University, he founded a practice in 1950 that combined modern, high-technology materials with concern for "emotional functionalism," or the impact of the built environment on its occupants. In 1953, he founded the McIntyre Partnership Pty Ltd. (previously McIntyre, Mcintyre & Associates) where he serves as practice director, principal, and senior partner. His extraordinary portfolio includes Parliament Station, The Jam Factory, The Butterfly House, and the 1956 Olympic swimming pool.
Location: Queen Victoria Gardens, Melbourne, Victoria, Australia
Previously on e-architect:
MPavilion Melbourne
20 Aug 2020
MPavilion: Encounters With Design And Architecture Book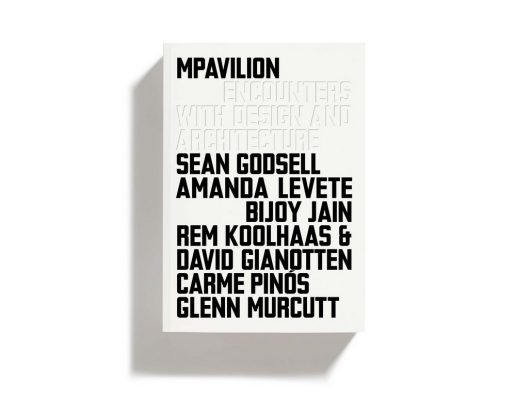 26 July 2019
MPavilion 2019 Building Design
Design: Glenn Murcutt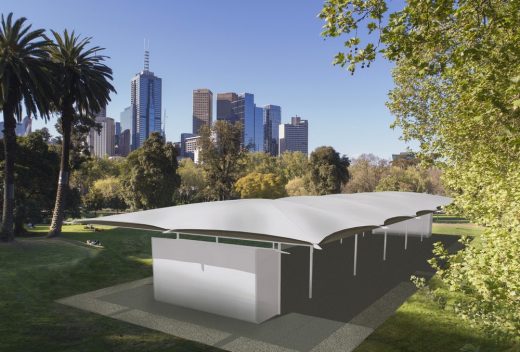 photo courtesy of Naomi Milgrom Foundation
Glenn Murcutt
Naomi Milgrom, Glenn Murcutt: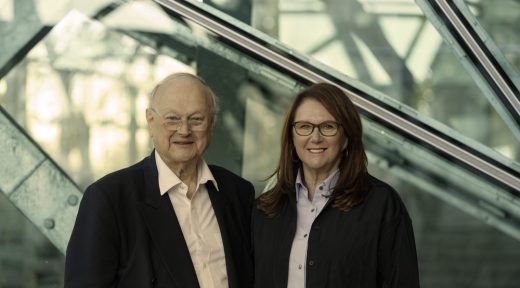 photo : Timothy Burgess
Naomi Milgrom with Glen Murcutt Architect: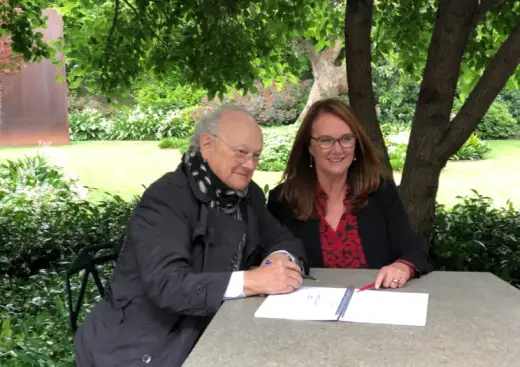 photo courtesy of Naomi Milgrom Foundation
MPavilion 2019 by Glenn Murcutt Architect
MPavilion 2018 Building
Design: Estudio Carme Pinós
MPavilion 2018 by Estudio Carme Pinós
MPavilion 2017 Building
Design: OMA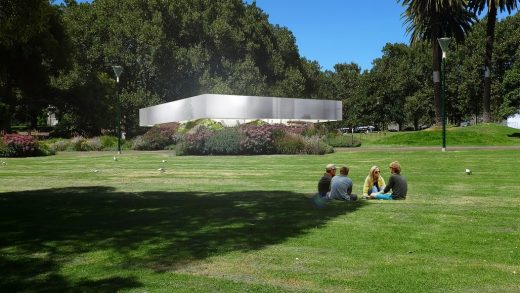 photo courtesy of Naomi Milgrom Foundation
MPavilion 2017 Building Design by OMA – first building designed and constructed by OMA in Australia.
MPavilion 2016 Building
Design: Bijoy Jain of Studio Mumbai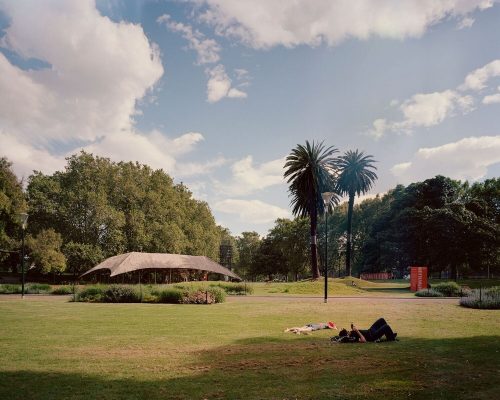 photo courtesy of Naomi Milgrom Foundation
MPavilion 2016 Pavilion by Bijoy Jain
MPavilion 2015, Amanda Levete of AL_A: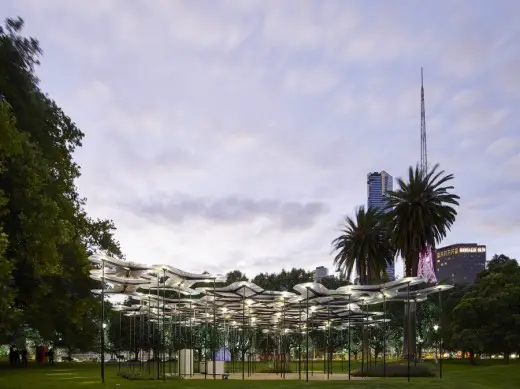 photo : Richard Powers
MPavilion Melbourne by Amanda Levete
MPavilion 2015 Melbourne by Amanda Levete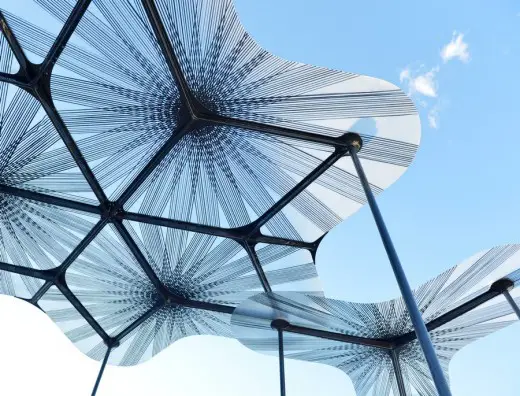 MPavilion 2015 prototype photo © Kane Jarrod
For further information, please visit www.mpavilion.org
Architecture in Melbourne
Melbourne Architecture Designs – chronological list
Melbourne Architect – design studio listings
Architectural Design in Australia
Website: Naomi Milgrom Foundation Melbourne
Website: Queen Victoria Gardens Melbourne
Comments / photos for Parkade Melbourne MPavilion Carpark 2021 page welcome
Website: Melbourne