HASSELL Architects, Australian Building Projects Images, Design Office News, Architecture Firm
HASSELL Architects : Architecture Studio
Contemporary Architectural Practice in Australia – Design Office News
post updated 6 June 2023
HASSELL News
HASSELL Architects News, chronological:
6 June 2023
Bidi Bidi Refugee Music & Arts Centre, northern Uganda, Africa
Design: Hassell with LocalWorks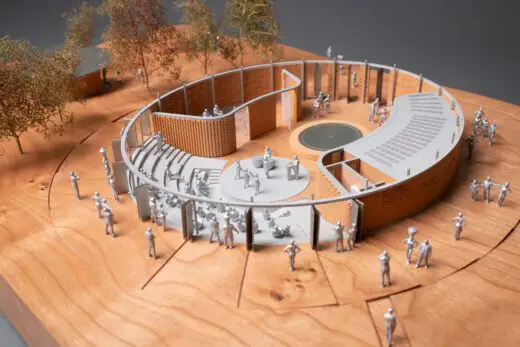 image courtesy of architects office
Bidi Bidi Pavilion at London Design Biennale
A pavilion dedicated to Bidi Bidi Music & Arts Centre in northern Uganda's Bidi Bidi refugee settlement, developed by to.org, designed by Hassell, in partnership with Arup, will debut at London Design Biennale this June.
19 Dec 2022
University of Brighton Moulsecoomb Campus Masterplan, East Sussex, Southeast England, UK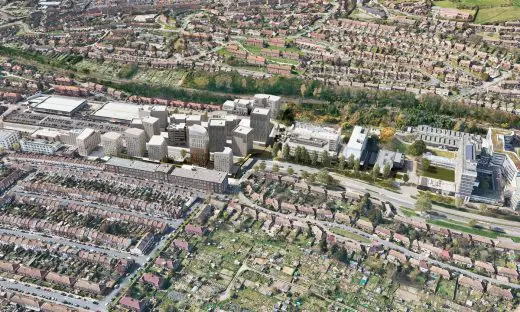 image courtesy of architects office
University of Brighton Moulsecoomb Campus Masterplan
20 Jan 2020
Postgraduate Teaching Hub and Business School building, University of Glasgow, Scotland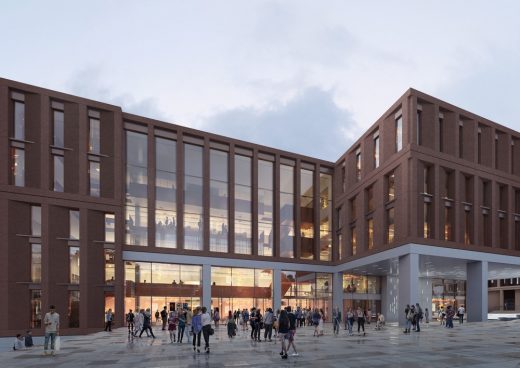 image : HASSELL / Imigo
Full details on our Glasgow Architecture news page
The University of Glasgow has approved plans for a major new development which will create a unique hub for its Postgraduate Taught (PGT) student community and house the Adam Smith Business School.
19 Jun 2018
Futureland Puye Experience Centre and Show Office, Nanjing, China
Design: HASSELL, Architects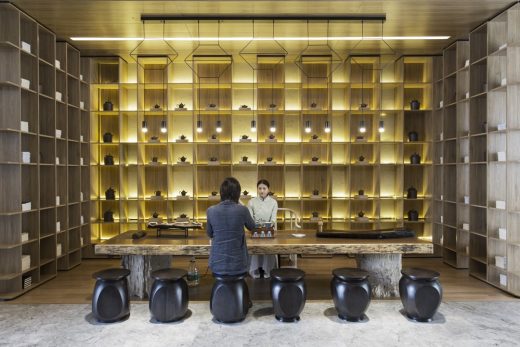 image courtesy of architects
Futureland Puye Experience Centre and Show Office
PUYUE HESHAN is a high-end property brand created by developer Future Land, who commissioned HASSELL to design an experience centre for this suite of new residential apartments.
18 Jun 2018
Wyndham Grand Yangon Royal Lake Hotel, Myanmar, Southeast Asia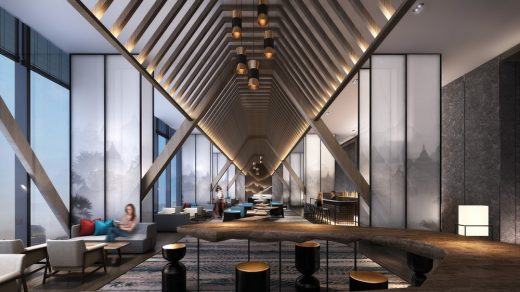 image courtesy of architects
Wyndham Grand Yangon Royal Lake Hotel
Located on the banks of Yangon's famous Grand Kandawgyi Lake, the new Wyndham property is an urban sanctuary that immerses guests in the city's rich history, culture and landscape.
8 May 2018
Optus Stadium, Perth, Western Australia
Architects: Cox Architecture / HASSELL / HKS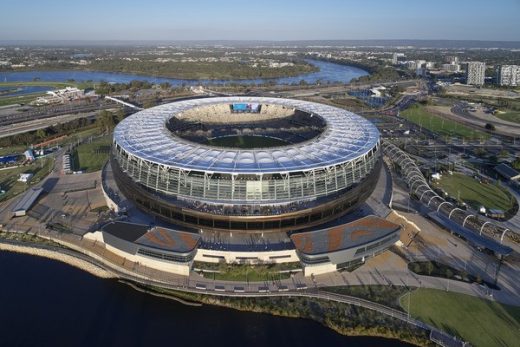 photo : Peter Bennetts
Optus Stadium Building in Perth
Set within a 30-hectare Stadium Park, located on the banks of the Swan River, the Optus Stadium design is based on a commitment to a 'fans first' approach. This has resulted in an innovative design ensuring an exceptional event atmosphere and home ground advantage that delivers an unsurpassed visitor experience.
28 Mar 2018
Mawan Mile, Shenzhen, Guangdong, southeastern China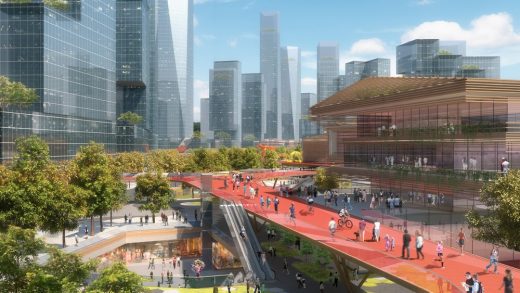 image from architecture office
Mawan Mile
The competition concept for the Mawan Mile is a vibrant new place for Shenzhen to gather, combining lush parklands, new cultural buildings and a winding skydeck in one essential, wellbeing-led destination.
14 Jun 2017
Co-Working and Lifestyle Hub in Singapore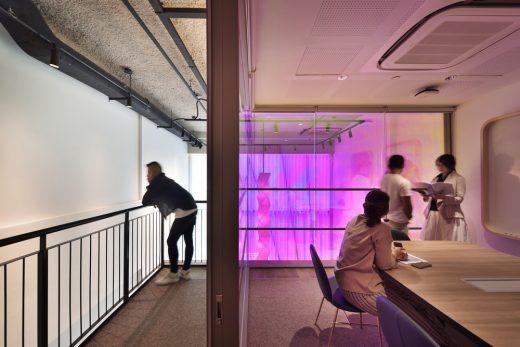 image from architects
Co-Working and Lifestyle Hub in Singapore
Following on the success of its flagship space on Keong Saik Road, The Working Capitol's new site at 140 Robinson Road takes the company's focus on wellbeing, social connections and the free flow of ideas between industries and pushes it a step further.
4 Mar 2017
The Proof Flat, Singapore
A new retail experience in Singapore, created by award-winning designers HASSELL.
'The Proof Flat' is a first of its kind from Proof & Company Spirits, which is known for its award-winning bar concepts 28 HongKong Street and Manhattan Bar.
Now Proof & Company have opened a bricks and mortar retail salon on Hong Kong Street for those who appreciate fine spirits and cocktails – and value insider advice from some of the industry's most prolific drinks experts.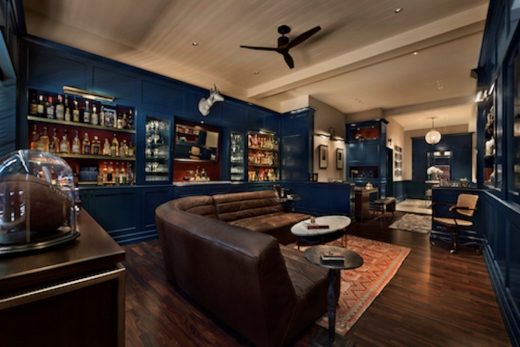 The Proof Flat is the personal residence of the fictional patriarch of Proof & Company, Mr. E.C Proof – an imagined home that shows how he might live.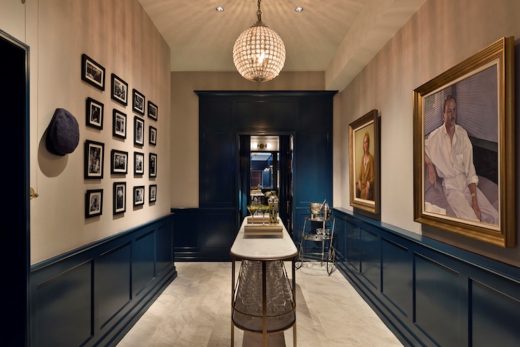 The curious retail concept personally welcomes customers to a stylish 'home' where they can taste and purchase a wide array of spirits (roughly 350 bottles), as well as get the full set of apparatus required to setup their own at-home bar. The Proof Flat also accepts personal appointments and includes bar tools, bar pantry items and books on cocktails and spirits.
The dynamic space is also used for workshops, industry events, tasting and training sessions, as part of The Proof and Company spirits education offering.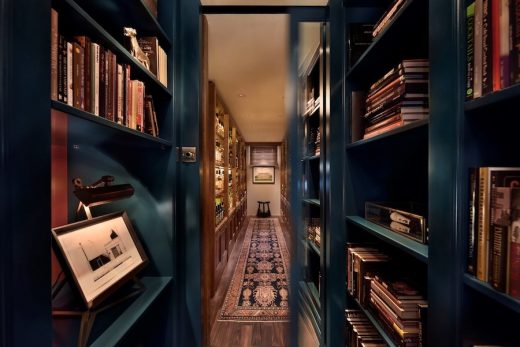 Creating the apartment salon was the idea of Crafty and realised by HASSELL, which aimed to bring to life the personality of EC Proof and balance the contemporary with the traditional and referencing the context of the building and Hong Kong Street itself.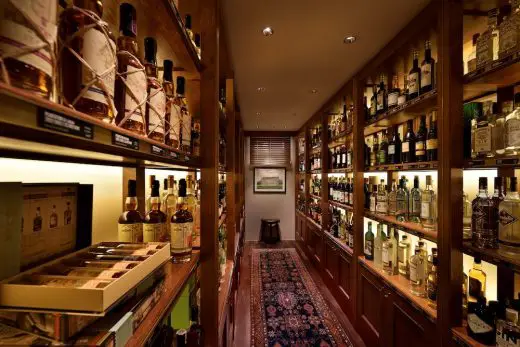 A neutral palette of whites and marble floors is complemented by rich glossy cabinetry and panelling of teal blue with burgundy contrasts. Customised furniture pieces from Indonesia were crafted in Champagne gold stainless steel and dark timbers. The result: a sophisticated and very lifelike residence.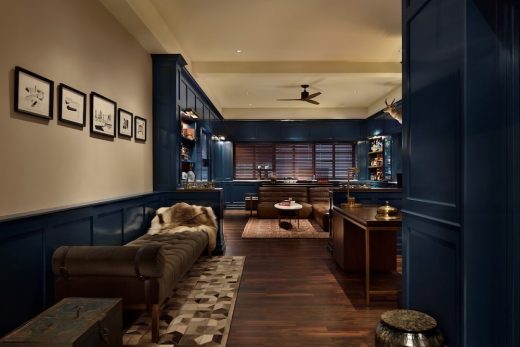 The styling of the space was strictly personality-based, carefully creating a sense of mystery and questions around the curation of items: ethnic rug from Turkey, reindeer pelts and real portraits of now fictionalised characters always playing with the real and the imagined.
30 Aug 2016
SKA Global Headquarters at Jodrell Bank, Macclesfield, Cheshire, Northwest England, UK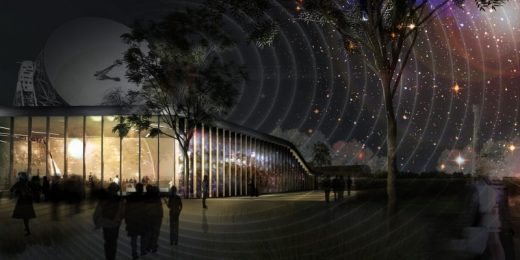 image from architects
SKA Global Headquarters Building at Jodrell Bank
Cheshire East Council has approved the application for the erection of new single storey research and administration building and associated landscape, car parking and road works connecting to the existing building. The proposed design takes inspiration from the radio waves that are at the heart of the SKA's work, while embracing its natural environment.
16 Dec 2015
ARCHICATS
At any given time, millions of people are watching cat videos online.
In fact, collectively we watch them more than 25 billion times a year.
We find this inexplicable – but we decided to make one anyway.
Still from HASSELL holiday video – Archicat Umi in the Perth Studio: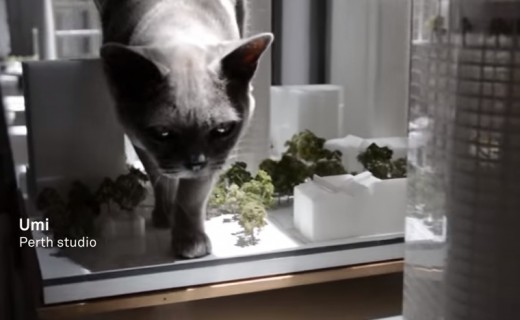 Join us as we take a break from great design and shamelessly submit to popularity with…Archicats!

Published on 15 Dec 2015
Thanks to our clients, colleagues and collaborators for another great year – and we look forward to working with you in 2016.
In recognition of our festive theme this year, we've made a donation to the WWF.
Still from HASSELL holiday video – Archicat Toffee in the Sydney Studio: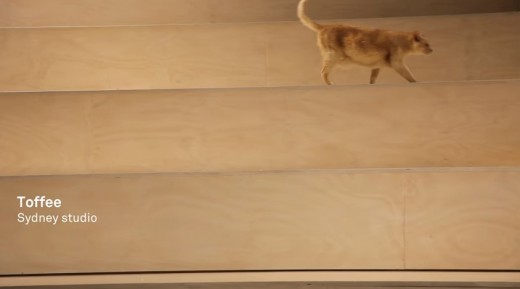 Julian Gitsham joins HASSELL
7 April 2014
International design practice HASSELL has elevated its commitment to the United Kingdom and Europe with the appointment of British architect Julian Gitsham as a Principal.
Based in London, Julian will play a key leadership role in the firm's UK practice. He joins HASSELL from Feilden Clegg Bradley Studios where he has been Managing Partner and a Board member since 2007, and a partner since 2001. He spearheaded the growth of the practice's London studio. Julian has over 25 years' experience as an architect and urban designer at leading British practices.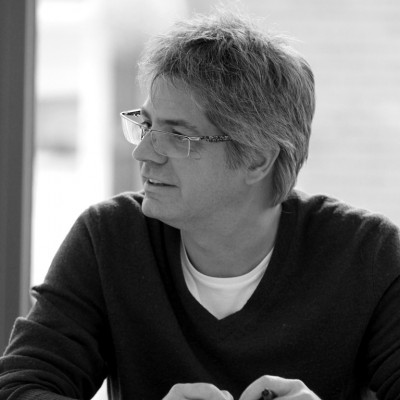 "We invited Julian to join HASSELL because he has a great body of work that demonstrates design leadership and diverse design thinking across a wide range of typologies and markets," said HASSELL Managing Director Rob Backhouse.
Julian has been involved in the design and delivery of landmark projects in the UK including the Condé Nast College of Fashion and Design in London, Broadcasting Place at Leeds Metropolitan University, Beaufort Court affordable housing in London, a masterplan for the regeneration of Salford city centre, the National Cold War building at the RAF Museum in Shropshire and Portcullis House Parliamentary Building, Westminster, London. International project experience includes the National Library of Israel, cultural waterfront projects in Abu Dhabi, and a masterplan and residential development in Cairo, Egypt.
"I was attracted to HASSELL by the depth of its design talent," Julian said. "The practice is focused on continually improving the quality of its design and the value it delivers to clients.
It is an inclusive, collaborative culture with strengths across international markets and a wide range of sectors.
"As the UK emerges from difficult economic times, there are significant opportunities for HASSELL to grow through new ideas, creativity and a laser-like focus on clients and what they are trying to achieve."
Rob Backhouse said Julian's appointment strengthened the practice's leadership team in the UK. Julian will work closely with Colin Hockley, Kieran Morgan and Mark Kelly. Colin and Kieran both joined HASSELL from British practice Nightingale Associates, where Colin was Managing Director. Mark Kelly, who recently moved to London from HASSELL in Melbourne, has previously led an architecture practice in the UK.
Colin Hockley, Principal at HASSELL, said: "We are delighted to welcome Julian to the architecture practice. He is a proven leader, unlocking real value for clients through design and creativity. One of his great strengths is in the relationships he builds with clients."
Julian Gitsham officially joins HASSELL on Monday 14 April.
MULTITUDES Book + Magazine by HASSELL – 25 Oct 2013



photo from HASSELL
MULTITUDES highlights some of the best work HASSELL has produced and examines it within the context of design over the past 75 years. It looks at how HASSELL has delivered for clients and the people who use the buildings and places it creates. The book is structured around a preface and five chapters by independent authors commissioned by HASSELL and Uro Media.
King Hamad University Hospital, Kingdom of Bahrain – 28 Jun 2013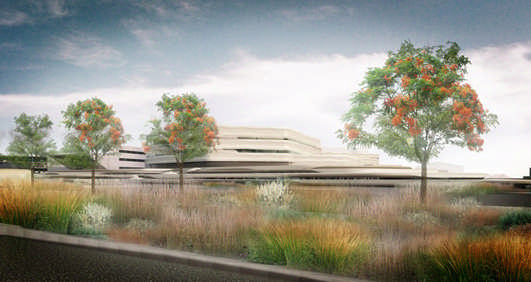 image by architects
Scheme design has been approved for a new Oncology Centre at the King Hamad University Hospital (KHUH) in Bahrain. A team led by HASSELL, including Bahrain-based Mazen Alumran Consulting Engineers (MACE) and team members Aecom, Baker Willis Smith and MJ Medical, has completed the design for client the Bahrain Defence Force. The new building will be designed to the highest international standards of healthcare provision, bringing first-class cancer care and research facilities to Bahrain in a 'translational' environment, where research advances are used to directly benefit patient care.
Cardiff Central Masterplan, Wales
Design: HASSELL



image from architect
Cardiff Central Masterplan – 6 Mar 2013
HASSELL has been commissioned by Cardiff Council to master plan two key areas of the city centre – Callaghan Square and the area around Cardiff Central Rail Station.
HASSELL designs Urban Coffee Farm & Brew Bar for 2013 Melbourne Food and Wine Festival



image from HASSELL
Hassell Architects : Practice Information
Coffee and the cafes that sell it are ubiquitous in the world's major cities – but how about a jungle of coffee trees on the edge of a central business district?
That's what HASSELL is bringing to the Australian city of Melbourne in partnership with the Melbourne Food and Wine Festival. The work of young designers at HASSELL, the Urban Coffee Farm and Brew Bar will be the centrepiece of this year's Festival which runs from 1 to 17 March.
Sydney Light Rail, NSW, Australia
HASSELL



image from architect
Sydney Light Rail – 20 Dec 2012
In a significant change to Sydney's public transport landscape, the NSW Government has committed to delivering Light Rail from Randwick and Kingsford through the heart of the CBD to Circular Quay to reduce urban congestion.
HASSELL + Populous win Sydney's new Convention, Exhibition and Entertainment Precinct design project, Australia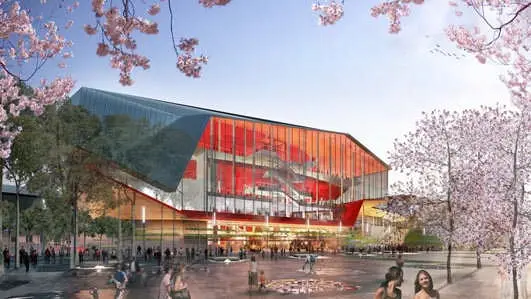 image : HASSELL + Populous
SICEEP Darling Harbour – 18 Dec 2012
Joint venture partners HASSELL + Populous have won the architectural contract for the design of Sydney's new integrated convention, exhibition and entertainment precinct at Darling Harbour, due for completion in 2016. HASSELL will also design the extensive public parklands and open space within the 20 hectare precinct. HASSELL + Populous are design consultants to Destination Sydney consortium, which has been selected by the New South Wales Government as preferred developer and contractor of the AUD $1 billion facility.
Common Ground Sydney, New South Wales, Australia
Design: HASSELL



photo from architects
Common Ground Sydney – 5 Oct 2012
Common Ground Sydney adopts the 'street to home' approach of the Common Ground model originating in New York. The project addresses chronic homelessness by providing stable, high quality permanent housing. The building itself is indistinguishable as social housing or an institutional building but rather presents as a contemporary and comfortable living environment.
Dandenong Government Services Offices, Melbourne, Victoria, Australia



photograph : Peter Bennetts
Dandenong GSO – 5 Oct 2012
The Government Services Offices development is one of the key projects of the Revitalising Central Dandenong initiative, a major urban renewal project being led by Places Victoria and the Victorian State Government. Developed and built by Grocon, the challenge of this landmark development was to create a high standard of urban design and quality workplace in this outer-suburban region, and to assist in the rebirth of the precinct as a major mixed-use activity centre.
Recent Buildings + Designs by HASSELL
Projects by HASSELL, chronological:
New Tbilisi Zoo – Concept Design, Georgia



image from architects
New Tbilisi Zoo – 25 Jun 2012
The London Studio of HASSELL, working with Arup, has been appointed by Tbilisi City Hall to carry out the concept design of the new Tbilisi Zoo on the outskirts of the Georgian capital city.
The project will see the existing city centre zoo replaced by a zoological and recreation complex adjacent to the inland lake known as Tbilisi Sea.
Esquire Restaurant, Brisbane, Queensland, Australia



photograph : Roger D Souza
Esquire Restaurant – 28 Mar 2012
Just like its menu, Esquire's interior design – a series of spatially diverse and connected rooms – offers an experience for everyone to enjoy. Transformed from a large commercial space into a series of intimate dining areas, guests can stop in for lunch, take pleasure in the restaurant's fine dining menu or enjoy a drink at the bar.
Outpost Dining Room, Australia



photo from HASSELL
Ecosciences Precinct, Brisbane, Australia



photograph : Christopher Frederick Jones
Ecosciences Precinct Brisbane Building – 9 Aug 2011
The Ecosciences Precinct brings together 1,000 scientists from four state agencies and six CSIRO divisions into a single, collaborative research environment. The project achieves a significant innovation by creating a new facility 'without walls', encouraging knowledge exchange and discovery through use of shared spaces and resources.
Chasing Kitsune, Melbourne, Australia



image from architect
Chasing Kitsune Melbourne – 25 Jul 2011
one40william, Perth, Australia



photo from HASSELL
one40william – 16 Jun 2011
Alibaba Headquarters, Hangzhou, China



photo from HASSELL
Alibaba Headquarters
PTTEP Headquarters, Bangkok, Thailand



photo from HASSELL
PTTEP Headquarters
Mopho Noodle Bar, Australia



photo from HASSELL
Radisson Suites Bangkok Sukhumvit, Thailand



photo from HASSELL

Radisson Suites Bangkok Sukhumvit
Deba Sushi Bar, Australia



photo from HASSELL
Australian High Speed Vehicle



picture from architect
Australian High Speed Vehicle
HASSELL – Key Projects
HASSELL Architects Projects, alphabetical:
Adelaide Zoo Entrance Precinct, Australia
2010



photo : Peter Bennetts
Adelaide Zoo Entrance Precinct
Adelaide Zoo Giant Panda Forest, Australia
2010



photo : Ben Wrigley
Adelaide Zoo Giant Panda Forest
ANZ Centre, Melbourne, Australia
2010



photo : Earl Carter
ANZ Centre
ANZ Bank Breakout, Melbourne, Australia
2009-
Interior Design
Bowden Village Master Plan Project, Adelaide, Australia
2009-
HASSELL/Parsons Brinckerhoff Project Team
Bowden Village Master Plan
Christchurch Integrated Terminal, New Zealand
2009-
HASSELL with local architects Warren and Mahoney



picture © Stantiall Studio
Christchurch Airport Terminal
Kolling Research Building, Royal North Shore Hospital Campus, Sydney
2009



image from architects
Kolling Research Building
Magenta Shores, Central Coast, NSW, Australia
2009-
Landscape Architecture
Roads and Traffic Authority Crashlab, Sydney, Australia
2009-
Architecture, Interior Design, Landscape Architecture, Planning
Western Grandstand Adelaide Oval, Adelaide, Australia
2009-
HASSELL JV with Cox Architects



image from architects
Western Grandstand Adelaide Oval
More HASSELL Architects projects online soon
Location: 61 Little Collins Street, Melbourne, Victoria, Australia 3000
Architect Practice Information
Architect studios based in Australia, China, Hong Kong, Thailand and Singapore
HASSELL is an international design practice with its origins in Australia. It operates five studios in Australia, five in China, two in Southeast Asia and two in the United Kingdom. The collaborative practice model at HASSELL sees architects, interior designers, landscape architects, planners and urban designers working together to deliver major city changing projects. www.hassellstudio.com
Australian Architecture Studio
Hassell is a multidisciplinary design practice, with offices in Australia, China, Singapore and Thailand.
This architecture office was founded in Australia in 1938. It was ranked the largest architecture practice in Australia, in 2010.
Australian Institute of Architects 2009 Gold Medal for Architecture:



image from architects
Professor Ken Maher of HASSELL
Australian Architect Offices : Office Listings
Buildings / photos for the HASSELL Architects page welcome
Website: hassellstudio.com