Melbourne Building News 2018, Victoria Architecture, Architect, Australia Property Photos
Melbourne Architecture News 2018
Key Australian Architectural Developments in Victoria: Built Environment Updates
Current news:
post updated 8 Jan 2021
Melbourne Architectural News
Building News Melbourne, chronological list:
New Melbourne Buildings : current, chronological list
Melbourne Architecture Tours by e-architect
Melbourne Architecture News in 2018
18 Dec 2018
Keilor Primary School
Architects: Modscape
Keilor Primary School Building
20 Nov 2018
VicRoads Office Building, Sunshine
Architects: Gray Puksand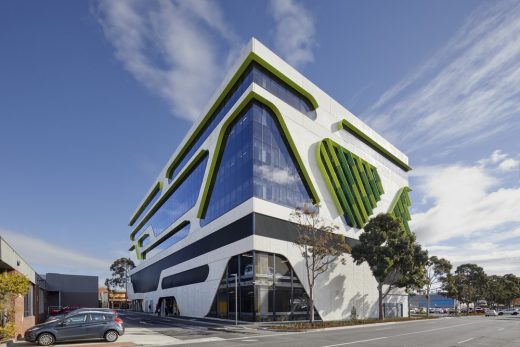 photo © Tatjana Plitt
VicRoads Office Building
8 Nov 2018
The Club Stand for the Victoria Racing in Melbourne
28 Oct 2018
Plumbers House in Melbourne
25 Oct 2018
Workshop Bros in Glen Waverley
23 Oct 2018
The Ceres Gable House, Geelong, Victoria
Architects: Tecture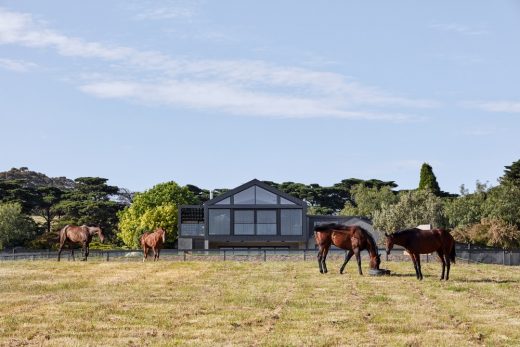 photo : Peter Clarke Photography
New House in Geelong
This new home is located within a stud farm – a large property comprising of 3 family residences on its 700 acres. Originally built in the 1980s, it was the clients' first home and therefore is enriched with many family memories.
22 Oct 2018
Northcote House 02
17 Oct 2018
Huntingtower Residence
16 Oct 2018
Brooks House
11 Oct 2018
Miller House in Heathmont, Victoria
30 Sep 2018
Richmond Apartment
Architects: tsai design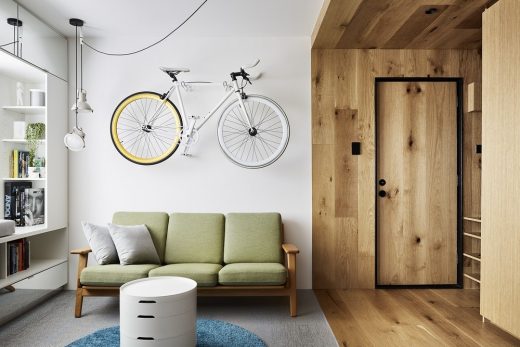 Photo © Tess Kelly
New Apartment in Richmond
The brief was to create a 1 bedroom apartment that can also operate as a home office space, with the feeling of luxury, comfort and detailing you would expect find in a normal house.
27 Sep 2018
Thornbury House
Design: Field Office Architecture
Thornbury House
27 Sep 2018
Jenkins Street House
Design: C.Kairouz Architects
Jenkins Street House
21 Sep 2018
Heart of St Kilda
Design: Perversi-Brooks Architects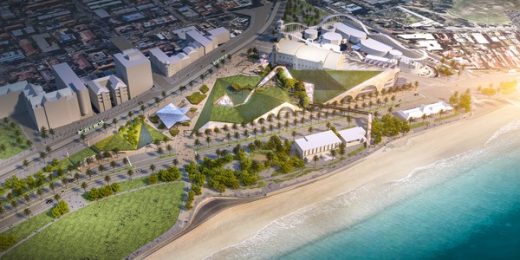 image : Sam Perversi-Brooks
Heart of St Kilda
'Heart of St Kilda' is a competition submission to the LAGI 2018 Melbourne Competition which asked competitors to 'design a clean energy landscape for a post-carbon world – a public artwork that will help to power the city and inspire the future' for St Kilda's Triangle Site.
18 Sep 2018
Thornbury Family Dental
15 Sep 2018
The Uber Shed, Mornington Peninsula, Victoria
Design: Jost Architects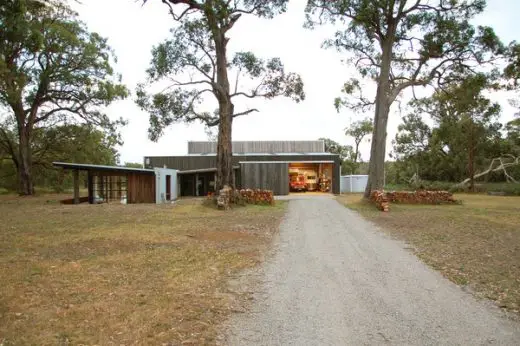 photograph : Patrick Jost
The Uber Shed
The client's brief was for a functional shed with a work bench area, to house farming equipment, and a simple, attached retreat with a bathroom, kitchenette and sleeping area.
13 Sep 2018
Tanderrum Pedestrian Bridge in Melbourne, Batman Avenue
Design: John Wardle Architects & NADAAA in collaboration with Oculus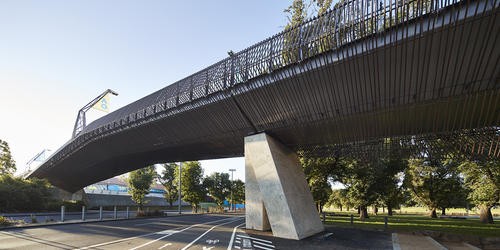 photographers : Kristofer Paulsen, Nils Koenning, and Peter Bennetts
Tanderrum Pedestrian Bridge
This bridge links Birrarung Marr with the Melbourne Park sports precinct creates a major new arrival address for Melbourne Park.
9 Sep 2018
Elwood House
Design: Jost Architects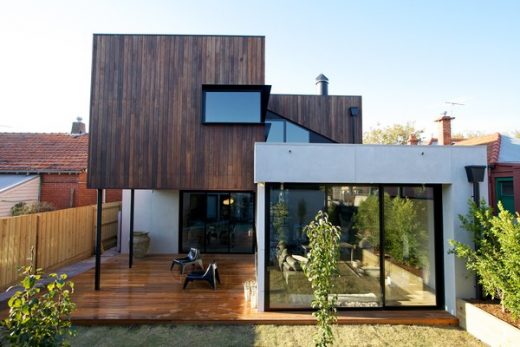 photograph : Tara Pearce
Elwood House
Conceptually, the house is separated into two clearly defined upper and lower element. The lower is a solid masonry form, giving the impression that a block has been carved and hollowed out.
7 Sep 2018
Democratising Residential Development, Melbourne, Victoria, Australia
Locally, the Australian housing supply and affordability crisis is light as day, but the solution isn't. Innovative thinkers are developing new sustainable development models to tackle these issues. Our social licence is at risk.
Planning and built environment professionals need sharpened skills in designing viable strategies for accommodating population growth which include and support affordable housing as part of wider supply.
How can we balance the needs of society and the commercial realities of the corporate world?
Architectural event in Melbourne on 19 September 2018.
Dr Andrea Sharam, is a senior lecturer at RMIT in the School of Property, Construction and Project Management. She is also a research fellow at the Institute of Social Research at Swinburne University of Technology. Dr Sharam's recent research introduced the term "deliberative development", whereby occupants are involved in the design of their housing to help increase competition, expand access and promote responsiveness to consumer needs and preferences. Read her research 'The Uberisation of the Housing Markets' here.
Kris Daff is Managing Director of Assemble and Make Ventures (MAKE). In 2018, the team at Assemble and MAKE launched the Assemble Model – a new pathway to home ownership. The Assemble Model is the culmination of three years of research by MAKE, both locally and overseas – and applying these learnings to the Australian context. The model aims to address the fundamental desire for the majority of Australians to own their own home – and is a direct response to multi-level government policies on housing affordability.
For the past 30 years Robert Pradolin has lived and breathed residential development. From land subdivisions and medium density housing through to high-rise mixed use apartment complexes. Robert is Founding Board Member of Housing All Australians, he recently launched Australia's first Pop Up Shelter, in a building that would have remained empty for several years, it now houses women over 55 and is managed by the YWCA.
More info on our Architecture events page
6 Sep 2018
Lt Collins Apartment
Design: DE.ARCH PTY LTD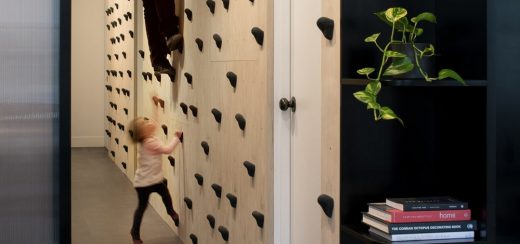 photo : Tatjana Plitt
Lt Collins Apartment in Melbourne
Living in the midst of Melbourne's CBD and wanting a sanctuary to escape the busy world was how this project was approached. With an unusual and quirky brief together with a unique apartment space, our clients were looking for a solution that was anything but typical.
15 Aug 2018
Southbank by Beulah Melbourne Winner
Design: UNStudio, Architects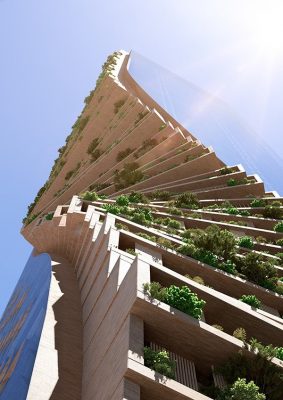 image : Norm Li, courtesy of UNStudio
Southbank by Beulah Melbourne Winner
Beulah International select UNStudio's proposal for Australia's tallest tower from designs submitted by six of the world's leading architecture firms
7 Aug 2018
Quarry House, Brighton
Design: Finnis Architects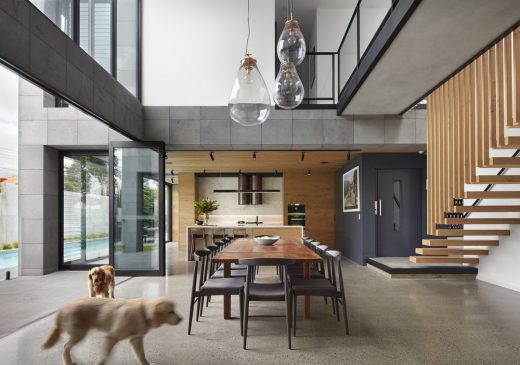 photograph : Tom Roe
new house in Brighton, Victoria
A modern bluestone clad family home on a corner site in Brighton, Australia. The Quarry house balances strong exterior form with seamlessly integrated interiors that promote shared spaces in the heart of the home and a connection with its context.
30 Jul 2018
The Recyclable House, Beaufort, Victoria
Design: Inquire Invent Pty Ltd
The Recyclable House in Beaufort
30 Jul 2018
The Stack for Southbank
Architects: MVRDV and Woods Bagot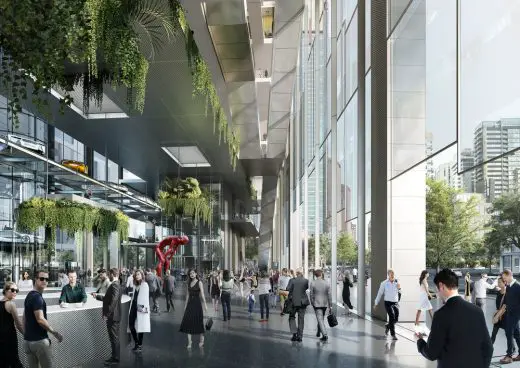 image courtesy of architects office
The Stack for Southbank
This Melbourne building design is for a "new kind of skyscraper" at a landmark mixed-use site on the Southbank. The proposal is one of six invited entries in an architecture competition organised by site owners and developers Beulah International.
29 Jul 2018
Southbank by Beulah
Design: MAD Architects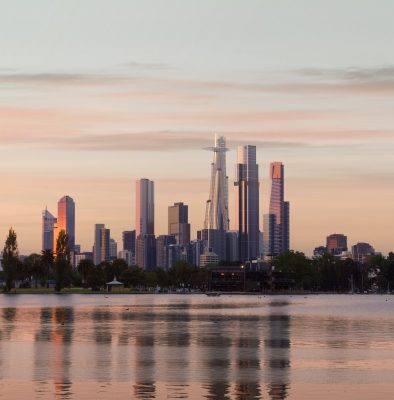 image by MIR
Southbank by Beulah in Melbourne
Proposal for the "Southbank by Beulah" tower competition.
9 Jul 2018
Tarrawarra Abbey, Yarra Glen, Victoria
Design: Baldasso Cortese Architects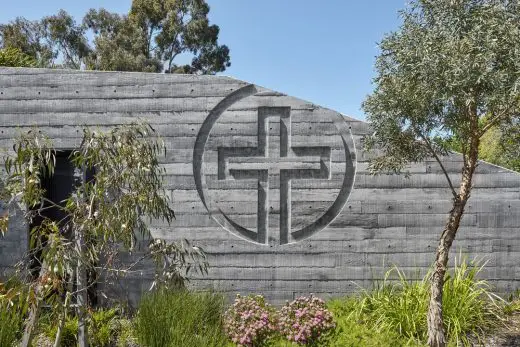 photograph : Peter Clarke
Tarrawarra Abbey
Tarrawarra Abbey is a Cistercian Monastery set on 400 hectares of grazing land at Yarra Glen in Victoria's beautiful Yarra Valley, 60 kilometres North-East of Melbourne.
4 Jul 2018
Thompson Home
Design: McGann Architects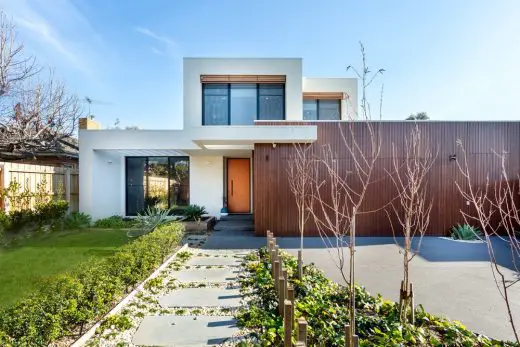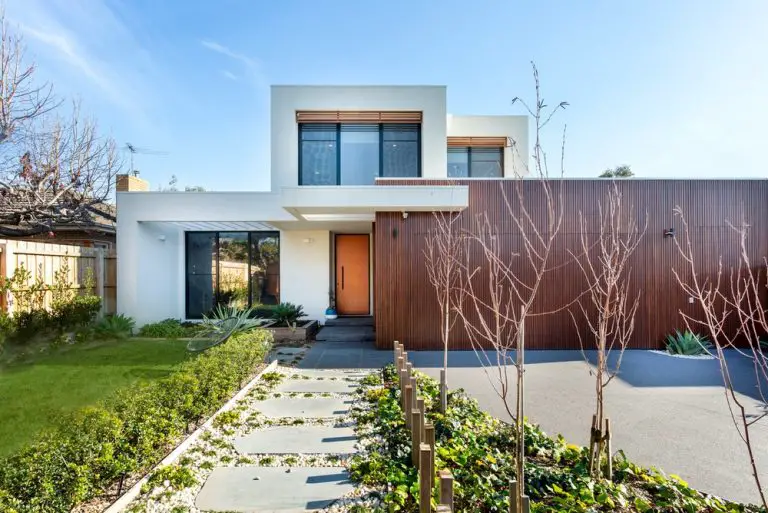 photograph : The Space Cowboy Photography
Thompson Home
This contemporary family home provides its owners with large nature light filled living and entertaining areas. A vaulted ceiling along the rear of the home maximises afternoon sunlight into the ground floor Kitchen, Dining and Living areas, while also providing a transition space to exterior entraining areas.
19 Jun 2018
BLP Melbourne is moving up
At a time of exciting growth, BLP is moving its Melbourne studio to the northern edge of the CBD. The top level of the south tower at 485 La Trobe Street is where BLP Melbourne studio will call home.
Here, clients, consultants and team members will enjoy views out over one of Melbourne's oldest and most culturally significant parks, Flagstaff Gardens, the historic Queen Victoria Market, and the great City of Melbourne.
From Monday 16 July 2018 the new address in Melbourne will be:
Level 20/485 La Trobe Street
Melbourne Victoria 3000
The design of the new studio reflects the practice's values of partnership and creativity, providing a workplace that enables collaboration and supports the synergy of diverse and nimble teamwork.
Website: BLP Melbourne Architects
17 Jun 2018
85 Spring Street
Design: Bates Smart Architects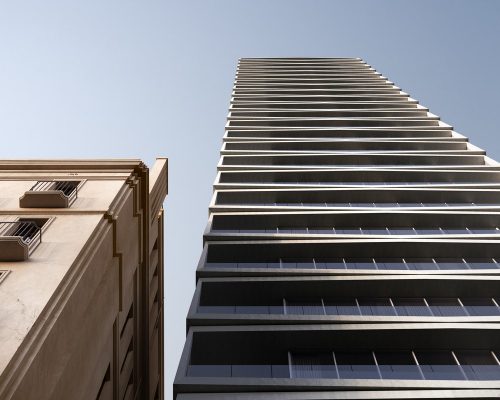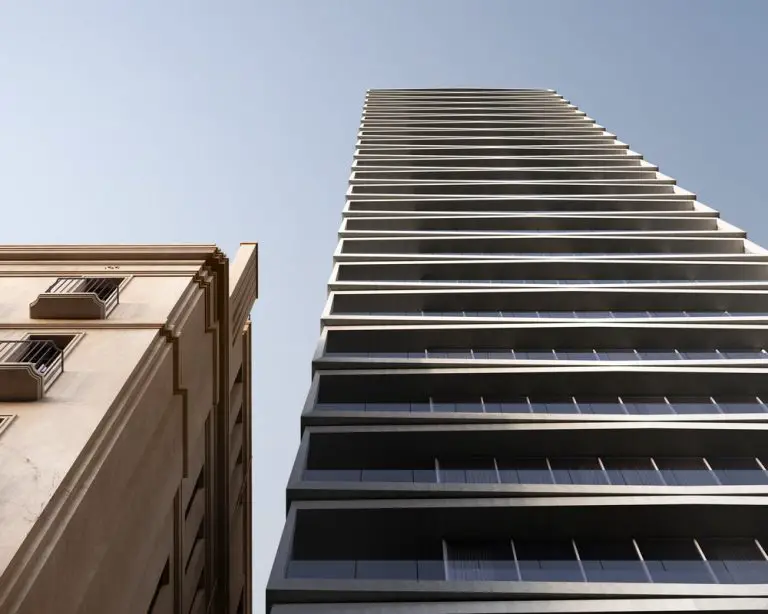 photo © Bates Smart
85 Spring Street Building
Design unveiled for a 39-storey stacked concrete tower for developer Golden Age Group on one of the last developable sites on Melbourne's Spring Street.
7 Jun 2018
Harold Street Residence in Melbourne
6 Jun 2018
Garden Studio
Design: MODO Architecture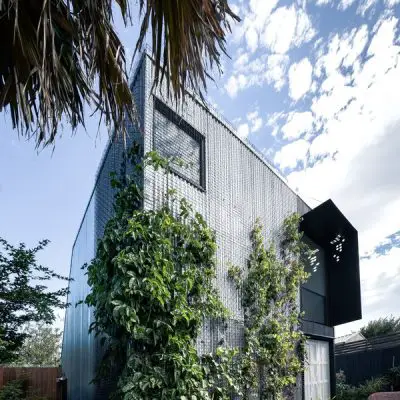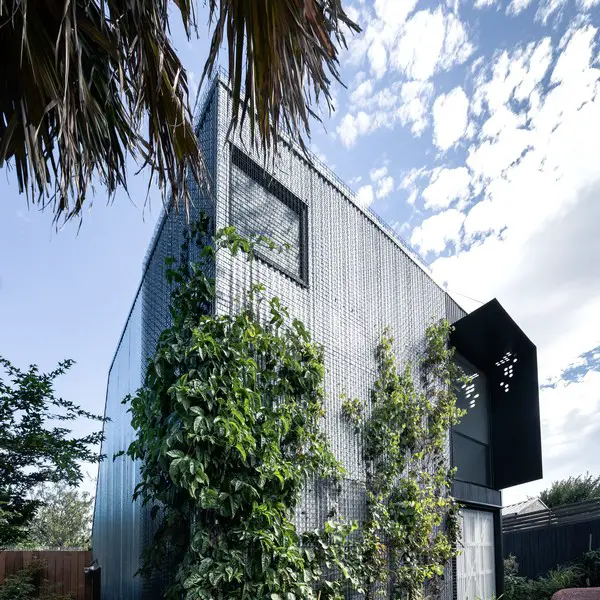 photograph : MODO Architecture
Garden Studio in Moonee Ponds
Following closely to the clients' lifestyle and philosophy to food and productive gardening, Garden Studio is a free standing "extension" that provides to their family needs without compromising their love of gardening. It does so by providing a vertical garden on one of it's external walls.
5 Jun 2018
Flower Merchant and Events Space
Interior Designer: Studio 103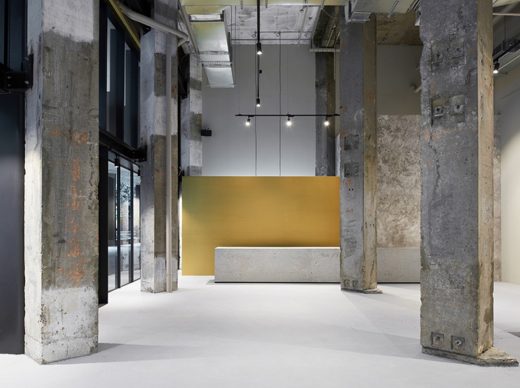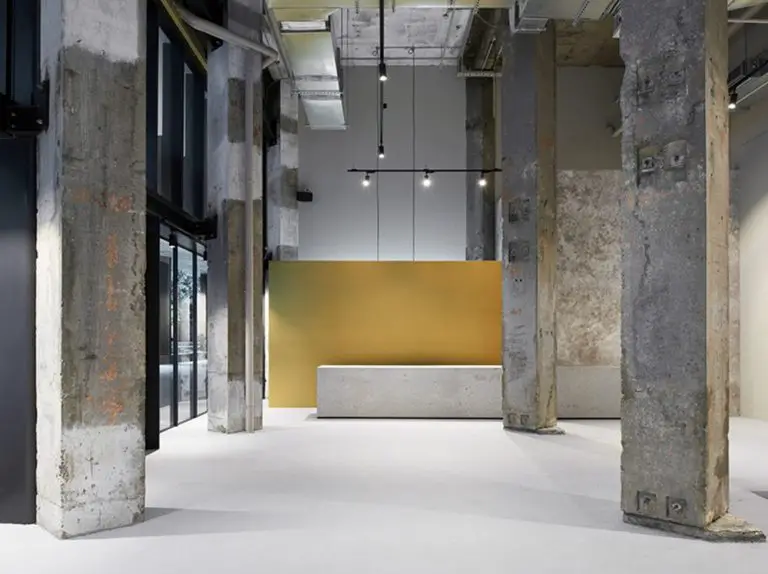 photograph : Dan Hocking
Flower Merchant and Events Space in Melbourne
At the base of an office tower on a prominent corner of the Melbourne CBD sits the vibrant Melbourne Flower Merchant. This multipurpose retail space has been boldly designed by Studio 103 to transform effortlessly from a vibrant daytime 'market' florist into a dramatic, urbane night time events space.
22 May 2018
St Andrews Beach Brewery, Mornington Peninsula, Victoria
Architects: Ewert Leaf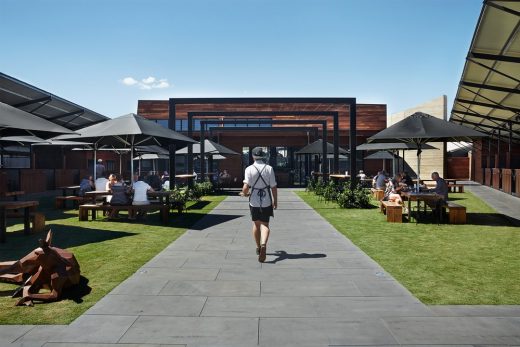 photograph : Fi Storey
St Andrews Beach Brewery Building
The brief called for an innovative change of use for this former equine training facility: it has now been transformed into a recreational and culinary destination for locals and tourists alike.
12 May 2018
The Light Box House, Northcote
Design: Finnis Architects with Damon Hills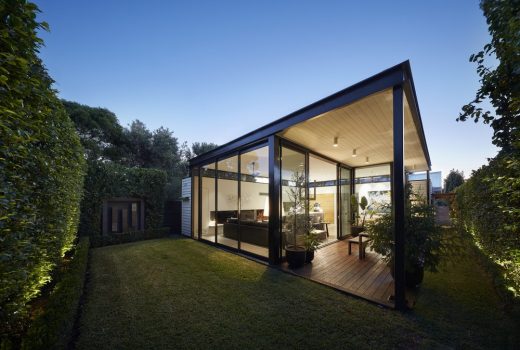 photograph : Tom Roe
Northcote Property Renewal
A Californian bungalow renovation located in an area of significant heritage in Northcote, Melbourne. It was important when designing this home not to denote but rather aim to uphold and celebrate the original charm of the dwelling.
11 May 2018
Watershed at the Meat Market, North Melbourne
Architects: Grimshaw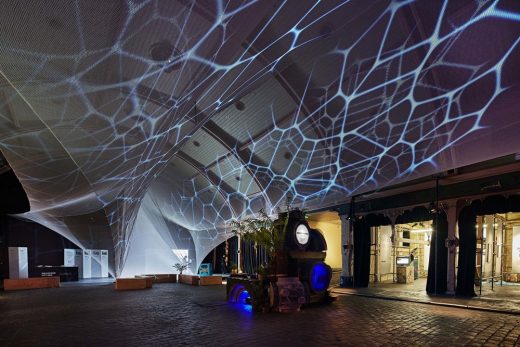 photographs : Michael Kai and Shannon McGrath
Watershed at the Meat Market in Melbourne
Grimshaw has transformed the Meat Market in North Melbourne into a giant installation that literally wraps around the events at the hub for Melbourne Knowledge Week (MKW18), the City of Melbourne's annual festival which explores the smart and innovative future of Australia's fastest growing city.
11 May 2018
K2 House, Raleigh St, Windsor
Design: fmd architects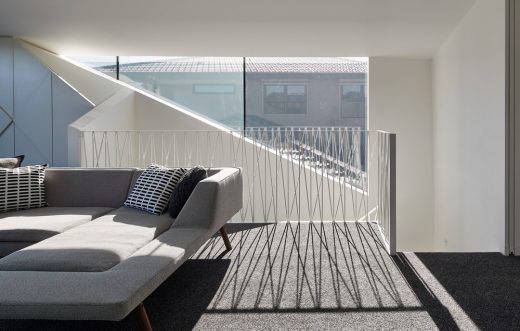 photograph : Peter Bennetts
New residence in Windsor
K2 House is the second stage upper floor extension to a renovation completed by fmd architects in 2008. The original brief for a young bachelor, was revised to now meet the needs of a young family with pets.
7 May 2018
Tucks Ridge House, Balnarring, Victoria
Design: Adrian Bonomi Architect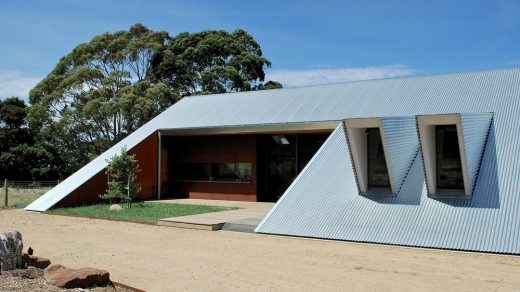 photography : Adrian Bonomi and Ben Hosking
New residence in Balnarring
A modern rural dwelling of modest scope and elegant simplicity, expressing a profound relationship and response to the landscape and the the client's design brief. Internal spaces strive for serenity and the most direct and intimate connection to place and landscape.
24 Apr 2018
Ormond Station and North Road Level Crossing Removal
Architects: Grimshaw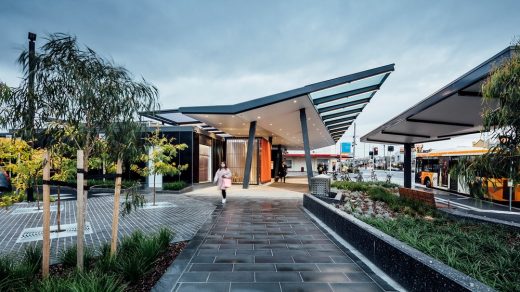 photograph : Michael Kai
Ormond Station Building
The Ormond Station and North Road Level Crossing Removal (OSNRLCR) seeks to provide an integrated urban design solution that encompasses public space, buildings, landscape and the civil engineering scope of a major transport project.
10 Apr 2018
The Geoff Handbury Science and Technology Hub, Domain Street
Architect: Denton Corker Marshall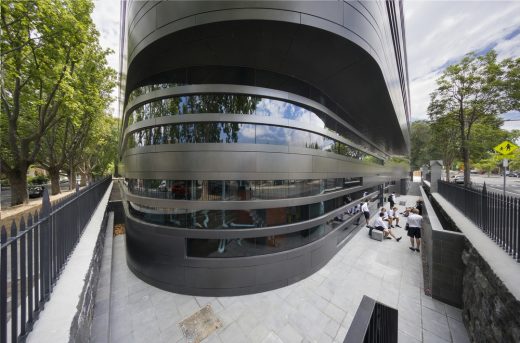 photograph : John Gollings
The Geoff Handbury Science and Technology Hub
The new Geoff Handbury Science and Technology Hub at Melbourne Grammar School, is a simple, singular sculptural structure. It produces compelling imagery that alludes to the scientific and technological investigations taking place within.
6 Apr 2018
Eagle Arthurs Seat, Mornington Peninsula, Victoria
Design: McGann Architects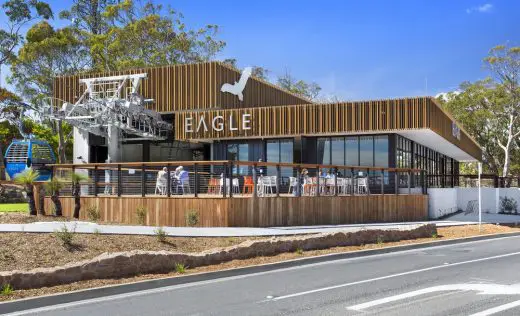 photograph : Melanie Smith
Eagle Arthurs Seat
The Eagle Arthurs Seat is a contemporary reinstatement of the iconic Victorian tourist destination. Providing an all-assessable / all-weather gondola ride that soars through the tree canopies to the summit, revealing spectacular panoramic views of the Port Phillip Bay.
4 Apr 2018
Fitzroy Street House
Architects: Design + Diplomacy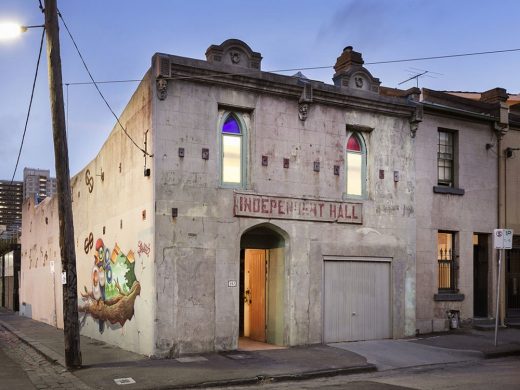 photograph : Dylan Lark
Fitzroy Street House
Renovation and styling of an iconic Fitzroy property for sale. Formerly a church hall, Aboriginal kindergarten and setting for several award-winning productions (Jack Irish, Ricky & Pete and The Tenderhook), this private residence was given a makeover all turned around in 2 weeks.
28 Mar 2018
Masons Retail Interior
Design: Cox Architecture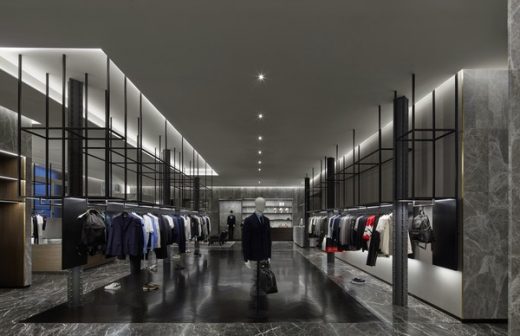 photograph : Peter Clarke
Masons Retail Interior Building
Housed in the heritage listed Kornblum & CO. warehouse on Finders Lane in Melbourne, the ground level store nods to the areas' rag trade history through the use of industrial materials such as dark timber, stone and gunmetal steel.
26 Mar 2018
Avenue Apartments
Design: Elenberg Fraser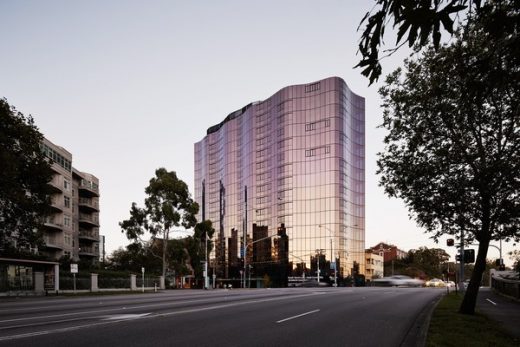 photograph : Peter Clarke
Avenue Apartments Building
This is a building of pure phenomena. Like the ripples that spread outwards from skipping stones across a creek, Avenue is a series of pillowy curtain walls that radiate out over the surface. This ripple effect helps the building turn the corner, giving it a picturesque planning outcome; the fluid surface reflects and refracts the sun's rays.
19 Mar 2018
Parade College Nash Learning Centre, Bundoora
Design: CHT Architects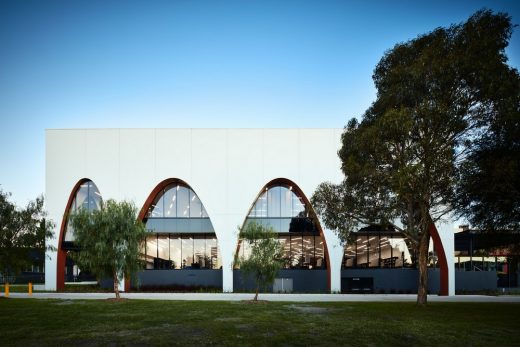 photograph : Rhiannon Slatter
Parade College Nash Learning Centre
Located at the entry to the Parade College campus the learning hub is a symbol of school's progressive pedagogy and adoption of technological into their teaching practise. The Nash Learning Centre has incorporated diverse, multi-mode learning spaces into its overall planning.
MPavilion 2017 gifted to Monash University
12 Mar 2018
Summer Beach House, Somers, Victoria
Design: Adrian Bonomi Architect
1 Mar 2018
Toorak Courtyard House
Design: CAM Architecture
14 Feb 2018
MPavilion 2018 Building, Queen Victoria Gardens
The Naomi Milgrom Foundation anounce architect Carme Pinós will be responsible for designing the 2018 MPavilion whose opening is scheduled for October 8, 2018:
MPavilion 2018 by Estudio Carme Pinós
30 Jan 2018 post updated
Swanston Academic Building
Architect: Lyons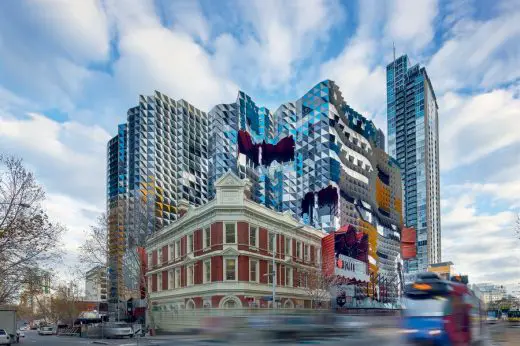 photograph : John Gollings
Swanston Academic Building – RMIT University
This contemporary building is an idea about building a vertical campus and drawing the diversity of the city deeply in to the design conception. A vertical 'stack' of informal 'open' student spaces have been formed, each connected to a central circulation system of escalators and stairs.
29 Jan 2018
South Yarra Apartments
Design: AM Architecture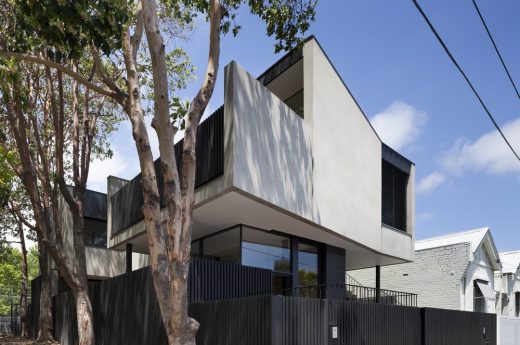 photo : Dianna Snape
After a detailed site analysis it became clear that this 200 sqm site offered the opportunity to sustain two high amenity apartments.
27 Jan 2018
Sustainable Terrace
Architects: Green Sheep Collective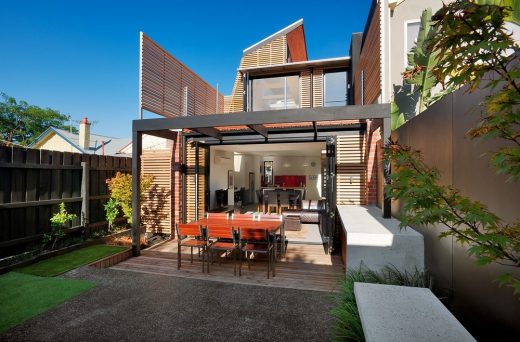 photo : Emma Cross
This modern terrace house brings great amenity to a challenging site, creating beautiful indoor spaces with great flexibility of function and connection to the outdoors.
18 Jan 2018
Ruyton Girls' School – Junior School Campus
Design: Sally Draper Architects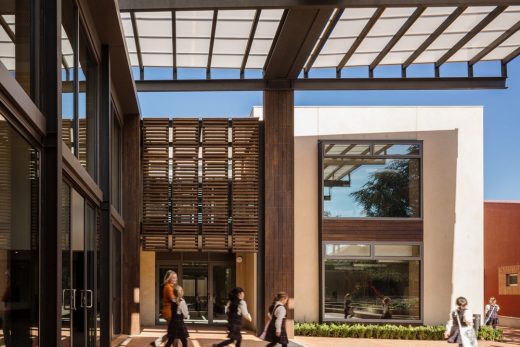 photography: Trevor Meins
Ruyton Girls' School Building
The redevelopment of the Junior School campus at Ruyton Girls' School into a powerful three-level learning hub is the latest in a series of dynamic school projects by Melbourne practice Sally Draper Architects in association with DP Toscano Architects.
Melbourne Architectural News 2017
11 Nov 2017
380 Lonsdale Tower
Architects: Elenberg Fraser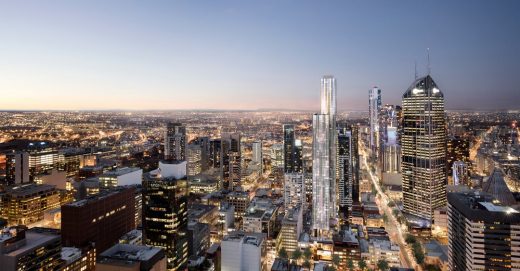 picture : Binyan Studios
380 Lonsdale Melbourne Building
Decidedly cosmopolitan, 380 Lonsdale Street seems to have everything that Melbourne needs. This new project puts the mixed in mixed-use, taking cues from our client to bring a bit of Singapore-style precinct urban planning and a tropical twist to this prominent site in the CBD.
6 Nov 2017
Ikebana
Design: Elenberg Fraser Architects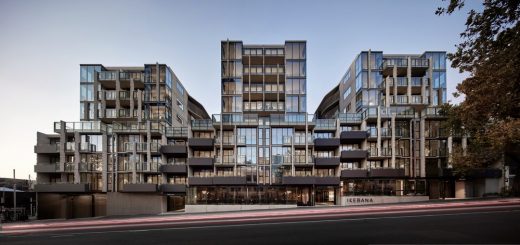 photograph : Peter Clarke
Ikebana in Melbourne Building
Ikebana's name gives you a hint at the story behind this new residential and retail project in West Melbourne. Yes it's Japanese-inspired, but without the cliché – you won't find any Hello Kitty here, although there is a karaoke room.
1 Apr 2017
Geelong Library and Heritage Center, Victoria
Design: ARM Architecture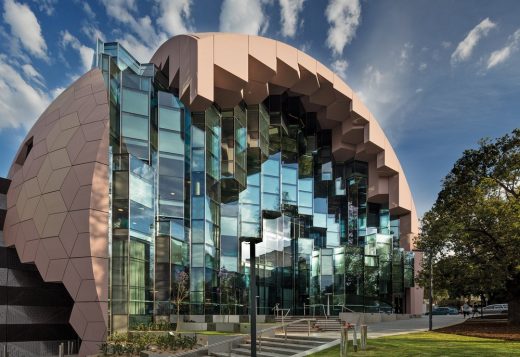 photo courtesy of architects
Geelong Library and Heritage Center Building is a new landmark in the City of Geelong. The project required a visionary design to not only be a useful, meaningful space for the community with a modern layout and design for the 21st century.
More Melbourne Building News online soon
Location: Melbourne, Victoria, Australia
Architecture in Melbourne
New Architecture in Victoria
Melbourne Buildings : A-K
Melbourne Building Designs : L-Z
Contemporary Australian Architectural Projects
Website: Visit Melbourne
University of Melbourne Building Competition
Melbourne Building Competition : Faculty Architecture Building & Planning
Buildings / photos for the Melbourne Architecture News 2018 page welcome