Italian Architecture News 2023, New Buildings in Italy, Construction Design, Property Images, Architects
Italian Architecture News
Key Contemporary Buildings in Italia, Southern Europe Built Environment Updates
post updated 31 March 2023
Italian Architecture Design – chronological list
Italian Architectural News
Italian Building News
31 Mar 2023
Brazilian Pavilion at the Venice Architecture Biennale
Curated by Gabriela de Matos and Paulo Tavares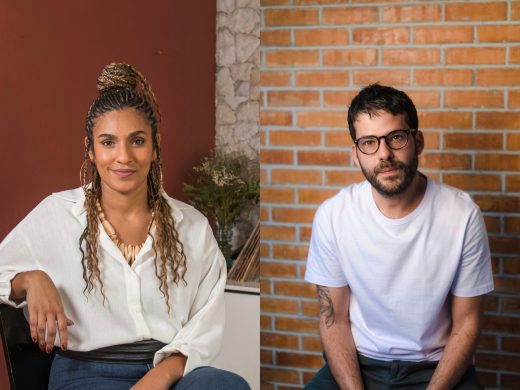 photo © Levi Fanan and Diego Bresani / Fundação Bienal de São Paulo
Brazilian Pavilion Venice Architecture Biennale
24 Feb 2023
The Number 6, Via Alfieri, Turin, Northwest Italy
Design: bp+p architecture studio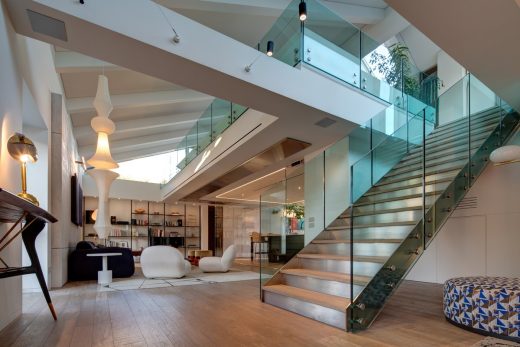 photo © Piero Ottaviano
The Number 6 Via Alfieri building
23 Feb 2023
Ferrero Technical Center, Alba, Piedmont, Northwest Italy
Design: Frigerio Design Group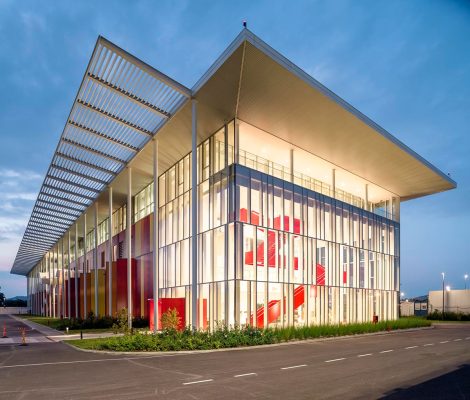 photo : Studio Campo
Ferrero Technical Center
Designed by Frigerio Design Group, the Ferrero Technical Center is located in Alba, in the heart of the Langhe region. It represents a new level of integration between industrial architecture, natural landscape, sustainability of processes and well-being for workers.
21 Dec 2022
Hotel NH Collection Milano CityLife, CityLife area, Milan
Restoration Design: QuattroAssociati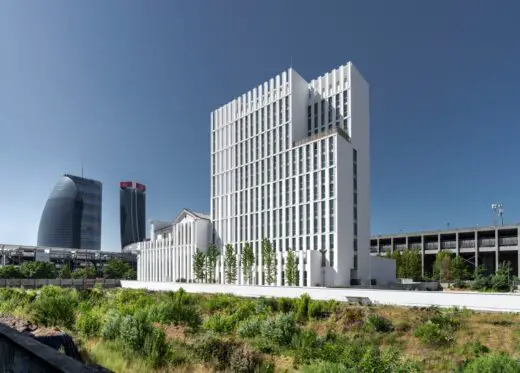 photo : Pianca&Partners
Hotel NH Collection Milano CityLife
14 Nov 2022
Villa Emerald, Lake Garda, Brescia, Lombardy, Northwest Italy
Design: The Building Group & BP + P studio


photo © Piero Ottaviano
Villa Emerald, Lake Garda House
6 Nov 2022
Cantina Montelliana Headquarters Design, between Montebelluna to Conegliano, province of Treviso, Northeast Italy
Design: michielizanatta.net architects – Tommaso Michieli and Christian Zanatta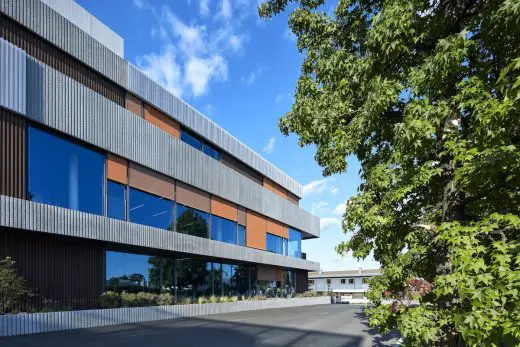 photo : Massimo Crivellari
Cantina Montelliana Headquarters Building
The recently completed headquarters for the Cantina Montelliana, designed by michielizanatta.net architetti (Tommaso Michieli and Christian Zanatta), is characterized by an elegant, composite design that extends to include other pre-existing buildings. This project was conceived as a fragment in a territory that incorporates the formal inconsistency of the industrial landscape to provide a new identity and to reorganize the spaces of the entire compound.
6 Nov 2022
The Mutti Canteen, near Parma, North-central Italy
Design: CRA-Carlo Ratti Associati, in collaboration with Italo Rota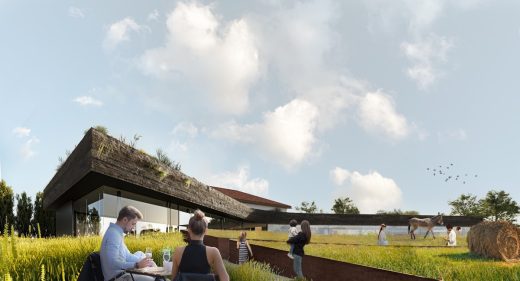 renders : CRA-Carlo Ratti Associati
The Mutti Canteen, Parma dining hall
CRA sculpts a company dining hall in Italy by cutting out a piece of land and raising it above the ground – developed for Mutti, the leading European producer of high-end tomato products. The canteen, a spacious, luminous piece of architecture created directly from nature, will serve factory workers and external diners alike, and will be run by a culinary team known for its Michelin-starred restaurants.
28 Oct 2022
Colle degli Agrumi – Citrus Hill, hills of Piedimonte Etneo, p=Province of Catania
Design: Matteo Cainer Architecture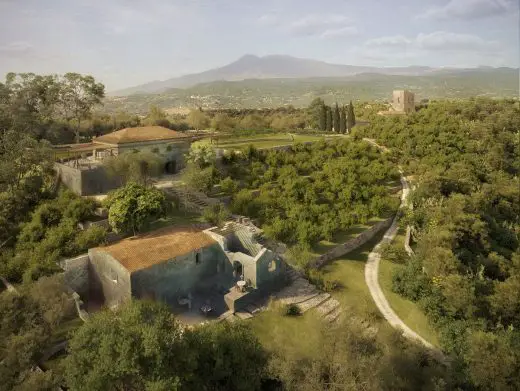 renders : MCA / Liraat
Colle degli Agrumi – Citrus Hill
20 Sep 2022
Hub of Huts, South Tyrol
Design: noa* network of architecture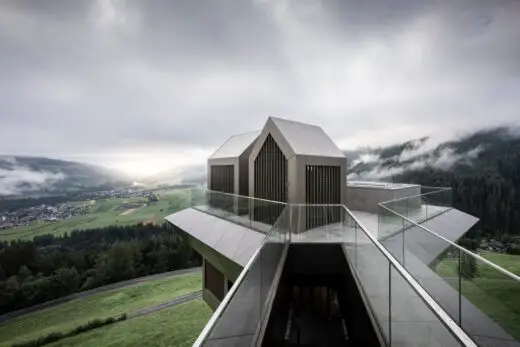 photo : Alex Filz
Hub of Huts, South Tyrol
For its latest South Tyrolean realisation, this architectural office returns to Hubertus in Olang, one of the first places to have revealed the studio's expressive power. After the iconic cantilever pool, a new suspended platform defies gravity law by overturning the concept of wellbeing.
13 June 2022
Furla Headquarters, Tavarnelle Val di Pesa, Florence, Tuscany
Architects: GEZA Architettura
Furla Headquarters, Tavarnelle Val di Pesa
10 Nov 2021
Digital Innovation Gate 421, Cherasco, Piedmont, North Italy
Design: Nemesi studio



image : Luigi Filetici
Digital Innovation Gate 421
Nemesi has designed the Digital Innovation Gate 421 — a collaborative hub for the IT company Tesisquare. Step one towards the completion of the more extended masterplan, the DIG 421 is the first Open Innovation complex in Piedmont, designed as an italian "borgo" of innovation in close connection with landscape, territory and community.
28 Oct 2021
Kastelaz Hof, Termeno, South Tyrol, North Italy
Design: Peter Pichler Architecture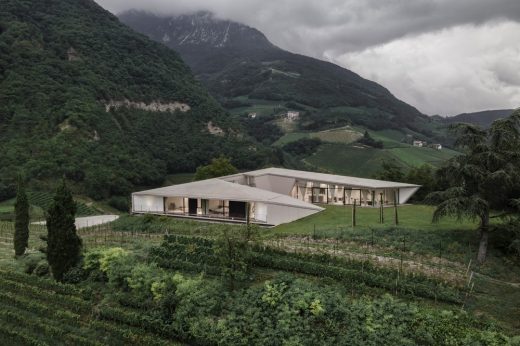 photo © Gustav Willeit
Kastelaz Hof, Termeno South Tyrol
Peter Pichler Architecture designs landscape inspired Kastelaz Hof on vineyard in North Italy. The new villa is located in South Tyrol, in the wonderful Alpine landscape of Termeno, renowned for being the home of the Gewürztraminer wine.
1 Nov 2021
Aeon Hotel, Soprabolzano, South Tyrol
19 October 2021
The Greenary: House around a Tree
Design: CRA-Carlo Ratti Associati, with Italo Rota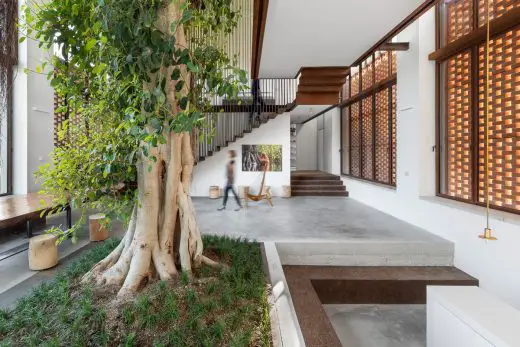 photography : Delfino Sisto Legnani and Alessandro Saletta from DSL Studio
The Greenary, Parma Home
CRA unveils the Greenary, a private residence built around a ten-meter-tall ficus tree, located at the center of the living space. The traditional Italian farmhouse was redesigned to showcase new approaches to blur the boundaries between the natural and artificial.
29 Sep 2021
Polo della Memoria, centre of Pisa, Tuscany, Central Italy
Design: Heliopolis 21, Architects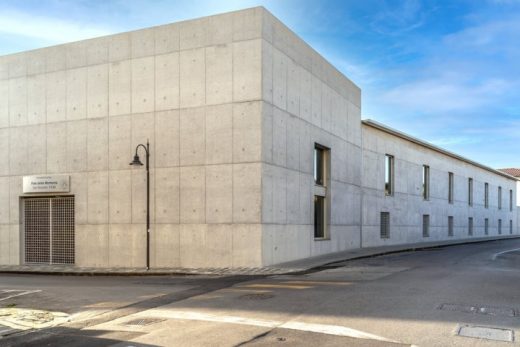 photo : Andrea Testi
Polo della Memoria, University of Pisa building
Consecrated as 'Polo della Memoria', the new building of the University of Pisa by Heliopolis 21 – of which Alessandro Melis, the curator of the Italian Pavilion at the Venice Architecture Biennale, is a founding member, in collaboration with Roger Diener – looks to the future, to the excellence in architecture and to the environmental protection.
10 Sep 2021
Bistro Bergsteiger, Sesto Dolomites, Northeast Italy
Design: Plasma Studio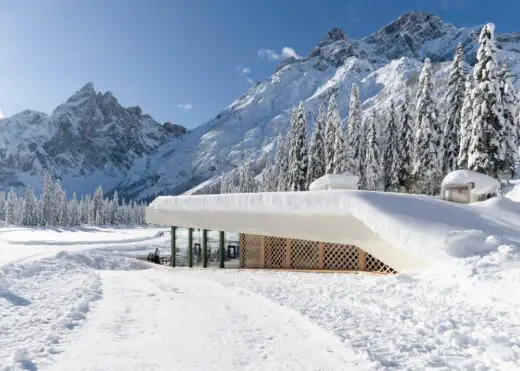 photo : Florian Jaenicke
Appropriate Bistro Bergsteiger Sesto
Located in the midst of the Unesco Natural Heritage area of the Dolomites of Sesto, in a position used as a tourist hotspot, Bistro Bergsteiger fits properly and carefully into its natural and built context.
3 Sep 2021
Ferrero Technical Center, Alba, Piedmont, northwestern Italy
Design: Frigerio Design Group
Ferrero Technical Center in Alba
12 July 2021
Antonianum Merano, South Tyrol
Design: Delugan Meissl Associated Architects (DMAA)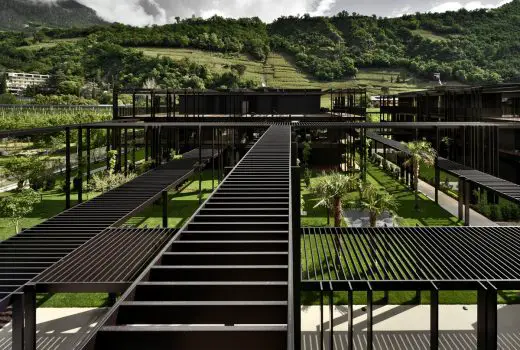 photo : Oskar Da Riz
Antonianum Merano, South Tyrol housing
For the property, which according to the dedication provided for the construction of one structure, DMAA developed a three-part ensemble at the foot of a gently rising hill range, located on the outskirts of Merano, in South Tyrol. The lush and diverse vegetation of the adjacent natural space determines the character of this site and is the central motif of the architectural concept.
23 Jun 2021
Re-use Fallen-church of Grottole, Matera
13 Jun 2021
Hyperloop Public Transport Italy
6 Apr 2021
San Giacomo Church, Ferrara
5 Apr 2021
Gfell Wellness Hotel, South Tyrol
4 Mar 2021
Piazza Degli Alpini, Bergamo
25 Jan 2021
Villa G01, Sardinia Property
19 Jan 2021
Ex-Frigo Militare Renovation, Piemonte
19 Jan 2021
PRATIC 2 HQ in Udine Headquarters Italy
18 Jan 2021
Hotel Milla Montis, South Tyrol
More Italian Architecture News on e-architect soon
Italian Architecture News 2020
26 Nov 2020
Apfelhotel Torgglerhof in Val Passiria
20 Nov 2020
Residenza Q, Abruzzo
11 Nov 2020
Terna power station Capri
9 Nov 2020
Re-use Grottole Church Competition, Grottole, Matera, Basilicata, southern Italy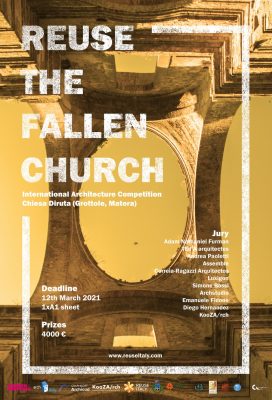 image courtesy of contest organiser
Re-use Grottole Church Competition
The third edition of the contest Re-use Italy: an International Architecture Competition on the reuse of the Fallen-church of Grottole, Matera, Italy.
5 Nov 2020
Bauli on the Motorway, Sommacampagna
28 Oct 2020
New hospital Michele and Pietro Ferrero, Verduno, Cuneo, north west Italy
Architects: Aymeric Zublena of Scau Architecture with Ugo and Paolo Dellapiana of Archicura and Ugo Camerino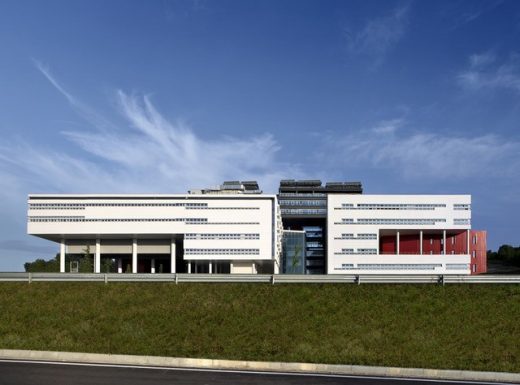 photo : Barbara Corsico
Hospital Michele & Pietro Ferrero, Verduno
The new Italian hospital designed by the French Aymeric Zublena of Scau Architecture with Ugo and Paolo Dellapiana of Archicura and Ugo Camerino is operational on the Unesco World Heritage Site of Langhe-Roero. The backbone of the project is the "medical gallery", a glazed space that distributes light and flows to the complex set on a horizontal core plate.
20 Aug 2020
Melania Caruso Flagship Store, Palermo
15 Aug 2020
Piscina Mirabilis contemporary art museum
2 Aug 2020
Naples Buildings
31 July 2020
Apfelhotel Torgglerhof in Val Passiria
8 Jan 2020
Palermo Seaview Apartments, Sicily
Design: Pucciocollodoro Architetti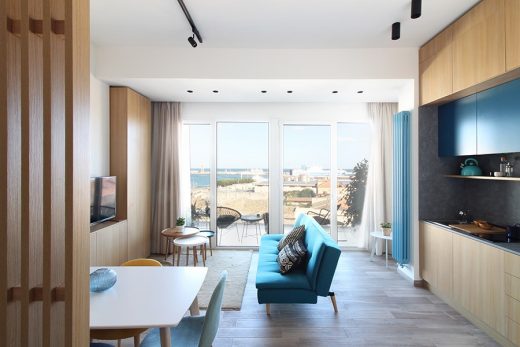 picture : Puccio Collodoro Architetti
Seaview Apartments in Palermo
More contemporary Italian Architecture News online here at e-architect soon
Italian Architecture News 2019
28 Dec 2019
Yellow and Terrazzo House, Bulciago, Northern Italy
Main Architects: Francesca Perani Enterprise + Bloomscape architecture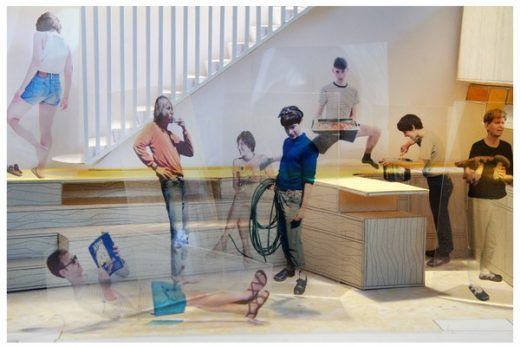 photography : Francesca Perani
House in Bulciago, Northern Italy
A subtle yet contemporary architectural restoration reinterpreting the character of local 1970s residential buildings.
16 Dec 2019
Sant'Antonio Square, Trieste, northeast Italy
Architects: MCA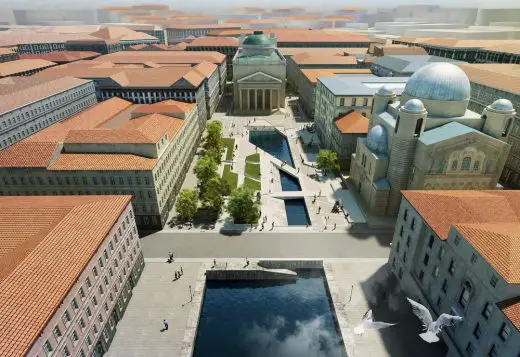 rendering : MCA / Incept
Musical Sant'Antonio Trieste, Italy Landscape Design
Matteo Cainer Architecture's proposal for Sant'Antonio Square will restore the historical and poetic pathos of the place. With the transformation of the site into a graceful urban space for sharing different experiences and enjoying day to day life, citizens will gain a new awareness of the city and the sea.
30 Oct 2019
Markas Headquarters, Northwest Italy
Design: ATP Architects Engineers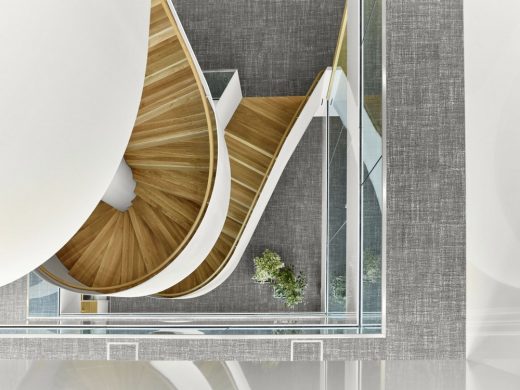 photography : ATP/Becker
Markas Headquarters in Bolzano
13 Sep 2019
Italian Architects Declare Climate and Biodiversity Emergency
8 Italian architectural practices founded the Italian Architects Declare Climate and Biodiversity Emergency, an initiative born in May 2019 in the United Kingdom already counting more than 600 signatories like David Chipperfield, Foster + Partners and Zaha Hadid Architects.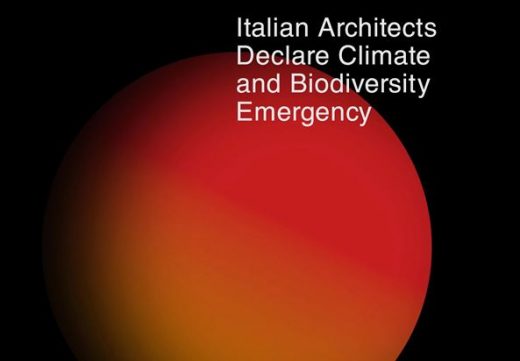 image courtesy of architects
This initiative aims at raising awareness among the architecture sector to front the climate crisis and protect biodiversity. Other countries, including Australia, Norway, Iceland, South Africa and New Zealand are joining the project.
The Italian firm signatories of Italian Architects Declare Climate and Biodiversity Emergency are Piuarch Studio, Schiattarella Associati, Archilinea, Park Associati, Michele De Lucchi Architects, Fuksas, Labics, ABDR.
The founders of the UK movement have found great interest and attention among international fellow architects and have decided to allow a wider delivery, assigning Piuarch the task of promoting and spreading the intent of this manifesto in our country too.
The Italian Architects Declare Climate and Biodiversity Emergency raises from the compelling need to put into practice the 11 objectives the declaration expresses. Designing energy efficient buildings is a requirement and an increasing priority on the Italian and European political agenda.
Piuarch
Founded by Francesco Fresa, Germán Fuenmayor, Gino Garbellini and Monica Tricario, Piuarch is a team of forty architects and engineers from all over the world. Piuarch develops public buildings, office complexes, residences, commercial spaces, boutique and urban plans, with a great attention to sustainability, the interaction between architecture and context and the relationship with art, use of natural materials and a focus on energy saving. Awarded with the "2013 Italian Architect of the Year" prize and with two Gold Medals for "Honorable Mention" at the Milan Triennale, and several times exhibited at the Venice Biennale of Architecture, Piuarch's portfolio includes numerous architectural and interior design projects internationally built.
Piuarch – via Palermo 1, 20121 Milano T. + 39 0289096130 F. + 39 02875506 www.piuarch.it
21 Jun 2019
Z House in Tarvisio, Udine
17 Jun 2019
Apartment Z in Bozen, South Tyrol
15 Jun 2019
Swinging Frames in St. Ulrich, South Tyrol
13 Jun 2019
Travel Without Program Álvaro Siza Exhibition in Sienna
10 Jun 2019
Valentinerhof #2 in Kastelruth, South Tyrol
1 Jun 2019
Zallinger Refuge in Saltria, South Tyrol
15 Apr 2019
PiaveFutur Social and Economic Sciences Campus, Padua
Design: David Chipperfield Architects Milan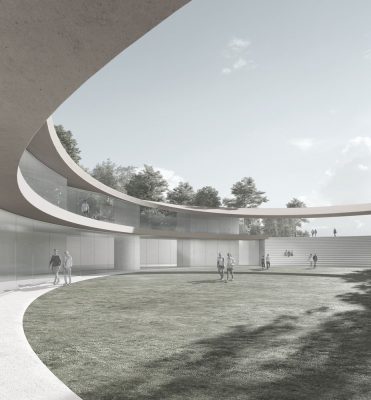 image Courtesy architecture office
PiaveFutur Campus Building in Padua
Winners of International Design Competition organised by the University of Padua for the construction of the new campus of Social and Economic Sciences called PiaveFutura: architectural practices selected for the restricted procedure competition included Bak Gordon, Barozzi Veiga, Cruz y Ortiz Arquitectos, and Foster & Partners, Sauerbruch Hutton.
2 Apr 2019
PRATIC 2 Headquarters, Udine, Northeast Italy
Design: GEA Gri e Zucchi Architettura srl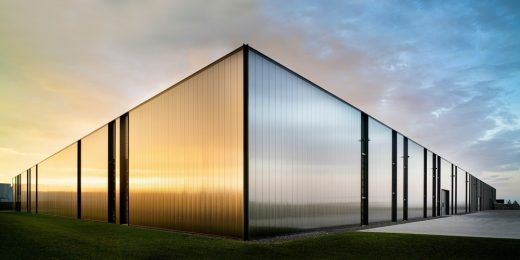 photograph : Javier Callejas
PRATIC 2 HQ in Udine
The productive and directional functions relate to the landscape without mimicry. The spaces are designed with the aim of establishing a constant relationship between interior and exterior. Thus Pratic becomes the landmark of the landscape.
1 Mar 2019
Alpago School Building, Belluno, Northern Italy
Design: LAD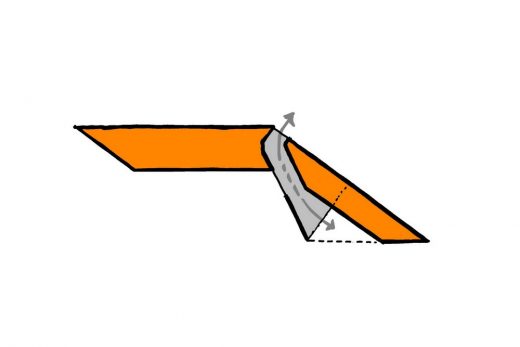 image from architecture office
New School Building in Northern Italy
A finalist in a recent design competition.
28 Feb 2019
Museum Quarter in Bolzano
18 Jan 2019
New Padova Stadium Building News
Progetto CMR concept design released for the new Calcio Padova stadium in Padua, Veneto, northern Italy.
The arena complex is a Sportium project, part of a redevelopment including the future sport citadel by Asci Architect's Studio, and a retail park designed by IPT Project.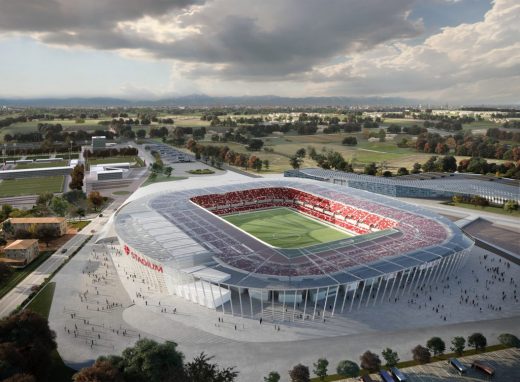 image Courtesy architecture office
The new stadium will take the place of the existing Euganeo stadium, providing the city of Padua with an innovative structure in line with the highest UEFA standards.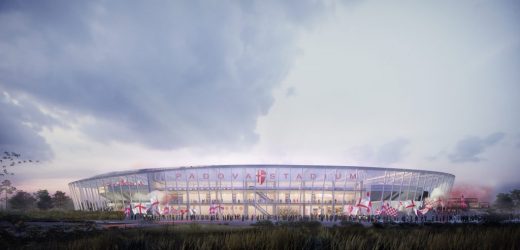 image Courtesy architecture office
The architectural concept includes water, which inspired the sinuous and flexible shapes of the landscape surrounding the stadium, and the traditional porticoes from this city, which are re-interpreted, creating a path around the installation that is totally permeable and accessible.
The structure of the stands is influenced by the Appiani stadium, a symbol of the city of Padova.
The new stadium, designed for a maximum capacity of 16,500 spectators, will also host complementary activities such as the team museum, shops and restaurants.
Progetto CMR recently designed the new Cagliari Calcio stadium building.
More Italian Architecture News online soon
Italy Architectural Updates from 2018
8 Oct 2018
The Greenary: Building a House around a Tree, Parma, North-central Italy
Architects: CRA-Carlo Ratti Associati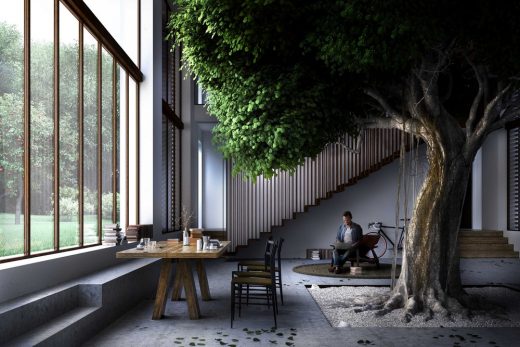 image Courtesy architecture office
Building a House around a Tree
25 Sep 2018
The new Ferrari Centro Stile, Maranello, Northern Italy
Architects: Design International and Planning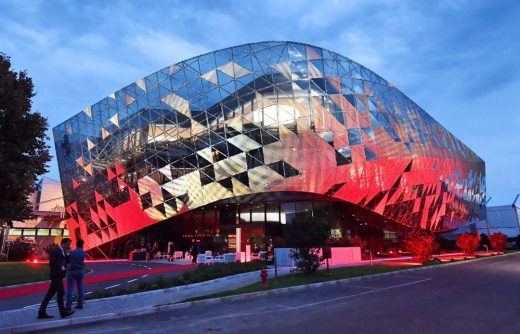 image Courtesy architecture office
Ferrari Centro Stile
The new Ferrari Centro Stile was unveiled to the world on 18 September 2018, coinciding with the launch of two new Ferrari car models produced in strictly limited edition: the Ferrari Monza Sp1 and Sp2.
11 May 2018
Facade of Basilica San Petronio – Wall as a Center, Bologna, Emilia Romagna, North-central Italy
Design: Inter-Esse Studio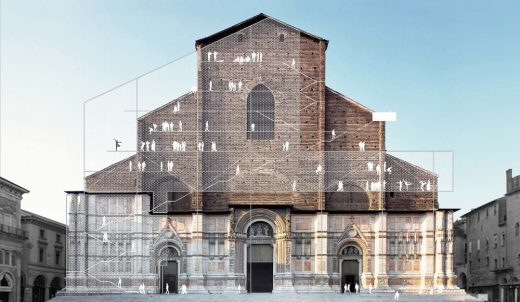 image © IES
Basilica San Petronio, Bologna
The unfinished façade of the Basilica San Petronio in Bologna is completed by people's presence. Here, there is no mechanism of control. This wall becomes an object that is accessible to everyone to be animated and appreciated by the public.
29 Mar 2018
Trieste Airport, Trieste, Northeast Italy
Architect: Lombardini22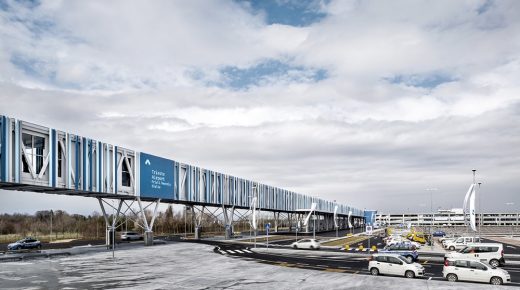 photo : Dario Tettamanzi
Trieste Airport Building
The relaunching of Trieste Airport is continuing through a working partnership with Lombardini22 and, in particular, with FUD, the Lombardini22 brand specialising in physical branding and communication design, which previously designed the airport's coordinated visual communication system, including the departures area and the name change from Ronchi dei Legionari Airport to Trieste Airport.
27 Mar 2018
New Woodco Headquarter, Trento
Design: iarchitects
New Woodco Headquarter in Trento
22 Mar 2018
Rosa Alpina Hotel SPA Penthouse, Dolomites, Northern Italy
Architects: Vudafieri-Saverino Partner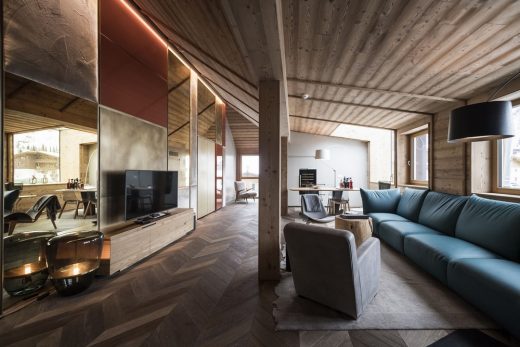 photograph : Alex Filz
Rosa Alpina Hotel SPA Penthouse
The Italian architectural studio Vudafieri-Saverino Partners renews its collaboration with the Rosa Alpina Hotel SPA, a well-known symbol of Italian hospitality excellence. Located in the heart of the Dolomites, in the suggestive San Cassiano village in Alta Badia, the structure is one of The Leading Hotels of the World, boasting a three-star Michelin restaurant internally and an ample, recently-refurbished SPA area.
22 Feb 2018
ELAV Kitchen & Beer, Bergamo, Northwest Italy
Architects: Francesca Perani architetta / Marg Studio Annalisa Grasselli – Matteo Rota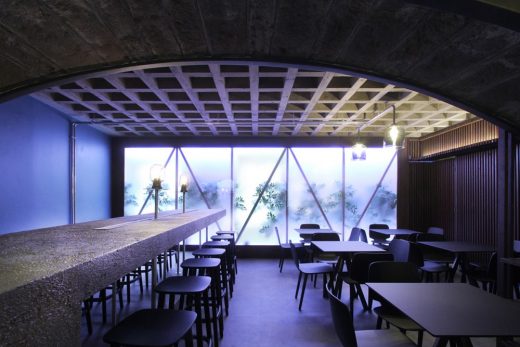 photograph : Francesca Perani
ELAV Kitchen & Beer
Beer, eatery and design in one of the most characteristic streets in Bergamo's old upper town. Independent brewery ELAV, original, home grown business renowned locally and throughout Europe for its product research and care, unveils a new design concept combining exclusive food and craft beer.
Jan 10, 2018
Messner Mountain Museum Corones, Mount Kronplatz, South Tyrol, Northern Italy
Design: Zaha Hadid Architects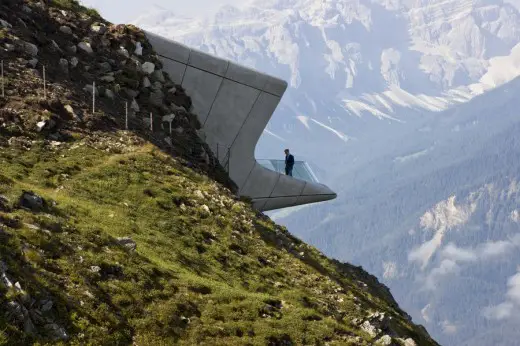 photograph © Inexhibit
Messner Mountain Museum Corones
Famous Italian mountaineer Reinhold Messner built the Messner Mountain Museum Corones on top of the Kronplatz mountain (2,275 m) in South Tyrol, Italy.
Italian Building News – archive for 2016 to 2017
More Italian Architecture News online soon
Location: Italy, southern Europe
New Buildings in Italy
Italian Architectural Designs – chronological list
Italian Architecture in major cities : news + key projects
Italian Buildings : Projects outwith major cities
Contemporary Italian Architecture by Type
Architecture in adjacent countries
Buildings / photos for the Italian Building News page welcome