Piscina Mirabilis contemporary art museum, Italian Architecture, Historic Naples water reservoir
Piscina Mirabilis contemporary art museum, Naples
15 Aug 2020
Piscina Mirabilis contemporary art museum News
Architects: Vazio S/A
Location: Naples, southern Italy
English text (scroll down for Portuguese):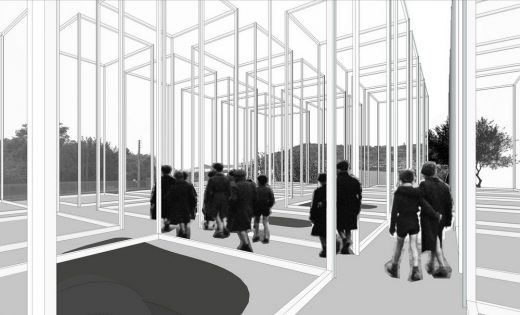 Piscina Mirabilis is an ancient water reservoir in Naples, Italy that will be converted into a new contemporary art museum. Built by emperor Augustus in the 1st century AD, the reservoir is one of the largest ancient Roman cisterns and was used by a nearby naval base that needed large quantities of fresh water for the ships and for the base itself.
This project is a competition entry submitted to Reuse Italy, an organization that aims to rehabilitate ancient buildings in Italy. The proposal by Vazio S/A explores the cistern's hypostyle typology in two ways: using it as the theme of the inaugural exhibition, and imagining a new hypostyle hall that duplicates the existing hall.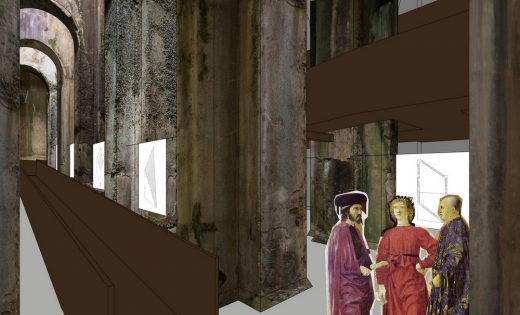 The chosen exhibition theme is the isometries of cisterns by architect Livio Dimitriu. Stairwells, title of the drawings, is a meta-exhibition that will present illustrations of reservoirs within a reservoir.
The capacity of the Piscina was used as a tool to imagine a "virtual reservoir" on the terrace: composed of 57 glass boxes, it is a new hypostyle hall designed from the voids of the Piscina. It is a matrix of the negative space of the cistern, where the perimeter of each box corresponds exactly to the gap between the underground pillars (see diagram). These boxes make up an extension of the exhibition space of the underground gallery, and work as in a mirror game that multiplies the elements of the ancient hypostyle hall.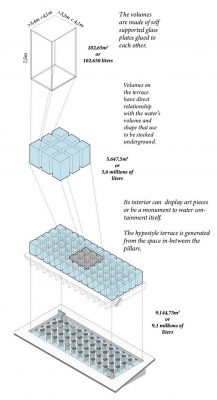 The underground gallery is suitable for works in traditional formats such as drawings, paintings and prints. The terrace gallery is suitable for contemporary languages: sculpture, sound art, environmental art, ephemeral landscaping, etc. Eventually, the two galleries and their different possibilities may be used by the same artist.
The program is spread over two floors, with the conference space, shop, and office on the second floor. The plant adopts the two existing accesses, one as the entrance and the other as the exit. The circuit thus formed inserts the shop at the end of the route, next to the exit. Ramps and stairs along the route allow views of the hall from many different angles.
The colorful figures that appear in the underground gallery images were cut from Piero della Francesca (1415-1492) paintings. Rather than treating architecture as something added on or subordinate to the figures, Piero and other Renaissance painters often adopted an architectonic approach to structure the whole painting at the initial planning stage. The reference to this painter has to do with our humble attempt to balance the play of figure and background in the perspectives of the Hypostyle Museum.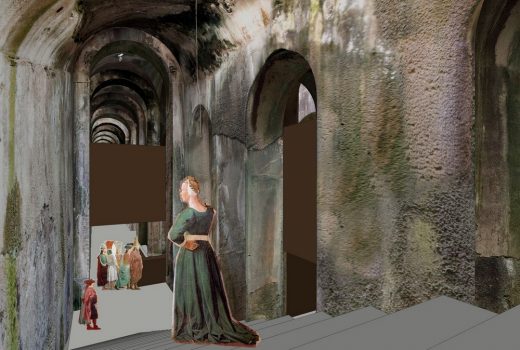 Português:
Museu Hipostilo, Napoli
A Piscina Mirabilis é um reservatório em Nápoles, Itália que será convertido em um novo museu de arte contemporânea. Construído pelo imperador Augusto no século I dC, o reservatório é uma das maiores cisternas romanas da antiguidade e era usado por uma base naval próxima que precisava de grandes quantidades de água doce para os navios e para a própria base.
Este projeto é resultado de um concurso internacional organizado pela Reuse Italy, uma organização que visa reabilitar edifícios antigos na Itália. Nossa proposta explora a tipologia hipostilo da cisterna de duas maneiras: empregando-a como o próprio tema da exposição inaugural, e imaginando um novo salão hipostilo que duplica o salão existente.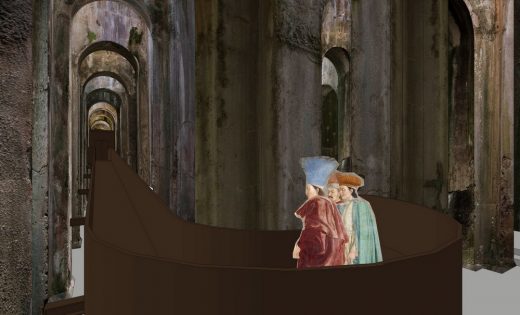 A exposição escolhida são as isometrias de cisternas do arquiteto Livio Dimitriu. Stairwells, título dos desenhos, é uma meta-exposição que apresentará ilustrações de reservatórios dentro de um reservatório.
A capacidade da Piscina foi empregada como ferramenta para imaginarmos um "reservatório virtual" sobre o terraço: composto por 57 caixas de vidro, é um novo salão hipostilo projetado a partir dos vazios da Piscina. É uma matriz do espaço negativo da cisterna, onde o perímetro de cada caixa corresponde exatamente ao vão entre os pilares subterrâneos. Essas caixas compõem uma extensão do espaço expositivo da galeria subterrânea, como num jogo de espelhos que multiplica os elementos do salão hipostilo romano.
A galeria subterrânea é apropriada para obras em formatos tradicionais como desenhos, pinturas e gravuras. A galeria do terraço é apropriada para outras linguagens contemporâneas: escultura, sound art, arte ambiental, paisagismo efêmero, artes gráficas etc. Eventualmente, as duas galerias e suas distintas possibilidades poderão ser usadas por um mesmo artista.
O programa está disposto em dois andares, com o auditório, a loja, e escritório no segundo andar. A planta adota os dois acessos existentes, um como entrada e outro como saída. Rampas e escadas ao longo do percurso permitem visadas do salão por diversos ângulos.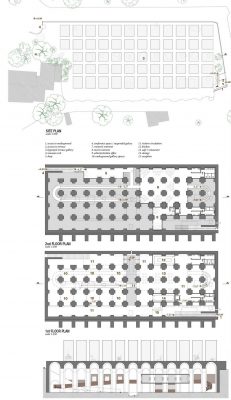 As figuras coloridas que aparecem nas imagens da galeria subterrânea foram recortadas de pinturas de Piero della Francesca (1415-1492). Em vez de tratar a arquitetura como algo adicionado ou subordinado às figuras, Piero e outros pintores da Renascença frequentemente adotavam uma abordagem arquitetônica para estruturar toda a pintura no estágio inicial de planejamento do quadro. Essa referência tem a ver com nossa humilde tentativa de equilibrar o jogo de figura e fundo nas perspectivas do Museu Hipostilo.
Piscina Mirabilis contemporary art museum – Building Information
Project size: 2200 m2
Site size: 1000 m2
Building levels: 3
Architects: Vazio S/A, Brasil
Location: Naples, southern Italy
Vazio S/A, Belo Horizonte, Brazil
Vazio S/A mixes research on urban voids and architectural practice.
vazio.com.br
Piscina Mirabilis contemporary art museum information / images received fromVazio S/A
Location: Piscina Mirabilis, Napoli, Italy, southern Europe
Naples Architecture Designs
Contemporary Naples Architecture Selection
Afragola Station, Napoli, southern Italy
Design: Zaha Hadid Architects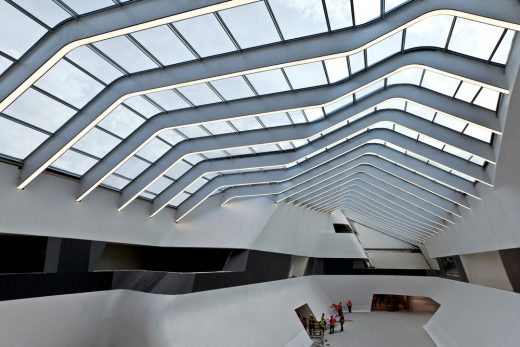 photograph : Jacopo Splimbergo
Afragola Station in Napoli
Pompeii Maximall, near Pompeii
Architects: Design International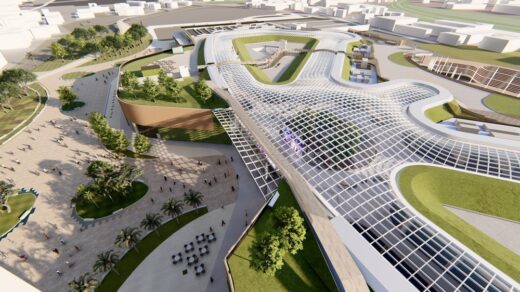 image courtesy of architects office
Pompeii Maximal Shopping Resort
Italian Architecture Designs
Contemporary Italian Architectural Selection
Italian Architectural Designs – chronological list
Comments / photos for the Piscina Mirabilis contemporary art museum page welcome