German Architecture, Built Environment Information, Links to Projects, Architects, Designs
German Building Links
Neue Deutsche Architektur : Key Buildings in Germany
post updated 16 August 2021
Architecture Links in Germany
We've selected what we feel are the key examples of German Building Developments. We cover completed buildings, new building designs, architectural exhibitions and architecture competitions across Germany. The focus is on contemporary German buildings but information on traditional buildings is also welcome.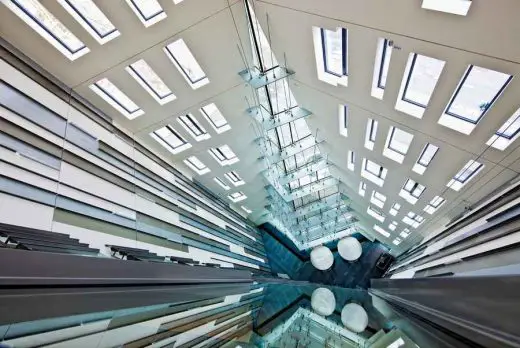 photo : J Collingridge
We have 6 pages of German Architecture selections with links to hundreds of individual project pages.
German Architecture : news + key projects
German Architecture Designs : A-C
German Building Designs : D-J
German Building Developments : K-Z
German Buildings : Projects outwith major cities – A-J
German Architecture Developments : Projects outwith major cities – K-Z
German Building Links by City
Architectural Designs in Germany, alphabetical:


Museum für Kunsthandwerk : photo © Adrian Welch
German Building Links by Type
Building Types, alphabetical:


picture from architects
German Architecture Links by Building
Designs in Germany, alphabetical:
adidas LACES, Herzogenaurach
adidas LACES
Alexanderplatz Tower, Berlin
Alexanderplatz Tower
Allianz Stadium, Munich
Munich stadium building
Altes Museum, Berlin
Altes Museum Berlin
Am Kupfergraben 10 gallery building, Berlin
Am Kupfergraben 10
Arche Nebra, Wangen
The Nebra Ark
Bad Aibling Thermal Spa, Bad Aibling
Bad Aibling Spa
Berlin Olympic Stadium Building
Berlin Olympic stadium building
Berlin Turbine building
Berlin Turbine building
BMW Projekthaus – Research + Innovation Centre, Munich
BMW Projekthaus
BMW Welt, Munich
BMW Welt
Bruder Klaus Kapelle
Field Chapel by Peter Zumthor
Chilehaus, Hamburg
Chilehaus
Commerzbank Tower, Frankfurt
Commerzbank Tower Frankfurt
Darwineum Rostock Zoo
Rostock Zoo building
Deutsches Architektur Museum, Frankfurt
Deutsches Architektur Museum
Deutsches Filmmuseum, Frankfurt
Deutsches Filmmuseum building
Dresden railway station redevelopment
German station building
Duisburg City Masterplan
Duisburg Masterplan
Dupli.Casa – House near Ludwigsburg
Ludwigsburg House
Empire Riverside, Hamburg
Empire Riverside Hotel
Folkwang Museum, Essen
Folkwang Museum Essen
Frankfurt Football Stadium: Commerzbank-Arena
Frankfurt stadium building
GFC Coswig, Dresden
GFC Coswig
Die Gläserne Manufaktur, Dresden
Volkswagen Building
Hamburg Spiegel HQ Building
Hamburg HQ
Hamburg Science Centre
Hamburg Science Centre
Hans Arp Museum, Rolandseck
Hans Arp Museum
Haus Hundertacht, Bonn-Kessenich
Bonn house
Haus M, nr Stuttgart
Stuttgart house
Home.Haus, Hamburg-Bergedorf
Home.Haus
Japan Center, Frankfurt
Frankfurt skyscraper
Jewish Museum, Berlin
Jewish Museum Berlin
Köppersmöhle Museum, Duisburg
Köppersmöhle Museum
Kronenhaus, Frankfurt
Kronenhaus Tower Frankfurt
Leipzig Railway Station – Redevelopment
Leipzig Glass Hall
Leonardo Glass Cube, Bad Driberg, Westphalia
Leonardo Glass Cube
Liebieghaus, Frankfurt
Liebieghaus museum
Literaturmuseum der Moderne, Marbach
Marbach museum building
Media Centre, Oberkirch
Media Centre Oberkirch
Mensa Dining Hall, Karlsruhe
Mensa Karlsruhe
Mercedes-Benz Museum
Mercedes Museum Stuttgart
Militärhistorisches Museum
Dresden Military History Museum
MobileLifeCampus, Wolfsburg
MobileLifeCampus Wolfsburg
Müritzeum, Waren
Müritzeum
Museum für Kommunikation, Frankfurt
Museum für Kommunikation
Museum für Kunsthandwerk, Frankfurt
Kunsthandwerk building
Museum für Moderne Kunst, Frankfurt
Museum für Moderne Kunst Frankfurt
Museum Insel Hombroich, Neuss, Düsseldorf
Neuss Museum
National Gallery, Berlin
National Gallery Berlin
NCT – National Centre For Tumour Diseases, Heidelberg
National Centre For Tumour Diseases Heidelberg
Netherlands Embassy
Netherlands Embassy Berlin
Neue Staatsgalerie, Stuttgart
Neue Staatsgalerie Stuttgart
Neues Museum, Berlin
Neues Museum
Open-Air-Library, Magdeburg, eastern Germany
Open-Air-Library Magdeburg
OZEANEUM, Stralsund, Baltic Coast, northeast Germany
Ozeaneum : new Oceanographic Museum
Phaeno Science Centre, Wolfsburg
Phaeno Science Centre Wolfsburg
Porsche Museum
Porsche Museum Stuttgart building
S11 – Office Complex Steckelhörn 11, Hamburg
Steckelhörn 11
Scharnhauser Park Town Hall, Ostfildern
Scharnhauser Park Town Hall
Schirn Kunsthalle, Frankfurt
Frankfurt Schirn Kunsthalle
Silver Tower, Frankfurt
Silver Tower Frankfurt
Skulptur Projekte, Münster
Skulptur Projekte Münster
Skyper, Frankfurt
Skyper Tower Frankfurt
Städelsches Kunstinstitut, Frankfurt
Städelsches Kunstinstitut
Stuttgart Stadium
Stuttgart Stadium
Treehugger, Koblenz
Treehugger Pavilion
Unite d' Habitation, Berlin
Le Corbusier Berlin housing
University of Leipzig building
University of Leipzig building
Vitra Haus showrooms, Weil am Rhein
Vitra Haus showroom
Wuensdorf Kirche
Wuensdorf Kirche Berlin
Zwinger Palace, Dresden
Zwinger Palace


Frankfurt architecture : photo © Adrian Welch
Location: Germany, western Europe
Key German Architects
German Building Information
KMR, Art and Media Centre, Düsseldorf – Unbuilt Project
Zaha Hadid Architects
German Architecture Competition : Design Contest, 2010
DGNB Certificate Award, Germany
RIBA European Awards 2006 – German Architecture featured:
Federal Environment Agency, Dessau, Germany – sauerbruch hutton architects
Frieder Burda Collection Museum, Baden Baden, Germany – Richard Meier
Daniel Libeskind – famous architect:
Professor – Hochschule für Gestaltung, Karlsruhe, Germany
Buildings / photos for the German Architecture Links page welcome