German houses photos, Germany property images, New residential architecture design, DE buildings designers
German Houses Designs
Residential Buildings Germany – New Property Designs Images
post updated 24 September 2023
German Houses
German Homes News – chronological list
26 March 2023
Wooden House by the Lake, Bavaria, southern Germany
Architects: Appels Architekten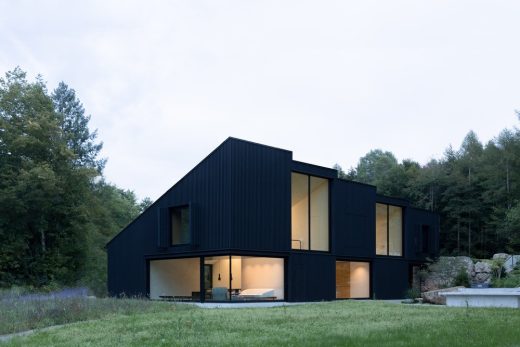 photo © Florian Holzherr
Wooden House by the Lake, Bavaria
This family home expresses its inner life, its context of seasons, light, and surroundings in a simple architectural figure. Conceptionally, Wooden House by the Lake distinguishes between private rooms and a generous open space for daily family life.
26 Sep 2022
House L49, Tübingen, Baden-Württemberg, southwest Germany
Design: METARAUM Architects – Wallie Heinisch, Stuttgart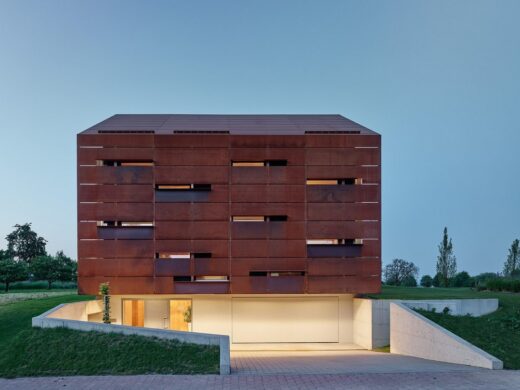 photo : Zooey Braun, Stuttgart
House L49, Tübingen
This new German property is located in Felldorf is a small village, part of the municipality of Starzach in the district of Tübingen. A strip of land along the exit from the town, which is lined with apple trees, is designated by the municipality as a smaller building land area.
4 Aug 2022
House Elvesgarden, Bayern, southern Germany
Architecture: Stephan Maria Lang Architects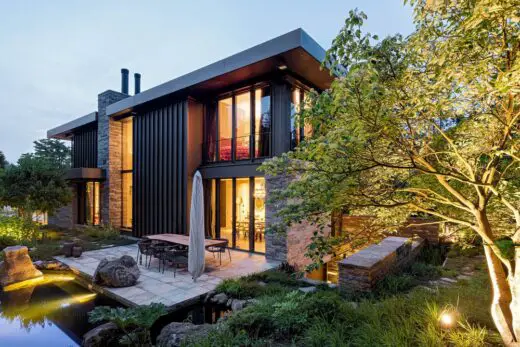 photo : Sebastian Kolm
House Elvesgarden, Bayern
This new German residential property project was more than an aesthetic exercise. The property was a spiritual retreat, a place to cleanse body and soul.
3 Jun 2022
House K, Zehlendorf, Berlin
Architects: STUDIOHANSEN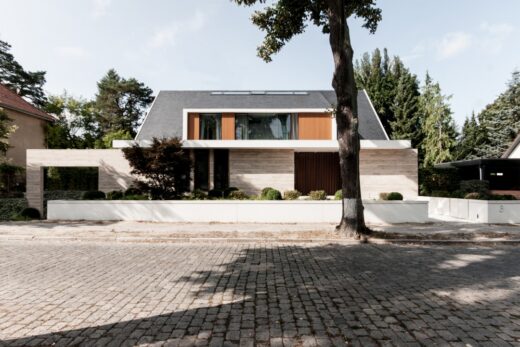 photo : Christoph Theurer Photography
House K Zehlendorf
31 May 2022
Shingle Residence, Bayern, southern Germany
Design: Stephan Maria Lang Architects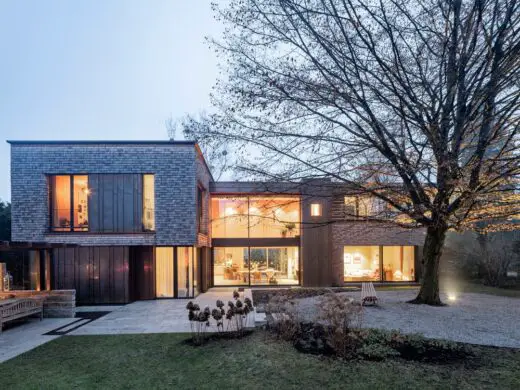 photo : Sebastian Kolm
Shingle Residence, Bayern
The plastic beauty of the building is architecturally designed in perfect harmony with the natural splendor of its surroundings and the needs of a patchwork family of 5 Kids. The l-shaped structure takes the different lighting situations into account. The ground floor gives inside outside space for food Preparation, Cooking, Dining and Living. The upper Floor is hosting the individual rooms.
16 Mar 2022
House B, Hanover, north Germany
Architects: United Architektur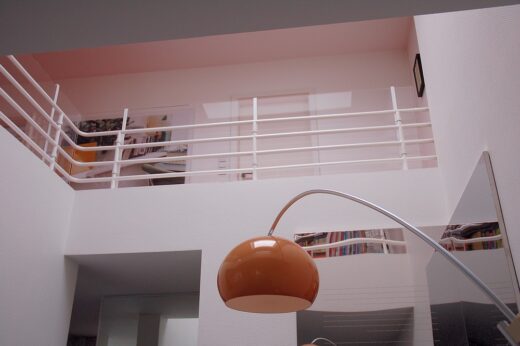 photo : Birgit Krause, United Architektur
House B, Hanover
This German property was a renovation project by United Architektur that transformed the interior of a 1960s duplex house located in Hanover, Germany. United Architektur saw value in the existing spatial features and therefore chose to preserve and renew them.
More German Houses on e-architect soon
German Houses 2021
5 Jul 2021
Röhrig House, Sinzig, Rhineland-Palatinate
Design: Studio Hertweck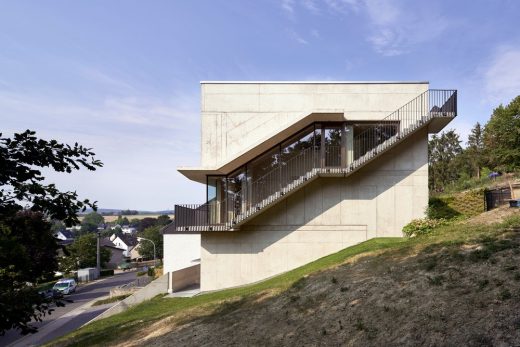 photo : Bildpark / Veit Landwehr, Cologne
Röhrig House in Sinzig
The Röhrig House is part of a series of hillside houses designed by Studio Hertweck in the German Rhine Valley. It is located on a steep slope on the edge of the buildable land of Sinzig-Westum, a German municipality between Bonn and Koblenz.
More contemporary German Houses online here soon
German House Designs 2020
9 Nov 2020
House on a North Sea Island, Wyk auf Föhr, northern Germany
Design: HUBSCHMITZ Architekten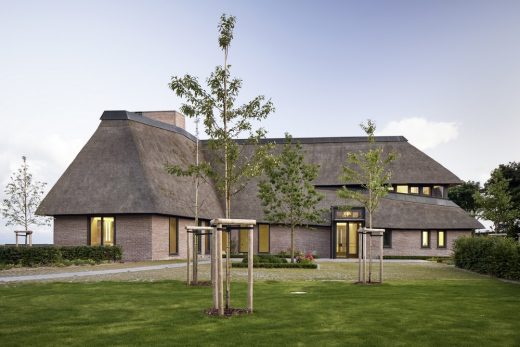 photograph : Veit Landwehr
House on a North Sea Island, Wyk auf Föhr
The primary architecture concept is based on the local architectural roots, the typical Frisian farmhouses. The design of the new holiday house faced the challenge of balancing former traditions and contemporary functional requirements.
15 Oct 2020
Germany's first 3D-printed home
Germany's first 3D-printed house is located in the North Rhine-Westphalian town of Beckum. The two-storey, 160 m2 single-family home is currently under construction.
The 3D printing process has already been applied to the walls of the house. A nozzle applies special concrete in layers. The print head moves over three axes on a fixed frame and is controlled by just two people.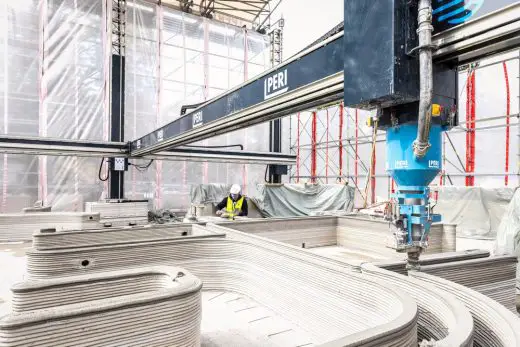 It takes just five minutes to print one square meter of a double-shelled wall. This innovative technology saves more than time compared to conventional construction methods; it also significantly reduces resources and allows for greater freedom in building design.
Viessmann heating, cooling and ventilation products have been selected for this home by PERI GmbH, one of the world's leading suppliers of formwork and scaffolding systems, as well as civil engineering solutions. When completed, the first home will be heated and cooled by a high-efficiency Vitocal 200-S air/water heat pump and ventilated by the Vitovent 300-W ventilation system.
The temperature will be perfectly regulated all year round. The heat pump is highly efficient with a COP (coefficient of performance) of up to 5.0 (EN 14511 at A7/W35°C) and has an energy efficiency rating of A++.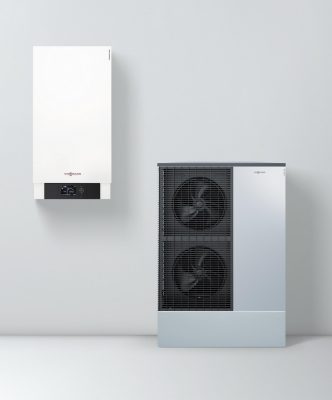 The new Vitoset heat pump-hybrid cylinder WPU 300/100L will be installed as a heating buffer and DHW cylinder. The hybrid cylinder solution saves a lot of space since it consists of one 300-litre enamel DHW cylinder and a 100-litre buffer cylinder. The cylinder is delivered in one piece and is completely insulated.
Fresh, clean, and especially germ-free ambient air is more important than ever in times of Covid-19, and so the Vitovent 300-W central home ventilation system will also be installed in Germany's first 3D-printed house. This quiet ventilation system is particularly quiet and compact and recovers up to 92 per cent of the heat from extracted air during the cold weather, saving heating costs. In combination with the Vitocal 200-S heat pump, the ventilation can be conveniently controlled using the free ViCare app on a smartphone.
PERI GmbH expects 3D printing to gain in importance in the next few years, and additional residential projects are already in preparation.
With a turnover of EUR 1,685 million in 2019, PERI is one of the largest global manufacturers and suppliers of shuttering and scaffolding systems. With more than 9,500 employees, over 60 subsidiaries and more than 160 warehouses, the family business with its headquarters in Weißenhorn, Germany serves its customers with innovative system equipment and comprehensive services for shuttering and scaffolding technology.
Residential Property in Germany – latest additions to this page, arranged chronologically:
1 July 2020
Multi-Family House, Aichwald, Baden-Württemberg, south west Germany
Design: holzerarchitekten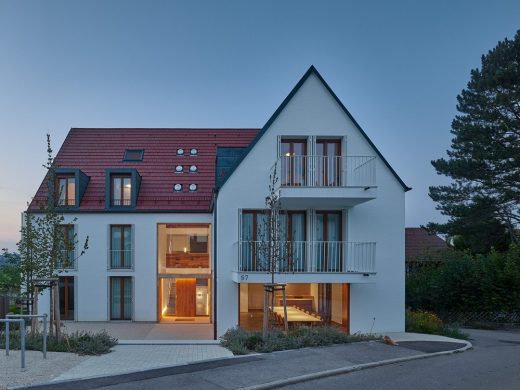 photo : Zooey Braun
Multi-Family House Aichwald, Stuttgart
This German home is located in Aichschiess, a small village just 30 minutes outside of Stuttgart an old farmhouse is the origin of the development of a multi-generational home right in the town centre.
19 June 2020
Ah´ Haus – Conversion of a holiday home in the Schorfheide, Brandenburg, (north west of Berlin)
Design: ludwig heimbach architektur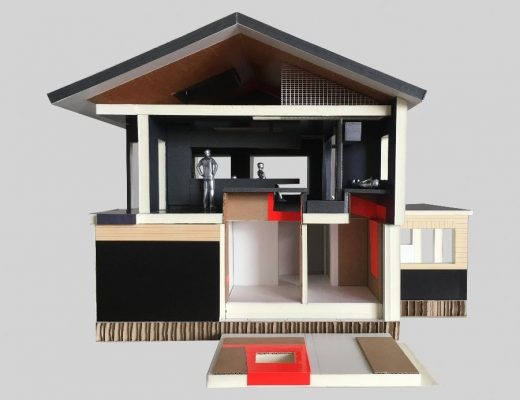 image Courtesy architecture office
Ah´ Haus, Schorfheide Home, Brandenburg
The small holiday home ("Datsche") by a lake, originally intended for three people, will be converted into a more communal house with 11 sleeping places without altering the volume of the existing building.
6 May 2020
House Rheder, Brakel, Höxter, North Rhine-Westphalia
Design: Falkenberg Innenarchitektur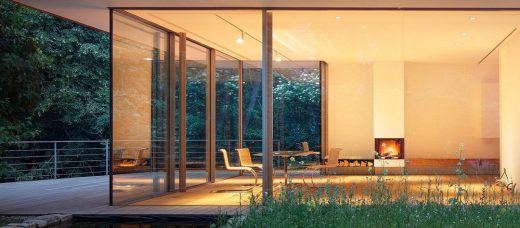 image Courtesy architecture office
House Rheder in Brakel
The house has become a place of retreat, a building that deliberately withdraws and allows the surrounding landscape to present itself to the full.
13 Mar 2018
Cradle to Cradle Project, Dusseldorf, North Rhine-Westphalia, Northwest Germany
Design: HPP, architects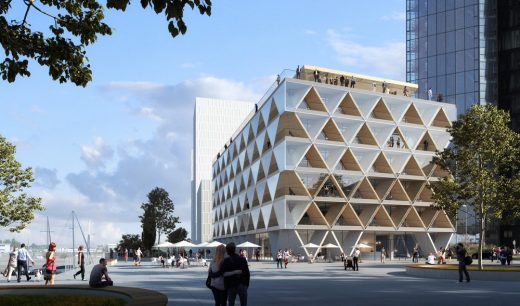 image Courtesy architecture office
Cradle-to-Cradle in Düsseldorf
Düsseldorf's first timber hybrid house will be distinguished at the MIPIM trade fair with the internationally-renowned MIPIM/The Architectural Review Future Project Award in the category Office. The building has a trend-setting circular economy concept.
19 Oct 2017
Villas Winterberg, Hochsauerland District, east of North Rhine-Westphalia
Architects: Third Skin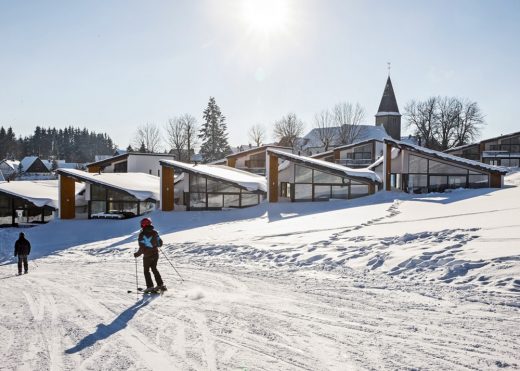 photograph : Steffi Rost
Villas Winterberg in the Hochsauerland District
It was intended to build a tourist development with about 20 villas and apartments in a modern contemporary style in the center of the village and with direct access to the ski slopes of the authentic village of Neuastenberg (in Winterberg).
German Houses Archive
New German Houses up to and including 2016
27 Dec 2016
House W, Oberhavel, Brandenburg, south of Berlin, eastern Germany
Design: Peter Ruge Architekten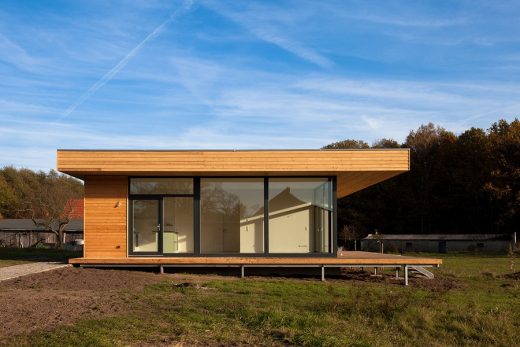 photo © Li Yuanhao
House in Brandenburg
This is a new detached dacha for a German-Russian family of musicians. Located 75 km north of Berlin in the beautiful countryside of Brandenburg, it is surrounded by lakes and forests.
27 Dec 2016
Villa S, Schriesheim, Baden-Württemberg, south west Germany
Design: Ian Shaw Architekten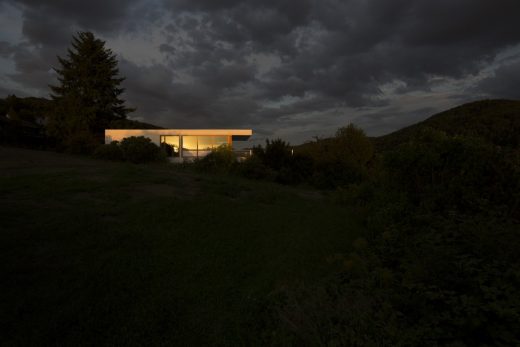 image Courtesy architecture office
Villa S in Schriesheim in Germany
From its elevated position, the building offers panoramic views of the surrounding countryside: to the south, the Black Forest; to the west, the Palatinate and the Rhine Valley; to the east, the Odenwald mountain range; and in the foreground, on a neighbouring hillside, the ruins of Strahlenburg Castle.
10 Oct 2016
Haussicht House, Erkheim, Bavaria, southern Germany
Design: Alfredo Häberli Design Development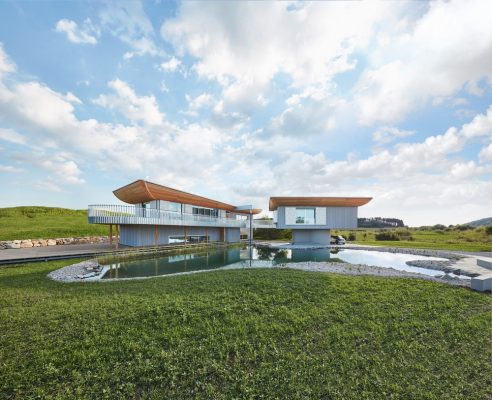 photograph : Jonas Kuhn
Haussicht in Erkheim
20 Nov 2015
Villa K in Thuringia, Thuringia, south east Germany
Design: Paul de Ruiter Architects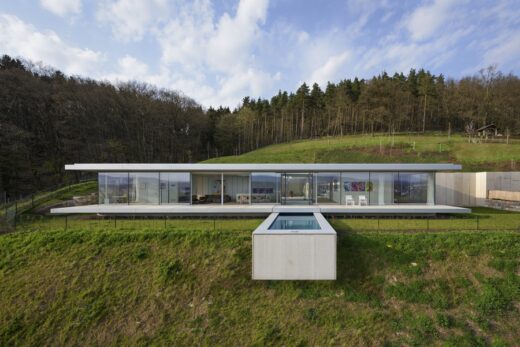 photography : Pieter Kers
Contemporary Villa in Thuringia
The first German project for Paul de Ruiter Architects. The realization of a sustainable villa, discrete and integrated in the natural environment, was the wish of the client. The result is a straightforward, but innovative residence built from only glass, steel and concrete.
8 Aug 2016
House am Oberen Berg, Stuttgart, south west Germany
Architect: Alexander Brenner Architekten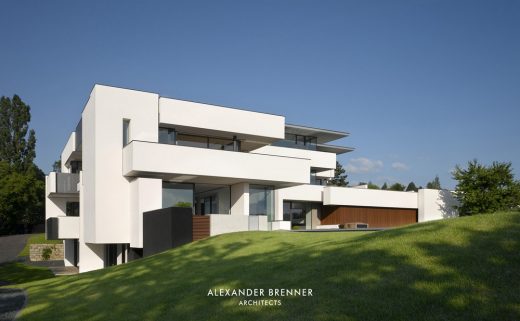 photograph : Zooey Braun, Stuttgart
Contemporary Stuttgart House
6 Sep 2013
House Philipp, Waldenburg, southern Germany
Design: Philipp Architekten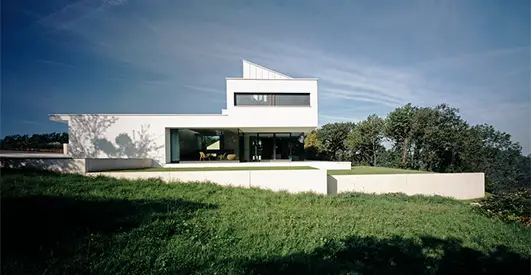 photo : Victor Brigola
House Philipp
Another simple white-coloured residence, this time located on a small mountain ridge in Southern Germany. The architects say this, "There is a cube placed in this glass box as a key element, completely panelled with Elm Wood. It contains both the kitchen and staircase and at the same time it forms the static backbone for the attic placed on it".
14 May 2013
Haus W, Frankfurt am Main, western Germany
Design: Ian Shaw Architekten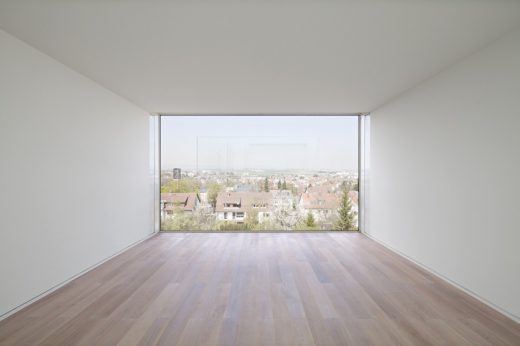 photo from architect
House in Frankfurt am Main
This well crafted cuboid generates spectacular light. The development, constructed out of prefabricated high insulation timber panels and energy-efficient glazing, is articulated as a classic modernist intervention: a box set into a traditional pitched roof atop a standard three-storey house.
4 Apr 2013
Villa W, Frankfurt, western Germany
Design: Ian Shaw Architekten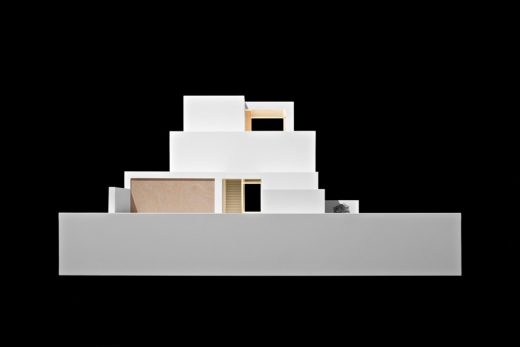 image from architect
Villa W
This white, monolithic house will reside in a suburb of Frankfurt. From the street it will appear impenetrable, so delineating a clear demarcation between the public and private realms. The building's front elevation is articulated as a series of windowless blocks, its recessed entranceway the only glazed element of its north facing façade.
2 Apr 2013
New Stuttgart Property, south west Germany
Design: J. MAYER H. Architects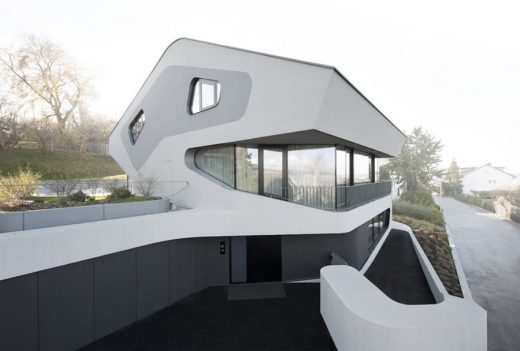 photograph : David Franck
New Stuttgart Property
The new house is on a plot of land near Stuttgart, on a hillside with a generous view of the valley. The owners wanted a new home that would bring this view to life even inside of the building. The house is in a residential area with conventional developments, most of which date from the 1960s.
2 Apr 2013
Soft House, Hamburg, northern Germany
Design: KVA Matx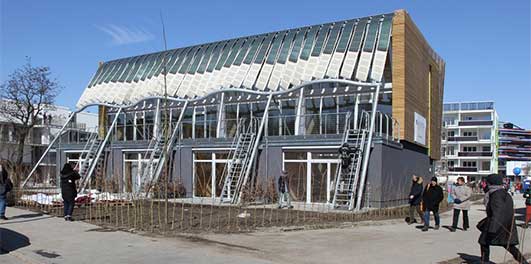 photo from architect
IBA House Hamburg
The IBA Hamburg opened to the public in March, 2013. Over 50,000 visitors each week are expected to visit the projects. The SOFT HOUSE is a set of live/work row house units which offer a new model for low carbon construction and an ecologically responsive lifestyle that can be personalized to meet homeowner needs.
18 Feb 2013
Penthouse Simon – Residence in Königstein im Taunus, Hesse, western Germany
Design: Ian Shaw Architekten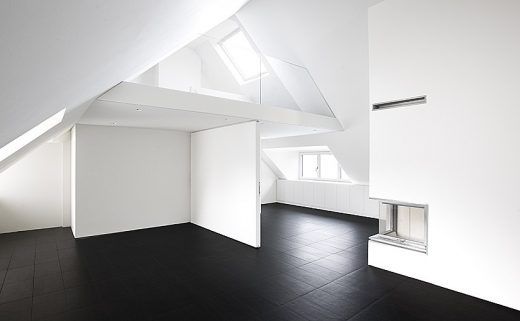 photo : Felix Krumbholz
Residence in Königstein im Taunus
The concept for this striking penthouse – developed within a late nineteenth century residence in Königstein – was to strip everything back to its essential quality. All existing interior walls were removed and a steel A-Frame introduced to achieve a 7m double height, column free space.
1 Feb 2013
SU House, Stuttgart, south west Germany
Design: Alexander Brenner Architekten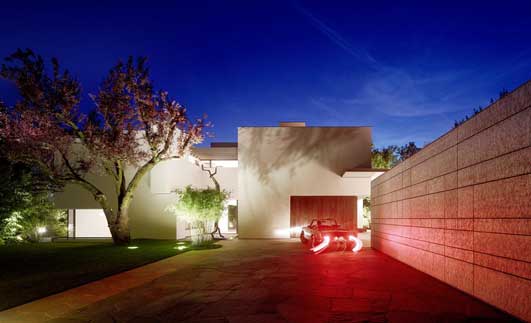 photo : Zooey Braun, Stuttgart
SU House
On a plot in a villa quarter at the edge of a forest in the south of Stuttgart, a villa thoroughly designed down to the smallest detail was build for an art lover and her family.
26 Oct 2012
Haus am Weinberg, Stuttgart, south west Germany
Architect: UNStudio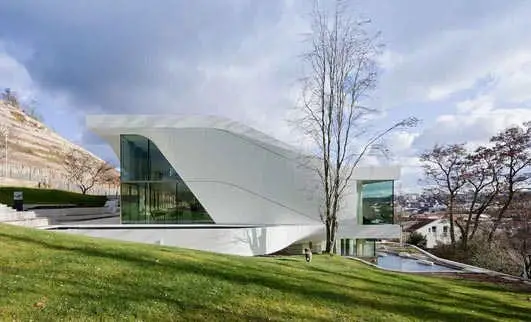 image © Iwan Baan
Haus am Weinberg
The Haus am Weinberg is located in a setting that is at one time rural, yet suburban. The location of the villa affords pastoral views of the stepped terraces of an ancient hillside vineyard on one side and cityscape vistas on the other. The inner circulation, organisation of the views and the programme distribution of the house are determined by a single gesture, 'the twist'.
19 Oct 2012
House O, Potsdam-Mittelmark, near Berlin, north east Germany
Design: Peter Ruge Architekten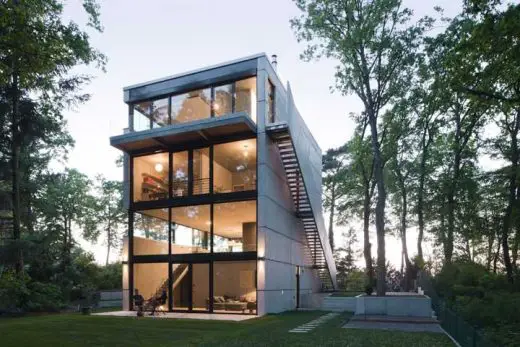 picture © Werner Huthmacher
Haus Potsdam-Mittelmark
The site lies upon a hill in a beautiful small village in the district Potsdam-Mittelmark in a fantastic scenic situation with breathtaking views over the nearby lake. The surroundings are dominated by a combination of historical and modern mansions. As many of the old large trees on the site should be kept as possible.
Recent German House Designs
13 Aug 2012
Haus Bavaria, Regensburg, southeast Germany
Design: Carlo Berarducci Architecture



photo : Herbert Stolz
Haus Bavaria
Above the ancient Roman walls of the city of Regensburg, in Bavaria (Germany), the project foresees the total demolition and reconstruction of an edifice which is part of a continuous "quint" dating back to the Middle Ages, overlooking the park on the outskirts of the city (Stadtpark) on the external side and facing the street on the internal side.
Haus N, Lake Wörthsee, Bavaria, southeast Germany
Bembé Dellinger Architekten



photo : Angelo Kaunat
New German House
JustK, Tübingen, Baden-Württemberg
architekten martenson und nagel · theissen



photograph : Brigida González
Tübingen House
Haus R, Schondorf, Lake Ammersee, Bavaria
Bembé Dellinger Architekten



photograph : Stefan Müller-Naumann
Bavarian House
German Home Designs
Major Residential Architecture in Germany, alphabetical:
Dupli.Casa – House near Ludwigsburg
2008
J. MAYER H. Architects



photograph : David Franck Photographie
Ludwigsburg house
Hillside House, south west Germany
2010-
3deluxe in/exterior



picture from 3deluxe in/exterior
Hillside House
House F, Kronberg, Germany
2008
Meixner Schlüter Wendt Architekten



photograph : Christoph Kraneburg
Kronberg house
Hundertacht House, Bonn-Kessenich
2007
Uwe Schröder Architekten



photograph : Stefan Müller, Berlin
Hundertacht House
More German homes online soon
Location: Germany, western Europe
Architecture in Germany
German Architecture
German Architecture Designs – chronological list
German museum building : Folkwang Museum, Essen
Comments / photos for the German Residential buildings – New Residences in Germany page welcome