DGNB Certificate Award, German Sustainable Building Council, News, Design
DGNB Certificate, Germany
Hotel Buildings – Architecture Information: Sustainable Building Council News
24 Jan 2011
Hotel sustainability in focus DGNB Certificate now available for hotel buildings
DGNB Certificate
On 20 January 2011, at the BAU trade fair in Munich (the world's leading building industry trade fair), the German Sustainable Building Council (DGNB) for the first time awarded its coveted DGNB Certificate to hotel buildings. This heralds the addition of sustainable hotels as another important variant of the certification system.
Emporio Hamburg Neubau Hotel: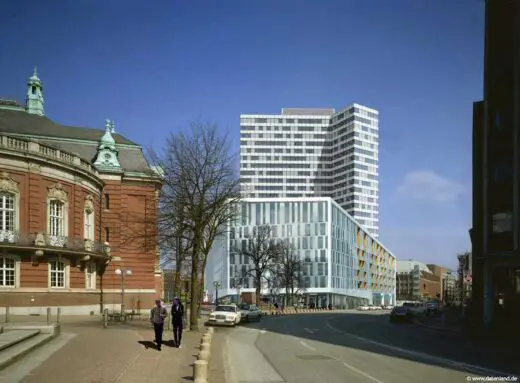 images from German Sustainable Building Council (DGNB)
Like other buildings, hotels will be assessed in six different areas of evaluation in accordance with the philosophy of the DGNB System. These include the classic aspects of sustainability – ecology, economy, and society – but also go further to include the technical quality of the building as well as the quality of the planning and construction processes. The quality of the site is also assessed; this result is presented separately however and is not included in the overall grade for the building.
Hafenspitze Hotel Düsseldorf:



images from German Sustainable Building Council (DGNB)
Particular importance is attached to the life cycle assessment of a hotel building. The effort and expense associated with cleaning measures, for example, play a significant role, as do energy and drinking water consumption and general maintenance costs. Careful use of resources is rewarded positively using a point system. Above all, guests want to feel comfortable in their hotel accommodations, and user comfort and convenience aspects are therefore given special consideration in the DGNB assessment, including such factors as sound insulation and thermal comfort.
Accessibility is another aspect that is taken into account.
The requirements considered by the Certification System vary according to the star rating of the hotel, and the differences are also taken into account between a city hotel that is conveniently located in terms of transport facilities, and a secluded rural hotel. The current version of the assessment system is geared towards new buildings.
The criteria for the assessment were drawn up by an expert group of planners, hotel developers, investors, and representatives from the industry, ensuring that the system is tailored to the specific nature of the hotel business and can be applied in practice.
According to Dr. Christine Lemaitre, CEO of the DGNB, "As a general rule, when construction is state-of-the-art, documentation is up to standard, and sustainability aspects are integral to the planning early on, an award will not be far off."
The holistic approach of the assessment consistently follows the DGNB philosophy while being at the same time finely tuned to the requirements of the hotel trade. The new occupancy profile conforms to the DGNB system throughout, meaning that DGNB auditors, conformity inspectors and other involved parties are already familiar with the basic principles of the certification procedure for new hotel buildings. This keeps the need for further training within reasonable limits and reduces the effort and expense involved in handling many of the detailed aspects of the assessment.
Plan ahead:
Consense 2011 – International Trade Fair and Congress for Sustainable Building, Investment, Operations and Maintenance in Stuttgart on 29 and 30 June 2011.
Further information:
Deutsche Gesellschaft für Nachhaltiges Bauen e.V. , German Sustainable Building Council, Kronprinzstrasse 11, D-70173 Stuttgart, Germany
Tel.: +49 (0)711 72 23 22-0 Fax: +49 (0)711 72 23 22-99
info(at)dgnb.de www.dgnb-international.com; www.dgnb.de
DGNB Certificate images / information from German Sustainable Building Council
Location: Munich, Germany, western Europe
German Architecture
German Architecture – major cities
Contemporary German Buildings – outside major cities
German Building Links – alphabetical lists by city or by building
German Buildings Selection
GFC Coswig
wurm + wurm



photo : Ester Havlova
GFC Coswig
Empire Riverside Hotel
David Chipperfield Architects



image © Ralf Buscher
Hamburg Hotel
Comments / photos for the DGNB Certificate Award Germany page welcome