German Architect Practices, Architectural Offices Germany, DE Design Studios, Designers
German Architects – Design Offices
Key Architecture Studios in Germany – Design Practices, Europe
post updated 22 May 2023
German Architect – Architect Listings
Deutsche Architekten
German Architects Offices
e-architect feature the key German Architects, focusing on contemporary German architecture studios.
This country has produced a large amount of the msot respected architecture offices in the world. The most celebrated architect from the past is Mies Van der Rohe, famous for the National Gallery in Berlin, Germany. Also of major importance globally were Karl Friedrich Schinkel, Peter Behrens, Marcel Breuer, Walter Gropius and Frei Otto, many as émigrés sinece the Second World War.
Towards the end of the 20th Century Behnisch Architekten were very well known globally, and popular amongst students of architecture. Currently the most notable German architecture practices are Gerkan, Marg & Partners and J Mayer H, though Bolles + Wilson and sauerbruch hutton are both also known outside Germany.
German Buildings



picture © Adrian Welch
Links to German Architect Studios – architect offices in Germany, alphabetical by surname
Most Celebrated German Architect
Major German Architects
Behnisch Architekten (Stuttgart & München)
Bolles + Wilson (Münster)
Gerkan, Marg & Partners (Hamburg + Berlin, Frankfurt, Aachen, Kapstadt)
J Mayer H (Berlin)
Josef Paul Kleihues (Berlin and Dülmen-Rorup)
sauerbruch hutton (Berlin)
Steidle + Partner (München + Berlin & Simbach)
Key 20th Century German Architect Practices
Frei Otto – Architect / Engineer
Neo-classical German Architect
Karl Friedrich Schinkel
More German Architecture Offices online soon
Mies is the most famous German architect of the last century – highly influential and widely respected. Architect Gropius is also remembered for his work at The Bauhaus, however (like Mies) he spent much of his career in the US. Behrens is one of the key architects in the birth of Modernism and Breuer created many celebrated buildings such as the Whitney Museum.
More recently Gerkan, Marg & Partners have become one of the largest German architects whilst J. MAYER H. have become one of the most published German architects offices in the last decade.


image © Christian Richters
German Architects Practices
Current architectural practices in Germany, alphabetical:
3deluxe (Wiesbaden)
4a Architekten (Stuttgart)
ATP Architects (Munich, Frankfurt, Berlin)
Atelier Brueckner (Stuttgart)
Axel Schultes (Berlin)
Barkow Leibinger (Berlin)
Brückner + Brückner architekten (Tirschenreuth + Würzburg)
Brückner Architekten (Munich)
Gatermann + Schossig Architekten (Cologne)
Zvi Hecker Architects (Berlin)
Henn Architekten (Munich)
Ian Shaw Architekten (Frankfurt)
Ingenhoven Overdiek Kahlen und Partner (Düsseldorf)
Kada Wittfeld Architektur (Aachen + Graz, Österreich)
LAVA – Laboratory for Visionary Architecture (Stuttgart)
Christophe Mäckler (Frankfurt)
Me di um Arkitekten (Hamburg)
Meixner Schlüter Wendt (Frankfurt)
modulorbeat (Münster)
Ortner & Ortner (Berlin)
Peter Ruge Architekten (Berlin)
Stephan Braunfels Architekten (Berlin + Munich)
Uwe Schröder Architekten (Bonn)
Wandel Hoefer Lorch Architekten (Frankfurt)
Werner Sobek Engineering & Design (Stuttgart + other offices around the world)
wurm + wurm (Bühl, near Baden-Baden, south west Germany)
Architect Offices in Germany featured on the site but unlisted in architecturepractice section
Hascher Jehle Architektur (Berlin)


picture from Ketchum
Additional German Architecture Studios welcome
Location: Germany, Northern Europe
German Architects listed by City
Daniel Libeskind – famous architect:
Professor – Hochschule für Gestaltung, Karlsruhe, Germany
Architects in countries adjacent to Germany
J. MAYER H. (Berlin)
German Building Links by Type
Selected Building Types, alphabetical:
A key recent building in the capital city of this West European country:
Komische Oper Berlin Expansion
Architect: REX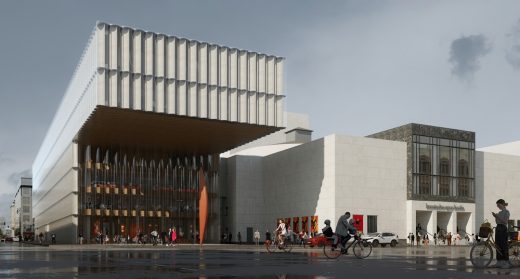 image : Luxigon
Komische Oper Berlin
This proposed design by REX for the Komische Oper Expansion aspires to create a respectful and individual partner that highlights the Komische Oper building and defines a new urban node befitting the significance of the institution. Its contextual massing, outward-facing public functions, and generous urban plaza integrate the building in the neighborhood's fabric.
Additions for the German Architect Offices page welcome
Website: visit Germany