Contemporary Residential Properties, New House Photos, Architects, Home Pictures
Contemporary Residential Properties
New Architecture – Current House Designs : N
post updated 6 July 2021
We've selected what we feel are the key examples of Contemporary Residential Properties. We aim to include Residential Properties that are interesting and of good design quality.
We cover completed Contemporary Residential buildings, new house designs and housing competitions across the world. The focus is on contemporary residential buildings but information on traditional residential properties is also welcome.
Contemporary Residential Property Designs – latest additions to this page:
Contemporary Properties
Northbridge House II, Sydney, Australia – 22 Aug 2013
Design: Roth Architects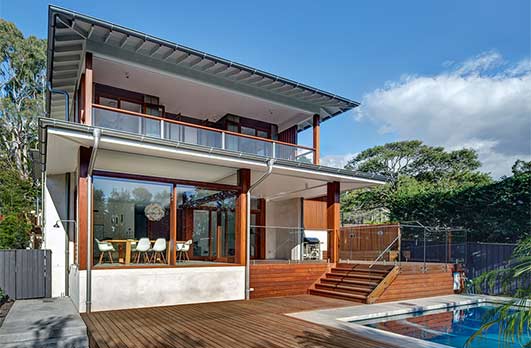 photo : Murray Fredericks
Located on the North Shore of Sydney where the vegetation still prevails over the human footprint, Northbridge House balances the use of contemporary industrial materials within the surrounding Australian bush context.
Nest House, Singapore – 25 Jul 2013
Design: WOHA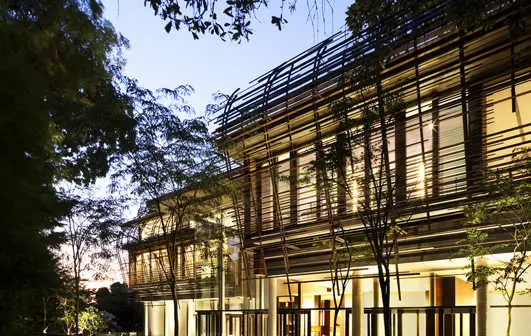 photo : Patrick Bingham-Hall
A delicate, textural design from this talented Singapore architecture practice. The expression of house refers to bark, branches and twigs. These components achieve a delicate complexity. The rooms are wrapped with a curved textured screen in a timber and aluminium woven lattice in different lengths and diameters.
New Canaan Residence, Connecticut, USA – 24 May 2013
Design: Specht Harpman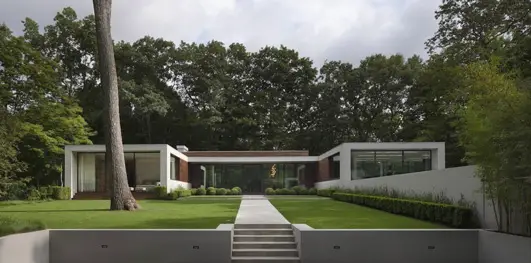 photo : Elizabeth Felicella
The New Canaan Residence is nestled into a lush hilltop site in this forested part of Connecticut. The house was designed to engage the landscape and immerse the occupants in the full range of environments that the site offers. What the completed house doesn't show is its modest beginnings: this is a renovation of a 1950's house which had a series of unsympathetic additions from the 60's and 70's, and whose owners originally wanted only a kitchen upgrade.
New Stuttgart Property, Germany – 3 Apr 2013
Design: J. MAYER H. Architects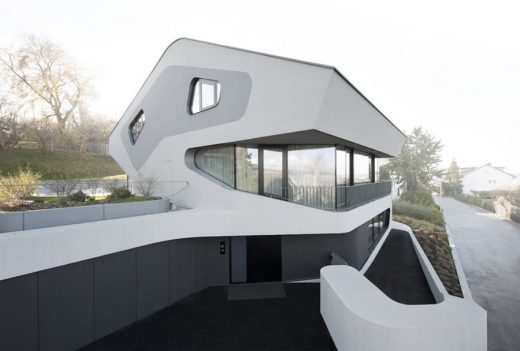 photograph : David Franck
The new house is on a plot of land near Stuttgart, on a hillside with a generous view of the valley. The owners wanted a new home that would bring this view to life even inside of the building. The house is in a residential area with conventional developments, most of which date from the 1960s. The new, 4-person family home is divided into an elevated ground floor with entrance area, utility room and spa, and a second floor with an open, flowing floor plan containing the living, dining and kitchen areas.
New Residence in South Africa
Design: SAOTA – Stefan Antoni Olmesdahl Truen Architects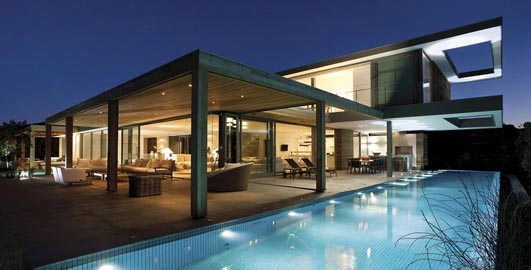 photo : SAOTA
7 Dec 2012 – The clients requested a 6-bedroomed family home with understated elegance and quiet grandeur, indoor / outdoor living spaces and uninterrupted views, with a "lived-in beach-house" feel. The beach-front site is subject to hot summers and moderate winters, with a cooling on-shore breeze, from the Northeast.
Contemporary House in Croatia – Nest Cave House
Design: Idis Turato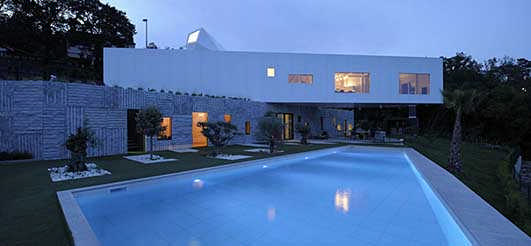 photo : Sandro Lendler
4 Dec 2012 – An unusual residence formed from two 'bars', one which is articulated in rough grey masonry and the other, above and set at an angle, that is smooth and white and floating out over the gardens. Like many of the properties shown on this page it is completed by the pool.
New House in Stuttgart
Architect: UNStudio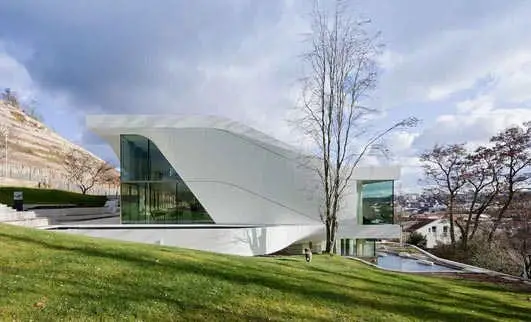 image © Iwan Baan
26 Oct 2012 – The Haus am Weinberg is located in a setting that is at one time rural, yet suburban. The location of the villa affords pastoral views of the stepped terraces of an ancient hillside vineyard on one side and cityscape vistas on the other. The inner circulation, organisation of the views and the programme distribution of the property are determined by a single gesture, 'the twist'. In the Haus am Weinberg the central twist element supports the main staircase as it guides and organises the main flows through the home.
Contemporary House in North London, England, UK
Design: Alison Brook Architects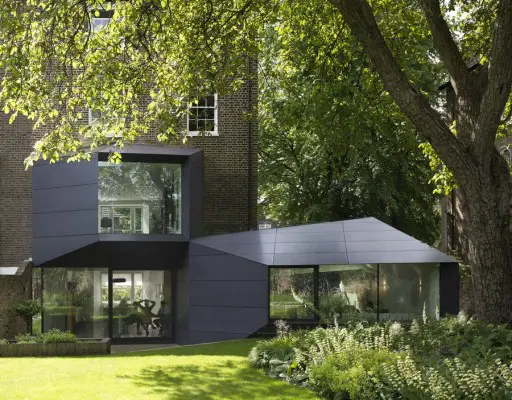 photo Jake Fitzjones for DuPont. All rights reserved
18 Oct 2012 – Discreet from street level behind an 1860 North London house sits a spectacular new extension designed by Stirling Prize winning Alison Brook Architects. An angular projection of dynamic shapes and planes, the structure is distinguished not only by its creative vision, but also by the use of DuPont™ Corian® to form a striking rain screen façade.
New House in São Paulo
Architecture: studio mk27 – marcio kogan + renata furlanetto. Interiors: studio mk27 – diana radomysler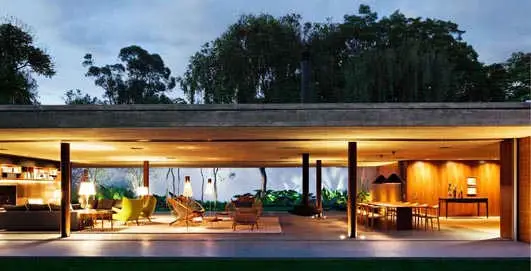 photograph : Nelson Kon
11 Aug 2012 – With each new project contemporary architecture is forced to optimize spaces and use the maximum of each square meter of the site. V4 House is a rare anti-example. Its occupation of the land is very far from the maximum coefficient. Laws allow for much larger constructions. The solution adopted, however, dialogues with the dimension of the site, formulating an adequate relation between the scale of the construction and the site.
New House at Zimmerberg, Switzerland – added 12 Feb 2012
Design: Rossetti + Wyss Architekten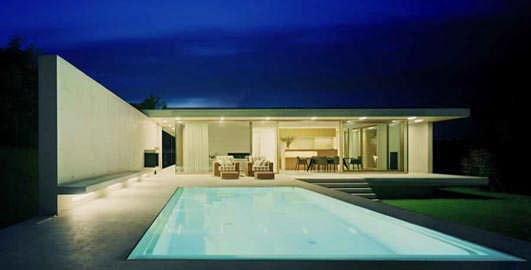 photo © Juerg Zimmermann, Zurich
The one-story property, which has impressive diagonal views of Lake Zurich and the Alps, is situated on the upper edge of the village, on a longish, slightly sloping site. The construction is defined by a guide wall and angular concrete wall establishing the diagonal panorama towards the lake. The differentiated composition of horizontal and vertical elements confers a sculptural quality to the protective structure.
New Houses : main page
Homes, alphabetical:
House Designs : A
Contemporary Houses : D-E
Contemporary Property Designs : F-G
New Property Designs : I-L
Contemporary House Designs : M
Contemporary Residential Properties : N (this page)
Contemporary Residential Designs : O
New Residential Designs : Q-R
New Home Designs : S
Property Designs : T-U
New Properties : V-Z
Contemporary Residential Property : N
New Orleans Homes – designs, USA



picture from architect
Nexus, Fukuoka, Japan



photo © Wade Zimmerman
Nicosia Residence, Cyprus



image from architect
Nipponbashi House, Osaka, Japan



photo © Hitoyuki Hitai
NX House Cascais, Portugal



photo : FG + SG – Fotografia de Arquitectura
More contemporary residential properties online soon
New Architecture Design
Contemporary American House Designs
Modern House – Modern Residential Architecture across the globe
Contemporary Architectural Designs
We welcome contemporary properties for consideration – we aim to select residential projects that are either of top quality or interesting or ideally both.
Buildings / photos for the Contemporary Residential Property Designs page welcome