English House Photos, New Homes in England, Architecture, Buildings, Architects, Luxury Property
English Houses: UK Properties
New Domestic Buildings in England – Best Contemporary UK Properties information & images
post updated 15 Feb 2021
English Houses – Latest Designs
English Residential Architecture – latest home additions to this page, arranged chronologically:
15 Jan 2021
Meadow House, Essex Property
14 Jan 2021
Stone House in Cornwall
28 Aug 2020
Stanyard's Cottage, Surrey, southeast England
Design: Alter & Company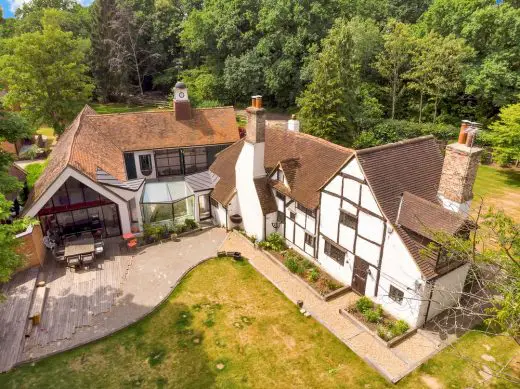 photograph : Jim Stephenson
Stanyard's Cottage in Surrey
This English property is a quaint 'sticks and stones' cottage which forms the heart of this family home is situated in a grade two listed site and is set within a concealed location, surrounded by scrub and woodlands.
25 Aug 2020
Island Rest, Isle of Wight
Design: Strom Architects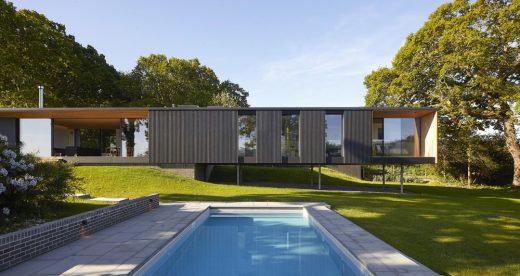 photos by Nick Hufton, Al Crow
Island Rest Isle of Wight Residence
'Island Rest' is a response to the client's brief for a contemporary family holiday home. Situated on a beautiful Isle of Wight creek, 'Island Rest' sits on a spacious site with direct access to the water and views of the Solent beyond.
26 Aug 2020
Lake Cabin in Brabourne, Kent Downs Area of Outstanding Beauty, South East England
Design: RX Architects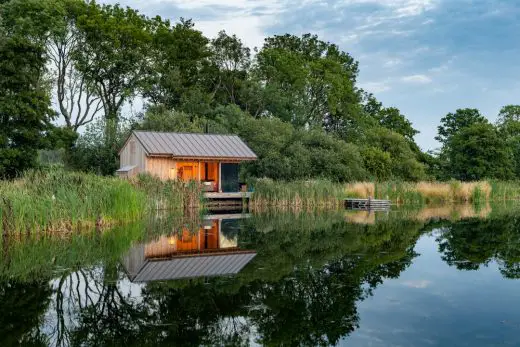 photo : Ashley Gendek
Lake Cabin in Kent Downs
The site is in Brabourne within the Kent Downs Area of Outstanding Beauty (AONB) adjacent to a lake. The designs are for a cabin positioned on the lakes' edge with a cantilevered deck over the water.
13 Aug 2020
Windward House in Gloucestershire, Gloucestershire, South West England
Design: Alison Brooks Architects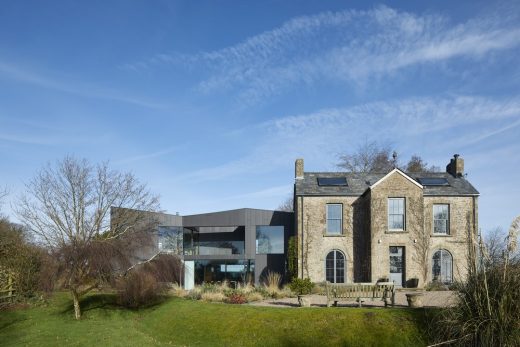 photo © Paul Riddle
Windward House, Gloucestershire
A monumental house and living art gallery high above the Wye Valley. The result of a ten-year collaboration, this new house and landscape project celebrates domestic living amongst an extraordinary collection of Indian and African Tribal Art.
5 July 2020
Kite House, near Salisbury, Wiltshire, Southern England
Design: AR Design Studio, Architects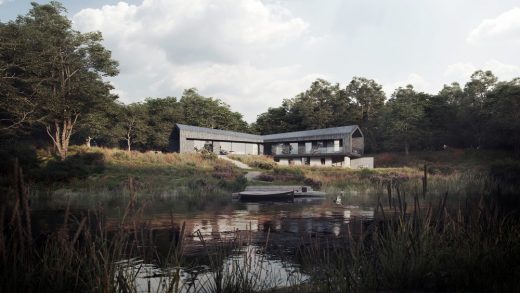 picture courtesy of architects office
House on River Avon
Plans have been approved for this bespoke contemporary four-bed family home.
12 June 2020
Backwater House, Norfolk, South East England
Design: Platform 5 Architects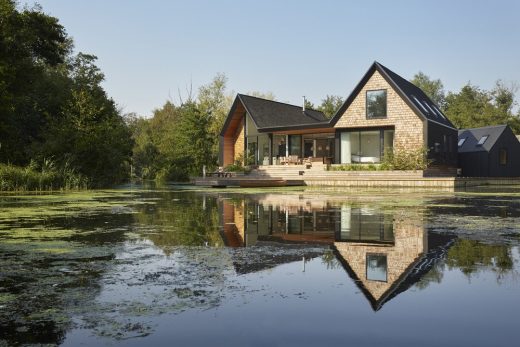 photograph © Alan Williams
Backwater House on the Norfolk Broads
This English property sits on a small promontory in a secluded lagoon in the Norfolk Broads and offers a contemporary counterpoint to more traditionally designed neighbouring houses, while respecting the peaceful natural setting.
12 June 2020
Underhill House, The Cotswolds, Gloucestershire, western England
Design: Seymour-Smith Architects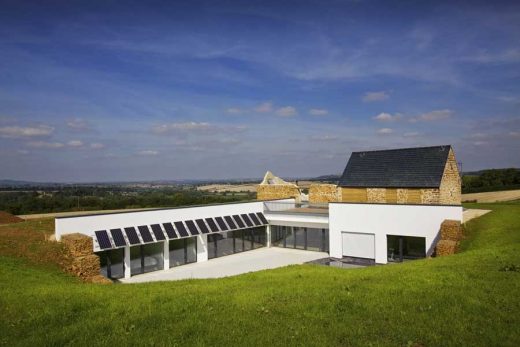 image from architects practice
Underhill House, New Cotswolds Property
Located in the heart of the English Cotswolds, Hill Barn was a derelict 300-year old barn situated in a prominent and beautiful location on a hillside in an Area of Outstanding Natural Beauty (AONB).
2 Jun 2020
Cotswolds Property, southern England
Architects: Found Associates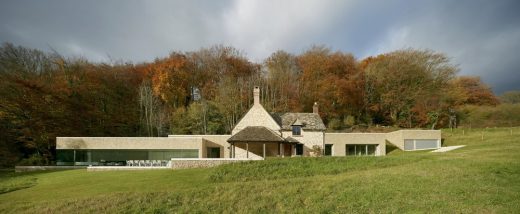 photography : Nick Hufton, Al Crow
The Barns Family Home
Found Associates, as residential architect, designed the Cotswolds property, a contextual country house consisting of a restored and updated gamekeeper's cottage and an innovative series of fresh, inter-connected pavilions tucked into the landscape immediately behind it.
13 Mar 2020
The Barns, Southern England
Design: AR Design Studio, Architects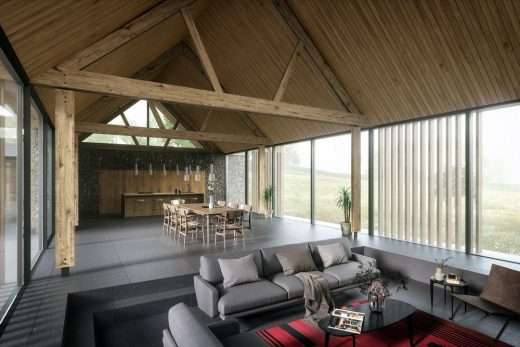 render : The Faction
The Barns Family Home
Plans approved for this transformation into an elegant and contemporary five bedroom family home.
13 Mar 2020
Long Brick House, Seer Green, Chiltern district, Buckinghamshire, southern England
Architects: Bradley Van Der Straeten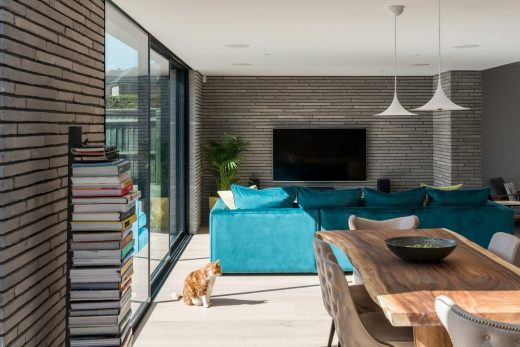 photo courtesy of architects office
Long Brick House in the Chilterns
Beautiful long grey bricks clad the double-story extension to this property near the Chilterns in Seer Green. The extension forms a new volume externally while merging old and new spaces internally.
26 Feb 2020
Druim House, Winchelsea Beach, Rye Nature Reserve, East Sussex, Southern England
Design: RX Architects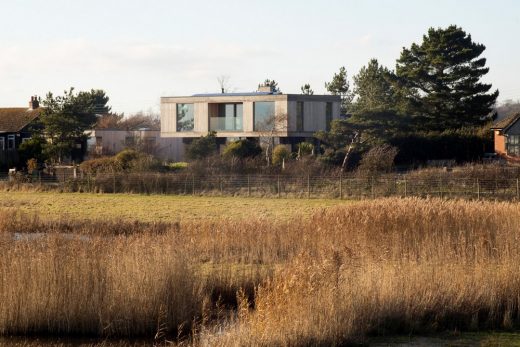 photography : Richard Chivers
House on Winchelsea Beach, East Sussex
The site for this new property sits within Rye Nature Reserve designated a Site of Special Scientific Interest (SSSI) and is surrounded by a shingle landscape. The project involves the reconfiguration and remodelling of an existing unfinished detached house.
21 Feb 2020
Charlesworth Passivhaus, Derbyshire, central England
Design: Studio Tashkeel Architects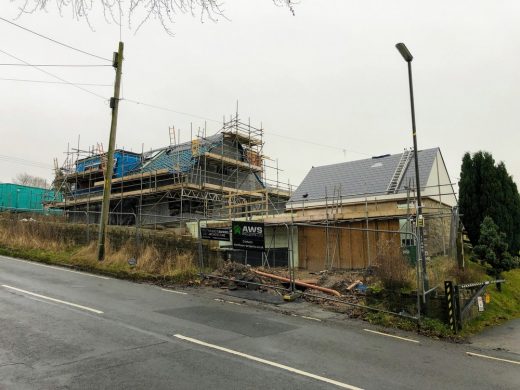 image courtesy of architects office
Charlesworth Passivhaus Plus, Derbyshire Home
This new English property is described as being the "most environmentally focussed new build 'Passivhaus' the region has ever seen", taking the concept of energy retention to a whole new level, rarely seen in the UK.
18 May 2018 + 25 Jul 2017
Black House in Kent, South East England
Architect: AR Design Studio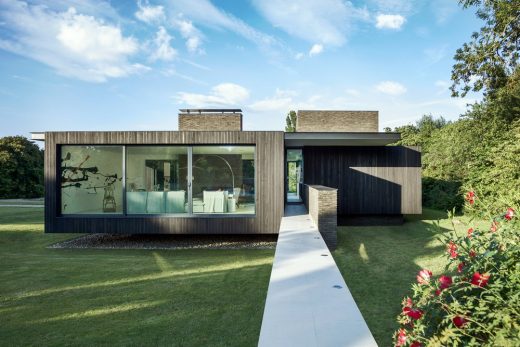 image courtesy of architects
Black House in Kent
Black House is a contemporary property drawing its influences from both the historic and modern buildings of Kent. A retired engineer and Conran interior designer chose to move from a 15th century Tudor house and build a contemporary dream home in their garden.
9 May 2018
Heather Cottage, Berkshire, South East England
Design: Spratley & Partners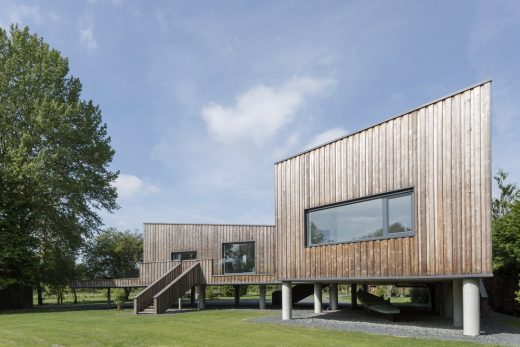 photograph © Peter Cook
Cottage Property in Berkshire
Positioned on a floodplain this cottage has piled foundations and is raised up on concrete stilts 1.85m above the ground, supported by a steel frame.
6 Apr 2018
Turn End Houses, Buckinghamshire, South East England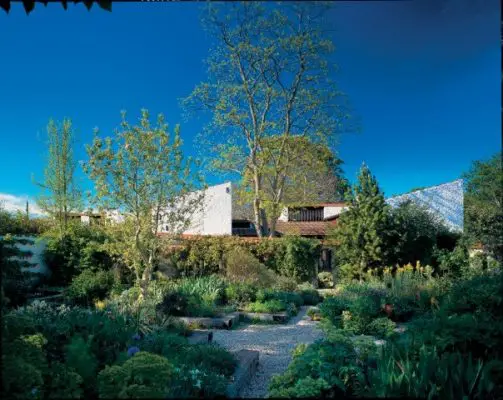 photo : Richard Bryant _ Arcaid
Turn End Houses
Combined House and Garden Open Weekend with an outdoor Sculpture Exhibition.
14 Feb 2018
Chalfont House, East Sussex, Southern England
Design: RX Architects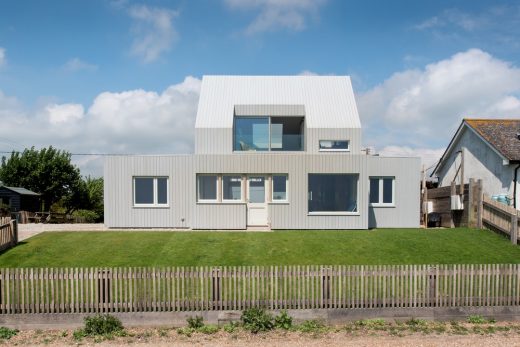 photograph : Ashley Gendek
Chalfont House
The property is directly adjacent to Rye Nature Reserve, one of the most important conservation sites in Britain. The site is formed of undulating shingle deposits formed as the sea receded over centuries.
7 Feb 2018
The Elements House, Hampshire, Southern England
Architects: AR Design Studio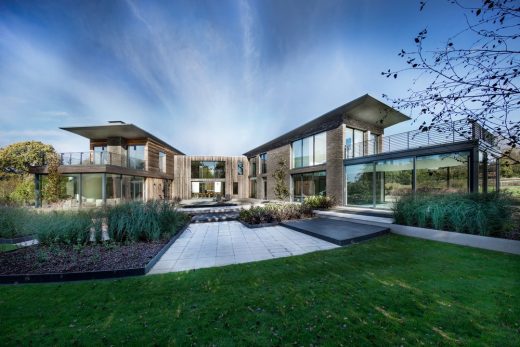 photo © Martin Gardner
New Residence in Southern England
Located in Hampshire within close proximity to the River Hamble, this remarkable new-build family home provides substantial entertainment space, designed by local architects AR Design Studio. Kebony, a beautiful wood recommended by leading architects was carefully selected for the exterior cladding of this property, which comprises three interlocking blocks organised around a central courtyard.
More contemporary English Houses online soon on e-architect
English Houses Archive – 2017
18 Sep 2017
Castle Cove Houses, Portland Harbour, Dorset, Southern England
Architects: AR Design Studio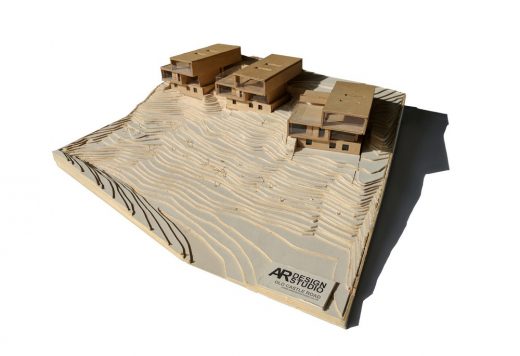 image Courtesy architecture office
Castle Cove Houses on Portland Harbour
Planning approval for new homes on the Jurrasic Coast, an area famous for its sailing and watersports. Three properties sit above a public beach, overlooking the harbour.
4 Sep 2017
The Farmer's House, South Downs National Park, southern England
Architects: AR Design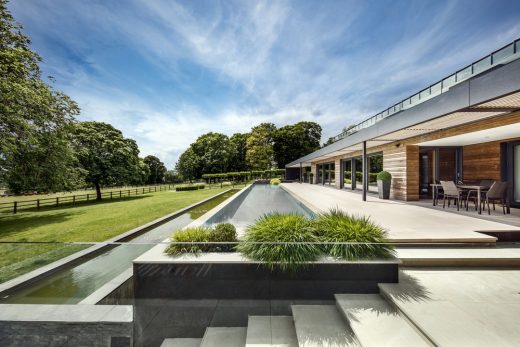 photo : Martin Gardner
New House in South Downs National Park
UK base for clients who return to the English countryside from their travels to tend to their farmstead. Set on a private estate in the most western part of the South Downs National Park, the house's rural location is its raison d'etre.
16 Aug 2017
Hampshire Passivhaus, Self-Build Home Using CLT Panels
Design: Ruth Butler Architects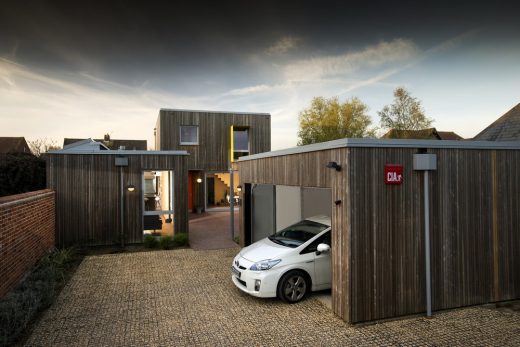 image courtesy of architects
Hampshire Passivhaus
Hampshire Passivhaus is a self-build home on the south coast. It is an L-shaped detached dwelling, creating private courtyard spaces, on a tight brownfield site with multiple neighbours.
11 Aug 2017
New House in Dartmouth, Devon
Marsh Hill, Aldeburgh
7 Jul 2017
The Crow's Nest Residence in Dorset
21 May 2017
Marsh Hill, Aldeburgh, Suffolk, Eastern England – A RIBA East Awards Winner in 2017
Design: Mole Architects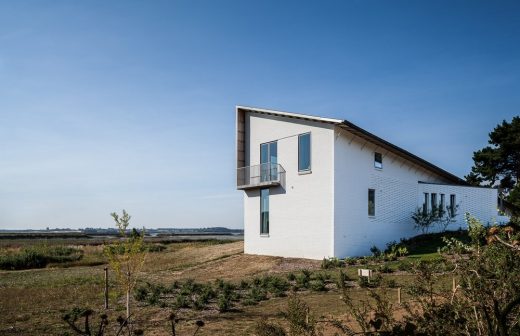 photo © David Butler
Marsh Hill, Aldeburgh
A contemporary house making a bold architectural statement on a sensitive site overlooking the River Alde estuary. The house is linear in form with a sweeping zinc roof that twists and rises from east to west.
12 May 2017
Pivot House, Reymerston, Norfolk, Eastern England
Design: Studio Bark, Architects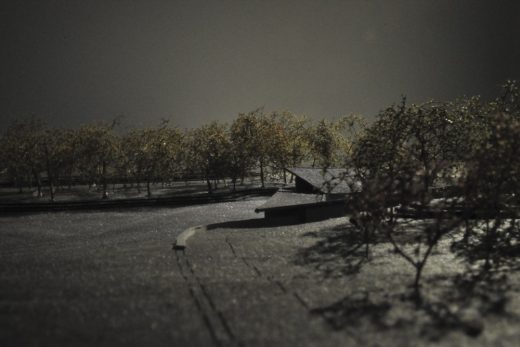 image courtesy of architects
Paragraph 55 Home in England
Full planning approval for an innovative, off-grid Paragraph 55 home in Norfolk. The National Planning Policy Framework (NPPF) Paragraph 55 allows individual countryside homes to be built, provided that they reflect the highest standards of architecture, sustainability and innovation.
2 Feb 2017
OutHouse in Gloucestershire
17 Jan 2017
Ancient Party Barn, Kent
2 Jan 2017 + 25 Apr 2016 _ 15 May 2015
A House for Essex
Design: FAT Architecture and Grayson Perry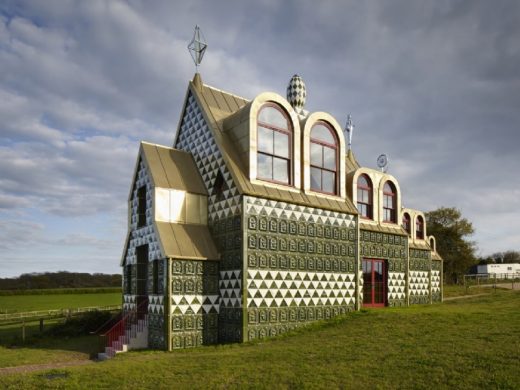 photograph : Jack Hobhouse
A House for Essex
Living Architecture's latest project is a daring and provocative collaboration between FAT Architecture and Grayson Perry was nominated for the Stirling Prize 2015 and shortlisted for the Mies van der Rohe 2017 Award. The house, which is situated in Wrabness close to the Essex coast, is an extraordinary work of architecture and art, which provides a setting for a number of specially-commissioned works by Grayson Perry exploring the unique qualities of Essex.
More new English Houses welcome for submission on e-architect
English Houses Archive – 2016
27 Dec 2016
Meadowcroft in Hampshire
19 Dec 2016
The Hidden House, Surrey Hills AONB
14 Dec 2016
Zinc House in Lymington
6 Dec 2016
The Hill House in Winchester
25 Nov 2016
Ansty Plum in Wiltshire
20 Oct 2016
Yachtsman's House on the Isle of Wight
19 Oct 2016
Sea Glass House on the Isle of Wight
24 Sep 2016
Contemporary Farmhouse in Great Bealings, near Woodbridge, Suffolk
Design: Plan Bureau, architects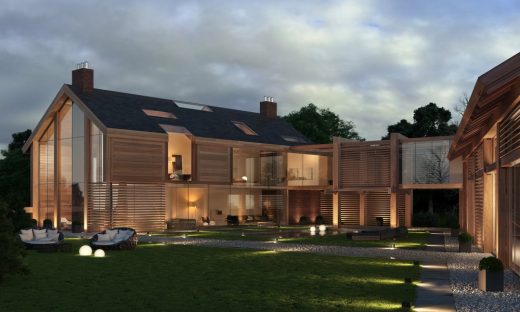 images : Anna Marinenko, 3d renderer
Two traditional farm buildings are planned to be turned into residential premises. The bigger one (333 sqm) will house bright indoor swimming pool with lounge zone nearby. Another one (almost 200 sqm) will be converted into sports area with table tennis, gym equipment and basketball court.
21 Sep 2016
Modern Mansion near London, southern England
Design: Maciej Grelewicz Architects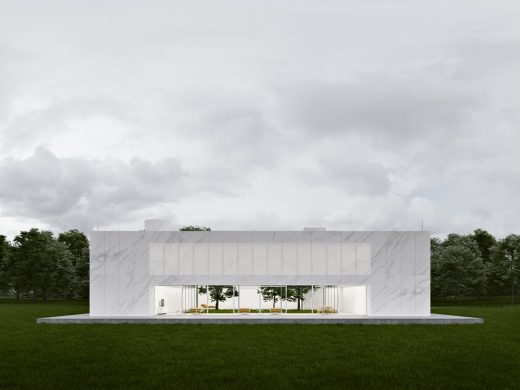 image from architect
Modern Mansion near London
First Prize in an international 'Design a Beautiful House' competition for luxurious home near London.
21 Sep 2016
Balancing Barn, Thorington, Suffolk
Design: MVRDV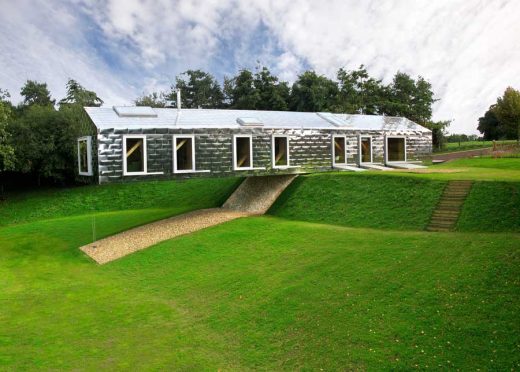 photo : Living Architecture
Balancing Barn Suffolk
Daringly inventive house showign off a massive cantilever, the celebrated Dutch architecture studio certainly went for drama on this residential project!
20 Sep 2016
Woodpeckers, New Forest, Hampshire, southern England
Design: Strom Architects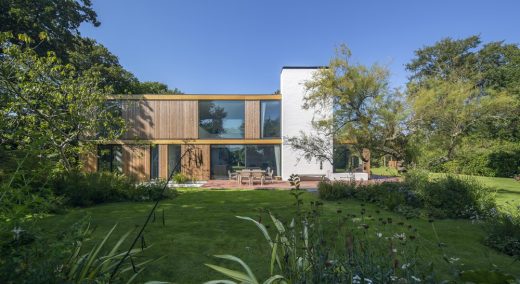 photo : Luke Hayes
Contemporary Property in the New Forest
Two-storey replacement for a 1930s bungalow property.
20 Sep 2016
Warborne Farm in The New Forest National Park
20 Sep 2016
Country House, Easton, Suffolk
Design: Jerry Tate Architects



image from Jerry Tate Architects
Country House in Suffolk
Jerry Tate Architects has received planning for a 500m2 country house on a greenfield site in Easton, Suffolk. The contemporary design integrates the building and landscape in both form and function.
4 Aug 2016
The Chapel on the Hill in Forest-in-Teesdale
21 Jul 2016
Fir House in Bransgore, New Forest
22 Jun 2016
Black Barn, off-grid Paragraph 55 country home in Suffolk
Design: Studio Bark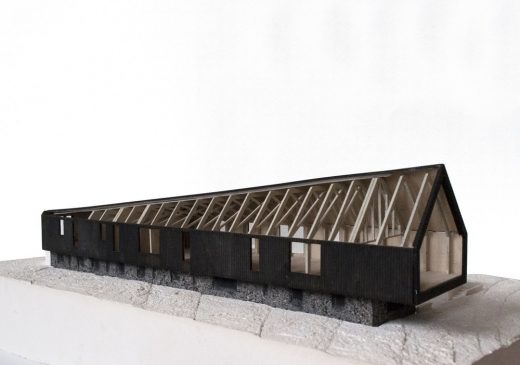 image from architect
Black Barn in Suffolk
24 Mar 2016
Paragraph 55 House, Ravenstone
26 Jan 2016
Broad Street House, Suffolk, Eastern England
Design: Nash Baker Architects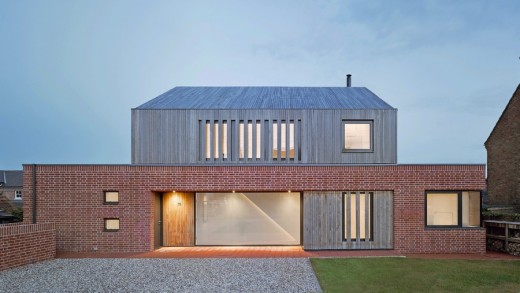 photograph : Nick Guttridge
Broad Street House
A new build home in Suffolk by Nash Baker Architects. The house utilises a palette of natural and traditional materials to blend with the rural street scene, and the exterior uses oak cladding and handmade bricks (both locally sourced) to blend with the architectural character of the village.
More English Houses are welcome for consideration to feature on e-architect
England Properties Archive – up to 2015
29 Mar 2015
Living Architecture Houses
Living Architecture Houses
16 Nov 2013
Integer House BRE Watford, south east England
The Smart Home at the Building Research Establishment Innovation Park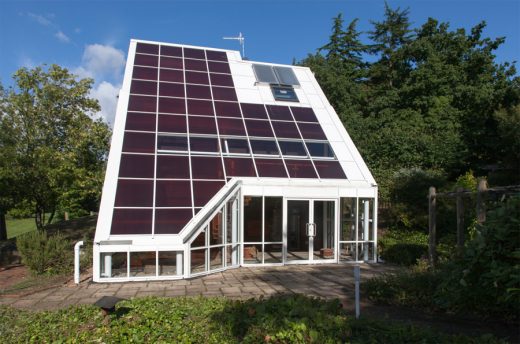 photo from Polysolar
Integer House BRE Watford
Hamish Watson, founder of Polysolar, looks at how the refurbishment of the Integer Millennium House in Watford, first constructed in 1998 and showcased on BBC's 'Tomorrow's World', has used its innovative transparent photovoltaic glass to prevent excessive thermal gain to the building, while also generating renewable energy.
11 Oct 2013
The Medic's House, Winchester, Hampshire, southern England
Architects: AR Design Studio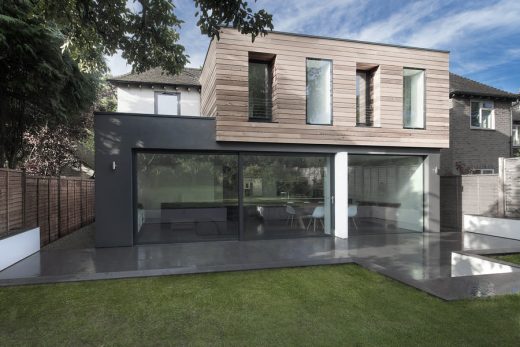 photograph : Martin Gardner, www.spacialimages.com
The Medic's House
Upon the arrival of their new baby daughter, the need for additional family space meant that the client's existing 1950s three bed house desperately needed extending. The brief called for two additional bedrooms upstairs and a large open-plan family space with light, views and access to the beautiful garden at ground floor.
5 Sep 2013
Downley House, Petersfield, East Hampshire, southern England
Design: Birds Portchmouth Russum Architects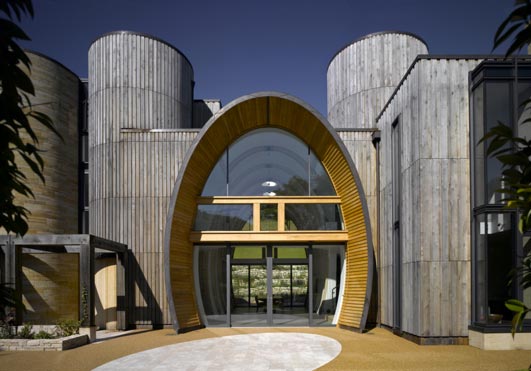 photo : Nick Kane
East Hampshire House
This large private house is a tour de force in a technicolour architectural style that derives from that of James Stirling, from whose practice these architects emerged. This means that it is an assemblage of strong primary forms, mostly cylinders and cubes. The entire structure, including the curved elements, is of cross-laminated timber.
5 Sep 2013
Rockmount Residence, Wirral, North West England
Design: ShedKM



photo from architect
New Residence on The Wirral
The site is an extraordinary elevated mound with views towards the setting sun across the River Dee to the North Wales coast. Shed KM's ingenious response is a new take on a classic modern linear house plan.
5 Sep 2013
Folding House, on the River Avon, southern England
Design: AR Design Studio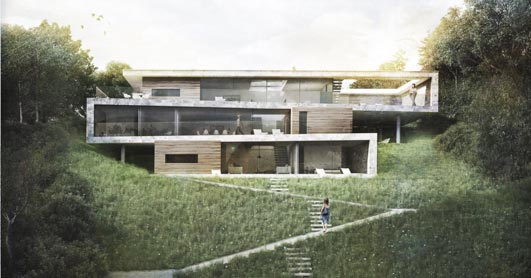 image : AR Design Studio
Folding House
Hampshire based modern architects, AR Design Studio have designed a highly contemporary dream home for a retired client and his son. Showcasing stunning river views from all three levels, the folding design incorporates a blend of indoor and outdoor living spaces that extend out into the landscape and beyond.
20 Aug 2013
House in the New Forest, Hampshire, southeast England
Design: PAD Studio Architects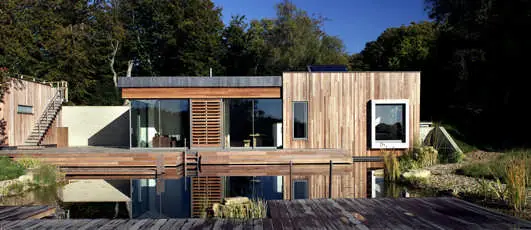 photo : Nigel Rigden
House in the New Forest
The 'New Forest House' is set within a stunning 18.5 acre plot, located adjacent to ancient woodland and heath, in the New Forest National Park. The new building has been carefully conceived in order that the proposals minimise the impact on the site and its sensitive surroundings.
31 Jul 2013
Staithe End, Dorset, south west England
Design: Henry Goss Architects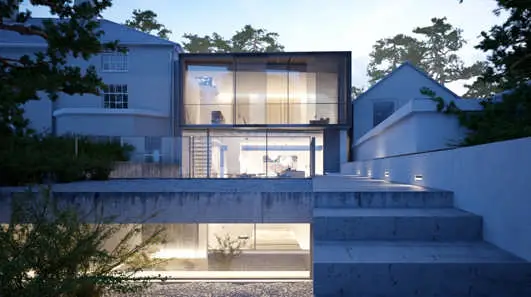 photo from architect
Contemporary Home in Dorset
This four bed private house on the banks of Christchurch Harbour represents a real coup and a major precedent for high quality contemporary architecture in the most sensitive of historic environments.
18 Jun 2013
House in Hunsdon
Design: Knox Bhavan Architects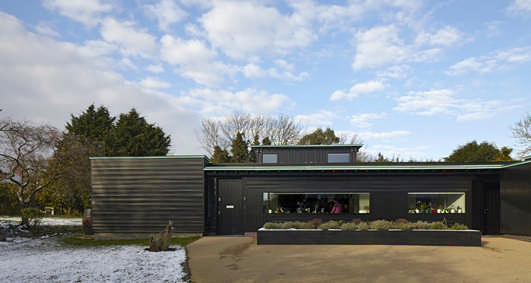 photo © Dennis Gilbert
House in Hunsdon
Crowbrook is a new 200sqm 4 bedroom house for Mark and Bee de Rivaz in Hunsdon near Harlow. Mark has rheumatoid arthritis and limited mobility so it is important that the house is as open and accessible as possible. Hunsdon is a Category 1 Village and a conservation area. The new house replaces an existing bungalow of poor construction with a wasteful and torturous layout.
11 Jun 2013
Fortescue Fields, Norton St Philip, Somerset, south west England
Design: ADAM Architecture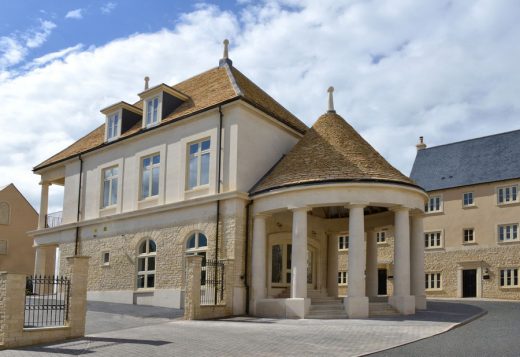 image : ADAM Architecture
Norton St Philip Houses
The new neighbourhood extends one of the most attractive and desirable villages in the South West. Each of the 55 houses is different. The first phase includes houses and apartments plus other buildings. Later phases will include retirement homes and apartments.
More English Houses welcome
English Homes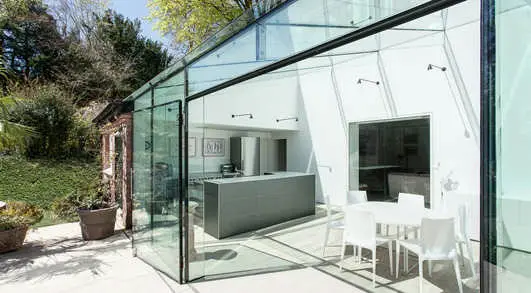 photo : Martin Gardner
New Housing in England
English Housing – large-scale residential property developments
Location: England, UK
Additions / photos for the English Houses page welcome
Website: England