Housing Design, Buildings, Interiors, Architects, Photos, Property, Developments, Apartment
Contemporary Housing : New Residential Buildings
Major Residential Projects from around the world
post updated 23 Feb 2020
New Housing
We've selected what we feel are the key examples of Contemporary Housing. We aim to include Residential buildings that are either of excellent quality. e-architect feature completed Residential buildings, new building designs, architectural exhibitions and architecture competitions across the world. Our focus is on contemporary Residential buildings.
We have 6 pages of Contemporary Housing selections.
Contemporary Housing : news + key projects (this page)
Contemporary Housing Designs : A-C
Housing Architecture : D-F
New Housing : G-Q
New Housing Designs : K-Q
Housing Designs : R-Z
Contemporary Housing Designs
Recent Residential Architecture News arranged chronologically:
Ritz Plaza Taipei, Taiwan – 8 Oct 2013
Design: Chin Architects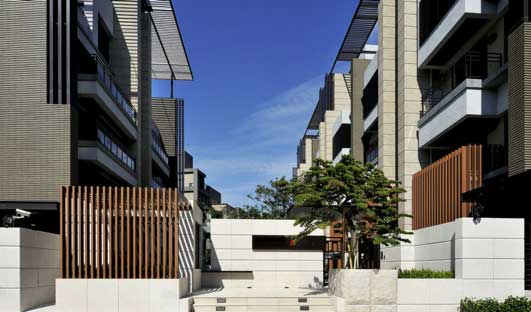 photograph : Jeffrey Cheng
The architectural expression takes on a humble yet vigorous gesture to respond to the opposite open parks, hoping its refined yet rich form will generate a sense of place, and suggest a serene life style. The prominent vertical stone cladding walls define the living domain; the sun-screen louvers, curtain wall volumes, and large scale balconies and terraces clearly express the public and private realms.
Pink Flamingo Paris, France – 9 Sep 2013
Design: Stephane Maupin & Partners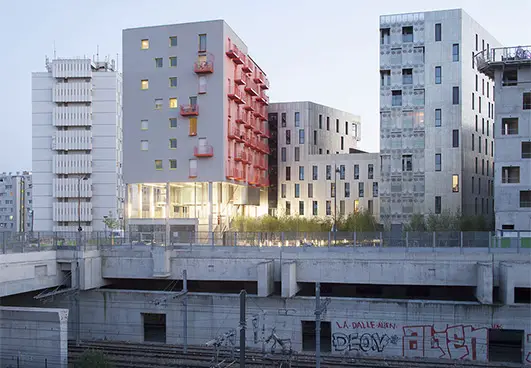 photo : Clement Guillaume
The project is a dormitory for students in a multi layered spaces. The new building takes place on the east Side of Paris, a new area build over rail tracks. All the difficulty was to make a construction without any foundation. The project is installed above big concrete slabs overcoming trains in motion. So vertical columns are like pink flamingo's legs. They are installed on 27 small spring boxes connecting the ground floor. Those boxes prevent all trains vibrations to students' cells.
Wohnen am Mühlgrund, Vienna, Austria – 9 Sep 2013
Design: Architekt Krischanitz



photo : Katrin Bernsteiner
The overarching goal of the project is to make architectural provisions for versatile frameworks and for adaptations to them corresponding to life's different stages. Allocating space solely on the basis of a potential tenant's age (or generation) was deliberately avoided, because his or her way of living is not necessarily a function of age, but is determined on an individual basis.
Montlouis-sur-Loire Housing, northern France – 23 Aug 2013
Design: Renaud BROISSAND architect DPLG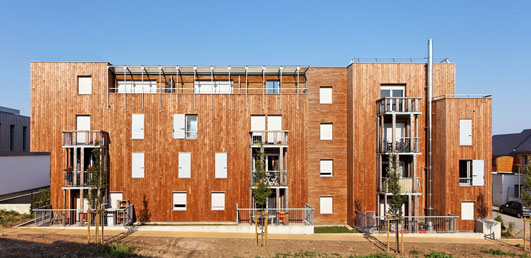 photo © David BOUREAU and Courtesy of R. BROISSAND
These residential buildings are part of an ambitious urban study for the creation of a new town center – the Zone d'Aménagement Concertée (ZAC), a special planning district known as the "Heart of the City" – in this northern French town of 12,000 inhabitants. A vast area of land was made available before beginning this urban development project, which comprises a diverse range of residences and services surrounding a landscaped public park.
Paris Social Housing, Cavaignac, France – 19 Jul 2013
Design: h2o architectes



photo : Stéphane Chalmeau
The project of the rue Godefroy Cavaignac in Paris consisted in the rehabilitation of a building which did not meet hygiene and security standards into new social housing.
520 West 28th Street, New York City, USA – 16 Jul 2013
Design: Zaha Hadid Architects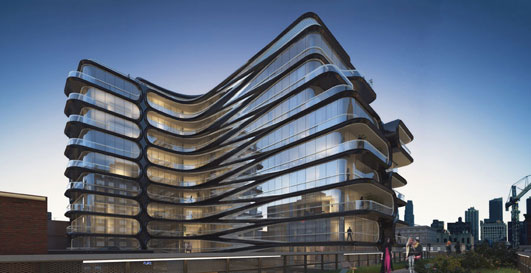 image from architects
Development Marks First Project in New York City for Internationally Acclaimed UK Architect. Related Companies, New York's premier residential developer, today announced that it has commissioned world renowned Zaha Hadid Architects to design a boutique condominium adjacent to the High Line in Chelsea just south of Hudson Yards. The 11-story residential development will mark Hadid's first commission in New York City.
Prato Affordable Housing, Tuscany, Italy – 18 Jul 2013
Design: studiostudio architettiurbanisti



photo : Bruno Pelucca
The design of the settlement layout is based on the recognition of landform. The project re-proposes latent settlement rules, yet consolidated, able to recover the structuring capacity of the layout and its landscape value.
Ardmore Residence, near Orchard Road, Singapore – 18 Jul 2013
Design: Ben van Berkel / UNStudio



photo from Web Structures
International engineering consultancy Web Structures has worked with acclaimed architectural practice UN Studio to create an exclusive $80million residential development in the heart of Singapore. The distinctive 36-storey Ardmore Residence, near Orchard Road, was designed by Ben van Berkel, founder of the Dutch-based architectural practice which is behind iconic buildings and urban development across the globe.
Alpha Apartments Lewisham, Sydney, NSW, Australia – 9 Jun 2013
Design: Tony Owen Partners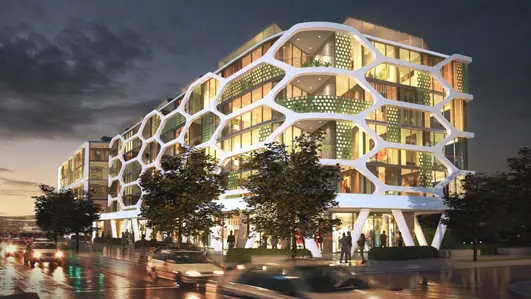 image from architects
The Alpha by Tony Owen Partners is due to start construction in July. Located in Lewisham on the fringe of the Sydney city centre, the Alpha will form the cornerstone of the new McGill design precinct. The McGill master plan, prepared by Tony Owen Partners, is envisaged as a hip mixed use designer precinct with a collection of contemporary buildings and public open spaces forming an exciting new community.
Porte de Paris, Saint-Denis, Paris, France – 29 May 2013
Design: Atelier Du Pont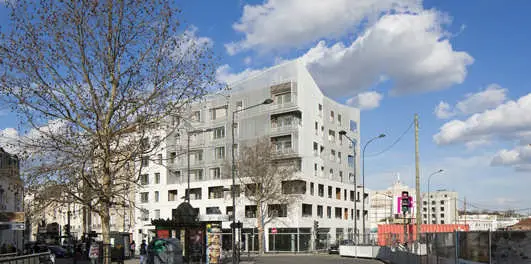 photograph : Luc Boegly
This housing programme is part of the Porte de Paris urban development zone on the edge of the historic centre of Saint-Denis. It is located at the meeting point of two contrasting urban environments: to the west is the Rue de la Légion d'Honneur, a very busy shopping street that leads to the basilica, and to the south is the new Porte de Paris neighbourhood where public amenities rub shoulders with other activities.
Pomaret Houses, Barcelona, Spain
Design: Picharchitects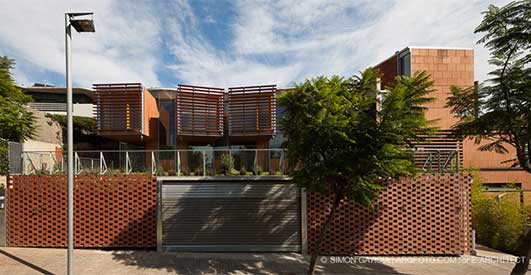 photo : Simon Garcia
Pomaret Houses – 17 May 2013
Three challenges backbone the proposal on the one hand the need for a formal dialogue with an existing house, on the other its integration with the surrounding green space and finally the possibility of incorporating passive and active systems that advance the building`s commitment to environmental sustainability.
Post-Tsunami Housing, Kirinda, Sri Lanka
Design: Shigeru Ban Architects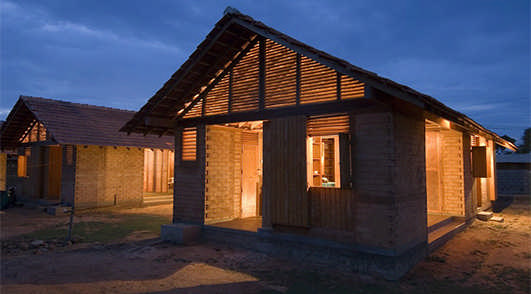 photo : Shu He
Sri Lanka Post-Tsunami Housing – 1 May 2013
This project provides 100 houses in a Muslim fishing village, in the region of Tissamaharama, on the southeast coast of Sri Lanka, following the destruction caused by the 2004 tsunami.
Apartment No. 1, Mahallat, Iran
Design: Architecture by Collective Terrain



photo : Omid Khodapanahi
Apartment Building in Iran – 1 May 2013
This project turns the inefficiency to economic and environmental advantage by reusing leftover stones for both exterior and some interior walls, and has led to the increasing adoption of stone recycling by local builders.
Lochau Housing, Austria
Design: Baumschlager Eberle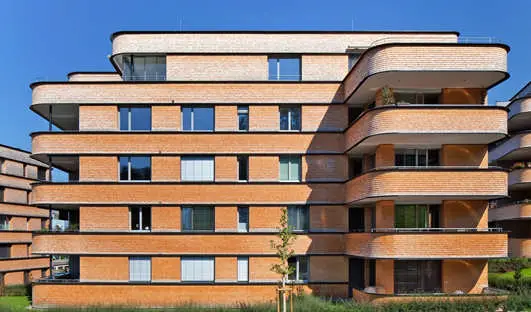 photo : Eduard Hueber
Lochau Residences – 16 Apr 2013
The better the location, the higher the density – such wishful thinking on the part of the real estate sector has had negative consequences for the location and the residents on more than one occasion. The house type with its individual variations is very precisely coordinated with the urban development system. In contrast to the customary 'broadside' approach of slope developments, the depth of the terrain is used here to optimise the visual corridors by having the narrow sides of the buildings face the water.
Passive House Bruck, low-energy residential building, Changxing, China
Design: Peter Ruge Architekten



image courtesy of Peter Ruge Architekten
Passive Housing China – 6 Mar 2013
Peter Ruge Architekten sets new standards of sustainability through the design of "Passive Houses", currently being built in southern China. With a 95% energy saving over that of a conventional Chinese residential building, the Passive House "Bruck" is the first housing of it's kind to be realized in the countries damp, warm, southern climate. Construction started in February 2013.
EDEN Art Wall apartments, Sydney, Australia
Design: Tony Owen Partners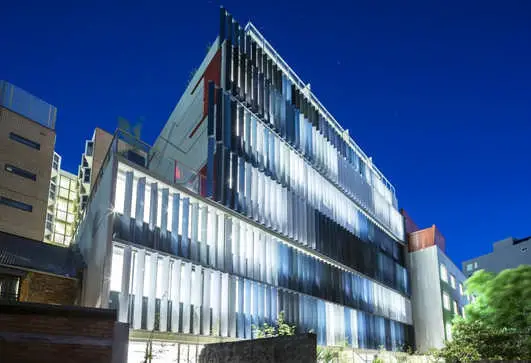 photo from architect
EDEN Art Wall residential development – 6 Mar 2013
The Eden Art Wall apartment development explores the line between architecture and sign. This urban infill project is located in a varied and complex part of the Sydney cityscape and is visible from many vantages. The office sought to explore the possibilities of adding to the tapestry as a piece of art in the urban landscape. This building comprises 24 apartments consisting of a mix of 1bed, 2 bed and 3 bed penthouses.
Ocean Avenue Project, Santa Monica, Los Angeles, California, USA
Design: Gehry Partners, LLP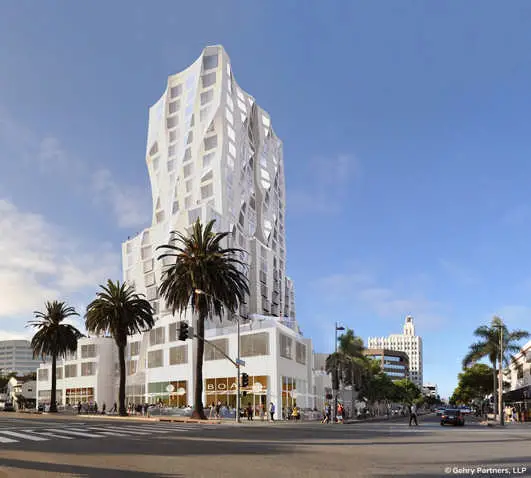 image © Gehry Partners, LLP
Santa Monica Residential Development
The 22-story, 244-foot mixed-use building includes a 125-room hotel, 22 condominiums, 19 replacement rent-controlled units, affordable housing, a public rooftop observation deck and street-level retail and restaurants. The project also includes a new 36,000 sqft museum campus that consists of two landmarked buildings that will be adaptively reused and preserved as well as a Gehry Partners designed cultural building with exhibition space and museum plaza.
Hammersmith Student Accommodation, London, UK
Design: Make Architects



image from architects
Hammersmith Student Accommodation – 6 Mar 2013
The Pure Hammersmith student accommodation development on Shepherd's Bush Road reached a key milestone this week, with the arrival on site of the first of the modular bedroom 'pods' being used in the scheme.
Colville Estate Towers, north east London, England
Design: NL Architects + WHAT Architecture



image from architects
Colville Estate Housing – 27 Feb 2013
Columnar Towers is a proposal for a residential development of 199 apartments in Hackney. The project is part of a masterplan by Karakusevic Carson Architects for the regeneration of the Colville Estate.
University of Southern Denmark Student Housing, Odense, Fyn, Denmark
Design: C.F. Møller



image from architect
University of Southern Denmark Student Housing – 21 Jan 2013
The design of the new student housing for the University of Southern Denmark in Odense is based on a strong community spirit. The 250 student residences are located in three interconnected 14-storey buildings. This means that the residence has no front or back, but appears attractive from a 360-degree perspective.
Sint-Agatha-Berchem, north-central Belgium
Design: BURO II & ARCHI+I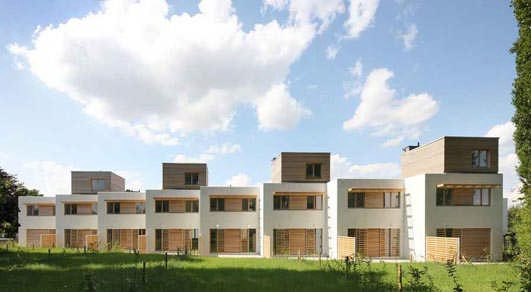 photograph : Filip Dujardin
Sint-Agatha-Berchem Housing – 8 Oct 2012
Sustainable social housing district Sint-Agatha-Berchem, sites 'Termonde' and 'Gérance'.
These new social housing units are in addition to the social housing district built in 1922-1925 by architect Victor Bourgeois. On both plots, four blocks of apartments and low-energy houses have been built, classically aligned or in a sawtooth configuration.
Housing Designs
Residential Designs, alphabetical:
650 apartments, Slovenia
Ofis Arhitekti



photograph : Tomaž Gregoric
Slovenian apartments
Accordia Housing, Cambridge, England
Design: various architects



photo © Adrian Welch
Accordia Cambridge
Adelaide Wharf, London, UK
Allford Hall Monaghan Morris



photograph © Rob Parrish
Adelaide Wharf
Beihai Fake Hills, China
MAD



picture from architect
Beihai Fake Hills
BLUE Residential Tower, New York, USA
Bernard Tschumi



photograph : Peter Mauss/ESTO
New York residential building
Borneo houses, The Netherlands
Design: various architects



photo © Adrian Welch
Borneo houses, Amsterdam
Carabanchel 16 housing, Spain
Design: Foreign Office Architects



photograph © Sérgio Padura
Carabanchel Housing
Carabanchel housing, Spain
Dosmasuno Arquitectos



image from architect
Carabanchel housing blocks
Celosia Madrid, Spain
MVRDV



photo © Ricardo Espinosa
Celosia Building
Chelsea Barracks, London
Design: various architects



image from architect
Chelsea Barracks
COR Building, Miami, USA
Oppenheim Architecture + Design



image : dbox
COR Building
Dakota apartments, Beirut, Lebanon
Turner Associates



image from architects
Beirut apartments
Donnybrook Quarter Buildings, UK
Peter Barber, Architect



photo © Morley von Sternberg
Donnybrook housing
Edificio Acqua apartments, Uruguay
Design: Rafael Vinoly Architects



picture from architect
Uruguay housing
Farrer Court Buildings, Singapore
Zaha Hadid Architects



picture from architect
Farrer Court design
Grand Large Dunkirk, France
ANMA/Agence Nicolas Michelin & Associés



photograph : Stéphane Chalmeau
Grand Large Dunkirk
Herold Apartments, France
Jakob+MacFarlane Architectes



photo : Nicolla Borel
Herold Apartments Paris
1 Hyde Park, London
Richard Rogers Partnership



image from architect
1 Hyde Park
Izola Housing, Slovenia
Ofis Arhitekti



picture : Tomaž Gregoric
Izola Housing
Lawn Road Flats, London
Wells Coates



photo © Robin Lambert
Isokon
Mirador Sanchinarro, Madrid, Spain
MVRDV / Blanca Lleó Associates



photo : Rob't Hart
Mirador Sanchinarro
Moulmein tower, Singapore
WOHA Architects



image from WOHA
Moulmein Tower Singapore
Newton Suites, Singapore
WOHA Architects



picture : Tim Griffith
Newton Suites Singapore
Regent Place, Australia
Foster + Partners with PTW



image : Nigel Young_Foster + Partners
Regent Place Sydney
Residential Complex, Singapore
OMA



image © OMA / Ole Scheeren
Singapore residential development
Scotts Tower
Rem Koolhaas Architects / OMA



picture from Office for Metropolitan Architecture
Singapore Tower design
Silodam, The Netherlands
MVRDV



photo © Adrian Welch
Silodam housing
Step Up on Fifth, USA
Pugh + Scarpa



photograph : John Edward Linden
Step Up on Fifth
The Whale, The Netherlands
de Architekten Cie.



photo © Adrian Welch
The Whale building
WoZoCo Housing, The Netherlands
MVRDV



photo © Adrian Welch
WoZoCo Housing
More contemporary housing designs online soon
Buildings / photos for the Contemporary Housing Architecture page welcome