New Residential Design, Contemporary Homes, Property Photos, Architects, Houses
New Residential Designs : Modern Houses
Contemporary Properties : R
Contemporary Residential Designs
We've selected what we feel are the key examples of New Residential Designs. We cover completed Residential buildings, new home designs and house competitions across the world. The focus is on contemporary residential buildings.
New Houses : main page
Homes, alphabetical:
House Designs : A
Contemporary Houses : D-G
New Property Designs : I-L
Contemporary House Designs : M
Contemporary Residential Properties : N
Contemporary Residential Designs : O
New Residential Designs : Q-R (this page)
New Home Designs : S
Property Designs : T-U
New Properties : V-Z
New Residential Property Designs
Major Contemporary Residential Designs added to this page:
Residence in Kifissia, Greece – 27 May 2013
Design: Tense Architecture Network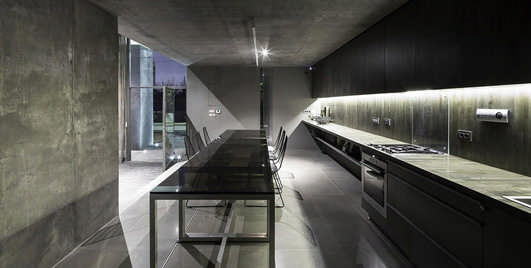 photo : Filippo Poli
Metallic columns support a net of inox ropes where plants have started to climb in order to generate a volume equally important to the house's prisms. When the plants are grown the green screen will be penetrated only by the black central column of the concrete shelter. The basalt-watery surface on which it is based reflects the light in the interior. Exposed concrete is dark tinted where a greater depth, a sense of anchoring was necessary. Artificial light is cautiously managed in order to protect the night and the intimacy that dim light offers.
Roof on the Hill, Japan



picture : Kai Nakamura
This is a residential house located in a new development site in Takarazuka, Japan. Because of the solid nature of the ground, we decided to make a building only by putting a roof over the sloped terrain without modifying it. The house, spread on the terraced ground, has 3 meter by 3 meter grid steel frame. It consists of boxes, including a bedroom, a children's room and a bathroom, and a residual space resulted from the subtraction of the boxes. On top of them is an undulating roof, whose slits allow sunlight to diffuse into the entire interior space.
New Residential Properties : Q-R
Key Contemporary Houme Designs alphabetical:
Red House, Oslo, Norway



photograph : Nils Petter Dale
Redelco Residence, California, USA


photo : Marvin Rand
Reflection of Mineral, Japan



Atelier Tekuto, Photo : Makoto Yoshida
The Rink, East Lothian, Scotland


photo from houseowner
River House, Jamaica, Virginia, USA



photo : Alain Jaramillo, Douglas Bothner
Ronald McDonald House, The Netherlands



image from architect
More new residential designs online soon
Contemporary American House Designs
Modern House – Modern Residential Architecture across the globe
We welcome new properties for consideration – we aim to select residential projects that are either of top quality or interesting or ideally both.
Buildings / photos for the New Residential Properties page welcome