Zimmerberg Property, New Swiss House, Lake Zurich Home, Building Photo, Design
House at Zimmerberg, Lake Zurich
Residence in Switzerland: Horgen Home, Lake Zurich design by Rossetti + Wyss Architekten
10 Feb 2012
House at Zimmerberg near Lake Zurich
Location: just west of Horgen, near Lake Zurich
Architect: Rossetti + Wyss Architekten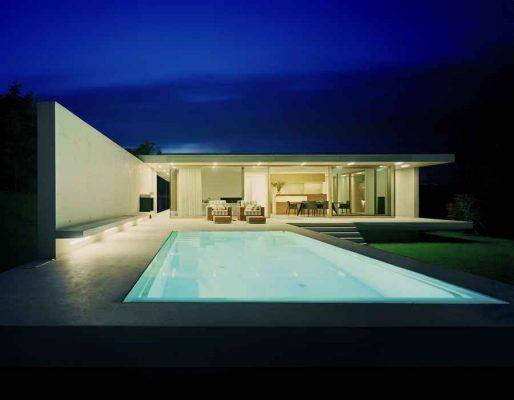 English text (scroll down for German):
House at Zimmerberg Bottom
The one-story house, which has impressive diagonal views of Lake Zurich and the Alps, is situated on the upper edge of the village, on a longish, slightly sloping site. The construction is defined by a guide wall and angular concrete wall establishing the diagonal panorama towards the lake.
The differentiated composition of horizontal and vertical elements confers a sculptural quality to the protective structure. Arranged behind, an open glass and oak front relates interior with exterior spaces. At different times of the day, multiple situations converge here, in terms of space and light.
The limestone concrete, with sharp edges and smooth finish, anchors the building to the ground. Raising the living level slightly above the surroundings, provides more intimacy in the private areas. The glass facade is tightened room-high to the two cantilever concrete slabs.
The light-coloured concrete walls in front create a series of intermediate spaces from the interior to the exterior. They are not aligned with the glass facade and are jutting out over the concrete slabs. These transit areas have thus been articulated as a courtyard with trees, patio, porch or terrace. In the south-facing terrace, sheltered by the long retaining wall, a swimming-pool has been inserted flush with the floor. The abraded concrete surface enables the light limestone gravel to be seen, giving the surface a warm expression.
Fixtures are built in floor to ceiling as structural elements, which gives a certain generosity to the interior.
The choice of materials is austere and reduced, enabling to perceive the nuances in the light ambiances with greater intensity.
Haus am Zimmerberg
Das eingeschossige Wohnhaus, mit herrlichem Blick über Eck auf den Zürichsee und auf die Alpenkette liegt am oberen Dorfrand auf einer langgezogenen Parzelle mit leichter Hanglage.
Der Baukörper wird mit einer Leitwand und einer winkelförmigen Betonwand über die Diagonale zur Aussicht defi niert.
Die differenzierte Komposition horizontaler und vertikaler Elemente verleiht der schützenden Struktur skulpturale Qualitäten. Dahinter gliedert eine offene Fassadenstruktur in Eiche und Glas die Innen- und Außenräume. Hier entstehen zu unterschiedlichen Tageszeiten vielseitige Raum- und Lichtsituationen.
Der scharfkantige, schalungsglatte Kalksteinbeton verankert das Gebäude am Hang, hebt das Wohngeschoss leicht über die Umgebung und sorgt für Intimität in den privaten Bereichen. Die Glasfassade ist raumhoch zwischen die auskragenden Betondecken gespannt.
Die hellen, vorgelagerten Betonwände schaffen spannungsvolle Zwischenräume von Innen nach Außen. Sie sind zur Glassfassade versetzt angeordnet und kragen über die Betondecken aus. Die Übergangszonen werden so als begrünter Hof, Patio, Laubengang oder Terrasse ausformuliert. In die südseitige Terrasse ist, im Schutz der langgezogenen Stützmauer, ein Swimming Pool fl ächenbündig eingelassen. Durch Schleifen wird hier der helle Kalksteinkies sichtbar, welcher dem Beton den warmen Farbton verleiht.
Die Einbauten erfolgen vom Boden bis zur Decke als strukturelle Elemente, was dem Innenraum eine Grosszügigkeit verleiht.
Die Materialwahl ist zurückhaltend, reduziert. Es entsteht hiermit die Möglichkeit die nuancierten Lichtstimmungen verstärkt wahrzunehmen.
Ausführung: April 2006 bis Februar 2007
Residence at Zimmerberg – Building Information
Completion: 2007
Living area: 170 sqm
Text © Rossetti + Wyss Architekten
Photographer: © Juerg Zimmermann, Zurich, Switzerland
House at Zimmerberg images / information from Rossetti + Wyss Architekten
Location: Zimmerberg, Switzerland
New Swiss Architecture
Contemporary Swiss Architectural Projects, chronological:
Swiss Architecture Designs – chronological list
Houses in Switzerland by Rossetti + Wyss Architekten on e-architect:
Trublerhütte Schlieren, Zurich
House at Küsnacht, Lake Zurich
Swiss Buildings – Residential Selection
Swiss House XXII, Preonz
Design: Davide Macullo Architects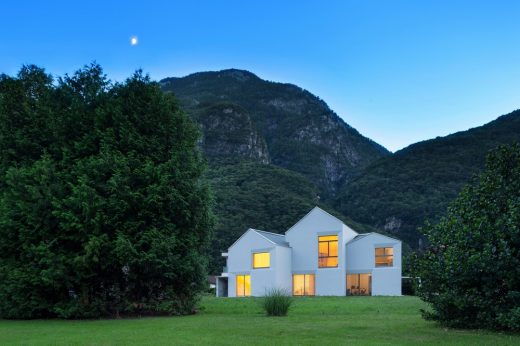 photo : Alexandre Zveiger, Lugano, CH
Swiss House in Preonz
Erlenbach House
Design: Burkhalter Sumi Architekten
Erlenbach House
Flumserberg – Holiday Cottage, Swiss Alps
Design: EM2N Architects
Swiss holiday house
Carabbia House
Design: Davide Macullo
Swiss house
More Swiss Houses on e-architect:
Comano House
Design: Davide Macullo
Swiss home
Rossinelli House
Rossinelli House
Comments / photos for the House at Zimmerberg – New Swiss Residence page welcome