São Paulo House, Casa V4, New Brazilian Property, Residence, Architecture, Home Design
V4 House, Brasil : Casa São Paulo
São Paulo House – design by Studio MK27
12 Aug 2012
V4 House São Paulo
Category: House
Location: Brazil
Architecture: studio mk27 – marcio kogan + renata furlanetto. Interiors: studio mk27 – diana radomysler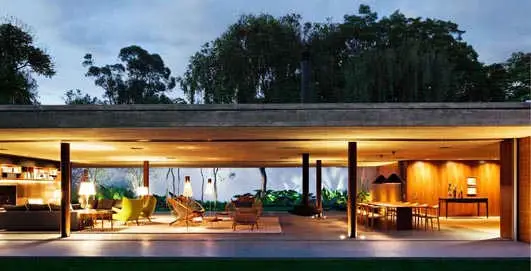 Photographs: Nelson Kon
English text (scroll down for Portuguese):
V4 House
With each new project contemporary architecture is forced to optimize spaces and use the maximum of each square meter of the site. V4 House is a rare anti-example. Its occupation of the land is very far from the maximum coefficient. Laws allow for much larger constructions. The solution adopted, however, dialogues with the dimension of the site, formulating an adequate relation between the scale of the construction and the site.
Contrary to the surrounding houses, a garden neighborhood of São Paulo, V4 House is a ground floor and almost disappears when seen from the street. The living room, positioned at the front of the house, is under a delicate beam of exposed concrete. Two rows of door frames, on both sides of the living room, can be completely retracted, constituting total integration between the front garden, the living room and the back patio. The living room, in this case, shelters from rain and sun, like a large veranda. And, under the beam, in one of the extremities, there is an open kitchen. On the ceiling of this volume, a large deck is an empty space that functions as a solarium. This terrace makes almost the entire project like a garden.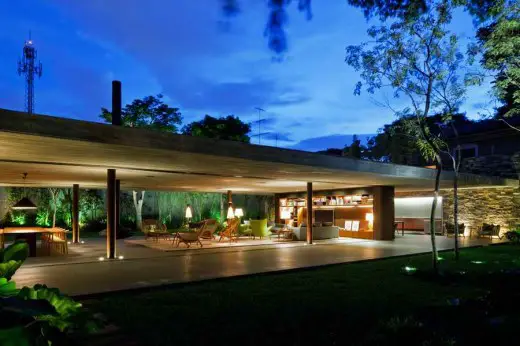 The concrete beam appearing from the wooden box, houses the two rooms that face the patio. In the wooden box from where the concrete beam appears, are the two rooms that face the patio. The wooded shaded area enables to control the inner temperature and, simultaneously, offers privacy to the environments. The bathroom of the master bathroom faces a small garden, removed from the rest of the house.
The program for the client's needs and the dimensions of the site made it possible to do an unusual project: an urban ground-floor house. The house ends up, therefore, being very delicately inserted with the surroundings .
V4 House São Paulo – Building Information
project: v4 house
location: são paulo, sp, brazil
project: apr 2009
completion: oct 2011
site area: 653,00 sqm
built area: 1.291,00 sqm
architecture: studio mk27
architect: marcio kogan
co-architect: renata furlanetto
project architects: diana radomysler, fabiana cyon, fernando falcon, oswaldo Pessano
interior design: diana radomysler, renata furlanetto
team: carolina castroviejo, eduardo chalabi, eduardo glycerio, eduardo gurian, elisa friedmann, gabriel kogan, lair reis, luciana antunes, marcio tanaka, maria cristina motta, mariana simas, samanta cafardo, suzana glogowski
photographer: nelson kon – tel: 55 11 32314868 / email: [email protected]
landscape architect: isabel duprat
structure engineer: pinto rodrigues – eng. gilberto pinto rodrigues
project manager: nelson batista
general contractor: alle engenharia – eng. luis esteves, eng. alberto du plessis, eng. hugo mariotto
Portuguese text:
Casa V4
A arquitetura contemporânea é forçada, a cada novo projeto, a otimizar espaços e utilizar ao máximo cada metro quadrado do terreno. A Casa V4 é um raro anti-exemplo. Sua ocupação do terreno está muito longe do coeficiente máximo. As leis permitiriam construções muito maiores. A solução adotada, no entanto, dialoga com a dimensão do terreno, formulando uma relação adequada entre a escala da construção e do sítio.
Ao contrário das demais casas do entorno, um bairro jardim de São Paulo, a Casa V4 é térrea e quase desaparece quando vista da rua. A sala, posicionada na parte da frente do terreno, fica em baixo de uma delicada laje de concreto aparente. Duas fileiras de caixilhos, dos dois lados da sala, podem ser completamente recolhidos, constituindo uma integração total entre o jardim frontal, a sala e o pátio dos fundos. A sala, nessa situação, torna-se um abrigo da chuva e do sol, como uma grande varanda. Ainda sob a laje, em uma das extremidades, há uma cozinha aberta. Na cobertura desse volume, um grande deck é um espaço vazio que funciona como solário. Esse terraço faz com que praticamente toda a projeção do terreno seja um jardim.
Na caixa de madeira de onde sai a laje de concreto, ficam os dois quartos voltados para o pátio. A trama de madeira permite controle da temperatura interna e, ao mesmo tempo, confere privacidade para os ambientes. O banheiro da suíte principal volta-se para um pequeno jardim, resguardado do resto da casa. O programa de necessidades do cliente e as dimensões do terreno possibilitaram um projeto incomum: uma casa urbana térrea. A casa acaba então a se inserir de forma muito delicada no entorno.
Casa V4 São Paulo – Ficha técnica
projeto: casa v4
local: são paulo, sp, brasil
projeto: abril 2009
conclusão: outubro 2011
terreno: 653,00 sqm
área construída: 1.291,00 sqm
arquitetura: studio mk27
autor: marcio kogan
co-autora: renata furlanetto
colaborador: diana radomysler, fabiana cyon, fernando falcon, oswaldo pessano
co – autor interiores: diana radomysler, renata furlanetto
equipe: carolina castroviejo, eduardo chalabi, eduardo glycerio, eduardo gurian, elisa friedmann, gabriel kogan, lair reis, luciana antunes, marcio tanaka, maria cristina motta, mariana simas, samanta cafardo, suzana glogowski
paisagista: isabel duprat
calculista: pinto rodrigues – eng. gilberto pinto rodrigues
gerenciador: nelson batista
construtora: alle engenharia – eng. luis esteves, eng. alberto du plessis, eng. hugo mariotto
fotógrafo: nelson kon – tel: 55 11 32314868 / email: [email protected]
Casa V4 São Paulo images / information from Studio MK27
Location: Bahia, São Paulo, SP, Brasil
São Paulo Architecture
São Paulo Architectural Projects
São Paulo Architecture Designs – chronological list
São Paulo Architecture Walking Tours by e-architect
Kon Studio
studio mk27 – marcio kogan
São Paulo Photography Studio
Decameron
studio mk27 – Marcio Kogan + Mariana Simas
São Paulo furniture store
Punta House, Uruguay
studio mk27 – Marcio Kogan + suzana glogowski
Punta House
Casa dos Ipês
studio mk27 – marcio kogan + lair reis
Casa dos Ipês São Paulo
Studio mk27 Designs
Gama Issa outland, Porto Feliz, Brazil
Porto Feliz building design by Studio mk27
Bahia house, São Paulo, Brazil
Bahia house
São Paulo house : House B by Andrade Morettin Arquitetos
São Paulo Home : House RR by Andrade Morettin Arquitetos
Porto Alegre House : more info + images
Comments / photos for the Casa V4 – Contemporary São Paulo House page welcome