Barcelona Architecture News, Spanish Buildings, Catalan Projects Images, Developments
Barcelona Architecture News
New Catalan Buildings + Architects, Built Environment in Spain Photos + Links + Info
post updated 28 July 2021
Barcelona Building News
Barcelona Architecture News – latest additions to this page, arranged chronologically:
22 July 2021
Xcelirate in Barcelona
Design: Lagranja Design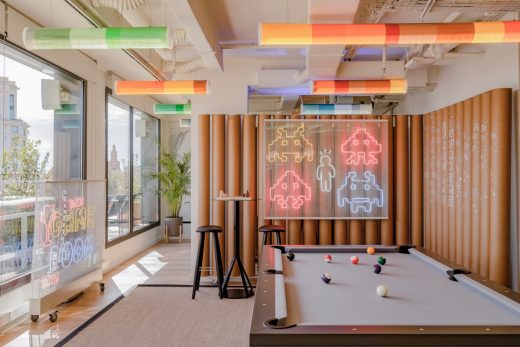 image courtesy of architects practice
Xcelirate Barcelona Offices Design
Xcelirate is an expanding digital entertainment content provider with a global reach. Many of its staff work from home in far-flung locations. In a step to take the company forward and attract talented young programmers, the company decided to open a hub in Barcelona – a city renowned for its digital start-up culture and fantastic lifestyle.
2 July 2021
Hotel Seventy, Carrer de Còrsega
Design: Barceló Balanzó arquitectes + AIA Arquitectura Instal·lacions + Gustau Gili Galfetti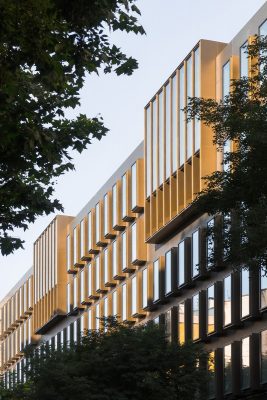 photo courtesy of architecture office
Hotel Seventy
Seventy Barcelona opens the doors of The Patio, its indoor terrace of aromatic plants in the very center of the city. A space that maintains the traditional aesthetics of the interior courtyards of L'Eixample and where you can enjoy lunch surrounded by beautiful olive and orange trees.
22 May 2021
Camp del Ferro Sports Center, Plaça d'Albert Badia i Mur
Design: Barceló Balanzó arquitectes + AIA Arquitectura Instal·lacions + Gustau Gili Galfetti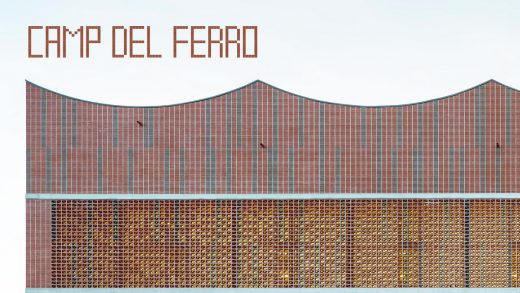 photo © Simon Garcia | arqfoto.com
Camp del Ferro Sports Center
Camp del Ferro Sports Center is a project by Barceló Balanzó arquitectes + AIA Arquitectura Instal·lacions + Gustau Gili Galfetti and which is among the works selected in the XV BEAU, Spanish Biennial of Architecture and Urbanism.
14 Dec 2020
Poble Nou loft Interior
Design: Alex March Studio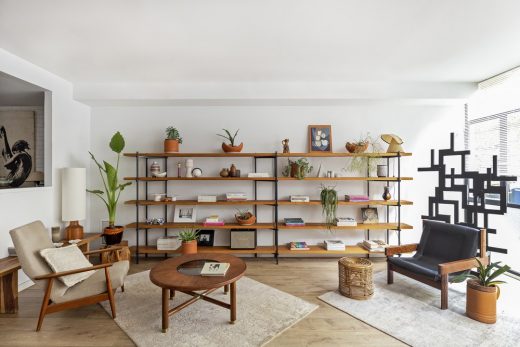 photo : Sandra Rojo
Poble Nou loft Interior
The human mind needs to be stimulated to grow and not stay stagnant, so why don't we start with our own home? In this Barcelona loft, designed by Alex March Studio, each decorative detail has a reason, which generates a great game to exercise memory and to awake the sensitivity to the latest interior design culture.
26 Nov 2020
House studio of Alex March
Design: Alex March Studio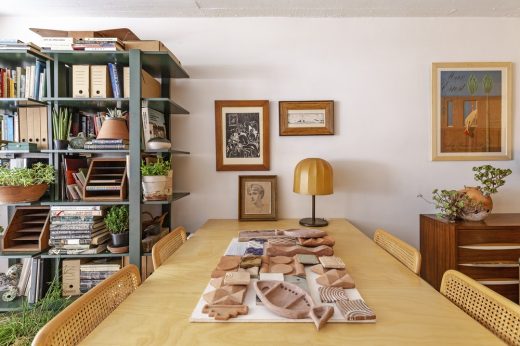 photo : Sandra Rojo
House studio of Alex March Barcelona
Born into a family dedicated to the artistic field for several generations, Alex March's love affair with interior design goes back a long way. This is reflected not only in his studio, but also in every project he undertakes, to which he passionately surrenders.
5 Nov 2020
2nd Lilly Reich Grant for Equality in Architecture
27 Oct 2020
Mood House
post updated 3 Sep 2020
Pedestrian Path along the Gypsum Mines in Barcelona, Camí de les Guixeres, Igualada, Catalonia
Architects: Batlle I Roig Arquitectura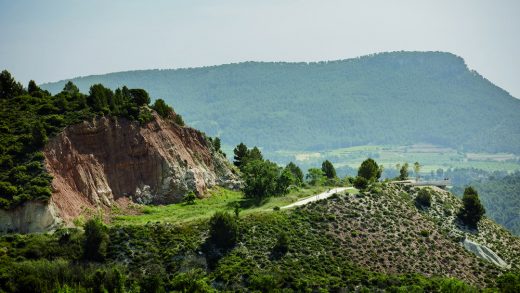 image : Jordi Surroca
Pedestrian Path along the Gypsum Mines, Igualada
The project is set within the broader scheme of the Igualada Green Ring, the aim of which is to generate a series of itineraries for pedestrians and bicycles in the form of a green belt around the city's perimeter.
4 August 2020
Camp Nou stadium – Nou Parc Barcelona
Design: ON-A architecture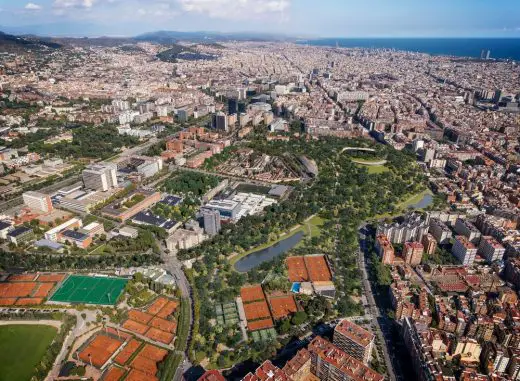 image © ON-A
Nou Parc Barcelona landscape design
Converting the Barcelona football stadium into a 26-hectare park is the proposal of a smart office to renature the cities. The ON-A architecture studio opens the debate to the possible renaturation of urban areas to adapt to the needs of the post-covid future.
29 July 2020
For you alone Apartment
27 July 2020
Sound Intervention at Mies van der Rohe Pavilion
22 July 2020
Guest pavilion 1401, Sa Tuna, Begur, Catalunya
Design: Nordest Arquitectura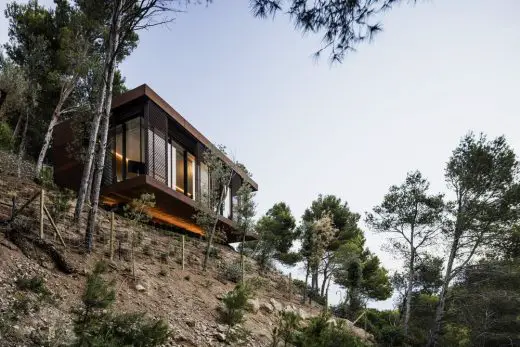 photo : Adrià Goula
House in Sa Tuna, Begur
The assignment consisted in the construction of a guest pavilion as an extension of the main house. The first thought by Nordest Arquitectura was to create a shape clear and simple, a cuboid placed in the middle of the forest.
20 July 2020
Kimpton Vividora Hotel
17 July 2020
Fauna Restaurant Interior
17 July 2020
Café Got Interior
17 Jun 2020
The Lilly Reich Grant for Equality in Architecture
9 Jun 2020
SummerMode House in Corbera de Llobregat
26 May 2020
GSS Security Mataró Office Interior, Mataró
Design: Alex March Studio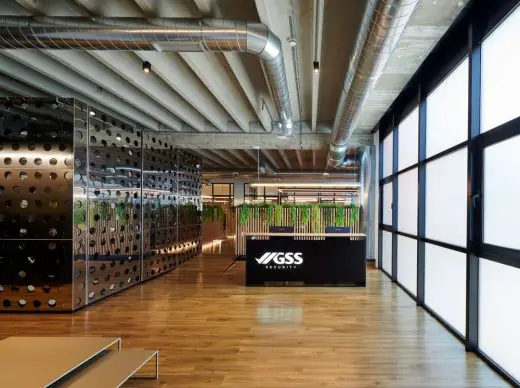 photo : Eugeni Pons
GSS Security Mataró
Just entering the reception area, our retina already obtains the hallmarks of the entire project: a sharp style with an industrial character, very welcoming and with a futuristic point, which harmonizes with the cutting-edge technology offered by the company GSS Security.
27 Feb 2020
Cheriff Restaurant, Barceloneta
Interior Design: Mesura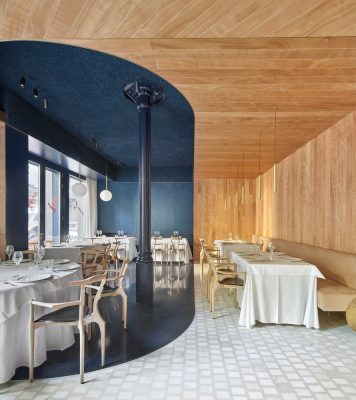 photo : Jose Hevia
Cheriff Restaurant Interior in Barceloneta
Looking beyond the touristic craze, there is a local life present in the Barceloneta neighbourhood. The air smells like the sea, and early in the morning fishermen stock some of the restaurants that still speak to the memory of the local community.
5 Feb 2020
Turó de la Peira's Sports Center, CEM Turó de la Peira, Carrer de Sant Iscle 50-54
Architects: Arquitectura Anna Noguera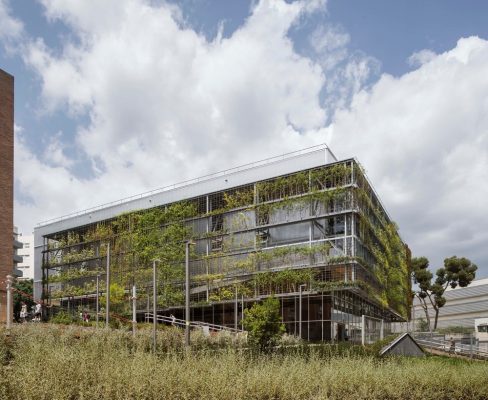 photo : Daniel Martínez
Turó de la Peira's Sports Center
In 2014 the Barcelona City Council held an architectural competition for the landscape planning of an interior urban block and a sports facility consisting of an indoor heated swimming pool and a sports court.
5 Feb 2020
Hall BSM-Pompeu Fabra University
Architects: deardesign Studio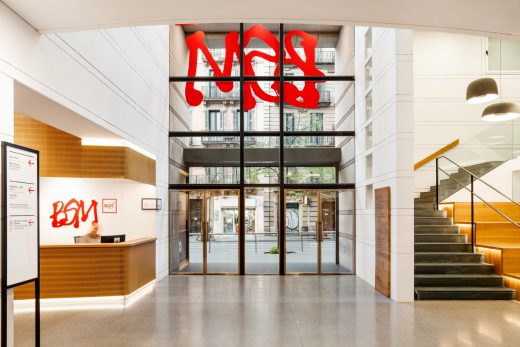 photo : Aitor Estevez
Hall BSM-Universitat Pompeu Fabra Barcelona
By highlighting the new educational model with a disruptive spirit, the BSM-Pompeu Fabra University, has created a new brand with artistic and urban flair. A new visual and spatial identity that connects with users, reflects the differential truths of the new model, stands out from the competition and allows its disruptive discourse.
29 Jan 2020
Antares Barcelona Apartments
Architects: Studio Odile Decq
Antares Apartment and Penthouse Tower
14 Jan 2020
Private Sunset Apartment and Terraces
Designers: Egue y Seta
Private Sunset Apartment & Terraces
UIC Barcelona School of Architects Exhibition
22@_WHAT?
How to achieve balance in Northern Poblenou, Barcelona
The UIC Barcelona School of Architecture rethinks the concept of the "22@ district" twenty years after its initial creation and presents new proposals in the old factory in Poblenou, Ca l'Alier
More info on our events page
9 Jun 2019
Soler de Vilardell Nursery and Primary School, Sant Celoni
Design: FORGAS Arquitectes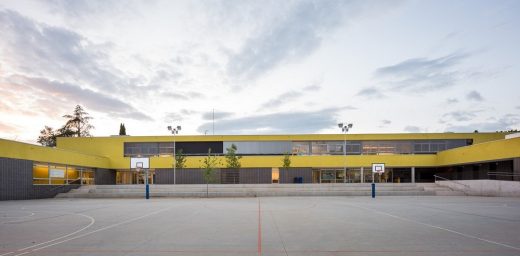 photo : Simon Garcia
Soler de Vilardell Nursery and Primary School in Barcelona
24 May 2019
Mesura Office, Carrer de Gomis
Design: Mesura – Design and Architecture Studio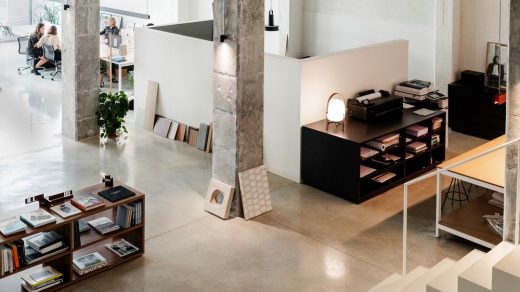 photo : Iris Humm
Mesura Barcelona Office Interior
What do we require from a space when we come into work?
Barcelona Architecture News 2018
17 Dec 2018
Tánger 66, Poblenou
Architects: BuckleyGrayYeoman, UK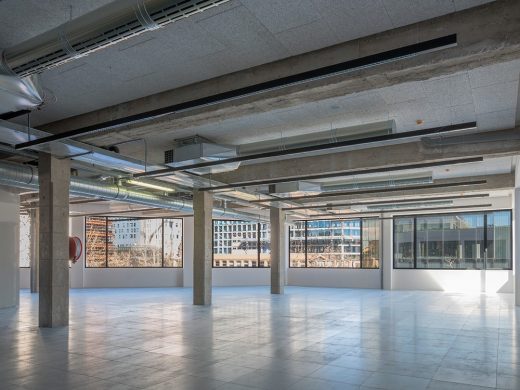 photo © Peter Landers
Tánger 66 Barcelona
Located in the 22@ innovation district in Poblenou, a former industrial area that is the subject of one of Europe's largest regeneration projects, Tanger 66 has repurposed a mid-century industrial building to create more than 8,400 sq m of workspace.
23 Jul 2018
Lycée Français Maternelle, Carrer de Munner
Design: b720 Fermín Vázquez Architects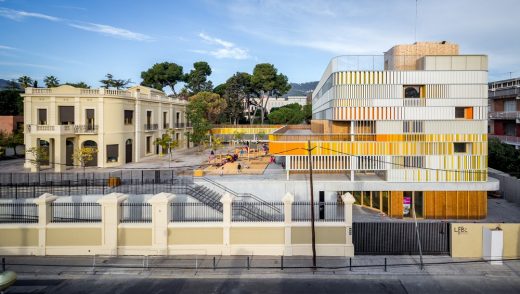 photograph : Simón García
Lycée Français Maternelle
The existing school was the result of additions of temporary buildings over many years around two villas of the early twentieth century. The new set brings forward a dialogue between the historical school and the new one.
11 May 2018
Born House Apartment, heart of the Ciutat Vella district
Architects: Gokostudio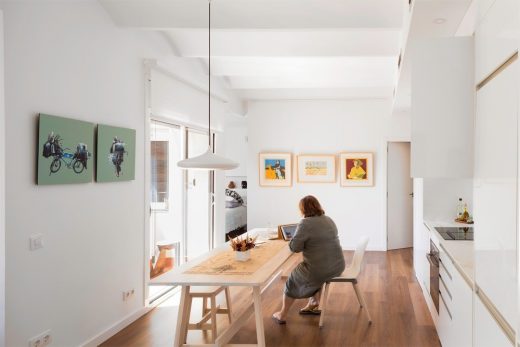 photo : Valentín Hincú
Ciutat Vella Apartment
The residence is located close to the former Born market, in a fashionable neighbourhood.
25 Mar 2018
The Student Hotel Campus, Marina and Poble Sec districts
Architects: Masquespacio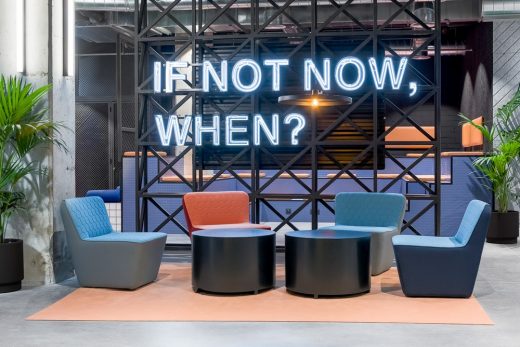 photography : Luis Beltran
The Student Hotel Campus
The Dutch hotel group, which provides a unique co-living and co-working hybrid, opens its first two student-only Campus properties.
18 Jan 2018
Paisos Catalans Square, Premià de Mar
Architect: VSarquitectura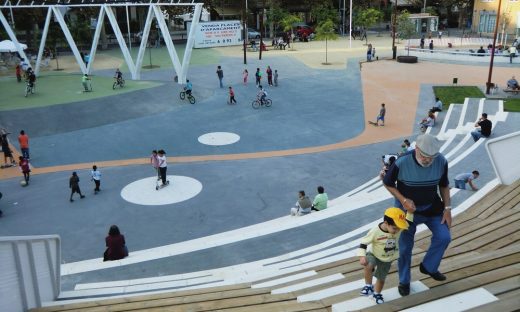 photography : Arnau Solé / Vopi-4 / Lappset
Paisos Catalans Square in Premià de Mar
Premià de Mar is a town nearby Barcelona, it use to be a fishermen and little manufacturing town, nowadays struggles to keep its personality without becoming another Barcelona suburb.
17 Jan 2018
Cabrils Secondary School near Barcelona
9 Jan 2018
iGuzzini Ibérica SA Headquarters in Barcelona
7 Jan 2018
Barceloneta Market, Plaça Poeta Bosca
Architect: Josep Miàs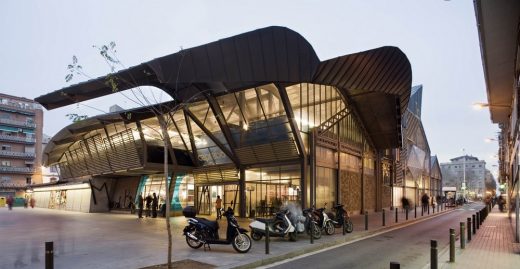 photo from architects
Barceloneta Market
When Josep Miàs was a student at the Barcelona School of Architecture (ETSAB), Barceloneta was the subject of much conversation. Restaurants on the beach which later disappeared…narrow streets, cramped flats, the clothes hanging out on the balconies, the shops, the artisans' workshops… and its people, who talked, and still talk, fast and loud.
Barcelona Architecture News 2017
10 Nov 2017
Persiana Barcelona Rope Blind
Design: Pau Sarquella i Carmen Torres Arquitectes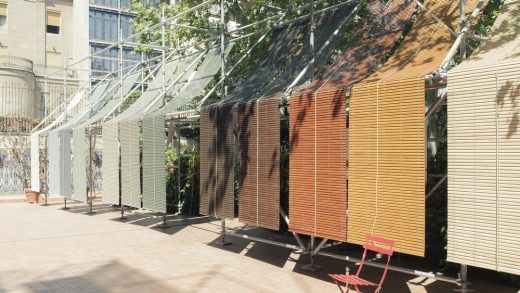 photo © Joan Guillamat Castells
Persiana Barcelona Rope Blind
A sustainable, innovative and modern piece that responds to various problems and requirements. Usón and Sarquella have developed a high quality design maintaining a process of artisan production that pays special attention on preserving tradition.
2 Nov 2017
Vallès Oriental Residence, Maresme Mountains, Catalonia
Design: YLAB Arquitectos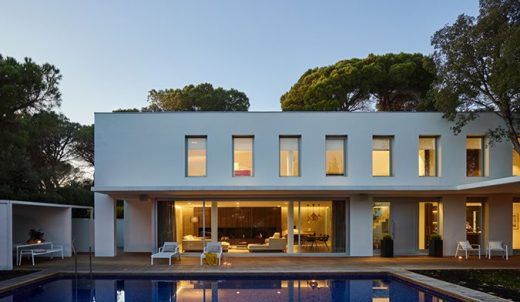 photo © Eugeni Pons
Vallès Oriental Residence by the Maresme Mountains
22 Oct 2017
Ciutat Vella Apartment
Architects: YLAB Arquitectos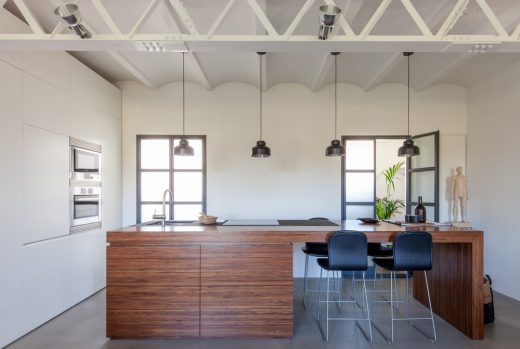 photograph : Tobias Laarmann
Ciutat Vella Apartment in Barcelona
This space was presented to the public during the last Barcelona Design Week 2017.
7 Sep 2017
Green Space in Badalona
Design: peris+toral.arquitectes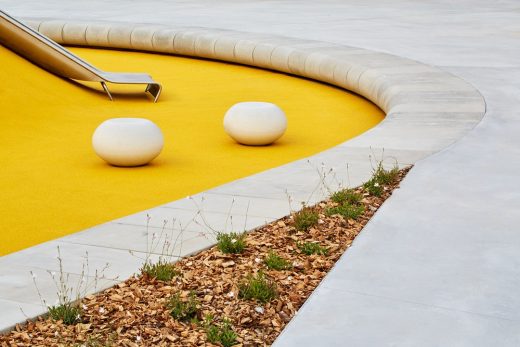 photo © José Hevia
Badalona Play Area Landscape
peris+toral.arquitectes architecture practice has designed a project to reorganise the green space situated between Avinguda de Mònaco and Carrer de Verdi in the town of Badalona, a site which provisionally hosted Santa Coloma's Fondo Market.
7 Sep 2017
Aura's Insurance Company Building, Barcelona
Design: Pich Architects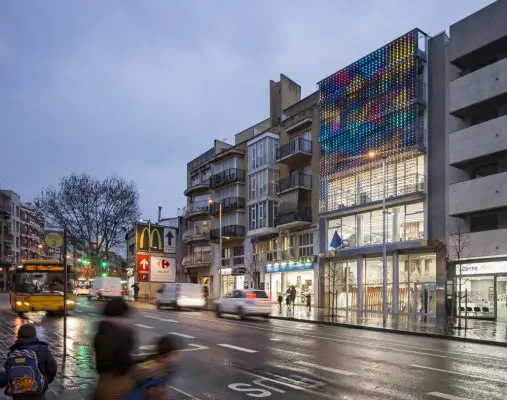 photo © Simón Garcia
Aura's Insurance Company Building in Barcelona
4 Aug 2017
Restaurant Marea Alta, Edifici Colón, Ciutat Vella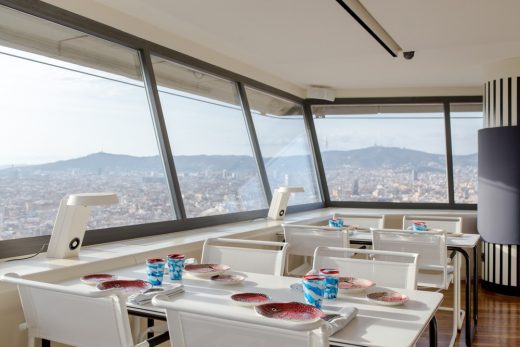 image courtesy of architects office
Restaurant Marea Alta in Barcelona
Restaurant and bar by Spanish star chef Enrique Valentí on floors 23 to 24 of Edificio Colón Building on the Avinguda de les Drassanes.
2 Aug 2017
Poblenou Apartment
Poblenou Apartment in Barcelona
29 Jul 2017
La Calma House near Barcelona
Architects: Ramón Esteve Estudio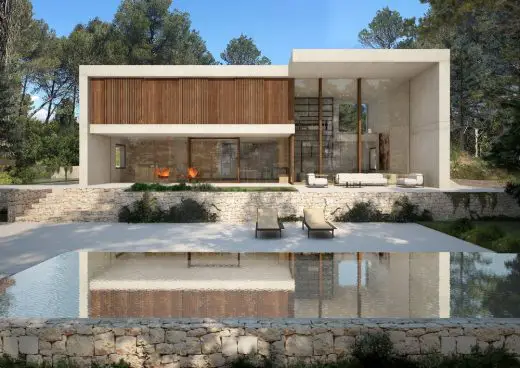 image courtesy of architects
La Calma House near Barcelona
La Calma House is placed in a small town close to Barcelona. Its site is located in a forest area with a very steep slope and an abundance of pine, oak and olive trees.
18 Jul 2017
ENIGMA Restaurant in Barcelona
Design: TheSize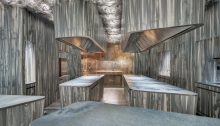 image courtesy of architects
ENIGMA Restaurant in Barcelona
The design aimed to ensure the perfect outcome for his passion project. The chef wanted to create and immersive environment to captivate his guests. The chef's style of cooking and menu is heavily influenced by the surroundings, hence, the interior had to reflect that.
13 Jul 2017
Aribau Apartment
Design: YLAB Arquitectos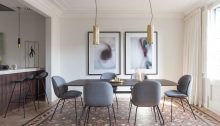 photograph : Tobias Laarmann
Aribau Apartment in Barcelona
Located in the traditional Barcelona Ensanche area, this apartment shows some typical traditional aspects such as a long, narrow and partitioned layout from façade to façade with hydraulic tile flooring, and wall and ceiling moldings.
13 Jun 2017
Deposit of King Martí
Design: ARCHIKUBIK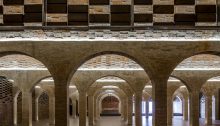 photograph : Simon Garcia, Arqfoto.com
Deposit of King Martí in Barcelona
The idea was to find out what happened with the deposit of the King Martí, an old deposit of water retention in the original property of the tower and viaduct of Bellesguard, designed by Antoni Gaudí.
28 Mar 2017
Urban Beach Home in Barcelona
Design: Egue y Seta, architects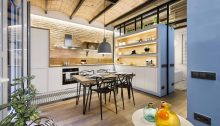 photo : VICUGO FOTO www.vicugo.com
Urban Beach Home in Barcelona
Forty square meters allow for much when you´re talking about two. Two inhabitants, two guests or two months maximum period of summery stay.
6 Mar 2017
Mediterrani 32 in Sant Pol de Mar
Architects: Estudi Isern Associats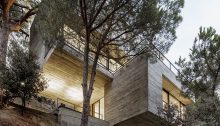 photo : Adrià Goula
Mediterrani 32 in Sant Pol de Mar
The project for this house emerged from a very simple premise, to build on a very steep piece of land with a gradient of almost 100%, boasting wonderful views and on a tight budget.
Barcelona Architecture Designs – chronological list
Catalan Buildings Archive
Archive for Catalan architecture news posts up to and including 2016:
Location: Barcelona, Catalonia, North East Spain
Architectural Design in Catalonia
Barcelona Architecture Designs – chronological list
Barcelona Architecture Walking Tours
Barcelona Museum of Contemporary Art
Comments / photos for the Barcelona Architecture News page welcome