Sagrada Familia Barcelona, Antoni Gaudi Church Building Photos, Architect, Location, Pictures
Sagrada Familia Barcelona
Antoni Gaudi Architecture: Building Permit Payment News & Guide to famous building in Spain
post updated 1 Dec 2019
Sagrada Familia Multimedia Show
Sagrada Familia to Pay City of Barcelona €36 Million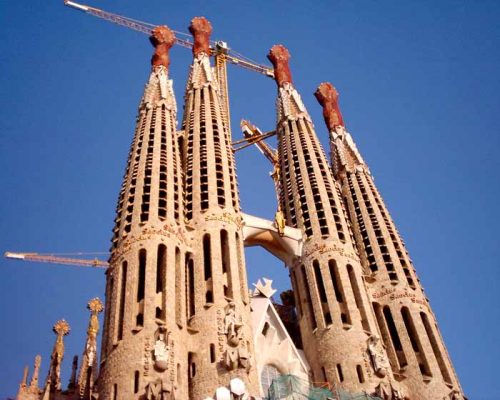 photos © Adrian Welch
Barcelona's unfinished Sagrada Familia church has agreed to pay 36 million euros ($41 million) to city authorities after it was found to be lacking a building permit — despite breaking ground on construction 136 years ago!
Sagrada Familia really is one of the most beautiful churches in the world. It started on site in 1883 in an undeveloped area outwith Barcelona. In 1885, a construction authorization letter was received by Gaudi from the town of Sant Martí de Provençals. This document sufficed until now as the only official building permit.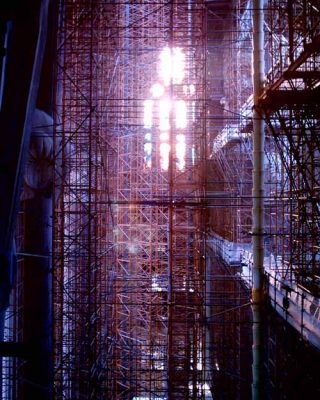 Barcelona mayor Ana Colau recently reached an agreement with the building owners to end more than 130 years of legal limbo, while construction proceeded without a proper license.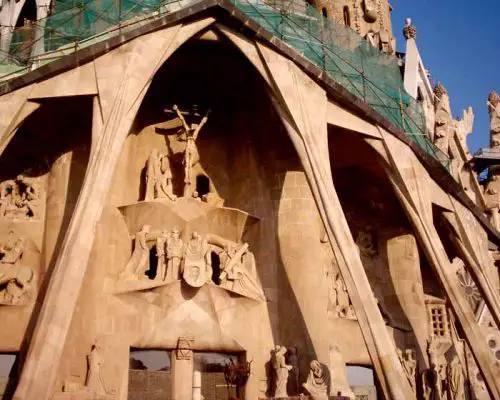 This "administrative silence" was tolerated by previous mayors. However recently the protests of neighborhood residents over the impact of the church's surging tourist traffic prompted the mayor into action.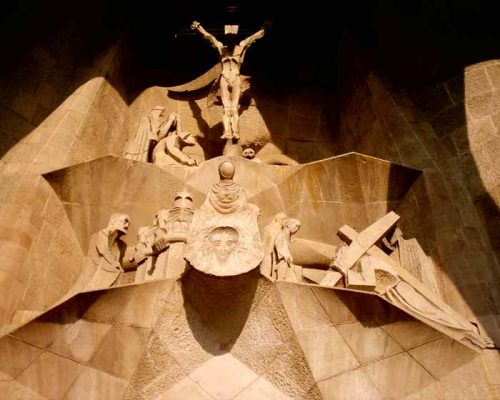 The terms of the agreement include a payment to the city, over 10 years, of 36 million euros ($41 million) by the building's Construction Junta, overseen by the Catholic Church.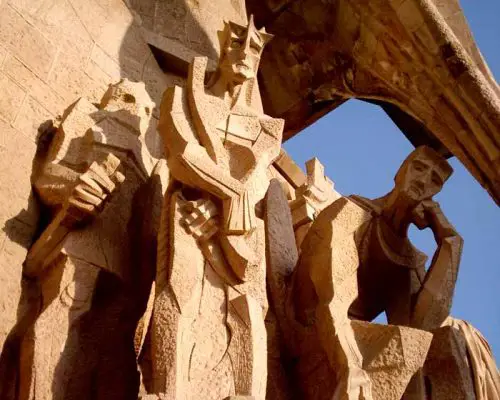 The funds are set to alleviate the impact of the ongoing construction project on public services:
$25m will go to improving public transportation citywide
$8 million for a new access point from the local metro station
$4.6 million to reconfigure the surrounding streets – including pedestrianization
$3.4 million toward their maintenance.
Around 4.5 million visitors come to the famous building every year.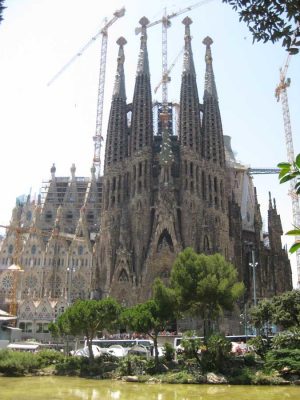 With an estimated annual income of U.S. $90 m from ticket sales and an annual construction budget of roughly $60 m, the payments will not affect the rhythm of construction. Work is scheduled to finally finish in 2026, on the centennial of Gaudí's death.
page updated 20 Jul 2016 ; 1 Oct 2012
Sagrada Familia Sound and light show
Sound and light show at this famous Antoni Gaudi building:
Project by Moment Factory.
The first sound and light spectacle to be projected on the complex façade of the Sagrada Familia in Barcelona.

Ode à la vie – Project by Moment Factory.
The 15 minute multimedia show presented was within La Mercè Festival in Barcelona this weekend.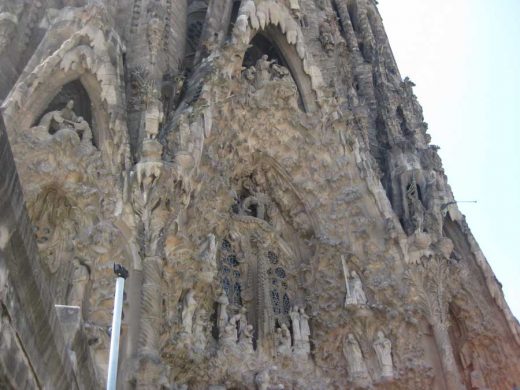 photos © Adrian Welch
The inspiration for the show was to realise Antonio Gaudi's dream for the Sagrada Familia façade to be full of colours.
20 Apr 2011
Sagrada Familia Fire
A fire has destroyed original feature of the Sagrada Familia by architect Antoni Gaudi. Reports estimate that 1500 people were evacuated in arson attack. Tourists were hurriedly evacuated from Barcelona's Sagrada Familia basilica after an arson attack destroyed part of the original work of its eccentric architect, Antoni Gaudi. A local man reportedly set the blaze after walking into the sacristy, spraying it with a flammable liquid and setting fire to the priests' robes stored there, reports the Arts Journal.


photo © Adrian Welch
Sagrada Familia Building
Church of the Holy Family
Location: northeast Barcelona
Date built: 1884
Design: Antoni Gaudí Architect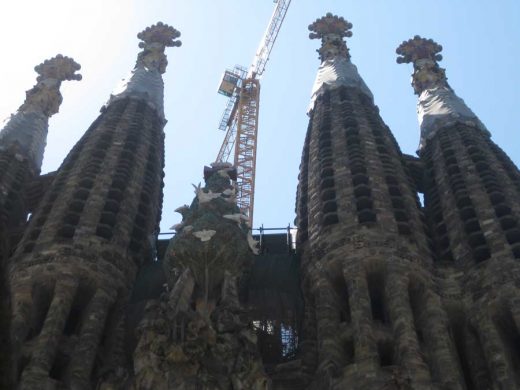 Literally 'Sacred Family' this church is the most striking and largest of all Antoni Gaudi buildings.
Photos of building exterior – western entrance: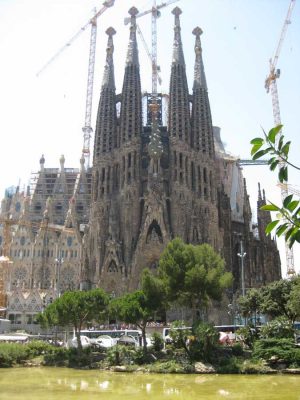 Sagrada Familia architect: Antoni Gaudi
Probably the most stunning piece of Spanish architecture, a wild and inventive building.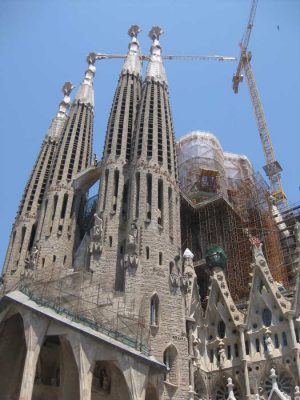 Antoni Gaudi is a surrealist architect and his work has often been compared to that of Surrealist artist Salvador Dali, who of course is also Spanish.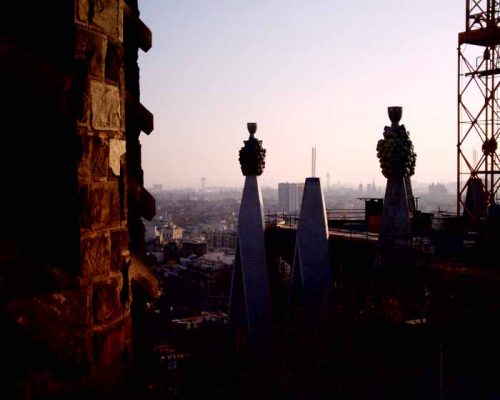 Sagrada Familia uses caricatures in stone to portray the story of Christianity but its flamboyance has made it a symbol for the city as a whole. Gaudi frequently uses organic elements on the top of his spires, shaped like cloves crossed with the crucifix they are powerfully sculptural and very distinctive.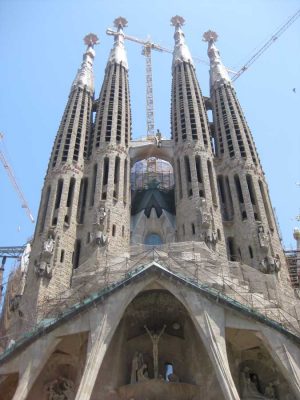 Antoni Gaudi is often bracketed as one of the key European organic architects. In the Sagrada Familia building the architect evokes nature as well as Biblical scenes: in the photos you can see many of the columns fan out like plants for example.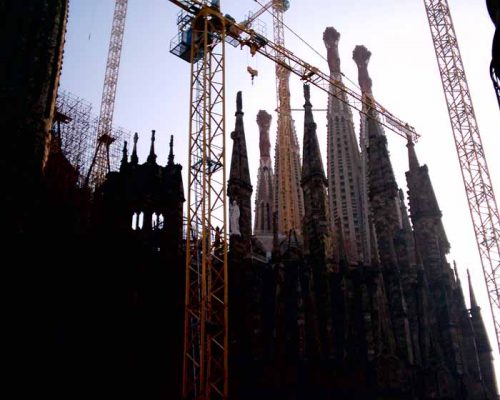 More images of Sagrada Familia, Barcelona:
More Sagrada Familia images available: photos 1280×1024 pixels, 72dpi
Sagrada Familia to use Scottish Stone
Stone from Clashach Quarry, Moray, is being used to complete parts of Sagrada Familia by Gaudi in Barcelona: a ceiling and a main staircase.
Sandstone from the quarry of Moray Stone Cutters has already been used in the construction of the National Museum of Scotland and the extension to the National Gallery in Edinburgh, as well as the 9/11 memorial in New York.
The contract will involve up to five tonnes of sandstone, with blocks as large as one metre cubed, being transported to Spain each month for the next two years to the temple site where construction work first began in 1882.
The quarry secured the contact after Moray Stone Cutters supplied sandstone for work on the nearby Barcelona Cathedral in 2005
Jul 2006.
The eastern frontage to Sagrada Familia has delicate sculpture. The western entry has more strenuous Gaudi sculpting.
Sagrada Familia Photos
Photos of this major Antoni Gaudi building from Summer 2011:
Sagrada Familia Photos amongst Barcelona architecture set
Location: Sagrada Familia, Barcelona, Catalonia, Spain
Key Antoni Gaudi buildings in Barcelona
Casa Batllo, Passeig de Gracia, Eixample
Casa Mila – La Pedrera, Passeig de Gracia, Eixample
Park Guell, north Barcelona
News re Antoni Gaudi Buildings in Barcelona
UNESCO has added four Barcelona buildings by architect Antoni Gaudi to its list of World Heritage sites: the Nativity Façade and crypt of the Sagrada Familia, Casa Batllo, the crypt of Colonia Güell and Casa Vicens.
Other Barcelona buildings by Antoni Gaudi – Parque Güell, Palacio Güell and Casa Mila – have been listed since 1984.
Sagrada Familia Barcelona : Photos © Adrian Welch
Comments / photos for the Sagrada Familia Barcelona page welcome