Chile residences, New property images, Modern Santiago houses, Residential buildings, Architecture sesigns
Chile Houses : Residential Buildings
Contemporary Properties in South America – New Homes
post updated 30 June 2023
Chile Architecture Design – chronological list – latest buildings
We've selected what we feel are the key examples of Chile Houses. We aim to include buildings that are either of top quality or interesting, or ideally both.
We cover completed residential buildings, new building designs, architectural exhibitions and architecture competitions across Chile.
Chile Properties
New Chile Properties – latest additions to this page, arranged chronologically:
22 Mar 2023
3×3 Retreat, Puerto Varas, Los Lagos, southern Chile
Architects: Estudio Diagonal Architects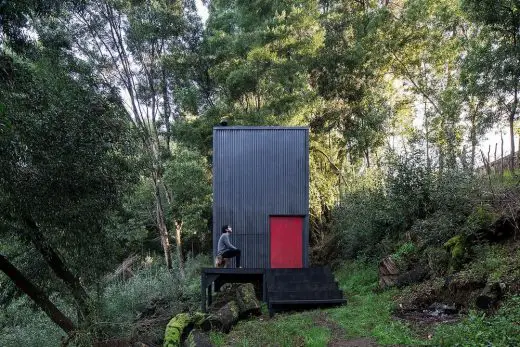 photo : Nico Saieh
3×3 Retreat, La Unión City, South Chile
The tension between radical geometry and forest organic shapes shows the first architectural picture when you see the 3×3 Retreat. Highlights house and landscape enhancing natural beauty.
17 Mar 2023
Ridge House, Puerto Varas, Los Lagos
Architects: Estudio Diagonal Architects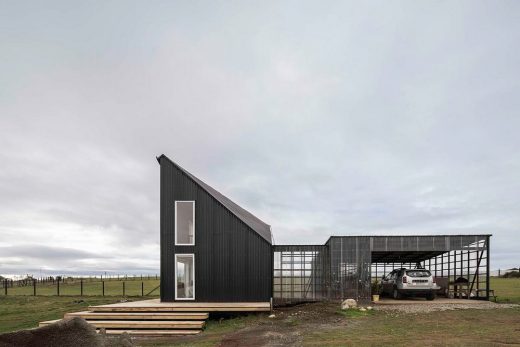 photo : Nico Saieh
Ridge House, Los Lagos
Ridge House is looking for new ways to traditional barn-house is one of the most common exercises in contemporary architecture practice, and even one of the most applied in the south of Chile. It takes massive attention in the last internal migration, due to the pandemic of covid-19, which open the door to work from home so a lot of people from big cities, like Santiago the capital, migrate south for a better life.
Chile Houses 2016 – 2020
Chile Houses – Latest Designs + Additions 2016 to 2020
18 Mar 2020
Casa El Arrayán, Lo Barnechea, Santiago de Chile
Architects: Oficina Bravo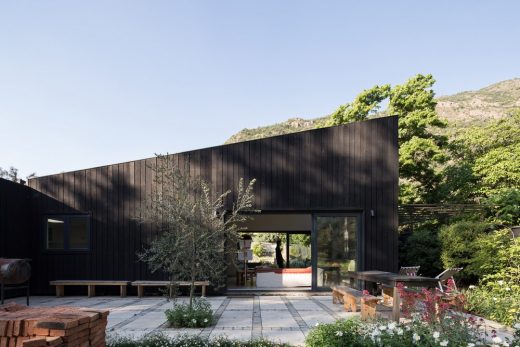 photograph : Nico Saieh
Casa El Arrayán in Lo Barnechea, Santiago
On an elongated terrain and with a steep slope towards the Mapocho River, the property proposal resolves the relationship with the nearby neighbors and with the mountain range through two different strategies.
7 Oct 2019
MM Apartment Building, Santiago de Chile
Design: SML Arquitectos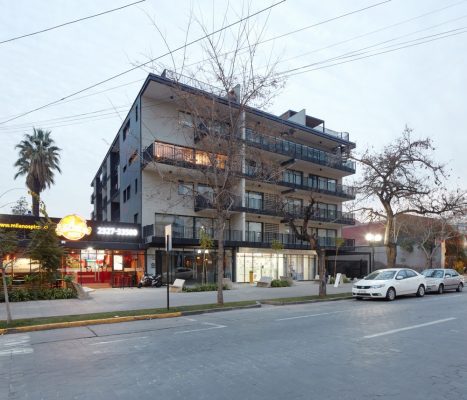 photograph : Felipe Fontecilla
MM Apartment Building in Santiago
This new residential property project is located on an important avenue of Santiago de Chile. The site has undergone intense densification over the last few decades. A 'mid-raised' building consisting of 33 apartments over a commercial block, is proposed for this site of 1823 sqm.
1 Oct 2019
Lyon 1633 Apartment Building, Cerro San Luis, Santiago de Chile
Design: SML Arquitectos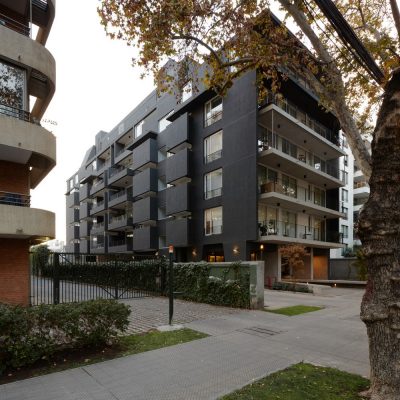 photo : Felipe Fontecilla
Lyon 1633 Apartment Building in Santiago
This residential design is located on 1200 sqm site, which has a rather narrow front to the public space, but it is long enough to allow the design of a residential project.
29 Sep 2019
Seis Apartment Building in Santiago
1 May 2018
House H
Architect: Felipe Assadi Arquitectos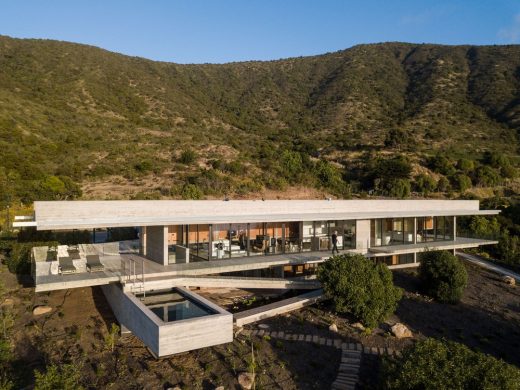 photograph : Fernando Alda
House H in Zapallar
This new home is formed from a reinforced concrete structure composed of a succession of longitudinal and transverse beams that work together to generate a single structural piece.
11 Mar 2017
Pergola Pavilion, Lo Barnechea, Santiago
Design: PAR Arquitectos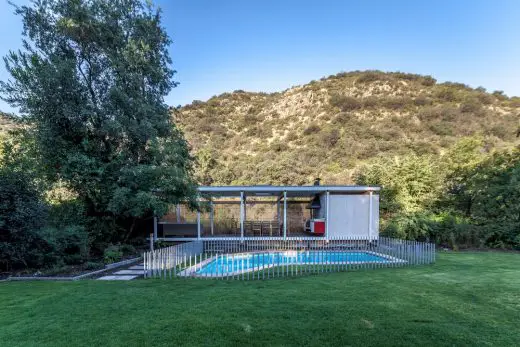 photograph : Diego Elgueta
Lo Barnechea Pool House
The project strategy refers to the pergola as an architectural reference; That light and autonomous frame as an integral support of nature and multiple activities.
More Contemporary Chile Houses online soon
Contemporary Chile Houses Archive : 2012 – 2015
4 Jun 2015
Rocas House, El Pangue, Zapallar, Valparaíso Region
Design: Studio MK27 and 57STUDIO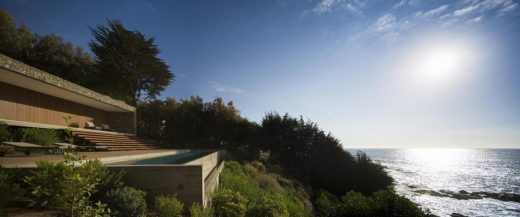 photograph : Fernando Guerra | FG+SG
New House in Zapallar
The architects created two side stone walls, like a programmatic box with the social and service areas of the house.
23 Sep 2013
Caterpillar House, Lo Barnechea, Santiago de Chile
Design: Sebastián Irarrázaval Delpiano ; Associated Architect: Erick Caro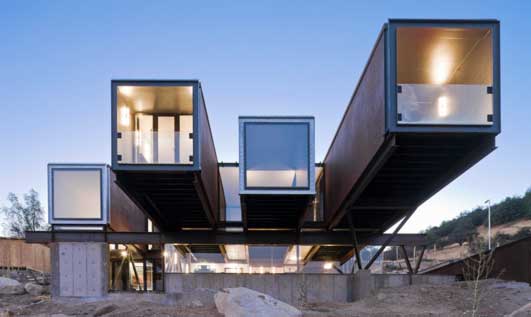 photo : Sergio Pirrone
Caterpillar House
Putting aside the fulfillment of the brief; the main purposes of the house were two: The first one was to integrate it to the territory of this part of the city where the presence of the Andes Mountain is extremely strong both visually and tectonically. Therefore the presence of the Andes was considered as an obvious background worst to be highlighted and also as a sloped ground needed to be negotiated.
22 Aug 2013
Outside IN House, Última Esperanza
Design: Fernanda Vuilleumier Studio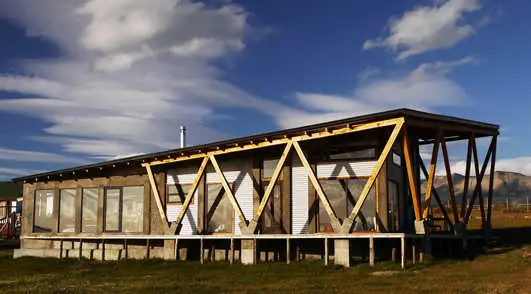 photo : Daniel Bruhin W.
Outside IN House
The design of Outside IN House consists in bringing the exterior materials to the interior. The materials carry ambivalent meanings of a vernacular form. On one side Outside IN Homes are functional and domestic. A thinking-home has passive solar elements to contain, save, and distribute solar energy for diurnal warmth, cooling, and illumination.
added 26 Feb 2013
Casa El Pangue, Patagonia, Chile
Design: Elton+Leniz Arquitectos asociados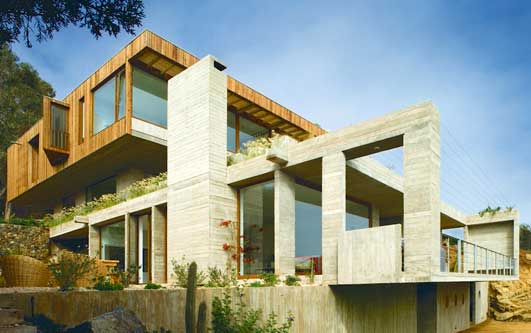 photograph : Natalia Vial
Casa El Pangue
This house stands on a steep sloping site, facing the ocean. It is developed towards a central vertical circulation, connecting the 4 levels and 3 terraces in which the house is organized, in order to get as much of the view of the Pacific Ocean as possible, taking advantage of the height offered by the natural slope of the site.
26 Apr 2012
House in Piedra Roja, north of Santiago, central Chile
Design: Riesco + Rivera Arquitectos Asociados



photograph : Sebastián Wilson León
House in Piedra Roja
The order is an individual house for a young family, located in a developing suburban area in the north of Santiago, with an arid Mediterranean climate.
Conceptually we worked with the idea of the traditional houses of the central zone of Chile (Mediterranean), valuing the intermediate spaces like a fundamental part in the daily life and integrating the exterior to the interior through inner patios and covered zones as the traditional corridors.
Chile Property Designs
Major Chile Residential Architecture Projects, alphabetical:
Casa Caracola
Enrique Browne Arquitectos



image from architect
Casa Caracola
Casa Pedro Lira
Sebastián Irarrázaval



photo : Carlos Eguiguren
Casa Pedro Lira
Casa San Damian
Sebastián Irarrázaval



picture from architect
Casa Santiago
Contador-Weller House, Casablanca
Riesco + Rivera Arquitectos Asociados



photograph : Carlos Eguiguren
Contador-Weller House
House in Zapallar
Enrique Browne Arquitectos


photo : Gonzalo Romero
House in Zapallar
La Reserva House, La Reserva, Colina
Sebastián Irarrázaval



photo : Carlos Eguiguren
Colina House
Paul Harris Street House
Enrique Browne Arquitectos



photo : Luis Poirot
Paul Harris Street House
Wall House Residence, Santiago de Chile
FAR frohn&rojas



photo © C.Palma
Wall House Residence
More Chile houses projects online soon
Location: Chile, South America
Chile Architecture
Chile Architecture Design – chronological list
Chile Architect Studios
Chile Architecture Contest : Wine's Museum Design Competition
Glamis Apartments, Las Condes, Santiago
Gonzalo Mardones Viviani & Asociados



photograph from architect
Santiago apartments
Tomás Apartments, Santiago
Gonzalo Mardones Viviani & Asociados



image from architect
Tomas Apartments
Memory Museum Chile : Design Competition entry by Sebastián Irarrázaval
Website: Santiago, Chile
South America Building Designs
New South American Properties – recent selection from e-architect:
Buildings in countries nearby
Buildings / photos for the Chile Residential Buildings page welcome