Chile Architecture News 2021, Building Projects, New Construction Design, Property Images
Chile Architecture News
Contemporary Chilean Building Designs – Built Environment Updates: South American Building Links
post updated 11 September 2021
Chile Building News
Chile Architectural News, chronological:
Chile Architecture Designs – chronological list
11 Sep 2021
La Fabrica, Santiago
Design: Foster + Partners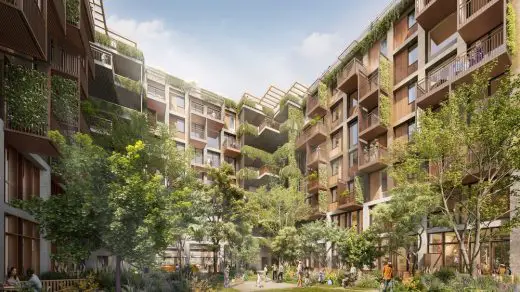 image courtesy of architects practice
La Fabrica Sustainable Masterplan, Santiago
Marking the practice's first project in Chile, designs for a new masterplan for La Fabrica have been revealed. The project centres on the regeneration of an existing mid-twentieth century factory building to create an integrated mixed-use urban quarter in the heart of Santiago, Chile.
20 Dec 2020
NuMu Santiago, Chile
Architects: Cristián Fernández Arquitectos + VadesHagemann Arquitectos + Matias Gonzalez R. + Guillermo Bustos N. + Claudio C. Araya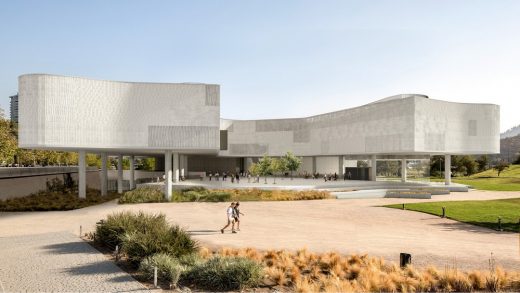 image courtesy of architects practice
NuMu: New Museum in Santiago
This building is inviting…it signals an openness towards the community that surrounds it. Qualities like transparency and welcoming spaces create the type of place where people gather together. The architects propose a building that invites one to linger, that promotes the interaction between people and art, in all its manifestations.
15 June 2020
Pergola Pavilion in Lo Barnechea
19 Mar 2020
Casa El Arrayán in Lo Barnechea
2 Nov 2019 ; 4 Apr 2017
Bahá'í Temple of South America – RAIC Innovation in Architecture Award
Design: HPA (Hariri Pontarini Architects)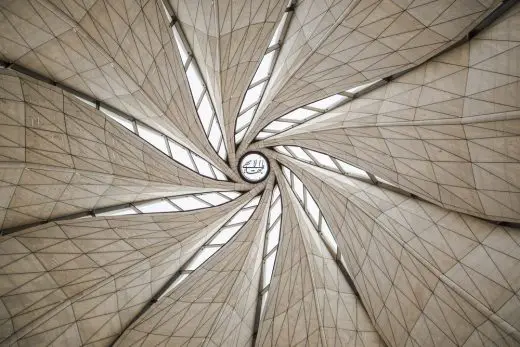 image Courtesy architecture office
Baha'i Temple, Santiago Building
A luminous worship space designed and built with the creative use of computer modeling, measuring, and fabrication software, and custom glass, has won the Royal Architectural Institute of Canada (RAIC) Innovation in Architecture Award for 2017.
7 Oct 2019
MM Apartment Building in Santiago
1 Oct 2019
Lyon 1633 Apartment Building in Santiago
29 Sep 2019
Seis Apartment Building in Santiago
26 Sep 2019
Noa Noa Club, Santiago
Design: Oficina Bravo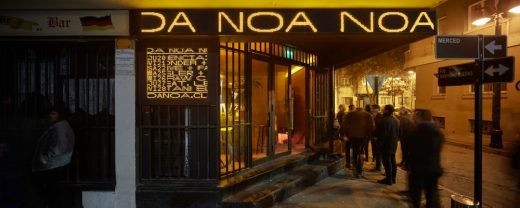 photograph : Felipe Fontecilla
Noa Noa Club Santiago
Design Systems International and Oficina Bravo collaborated to bring new life to a venue that had historically been home to several clubs already.
1 May 2018
House H
Architect: Felipe Assadi Arquitectos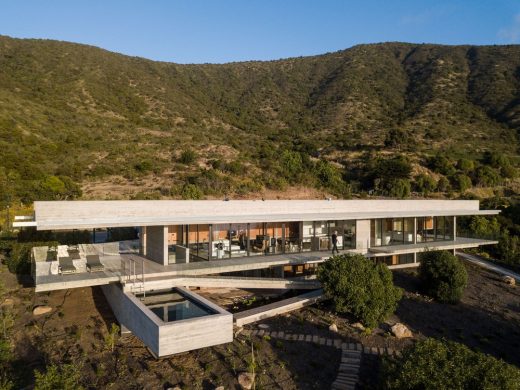 photograph : Fernando Alda
House H in Zapallar
Located in Zapallar, House H is a reinforced concrete structure composed of a succession of longitudinal and transverse beams that work together to generate a single structural piece. As always, we prefer to inhabit a structure instead of structuring a room.
2 Jan 2018
Mountaineer's Refuge, San Esteban, V región
Architects: Gonzalo Iturriaga Arquitectos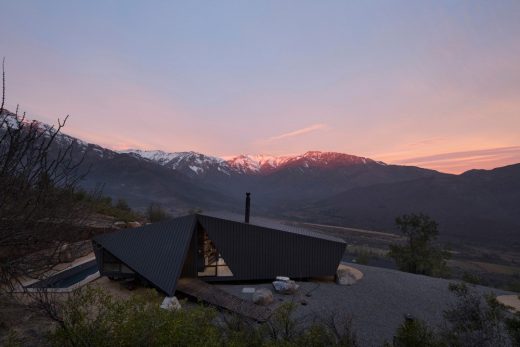 photograph : Federico Cairoli
Mountaineer's Refuge in San Esteban
The design brief was for a small cabin with a roof, kitchen, bathroom and bedroom – the necessities for resuming the mountain trek begun the day before.
30 Sep 2016
Rocas House, El Pangue, Zapallar, Valparaíso Region
Design: Studio MK27 and 57STUDIO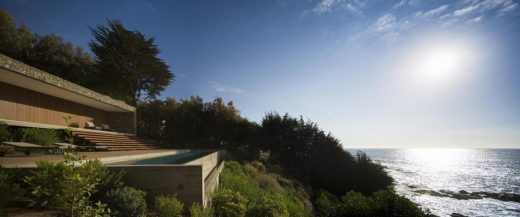 photograph : Fernando Guerra | FG+SG
New House in Zapallar
Insertion of the project on the site: the implantation was designed as gentle as possible, in order to preserve the level difference of the site and the views.
11 Mar 2017
Pergola Pavilion, Lo Barnechea, Santiago
Architects: PAR Arquitectos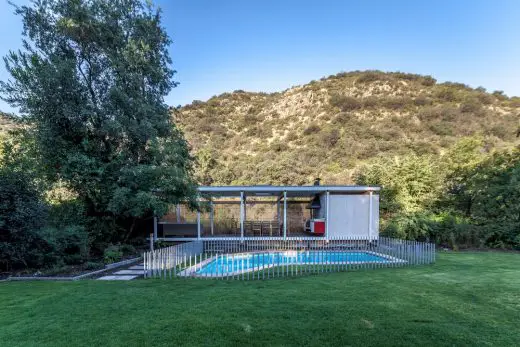 image Courtesy architecture office
Building in Lo Barnechea
An isolated and open construction, next to an existing swimming pool, was ordered at the end of the house garden. The place is presented with an outstanding geographical support, which contains and frames a privileged green environment, typical of the pre-mountain range area east of Santiago.
9 Mar 2017
Convention Center San Miguel de Tango, Camino Lonquen Sur, Calera de Tango, Santiago
Architects: PAR Arquitectos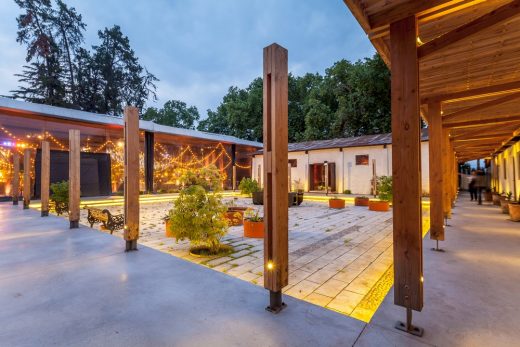 photograph : Diego Elgueta
Convention Center San Miguel de Tango in Santiago
As a general party, the project seeks the configuration of a central void, as an adaptive and flexible extension to the functions of the various uses required by the program, this complemented by a system of perimeter corridors that articulate the various services of the programmatic edge.
31 Dec 2016
Endless Space, Santiago
Design: 57STUDIO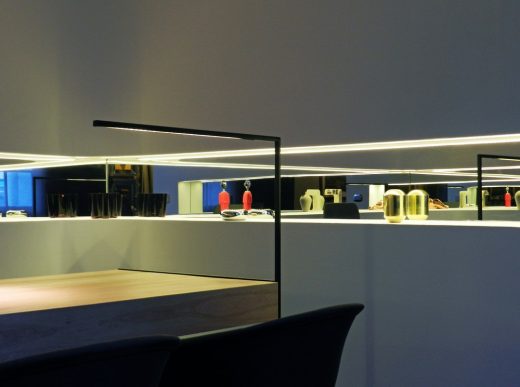 image Courtesy architecture office
Endless Space for Casa Foa in Santiago
An interior design at an interior design fair called "Casa FOA" that had its first run in Chile, coming from Argentina, in October 2016. The place selected for this fair was an old two storey house that was to be recycled by all of the architects, designers and decorators briefed to create one small space within the larger space.
10 Nov 2016
Offices for the Traffic Control Operations Unit, Santiago
Design: Chauriye Stäger Arquitectos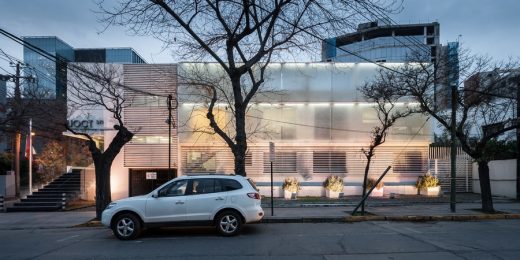 photograph : Pablo Blanco
Offices for the Traffic Control Operations Unit in Santiago
This commission involved the revamping of two old houses, which housed the Traffic Control Operations Unit, a branch office of the Ministry of Transports dedicated to the supervision of traffic lights and signs in Santiago thanks to video cameras placed in key locations.
30 Sep 2016
Casa Corredor, Huelquén District, Central Valley, Santiago de Chile
Design: Chauriye Stäger Arquitectos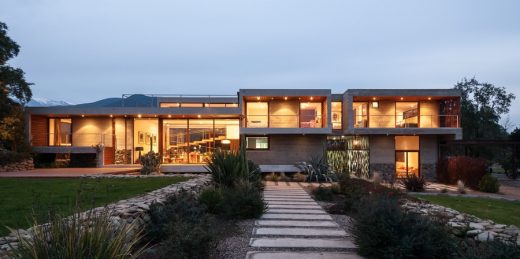 photograph : Pablo Blanco
Casa Corredor in Huelquén District
Facing the breath-taking mountain range of the Andes towards the South and the East, and looking onto a rolling, luxuriant valley of almond trees to the West, the house is located eastward next to a water reservoir, which has become an integral part of the surrounding landscape.
17 May 2016
Casa HG, Cachagua, V Región
Design: Cristian Hrdalo Arquitectos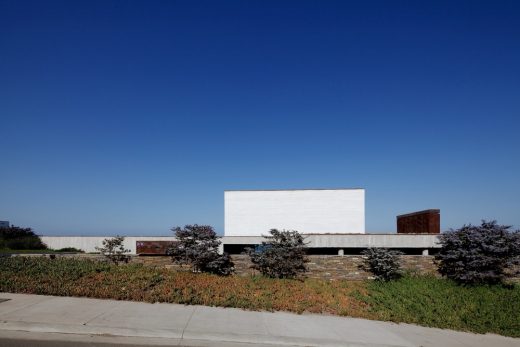 photograph : Nicolás Saiehe
Casa HG Cachagua
A house on the beach for the architect's parents, for them it was very important that the house could receive all the family and guests and also to function at a reduced size when they were alone.
17 May 2016
Glacial Water Bottling Plant, Queulat fiord, Patagonia
Design: Panorama Arquitectos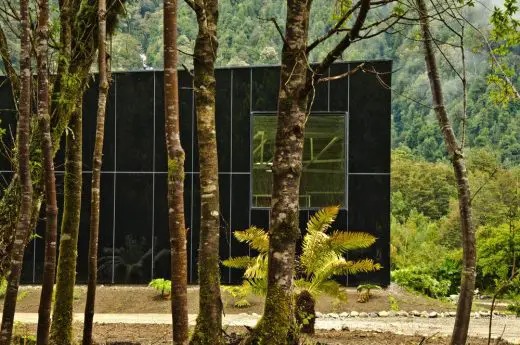 photography : Cristobal Valdes
Glacial Water Bottling Plant in Patagonia
The project is situated in the border of Queulat National Park in Patagonia, 3 hours away from Cohiaique, which is the nearest city. This compromised the material and construction logistics decisions to secure its construction quality and ageing because of tough climate conditions. The project was built in 4 months. The process consists of bottled glacial water.
20 Jan 2016
The Winery at VIK, Millahue, Vitacura, Santiago
Design: Smiljan Radic architect with Loreto Lyon, in collaboration with Alex and Carrie Vik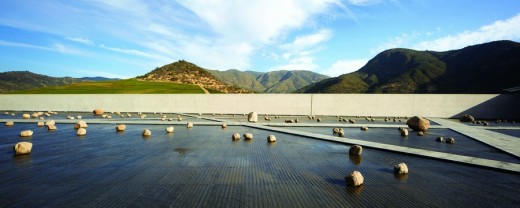 photo courtesy of Vik Retreats
VIK Winery Building Santiago
As all Vik Retreat destinations have come to be known, the VIK winery features a unique and unprecedented design, which is at once state-of-the-art, highly sustainable, technologically creative and a stunning visual display which redefines the wine experience. The winery has been designed by the talented Chilean architect Smiljan Radic.
Aug 20, 2016
Omnibus House, Cachagua, Zapallar
Design: Gubbins Arquitectos


photo : Marco Mendizabal
Casa Omnibus
To break the typical areas of an urban house; kitchen, living–dining room and dormitories, this house has a double circulation that deconstructs these areas into a set of complimentary places. This creates a way of inhabiting that moves away from a typical urban arrangement into a more playful one.
19 Jan 2016
Grupo Sud Offices in Santiago, Santiago
Design: 57STUDIO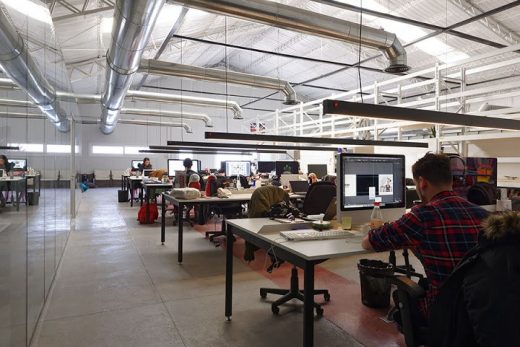 photograph : Caco Oportot
Grupo Sud Offices in Santiago
The conversion of an old perfume factory into an open work space for a holding of 4 companies that are fully integrated in the marketing, production, design and communication areas. The building is located in the "Italia" neighborhood that encompasses design, art and decoration luxury stores.
28 Dec 2015
The Wave Community Theatre in Valparaiso
Design: The Scarcity and Creativity Studio, Oslo School of Architecture – AHO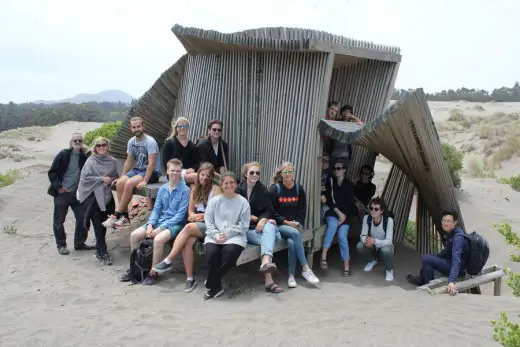 image Courtesy architecture office
The Wave Open Air Community Theatre in Valparaiso
Sitio Eriazo, the client, is a collective whose aim is to recover empty, abandoned, urban spaces in the city of Valparaiso, Chile, which are currently rubbish dumps and attract vermin and delinquents. The members of the group are recent graduates from theater, art and architecture schools.
23 Nov 2015
House in Lo Curro, Vitacura, Santiago
Architects: Nicolas Loi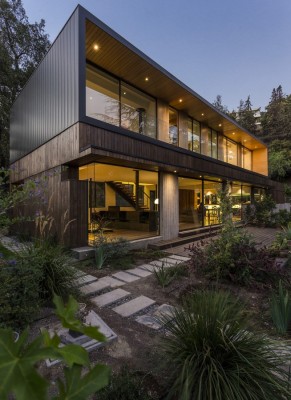 photo © Marcos Mendizabal
Lo Curro House in Vitacura
The area has some hills and forest, with a great view of the city of Santiago. The design strategy is based on a 7 x 25 meter rectangle, located over an existing parking space.
2 Sep 2015
Horse Stable in Bío Bío, Coelemu, Bío Bío
Design: 57STUDIO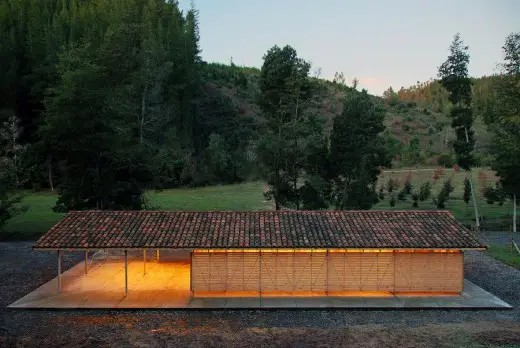 photograph : Maurizio Angelini
Bío Bío Horse Stable
This building replaces an existing structure used as a barn on a farm in the region of Bio Bio, it is requested to rebuild a higher-capacity version with 4 stables, 2 cellars and 1 trough.
10 Aug 2015
Kübler House, Las Brisas de Chicureo, Colina
Architects: 57Studio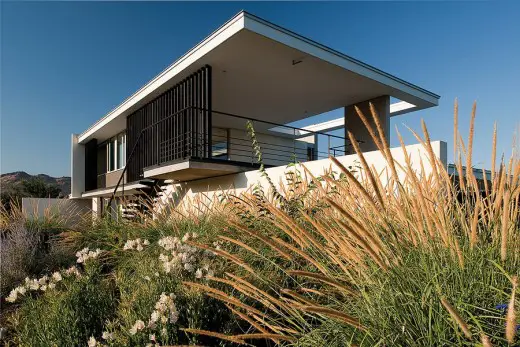 photograph : Guy Wenborne
Kübler House in Las Brisas de Chicureo
A single unit house in a residential park in northern Santiago. The sites, around 5000 sqm each and mostly surrounded by golf fields and green areas, have the constant presence of the Andes, high temperatures during summer time and winds from the south.
20 Jan 2015
Chapel of Our Lady of the Angels, Rancagua
Design: Antoni Gaudí Architect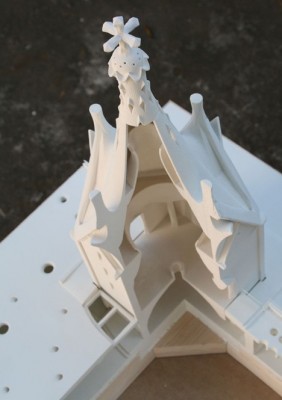 image Courtesy architecture office
Chapel of Our Lady of the Angels Rancagua
The construction of the Chapel of Our Lady of the Angels, a commission of father Angélico, to a design from 1915 by the world-famous Catalan architect, Antoni Gaudí.
2 Jun 2014
Fray León House, Las Condes, Santiago
Architects : 57 Studio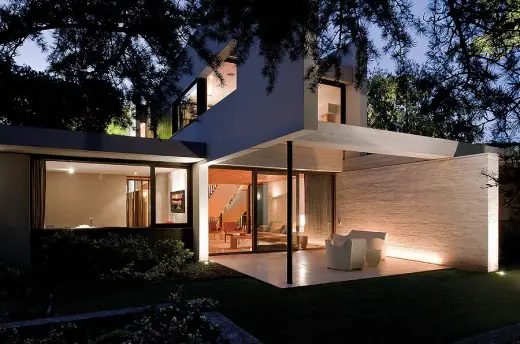 photograph : Guy Wenborne
Contemporary house in Las Condes, Santiago
This is a residence for a family who looks for a more extensive terrain and ampler spaces, without leaving the traditional neighborhood where it has lived for almost 30 years. Located on the east side of Santiago, the main characteristics of the neighborhood are the presence of old growth trees and huge lots with houses that have a limited relation with the street.
5 May 2014
Summer House in Zapallar
Architect: Enrique Browne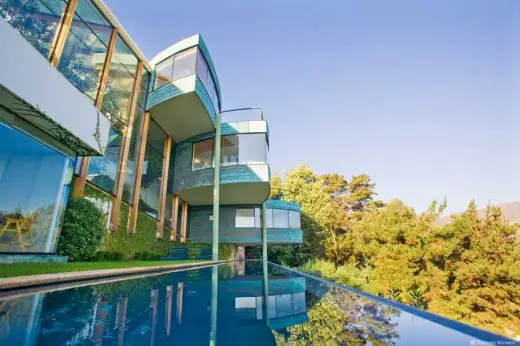 photographs : Guy Wenborne, Gonzalo Romero and Enrique Browne
Summer House in Zapallar
The site of this holiday house is long and very inclined. It falls from the North to the South. On its upper edge it sits on a road that unites different seaside towns. From the upper section it offers splendid views of the seaside resort and of the bay. However, the tree filled site had many problems.
6 Mar 2014
Louis Vuitton Store, Santiago, Chile
Design: Jose-Carlos Valdivia de Los Ríos + Gustavo Carmona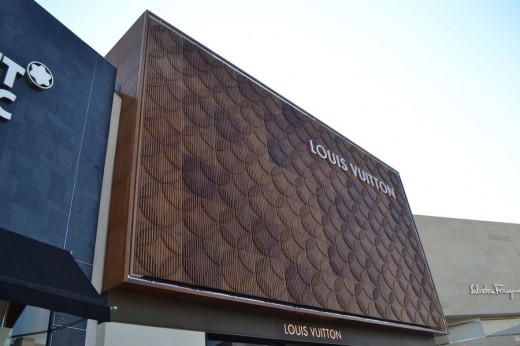 image Courtesy architecture office
Louis Vuitton Store Santiago
Louis Vuitton designers have selected Accoya modified wood manufactured by Accsys Technologies, for the brand's second store in Latin America.
Casa MAVA, Zapallar
Design: Gubbins Arquitectos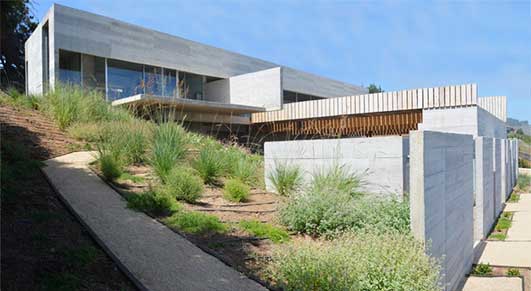 photo : Pablo Montecinos
Casa MAVA
More contemporary Chile Architecture News online soon
Location: Chile, South America
Architecture in Chile
Contemporary Architectural Designs in Chile
Chile Architect Offices – design firm listings on e-architect
Comments / photos for the Chile Architecture News page welcome