Architecture Awards, Building, Shortlists, Winners, World Design, Construction, Architects
Architecture Awards : Architectural Prizes
International Property Prizes, ranked alphabetically – Good Quality Built Environment
post updated 3 November 2021
Architecture Awards – chronological list
International Architecture Awards
We've selected what we feel are the key examples of Architectural Awards from around the world. The most important global prizes are at the top of the page followed by other global awards and finally by regional prizes.
Architectural Awards – alphabetical list
Design that Educates Awards
The Design that Educates Awards (DtEA) recognize, showcase, and promote globally the best ideas and implementations of architecture and design that can educate. The design itself may provide an informative and educational layer that guides us through the increasing complexity of our environment. It can showcase specific possibilities and challenges, explain sociocultural factors and influences, or even outline new scenarios for future development. Each year, the esteemed panel of judges selects the outstanding ideas and implementations in the categories of architectural design, product design, universal design, and responsive design.
European Award for Architectural Heritage Intervention
Registration of the 4th edition of the European Award for Architectural Heritage Intervention AADIPA, will remain open until April 5th, 2019.
This biennial contest organized with the support of the COAC (Architects' Association of Catalonia) and AADIPA (Association of Architects for the Defence and Intervention in Architectural Heritage), aims to distinguish good heritage practice and contribute to its dissemination.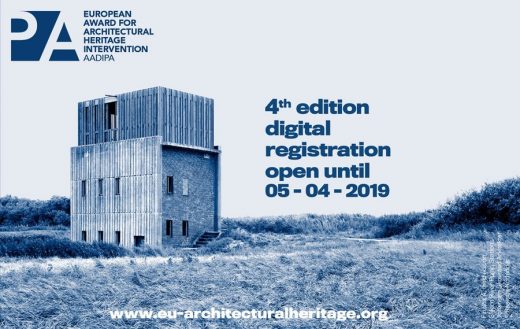 The international jury of the Award which, in its 4th edition, is formed by the architects:
Category A:
Louis Leger, partner of the architecture studio BAST of Toulouse
Marià Castelló from Marià Castelló Architecture based in Formentera
Leticia Soriano from Alea Olea
Category B:
Benoit Moritz, founder of the Belgian firm MSA
Elisabeth Abalo from Abalo Alonso Arquitectos
Elena Albareda from Cíclica
Category C:
Professor in Urban Design and Landscaping at the Polytechnic of Milan, Chiara Nifosi
Javier Gallego, Ph.D. in Architecture from the Universidad Politécnica in Madrid
and Joan Casadevall, director of the architecture project Gabinet del Color
Category D:
Mariana Correia, international consultant for ICOMOS on World Heritage
José Manuel Chacón Bulnes, Ph.D. and Master's degree in the Restoration of Historical Heritage from the UPCT
Anna Ramos, architect and director of the Mies Van der Rohe Foundation in Barcelona
Women in Architecture Awards
Celebrating the best design by female architects from around the world, enter this year's Women in Architecture awards today – entries are free.
Now in its eighth year, the Women in Architecture campaign is an annual survey, a partner programme and a series of events and awards that celebrate the best design by women architects from around the world and promote role models for young women in practice. In partnership with sister title the Architects' Journal, The Architectural Review seeks to change the profession for the better.
The Women in Architecture Awards are a crucial touchstone of the campaign. The awards are cherished by our winners, judges and luncheon guests, who find the celebration a very special occasion. Their reach is considerable, and while it is our winners and shortlisted entrants who make the headlines, all of the nominees are making a real difference within the architectural industry.
Submit your entry
Put forward talented women, or nominate yourself for the following categories: Architect of the Year and the Moira Gemmill Prize.
The deadline for nominations is 3 December and it's free to enter. Winners will be honoured at a gala luncheon on Friday 1 March 2019 in central London.
The Architecture MasterPrize
Recognizing excellence in Architecture, Interior Design and Landscape Design worldwide.
Final Deadline: August 31, 2018
Now in its third year the Architecture MasterPrize stands:
• To advance the appreciation of quality architectural design around the world,
• To celebrate the greatest achievements in architecture, interior design and landscape design,
• To showcase the world-class talent and visionaries in these fields.
Winners are chosen across 41 categories by the jury panel of renowned architects, academics and industry experts based on design excellence and creativity.
Architecture MasterPrize
550 N Larchmont Blvd.
Los Angeles, CA 90004 USA
T :310.659.0122
F: 310.652.7114
Major Architectural Awards
Stirling Prize Architecture Award



picture : Luke Hayes
Six buildings are on the shortlist for the 22nd annual Royal Institute of British Architects (RIBA) Stirling Prize for the UK's best new building.
The bookies favourite is surprisingly (in the sense the architect studio is very well known and the building is quite humble) currently Barrett's Grove, Stoke Newington by relatively little known architects Groupwork + Amin Taha.
World Architecture Festival Awards – WAF Awards



image from architect
The World Architecture Festival (WAF) will return for its tenth edition at the Arena Berlin in Germany from 15-17 November 2017. World Architecture Festival is now the world's largest, annual, international architectural event.
Recent Architectural Awards Added
AR Awards for Emerging Architecture



photo : Philippe Ruault
AR Awards for Emerging Architecture
Now in their 15th year, the AR+D Awards for Emerging Architecture are the world's most popular and prestigious awards for young architects, giving emerging practices invaluable impetus on their trajectory to wider recognition and success. Previous winners of the Awards have included Sou Fujimoto (Japan), Thomas Heatherwick (UK), Sean Godsell (Australia), Jurgen Mayer H. (Germany) and Li Xiaodong (China).
Scottish Design Awards



Scotland Design Awards
The Scottish Design Awards are open to all Architecture & Design companies in Scotland, or those doing work for a Scottish Client. The Awards aim to highlight the best and the brightest stars in the Scottish design industry.
IS Arch Awards



image © designer
IS Arch Awards : winners news
1st Prize
Urban Strategies to Regenerate Indian Public Space: A case study of Pols in Ahmedabad
Author: Almudena Cano Piñeiro
University: Universidad Escuela Técnica Superior de Arquitectura de Madrid (ETSAM)
Country: Spain
Tile of Spain Awards of Architecture-Interior Design



photo © David Frutos
Tile of Spain Awards
There are three categories: Architecture, Interior Design and Degree Project in Architecture. These architecture awards are run by The Spanish Ceramic Tile Manufacturers' Association.
Pritzker Prize



photo © 2012 The Hyatt Foundation
Mies van der Rohe Awards



photograph : Ute Zscharnt
Aga Khan Award for Architecture



photograph : Salah Jabeur
RIBA Gold Medal Award



photograph : Ute Zscharnt
LEAF Awards



photograph from architects
Holcim Awards



ETH-Studio Monte Rosa/Tonatiuh Ambrosetti
Europa Nostra Award



photo © Timothy Soar
MIPIM AR Future Project Awards


image from FD
Brit Insurance Design Awards



photograph © Shu He
Jencks Award



image from architect
RIBA Special Awards



photo : Luke Hayes
Re-Skinning Awards : ZEROprize


image from architects
International Architectural Award List
Ashden Awards for Sustainable Energy
CAE Educational Facility Design Awards
International Architecture Awards – IAA
Praemium Imperiale Architecture Laureate
ThyssenKrupp Elevator Award Dubai
WA Awards : 20+10+X
World Habitat Awards Competition
Design Prizes
Design Museum Design Awards
National Architecture Awards
Architecture Prizes – USA
American Architecture Awards 2008
American Architecture Award Winners
American Institute of Architects Gold Medal
Cooper-Hewitt National Design Awards
Spotlight Rice Design Alliance Prize
Architecture Prizes – Canada
OAA Awards, Canada
Architecture Prizes – Australia
Australia Award for Urban Design
Australian Institute of Architects Awards
Australian Institute of Architects Gold Medal
Architecture Prizes – New Zealand
Canterbury Architecture Awards
Gisborne Hawkes Bay Architecture Awards
Nelson Marlborough Architecture Awards
Waikato Bay of Plenty Architecture Awards
Wellington Architecture Awards
Architecture Prizes – India
Indian Institute of Architects Awards
Architecture Prizes – Europe
Architecture Prizes – Germany
Architecture Prizes – UK
British Construction Industry Award
Prime Minister's Better Public Building Award
Architecture Prizes – Scotland
Architecture Prizes – Ireland
Architecture Prize information welcome at : info(at)e-architect.com
World Architecture Festival Awards WAF 2012



image from architect
Pritzker Architecture Prize 2010 : SANAA, architects win



image © Nick Weall
SANAA are a Japanese architectural firm.
The Scalpel
Design: Kohn Pederson Fox – KPF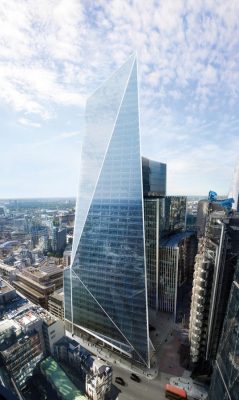 image courtesy of the architects
The Scalpel City of London Skyscraper
Comments for the Architectural Awards News page welcome