International Architecture Awards 2018, IAA Winners, Building, Architect, Registration
International Architecture Awards
IAA Prize: Entry, Categories, Jury, Past Results + Symposium + Exhibition
3 Sep 2020
Winners of International Architecture Awards 2020
14 Sep 2018
International Architecture Awards 2018 Winners
Turkish architects award over 100 new buildings and urban planning projects from 31 nations in this year's international architecture awards:
Winners of International Architecture Awards 2018
9 Apr 2018
International Architecture Awards 2018
International Architecture Awards 2018
After the huge success of previous International Architecture Awards, Architecture Podium is announcing IAA 2018.
Architecture Podium created one of the largest awards in architecture and design with some of the esteemed studios as winners like Aedas, TerreformOne, Rockwell Group, Pepe Gascon Arquitectura, Morphogenesis, Dada & Partners, Nadaaa, XTEN Architecture, Mecanoo, ABIBOO Architecture and many more from across the globe making IAA one of the most successful awards. Entries are invited from professional and students from all around the world.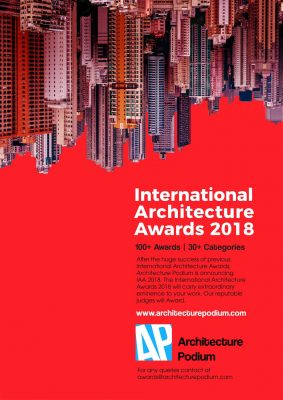 30+ Categories and 100+ Awards
A panel of 25 judges chooses three (3) Winners and Honorable Mentions in each category. The International Architecture Awards 2018 will carry extraordinary eminence to your work.
IAA 2018 Mission
The mission of the IAA Award and Competition is to provide a fair, ethical and competitive platform for architects and designers and innovators from all design fields with different experience levels, diverse disciplines, and market focus to compete on while providing them a global audience to showcase their success and talents to. The International Architecture Award aims to act as blender; to bring together architects, designers, audience and the media.
IAA 2018 Reach
Architecture Podium also communicates the winners to worldwide popular blogs and provides tools for communication to the designers. The designers are also given Winners Logo to put on their websites to indicate the quality of designs.
Schedule:
Registration Begins: 1st Apr 2018
Submission Deadline: 15th July 2018
Winners Announcement: 15th August 2018
Categories:
Commercial | Cultural | Hospitality | Housing | Residence | Institutional Building | Mixed Use | Office Building | Pop-Ups & temporary | Sports & Recreation | Transportation | Landscape Design | Landscape Design | Residential Interior | Commercial Interior | Corporate Interior | Households | Fashion, Lifestyle and Accessories | Interior Design Elements and more.
Fees: Registration is Free for RTF Media Lab Members. If you're not member yet, you can easily join.
Submission Requirements:
 Submissions may contain any or all of the following, i.e. text, diagrams, plans, sections, sketches, photographs, graphics, collage etc, in a combination without restrictions that can convey the visual summary of the design.
 Submission must contain Explanatory Brief (not more than 600 words) in a .doc file.
 Two A1 size sheets (594mm X 841mm), in horizontal format and submitted as digital, colored, high-resolution files, meant for printing in JPEG format needs to be upload at Architecture Podium Website prior to the submission deadline.
 Each submission must contain the 'IAA Registration ID' provided by the Architecture Podium at the time of registration, this ID must be written in the Bold Century Gothic font, 5 mm in height on the bottom left corner of each submission sheet.
 Submission must be free from any kinds of identifying marks, such as and including firm logos, the name of the participant.
 The submissions will ONLY bear the Registration ID, given to an entrant after their successful registration, as a means of identification and any other identifying mark will make the entrant liable for disqualification.
Eligibility:
• Open invitation for 'International Architecture Awards 2018'.
• Entries are invited from all the nations.
• The projects submitted are considered by the author that submits the entry for the Award. Every violation of copyright will be punished with immediate disqualification.
• The works reached out of time will be excluded.
• It is absolutely prohibited the participation to the awards of a Jury member, a relative or a person or body connected professionally to the jury.
Website:
n/a
Architecture Podium
New Delhi, INDIA
www.architecturepodium.com
International Architecture Awards – IAA
International Architecture Awards 2016
International Architecture Awards 2015
NEW YORK ARCHITECTS SELECT PRESTIGIOUS INTERNATIONAL ARCHITECTURE AWARDS FOR 2013
Winning Projects to Be Exhibited at the 14th International Biennial of Architecture Buenos Aires in September
International Architecture Awards 2013
DUBLIN, IRELAND – The Chicago Athenaeum: Museum of Architecture and Design and The European Centre for Architecture Art Design and Urban Studies have selected sixty new buildings, commercial and institutional developments, and urban planning projects from 20 nations for The International Architecture Awards for 2013.
Hundreds of submissions were received for this year's annual Global Awards Program from architecture firms from across Europe, Asia, the Middle East, Australia, and the Americas.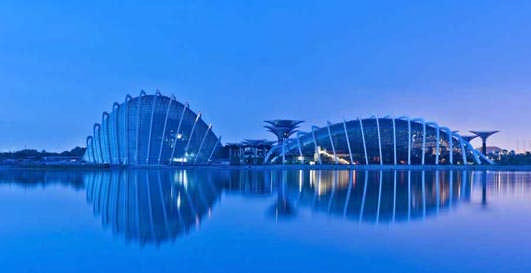 photo © Tan Yew Siong
The program, the most prestigious in the world, honors new skyscrapers, commercial buildings, urban plans, private residences, and real estate projects that achieve a high standard of excellence in design, construction, planning, and sustainability and promote the best practice in all types of real estate development for the private and public sectors, including new skyscrapers, high rises, corporate and institutional buildings, commercial projects, city planning, restorations and adaptive reuse, religious and civic buildings, and interiors.
"From an impressive and visionary array of new submissions, the New York Jury selected 60 outstanding projects, each of which positively impacts its larger community — sometimes modestly, but most often massively," states Christian Narkiewicz-Laine, President, The Chicago Athenaeum.
"The finalists span the globe, from South America to Asia, from North America to Europe, and we are particularly happy to share that diversity. All projects exhibit innovation in design, acute sensitivity to the environment, sustainability, adaptability to their surroundings, and provision of enjoyment to their many users. In one way or another, each finalist wowed the jury, which will make selection of the winners a real challenge."
This year's selected buildings were from 20 nations including: Australia, Burundi, Canada, Finland, France, Germany, Great Britain, Ireland, Japan, Lebanon, Norway, People's Republic of China, The Netherlands, Qatar, Singapore, South Africa, South Korea, Spain, Turkey, Vietnam, and The United States.
International Architecture Awards Winners in 2013
1. NATIONAL TOURIST ROUTE TROLLSTIGEN, Møre og Romsdal, Norway
2012
by Reiulf Ramstad Architects



photo : RRA
Trollstigen National Tourist Route Project
2. HOUSE R, Karlsruhe, Germany
2010
by CHRIST.CHRIST. associated architects
3. OLYMPIC SHOOTING ARENAS, London, Great Britain
2010-12
by Magma Architecture
4. SEGAI RESEARCH SUPPORT SERVICES BUILDING, La Laguna, Spain
2012
by gpy arquitectos
5. EL MALECÓN STADIUM, Cantabria, Spain
2012
by MMIT Arquitectos
6. "PHANTOM" L'OPÉRA RESTAURANT, Paris, France
2011
by Odile Decq Benoit Cornette Architectes Urbanistes
7. LUCKY SHOPHOUSE, Singapore, Republic of Singapore
2012
by CHANG Architects
8. THE HERBERT F. JOHNSON MUSEUM OF ART ADDITION AND ALTERATION—CORNELL UNIVERSITY, Ithaca, New York, USA
2011
by Pei Cobb Freed & Partners Architects LLP
9. WEST KIMBERLEY REGIONAL PRISON, West Kimberley, Derby, WA., Australia
2011
by TAG Architects & Iredale Pedersen Hook Architects
10. RMIT DESIGN HUB, Melbourne, NSW, Australia
2012
by Sean Godsell Architects
11. MASTER PLAN FOR A SUSTAINABLE KIGUTU, Kigutu, Burundi
2012
by Louise Braverman, Architect
12. RAINSCREEN-MEETING HOUSE SQUARE, Dublin, Ireland
2011
by Seán Harrington Architects
13. THE KARATE-DOJO, Tokyo, Japan
2012
by KINO architects
14. KUMON PRIVATE SCHOOL, Japan
2011
by Takashi Yonezawa (HAP+) & Naoki Nomura (Takenaka Corporation)
15. THE HELSINKI WORKERS' HOUSE (PAASITORNI), Paasitorni, Finland
2012
by K2S Architects
16. CHESAPEAKE FINISH LINE TOWER, Oklahoma City, Oklahoma, USA
2011
by Elliott + Associates Architects
17. SELJORD WATCHTOWER, Seljord, Norway
2011
by Rintala Eggertsson Architects



photo : Dag Jenssen
Seljord Watchtower
18. GARDENS BY THE BAY MASTERPLAN, Singapore, Republic of Singapore
2012
by Grant Associates and Wilkinson Eyre Architects



photo © Grants Associates / Robert Such
Singapore Gardens by the Bay
19. KALEIDA HEALTH GATES VASCULAR INSTITUTE AT SUNY BUFFALO AN CLINICAL TRANSLATIONAL RESEARCH CENTER, Buffalo, New York
2012
by Cannon Design



image from Brian Carter
Global Vascular Institute Building
20. DAI LAI CONFERENCE HALL, Vinh Phuc, Vietnam
2012
by Vo Trong Nghia Architects
21. RAVENSWOOD SCHOOL FOR GIRLS, Sydney, Australia
2011
by BVN Donovan Hill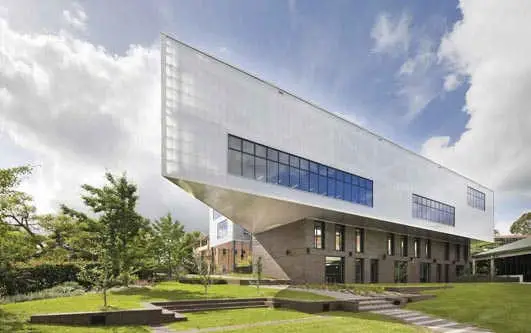 photo : John Gollings
Ravenswood School for Girls
22. THE KINGHORN CANCER CENTRE, Darlinghurst, Sydney, Australia
2012
by BVN Donovan Hill



photo from architects
Kinghorn Cancer Centre
23. THE ROTHSCHILD FOUNDATION, Windmill Hill, Waddesdon Estate, Aylesbury, Great Britain
2011
by Stephen Marshall Architects LLP



photo © Richard Bryant
Rothschild Foundation
24. COOLED CONSERVATORIES GARDENS BY THE BAY Singapore, Republic of Singapore
2012
by Wilkinson Eyre Architects



photos © Darren Soh
Gardens by the Bay Conservatories Singapore
25. OLD BEARHURST RENOVATION AND EXTENSION, Stonehurs, East Sussex, Great Britain
2011
by Duggan Morris Architects
26. GUANGDONG MUSEUM, Guangzhou, China
2010
by Rocco Design Architects



photograph : Almond Chu
Guangdong Museum
27. MY WATERWAY @ PUNGGOL, Singapore, Republic of Singapore
2009-11
by Surbana International Consultants
28. HIRSCHGARTEN SKATE BOWL, Munich, Germany
2010
by realgrün Landschaftsarchitekten
29. MAISON L, Yvelines, France
2004-11
by Christian Pottgiesser- architecturespossibles



photo : George Dupin
maison L Yvelines
30. SOLARKIOSK, Third World Countries
2011
by GRAFT Architects
31. BROOKLYN BOTANIC GARDEN VISITORS CENTER, Brooklyn, New York, USA
2012
by Weiss/Manfredi
32. THE WHARF ROAD, Surfer's Paradise, Australia
2010
by Oppenheim Architecture + Design, LLP.



render : Luxigon
Wharf Road, Surfers Paradise
33. GREENLAND GROUP SUZHOU CENTER, Wujiang, Jiangsu, People's Republic of China
2012
by Skidmore, Owings & Merrill LLP.



image © SOM | MIR
Greenland Group Suzhou Center
34. KRISHNA P. SINGH CENTER FOR NANOTECHNOLOGY, Philadelphia, Pennsylvania, USA, 2008-13
by Weiss/Manfredi
35. INDEMANN, Inden, Germany
2009
by Maurer United Architects [MUA]
36. CENTER CITY BUILDING, Charlotte, North Carolina, USA
2011
by KieranTimberlake
37. PS 234 WALKWAY, New York, New York, USA
2011
by Macrae-Gibson Architects
38. CHARLES DAVID KEELING APARTMENTS, La Jolla, California, USA
2011
by KieranTimberlake
39. GDKP, Istanbul, Turkey
2011
by GAD Architecture
40. EDGAR N. PUTMAN PAVILION, Doylestown, Pennsylvania, USA
2012
by KieranTimberlake
41. GATHERING CIRCLE, Thunder Bay, Ontario, Canada
2011
by Brook McIlroy and Ryan Gorrie



photo : David Whittaker
Prince Arthur's Landing
42. CHONGQING RIVER TOWER, Chongqing, People's Republic of China
2010
by Skidmore, Owings & Merrill LLP.
43. APPLE STORE COVENT GARDEN, London Great Britain
2010
by Bohlin Cywinski Jackson
44. TOWER HOUSE, Upstate, New York, USA
2012
by GLUCK+
45. VAUGHAN CITY HALL, Vaughan, Ontario, Canada
2011
by KPMB – Kuwabara Payne McKenna Blumberg Architects
46. CHATEAU CHEVAL BLANC'S NEW WINERY, Saint Emillion, France
2009
by AECDP Christian de Portzamparc
47. FLYNN MEWS HOUSE, Dublin, Ireland
2011
by Lorcan O'Herlihy Architects and ODOS Architects and Doyle Herman Design Associates
48. TACORONTE MUNICIPAL SWIMMING POOL, Tacoronte, Spain
2011
by gpy arquitectos
49. HOUSE S, Wiesbaden, Germany
2011
by CHRIST.CHRIST. associated architects
50. ST. BARNABAS BROADWAY, St. Barnabas, Broadway Australia
2012
by fjmt (Francis-Jones Morehen Thorp Pty Ltd.)
51. VALLEY CITY, Qatar
2012
by MZ Architects



image from architect
The Valley City
52. GREAT CITY MASTER PLAN, Chengdu, People's Republic of China
2010-11
by Adrian Smith + Gordon Gill Architecture



image © Adrian Smith + Gordon Gill Architecture
Chengdu Tianfu Great City
53. CRONTON COLLIERY DESIGN COMPETITION, Great Britain
2012
by HASSELL



picture from architect
Cronton Colliery Design Competition
54. MAGOK WATERFRONT: INTER-CITY, Seoul, South Korea
2011
by UnitedLAB
55. MASTER PLANNING AND URBAN DESIGN OF WUJIASHAN NEW TOWN, Wuhan, People's Republic of China
2010
by Yinlian Dachi (Beijing) International Engineering
56. AN URBAN DESIGN CONCEPT FOR THE NELSON MANDELA METROPOLITAN UNIVERSITY, Port Elizabeth and George, South Africa
2011
by Piet Louw and Dave Dewar
57. GREAT LAKES VISION PLAN, Chicago, Illinois, USA
2011
by Skidmore, Owings & Merrill LLP.
58. N+ MASTERPLAN, Ningbo, People's Republic of China
2011
by PLP Architecture



image : Vyonyx
N+ Ningbo
59. INTEGRATION AND REDEVELOPMENT OF THREE SCAPES IN ESKIHISAR, Gebze-Kocaeli, Turkey
2011
by DS Architecture
60. CENTRAL LIBRARY FRIEDRICHSHAIN-KREUZBERG, Berlin, Germany
2010
by Peter W. Schmidt Architekt BDA
The International Architecture Awards
The International Architecture Awards, founded ten years ago, is the centerpiece of The Chicago Athenaeum and the European Centre's efforts to identify and promote best practices in all types of architectural development and to bring a global focus to light of the best new designs from around the world. It is the only global program of its kind.
Throughout the program's history, all types of projects have been recognized for their excellence, including office, residential, recreational, urban/mixed-use, industrial/office park, commercial/retail, new community, rehabilitation, private residences, and public projects and programs.
This year's jury consisted of New York architecture professionals: Frederick Bland, Beyer Blinder Belle; David Hess, Pelli Clarke Pelli Architects; Mark Husser, Nicholas Grimshaw & Partners Limited; Audrey Matlock, Audrey Matlock Architects; Yvonne Szeto, Pei Freed Cobb & Partners Architects LLP.; and Christian Uhl, Smith-Miller + Hawkinson.
The elite group of buildings and urban planning projects selected by the jury will be premiered at the 14th International Biennial of Architecture Buenos Aires from September 19 through October 15, 2013 at Centro Cultural Recoleta in Buenos Aires, Argentina.
The exhibition is entitled The City and the World and combines the The International Architecture Awards 2013 with The American Architecture Awards 2013.
After Buenos Aires the exhibition is scheduled to travel in Europe, opening at The European Centre's Contemporary Space Athens in Athens, Greece.
A catalogue, Global Design + Urbanism, accompanies the exhibition published by Metropolitan Arts Press Ltd.
The deadline for the 2014 International Architecture Awards is December 1, 2013.
International Architecture Awards – Past Years
International Architecture Awards 2012
8 – 30 Oct 2011
Centro Cultural Recoleta Buenos Aires, Buenos Aires, Argentina



photo : Klaus Lorke
International Architecture Awards 2011
An exhibition of all 90 awarded International Architecture Awards projects (built and to be built) takes place in a special exhibition "New World Architecture" installed at Centro Cultural Recoleta Buenos Aires during the XIII BA11 International Biennial de Arquitectura in Buenos Aires, Argentina.
International Architecture Awards Winners 2011 – Selected Buildings
LA CITÉ DES AFFAIRES OFFICE BUILDING, Saint Eteinne, France
Architects: Manuelle Gautrand Architecture



photo : Philippe Ruault
Saint-Etienne Office Building
BARIN RESORT, Tehran, Iran
Architects: RYRA



picture from architects
Barin Ski Resort
PODČETRTEK SPORTS HALL, Podčetrtek, Slovenia
Architects: enota



photo : Miran Kambič
Podčetrtek Sports Hall
International Architecture Awards Winner in 2010
xevo EDDI, Japan



photo from Edward Suzuki Associates
xevo EDDI, Japan
Location: Chicago, IL, USA
International Architecture Awards 2009
International Architecture Awards 2008
International Architecture Awards 2007
The Chicago Athenaeum: International Architecture Awards 2009 Winners
European Centre for Architecture Art Design and Urban Studies Contemporary Space Athens in Greece
International Architecture Thesis Awards
Comments / photos for the International Architecture Awards – IAA 2018 page welcome