Housing Design Awards 2018, English Homes, Buildings, Project, UK Property Prize News
Housing Design Awards
UK Residential Architecture Prize: Call for Projects 2018 – Good Sustainable Homes
10 Feb 2018
Housing Design Awards 2018
2018 Housing Design Awards Update
Housing Design Awards: Calling for outstanding projects
Every year the Housing Design Awards are demonstrating best practice in housing design and by doing so effectively establish new standards in what good sustainable housing looks like. Wood for Good are proud to sponsor the awards again in 2018. You can help drive the agenda for building better homes for the future by submitting your scheme or project by 14th March 2018.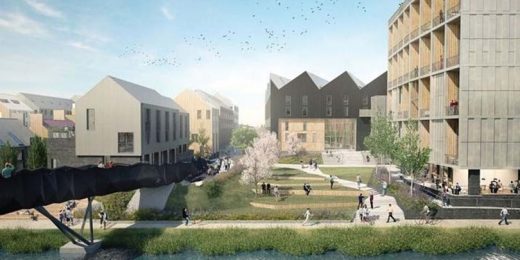 image courtesy of organisers
One of the most robust housing award schemes in the country, the Housing Design Awards are celebrating their 70th birthday this year. An opportunity to point out the uniqueness of this highly acclaimed institution:
·         the only awards promoted by departments of Government and their agencies
·         linking national and local government agencies with all major built environment professions
·         judging panel composed of planners, surveyors, architects and researchers reflects the need for ideas that are both innovative and replicable.
The Housing Design Awards are the only programme to recognise schemes once they have planning approval but before they may be built or occupied. This reflects the awards focus on finding the latest ideas for how to serve a range of emerging markets, such as the Private Rented Sector and the search for liveable higher density.
Some of these schemes will not be published in professional journals for years but their innovation needs to be promoted now…
PREVIOUS WINNERS
The Malings
Housing Design Awards 'Overall Winner' 2016. The Malings is a ground-breaking mixed-use redevelopment located on the banks of the Ouseburn, a small river valley that runs into the River Tyne about a half mile downstream from the city centre. Find out more.
Homemade at Heartlands
Housing Design Awards 'Best Custom Build project' 2016. This is the largest private-sector custom build development in the UK on a former tin mining complex in central Cornwall. Ultimately it will provide 54 custom designed homes. (video on veimoe removed).
Climate Innovation District
Housing Design Awards 'Project Winner- 2017. The Climate Innovation District is a new development on a formerly derelict industrial site in central Leeds. A closed off area to be transformed  into a vibrant community space, totally car free and low-carbon. Find out more.
Holy Trinity Primary School
'London Sustainable Development Commission Award' 2017. Outdoor amenity space was key to integrating housing and a school on a small urban site. Achieved via an innovative double-height open-air play deck separating the school from the housing. Find out more.
Paradise Gardens
Housing Design Awards 'Private Rental Scheme' 2017. Located in the London Borough of Hammersmith and Fulham, Paradise Gardens was built on a patch of derelict land sandwiched between Ravenscourt Park tube station and King Street.Find out more.
Carrowbreck Meadows
'DEFRA Award for rural housing' 2017. This landmark scheme sets new benchmarks for sustainable development, meeting requirements of Passivhaus certification and providing 43% of the site as affordable homes. Find out more.
7 Feb 2014
Housing Design Awards 2014
Housing Design Awards Update
The deadline for entries is 7th March 2014 (midday). The awards ceremony is currently scheduled for July in central London (date, venue and timings tbc).
illustration – photo of Beveridge Mews: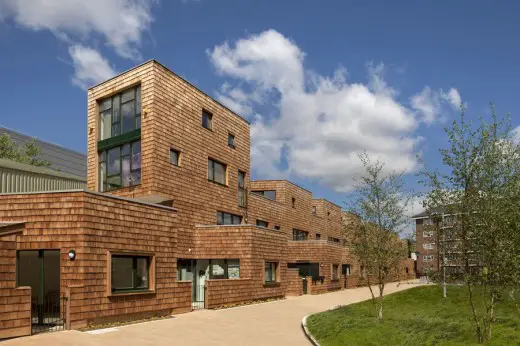 • The Housing Design Awards, highlighted in the Government's Housing Strategy as to how it will champion design and innovation during this Parliament, are back for a 66th year.
• A multidisciplinary team of 16 judges undertakes a desktop review before visiting their shortlist of 30+ schemes, considering everything from a development's build quality to the resident experience to the role of the local authority. Judges include GLA deputy Mayor for housing Rick Blakeway, the president of the RICS Louise Brooke-Smith, and architects David Levitt OBE and Richard Lavington of Maccreanor Lavington.
• This year, for the first time, the awards will recognise innovative design for homes in the private rented sector.Launching the PRS award, Housing Minister Kris Hopkins said: "We are already seeing new schemes being built in Southampton and Manchester, thanks to our £1 billion Build to Rent scheme, and I hope these, and other developments like them, get the recognition they deserve in this new category."
• Entries are made online and scheme details and images are collated in a compendium of entries that is used internally at sponsoring partners, such as the Homes and Communities Agency and the GLA, to track design patterns in schemes built with their grant support or on their land.
30 Jan 2012
Housing Design Awards 2012
Housing Design Awards in England
1 Mar 2012 : deadline for entries
Housing Design Awards, the national programme supported by Government and the industry's key professions and organisations, enters its 64th year with two new Awards partners.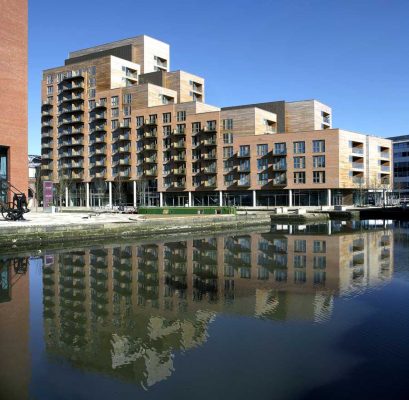 photo : Hufton + Crow
The unique tradition of sending at least 10 judges drawn from planning, surveying, architecture, housebuilding and government to visit shortlisted schemes anywhere in England will be boosted with a judge from each of the Design Council- CABE and the Greater London Authority.
The Mayor's housing adviser Richard Blakeway will help select London's winners with an eye on the Mayor's Housing Design Guide, as well as the 500,000 visitors visiting London for the Olympics. The Awards will publish a special app detailing every scheme entered in London's 33 boroughs, both 'Completed' developments and 'Projects' (those with planning permission but not yet occupied) to promote the best of the capital's new homes.
As before views of residents, planning authorities and local communities living in and around Winning Completed schemes will be filmed for a high-profile Awards ceremony in June. The films are then widely distributed.
The programme, running since 1948, is a coalition of professions, the RICS representing surveyors, RIBA architects and RTPI planners. The trio are allied with the NHBC as the standards-setting body protecting buyers and the Home Builders Federation representing 80% of the supply of new homes.
This industry-led coalition is fully endorsed by the Department for Communities and Local Government, and the Housing Minister the Right Honourable Grant Shapps and supported by the Homes and Communities Agency.
The Awards open for entries from 24 January and closing deadline is 1 March. Full details can be found at www.hdawards.org.
Housing Design Awards 2012 information received 300112
18 Jul 2011
Housing Design Awards Winners in 2011
Completed
Granary Wharf, Leeds, Yorkshire
Careyjones chapmantolcher, CZWG, Allies & Morrison and Isis Regeneration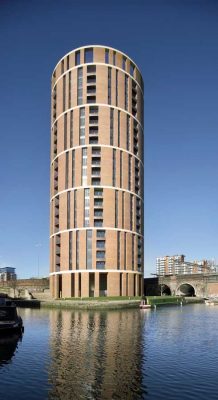 photo : Hufton + Crow
Granary Wharf
St Andrews, Bromley-by-Bow, London
Allies & Morrison, Maccreanor Lavington and Barratt London
Peabody Avenue, Pimlico, London
Haworth Tompkins Architects and Peabody Trust
Trees Extra Care development, Highgate, London
PRP Architects and Hill Homes/One Housing
Arundel Square, Islington, London
Pollard Thomas Edwards and United House
Project
The Guts, New Islington, Manchester
Mae Architects and Great Places Housing Group
Cambridge and Wells Court, South Kilburn
Lifschutz Davidson Sandilands and Brent Council
The Avenue, Saffron Walden, Suffolk
Pollard Thomas Edwards Architects and Hill Residential
Bold as Brick, Preston, Lancashire
RCKa architects and Community Gateway Housing Association
Bank Hall, Lancashire
Riches Hawley Mikhail Architects and Urban Splash
St Bedes, Bedford, Bedfordshire
PRP and Orbit Homes
Portobello Square, Kensington, London
PRP and Catalyst Housing Group
Housing Design Awards 2012 information received 180711
Location:Lindley Hall Farm, Leicestershire, UK
Housing Design Awards : 2009
Granary Wharf Leeds : a 'Completed Award Winner' from 2011 – external link
Major Recent English Housing Developments
Comments / photos for the Housing Design Awards 2018 – UK Residential Architecture Prize page welcome
Housing Design Awards