World Architecture Festival Awards Singapore, WAF, Marina Bay Sands, News, Architects
WAF Awards 2012: World Architecture Festival Singapore
International Architectural Prize
3 Oct 2012
WAF Awards 2012 Opening
World Architecture Festival Singapore
World Architecture Festival opens with largest ever attendance
Over 1800 architects, designers and press from more than 60 countries attend
Event held in Singapore for the first time

The world's largest, live, inclusive and interactive global architecture event, the World Architecture Festival (WAF) has begun in Singapore today. Celebrating its fifth birthday, the three day event is being held at the Moshe Safdie's award-winning Marina Bay Sands. The festival was officially opened by World Architecture Festival Programme Director Paul Finch and Lee Yi Shan, Singapore's Minister of State for Trade and Industry and National Development.
Paul Finch opens WAF:


This year's festival is welcoming more than 1800 attendees from more than 60 countries who will experience an extensive and varied range of conference sessions, seminars, workshops and exhibitions as well as an extensive awards programme. Keynote speeches will be delivered by Moshe Safdie, Olympic cauldron designer Thomas Heatherwick, Austrian architect Wolf D. Prix and Malawi born architect and writer Peter Buchanan.
Paul Finch, WAF Programme Director, said: "It's fantastic to have brought the World Architecture Festival to as exciting a location as Singapore. There's a real sense of energy and activity here, and with more architects, designers and press attending the festival than ever before, we're looking forward to a very lively three days."
WAF 2012 – World Building of the Year design team: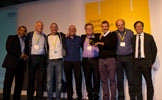 At the core of the festival is the World Architecture Festival Awards, where 300 projects are shortlisted in the world's biggest architectural awards programme. Projects entered this year, against a challenging economic climate, reflect the festival's theme of 'Rethink and Renew', highlighting the need for innovative and creative approaches to existing buildings and areas, and questioning whether it is time for architecture to rethink whether it is fulfilling the role it should, and delivering for those it serves.
The awards programme will culminate with the announcement of the coveted World building of the Year Awards, which will be selected by the festival's super-jury. It will be chaired by Neil Denari, Principal of NMDA (Neil M. Denari Architects Inc). The highly esteemed international judging panel also includes Ben van Berkel, Moshe Safdie, Mok Wei Wei, Jürgen Mayer, Yvonne Farrell and Kenzo Tange.
Gardens by the Bay Conservatories : World Building of the Year Award
Wilkinson Eyre, Grant Associates, Atelier One and Atelier Ten



photo © Grants Associates / Robert Such
World Building of the Year winner : Gardens by the Bay Conservatories Singapore – 5 Oct 2012
WAF Awards Shortlist 2012 : Completed Buildings
WAF Awards 2012 Shortlist : Future Projects
The World Architecture Festival in Singapore – Enric Ruiz Geli of Cloud 9 (Barcelona, last year's WAF winner) states at WAF that architects are the 'number one cause of global warming'. A good point, there is huge responsibility on architects' shoulders, but also on Clients, there have been so many occasions when a Client has demanded a 'sustainable' specification to be revised or a 'sustainable' material to be changed mostly to reduce cost but often to 'fit' the current market expectations…of course one powerful way to remedy this is legislate, so therefore there is also great responsibility on our leaders, from councils to governments plus building regulatory bodies. Legislation is improving, but too slowly. Adrian Welch, Editor.
7 Sep 2012
WAF Awards 2012 Programme
World Architecture Festival Singapore Events
WAF Gala Dinner location announced
The Gala Dinner is your final opportunity to celebrate with fellow WAF delegates, winners, judges and speakers.
The dinner will be taking place at Emerald Pavilion at Siloso Beach, Sentosa Island, Singapore's luscious beach retreat that overlooks the South China Sea.
Tickets for the dinner are $130 per person and include transportation to Sentosa Island and back as well as a four course dinner with wine. Spaces are limited so guarantee your place at this momentous dinner today by booking through the WAF website.
Tuesday 2 October
The Art and Science Museum – 18.30 – 20.00
For the first time ever WAF is partnering with the global PechaKucha network to give you an evening of fast paced presentations, creative inspiration and visual stimulation. The evening will be overseen by the founder of PechaKucha and principal of Klein Dytham Architecture, Mark Dytham.
Wednesday 3 October
Welcome Drinks – Marina Bay Sands – 18.30 – 19.30
Time to toast the first day of the Festival! Join your fellow festival goers, speakers and judges at the opening drinks reception in the WAF Festival Hall.
The WAF Garden Party sponsored by CPG Consultants – Gardens by the Bay – 19.30 – 21.30
Enjoy an ice cold drink while tucked under a silver 'Supertree', as you experience one of Singapore's latest and most spectacular highlights by night. WAF's opening night reception will be truly memorable event that you won't want to miss!
Thursday 4 October
Shortlist Party, sponsored by Figueras – Loof Bar 19.30 – Late
This exclusive reception is a chance for all WAF shortlisted practices and festival judges to meet, and what better place to do so than one of Singapore's coolest rooftop hangouts.
Friday 5 October
Final Awards Ceremony and Reception
18.30 – 20.30 – Marina Bay Sands
WAF 2012 culminates with the official closing ceremony and reception where the winners of Future Project of the Year, Landscape of the Year and World Building of the Year are announced by festival director, Paul Finch. Then see the festival off in style, and perhaps toast your achievements, at the WAF Gala Dinner!
Download the visitor brochure for full information on what is happening at the festival.
3 Aug 2012
WAF Awards News 2012
World Architecture Festival Singapore News
Thomas Heatherwick Confirmed as Latest Keynote Speaker for World Architecture Festival
The organisers of World Architecture Festival (WAF) have announced that Thomas Heatherwick, founder of Heatherwick Studio, is the latest keynote speaker to be confirmed for this year's Festival programme. Heatherwick will join other confirmed keynote speakers, including designer of Habitat 67 and Marina Bay Sands, Moshe Safdie, Austrian architect Wolf D. Prix and Malawi born architect, writer and critic Peter Buchanan.
Seed Cathedral:



picture from Thomas Heatherwick
Heatherwick was most recently responsible for the Olympic Cauldron that took centre stage at London's show stopping opening ceremony. Heatherwick Studio's other work includes the iconic Seed Cathedral: the UK pavilion at the 2010 Shanghai World Expo, the Rolling Bridge in Paddington and London's new red double decker bus.
Festival director Paul Finch commented 'Thomas Heatherwick is much more than the design star of the Olympic opening ceremony. He is an ambassador for design in all its forms, and will bring a world of experience to the Festival.'
Other keynote speakers include Wolf D. Prix, the head of the Architectural Institute at the University of Applied Art in Vienna and founder of the architecture practice Coop Himmelb(l)au. Wolf will discuss the future of architecture as a profession and possibilities for a new strategy. Another presentation will be delivered by designer of the Festival venue, Moshe Safdie. Acclaimed architecture writer, critic, consultant and curator and author of The Big Rethink, Peter Buchanan is also confirmed to take the podium.
Alongside the keynote addresses this year's WAF will include an extensive seminar programme, exhibitions, live award presentations and the prestigious awards ceremony.
World Architecture Festival Keynote Speaker : Thomas Heatherwick
29 + 14 Jun 2012
WAF Awards Singapore 2012
World Architecture Festival Singapore
WAF entries closed on the 30 Jun
Moshe Safdie, Peter Buchanan, William Lim and many more confirmed to speak at WAF 2012.
e-architect will once again be media partners for the WAF Awards. We will also be operating architecture walking tours of the city throughout the festival event.
WAF 2012 is bigger and better than ever before.
The World Architecture Festival takes place in Singapore from 3 – 5 Oct 2012.
17 Apr 2012
WAF Awards 2012
World Architecture Festival sets sail for Singapore
New venue as Festival returns for fifth successive year
The World Architecture Festival (WAF), the world's largest, live, inclusive and interactive global architecture event, is returning for its fifth successive year. To celebrate this milestone, and to signal the evolution of the Festival as the world's leading architectural event, this year's Festival will be held in a new destination, taking place in Singapore from 3rd to 5th October 2012. Entries to the World Architecture Festival Awards open on May 1st.
Featuring an eclectic mix of architectural styles, from British colonial civic buildings to Art Deco office blocks, Singapore has a rich architectural heritage which it is recognising to an ever greater extent. Through the President's Design Awards with its multiple international juries, and through the Lee Kuan Yew World City Prize now in its third iteration, Singapore has demonstrated a real belief in the power of design to transform people and places for the better and as country which has a real interest in design quality in many fields. This year's World Architecture Festival will be held at the spectacular Marina Bay Sands resort, designed by Moshe Safdie, itself a WAF Award winner in 2010.
The World Architecture Festival will include a comprehensive programme of presentations, seminars, exhibitions, and keynote addresses from international participants. The WAF Awards, the largest architectural awards programme in the world, will again be a focal point of the World Architecture Festival. Previous entrants have ranged from renowned global architectural firms to small local practices. All entrants go head-to-head as equals in presenting their designs on a global stage. The interactive format involves shortlisted entrants presenting their projects live to international judging panels and World Architecture Festival delegates.
The World Architecture Festival Singapore organisers, i2i Events Group, have today unveiled a jury comprising of a selection of the world's leading architects and designers, who will decide which projects will be rewarded with a WAF yellow W trophy live at the World Architecture Festival.
This year's WAF jury includes Ben van Berkel, UNStudio; Juergen Mayer H., J. Mayer H Architecture Design Research; Mok Wei Wei, W Architects; Kongjian Yu, Turenscape; Marcio Kogan, Studio MK27; Kerry Hill, Kerry Hill Architects; Tang Guan Bee, Tangguanbee Architects; Edouard Francois, Maison d'Architecture Edouard Francois; Ivan Harbour, Rogers Stirk Harbour + Partners; Ole Scheeren, Buro Ole Scheeren; Richard Hassell and Wong Mun Summ, WOHA and Sanjay Puri, Sanjay Puri Architects.
Paul Finch, WAF Programme Director said: "Since our inaugural Festival in 2008, WAF has evolved into a truly global event, annually attracting thousands of architects and designers from across the world. Following four fantastic years in Barcelona we feel the time is right to move the World Architecture Festival to a new location, and where better to celebrate our fifth birthday than at Moshe Safdie's award-winning Marina Bay Sands in Singapore.
"The World Architecture Festival represents an exclusive forum for the architectural community to showcase projects, debate and discuss current trends and learn from some of the world's most inspirational designers.
"This year's jury features some of the industry's leading minds and most-respected thinkers, who are each individually at the very forefront of their respective fields. We're looking forward to seeing the quality of this panel matched by the creativity and ingenuity of the projects that they will be judging."
World Architecture Festival information: www.worldarchitecturefestival.com
WAF Building of the Year 2011 : Media-TIC



image from architect
Marina Bay Sands
Desgn: Moshe Safdie and Associates with Aedas



photo : Timothy Hursley
Marina Bay Sands
Singapore Architecture Designs



picture from TM
Location: Marina Bay Sands, Singapore
WAF Awards 2011
WAF Awards 2011 – Part 1a
World Architecture Festival Awards 2011 1a – Built Projects Shortlist Part A



photograph : Timothy Hursley
WAF Awards 2011 – Part 1b
WAF Awards Shortlist 2011 Part 1b – Built Projects Shortlist Part B



photograph © Hufton+Crow
WAF Awards 2011 – Part 2
WAF Awards Shortlist 2011 Part 2 – Future Projects Shortlist



image from architect
Singapore Building Photos : images of recent buildings



photo © Tom Ravenscroft
World Architecture Festival Awards 2010
WAF Award Part 1a
World Architecture Festival Awards 2010 1a – Built Projects Shortlist Part A
WAF Award Part 1b
WAF Awards Shortlist 2010 Part 1b – Built Projects Shortlist Part B
WAF Award Part 2
WAF Awards Shortlist 2010 Part 2 – Future Projects Shortlist
WWorld Architecture Festival Awards 2009
WAF Awards Shortlist 2009 Part 1
WAF Awards Shortlist 2009 Part 2
World Architecture Festival Awards


World Architecture
Comments / photos for the World Architecture Festival Awards 2012 page welcome
WAF 2012 – Website: www.worldarchitecturefestival.com