Holcim Awards 2023, Architects Contest, Sustainable Building Design Projects, Jury News, Past Winners
Holcim Awards : Architecture Competition
International Architectural Competition
10 February 2023
Holcim Foundation Awards 2023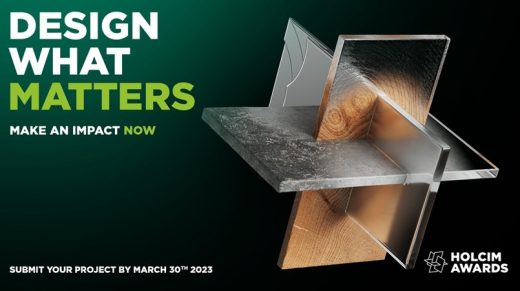 image from International Holcim Awards
Holcim Awards 2023
We're delighted to announce that the Holcim Awards submission platform is now open. You can enter the competition until March 30, 2023 at 14:00hrs UTC.
With a total prize pool of USD 1 million, the Holcim Foundation for Sustainable Construction conducts the global competition to reward and shed light on real-world examples in practice that can accelerate the global movement for sustainable design.
Entering the competition is FREE and easy in 3 steps:
1. Register an account at holcimawards.org
2. Create a project entry or join an existing project that you have been invited to
3. Fill in the project summary, add sustainability details, upload images and submit your entry.
Holcim Awards 2023 – Chairs of Juries announced
Tatiana Bilbao, Craig Dykers, Lesley Lokko, Manit Rastogi, and Belinda Tato will chair the juries which will select the winners across five geographic regions. See the full list of jury members.
Tatiana Bilbao
Founder, Tatiana Bilbao ESTUDIO
Latin America
Craig Dykers
Founding Partner,
Snøhetta
North America
Lesley Lokko,
Founder, African Futures Institute
Middle East Africa
Manit Rastogi
Founding Partner, Morphogenesis
Asia Pacific
Find out how to enter the competition at holcimfoundation.org/awards-2023.
We encourage you to participate in the competition and share this announcement across your network.
Previously on e-architect:
4 Apr 2017
LafargeHolcim Awards Competition
1 Feb 2014 + 18 Nov + 29 + 25 Oct 2013
Holcim Foundation Awards 2013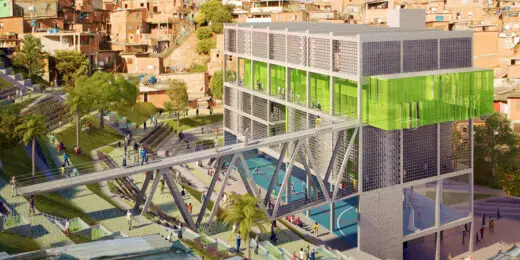 image from International Holcim Awards
International Holcim Awards
4th International Holcim Awards for Sustainable Construction: The 4th International Holcim Awards competition celebrates projects and visions that contribute to a more sustainable built environment and features total prize money of USD 2 million. The competition is open for projects in architecture, building and civil engineering, landscape and urban design, materials, products and construction technologies. The competition has two categories and is conducted in parallel as five separate regional competitions.
"Next Generation" category
The Next Generation category is open to visionary projects and bold ideas of young professionals and students. All authors must be between 18 and 30 years of age. Execution of the project may not have started before July 1, 2013
Main category
The Main category is open for projects which have reached an advanced stage of design and have a high probability of execution. Execution of the project may not have started before July 1, 2013 and all authors must be at least 18 years of age.
Submission
All entries must be made in English and online at www.holcimawards.org. Deadline is March 24, 2014 at 14:00h GMT. Further information about the evaluation criteria, the 5 target issues for sustainable construction, are available at www.holcimfoundation.org/target.
4th International Holcim Awards for Sustainable Construction information from Holcim Foundation
2 Apr 2012
Holcim Awards Competition
Holcim Foundation Awards 2012
Integrated solutions in Burkina Faso, Brazil and Germany win top awards in sustainable construction
Pinnacle of third USD 2 million Global Holcim Awards competition
A school project in Gando, Burkina Faso, a multifunctional community center in São Paulo, Brazil, and an urban renewal plan in Berlin, Germany are the winners of the Global Holcim Awards for 2012. These leading sustainable construction projects were selected from 15 finalist submissions by a jury of independent experts led by Enrique Norten. The finalists were the regional Holcim Awards 2011 winning projects that had been selected from more than 6,000 entries in 146 countries.
All 53 prize-winning projects at the regional level also competed for further prizes based on their contributions to sustainable construction through innovative building materials and construction technologies. The Global Holcim Innovation prizes conferred by a jury of materials and industry experts led by Harry Gugger went to projects in Switzerland, Germany and the United Kingdom.
"Outstanding environment" – Gold for a school in Burkina Faso
A secondary school project in Burkina Faso that integrates social and environmental performance won the top prize of USD 200,000. The design for the school in the village of Gando was created by Diébédo Francis Kéré of Kéré Architecture in Berlin. Passive cooling during oppressive summer heat creates an indoor climate conducive to learning by routing air through subterranean tubes, planting vegetation, stack-effect air currents, and using double-skin roofs and façades. The project also improves social conditions by providing jobs and training, and restores the environment through reforestation.
Principal and Founder of TEN Arquitectos (Mexico/USA) and head of the jury, Enrique Norten, applauded the Global Holcim Awards Gold 2012 winning project for its successful approach to community development, climatic mitigation and aesthetics. "This beautiful school is not only an elegant design solution, but it also delivers training and employment, uses local building materials, and – with simple means – creates an outstanding environment from a social viewpoint and also in constructive terms," he said.
"Opportunities for the community" – Silver for a multifunctional community center in Brazil
The Global Holcim Awards Silver was awarded to a project that transforms an eroded landscape into a productive zone and dynamic public space. With about 100,000 inhabitants, the Paraisópolis favela in São Paulo is one of the world's largest informal communities. The project led by architects Alfredo Brillembourg and Hubert Klumpner of Urban-Think Tank, Brazil, includes a terraced public space with areas for urban agriculture, a water management system, a public amphitheater, a music school, a small concert hall, sports facilities, public spaces and transport infrastructure. It prevents further erosion and dangerous mudslides on the steep slopes and provides social and cultural infrastructure.
Enrique Norten praised the project for its unifying concept, premium cultural facilities, architectural quality, and integrated involvement of the local community in a socially-inclusive planning and management approach. "This important intervention has the capacity to provide satisfaction and opportunities for the local community that creates both connectivity and the construction in a viable way," he said.
"Celebrating urban living" – Bronze for the "Flussbad" project in Germany
An urban plan for transforming an under-utilized arm of the River Spree in Berlin into a natural 745m-long "swimming pool" won the Global Holcim Awards Bronze 2012. The Flussbad project in the heart of the historic city creates a swimming zone equivalent to 17 Olympic-sized pools, and provides a public urban recreation space for both residents and tourists adjacent to the Museuminsel. The project which includes a 1.8ha reed bed natural reserve with sub-surface sand bed filters to purify the water was developed by a team led by architects Jan and Tim Edler of realities united, Germany.
Enrique Norten explained that the project creates a direct and strong impact on the quality of urban life and positive ecological contribution through remediation of the city's waterways. "The project celebrates urban living in one of the world's greatest cities, and also honors the city's connection to its waterways," he said.
Holcim Awards 2012 : further information
Additional prizes for materials and technology breakthroughs
Global Holcim Innovation prizes of USD 150,000 in total were allocated by a separate jury and conferred for the first time. These prizes focus upon contributions to innovative building materials and construction technologies in the context of sustainable construction. This additional recognition of projects submitted in the Holcim Awards reflects the increasing emphasis on driving and fostering innovative new solutions by Holcim, the sponsor of the competition.
The Holcim Innovation 1st prize 2012 went to Gramazio & Kohler, Architektur und Digitale Fabrikation at the Swiss Federal Institute of Technology (ETH Zurich), for a construction technology using molds that combine existing processes and materials in a new way to fabricate cast-on-site concrete structures with reusable and digitally-fabricated wax formwork. This approach saves material and energy compared to traditional molds, such as expanded polystyrene blocks for single-use applications or flexed sheets of material which are limited to low curvatures. Principal of Harry Gugger Studio (Switzerland) and head of the Innovation prize jury, Harry Gugger, acclaimed the project as an advance in the use of molding for complex forms. "Until now, complex concrete forms have required molds that are difficult to build and created a great deal of waste – but this approach eliminates both of these challenges," he said.
The Holcim Innovation 2nd prize was presented to a collaborative project by German Barkow Leibinger Architects, Schlaich Bergermann und Partner, Technische Hochschule Berlin (TU Berlin) and Transsolar Energietechnik. Their low-cost apartments project in Hamburg uses innovative techniques and materials including prefabricated lightweight-concrete elements with recycled foamed glass as an internal aggregate. The monolithic structures are simple and lightweight, but remain formally complex and ambitious in delivering aesthetic impact.
A team of four students from the AA School of Architecture in London, UK, won the Holcim Innovation 3rd prize for their research project on an efficient cast concrete fabrication system for geometrically complex building elements. This approach considers simultaneously the design of free and ambitious shapes, as well as the material efficiency and economic performance of the construction process.
International competition for projects in sustainable construction
The Holcim Awards for Sustainable Construction competition seeks innovative, future-oriented and tangible construction projects to promote sustainable responses to the technological, environmental, socioeconomic and cultural issues affecting building and construction on a local, regional and global level. To compare the diverse submissions, the juries use the "target issues" for sustainable construction which address the triple bottom line of environmental performance, social responsibility and economic efficiency and also cover architectural quality and the suitability for broad-scale application and multiplication of the project's features. The competition has been run by the Swiss-based Holcim Foundation since 2004, offers USD 2 million in prize money per three-year cycle, and is supported by Holcim Ltd and its Group companies in more than 70 countries.
Holcim Awards Competition winners information from Holcim Foundation
Holcim Foundation Awards : winners from 2011
Location: Zurich, Switzerland
Architecture Awards
World Architecture Festival Awards



photo : Roland Halbe
Europa Nostra Award



photos © Timothy Soar
Pritzker Prize architects



image © Nick Weall
Comments / photos for the Holcim Awards Competition page welcome
Website: Holcim