World Architecture Festival Awards 2013, Entry, Buildings, News, Architects, Deadline
WAF Awards : World Architecture Festival
WAF 2013 Buildings & Architects: International Architectural Prize Winners
3 Jun 2013
Entries pouring in for World Architecture Festival Awards 2013
3 June 2013 – A week left to submit your entry for the chance to be awarded the world's best new building.
WAF Awards 2013
With the deadline fast approaching on 10 June, entries are pouring in for the world's largest live and truly global architectural awards programme – the World Architecture Festival (WAF) Awards, which take place in Singapore from 2 – 4 October 2013.


image from WAF
The festival's organiser's, i2i Events Group, have already seen projects submitted from as far afield as New Zealand and Denmark, via Mexico and Azerbaijan.
The geographic spread of entries is further complemented by the variety of projects, from a Botanical Garden Visitor Centre in New York to a Community Centre for Youth Support in Belgium via a 'Tent House' in New Zealand. Entries from several emerging markets are already up substantially this year, with projects from Malaysia (up 300%), Vietnam (up 40%) and Mexico (up 33%) when compared to last year, reflecting the construction surge in these locations.
The organisers have also received entries from several countries that were absent from last year's festival awards, including Azerbaijan and the Dominican Republic. Despite the depressed construction sectors in several established European economies, a significant increase in entries has been seen in Germany and the Netherlands, with entries of projects in Italy up 600%.
Cooled Conservatories at Gardens by the Bay in Singapore (World Building of the Year 2012):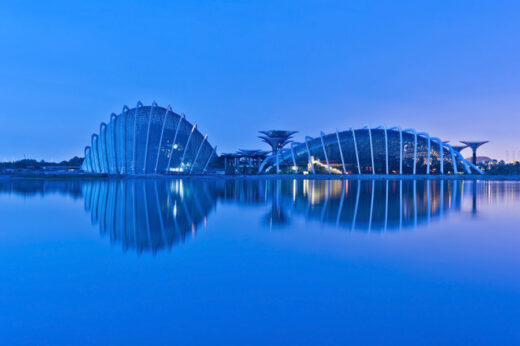 image from WAF
Paul Finch, WAF Programme Director said: "As the World Architecture Festival continues to grow in scale, scope and stature, so too does the quality of award entries we receive. The truly global nature of the festival is reflected by the huge number of project countries, which demonstrate the demand for innovative architectural design across the world despite the continued economic uncertainty. With the deadline fast approaching, we're calling on all practices to get their entries in so that they are in contention for winning one of the most coveted prizes in architecture – The World Building of the Year award."
The WAF awards are renowned for their highly innovative format which allows a range of entrants, from leading global architectural firms to small practices, to compete as equals on a global stage. All shortlisted entrants present their work live to WAF's esteemed panel of international judges in over 300 public crits. Entries have already been received from practices including Weiss/Manfredi Architects, WOHA, Ronald Lu and Partners, Eight Inc., Turenscape and Nikken Sekkei.
The World Architecture Festival (WAF), the world's largest, live, inclusive and interactive global architecture event, is returning for its sixth successive year. Building on last year's successful relocation from Barcelona to Singapore, the festival will once again be taking place at the spectacular Marina Bay Sands resort. The festival is being held in association with Singapore Institute of Architects (SIA)'s month long celebration of architecture, Archifest.
The WAF Awards sit at the heart of the festival, and will see practices from around the world compete across 29 individual award categories for global recognition. Competing across three category groups of completed buildings, landscape projects and future projects, previous WAF Award entrants have ranged from renowned global architectural firms to small local practices.
Architects of every shortlisted project are invited to attend the festival to give a live presentation to a panel of judges, asserting their case for why their project should win. The winners of each category are put forward to compete for the coveted World Building of the Year award, presided over by the festival's 'super-jury', with the presentation of the award being the culmination of WAF 2013.
World Architecture Festival is collocated with INSIDE World Festival of Interiors www.insidefestival.com. INSIDE celebrates the world's finest interiors of the last year and also has at its heart a live international awards programme. The entries deadline for the INSIDE Festival Awards is also 10 June.
World Architecture Festival Awards 2013 – external link
WAF Awards Entries 2013
World Architecture Festival Awards 2013
WAF entries are now open until the 10th June 2013. You now have an extra two weeks to submit your projects and be in the running to become a WAF awards finalist or award winner, meaning global industry recognition.
Here's a quick reminder of how the WAF awards could provide an unparalleled return for you and your practice:
• Only at WAF are you present when your work is judged. All shortlisted entrants present to and receive live feedback from WAF's esteemed international jurors
• Every single entry is exhibited in our awards gallery and listed in the official event guide, to be viewed by more than 2,000 visitors from over 65 countries
• Finalists and winners will be listed on the websites of WAF's media partners, which include The Architectural Review, Dezeen and ArchDaily. All entries receive permanent listing on worldbuildingsdirectory.com, the definiteive global architecture archive
• The WAF awards generate 6,000 news articles internationally. Coverage in 2012 included presence on BBC Worldwide, CNN, Sky News, The Daily Telegraph and The Straits Times
• All category and overall Winners will be invited to judge at WAF 2014, hence established as international design thought leaders.
Entering WAF is a small time commitment that could propel you into the ranks of the architectural elite, including Zaha Hadid Architects, Snøhetta, Isay Weinfeld, Turenscape and Foster + Partners.
WAF is your passport to the global architecture community, make sure you submit your entries by Monday 10th June to be a part of it.
World Architecture Festival Awards
WAF Awards 2012
World Building of the Year Award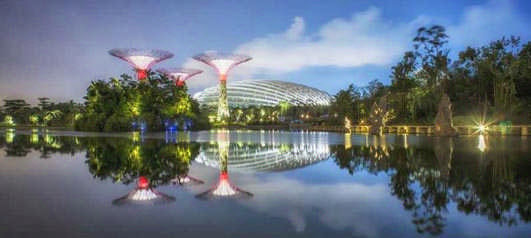 photo : Darren Chin
World Building of the Year winner : Gardens by the Bay Conservatories Singapore
Cooled Conservatories at Gardens by the Bay in Singapore, designed by Wilkinson Eyre, Grant Associates, Atelier One and Atelier Ten.


image from WAF
World Architecture Festival Awards 2012 buildings news
WAF Awards 2011
Media-TIC in Barcelona wins World Building of the Year 2011 at World Architecture Festival Awards



image from architect
Media-TIC : World Building of the Year 2011
e-architect at the WAF Awards 2011:



photo © 1:100
World Building of the Year 2010
WAF Awards Overall winner – MAXXI, Rome
Zaha Hadid Architects



photo : Roland Halbe
MAXXI Rome by Zaha Hadid
World Building of the Year 2009
Mapungubwe Interpretation Centre, South Africa
Peter Rich Architects
WAF Building of the Year 2009
World Building of the Year 2008
Universita Luigi Bocconi, Italy
Grafton Architects
WAF Building of the Year 2008
Comments / photos for the World Architecture Festival Awards page welcome
WAF – Website: www.worldarchitecturefestival.com