2016 Steedman Fellowship, Architect, American Architecture Prize, US Built Environment Images
Steedman Fellowship 2016
Sam Fox School, Washington University – Built Environment Award USA
Jun 7, 2016
Sam Fox School announces 2016 James Harrison Steedman Fellowship in Architecture
Steedman Fellowship in Architecture International Design Competition 2016
Sam Fox School, AIA St. Louis announce 2016 Steedman Fellowship
$50,000 fellowship for emerging architects among nation's largest
A hand-drawn map by Arthur Gallion, who won the first Steedman Fellowship in 1926: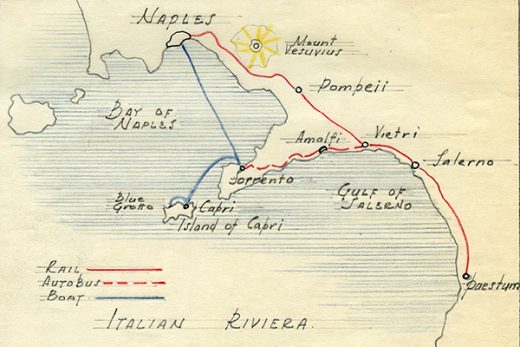 June 7th, 2016 – In the natural world, adaptation is a competitive advantage. Yet the built environment is frequently characterized by rigid typologies and inflexible designs. How can buildings keep pace with changing cultures and contexts?
In "Adaptation," the 2016 James Harrison Steedman Fellowship in Architecture call for research proposals, early-career architects are challenged to explore how flexibility and adaptive response might be better incorporated into the design process. The winning proposal will receive $50,000 to support up to a year of international travel and research.
"The theme is meant as a provocation," said Steedman Governing Committee member Patty Heyda, assistant professor of architecture in the Sam Fox School of Design & Visual Arts at Washington University in St. Louis, which organizes the fellowship in concert with AIA St. Louis.
"It's a way of helping to frame proposals, but also can be broadly applied," Heyda said. "Accessibility, sustainability, building technology, historic preservation, climate change, social and demographic tensions — these are all areas that can be examined through the lens of adaptation, as well as concerns that are relevant in St. Louis and globally."
Established in 1926, the biennial Steedman Fellowship is one of the oldest and most prestigious architectural awards in the United States. Seeking to promote both creative design thinking and cross-cultural exchange, the fellowship is open to practicing architects worldwide — not just those affiliated with the Sam Fox School — who have received an accredited degree in architecture within the last eight years.
"Part of being an architect is seeking to understand the relationship between the work one produces as a design professional and its impact on greater issues facing society," said committee member David Polzin, design principal of CannonDesign, St. Louis. "The Steedman Fellowship gives emerging professionals the time and space to formulate an in-depth response to a particular thematic concern. It allows them to research a question out in the world; the promise of the Steedman is that the answer will have a meaningful and significant impact on our community and beyond."
Application materials will include a portfolio, research proposal, budget and timeframe. Fellows must be able to complete their projects within 18 months of receiving the award, and must be available afterward to share their research with the Washington University and St. Louis AIA architectural communities.
The jury is chaired by Mason White — a founding co-principal (with Lola Sheppard) of Lateral Office in Toronto — who developed this year's theme. The full jury will be announced later this summer. Proposals are due Nov. 1.
For more information or to register, visit Steedman Fellowship
Previously on e-architect:
Apr 7, 2008
Sam Fox School announces winner of 2008 Steedman Fellowship
Washington University announces winner of 2008 Steedman architecture competition
2008 Winner : Sam Fox School, Washington University – Award
Jury included Lawrence Scarpa, Peter Davey, Ken Yeang

Steedman Fellowship in Architecture International Design Competition
International Design Competition focused on adaptive reuse along Mississippi riverfront
April 7, 2008 — New York architect Nikole Renee Bouchard has won Washington University's 2008 Steedman Fellowship in Architecture International Design Competition.
The biennial competition — sponsored by the Sam Fox School of Design & Visual Arts' College of Architecture and Graduate School of Architecture & Urban Design — is open to young architects from around the world and carries a $30,000 first place award to support study and research abroad — the largest such award in the United States.
Bouchard, who received a Bachelor of Architecture degree from Cornell University in 2006, was chosen from a field of 197 registrants and 49 submissions representing Australia, Britain, Canada, China, Germany, India, Singapore and the United States. She currently works for Steven Holl Architects in New York.
"The Steedman is one of the oldest and most widely known competitions for young architects in the United States," says Bruce Lindsey, the E. Desmond Lee Professor for Community Collaboration and dean of Architecture. "This year's site was an historic St. Louis district that has come under increasing pressure for redevelopment. The results show a wide range of possibilities for bringing new life to older buildings."
The competition centered on the former St. Louis Cold Storage Company, an abandoned 100,000-square-foot industrial building located along the Mississippi riverfront, just north of downtown and Eero Saarinen's Gateway Arch. Architects were charged with creating environmentally sensitive adaptive reuse strategies for the structure, which was built in 1901. Most buildings in the area reflect St. Louis' industrial past, specifically power generation and cold storage for the river and railroad commerce of the early 20th century.
"There is a need for a program that activates the landscape and engages the public — people of all ages, social statuses and interests," notes Bouchard of her winning proposal, titled "In Situ Sensibility: Seeding the Future Growth of St. Louis." She points out that the area "is one of very few in the city which does not currently have a public greenspace."
Bouchard's design would reinvent the site as a center for urban agriculture. A network of hills, valleys, fields and tributaries would transform the grounds surrounding the Cold Storage Company. The building itself would take cues from the natural topography to "create spaces that are both dark and intimate (like the surrounding landscape's submerged caves) as well as expansive and open (like the region's rolling prairie)."
Historic northern, eastern and western facades would remain untouched, aside from reopening a series of existing apertures, which are currently boarded-up. A large open space flowing from the southern façade would serve as an indoor/outdoor market as well as a venue for summer film screenings and other public functions. Additional components include classrooms and offices; an area for composting; and a green roofscape that would house gardens, collect rainwater and provide spectacular views of St. Louis and the Mississippi River. A nearby abandoned train depot would become a parking facility.
In addition to Bouchard, three entrants received honorable mentions:
Maria Eva Contesti, Seattle. Constesti, a native of Argentina, earned a Professional Degree in architecture from the Universidad Nacional de Rosario in 2003 and a Master of Environmental Planning degree from the Universidad de Buenos Aires in 2004. In 2007 she received a Master of Architecture degree from Washington University and also won the Best Degree Project Prize for the class of 2007. She is currently a staff architect with ZGF Architects in Seattle.
John Bruenning, St. Louis. Bruenning earned a Bachelor of Science degree in Architecture from Southern Illinois University at Carbondale B.S in 2001, and a Master of Architecture from Washington University in 2004. He currently works at AAIC, a St. Louis architecture firm.
Sabina Santovetti, Rome. Santovetti received a Master of Architecture degree from Washington University in 2005 and previously earned a Master's in industrial design from the Pratt Institute in New York; a Master's and Doctorate in art history and archeology from the Sorbonne University in Paris; and a degree in literature and philosophy from the University of Rome. She is currently a cofounder of the firm SANTOVETTI + NARDINI: Architecture & Design in Rome.
Winners were selected by blind jury. Lawrence Scarpa, visiting professor of architecture and principal of Pugh + Scarpa in Santa Monica, served as jury chair. Other jurors included Peter Davey, former editor of The Architectural Review in London; architect/urbanist Hashim Sarkis, who has offices in Beirut and Cambridge, Mass.; Nader Tehrani, a partner at Office dA in Boston; Ken Yeang, principal of Hamzah & Yeang Architects in Malaysia; and author/theorist Wilfried Wang, co-founder of Hoidn Wang Architects in Berlin.
Granted since 1925, The Steedman Fellowship is supported by an endowment — given to the Sam Fox School's College of Architecture and Graduate School of Architecture & Urban Design — in honor of James Harrison Steedman, who received a degree in mechanical engineering from Washington University in 1889. The memorial was established by Steedman's widow, Mrs. Alexander Weddel, and Steedman's brother, George.
Information from News Office of Washington University in St. Louis 080407
Location: Washington D.C, USA
Architecture Awards
Architecture Awards – chronological list
Architecture Awards – alphabetical list
Pritzker Prize



photo © 2012 The Hyatt Foundation
Mies van der Rohe Awards



photograph : Ute Zscharnt
Aga Khan Award for Architecture



photograph : Salah Jabeur
World Architecture Festival Awards



image from architect
AR Awards for Emerging Architecture



photo : Philippe Ruault
Stirling Prize



picture : Luke Hayes
LEAF Awards



photograph from architects
Architecture Prizes – USA Selection
American Architecture Award Winners
American Institute of Architects Gold Medal
American Institute of Architects Gold Medal
Cooper-Hewitt National Design Awards
American Architecture Awards 2008
Spotlight Rice Design Alliance Prize
American Architecture
American Architecture Links – chronological list
Comments / photos for the Steedman Fellowship Architects page welcome
Steedman Fellowship Information: www.steedmancompetition.com