2020 Scottish Design Awards Jury, Nominations, Scotland Buildings, Architects, Past Results
Scottish Design Awards 2020
Architectural Prize in Glasgow, Scotland, UK – Judges News
10 Mar 2020
Scottish Design Awards 2020 Judges
Judges line up for 2020 Scottish Design Awards
The judging panels for the 2020 Scottish Design Awards have been confirmed with a mix of figures from industry and academia coming together to celebrate the nation's best new work.
Urban Realm editor John Glenday said: "We are delighted to welcome such a diverse range of judges to our team this year, each of whom will bring their perspective on what differentiates the good and the great from the truly exceptional.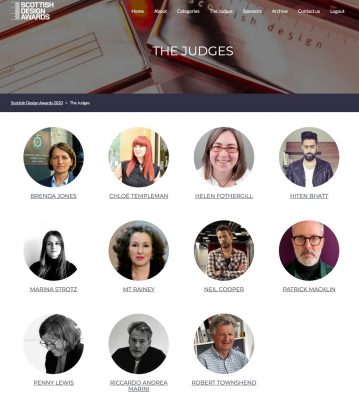 photo courtesy of SDA 2020
"Together we will comb the country for the finest examples of class-leading projects from interior design to moving imagery in a dizzying demonstration of the strength and breadth of delivered work."
Among this year's architecture judges are Marina Strotz, president of Birmingham Architectural Association and Brenda Jones, national chairman of Women in property, who will take their place alongside Dr Penny Lewis, architecture programme leader at the University of Dundee; Riccardo Marini, founder of Marini Urbanismo, Patrick Macklin, head of the interior design department at Glasgow School of Art and Robert Townshend of Townshend Landscape Architects.
On the design side arrives Chloe Templeman, creative director at Design Bridge; MT Rainey OBE, director of Charlotte Street Partners, Hays and Clearchannel and Neil Cooper, the chief design officer at Brilliant Basics. They are joined by Helen Fothergill, head of collections for Aberdeen City Art Gallery and Museum; Hiten Bhatt, creative director at Design Rapp.
Open to all architects, engineers, graphic, interior and digital designers who have delivered class-leading work the awards serve as a unifying force and a champion of best practice, sustainability and innovation.
An entry deadline has been set for 24 April ahead of an awards ceremony to be held on 20 August.
Scottish Design Awards 2016 – winners news, 26 May 2016
28 May 2014
Scottish Design Awards 2014
Scottish Design Awards in Glasgow
Tickets and tables are available to book for the Scottish Design Awards 2014. We will reveal the winners and commendations at our black tie dinner 5th June Radissson Blu Hotel, Glasgow. Why not come along and support your fellow agencies and architects and see what the Industry has to offer?
Check out our nominees – come along to the ceremony and see who takes the top accolades…
Your ticket includes:
Sparkling Drinks Reception
3 Course Dinner
Entertainment
Awards Show
Dancing and Networking
7pm – 1am
For further information contact Nikki Gillies 0141 559 6076
1 May 2014
2014 Scottish Design Awards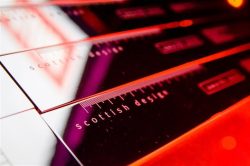 On Thursday 5th June at the Radisson Blu Hotel in Glasgow we will award those minds with the Scottish Design coveted rulers. Who will take the trophy in:
• Interior Design
• Regeneration
• Affordable Housing
• Commercial
• Public Building
• Public Realm etc.
Also who will be awarded with the Architectural Practice of the Year or the Grand Prix?
Come along to our Black tie evening to celebrate the best in Scottish Architecture and meet the winners. A three course meal, entertainment, announcement of the awards, topped off with dancing and networking will end a great evening or success and rewards.
Book Tickets to attend the awards evening – First come, first served basis. (information below)
Contact Nikki Gillies, 0141 559 6076 for any further information.
9 Apr 2014
Scottish Design Awards Shortlist 2014
28 + 27 Mar 2014
Scottish Design Awards 2014 News
The Scottish Design Awards are closed for judging.
The Scottish Design Awards are open to all Architecture & Design companies in Scotland, or those doing work for a Scottish Client. The Awards aim to highlight the best and the brightest stars in the Scottish design industry.
Nominations will be announced 9th April.

Scottish Design Awards Tickets
Date: Thursday 5th June
Venue: Radisson Blu Hotel, Argyle St, Glasgow
Time: 7pm-7:30pm to1am
Dress code: Black-tie
Your ticket includes:
Sparkling Drinks Reception
3 course dinner
Black tie dance
Entertainment
Awards show
Networking and dancing
Tickets are priced at:
£159 + vat – single ticket
£1540 + vat – table of ten
£1838 + vat – table of twelve
(The Drum Network members receive 10% discount on tickets. Please use your code in the box provided. If you need your code re-sent, email Chris Morton)
Scottish Design Awards 2014 Jury
ARCHITECTURE PANEL
Ben Addy BArch DipArch ARB RIBA
Ben Addy established Moxon in 2004. He was educated at Edinburgh College of Art and the Bartlett School of Architecture. During the course of his studies he received the Edinburgh Architectural Association J.R. Mackay Medal and an RIBA commendation for his undergraduate work as well as a Distinction from UCL for his Diploma thesis.
Chris Wilkinson of Wilkinson Eyre Architects
Chris Wilkinson founded the practice in 1983 in order to explore new directions in architecture, and together with Jim Eyre has established it as a leading force in the design world. Chris' contribution to architecture has been recognised by the award of an OBE in the Millennium Honours List, election to the Royal Academy of Arts in 2006, and an Honorary Fellowship of the American Institute of Architecture in 2007. He combines a lifelong interest in art with a fascination for science, technological innovation and a sense of history, producing a fresh new approach to architecture.
Tony Skipper of JMP
Tony Skipper is JMP's Managing Director. He joined the practice in 2000, with a portfolio of successful work in major school, further education and university projects.
Tony was appointed to lead JMP's Manchester studio as an Associate Director when the practice won the Manchester Metropolitan University Law Faculty commission, which was successfully completed in 2004.
Graham Stirk of Rogers Stirk Harbour + Partners
Graham Stirk joined the practice in 1983, was made a director in 1988, a senior director in 1995 and a senior partner in 2011.
Graham has brought innovative, rational and clear design leadership to many of the practice's high profile projects including: an expansion to the Lloyd's Register Headquarters in London; 88 Wood Street, a speculative office development in the City of London; Bodegas Protos, a winery in the Ribero del Duero region of Spain (all shortlisted for the Stirling Prize – 2000, 2001 and 2009 respectively); a 48-storey office tower – the Leadenhall Building – in the City of London; NEO Bankside, 229 residential units, next to Tate Modern in London; One Hyde Park, a new high-end residential development in London's Knightsbridge; and an extension for The British Museum to provide a flexible series of exhibition and conservation spaces which will support a wide range of Museum activities, due to open in 2014.
8 Dec 2011
Scottish Design Awards 2012
SCOTTISH DESIGN AWARDS ISSUE CALL FOR ENTRIES
With 2011 now in its last gasp The Scottish Design Awards have issued a call for entries for their 2012 awards program, a highlight in the architectural and design calendar.
As ever the event aims to recognize the best graphic and architectural design in Scotland. It offers a unique platform from which designers and architects can come together to showcase their talent.
No other awards process brings together these related though distinct disciplines, offering both sectors an opportunity to come together and applaud the achievements being made in the creative sphere.
Entries for the award must be received no later than Friday, March 9, but anyone quick out of the blocks with a submission prior to January 6 will receive a 20% discount.
The annual architectural and design banjoree will culminate in a gala dinner this summer to provide a much needed fillip to an industry recovering from the ravages of the recession.
This year's judges include; Duncan Whatmore, Urban Design Consultant at Terry Farrell & Partners; Catherine Slessor, editor of the Architectural Review; Stephen Hodder, chairman of Hodder & partners; Gillian Horn, partner at Penoyre & Prasad; Jim Heverin, associate director of Zaha Hadid Architects; Jason Flanagan, director of BFLS; Richard Woods, senior associate director of Capita Symonds; Adrian Griffiths, owner Chapman Taylor and Gerry Grams, design adviser for Glasgow City Council.
20 May 2011
Scottish Design Awards 2011
MISSION IN POSSIL? CONCRETE GARDEN IN POSSIL WINS MAJOR DESIGN AWARD
Possil Park has today shed its reputation for crime and deprivation after one of Britain's top planners, Peter Rees, chief planning officer at the City of London, bestowed the run down Glasgow district with his prestigious chairman's award at the Scottish Design Awards.
In what was a surprise decision at the glamorous bash, which aims to celebrate the very best architecture and design which the country has to offer, the community backed garden of rusty corrugated iron, concrete planters and packing crate trellises saw off competition from some big budget competition to walk off with the title.
Concrete Garden:



image from Scottish Design Awards
Designed by erz Ltd the Concrete Garden brings vacant and derelict land back into interim use for food growing, a prospect which clearly whetted the appetite of jury chairman, Peter Rees, chief planning officer at the City of London, who chose the project for his Chairman's award. Rees said: "I chose this because I feel that however bad things get, however run down an area becomes there is always something you can do to enhance the area. The community can always get involved to make their surroundings better. You don't have to do a lot to make a place.
"To me this is a beacon of hope for the future and evidence that even if the major projects can't be executed in the near future at least we can plant seeds."
Gokay Deveci meanwhile has scooped his second award in as many days after securing top honours at this year's Scottish Design Awards for Tigh-na-cladach (House by the shore) – 24hrs after winning a RIBA award for the same scheme. Deveci walked away with the Grand Prix award after the judging panel lauded the first Passivhaus accredited homes to be delivered by a UK housing association.
Gerry Grams, Glasgow City Council's design adviser and SDA judge, commented. "This is a small, beautifully crafted project with quite a low budget but attention to detail is everything and I think that's what shines through. You can get a large elaborate project which does nothing for you but sometimes the smallest things which have a lot of attention to detail and are crafted well by the designers for their clients are the things that inspire you more than anything."
Gordon Benson was recipient of a Lifetime Achievement Award for services to architecture at the event, an opportunity for today's top architects to give their appreciation to someone who inspired a generation with his innovative fusion of modernism and Scottish vernacular.
LDN Architects meanwhile were recognised for the breadth of their talent as well as its quality, with the practice winning an exceptional four separate awards for Edinburgh's Usher Hall, University of Edinburgh Business School, the Bread Street offices of Buro Happold and Morningside Parish Church named practice of the year.
A full list of Scottish Design Awards winners is at www.scottishdesignawards.com.
Our panel of judges was chaired by Peter Rees, chief planning officer for the City of London and included; Ian Goodfellow, partner at Penoyre & Prasad; Andy Theobald, senior partner at Feilden Clegg Bradley Studios and Gavin Miller, partner at Rick Mather Architects, Robert Maxwell, partner at Allies and Morrison, Gerry Grams, city design adviser, Glasgow City Council and Tracy Meller, associate at Rogers Stirk Harbour and Partners.
Scottish Design Awards 2011 – Architecture Results by Category
Architecture Grand Prix
Company: Gokay Deveci (RIBA, RIAS) Chartered Architect
Client: Peter McDonald (Fyne Initiatives Ltd)
Title: Tigh-Na-Cladach (House by the shore)
Architect: Professor Gokay Deveci, Gary Smollet, Raju Noor
Chairman's Award for Architecture
Company: erz Limited
Client: St Mathews Church and Community Growing Goup
Title: The Concrete Garden
Designer: erz Limited
Scottish Design Awards image / information from Carnyx Group
1 Jun 2010
Scottish Design Awards 2010 Winner
Architecture Grand Prix won by Malcolm Fraser Architects for Scottish Ballet, Glasgow.
Scottish Design Awards 2010
Graeme Massie Architects named Architect of the Year
We are delighted to announce that Graeme Massie Architects have been awarded Scottish Design Awards in all 3 categories for which they were nominated, including the category of 'Architect of the Year'.
Categories for which the practice won awards are:
• Architect of the Year
• Public Realm / Landscaping
• Place Making / Master Planning
The award for Public Realm / Landscaping was made for the practice's recently completed redevelopment of Oxford's Bonn Square, a project that was the result of an open RIBA organised design competition in 2005. The award for Place Making was made for the master planning of Reykjavik's Old Harbour on behalf of Associated Icelandic Ports. The Old Harbour master plan is the practice's third major master planning project in Iceland, following on from master plans for Reykjavik's Vatnsmyri district and the centre Akureyri in the country's north, all of which were won through open international competition.
Old Harbour master plan:



image from Scottish Design Awards
The Scottish Design Awards is an annual event which recognises excellence in the fields of Architecture and Design. Organised by the design magazines 'Urban Realm' and 'The Drum', the award's sponsors include Glasgow City Council, Stirling Council and Historic Scotland. Winners were announced at an event held in Glasgow on 28 May 2010.
Established in 2004 Graeme Massie Architects has rapidly established a reputation, nationally and internationally, for producing innovative architecture and design of the highest quality. The practice's work encompasses building, master planning, landscaping, furniture design and public art. The practice has already enjoyed remarkable success in a number of high-profile open design competitions and is presently undertaking a range of projects both in the UK and abroad. Graeme Massie Architects has attracted a number of awards, including the Royal Scottish Academy Medal for Architecture in both 2005 and 2007, and has also been widely published and exhibited internationally. The practice was named as one of the top ten emerging practices worldwide by design magazine Wallpaper*, and was runner-up in the Young Architect of the Year Award for the UK and Ireland in 2007.
Scottish Design Awards 2010 information from Graeme Massie Architects
Scottish Design Awards 2008 : Nominations
Scottish Design Awards 2007 : Winners
Scottish Design Awards 2006 – Winners
Architecture Grand Prix
Galeri Caernarfon: Richard Murphy Architects
Best Publicly Funded Building
Queen Mother Building, Dundee: PagePark Architects
Best Regeneration Project
JKS Workshops: Gordon Murray + Alan Dunlop
Best Commercial Project
Royal Bank of Scotland World Headquarters: Michael Laird Architects
Best Residential Project
Dean Bank Lane: Richard Murphy Architects
Best Interior
Commendation: Royal Bank of Scotland World Headquarters: Michael Laird Architects
Best Building for Public Use
Galeri Caernarfon: Richard Murphy Architects
Best Affordable Housing Project
Wellfield: Oliver Chapman Architects
Architect of the Year
Richard Murphy
Northern Exposure
Maggies Inverness: PagePark Architects
Landscaping
Clydebank Public Realm Phase 1: JM Architects
Place Making Award
St Vincent Place: Reiach and Hall Architects/Oberlanders Architects
Proposed Place Making Award
Commendation: Vision Akureyri: Graeme Massie Architects
Commendation: Upper Strand: Reiach and Hall Architects/Elder & Cannon Architects
Commendation: Whiteness: Terry Farrell & Partners
Young Architect of the Year Award
Gillian Hanley
Student Place Making Prize
Designs for Dumfries: Graham Ross
Scottish Design Awards – Shortlist 2006
Best Publicly Funded Building
Queen Mother Building, Dundee: PagePark Architects
Best Regeneration Project
JKS Workshops: Gordon Murray + Alan Dunlop
Best Commercial Project
Royal Bank of Scotland World Headquarters: Michael Laird Architects
Best Residential Project
Three Seton Mains: Paterson Architects
Dean Bank Lane: Richard Murphy Architects
Best Interior
Royal Bank of Scotland World Headquarters: Michael Laird Architects
Best Building for Public Use
Perth Concert Hall: Building Design Partnership
St Mary's Metropolitan Cathedral Community Centre: LDN Architects
Destiny Church: NORD Architects
Galeri Caernarfon: Richard Murphy Architects
Best Affordable Housing Project
Seabank Girvan: Austin Smith: Lord
Wellfield: Oliver Chapman Architects
Architect of the Year
Gordon Murray or Richard Murphy
Northern Exposure
Maggies Inverness: PagePark Architects
Landscaping
Clydebank Public Realm Phase 1: JM Architects
Place Making Award
St Vincent Place: Reiach and Hall Architects/Oberlanders Architects
Proposed Place Making Award
Vision Akureyri: Graeme Massie Architects
Upper Strand: Reiach and Hall Architects/Elder & Cannon Architects
Whiteness: Terry Farrell & Partners
Young Architect of the Year Award
Gillian Hanley or Catriona McReynolds
Student Place Making Prize
Designs for Dumfries: Graham Ross
Scottish Design Awards – Shortlist Info 060306
Comments on the Scottish Design Awards Shortlist welcome
Scottish Design Awards 2006 Judges
John McAslan – McAslan + Partners: chair
Keith Brownlie – Wilkinson Eyre Architects
Shaham Hemmati – SKM Anthony Hunts
Isi Metzstein
Amin Taha – Amin Taha Architects
Raymond Young – Architecture + Design Scotland
Scottish Design Awards Shortlist announcement
7 Mar:
City Halls, Candleriggs, Glasgow
Scottish Design Awards 2006 & Dinner
Crowne Plaza, Glasgow
26 May
Scottish Design Awards 2005 info in full
Scottish Design Awards Winners 2005



Scottish Parliament image © Adrian Welch
Architecture Grand Prix + Best Publicly Funded Building – Scottish Parliament
Regeneration Awards Joint Winner – Tron Housing + Edinburgh Quay
Best Commercial Project – Sentinel Glasgow
Architect of the Year – Paul Stallan, RMJM
Chairman's Award for Architecture – Graham Ross
Re-Tracing The Grid: Laurieston/Glasgow
Young Architect of the Year (U-35) Award – Reiner Nowak,
Gordon Murray + Alan Dunlop
270505
Location: Scotland
Architecture in Scotland
Contemporary Scottish Architecture
Scottish Architecture Designs – chronological list
Comments / photos for the Scottish Design Awards page welcome