BREEAM Awards, Sustainable Buildings, Architecture Prize UK, Ecobuild, GRESB, London, England
BREEAM Awards 2018 Winners
Awards for Sustainability at Ecobuild 2018, Building Prize in Great Britain
7 Mar 2018
UK BREEAM Awards 2018 News
The winners of the BREEAM Awards 2018, for building projects and professionals with extraordinary achievements in sustainability, were revealed at an event in London's ExCel.
Bloomberg European Headquarters in London by architects Foster + Partners: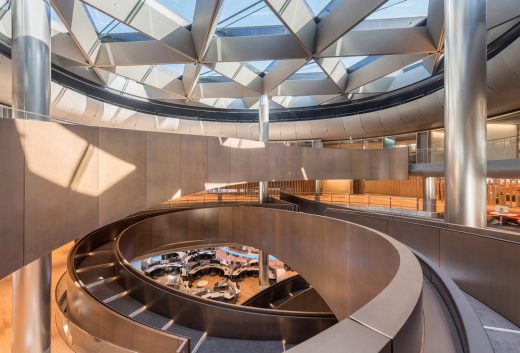 photo © Nigel Young / Foster + Partners
2018 BREEAM Awards Winners News
Attended by hundreds of built environment practitioners from around the world, the awards were hosted by actor and TV personality Robert Llewellyn, a keen advocate of sustainability and renewable energy technologies.
The winners include many of the most innovatively sustainable buildings in the UK, and in countries across the globe from China to Brazil. The awards, held this year in partnership with ecobuild, also recognise high achievement by architects, M&E consultants and BREEAM assessors – and BREEAM again partnered with GRESB to recognise socially responsible investment. New this year are the Regional Awards for building projects that will of inspire sustainability advances in their particular areas of the world.
Selected by an independent panel of experts from shortlists of the year's highest scoring BREEAM certificated projects, the winning buildings represent superb design and performance in new and existing buildings, refurbishments and fit-outs.
GlaxoSmithKline Carbon Neutral Laboratory for Sustainable Chemistry, Nottingham, by Fairhursts Design Group: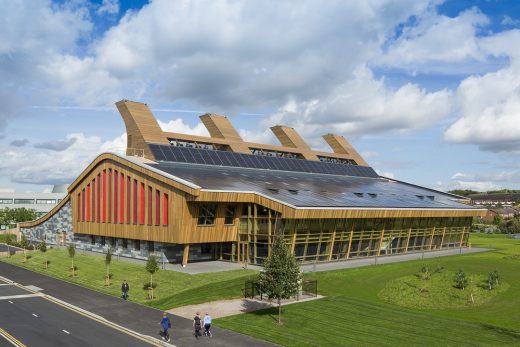 photo from Wood Awards
BREEAM Awards 2018 Winners
glaxosmithkline-carbon-neutral-laboratories-for-sustainable-chemistry
• Bloomberg London – Commercial Project – Design
• Four Pancras Square, London – Commercial Project – Post-Construction
• Forum Kayseri, Turkey – Commercial Project – In-Use
• Tiger Way Primary School and Nursery, London – Public Project – Design
• GSK Centre for Sustainable Chemistry, Nottingham – Public Project – Post-Construction
• Grønland 58, Drammen, Norway – Public Project – In-Use
• HAUT, Amsterdam – Homes – Design
• 126 Pavilion Road, London – Homes – Post-Construction
• Metropolis Mansion, China – Regional Award – Asia
• SEBRAE Sustainability Centre, Brazil – Regional Award – Americas
• V.Offices, Kraków, AFI Europe Poland– Regional Award – Central and Eastern Europe
• Bloomberg London and DC2, Prologis Park, Dunstable, UK – Joint winner, Regional Award – Western Europe
The outstanding achievements of the shortlisted projects gave the panel of judges a difficult task when choosing the winners.
Alan Yates, BREEAM Technical Director and Chair of the Judging Panel, said "Even more important than the qualities of the shortlisted and winning projects, are the examples they set for others. By demonstrating the practicalities and benefits of sustainable solutions – particularly those that are widely replicable – these projects will inspire others to aim higher with their own developments, so driving improvement throughout their sectors and regions, and internationally."
The winners of the GRESB/BREEAM Awards for Responsible Real Estate Investment are:
• Altarea Cogedim – Large Portfolio (more than 1 billion Euro gross asset value)
• SPF Joint Venture – Rockspring – Small Portfolio (less than 1 billion Euro gross asset value)
• Lizzy Butink, A.S.R. Real Estate – Individual Leadership
The winners of the BREEAM/ecobuild Champions Awards, new for 2018, are:
• Austin-Smith:Lord – Architects
• Sweco – M&E Consultants
The winners of the BREEAM Assessor Company and the three Assessor of the Year Awards are:
• Bouygues UK – Assessor Company of the Year
• Glynn Van Nieuwenhuyse, Bopro; Zuzana Spicova, Sweco UK,Danielle Symmons, AECOM – Assessors of the Year
Finally, the winner of the YOUR BREEAM Award, decided by popular vote on the BREEAM website is:
• SEBRAE Sustainability Centre, Brazil
The project attracted over 2,000 votes, with one voter describing the building as "sustainability and engineering in perfect harmony!"
Further information on all of the shortlisted, highly commended and award-winning BREEAM projects and teams is available at www.breeam.com/awards. Photos available from flickr.com/brewatford
Background
BREEAM is the world's leading sustainability assessment method for masterplanning projects, infrastructure and buildings. It recognises and reflects the value in higher performing assets across the built environment lifecycle, from new construction to in-use and refurbishment.
BREEAM does this through third party certification of the assessment of an asset's environmental, social and economic sustainability performance, using standards developed by BRE. This means BREEAM-rated developments are more sustainable environments that enhance the well-being of the people who live and work in them, help protect natural resources and make for more attractive property investments. www.breeam.com
GRESB is the international membership organisation that assesses the sustainability performance of real estate asset sector portfolios and assets. It provides its members with data, scorecards, benchmark reports and portfolio analysis tools. www.gresb.com
30 Nov 2017
BREEAM Awards 2018
UK BREEAM Awards
It has today been announced that the 2018 BREEAM Awards, the leading awards for sustainability within the global built environment, has joined forces with ecobuild. The awards will also feature the 2018 GRESB awards, rewarding excellence in property investment.
BREEAM Awards 2017 event – winners:


As the internationally-recognised measure of sustainability for buildings and communities, BREEAM is used worldwide as a standard for driving sustainable change across the built environment. With ecobuild sharing fresh thinking, innovative technologies and materials focusing on the sustainability agenda, the alignment of the two events represents a natural sharing of goals by two like-minded, influential organisations.
"We are delighted to announce that the 2018 BREEAM Awards has partnered with ecobuild," commented Gavin Dunn at BREEAM. "The two brands have so much synergy, each playing their part in helping companies, senior professionals and influencers across property, architecture, construction and engineering, demonstrate best practice through sustainability."
"Since the 2017 event, we've started a dialogue with industry to get their feedback and help us deliver what people want and need from an event," commented ecobuild Managing Director, Martin Hurn. "ecobuild 2018 will bring together the most innovative brands, speakers and experiences and provide them with thought-provoking, valuable content and an unparalleled opportunity for sharing ideas, networking and relationship building.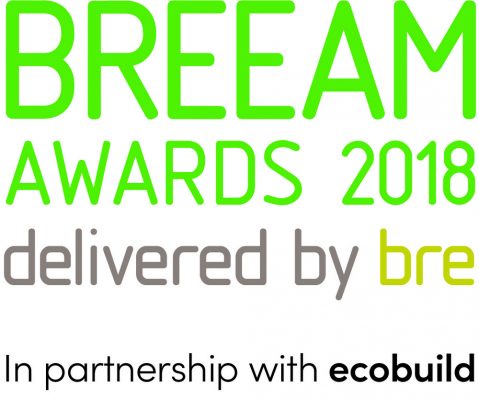 "In partnering and co-hosting with the BREEAM Awards we are further demonstrating that we are putting sustainability back at the core of the show."
This year's awards will be made up of two streams. The first is for professional champions covering architectural leadership, M&E leadership, and assessors. The second is projects, which will be broken down into commercial, public and homes.
As part of the event GRESB, the European leaders in assessment of the ESG performance of worldwide real estate assets and investments, will present awards for responsible investment.
The awards will take place on the evening of the first day of ecobuild – Tuesday 6th March – in the Platinum Suite at ExCeL. The award winners and shortlisted projects will also be showcased throughout the ecobuild show in a dedicated awards gallery, which will surround the show's central conference arena.
For further information, please visit www.breeam.com/awards
Background
BREEAM is the internationally recognised measure of sustainability for buildings and communities. More than 530,000 certificates have been issued under BREEAM on more than 24,000 projects around the world, and over 2.2 million buildings and communities are registered for certification. BREEAM is used in more than 70 countries. More information can be found at www.breeam.com.
GRESB is an industry-driven organisation transforming the way capital markets assess the environmental, social and governance (ESG) performance of real asset investments. 850 property companies and funds, jointly representing more than USD 3.7 trillion in assets under management, participate in the GRESB Real Estate Assessment. More at www.gresb.com
15 Apr 2008
BREEAM Awards 2008
UK BREEAM Awards
BRE Global is delighted to announce that they will be presenting awards for all building sectors at the 2008 UK BREEAM Awards to be held at the 100% Detail exhibition in September.
The categories will include: Bespoke; Industrial; Offices; Multi-Residential; Retail; and Schools. BRE Global will also be presenting special BREEAM awards acknowledging commitment to sustainability through the use of BREEAM.
Martin Townsend, BREEAM Director said: "We are delighted to see that this years awards will include the first BREEAM Excellent rated schools, retail and multi-residential buildings and we look forward to presenting awards to these top scoring buildings in these categories.
"This is an important time for the construction industry. Sustainability and environmental issues are paramount and the BREEAM Awards provide examples and reassurance to industry that high sustainability standards can and are being achieved.
"One major difference with these awards is their environmental achievement is quantifiable against defined and recognisable environmental categories".
The Awards ceremony on September 18 will be complemented by a number of free seminars spanning the four days of the 100% Detail exhibition, focusing on BREEAM and exciting new developments.
Location: UK
Architecture Awards
Stirling Prize



photo © Maggie's Centres
BREEAM is the world's leading sustainability assessment method for masterplanning projects, infrastructure and buildings. It addresses a number of lifecycle stages such as New Construction, Refurbishment and In-Use. Globally there are more than 530,000 BREEAM certified developments, and almost 2,200,000 buildings registered for assessment since it was first launched in 1990.
The method inspires developers and creators to excel, innovate and make effective use of resources. The focus on sustainable value and efficiency makes certified developments attractive property investments and generates sustainable environments that enhance the well-being of the people who live and work in them.
Website: www.breeam.com
Architecture Walking Tours Europe
Comments / photos for the BREEAM Awards page welcome