Taiwan Tower, Building, Project, Architects, Winner, News, Design, Image
Taiwan Tower : Architecture Competition
Asian Skyscraper Building Competition – Design Contest Winners
24 Nov 2011
Taiwan Tower Design Contest – Winners
Taiwan Tower Planning, Design and Construction Supervision Service Project
Announcement of Final Winners
The Final Winners:
First Prize: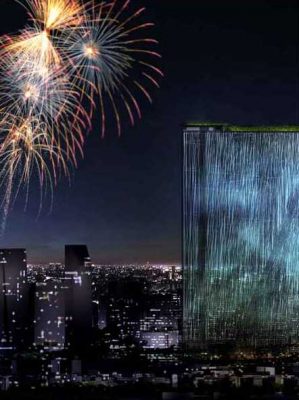 Tenderer: Sou Fujimoto Architects / Sou Fujimoto Nationality: Japan
Joint Tenderer: Fei & Cheng Associates / Philip T.C. Fei Nationality: R.O.C.
Tenderer: soma ZT GmbH / Martin Oberascher Nationality: Austria
Joint Tenderer: Ricky Liu & Associates Architects+Planners / Ricky Liu Nationality: R.O.C.
Tenderer: Dorin Stefan Nationality: Romania
Joint Tenderer: DS Birou de Arhitectura Nationality: Romania Lai & Associates, Engineers-Architects / Chao Chiun Lai Nationality: R.O.C.
Honorable Mention-1:
Tenderer: Cook Robotham Architectural Bureau Limited / Peter Cook Nationality: U.K.
Joint Tenderer: Tai Architect & Associates / Tai, Yu-Tse Nationality: R.O.C. Buro Happold Ltd. Nationality: U.K.
Honorable Mention-2:
Tenderer: HMC Group / Raymond Pan Nationality: USA
Joint Tenderer: HOY Architects & Associates / Charles Hsueh Nationality: R.O.C.
Project Name: Taiwan Tower International Competition

Location: Taichung, Taiwan (R.O.C.)
Use:
Taiwan Tower: The recommended total floor area is approximately 3,000 square meters. The required areas are: lobby, information center, elevator lobby, shops, food & beverage services, observatories (or facilities or equipments for sightseeing), environmental quality monitoring station.
The Museum of Taichung City Development: The museum will have a total floor area of approximately 12,000 square meters, with a room program that includes: 1F Lobby, Information Center, Exhibition Area, Storage Offices, and Public Service areas.
Site Area : 44,000 sqm
Total Construction Budget: About NT$ 6,588,000,000. (About US$ 220,000,000) Subject to the approved budget by city council.
The footprint of the buildings shall not exceed 1 hectare.
To be Completed Date: 2016/12
Previously:
15 Nov 2010
Taiwan Tower Design
Architects: DSBA / upgrade.studio
Project description and Background Information regarding the Taiwan Tower Conceptual International Competition
"FLOATING OBSERVATORIES" Proposal by Dorin STEFAN's DSBA, Mihai CARCIUN and upgrade.studio wins the "Taiwan Tower" Conceptual International Competition
"Starting from the 'geographical' visual of Taiwan ‐ which is an island resembling a leaf ‐ we have developed the concept of the technological tree: we have designed 8 spatial leaves (with eight being a propitious number in the local culture) in the form of zeppelin‐like elevators which glide up and down the 'tree trunk" and which serve the purpose of observation decks / belvedere. I have called these elevators floating observatories because each has a nacelle which can take 50 to 80 people; they are self‐sustained by helium balloons and are built from lightweight materials (borrowed from the spacecraft industry) and are wrapped in a last‐generation type of membrane (PTFE) and they glide vertically on a track positioned vertically in a strong electro‐magnetic field" ‐ Dorin STEFAN, Principal, DSBA*
The tower layers underground and ground level spaces as well as in its vertical reach, the functions required by the conceptual theme: information center, museum, office and conference space, restaurants, fixed observation desks. Apart from the fact that we aim to design a tower whose silhouetted out of line echoes the local symbolism and has great impact in terms of visual identity, our solution is at the same time a model of green architecture:
– minimum footprint at land level;
– maximum green area surface;
– all circulations are vertically integrated (main and secondary functions for both services and tourists);
– the "chimney" effect is used for the natural ventilation of various functional areas;
– the office and services areas in the tower have a 360° orientation, which offers the possibility to minimize the green‐house effect through the use of cross‐ventilation;
– the electrical energy is produced by:
– a system of axial turbines located along the vertical central core;
– adjustable photovoltaic panels on the whole height of the tower
– the lighting of the basement areas and of the museum spaces under the sandwich slab (structure‐plants earth‐pedestrian traffic) is done through a fiber optics dome system;
– heating of the floating observatories are done through an electromagnetic field using the electrical power created by the new generation membrane which wraps the helium tanks and captures through photovoltaic transmission;
– the rain water is collected from all platforms into a tank situated in the basement; there is a purification station near the rain water tank so that water can be reused for:
– washing;
– irrigation of the green areas;
– running water for toilets;
– there is a geothermal power station in the basement for the warming of the areas in cold season and for hot water;
"Even though the floating observatories design was influenced by the sci‐fi computer gaming culture they are feasible and play a major role for the pathway of the tower's museum by adding a new vertical dimension. Seen from above, the city itself becomes the key exhibit for the Museum of Taichung City Development. Seen from inside the museum, when they are nested, the floating observatories become themselves exhibits, fascinating proof of the present technological achievements."‐ Bogdan CHIPARA, DSBA Architect
"We have been previously engaged in a series of experimental collaborations with Dorin STEFAN (also our former teacher) which is why, by the time of this competition, we had already developed a versatile and challenging way of approaching the design task. This made the path from the strong initial idea to the final proposal a rather smooth flow, which is a rare thing to be able to say about an international competition's development." ‐ Claudiu BARSAN‐PIPU & Oana Maria NITUICA (upgrade.studio**)
Taiwan Tower Competition – Project Team
Dorin STEFAN architect leader (DSBA*)
Mihai Bogdan CRACIUN architect, partner in project (USA)
Bogdan CHIPARA, architect in charge (DSBA*)
Claudiu BARSAN‐PIPU, architect (upgrade.studio**)
Oana NITUICA, architect (upgrade.studio**)
Anda STEFAN, Adrian ARENDT, Corina FODOR , architects (DSBA*)
DSBA
Dorin Stefan Birou de Arhitectura was founded in 1990 as a follow up of Dorin STEFAN's architectural practice started in 1975. During the communist era, he designed proposals for a series of international competitions (such as Tête Défense, Paris, 1982; New Japan Opera House, Tokyo, Japan, 1986), public buildings in Romania (such as Slatina Youth's Culture House, 1985) and participated in various art & architectural exhibitions (such as Interarch Biennale of Architecture, Sofia, Bulgaria 1987 [silver medal] or "Space as Object" Art Installation ‐ 1982, UAP+UA, Bucharest). After the fallen of the communist regime he started working as a private practice(DSBA), addressing various challenges in the field of architecture (such as "Opera Center" Bucharest, 2000; Romanian National Pavilion, AICHI, Japan, 2005 ), urban planning (such as the Urban remodeling in Constanta, Romania, 2001), national contests(such as Revolutiei Square Urban Design, Bucharest, 1996) and international competitions (such as Bucharest 2000 Contest, 1995; Romanian Government Extension, Bucharest, 2006) and art events (such as Triennale de Milano, Italy, 1996; the Biennale of Architecture, Venice, Italy, 2002[as curator]) Dorin Stefan is teaching since 1979 at the University of Architecture and Urban Planning "ION MINCU" in Bucharest, RO.
upgrade.studio
upgrade.studio is a platform for experimental architectural & urban investigations recently founded by two young designers: Claudiu BARSAN‐PIPU and Oana Maria NITUICA. It's main goal is that of applying a wide range of interdisciplinary approaches based on the theory of complexity and artificial intelligence in developing new ways of addressing the design challenge. They previously won distinctions in the eVolo Skyscraper Competition & the 2nd Advanced Architecture Contest and have collaborated over a wide range of projects and competitions with international practices such as Delugan‐Meissl Associated Architects from Wien, AT and Rasmussen‐Brunke from Hamburg, DE.
Competition website: www.twtower.com.tw
Taiwan Tower Competition
Architecture Competition news



image from architects
Location: Taichung City, Taiwan
New Taiwan Architecture
Contemporary Taiwan Architectural Projects, chronological:
Taiwan Architecture Designs – chronological list
Taiwan Buildings – Selection
Commercial Bank Headquarters Taichung – architecture award news
Design: Aedas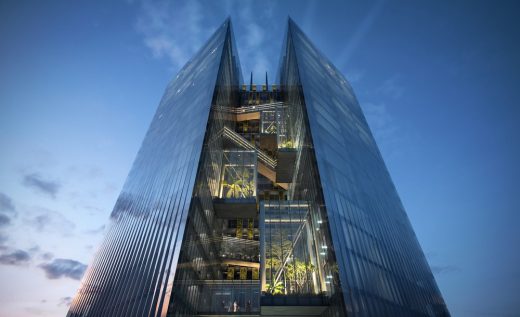 picture from architecture practice
Commercial Bank Headquarters Taichung Building
Game Apartment, Taipei
Architects: Wei Yi International Design Associates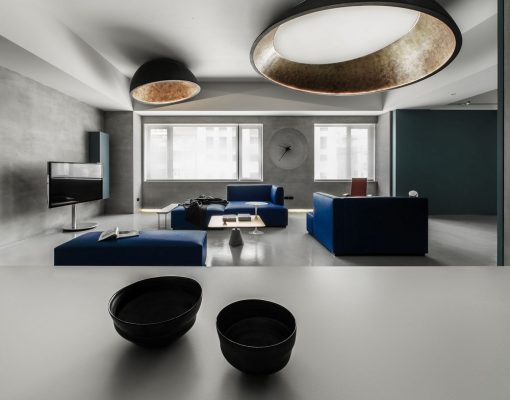 photo : JMS
Game Apartment in Taipei
Taipei Performing Arts Centre : Winning design by OMA
Taiwan Building : Kaohsiung Arts Cente
Comments / photos for the Taiwan Tower Architecture page welcome
Taiwan Tower Design