German Architecture Design News, Building Projects, Construction, Property Images
German Architecture News
New Teutonic Architecture Information – Contemporary Northern Europe Built Environment Updates
Post updated 30 January 2023
German Architectural News
German Architecture Designs – chronological list
German Building News by city:
Frankfurt Architecture Designs
Stuttgart Architecture Designs
German Architecture News 2023
30 Jan 2023
Goldene Rose, Dinkelsbühl, Middle Franconia
Architects: noa* network of architecture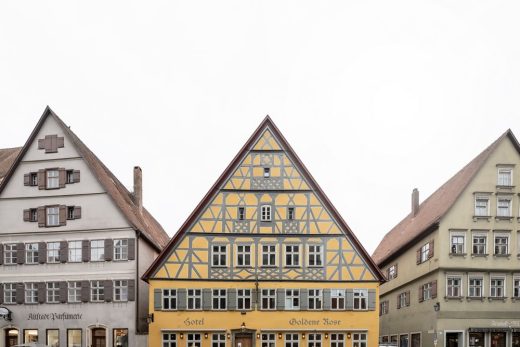 photo : Alex Filz
Goldene Rose Hotel, Middle Franconia
It is not unusual for adjoining buildings to become architecturally connected. But this project's story is one of a kind: in the former imperial city of Dinkelsbühl, noa* has succeeded in giving different architectural identities, each with its own history and peculiarities, a common face.
28 Jan 2023
Calatrava Boulevard, Düsseldorf, North Rhine-Westphalia
Design: Santiago Calatrava Architects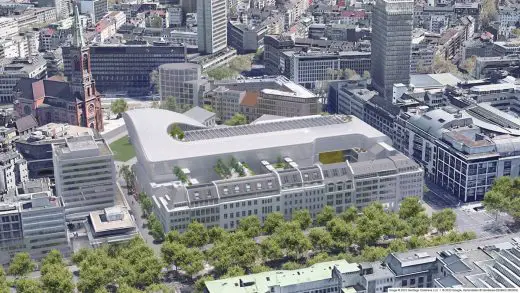 image courtesy CENTRUM Gruppe / Santiago Calatrava LLC.
Calatrava Boulevard Königsallee Düsseldorf Building
German Architecture News 2022
German Building Designs, chronological order:
26 Sep 2022
House L49, Tübingen, Baden-Württemberg, southwest Germany
Design: METARAUM Architects – Wallie Heinisch, Stuttgart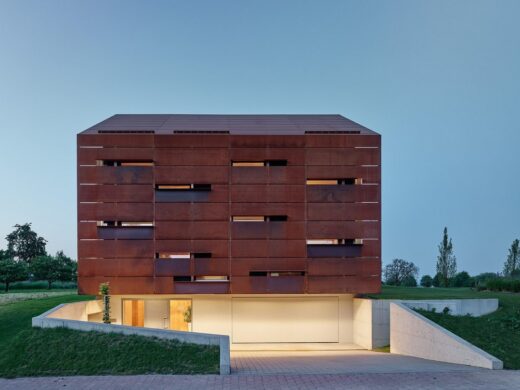 photo : Zooey Braun
House L49, Tübingen
3 Oct 2022
Baramundi Headquarters, Augsburg, Bavaria, southern Germany
Architects: HENN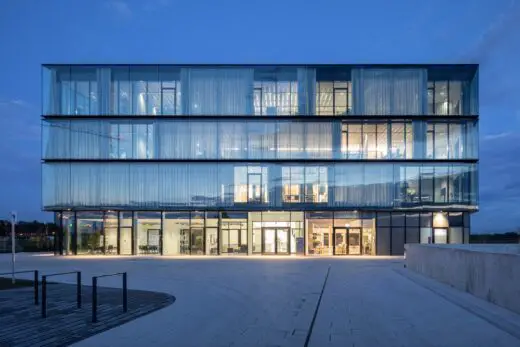 photo : Laurian Ghinitoiu
Baramundi Headquarters Augsburg
2 Sep 2022
NION Frankfurt am Main office building, Frankfurt, Hesse
Design: UNStudio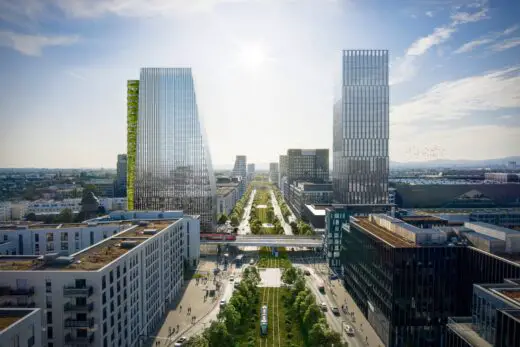 image : MOARE
NION Frankfurt office building
29 Aug 2022
Möglhof Athlete Center, Bavaria, southern Germany
Interior design: MALLUVIA innenarchitektur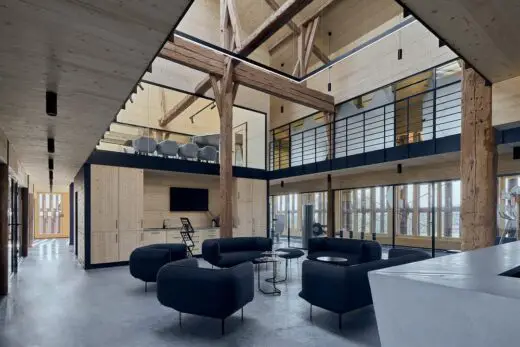 photo : Jonathan Sage Photography
Möglhof Athlete Center, Rimsting Bavaria
The Möglhof Athlete Center building is homed bourgeois farmhouse with a long history: the location of the farm was first mentioned around 1100. In 2015, classic farming in the Möglhof was abandoned. In 2021, the former barn was completely modernized and converted into commercial units.
22 Aug 2022
District Administration Building, Bad Segeberg
Architects: TCHOBAN VOSS Architekten Hamburg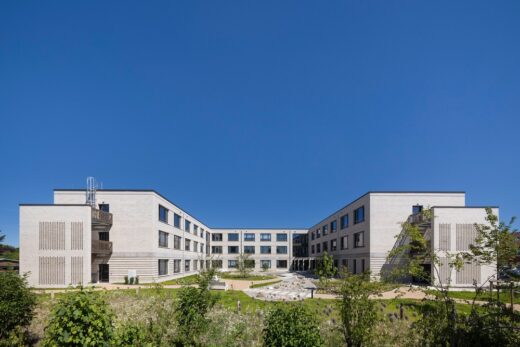 photo : Daniel Sumesgutner
District Administration, Bad Segeberg
The District Administration Building project involves the construction of a new office building for the Bad Segeberg district administration. Due to its location in a large commercial area with a heterogeneous building structure, there are no urban edges to which the new building can relate.
4 Aug 2022
House Elvesgarden, Bayern, southern Germany
Architecture: Stephan Maria Lang Architects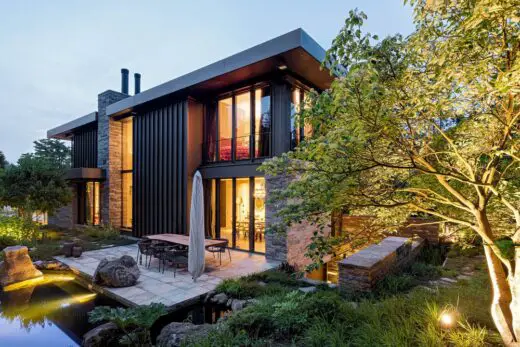 photo : Sebastian Kolm
House Elvesgarden, Bayern
3 Jun 2022
House K, Zehlendorf, Berlin
Architects: STUDIOHANSEN
House K Zehlendorf
2 Jun 2022
Holistic Living, Berlin
Architects: GRAFT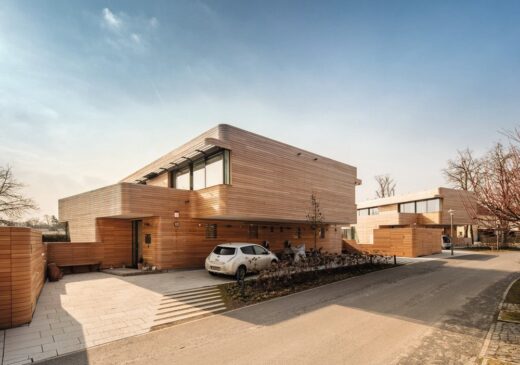 photograph : Tobias Hein
Holistic Living, Berlin Homes
31 May 2022
Shingle Residence, Bayern, southern Germany
Design: Stephan Maria Lang Architects
Shingle Residence Bayern
31 May 2022
Heidelberg Congress Center, Heidelberg, Baden-Württemberg
Design: Degelo Architekten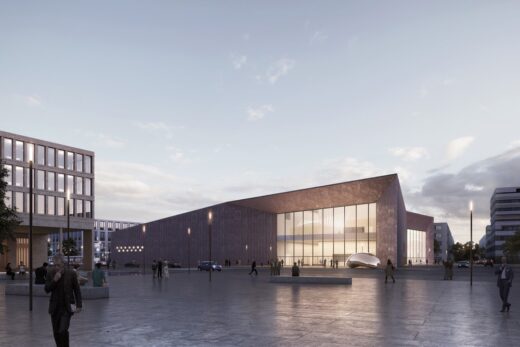 photo : Degelo Architekten
Heidelberg Congress Center
The shell is complete, the scaffolding has been removed from most external areas: for the first time a real impression of what the new Heidelberg Congress Center will look like can be made. Just a couple of minutes by foot from the main railway station, in the city's new "Bahnstadt" ("Railway city") quarter, a generous event location for conferences and congresses is being developed.
Fuggerei Next500 Pavilion, Augsburg, Bavaria
Updated 1 Apr 2022
Hotel & Spa Seezeitlodge, Lake Bostalsee, Saarland
Design: GRAFT
Hotel & Spa Seezeitlodge, Lake Bostalsee
Belsenpark Tower, Düsseldorf, North Rhine-Westphalia
Belsenpark Tower Düsseldorf Building
16 Mar 2022
House B, Hanover
House B, Hanover
2 Feb 2022
Forsthaus am See, Feldafing, Bayern, southern Germany
Design: WSM Architekten
Forsthaus am See, Bayern 4-Star Hotel
24 Jan 2022
Start-up Incubator and Co-working Space, Cottbus, Brandenburg, south-east of Berlin
Design: Prof. Bernd Huckriede, Dr. Jens Brinkmann, Ludwig Heimbach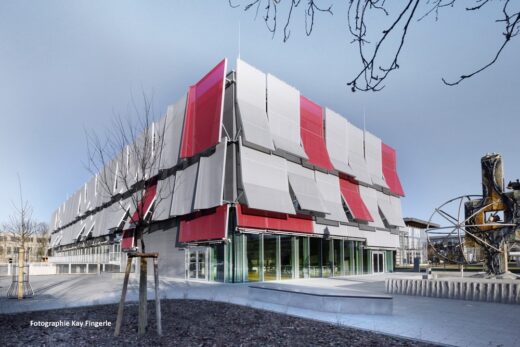 photos by United Architektur / Kay Fingerle Fotografie
Cottbus Management Building, Brandenburg
The building aims to promote innovation and creativity to generate new forms of work in both the city of Cottbus and the surrounding Lausitz region in the wake of the political decision to phase out coal nationwide. Located next to the campus of the Brandenburg Institute of Technology (BTU), it concentrates tech start-up activities in a single center while adding another resourceful community building to the city.
27 Jan 2022
Literaturcafé, Pöcking, Bavaria
Design: WSM Architekten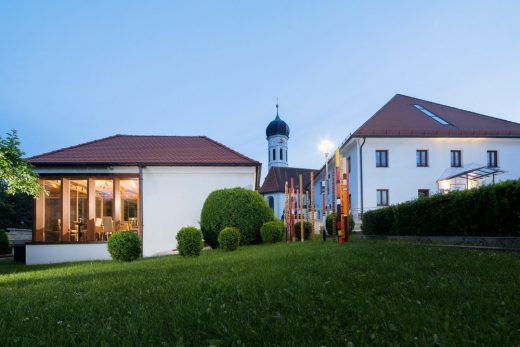 photo : Sascha Kletzsch
Literaturcafé, Pöcking Bavaria
The subject of the Literaturcafé modification was the old Laundry house, which stands in the garden of the "Altes Pfarrhaus", which was renovated five years ago, and for a long time was used only as a storage room. However, due to its charming size and special location, the Laundry house showed potential for a small café for library visitors or other guests.
More German Architecture News on e-architect soon
German Architecture News 2021
14 Dec 2021
Castellmühle Krefeld, North Rhine-Westphalia – northwest of Düsseldorf
Design: ATP architects engineers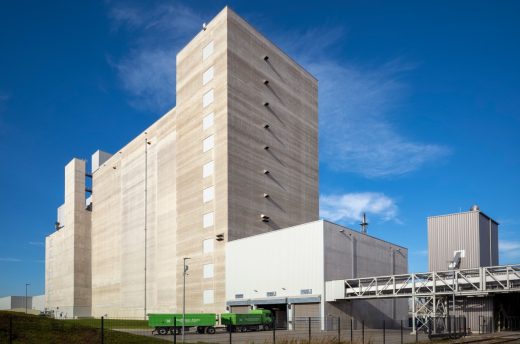 photo : Felix Friedmann
Castellmühle Krefeld
The milling company GoodMills commissioned the Vienna office of ATP ar-chitects engineers to provide integrated design services for Europe's most modern mill due to its many years of experience of food production. The state-of-the-art plant has an annual milling capacity of 408,000 tons of grain and sets new standards for product safety, hygiene, and energy efficiency that far surpass any statutory requirements.
4 Dec 2021
AC Hotel Würzburg
Design: HDVL Designmakers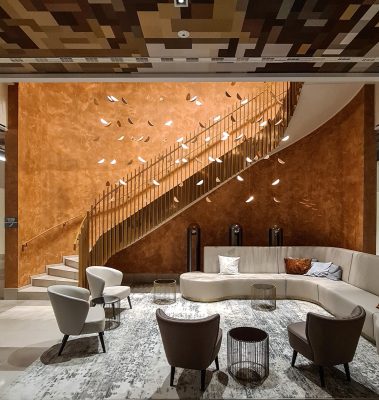 photo courtesy of architects office
AC Hotel Würzburg building interior design
23 Nov 2021
Franklin Mitte, Mannheim
Design: MVRDV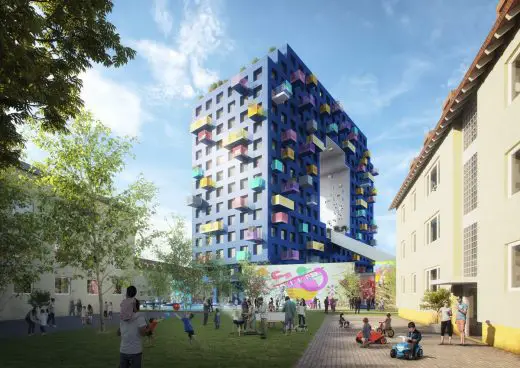 image © MVRDV
O Franklin Mitte, Mannheim
The 15-storey building mixes 120 apartments with ground level commercial units and a bar and terrace. With its playful shape, the building also functions as a local landmark, and a key contributor to the character of the neighbourhood at large.
4 Oct 2021
Duett Düsseldorf, North Rhine-Westphalia
Design: Snøhetta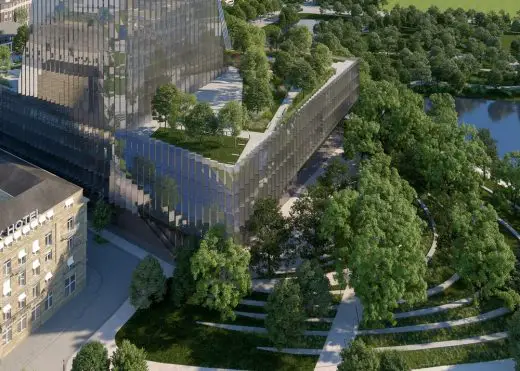 photo © Snøhetta
New Opera House, Düsseldorf Building
Situated in the heart of Düsseldorf city center, Snøhetta has been commissioned by CENTRUM GROUP to propose a new opera house and cultural hub for the city. Dubbed Duett Düsseldorf, the new opera house creates clear connections to the nearby Hofgarten park, the Rhein river and the popular Königsallee street, aiming to create a publicly accessible space that brings people together.
14 Oct 2021
Sparkasse Bremen headquarters, Bremen, northern Germany
Design: Delugan Meissl Associated Architects (DMAA)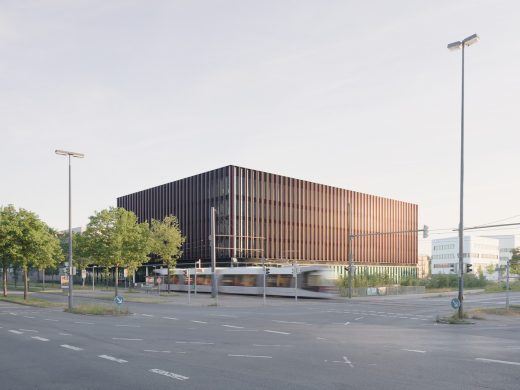 photo : Piet Niemann, Hamburg
Sparkasse Bremen headquarters building
The new headquarter for the Sparkasse Bremen integrates discreet and easily into the situation of the crossing Universitätsallee and the motorway approach. As a solitary building it continues the open urban structure of the University environment.
14 Sep 2021
BrainFactory Bochum, Bochum, North Rhine-Westphalia, western Germany
Design: HWKN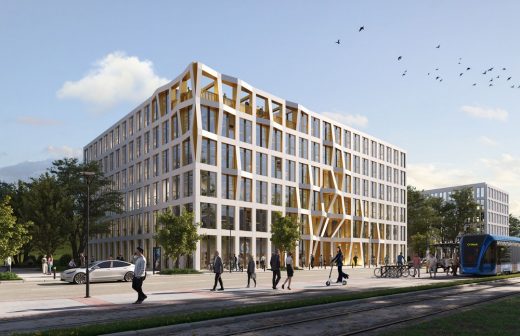 image courtesy of architects
BrainFactory Bochum
The New York architectural firm HWKN, has partnered with Landmarken, the prominent, Aachen-based developer, to create the next generation of the office. One of their new 'Spirit' prototypes BrainFactory Bochum opens in January 2023.
12 August 2021
new headquarters for Kieler Nachrichten, Kiel, northern Germany
Design: EFFEKT, Architects, Denmark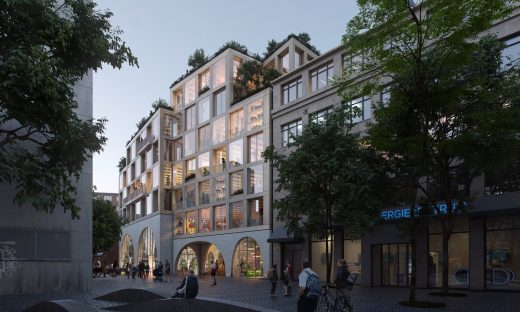 image courtesy of architects practice
Kieler Nachrichten headquarters building
This architectural development is the transformation of the decommissioned editorial offices and printing press of reputable regional German newspaper Kieler Nachrichten. For more than 100 years, the Kieler Nachrichten publishing house has been present in the heart of the historic downtown Kiel, occupying an entire city block housing all aspects of newspaper production from newsroom editing to printing and distribution.
5 July 2021
Extension of the municipal day-care center in Vallendar, Vallendar, Mayen-Koblenz, Rhineland-Palatinate, western Germany
Design: Herrmanns Architekten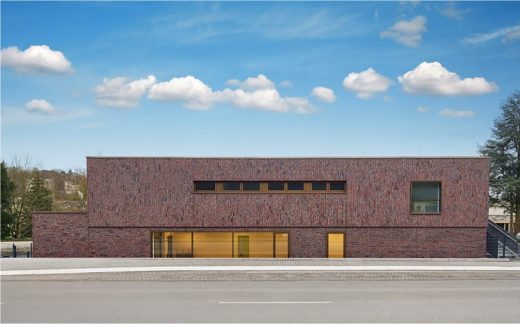 photograph : Marcel Kohnen
Vallendar Kindergarten Building
The order to Herrmanns Architekten was to expand the municipal kindergarten in Vallendar, Germany by around 500 square meters. In addition, the small area of the property made a 3-storey structure necessary. The building was planned in a sustainable and ecological, CO2-neutral wood construction.
5 Jul 2021
Röhrig House, Sinzig, Rhineland-Palatinate
Design: Studio Hertweck
Röhrig House in Sinzig
17 Jun 2021
NEUmarkt Bielefeld, Bielefeld, Ostwestfalen-Lippe Region, north-east of North Rhine-Westphalia, northwestern Germany
Design: Delugan Meissl Associated Architects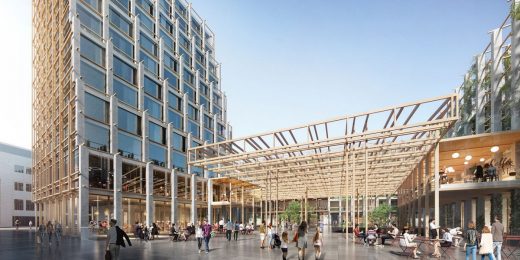 visualization: Toni Nachev
NEUmarkt Bielefeld
Department stores, once the "cathedrals of retail", have become problematic urban zones due to the rapidly increasing volume of online retail. As an alternative to the monoliths that were mostly built in the 60s to 80s of the last century, new concepts with small-scale structures are needed.
7 May 2021
410 Offshore Borkum, Borkum, Reede
Design: Delugan Meissl Associated Architects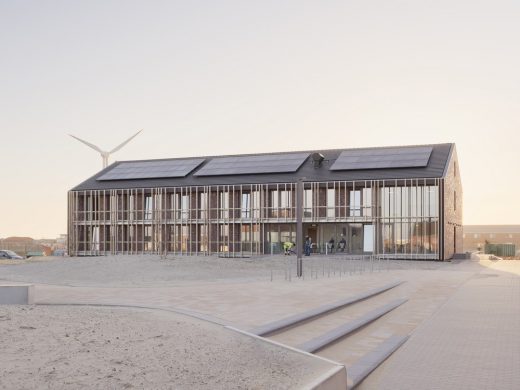 photograph : Piet Niemann, Hamburg
410 Offshore Borkum, Reede
As part of the 410 Offshore Borkum urban development of Borkum-Reede a series of compact and architecturally sophisticated residential units are being created in the northern part of the harbour for workers in the offshore sector.
3 Mar 2021
FC Campus, Karlsruhe, Baden-Württemberg, south west Germany
Design: 3deluxe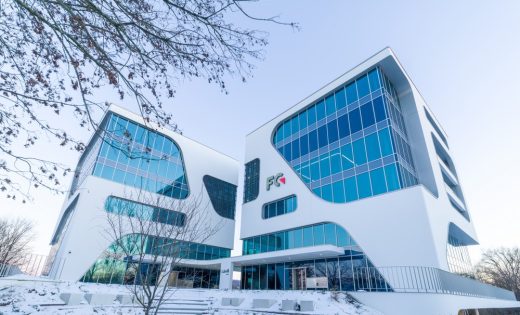 photograph : Sascha Jahnke
FC Campus Karlsruhe
A building is intelligent if it does not just stand there but can respond not only to the requirements of its users but also to external factors. At best, it can make people more comfortable while simultaneously optimizing energy efficiency. The FC Campus building's intelligent architectural element is a sheet of foil, something normally used in Apple smartphones, integrated into its glass structure. In the context of a building façade, this is a global first.
More contemporary German Architecture News online here soon
German Architecture News 2010 – 2020
3 Dec 2020
Hinang House, Allgäu, Bavaria, southern Germany
Design: Carlos Zwick Architekten BDA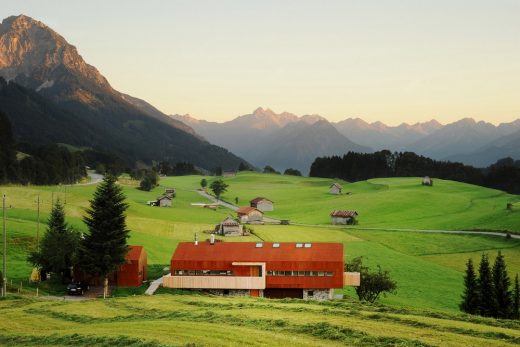 photography : Tomek Kwiatosz
House in Allgäu, Bavaria
A person planning a house on a meadow above a subterranean lake from the former glacial period has either nerves of steel or not the faintest idea. This is what happened to the Berlin architect Carlos Zwick when he wanted to construct, Hinang House, a summer residence for his family of 8 in his Allgäu homeland.
25 Nov 2020
This Is Schönau! Diverse, Connected and Communal, Schönau, north of Mannheim
Design: BOARD, Rotterdam, NL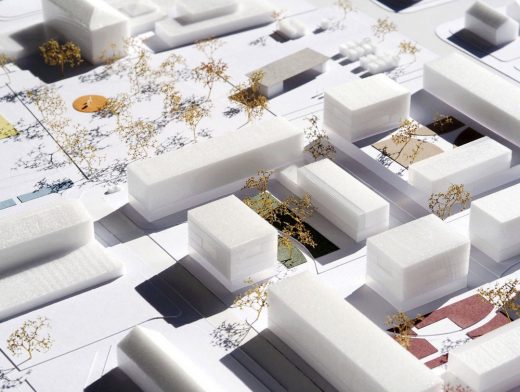 image courtesy of architecture office
This is Schönau! Mannheim
The Rotterdam-based architecture office BOARD – known for producing and publishing MONU Magazine on Urbanism – takes diversity and communal living to the next level with their urban design project "This Is Schönau! Diverse, Connected and Communal" that reached the final phase in a competition for a new neighborhood in Schönau, a district in the north of Mannheim, Germany.
2 Oct 2020
Laagberg Memorial and Learning Site, Wolfsburg, central Germany
Design: Hoskins Architects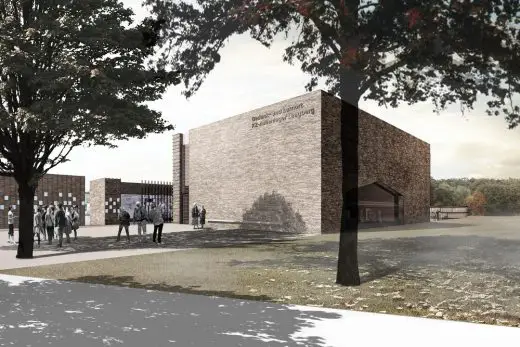 picture courtesy of architects
Laagberg Memorial and Learning Site, Wolfsburg
In September 2020 Hoskins Architects, working with landscape architects guba+sgard and exhibition designers Ralph Appelbaum Associates, won the competition to design the new Laagberg Memorial and Learning Site in Wolfsburg.
23 Sep 2020
T3 Audi Design Center, Ingolstadt, Bavaria, southern Germany
Architects: gmp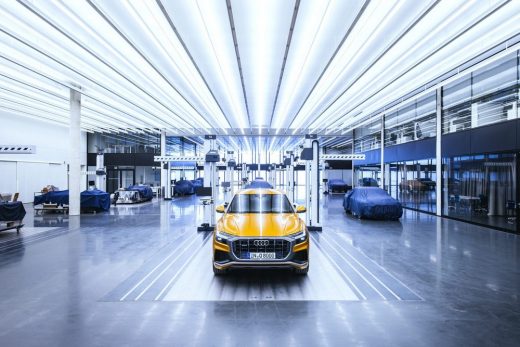 photograph © Benjamin Antony Monn
T3 Audi Design Center Building
T3 Audi Design Center at the company's original site at Ingolstadt has now been operational for three years and has been extensively tested in practice by employees.
25 Aug 2020
Cycle And Pedestrian Bridge Heidelberg
Design: schlaich bergermann partner, LAVA, and Latz + Partner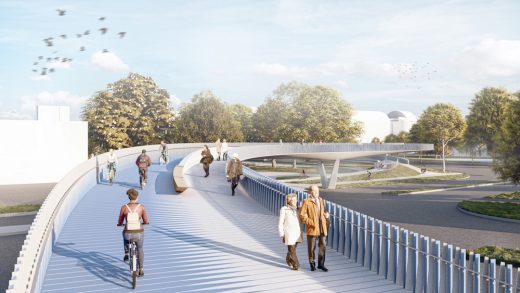 image © schlaich bergermann partner/LAVA/Latz+Partner
Bridge over Neckar River in Heidelberg
schlaich bergermann partner, LAVA, and Latz + Partner, have won first prize in an international competition for the design of a new pedestrian and cycle bridge over the Neckar River in Heidelberg.
23 Aug 2020
Adidas Headquarters, Herzogenaurach, Bavaria, Bavaria
Architects: COBE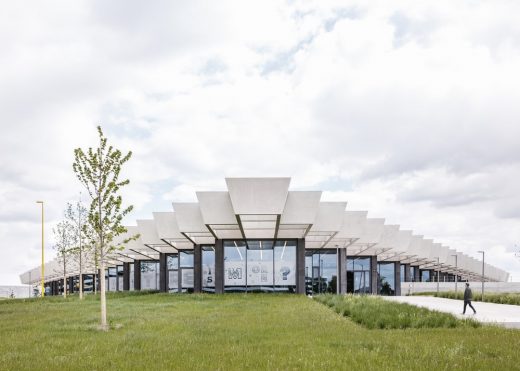 photograph : Rasmus Hjortshøj – COAST
Adidas Headquarters in Herzogenaurach, Bavaria
A new multi-purpose building for the world-famous sports brand Adidas Headquarters in Germany. The building was designed by the Danish architecture firm COBE, headed by Dan Stubbergaard.
26 June 2020
Carmen Würth Forum, Künzelsau, Baden-Württemberg, south central Germany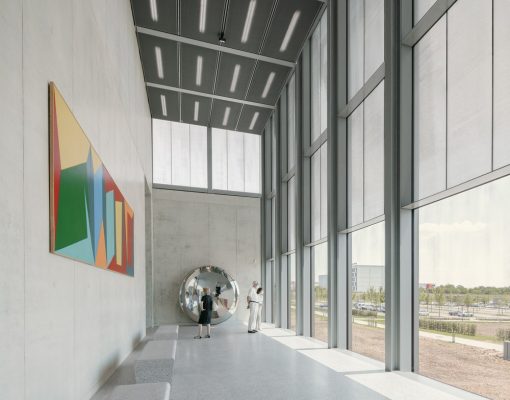 photography © Simon Menges
Carmen Würth Forum in Künzelsau
A second construction phase completes the Carmen Würth Forum for the Adolf Würth GmbH & Co. KG situated in the town of Künzelsau in southern Germany. The diverse range of functions further establishes the complex's conceptual idea of a forum and allows the building to be open continuously, in particular due to its use as a museum.
19 June 2020
Ah´ Haus, Schorfheide Home, Brandenburg
24 May 2020
Niederheide Primary School Building, Hohen Neuendorf, Oberhavel district, Brandenburg
Design: IBUS Architects and Engineers GbR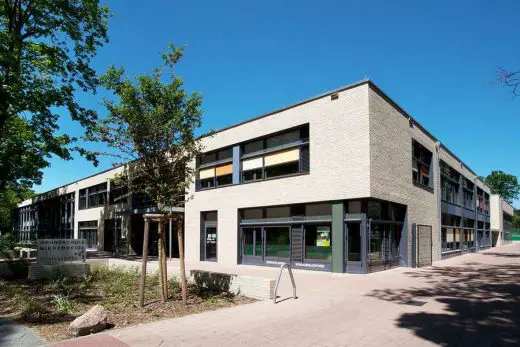 image courtesy of architects practice
Niederheide Primary School, Brandenburg Building
The Niederheide Primary School in Hohen Neuendorf is trend-setting in many ways: as the first school in Germany with a plus-energy standard, the building meets the highest requirements in terms of sustainability in both the building and the operation itself. In addition, the architecture of the IBUS Architects and Engineers, Berlin/Bremen effectively demonstrate how it is possible to design a school environment in which pupils and teachers can breathe and feel totally comfortable.
13 Feb 2020
Kirsch Pharma HealthCare Building in Wedemark
German Architecture Offices
German Architect Practices – design firm listings on e-architect
Germany Building Updates 2019
5 Dec 2019
The Hyparschale Building, Magdeburg, Saxony-Anhalt
Design: von Gerkan, Marg and Partners Architects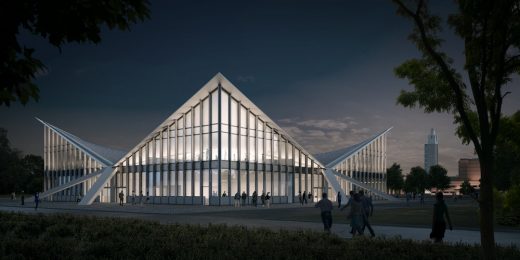 Perspective exterior Hyparschale © gmp Architects
The Hyparschale Building Magdeburg, Saxony-Anhalt
Having stood empty for over 20 years, the refurbishment of the building in line with monument preservation guidelines is now starting to a design by architects von Gerkan, Marg and Partners (gmp). The focus is on reviving the structure as an events and exhibition venue, as well as overhauling and repairing the concrete shell roof, which will once again bring to life the spatial effect of this hall with its column-free construction.
19 Jun 2019
Bauhaus Architecture in Celle, Lower Saxony
16 Jun 2019
Ulrichshof Hotel in Rimbach
5 Apr 2019
Hotel Andaz Munich Building
15 Feb 2019
Europahafenkopf, Bremen, north Germany
Architects: COBE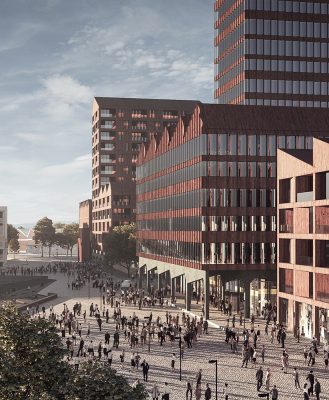 image : COBE
Europahafenkopf Bremen
Groundbreaking for a 77,000 sqm project on the harbour front in the German city of Bremen designed by the Danish architectural firm under the leadership of architect Dan Stubbergaard.
12 Feb 2019
Feuerstein Arena, Schierke, Harz district, Saxony-Anhalt
Architects: GRAFT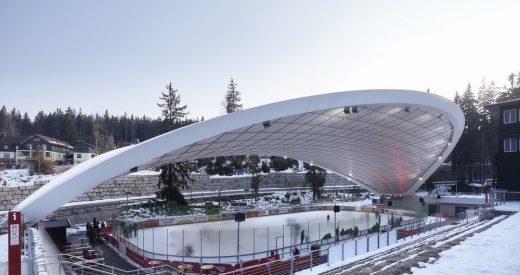 photo : Michael Moser
Feuerstein Arena Schierke
At the foot of the Harz Mountains a historic ice stadium has been renovated. In 2013, GRAFT won the European architecture tendering for the reactivation of the former natural ice stadium and convinced the jury with their unique roof construction.
More Germany Architecture News on e-architect soon
Germany Architectural Updates 2018
17 Dec 2018
James Simon Galerie, Berlin
Design: David Chipperfield Architects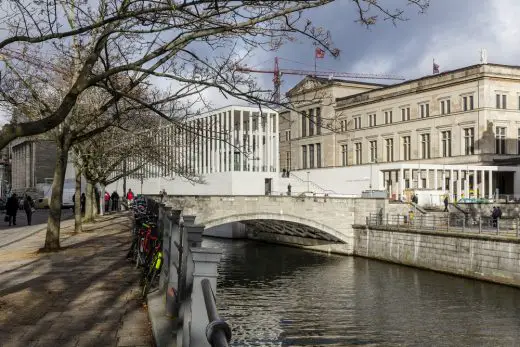 photo © Ute Zscharnt for David Chipperfield Architects
James Simon Galerie
17 Dec 2018
Enchanting Traces – Reflections on b720 Arquitectos' work, Aedes Architecture Forum, Berlin
Enchanting Traces – Architecture Exhibition in Berlin
27 Nov 2018
Planning Dialogue Hafner – Urban Design Competition, Konstanz, southern Germany
Design: KCAP Architects&Planners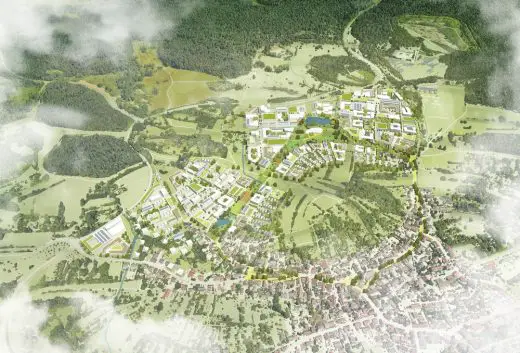 image © KCAP, Ramboll Studio Dreiseitl
Planning Dialogue Hafner Konstanz
The plan envisages a mix of 45 ha of residential and 15 ha of commercial areas, including 2.600 apartments, set as several quarters into the soft hills of north-western Konstanz, creating a truly green neighbourhood.
16 Nov 2018
BARRY Bar by Rebecca Brodsky, Berlin
Design: Architects Kristina Wiese & Franziska Lindholz
BARRY Bar
26 Oct 2018
Gasteig Cultural Centre, Munich, southern Germany
Gasteig Cultural Centre Building
14 Sep 2018
FOM University, Düsseldorf, north west Germany
Design: J. MAYER H., Architects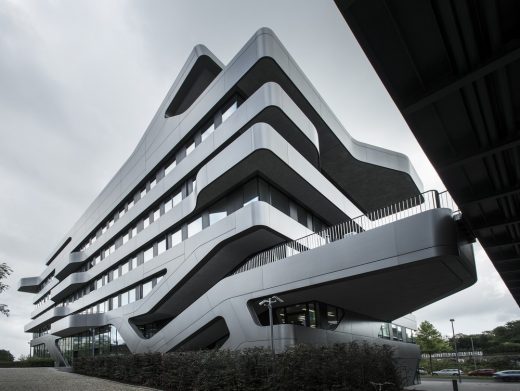 photo : David Franck
FOM University Düsseldorf Building – winner at International Architecture Awards 2018
29 Aug 2018
Heilbronn — A City Redesigns Itself, Baden-Württemberg, South West Germany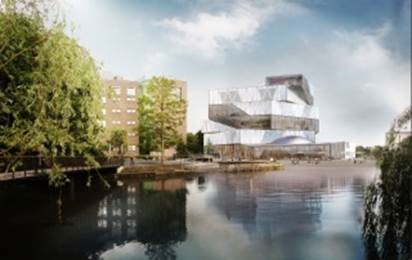 image © Sauerbruch Hutton
BUGA Bundesgartenschau Heilbronn 2019 Buildings
Federal Garden Show 2019, Education Campus and Experimenta
Exhibition: 20 October – 29 November 2018
Location: Aedes Architekturforum, Christinenstr. 18–19, Berlin
21 Jul 2018
Bauhaus Architecture in Celle, Lower Saxony, South East Germany
Bauhaus Architecture in Celle, Germany
The picturesque Guelph Palace and the modern 24-hour art museum located next to the impressive Bomann Museum in the Old Town are well-known. Less well-known, however, is that Celle is effectively the birthplace of 'Neues Bauen' ('New Objectivity' – modern functional building design) and with regard to Bauhaus architecture it ranks in the same league as the towns of Weimar and Dessau.
5 Jul 2018
New Train Station Development, Altona, Hamburg
Design: C.F. Møller Architects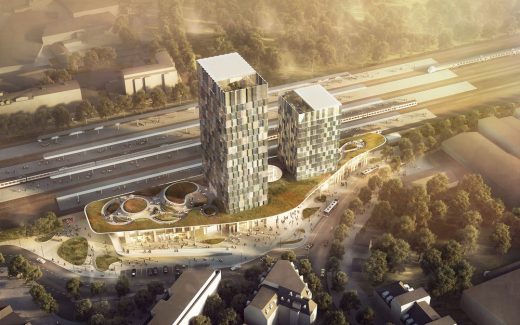 image courtesy of architecture office
New Train Station Development in Altona
20 Apr 2018
adidas LACES, Herzogenaurach, Erlangen-Höchstadt, Bavaria, Southern Germany
Design: kadawittfeldarchitektur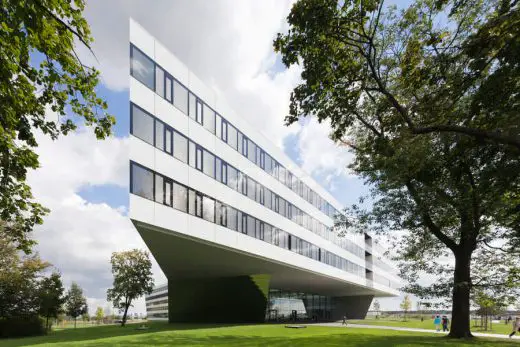 photo : Werner Huthmacher
adidas LACES
The Research and development building offers a new working environment at the corporation's headquarters in Herzogenaurach to round about 1,700 adidas designers, developers, scientists and marketing strategists. The new 'Laces' as its largest building completes the current masterplan of the adidas-campus 'World of Sports'.
13 Mar 2018
Cradle to Cradle Project, Dusseldorf, North Rhine-Westphalia, North West Germany
Design: HPP, architects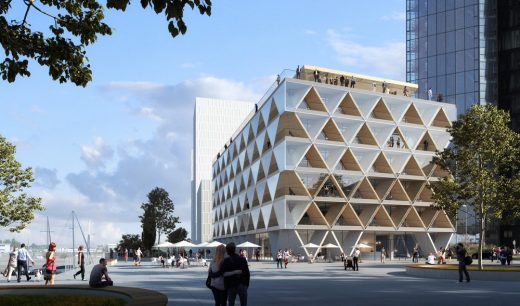 image Courtesy architecture office
Cradle-to-Cradle in Düsseldorf
9 Feb 2018
Elbtower, Hamburg
Design: David Chipperfield Architects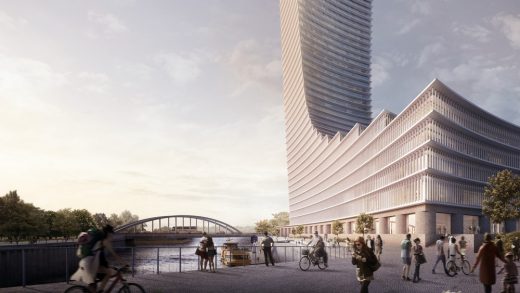 image from architecture firm
Elbtower Building
6 Feb 2018
FOUR Frankfurt Towers
Design: UNStudio & HPP Architects (UNS + HPP)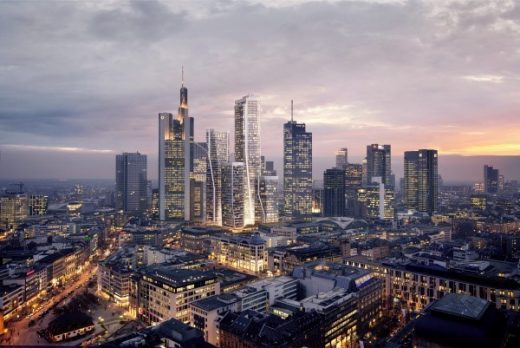 image courtesy of architects
FOUR Frankfurt
31 Jan 2018
The Bauhaus Promenade Museum, Dessau, Eastern Germany
Design: Matteo Cainer Architects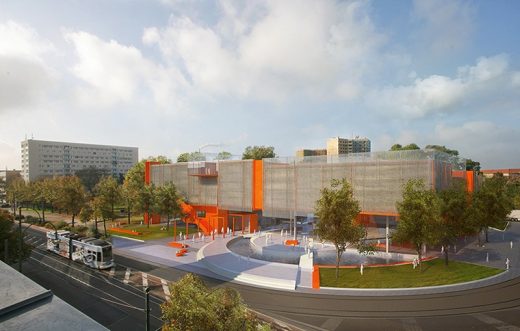 image Courtesy architecture practice
The Bauhaus Promenade Museum in Dessau
To capture the spirit of the Bauhaus is to recognise the scale and vision of one of the most important movements in 20th century contemporary design.
29 Jan 2018
Sports Youth Hostel Bayreuth, Bavaria, southern Germany
Design: LAVA, Architects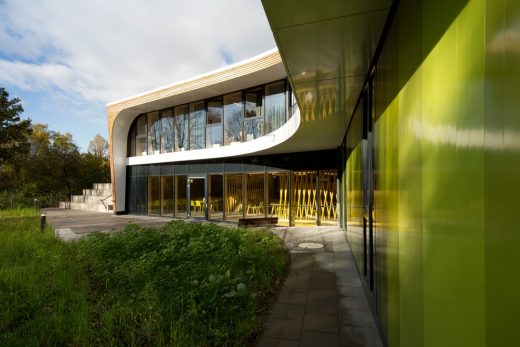 photos : Häfele, Studio Huber
Bayreuth Youth Hostel Germany
This building fits in to the new generation of youth hostels – innovative, integrative and international. The fluid structure is integrated into the landscape, with contemporary materials and holistic sustainability – a place for active people of all abilities.
4 Jan 2018
House Rheder, Brakel, Höxter, North Rhine-Westphalia
Design: Falkenberg Innenarchitektur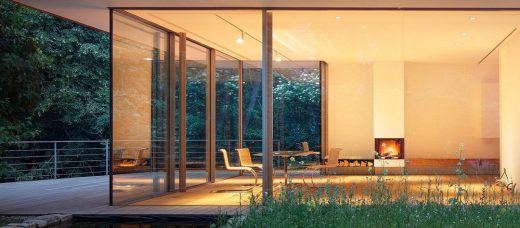 image Courtesy architecture office
New House in Brakel
4 Dec 2017
Urban nation museum for urban Contemporary art, Berlin
Design: GRAFT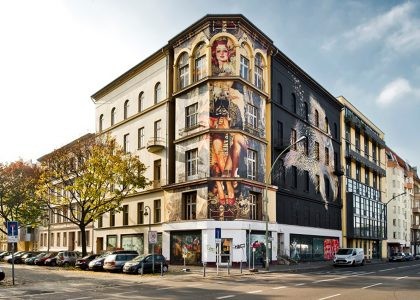 photo © Benjamin Pritzkuleit
Urban Nation Museum in Berlin
The Urban Nation Museum is the first German museum for urban art. The building is located in the quarter of Schöneberg.
The architectural concept is for the conversion of a former residential building, located where Bülowstrasse and Zietenstrasse intersect.
11 Nov 2017
Hotel & Spa Seezeitlodge, Lake Bostalsee
Design: GRAFT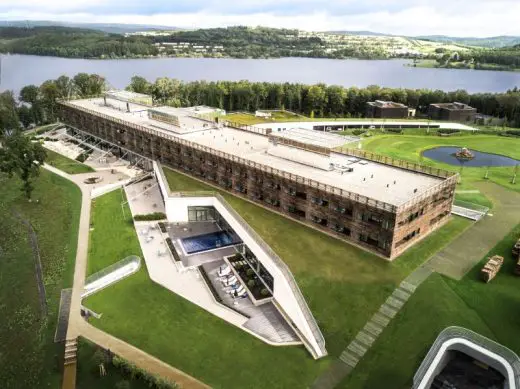 photograph : Airteam
Hotel & Spa Seezeitlodge, Lake Bostalsee
The Hotel occupies an advantageous position in its natural surroundings, overlooking a serene lake from a wooded promontory. GRAFT's design aims to build on and enrich the character of the location. The building figure is a product of the surrounding topography. The hotel connects the realm of the wood with the expanse of the lake, mediating between the land and the water.
19 Oct 2017
Villas Winterberg, Hochsauerland District, east of North Rhine-Westphalia
Architects: Third Skin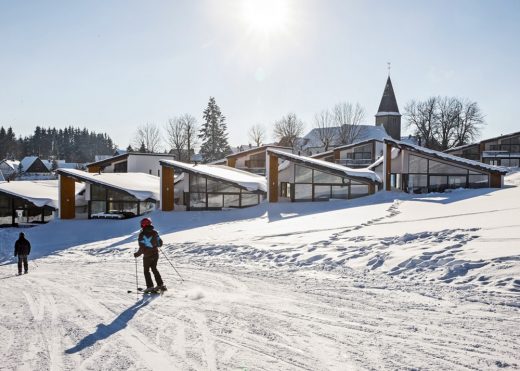 photograph : Steffi Rost
Villas Winterberg in the Hochsauerland District
18 Oct 2017
Historical Museum Exhibits, Frankfurt am Main, Hesse
Architects: Kossmann.dejong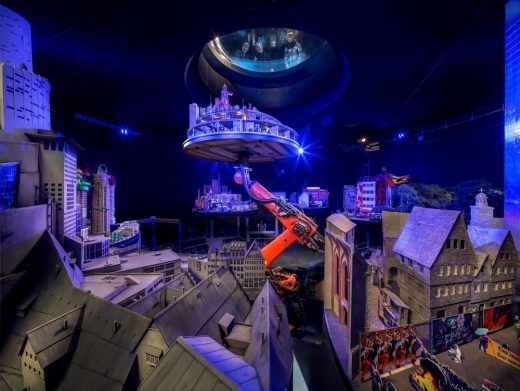 picture Courtesy architecture office
Historical Museum Exhibits Frankfurt
14 Sep 2017
'Behaviour Morphe' light mapping projection, Karlsruhe, Baden-Württemberg, South West Germany
Design: Zaha Hadid Architects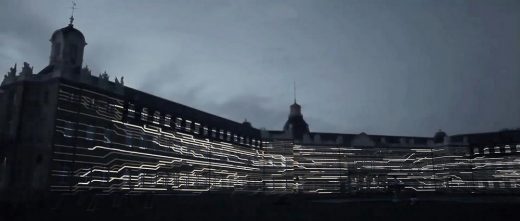 image Courtesy architecture office
'Behaviour Morphe' light mapping projection in Karlsruhe
ZHA collaborated with leading digital artists and computer science researchers Andy Lomas and Mubbasir Kapadia, together with musician Max Cooper to create the 'Behaviour Morphe' light mapping projection for the 2017 Schlosslichtspiele Festival.
4 Aug 2017
Stadtwerke Heidelberg Energie Park + Building
Design: LAVA with A24, White Void, Priedemann and Transsolar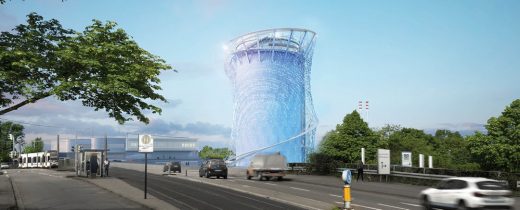 images : LAVA, sbp, A24, WHITEvoid ABOUT LAVA was founded in 2007 by directors, Chris Bosse, Tobias Wallisser
Stadtwerke Heidelberg Tower
LAVA's design will transform the new water tank, a cylindrical-shaped storage centre, into a dynamic sculpture, a city icon, a knowledge hub on sustainable energy, fully accessible to the public, a strong symbol of the transition towards renewables.
31 Jul 2017
Carmen Würth Forum, Künzelsau, Baden-Württemberg, in south central Germany
Architect: David Chipperfield Architects Berlin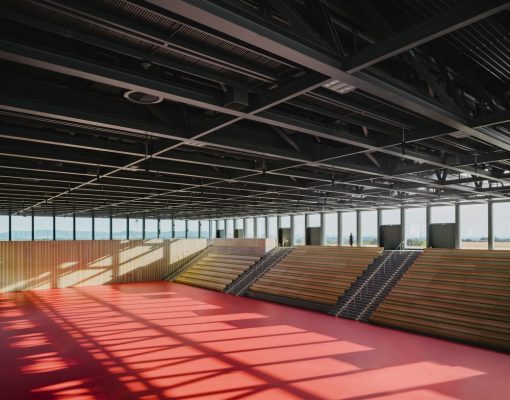 photograph © Simon Menges
Carmen Würth Forum in Künzelsau
Surrounded by open fields and at a little distance from the main office complex, David Chipperfield Architects Berlin is building the Carmen Würth Forum, the first stage of which – comprising a large events hall and a smaller hall for chamber music recitals – was completed in July 2017.
31 Jul 2017
Grant for Bauhaus Building, Dessau, Saxony-Anhalt, eastern Germany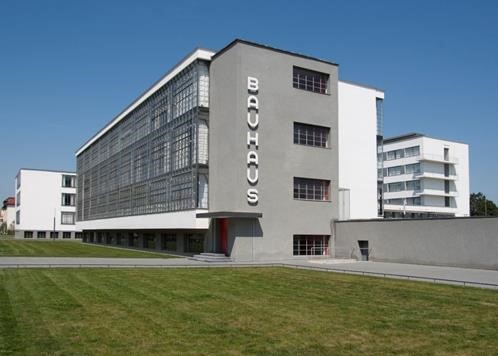 photo © Bauhaus Dessau Foundation, photo © Yvonne Tenschert
Bauhaus Building Dessau
The Getty Foundation announced $1.66 million in architectural conservation grants dedicated to twelve significant 20th century buildings. Among this year's most recognizable projects is the revered Dessau structure designed by architect Walter Gropius, who incorporated design features that would ultimately become synonymous with modern architecture around the world.
3 Jul 2017
Sven Wingquist Test Centre, Schweinfurt, Lower Franconia, Bavaria
Design: TCHOBAN VOSS Architekten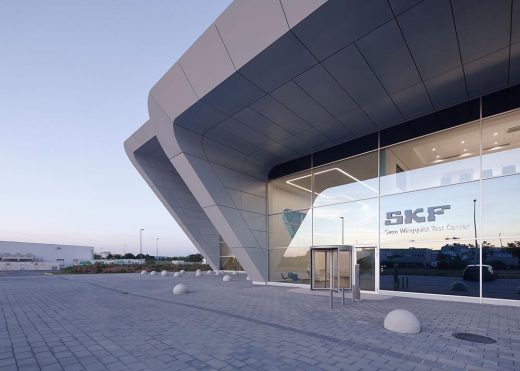 photograph © Hans Jürgen Landes
Sven Wingquist Test Centre in Schweinfurt
On the 21st June 2017 the worldwide highest-performance test centre for large scale bearings was inaugurated in Schweinfurt. The new Sven Wingquist Test Centre is located in the south of the city and completes the SKF competence centre as its final element.
12 Jun 2017
New Continental AG Headquarters, Hannover, north Germany
Architects: HENN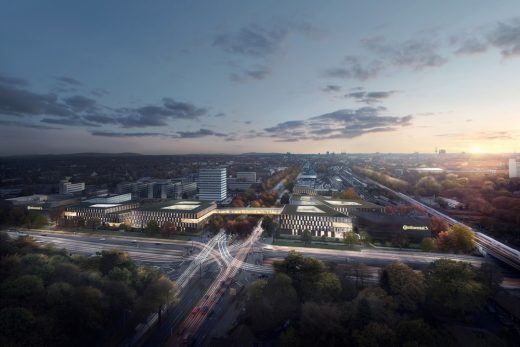 image © HENN
New Continental AG Headquarters in Hannover
The new company headquarters of Continental consolidates all the facilities formerly spread across the city in one location, simultaneously marking the eastern approach to Hanover, the capital of Lower Saxony.
8 Jun 2017
C.A.R.L. auditorium, RWTH Aachen University, Aachen, North West Germany
Design: Schmidt Hammer Lassen Architects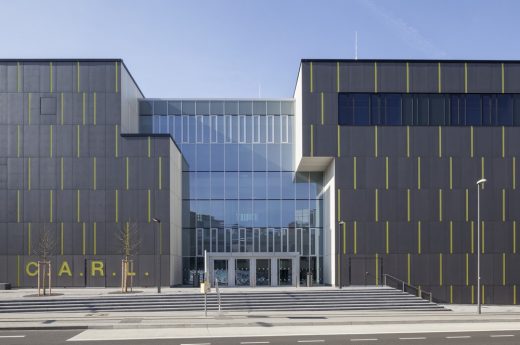 photographers : Margot Gottschling and Michael Rasche
CARL Auditorium at RWTH Aachen University
One of the largest and most modern lecture facilities in Europe: the new 14,000 sqm facility named C.A.R.L. (Central Auditorium for Research and Learning) offers space for over 4,000 students. It comprises 11 lecture halls, 16 seminar rooms, break-out spaces and cafés, as well as housing the University's physics collection, storage spaces, workspaces and a large bicycle parking basement.
9 Jun 2017
documenta 14 in Kassel + Athens
Location: Kassel, northern Hesse, Germany + Athens, Greece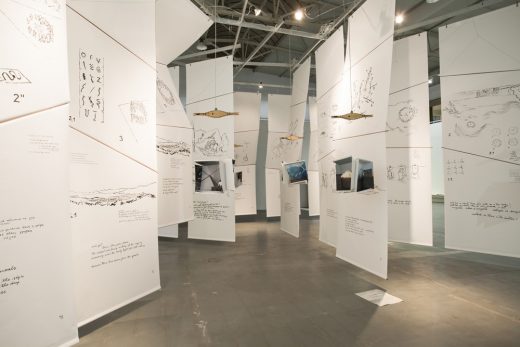 photograph : Yiannis Hadjiaslanis
documenta 14 in Kassel + Athens
The National Council of Culture and Arts Chile is pleased to announce that artist Cecilia Vicuña will participate in documenta 14. Documenta, now in its 14th edition, consists of two venues: Athens, Greece and Kassel, Germany where it originated sixty years ago.
31 Mar 2017
Patrick-Henry-Village in Heidelberg
Design: KCAP Architects&Planners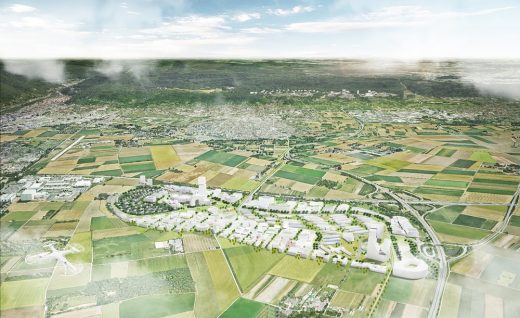 picture © KCAP and ORANGE Architects
Patrick-Henry-Village in Heidelberg
Initiated by the International Architecture Exhibition (IBA) Heidelberg, thematic scenarios for the development and future use of the area have been designed by a group renown urban planning offices in a collaborative process.
4 Apr 2017
University Hospital RWTH Aachen Extension
Design: HENN + C.F. Møller Architects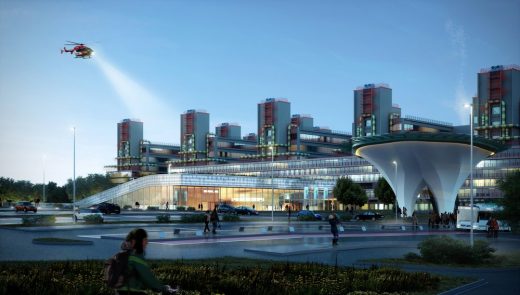 images from architects
University Hospital RWTH Aachen Extension
27 Mar 2017
Bushaltestelle und Strassenbahnhaltestelle, Kehl, Ortenaukreis, Baden-Württemberg, southwestern Germany
Design: J.MAYER.H, Architects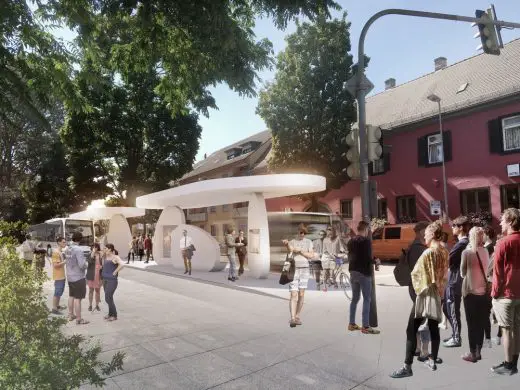 image Courtesy architecture office
Bus and Tram Infrastructure Kehl
As part of the new transnational tram line crossing the Rhine river from Strasbourg, France into Kehl, Germany, J.MAYER.H designed bus and tram stops at the central square in Kehl as sculptural compositions based on organic shaped discs.
1 Feb 2017
Lahnstein Kindergarten
Design: Herrmanns Architekten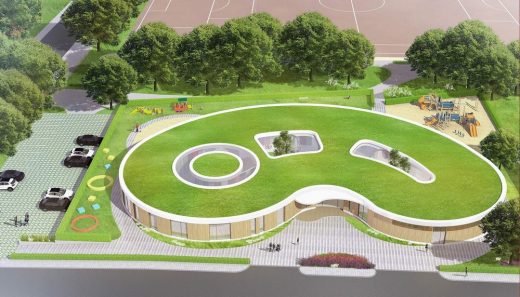 image Courtesy architecture office
Lahnstein Kindergarten in Germany
The curved building for a new kindergarten is to be erected as a wooden structure with a formwork of vertical wood panels. The intention of the architects is that the new building is self-consciously integrated into the urban environment.
5 Jan 2017
Shoe Shelve Shop, Neumünster, Schleswig-Holstein, North Germany
Architects: Urban Agency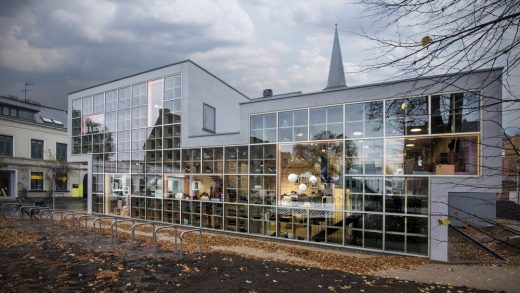 photo : Thomas Berberich, Urban Agency
Shoe Shelve Shop in Neumünster
The Shoe Shelf Store is a new flagship store for stüben fuß & schuh in Neumünster, Germany. The transparent two-story building seamlessly integrates display, façade and urban performance.
Archive for previous years, 2014-2016:
Contemporary German Architectural News
More German Architectural Design News online soon
Location: Germany, Northern Europe
New Architecture in Germany
Contemporary German Architectural Projects, chronological:
Comments / photos for the Germany Architecture Information page welcome