Contemporary German Architecture News 2016, Building Construction, Property Design
German Architectural News
Teutonic Architecture Information for 2014 – 2016 – Northern Europe Built Environment Updates
German Architecture News 2016
German Architecture Designs – chronological list
Current building construction updates page:
Contemporary German Architecture News
27 Dec 2016
House W, Oberhavel, Brandenburg, south of Berlin, eastern Germany
Design: Peter Ruge Architekten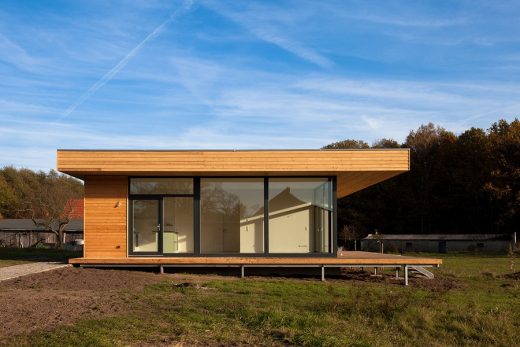 photo © Li Yuanhao
House in Brandenburg
27 Dec 2016
Rehearsal Building Düsseldorf, North Rhine-Westphalia
Design: gmp architects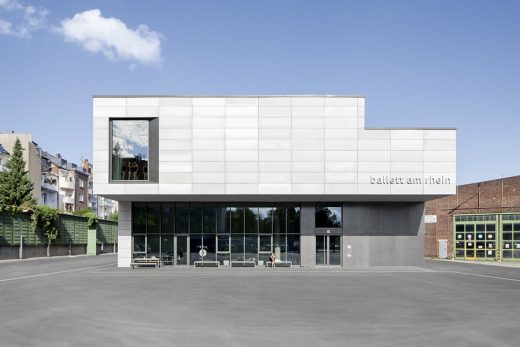 image Courtesy architecture office
Rehearsal Building in Düsseldorf
The new Rehearsal Building for the Deutsche Oper am Rhein ballet company opened after a construction period of less than ten months. In a consortium with HOCHTIEF Solutions, the architects von Gerkan, Marg and Partners (gmp) carried out the new construction on the historic site of the former Rheinbahn depot "am Steinberg" in Düsseldorf as part of a PPP contract placed by Düsseldorf City Council.
27 Dec 2016
Villa S, Schriesheim, Baden-Württemberg, south west Germany
Design: Ian Shaw Architekten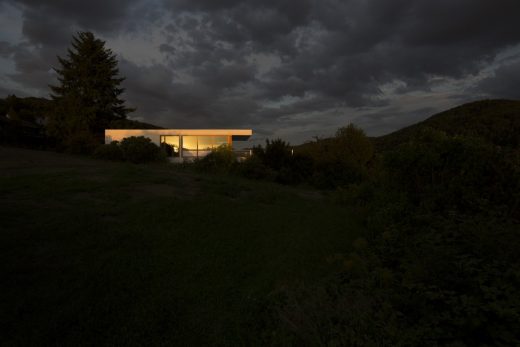 image Courtesy architecture office
Villa S in Schriesheim in Germany
27 Dec 2016
Bank HQ in Nuremberg
Design: Evolution Design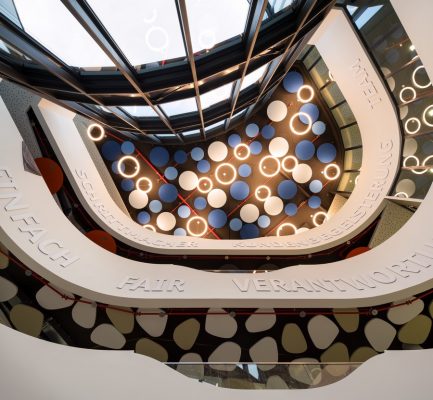 photo © Christian Beutler
Bank HQ in Nuremberg
16 Dec 2016
Thermal Baths in Bad Staffelstein, Upper Franconia , Bavaria
Design: Krieger Architects Engineers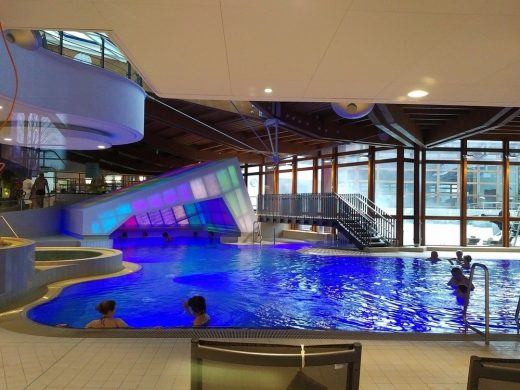 photo : LUCEM GmbH
Thermal Baths in Bad Staffelstein
The public swimming pool "Obermaintherme" in the Bavarian city Bad Staffelstein is Bavaria's hottest and strongest saltwater emerging from 1600 m deep drilled spring. More than 1.600 sqm water surface and more than 15.000 sqm sauna are inviting to relaxing and recovering.
28 Nov 2016
WDR Crossmedia House, Cologne, North Rhine-Westphalia
Design: HOLODECK architects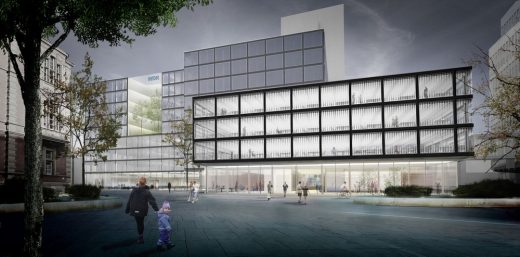 visualization : isochrom
WDR Crossmedia House in Cologne
2 Jan 2017
Sonnenhof Jena, Thuringia, south east Germany
Design: J. MAYER H. Architects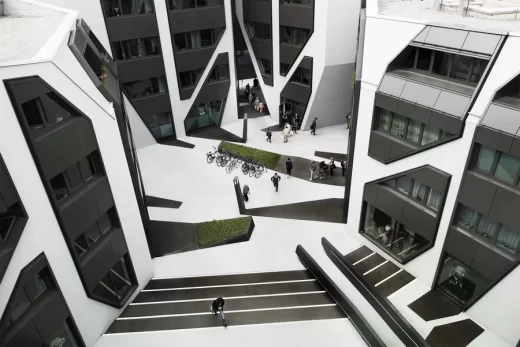 photo : David Franck
Sonnenhof Jena Building
Sonnenhof consists of four new buildings with office and residential spaces. Located on a consolidated number of smaller lots in the historical center of Jena, Germany, the separate structures allow for free access through the grounds.
10 Oct 2016
Stadtwerke Heidelberg Energie Park + Building
Design: LAVA with A24, White Void, Priedemann and Transsolar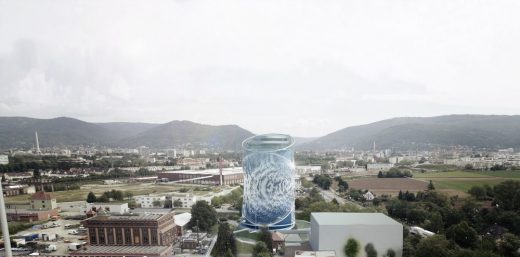 image Courtesy architecture office
Stadtwerke Heidelberg Energie Park + Building
The existing cylindrical-shaped storage centre is transformed into a dynamic sculpture, a city icon, a knowledge hub on sustainable energy and fully accessible to the public with city views.
30 Sep 2016
Kindergarten in Neuwied
Design: M+ Architekten/herrmanns-architekten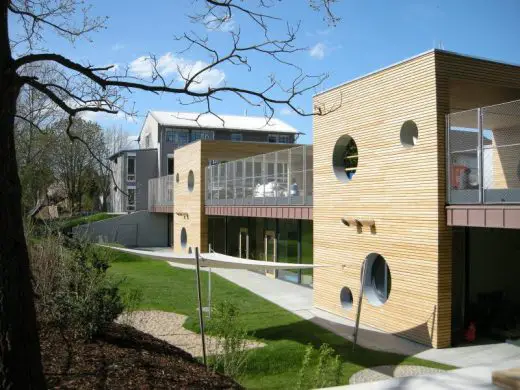 image Courtesy architecture office
Kindergarten in Neuwied
Kindergarten in Neuwied: The new nursery has been built on the site of the existing kindergarten. For this reason, the roof area of the new single storey building is designed as a playground. In keeping with the Montessori pedagogic method, the building is the most important toy.
11 Aug 2016
adidas World of Sports, Herzogenaurach, Erlangen-Höchstadt, Bavaria
Design: Behnisch Architekten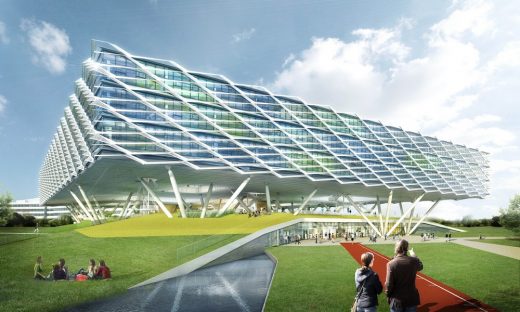 image Courtesy architecture office
Adidas World of Sports in Herzogenaurach
Two new employee buildings at the headquarters "the world of Sports" in Herzogenaurach. Behnisch Architekten are planning the new office building called "Arena" which provides workplaces for more than 2.000 employees on 50.000 square meters and will form the future new main entrance to the campus.
6 Jun 2016
Hechingen Studio, the Black Forest, Southwest Germany
Design: Whitaker Studio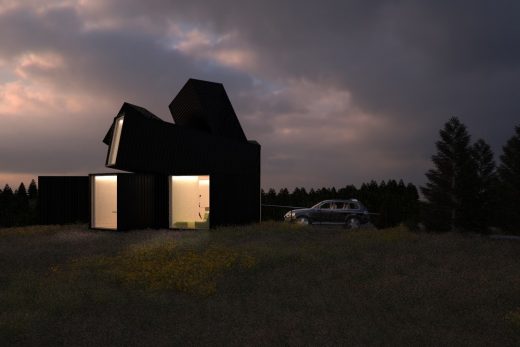 image Courtesy architecture office
Hechingen Studio in the Black Forest
In 2010 a German advertising agency approached the architect to design them a low cost workplace in the Black Forest, just outside the town of Hechingen. The advertising agency stopped trading before the project was realised.
3 Jun 2016
Aesop Shop, Dusseldorf, North Rhine-Westphalia
Design: Snøhetta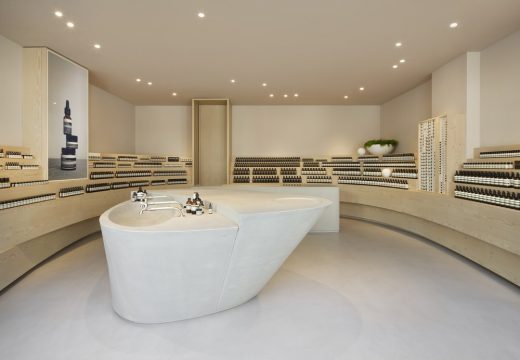 image Courtesy architecture office
Aesop Shop in Düsseldorf
Aesop's tenth signature store in Germany. Located in Grabenstraße, this shop is the second store designed by Snøhetta to open in Germany, preceded by one in Berlin.
21 Apr 2016
NürnbergMesse Hall 3C, Nuremberg
Design: Zaha Hadid Architects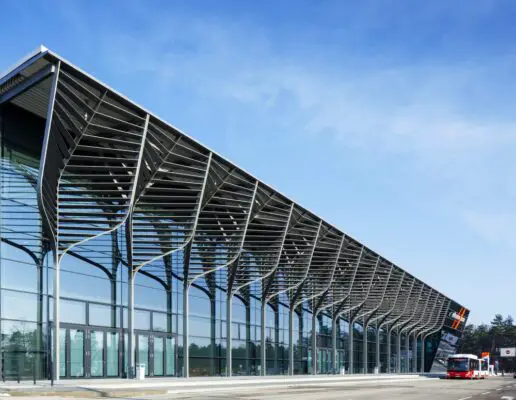 photograph : Heiko Stahl
Messe Hall 3C in Nuremberg
NürnbergMesse is one of the world's largest exhibition companies with a portfolio of over 120 national and international exhibitions and congresses that include 30,000 exhibitors and 1.4 million visitors who attend in their own, partner and guest events of the NürnbergMesse Group.
14 Apr 2016
Former US Army Barracks, Mannheim
Design: MVRDV partnered with Traumhaus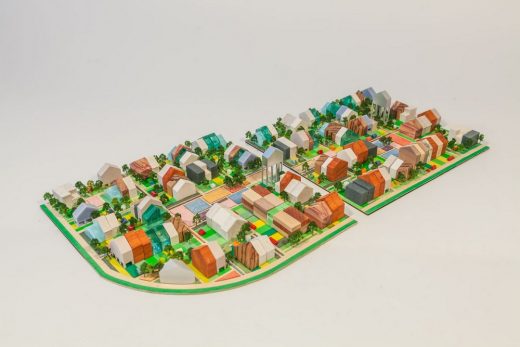 image © Made by Mistake
Former US Army Barracks in Mannheim
A response to the current state of modern day suburbia and the village as part of the redevelopment of former US Army barracks in Mannheim, Germany. MVRDV won the competition for the 27.000sqm residential project, which breaks apart the standard housing model and redefines suburban living
3 Apr 2016
BMW Central Building, Leipzig, south east Germany
Design: Zaha Hadid Architects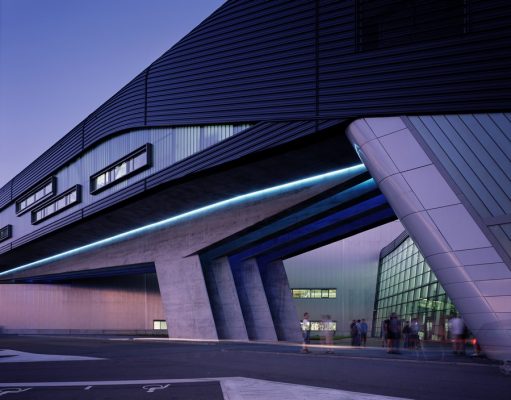 photo © Hélène Binet
BMW Central Building in Leipzig
In October 2004 BMW moved into the Central Building at the new Plant Leipzig premises, designed by London-based architect Zaha Hadid. The building's design facilitates a radical new interpretation of open office landscape, delivering an even more engaging experience of connectivity and transparency within the demanding functionality.
17 Feb 2016
easyCredit headquarters, Nuremberg, Middle Franconia, Bavaria
Design: Evolution Design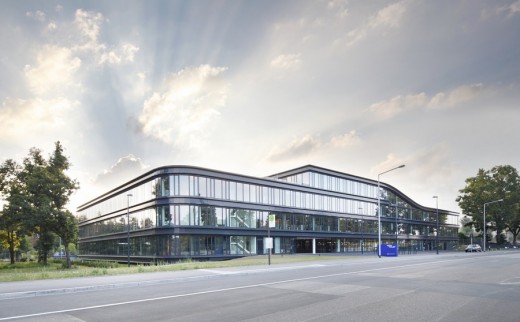 photo © TeamBank AG / easyCredit
easyCredit Haus Nuremberg headquarters
The Team Bank, leading German consumer credit expert, recently moved into their new 15'000 m2 (160'000 ft2) HQ in Nuremberg with over 700 employees.
2 Dec 2015
German Hat Museum, Lindenberg, Allgäu, district of Lindau, Bavaria, southern Germany
Design: ATELIER BRÜCKNER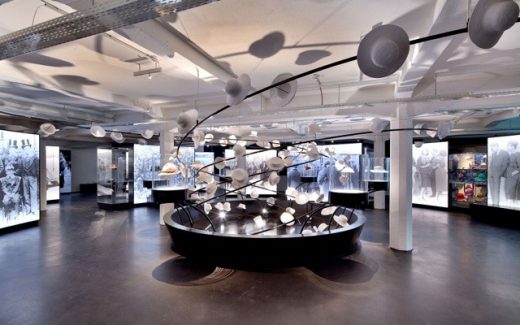 image Courtesy architecture office
German Hat Museum in Lindenberg
The Bavarian Museum Award, which comes with a prize money of 20,000 euros, will be presented to the German Hat Museum this year.The celebration will take place on Friday, December 4th, 2015 in Lindenberg im Allgäu. The museum designed by ATELIER BRÜCKNER is awarded for its "outstanding museum's work".
2 Dec 2015
Waschhaus Housing and Office, Andechs
Design: Buero Wagner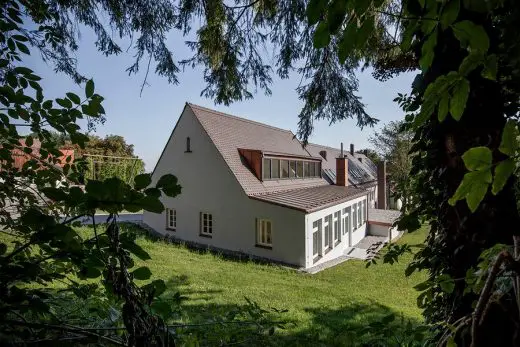 photography : F. Löchner
Waschhaus Housing and Office in Andechs
One of the oldest pilgrimage sites in Bavaria:p as a commodity of the Benedictine abbey Saint Bonifaz in Munich, the monastery ensures the financial basis of the abbey's pastoral, social and cultural work – according to the credo "ora et labora – pray and work."
18 Nov 2015
The German Football Museum, Dortmund, North Rhine-Westphalia
Design: HPP Architects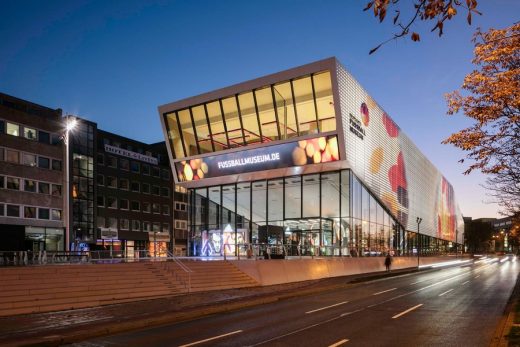 photography : HG-Esch
German Football Museum in Dortmund
The new premises of the German Football Museum were officially opened on October 25h with a 3-day celebration. Four years after winning the Europe-wide competition to design the museum, HPP have created a new and permanent home for the 140 years of German Football history.
18 Nov 2015
Capitol Mixed-Use Complex, Rosenheim
Design: Behnisch Architekten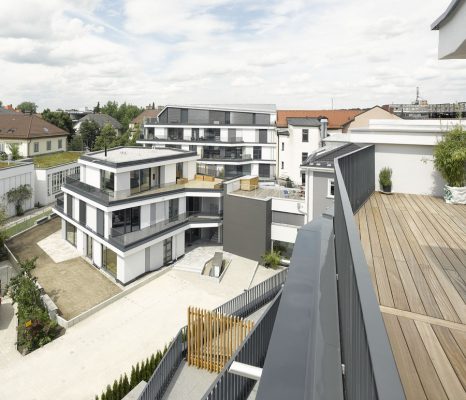 image Courtesy architecture office
Capitol Mixed-Use Complex in Rosenheim
The neglected site of the former "Capitol" cinema is to be occupied by a mixed-use office and residential complex with an assignable area of 3,500 sqm. Due to its proximity to the city-centre, the site is in fact an attractive locale.
15 Oct 2015
Grimmwelt, Kassel – A Place of Contrasts
Design: Kadawittfeld Architektur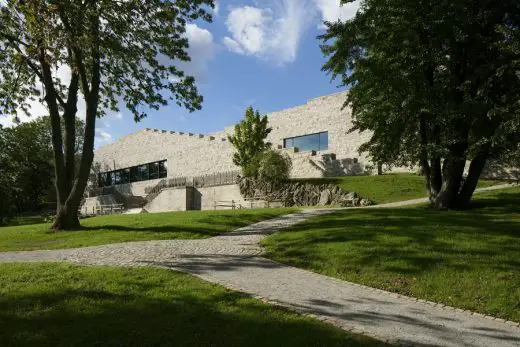 photography © Jan Bitter
Grimmwelt Museum in Kassel
18 Sep 2015
Boeselburg Student Housing, Münster
Design: kresings architektur GmbH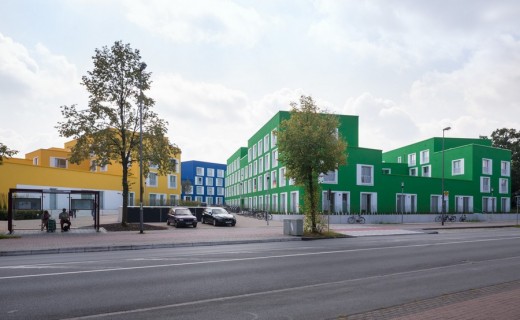 photograph : HG Esch, Attenberger Strasse 1 53773 Hennef (Germany)
Boeselburg Student Housing in Münster
What is it that people expect from a new large complex of dormitories? People expect such a housing complex to make efficient and effective use of expensive space by means of a log building system and straight borders.
19 Sep 2015
Lippe Bad, Lünen
Design: nps tchoban voss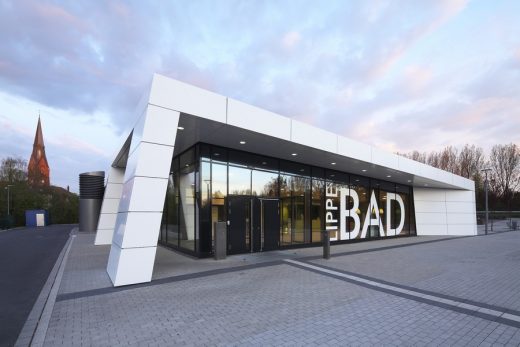 image Courtesy architecture office
Lippe Swimming Pool in Lunen
Within a pool concept for the Westphalian town of Lünen, the "Lippe Bad" was opened on September 09, 2011 after a period of construction of two years which has been built according to passive house standards as the first public indoor swimming pool in Germany. The principal and operating company is Stadtwerke Lünen mbH.
10 Sep 2015
Bauhaus Museum Dessau Competition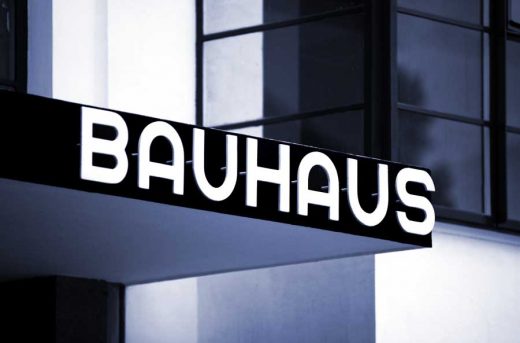 image © Gordon Watkinson
Bauhaus Museum Dessau Competition
Dessau-Roßlau – the jury in the design competition for the construction of the Bauhaus Museum Dessau awarded two first prizes. The prizewinners, selected by a majority decision with one dissenting voice, come from New York and Barcelona with the third and fourth prizes going to Zürich and Toronto.
11 Mar 2015
Ludlstrasse Housing, Munich, Bavaria
Design: Felixx and Mei architects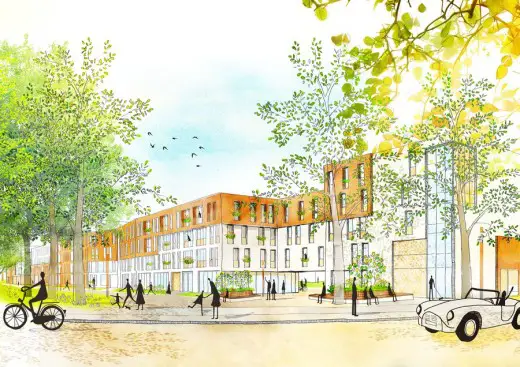 image Courtesy architecture office
Ludlstrasse Housing in Munich
The largest housing association in Munich, GEWOFAG, organized a closed competition for the redevelopment of a residential area of 340 dwellings around the Ludlstrasse in Munich.
13 Nov 2014
Beethoven Festspielhaus, Bonn, western Germany
Design: David Chipperfield Architects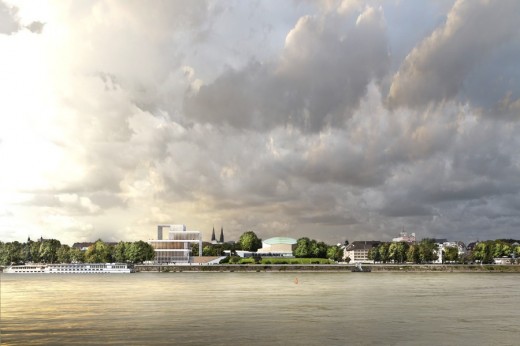 rendering : David Chipperfield Architects
Beethoven Festspielhaus in Bonn
David Chipperfield Architects was shortlisted as one of three offices to refine the design scheme for the Beethoven Festspielhaus. The final winner of the competition will be announced in spring of 2015.
10 Nov 2014
Neutrabuilding in Jena
Design: wurm + wurm Architects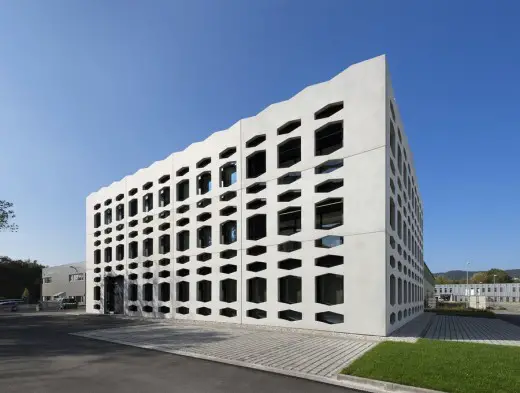 photograph : Ester Havlova
Neutrabuilding in Jena
The task in this project was to remodel an empty industrial facility, built in type design of precast concrete, into a modern, flexible office and workshop building meeting modern demands.
4 Nov 2014
Theatre Workshops, Frankfurt am Main
Design: gmp · Architekten von Gerkan, Marg und Partner


image Courtesy architecture office
Theatre Workshops Frankfurt
With the completion of the transport and landscaped areas, the conversion and extension of the workshops for the scenery and costumes of the Städtische Bühnen were completed on time for the new 2014/2015 season.
More German Architectural Design News for 2014 to 2016 online soon
Location: Germany, western Europe
Contemporary Architecture in Germany
Contemporary German Architectural Projects, chronological:
German Architect Firms – design studio listings
Contemporary German Building News by city:
Frankfurt Architecture Designs
Stuttgart Architecture Designs
Comments / photos for the Germany Architectural Design Information in 2016 page welcome