Ecuador Architecture News 2020, South America Building Projects, Construction Design, Properties
Ecuador Architecture News
Contemporary Building Designs – South American Built Environment Updates
post updated 4 Nov 2020
Ecuador Building News
Ecuador Architectural News, chronological:
Ecuador Architecture Designs – chronological list
12 Nov 2020
UEPM Classrooms, Quito
2 Jun 2020
EPN University Library, Quito
Design: Ordonez Arquitectos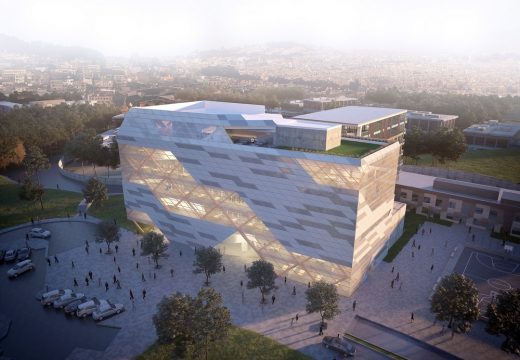 visualization : SOMA studio
EPN University Library
The building stands out through the precise use of geometry, expressing an exo-structure formed by a diamond pattern in the skin. Sequential double-height spaces of the reading areas flow along a strip of glass expressed on the pattern.
9 May 2019
House AO, Otavalo
Architecture: Studio Alfa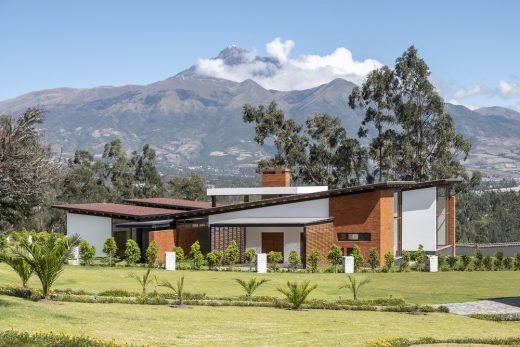 photograph : Bicubik
House AO in Otavalo
This modern Otavalo property is located within a context where landscape is one of the core conditioning factors for its design. The client requested that the main spaces take part of the best views; the architectonic response was to propose spatiality where the user, the architecture, and the setting would dialogue.
2 May 2019
EPIQ Building, Quito
Architecture: BIG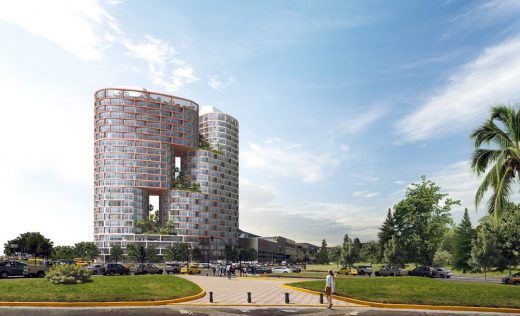 image courtesy of architects office
EPIQ Building in Quito
BIG-Bjarke Ingels Group architectural design "inspired by Natural Beauty, Diversity, and Community of the City".
1 Apr 2019
Machala Hospital, Machala, El Oro Province
Architects: PMMT architecture studio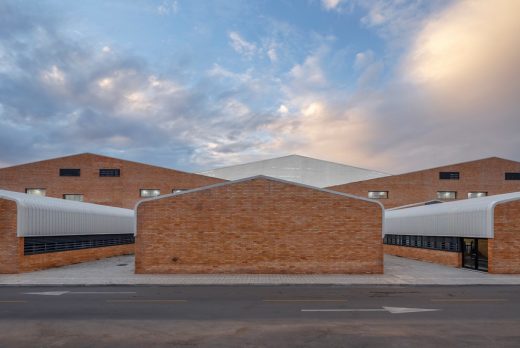 photograph © Bicubik
Machala Hospital Building in El Oro province
Described by this architectural office as a paradigm Of "fluid hospital", A New Typology Of Radically Flexible, Adaptable And Extendible Healthcare Buildings
Ecuador Architecture News 2010 – 2018
8 Nov 2018
Casa Tacuri, Nayón, Quito
Architecture: Gabriel Rivera Arquitectos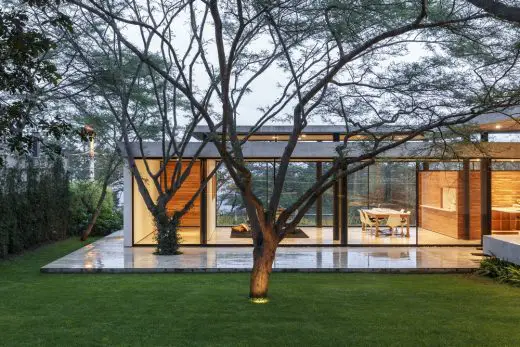 photograph : BICUBIK Photography
New House in Nayón, Quito
Tacuri is a place located in the Nayón area of the city of Quito. It is a fascinating place due to its microclimate, flora, fauna and exceptional view of the Cumbayá Valley.
31 Oct 2018
Casa Ortega, Sangolquí, Ecuador
Architects: Estudio A0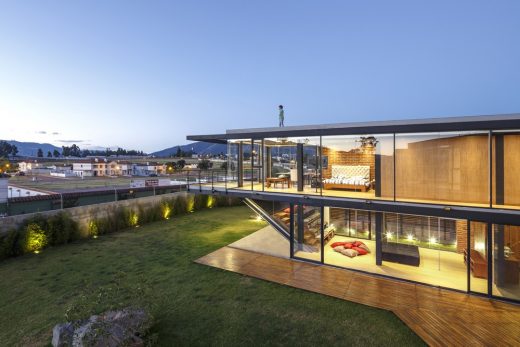 photograph : Sebastián Crespo
Casa Ortega in Sangolquí
The commission was clear: a home with two pavilions, one for Raúl and his latent family, another one for his parents. Two houses in one: independent and interdependent.
20 Aug 2018
Pan-American Architecture Biennial in Quito 2018 Competition, Ecuador, South America



image Courtesy architecture office
Bienal Panamericana de Arquitectura de Quito
5 Jan 2018
Diffuse Borders Residence, Tumbaco, Quito
Design: arquitectura x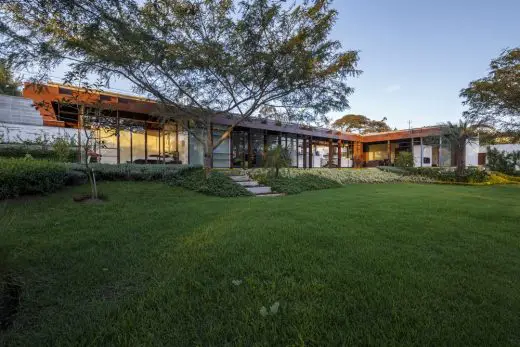 photo : Bicubik, Sebastián Crespo, Andrés Fernández
Diffuse Borders Residence in Quito
This project became a house in the process, its actual configuration decided during construction, its final purpose still undecided. Uncertainty and vagueness become the strategies and the tools for constructing a series of spaces which solve the family´s needs, based on two fixed requirements: a field for playing football and a barbeque for entertaining.
10 May 2017
PD House, Club Los Arrayanes, Puembo
Design: Gabriel Rivera Arquitecto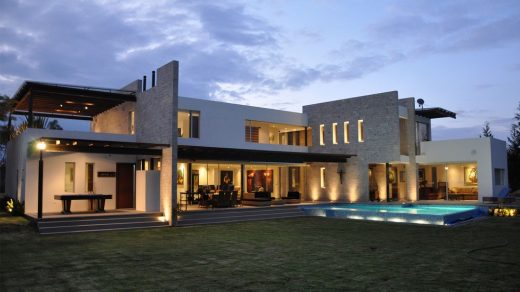 photo : Arq. Gabriel Rivera
House in Puembo
Located in Los Arrayanes Club, in Puembo, PD House is a composition of habitable walls and volumes, which gathered under the light, create architecture. The irregular shaped lot with a 1 400 m2 area, provides the rear border with a magnificent view towards a golf course.
9 May 2017
Puerto Cayo House, Puerto Cayo, Manabí
Design: Gabriel Rivera Arquitecto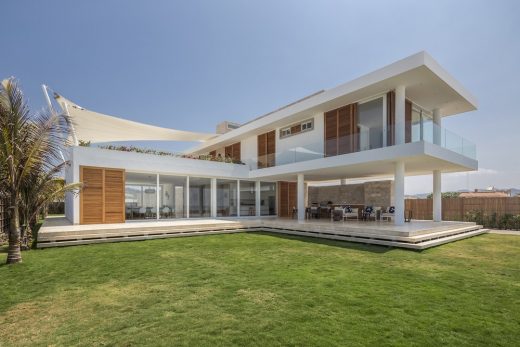 photo : Sebastián Crespo
Puerto Cayo House in Manabí
The Puerto Cayo House, is a project where time passes slowly and life is enjoyed at its best. A place that invites us to meet again with our essence and leads us to understand that we are part of a whole, part of nature, part of the universe.
16 Dec 2016
Gaia Building, Avenue Eloy Alfaro y Mariana de Jesús, Quito
Design: Leppanen + Anker architects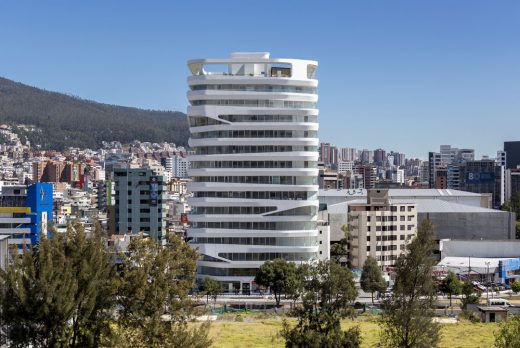 photograph : Sebastián Crespo
Gaia Building in Quito
This is a crisp 14 story, 15,000 sqm mixed-use building: commercial on the lower floor, offices for the next four floors and residential units on the next nine floors.
12 Nov 2016
Cotacachi Residence, Imbabura
Design: arquitectura x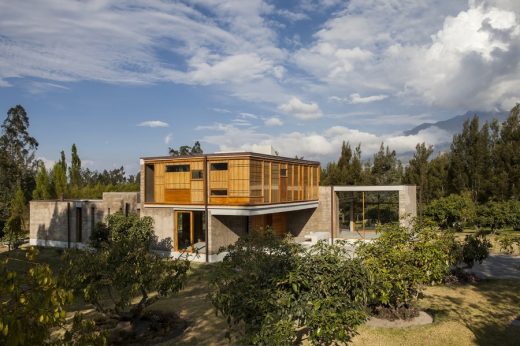 photograph : Sebastian Crespo
Cotacachi House
A retreat amid the northern Andes in a small town, two hours north of Quito, an orchard site in a valley 2470 meters above sea level, between the Imbabura and Cotacachi mountains, to the east and west respectively. The couple required a design proposal in 4 days before going home, or they will sell the site.
5 Feb 2016
Quitowers, Quito
Design: Chapman Taylor, Architects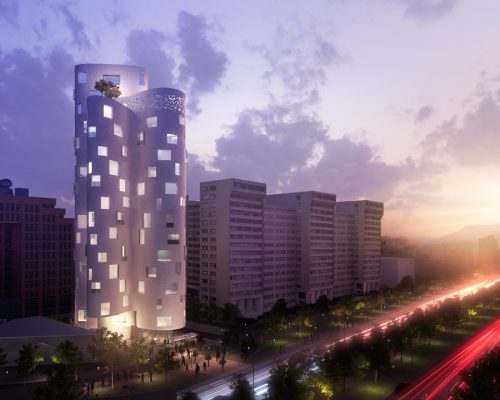 image Courtesy architecture office
Quitowers in Quito
Quitowers is a new residential tower project in Quito, the capital city of Ecuador. At 2,850 metres (9,350 ft) above sea level, Quito is the highest official Capital city in the world.
23 May 2014
Casa Los Chillos, Valle de los Chillos, Cuenca Canton
Design: Diez + Muller Arquitectos


photograph : Sebastian Crespo
Casa Los Chillos
The design of this house arises from previous research and understanding of the regional architecture of the Ecuadorian highlands, and how it engages with a modern system through understanding the place, tectonics and space of each, creating a tension between the two systems.
17 Jan 2011
Plus House, Puerto Cayo
Design: WE architecture



image from architect
Plus House Ecuador
The house is formed at a plus or a cross, where one of the boxes is placed perpendicular on the coast line, following the terrain down the slope and the other is places along the same high of the hill crossing the other box in the middle.
17 Jan 2011
Triangular House, Puerto Cayo
Design: WE architecture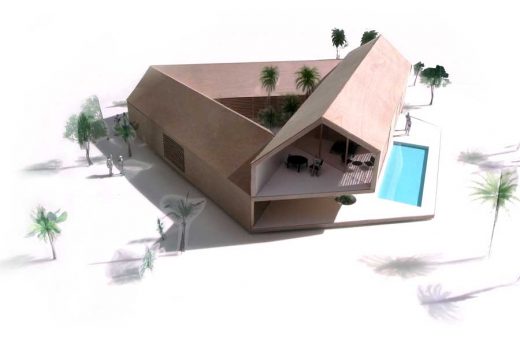 picture from architects
Triangular House Ecuador
The generous climate and beautiful surroundings of Puerto Cayo represents a unique possibility of developing a future settlement which will attract residents from not only Ecuador but other countries as well.
17 Apr 2008
House in a tree garden, Quito
Design: Arquitectura X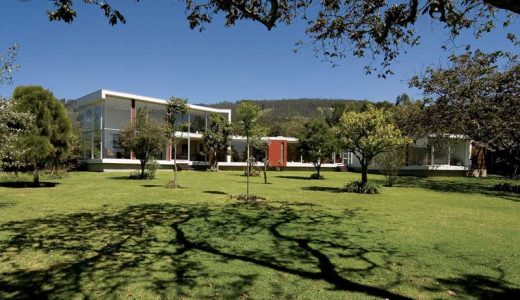 photograph : Sebastian Crespo
Quito Trees House
Designed for a young couple with three small children, the house is located within a tree garden full of a diversity of local species of considering age and size distributed over a very generous area; the site was cared for by the couple for several years before deciding to build.
17 Apr 2008
Observatory House, Quito
Design: Arquitectura X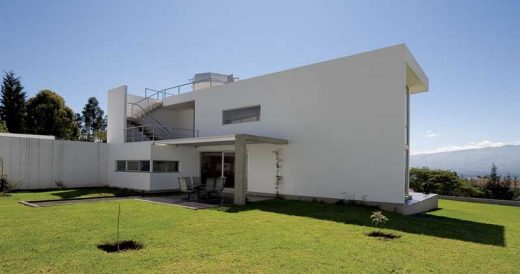 image : Sebastian Crespo
Casa Observatorio
17 Apr 2008
Casa 3, near Quito
Design: Arquitectura X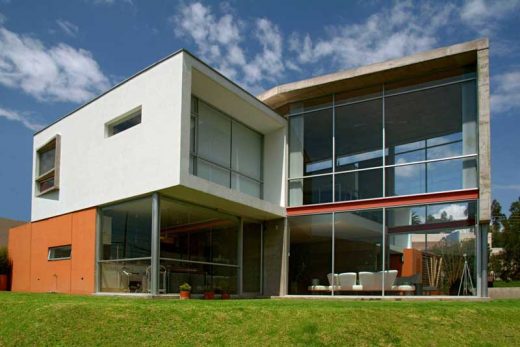 picture : Sebastian Crespo
Quito House 3
Located on a valley to the east of Quito, the area enjoys a temperate climate all year round and is a privileged setting due to its proximity to the local mountain ranges. The built context consists mainly of colonial style houses with a total disregard for the local topography, landscape or climate.
17 Apr 2008
Castillo Hermanos Hardware Store, Quito
Design: Arquitectura X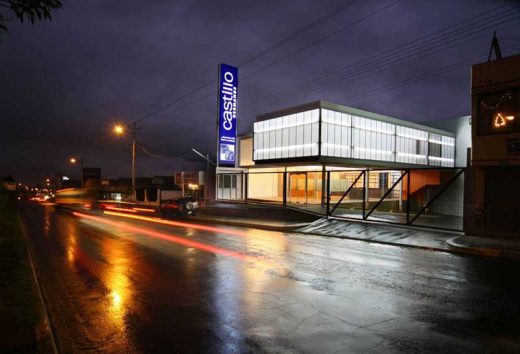 picture : Sebastian Crespo
Quito Hardware
The client decided to build a structure (for the first time) designed specifically for its large storage, offices and sales requirements. A site was chosen, located at the south end of the city on the main access route to Quito, in an area that is chaotically consolidating with multiple uses.
15 Apr 2008
X House, Tumbaco Valley, Quito
Design: Arquitectura X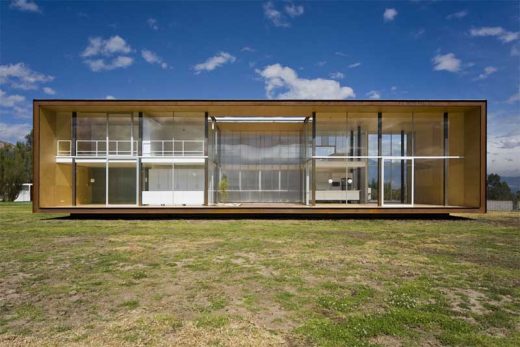 photo : Sebastian Crespo
Ecuador House
When the architects started to design their own house, not having a site, they set out an elemental scheme that could work both in Quito and the valleys east of the city; this meant distilling their experience into an abstracted form, that could be placed in any likely site.
More Ecuador Architecture News online soon
Location: Ecuador, South America
Ecuador Building Developments
More Ecuador Architectural Projects
South American Building Developments
South American Architectural Projects
Architecture in countries close by:
Comments / photos for the Ecuador Architecture News Information page welcome
Website: Ecuador