Swarovski Manufaktur in Wattens, Austrian Work Building, Architecture Images
Swarovski Manufaktur in Wattens, Tyrol
New Austrian Commercial Architecture in Tyrol, Austria – design by Snøhetta Architects
30 Jan 2019
Swarovski Manufaktur Tyrol
Architects: Snøhetta
Location: Wattens, Tyrol, Austria
Swarovski Manufaktur
Snøhetta Completes the Swarovski Manufaktur – the Crystal Atelier of the 21st Century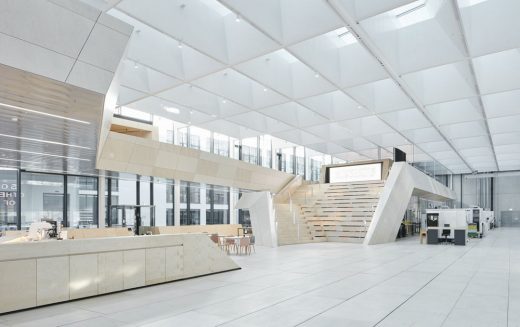 With the Swarovski Manufaktur, Snøhetta has created a crystal workshop for the 21st century. This daylight-flooded and generous building is as much a top-notch production facility as it is an innovative creative hub providing Swarovski with new opportunities to work together with customers.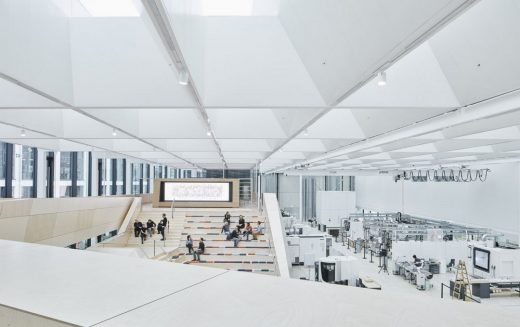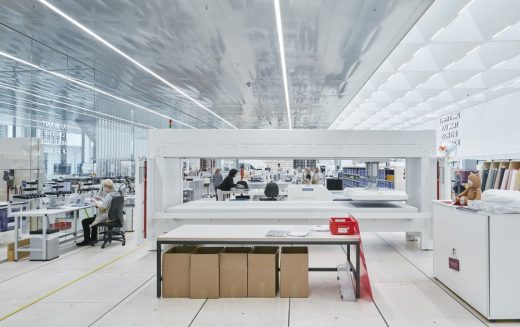 Developed for the Tyrolean crystal manufacturer, the Swarovski Manufaktur is a progressive crystal workshop perfectly suited for creative co-creation, rapid prototyping and representation. The structure cleverly merges design, product development and production into one single facility.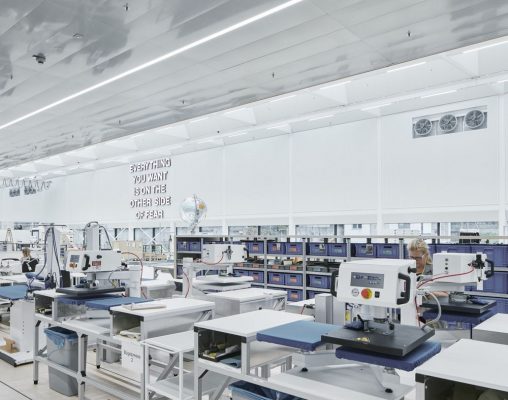 The new building type allows the company to develop innovative ways to align creative visionary processes with technical production requirements. "The Swarovski Manufaktur sets a new standard for inclusive fabrication facilities," says Kjetil Trædal Thorsen, Founding Partner of Snøhetta, when summarizing the concept. "Bringing clients, designers, artists, researchers, machine operators, technicians and the public into one space under one roof is going to change how we think about these relationships in the future".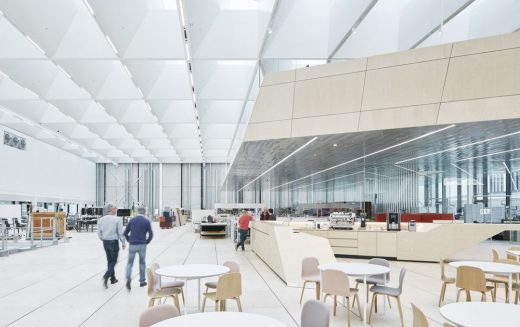 A Play of Light
Swarovski Manufaktur is designed to facilitate innovative collaborations, inventive exchange and a rapid implementation of ideas. The design primarily focuses on creating an appealing and stimulating space that encourages creativity rather than focusing on the physical production processes which are a central part of the Manufaktur. A key focus for the architects was the incorporation of daylight, which is what makes crystal sparkle.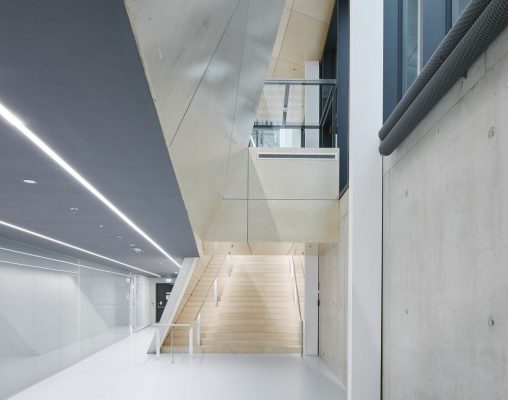 "We tried not to interpret the physical properties of crystals in our building geometry," explains Patrick Lüth, Managing Director of Snøhetta's Studio in Innsbruck. "Instead, we have tried to understand what makes crystal so special and attractive, and to use these ephemeral qualities to create a specific atmosphere. The space has an incredible amount of daylight penetration which we believe is unparalleled in the typical production facility context. Crystals only come to life with light, so for us it is the intense presence of that daylight that is the most important aesthetic aspect of this building."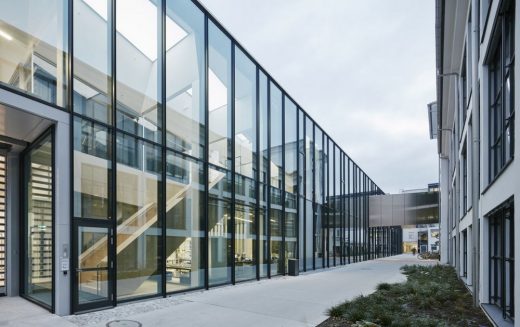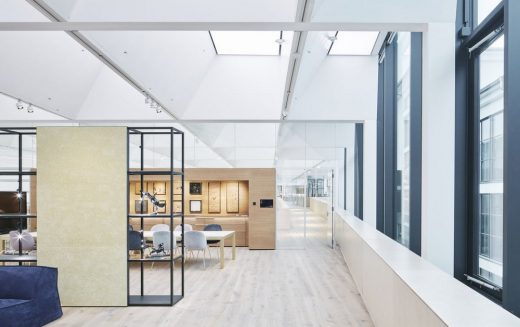 Swarovski Manufaktur, Wattens – Building Information
What is Manufaktur?
• Swarovski Manufaktur is a space dedicated to co-creation and innovation, a work environment set to spark crystal creativity in professionals.
• It replicates Swarovski's entire production process under one roof on a small scale with the aim of enabling faster production in smaller quantities and closer interaction between the client and Swarovski's design and production teams.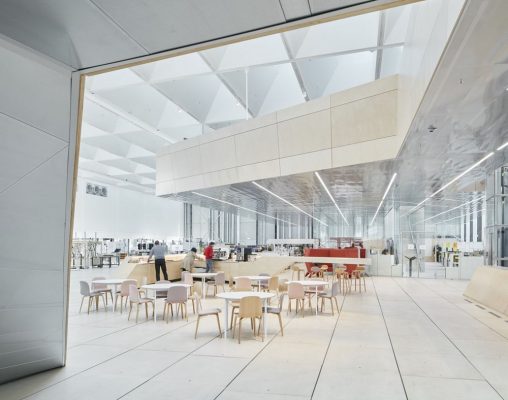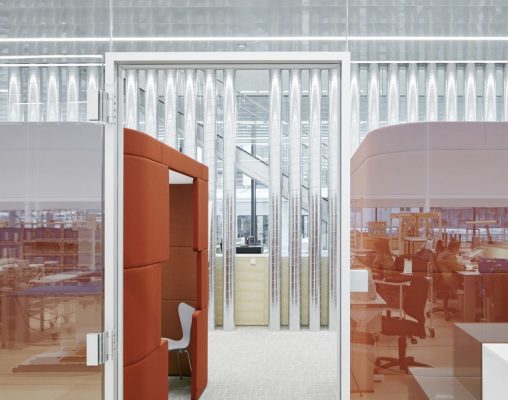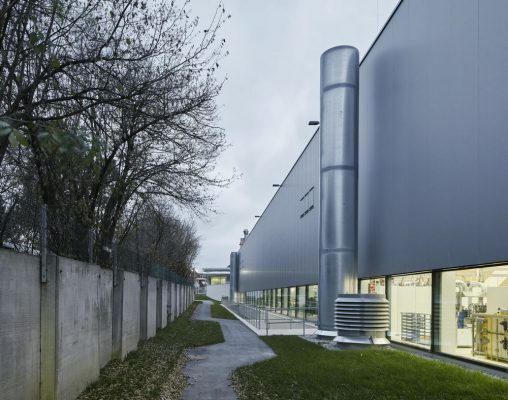 What are Manufaktur's key features?
• "Rapid prototyping", offered for the first time in Manufaktur, enables clients to co-create their own unique designs and see them brought to life directly on the site. The new process cuts the production time by almost half.
• The state-of-the-art machines in Manufaktur are either developed and built inhouse by Swarovski's own technology experts or tailored to Swarovski's high standards of production to create the world's most brilliant crystals.
• While featuring cutting-edge technology, Manufaktur also houses Swarovski's expert craftsmen whose unparalleled manual work complements the work of the machinery.
• Manufaktur sets a new standard for inclusive production facilities, bringing clients, designers, artists, researchers, craftsmen, machine operators and technicians into one space.
• Manufaktur is designed to meet all the requirements of Leadership in Energy and Environmental Design (LEED) gold certification, in line with Swarovski's commitment to be a sustainable production partner and employer.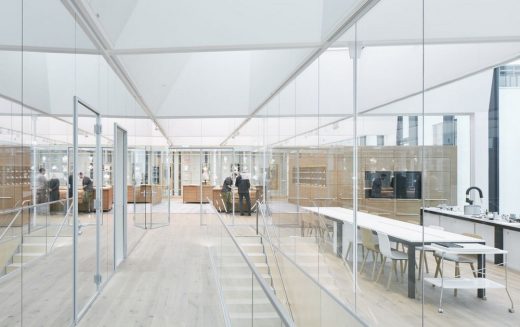 Atmosphere through lighting Manufaktur's roof acts as a large source of daylight for the entire space. 135 cassettes face the sky and filter direct sunlight while providing stable, glare-free natural light.
All building services are fully incorporated into the roof structure, ensuring a clutterfree appearance that does not distract from the clean lines and carefully worked-out proportions of the ceiling.
Clear space, tactile interior The social interaction spaces are characterized by the comforting atmosphere of solid wood. Soft lines and a subtle three-dimensional topography give the interior the feel of a natural landscape.
Flexibility The vast, uninterrupted production floor area provides a high degree of flexibility for all future uses. All machinery-related services are handled in a generous double-floor space that allows for easy relocation and change of programming without interfering with surrounding activities.
Glare free glazing, low solar gain All sky-facing glazing is equipped with a solar control coating and sun protection films. The maintenance-free grid is built into the thermal glazing and reflects all sunlight while allowing a high degree of indirect illumination. The glazing system has a low g-value of 26 % and a high color rendering index (CRI) of 94.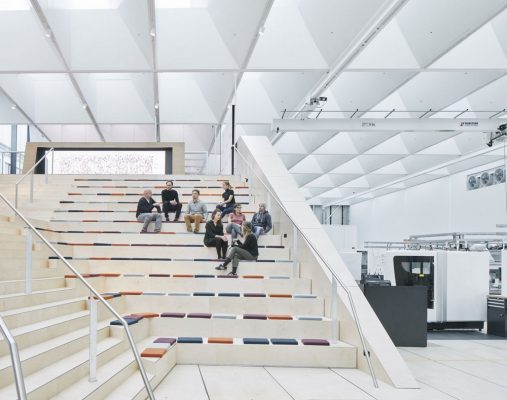 Plot size: 5.505 sqm
Footprint: 3.587 sqm
Length: 102 m
Floor space total: 7.546 sqm
Floor space below ground: 3.217 sqm
Floor space above ground: 4.329 sqm
Glass façade north: 1.114 sqm
Glass façade south: 216 sqm
Glass roof: 1.335 sqm
Room height: 8,45 – 13,75m
Main Production Space: 2.140 sqm
Show rooms: 431 sqm
Suspended platform: 1.093 sqm
Span of roof structure: 28 – 41m
Light Production Space: Dimmable Light
Showroom: Tuneable
Light panels: 252 m², 29 panels á 8,7 sqm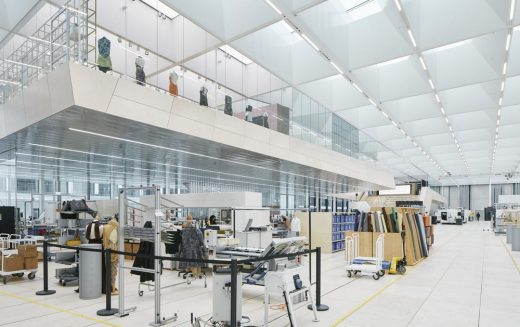 Steel Structure: structural grid (6 x 3m), primary beams 2m high, secondary beams 0,8m high 36 columns, 0,25 x 0,35 m, only along the façade, the production space is column-free 82,5° diamond shaped grid
Number of roof cassettes: 171, therefrom 135 glazed
Technical data glass / light: The laminated glass for the openings in the roof is equipped with a solar control coating on the outside and a diffuse sun protection film on the inside. Transmission factor: 22% g-value: 26%. color rendering index (CRI): 94 The areas in the Manufaktur with direct day light have an sDA ("spatial Daylight Autonomy") of 100 per cent. Acoustic: roof structure cladded with microperforated metal panels ceiling of platform cladded with microperforated metal panels south wall with acoustic cladding HVAC concept: displacement flow system which creates a thermal stratification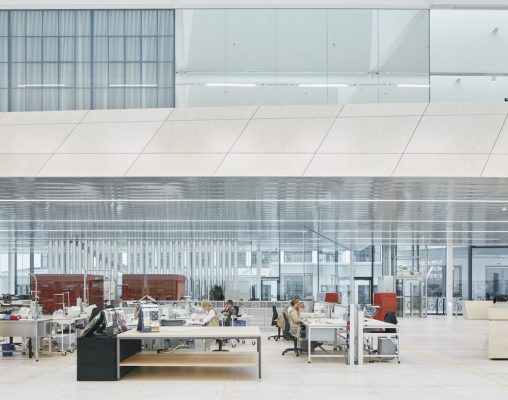 Design Team:
Architecture: Snøhetta – Innsbruck
Interior Architecture: Snøhetta – Innsbruck Carla Rumler, Cultural Director Swarovski
Lighting: Martin Klingler – Moosbach Sally Story – London HVAC: ATP Architekten Ingenieure, Innsbruck
Electrical Engineer: ATP Architekten Ingenieure, Innsbruck Structural Engineer: Baumann + Obholzer, Innsbruck
Building Physics Engineer: Spektrum, Dornbirn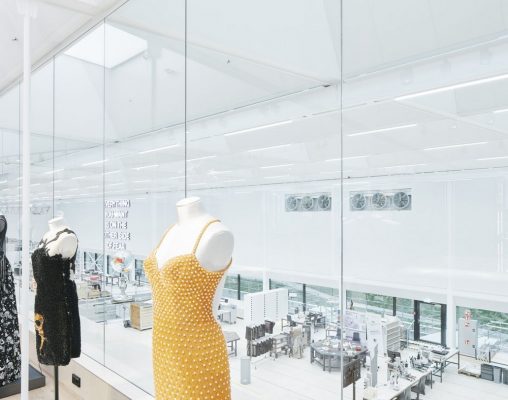 Contractors:
Concrete: Fröschl, Hall in Tirol, Austria
Steel: Unger Stahlbau, Oberwart, Austria
Façade / Roof: Starmann, Klagenfurt, Austria
Façade: Metallbau Platter, Zams, Austria
Carpenter: Riedl, Pfaffing/Lehen, Germany Barth Innenausbau, Brixen, Italy
Timber Flooring: Polzinger, Innsbruck, Austria
Interior Glazing: Erlacher, Barbian, Italy
Ceilings and Metal Cladding: Gnigler, Innsbruck. Austria
Light Panels: Peru Lichtwerbung, Laufen, Germany
Metal Works: Nocker Metallbau, Navis, Austria
Electrics: Fiegl & Spielberger, Innsbruck, Austria
HVAC: Ortner, Innsbruck, Austria
Sprinkler System: Accuro, Mondsee, Austria
Crane: Austrian Crane Systems, Steyregg, Austria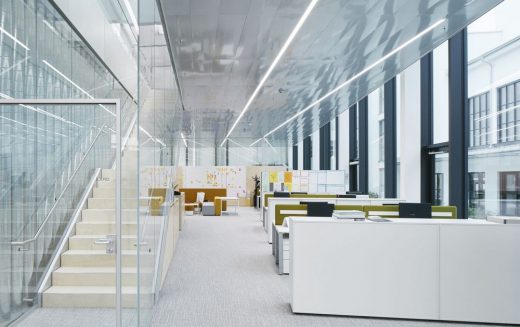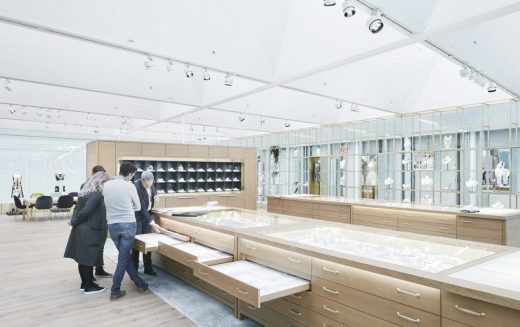 Photography © David Schreyer
Swarovski Manufaktur in Wattens, Tyrol images / information received 300119
Location: Wattens, Tyrol, Austria
New Austrian Architecture
Contemporary Austrian Architecture
Austrian Architectural Designs – chronological list
Loft Panzerhalle, Salzburg
Design: smartvoll Architekten ZT KG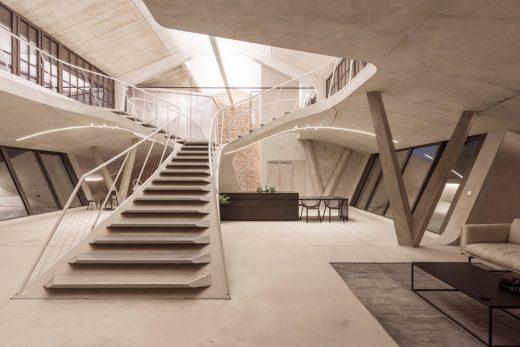 photography: Tobias Colz/smartvoll
Loft Panzerhalle in Salzburg
C&P Corporate Headquarters, Graz – Shortlisted at World Architecture Festival 2018 Awards
Architects: INNOCAD Architecture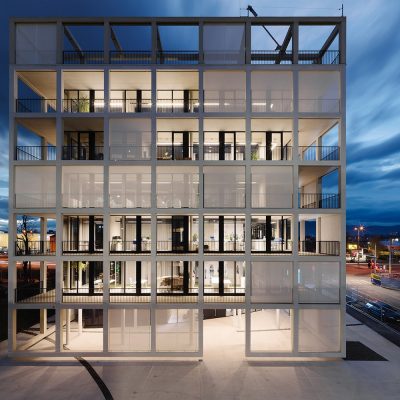 photo : Paul Ott
C&P Corporate Headquarters, Graz
World Museum, Vienna, Austria
Design: Hoskins Architects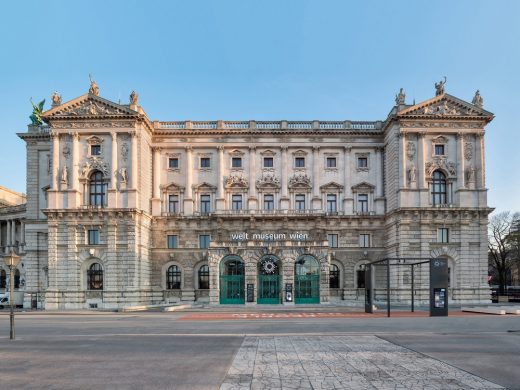 photography © Pierer.net/ARGE Ralph Appelbaum Associates/Hoskins Architects
World Museum Vienna Building
Comments / photos for the Swarovski Manufaktur in Wattens, Tyrol page welcome
Website: Wattens, Tyrol