San Francisco building news 2023, California architect projects, SF real estate designs, USA architectural images
San Francisco Architecture News
North Californian Buildings + Property Developments in SF, United States of America Built Environment
post updated November 14, 2023
San Francisco Architecture News
San Francisco Architecture Designs – chronological list
For the latest residential properties in this city see San Francisco Houses
San Francisco Architecture Walking Tours by e-architect – SF city walks
San Francisco Architecture News in 2023
Robin Williams Sea Cliff Mansion
October 27, 2023
Dolores Heights Residence
Design: jones | haydu
Dolores Heights Residence
Bay Area Metro Center Temazcal Room
May 31, 2023
Broadway Cove San Francisco, 850 Front Street & 735 Davis Street, Northeast Waterfront Historic District
Design: Leddy Maytum Stacy Architects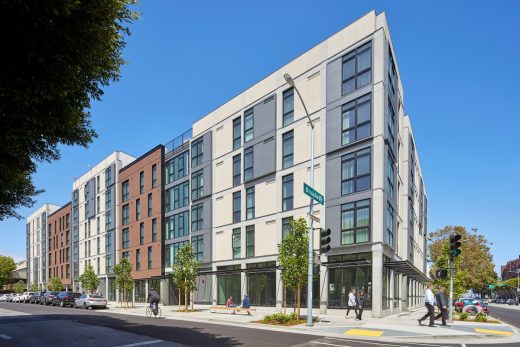 photo : Bruce Damonte
Broadway Cove San Francisco
Located on the Embarcadero and in the Northeast Waterfront Historic District and adjacent to the historic Telegraph Hill neighborhood, Broadway Cove is a 146,000-square-foot multi-building complex, composed of two elements: 850 Front Street features 125 affordable family units ranging from studio to 3-bedroom units; and 735 Davis Street includes 53 senior units with studio and 1-bedroom configurations.
Apr 14, 2023
Modern Sanctuary Above the City
Architects: Klopf Architecture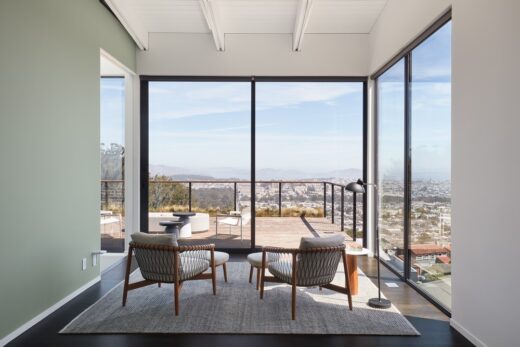 photo © Mariko Reed
Modern Sanctuary Above the City
When the previous homeowners of a charming mid-century modern house in San Francisco enlisted Klopf Architecture to remodel the interior and make minor exterior updates, they could never have anticipated how their project would pave the way for an extraordinary transformation. The new homeowners' vision for the house blended modern, minimal design with the existing mid-century aesthetic.
Jan 22, 2023
Russian Hill
Design: Levy Art + Architecture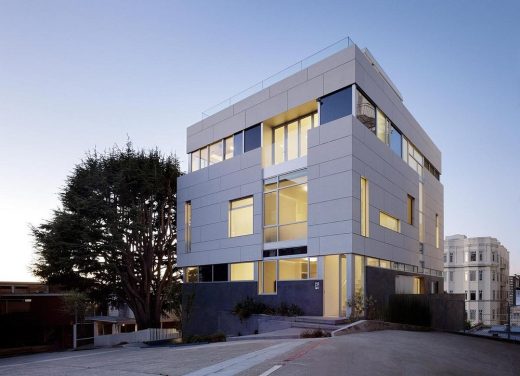 photo : Matthew Millman
Russian Hill Residences
Jan 2, 2023
Rhode Island Street, Potrero Hill, SF
Design: CMA Development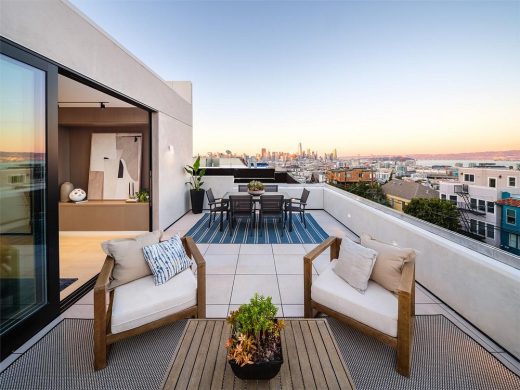 photo : Blake Marvin Photography
Rhode Island Street, Potrero Hill
More San Francisco Building News on e-architect soon
San Francisco Building News in 2022
Dec 13, 2022
Ute & William K. Bowes, Jr. Center for Performing Arts, 200 Van Ness Avenue
Architects: Mark Cavagnero Associates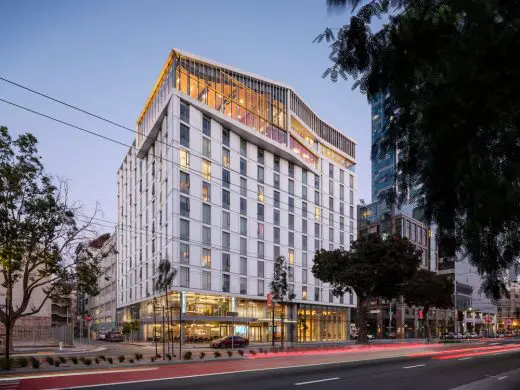 photo © Tim Griffith
New Ute & William K. Bowes, Jr. Center for Performing Arts
Located in the heart of San Francisco's Civic Center, the city's performing arts district, the Ute & William K. Bowes, Jr. Center for Performing Arts at the San Francisco Conservatory of Music (SFCM) was designed by Mark Cavagnero Associates (Cavagnero) as a "vertical campus" that incorporates student housing, dining, classrooms, rehearsal rooms, performance spaces, and a radio station all under one roof.
Oct 19, 2022
Michael Taylor's Own Home
May 18, 2022
Google Bay View Campus, Silicon Valley
Design: Bjarke Ingels Group (BIG) and Heatherwick Studio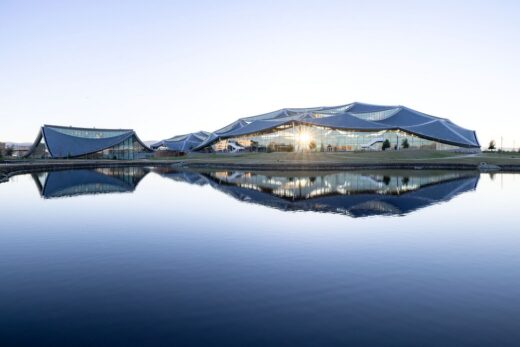 photo : Iwan Baan
Google Bay View Campus, Silicon Valley
Google opens its new Bay View Campus in Silicon Valley, representing the company's first time developing its own major campus. The Bay View campus was designed by architects Bjarke Ingels Group (BIG) and Heatherwick Studio, as well as Google's design and engineering teams, and spans 42 acres adjacent to the NASA's Ames Research Center in Silicon Valley.
Larkin Street Substation Expansion
Garfield Center San Francisco Building
March 31, 2022
Transamerica Pyramid Center in San Francisco, 600 Montgomery Street
Renewal Design: Foster + Partners, Architects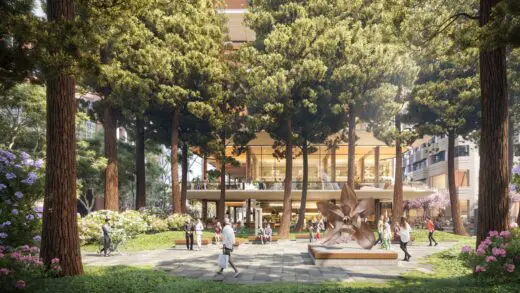 image © Foster + Partners
Transamerica Pyramid Center San Francisco
Foster + Partners has been appointed by SHVO, the luxury real estate development and investment firm, to revitalise the iconic Transamerica Pyramid Center in San Francisco. The biggest renovation in the building's 50-year history, this redevelopment seeks to give a new lease of life to one of the city's most recognizable landmarks and the second tallest building in the city.
Mar 29, 2022
Edwin M. Lee Apartments, Mission Bay neighborhood
Design: Leddy Maytum Stacy Architects, Saida + Sullivan Design Partners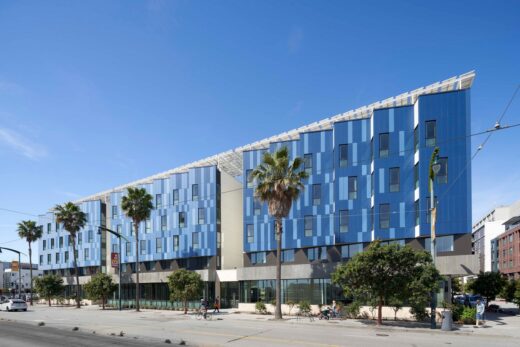 photo : Bruce Damonte
Edwin M. Lee Apartments San Francisco
A model for healthy living and resilience, the Edwin M. Lee Apartments is the first building in San Francisco to combine supportive housing for both unhoused veterans and low-income families. This collaboration—Leddy Maytum Stacy Architects, Saida + Sullivan Design Partners, Swords to Plowshares, and Chinatown Community Development Center—supports an integrated, equitable, and sustainable community in San Francisco's Mission Bay neighborhood.
Mar 16, 2022
Palo Alto Junior Museum and Zoo, Palo Alto, Silicon Valley, California
Design: CAW Architects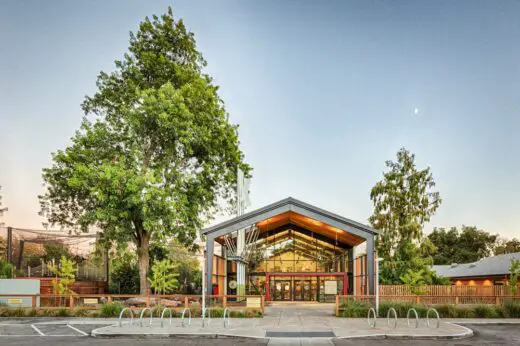 photo : Marco Zecchin Photography
Palo Alto Junior Museum and Zoo, Silicon Valley
CAW Architects is pleased to announce the completion of its latest civic project, the Palo Alto Junior Museum and Zoo (JMZ). Located within the Palo Alto Arts and Recreation District, the JMZ has been a beloved city institution since 1940, offering children hands-on opportunities to learn about science, the environment, and the natural world through a modest children's museum, classroom space, and small outdoor zoo.
Mar 14, 2022
Swallowtail Community Prototype, Filbert Street
Design: Atelier Cho Thompson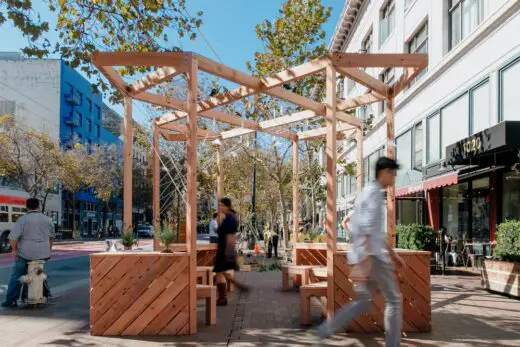 photo : Melissa Habegger
Swallowtail Community Prototype
Atelier Cho Thompson was honored to have been selected to design the Community Prototype for the Market Street Prototyping Festival in San Francisco. Working closely with a Think Tank of community groups, we designed a pavilion to serve the neighborhood of Central Market.
March 2, 2022
Evelyn Avenue Workplace, City of Mountain View, CA
Architects: WRNS Studio ; Landscape Design: SWA Group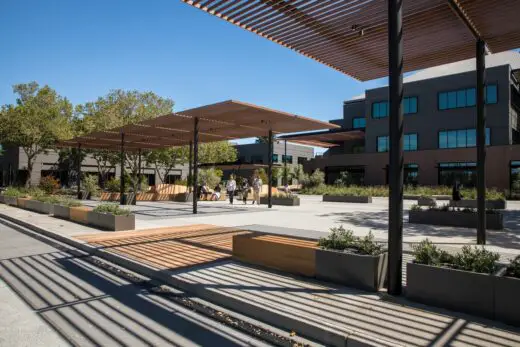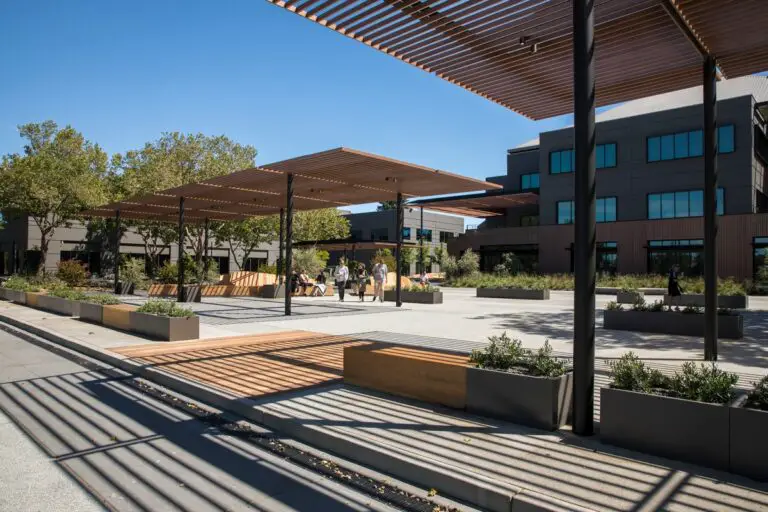 image courtesy of SWA Group
Evelyn Avenue Workplace, Mountain View, CA
Located on a seventeen-acre campus one mile from the City of Mountain View's downtown core and one mile from public transit, Evelyn Avenue Workplace needed not only a facelift, but a systemic re-think of its campus plan that addressed both existing structures and the need for new buildings to support growth.
Feb 24, 2022
Italian Styled Villa, Woodside, Silicon Valley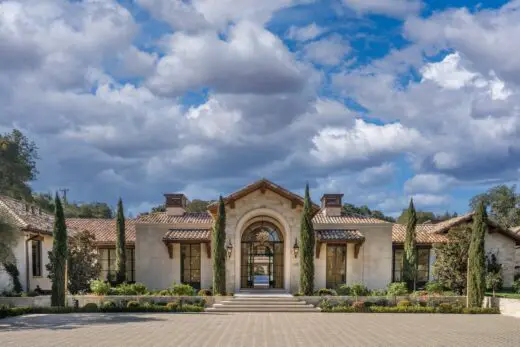 photo : Paul Rollins
Italian Styled Villa, Woodside Silicon Valley
California's San Francisco Bay area is the United States' most expensive real estate market, with a median home-sale price of $1.3 million. Unlike its southern neighbor Los Angeles, the pricey San Francisco homes belong not to movie and TV stars but to the movers and shakers of the technology industry.
Jan 5, 2022
Laurel Heights 1
Interior Design: Feldman Architecture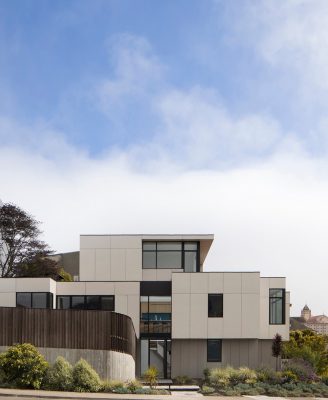 photo : Paul Dyer
Laurel Heights 1, San Francisco Residence
A Bay Area couple with three young children purchased a unique corner lot on the edge of San Francisco's Laurel Heights neighborhood with rare views of the Presidio and the Golden Gate Bridge. The clients for Laurel Heights 1 presented their vision of a refreshed, unique, modern home, which later evolved to include an added primary suite that takes advantage of corner views, and interiors inspired by their colorful art collection.
Oct 13, 2021
Filbert Cottages
Design: Buttrick Projects Architecture+Design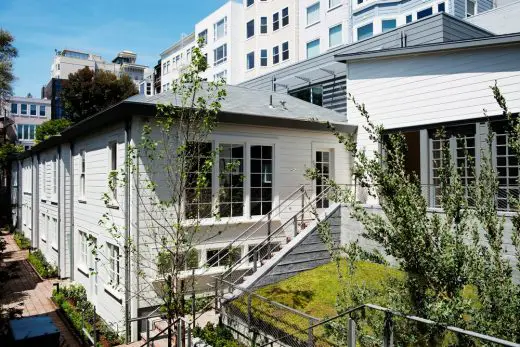 photo : Andres Gonzalez
Filbert Cottages
The four old wood-frame cottages along the garden mews at 1338 Filbert Street were in terrible shape in 2007—severely deteriorated, rat infested, and in complete disrepair. The asphalt roofing on Filbert Cottages had failed, and the original wood siding was 60 percent gone.
Sep 8, 2021
Hazel Road Residence, Berkeley, northern Alameda County, California, USA – eastern shore of San Francisco Bay
Design: Buttrick Projects Architecture + Design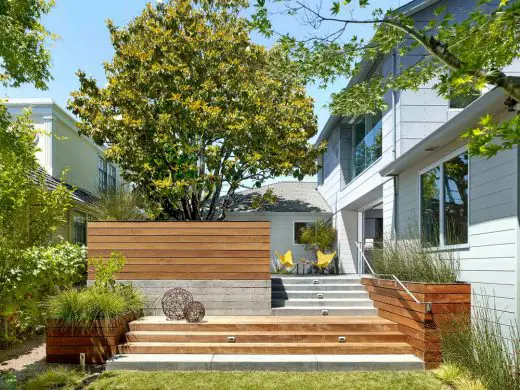 photos by Cesar Rubio, Matthew Millman (Kitchen), Buttrick Projects A+D (Stair window) z
Hazel Road Residence, Berkeley
Hazel Road Residence was a 1950s-era house long in need of an upgrade and expansion to capitalize on otherwise 'good bones' and to satisfy the needs of a family with young children. A kitchen remodel was the first problem to tackle.
August 6, 2021
Sacred Heart William V. Campbell Academic and Arts Center, Atherton, San Mateo County, California, USA
Architects: WRNS Studio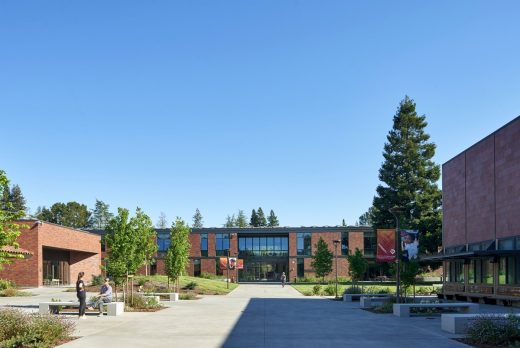 photo : Bruce Damonte
Sacred Heart William V. Campbell Academic and Arts Center
Established in 1898, the Sacred Heart Schools is a private Catholic school in Atherton, CA. The campus comprises the Lower School, Middle School and High School, which together serve approximately 1600 students grades pre-kindergarten through 12.
August 5, 2021
333 Roebling Road Parking Structure
June 25, 2021
Forest House in Truckee, Nevada County
June 8, 2021
Power Station in Dogpatch
May 20, 2021
Memorial at Harvey Milk Plaza
May 2, 2021
Olivet Funeral & Cremation Services Building, Colma
Mar 20, 2021
2177 3rd Street Dogpatch
27 Dec 2020
Telegraph Hill Residence
20 Dec 2020
Sky Gallery Residence
Nov 16, 2020
Saint Mary's College High School, Albany, east shore of San Francisco Bay, northwestern Alameda County, northern California, USA
Design: Mark Cavagnero Associates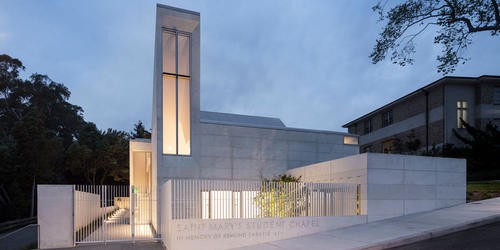 photo : Henrik Kam
Saint Mary's College High School Student Chapel
The Chapel experience begins with the approach. A walk along the length of the building, flanked by an articulated white concrete block wall, provides a transition. Noise from the adjacent streets fades as you approach a small courtyard at the rear of the building.
Oct 31, 2020
Urban Confluence Silicon Valley, San Jose
Oct 27, 2020
Mountain Wood House, Woodside, west of Palo Alto
Design: Walker Warner Architects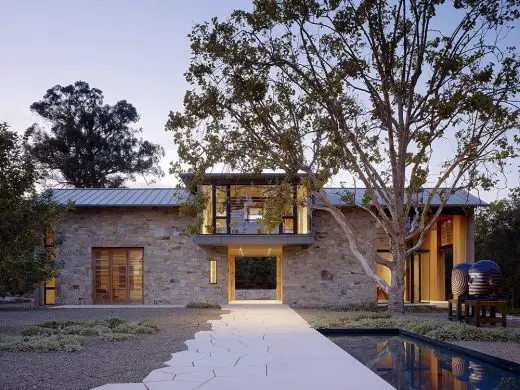 photo : Matthew Millman
Mountain Wood House, Woodside
Sep 21, 2020
The Line, Lockeford, San Joaquin County
Architects: REgroup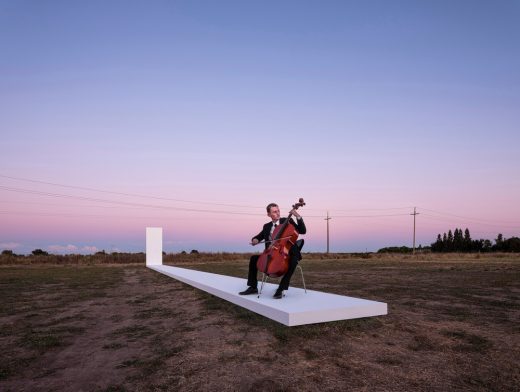 photo : Tim Griffith Photographer
The Line in Lockeford
The Line is a temporary structure designed by REgroup architecture in rural, Northern California. The structure, which was designed for small events, from musical performances to weddings, offers a new type of rural event space for the area.
Aug 7, 2020
MIRA Condominiums San Francisco, 280 Spear Street, near the Embarcadero
Design: Studio Gang, Architects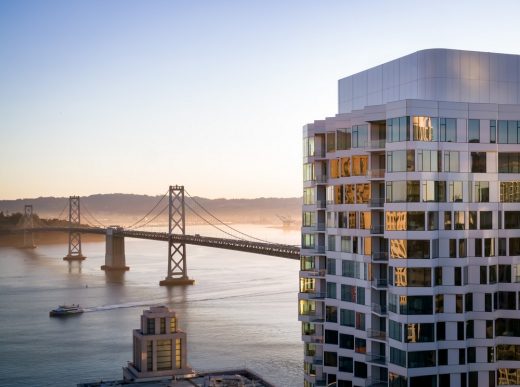 photo : Scott Hargis
MIRA San Francisco
MIRA has unveiled a number of luxurious models for interested buyers to tour privately by appointment. Located on the 23rd floor of the 40-story, 400-foot tower, the two-bedroom, two-bathroom models have been staged and fully furnished by Jeff Schlarb Design Studio. Virtual tours of all models are also available at MIRASF.com.
June 30, 2020
W San Francisco Hotel, SoMa District, CA
June 20, 2020
Peninsula Residence, San Francisco Bay Area, California
Design: Richard Beard Architects ; Kelly Hohla Interiors provided interior design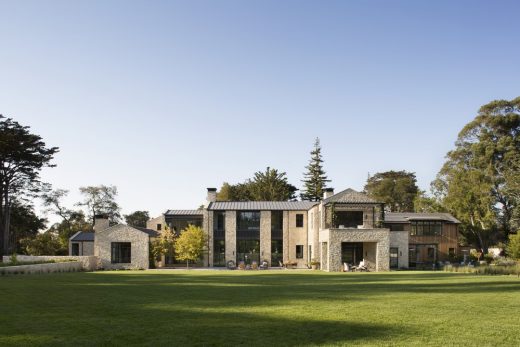 photograph : Paul Dyer
Peninsula Residence San Francisco Bay Area
The peninsula south of San Francisco is dotted with suburban towns and villages in the hills and valleys along the west side of the bay. Nestled amidst the hilly neighborhoods is a rare 2-acre site.
Mar 28, 2020
Salesforce Tower Office Space
Design: Feldman Architecture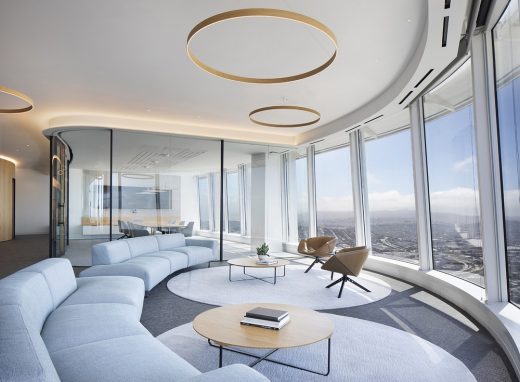 photograph : Paul Dyer
Salesforce Tower Office Space
The architects were tasked to create, alongside our client, a Salesforce Tower Office Space, west coast headquarters for their global financial firm in the heart of the tower.
Mar 4, 2020
British Airways Lounge, San Francisco International Airport
Design: WDA | William Duff Architects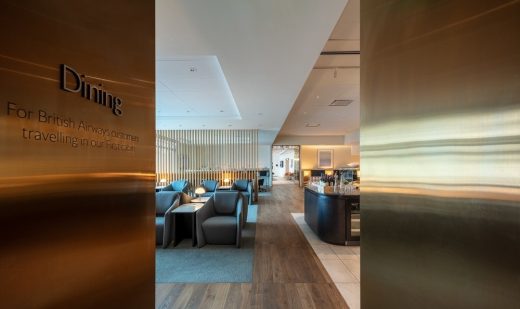 photo © Eric Rorer Photography
British Airways Lounge San Francisco International Airport
SFO dining and lounge amenities for British Airways, illycaffé, Amy's Drive Thru and Boudin Bakery.
Feb 6, 2020
Oakland Buildings – new post made for this North California city, gathering projects we have posted for it.
Feb 5, 2020
Telegraph Tower, Oakland, Northern California
Design: Solomon Cordwell Buenz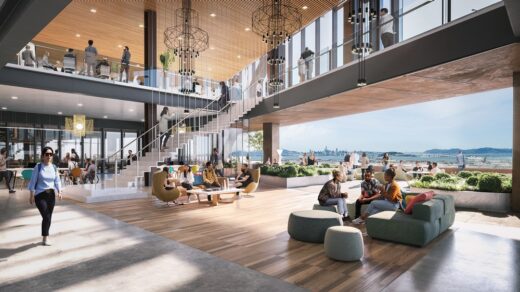 photograph : Kassie Borreson
Telegraph Tower Oakland Building
The project, developed by TMG Partners and endorsed by Oakland Mayor Libby Schaaf as a key element of Uptown Oakland's development, provides 875,000-square-feet of next generation office space with large floorplates, high ceilings, the latest technology, and best-in-class building amenities.
Dec 17, 2019
The Henry J. Kaiser Family Foundation
Architecture: Bohlin Cywinski Jackson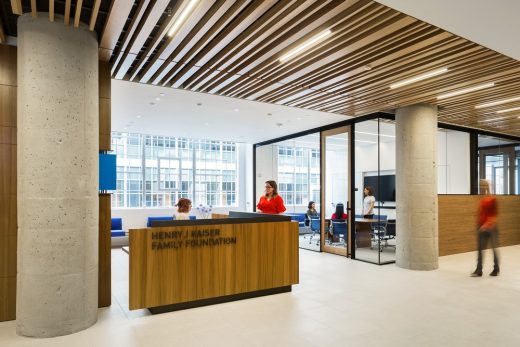 photo © Adam Rouse; courtesy Bohlin Cywinski Jackson
The Henry J. Kaiser Family Foundation
Located in the China Basin neighborhood just opposite AT&T Park, the KFF headquarters is designed to meet the organization's unique needs in addressing national health issues and health policy.
Dec 17, 2019
Architects as Guardians of the Environment
Local, state, and federal laws will soon require all new and existing buildings to be sustainable. In California and other states, all new housing must be green in 2020. All other building types will follow in short order.
San Francisco Institute of Architecture (SFIA) news
Nov 21, 2019
Park Tower at Transbay
Nov 17, 2019
Xilinx Headquarters in San Jose, California
Oct 7, 2019
Mission Branch Library in Santa Clara, California
July 3, 2019
Kentfield Residence
July 2, 2019
Spring Ranch in Hollister
Jan 8, 2019
Dry Creek Poolhouse, Geyserville, Sonoma County, Northern California
Architects: RO|ROCKETT DESIGN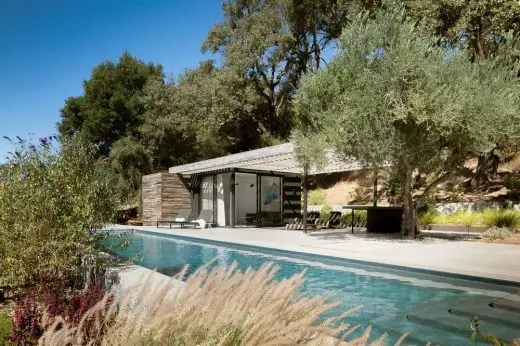 photograph : Adam Rouse
Geyserville Building
Anchored by an inventive reuse of local materials on a constrained lot in a beautiful Sonoma County landscape, this project started as a country retreat and evolved into a full-time residence.
More contemporary San Francisco Architecture News on e-architect soon
San Francisco Architecture News 2018
Sep 15, 2018
San Francisco Bay Area Resilient Future Report News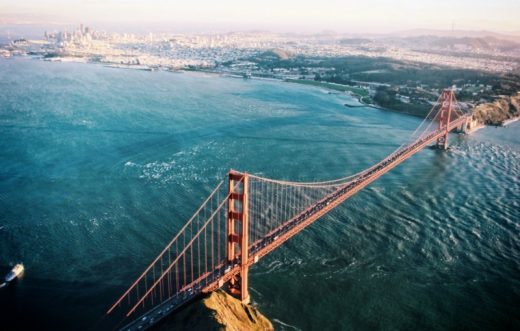 image © 2018 Kubany Judlowe
San Francisco Bay Area Report News
A report titled Too Much + Too Little has been created by MVRDV as part of the NL Resilience Collective, a collaboration with Deltares, Goudappel Coffeng, and ONE architecture. Its goal is to help officials in the United States appreciate the Dutch approach to water management and integral design—an approach that has developed over centuries of dealing with water in a country where around 26% of the land is below sea level.
Aug 25, 2018
Waverley, Palo Alto
Design: Ehrlich Yanai Rhee Chaney Architects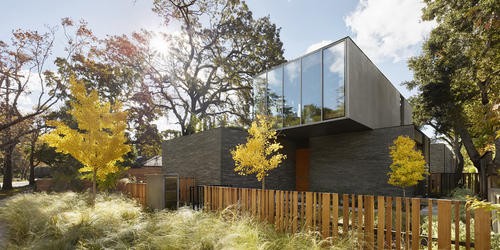 photograph courtesy of The Chicago Athenaeum
Conemporary Palo Alto House
Designed for a young couple on a flat 21,000 sqft lot. The architecture is a study in strong simple composition and highly refined materiality with an emphasis on craft.
Jul 6, 2018
Hanover Page Mill Associates, LLC, Stanford Research Park, Palo Alto, CA, USA
Design: Form4 Architecture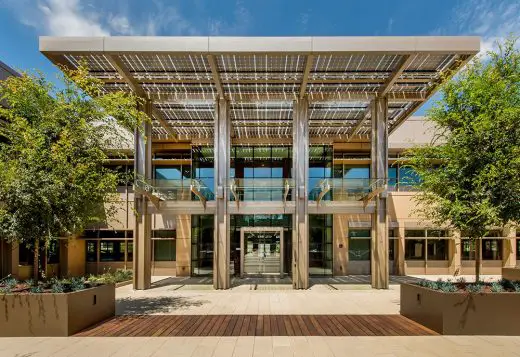 photo courtesy of The Chicago Athenaeum
Hanover Page Mill Palo Alto Building
This LEED Platinum and net-zero electric building is a powerful statement of synthesis between architectural form and energy performance. The spec office was designed using affordable and practical building strategies.
Jul 1, 2018
The Italian Swiss Colony Building Lobby – AIA SF Award
Architects: jones | haydu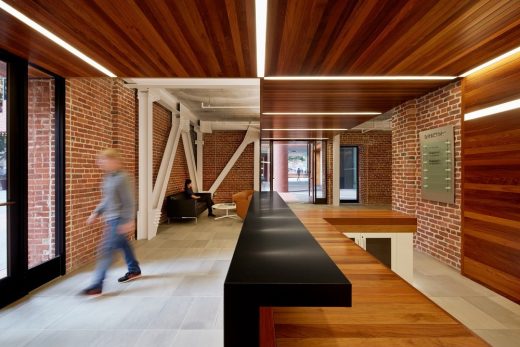 photograph : Matthew Millman
The Italian Swiss Colony Building Lobby
This building was designed by Hemenway and Miller and built in 1903. It has been remodeled and repurposed as an office building in the early '80s as part of the Levi's Plaza development. The building's exterior facade and structure are protected by preservation guidelines.
Jun 3, 2018
SOMA Loft Residence
Architects: Studio VARA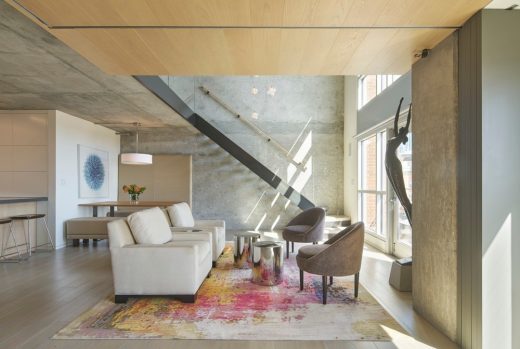 photograph : Bruce Damonte
SOMA Loft Residence
Offering spectacular Bay Bridge views, this two-level loft was an uninspired white box chopped up into many small rooms. Having worked with the owners on another home in the Carmel Valley, the designers wanted to bring a similar warm, modern and spacious character to this loft that celebrates the view while offering two-bedroom suites for overnight guests.
Jun 3, 2018
Big Ranch Road Retreat in the Napa Valley
Design: WDA (William Duff Architects)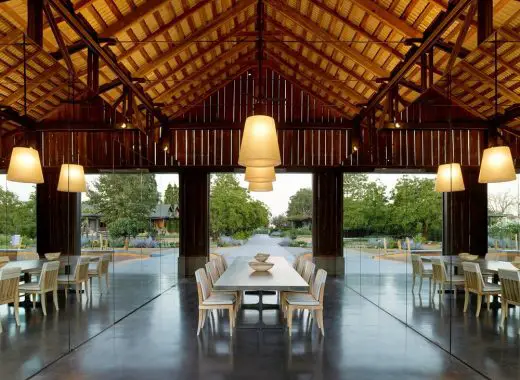 photograph © Matthew Millman Photography
Napa Valley Barn Renewal
WDA has been awarded a coveted Merit Award by the American Institute of Architects San Francisco (AIA SF) chapter for its daring and whimsical renovation of a Napa Valley rustic barn into a family retreat. WDA specializes in delivering thoughtful, innovative architecture across multiple sectors throughout the Bay Area.
Jan 22, 2018
Salesforce Tower
Design: Pelli Clarke Pelli
San Francisco's tallest building officially opens.
The 1.42 million-sqft tower at First and Mission streets opened Monday.
Top of the Salesforce Tower Building in San Francisco: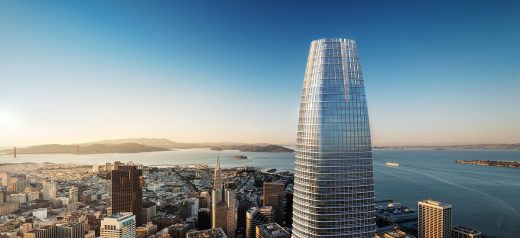 images courtesy of architects
At 1,070 feet it overtook the previous tallest building in the city, the 853-foot Transamerica Pyramid, the highest tower since 1972.
San Francisco Architecture News 2017
Aug 21, 2017
Golden 1 Center Sacramento Building
Design: AECOM with DZ Architects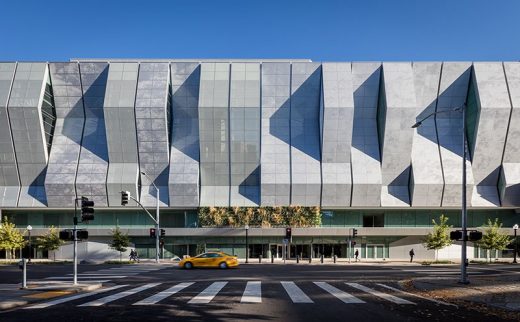 image courtesy of architects
Golden 1 Center Sacramento Building
The new Golden 1 Center is the most technically advanced venue of its type and the first indoor venue to achieve the U.S Green Building Council's LEED Platinum certification.
Aug 12, 2017
Academic Center at College of Marin, Kentfield
Design: TLCD Architecture + Mark Cavagnero Associates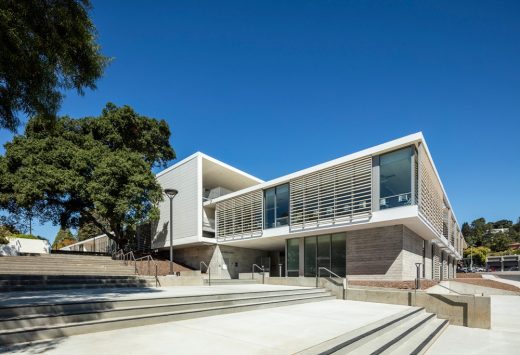 photo : Tim Griffith
College of Marin Academic Center Building
This new building has transformed the College of Marin's Kentfield campus. The design thoughtfully engages existing buildings and landscape, to create a new sense of community.
Aug 5, 2017
Oceanwide Center San Francisco Building
Design: Foster + Partners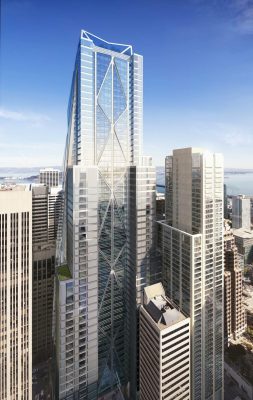 images courtesy of architects
Oceanwide Center San Francisco Building
Situated in the rapidly changing Transbay Area of San Francisco, close to Market and the financial district, the two million square foot Oceanwide Center development comprises two high-rise towers, along with impressive new public spaces and important new pedestrian links through downtown. Together, the buildings provide 1.35 million square feet of office space and 650,000 square feet of residential units.
Aug 1, 2017
Salesforce Transit Center, South of Market
Pelli Clarke Pelli Architects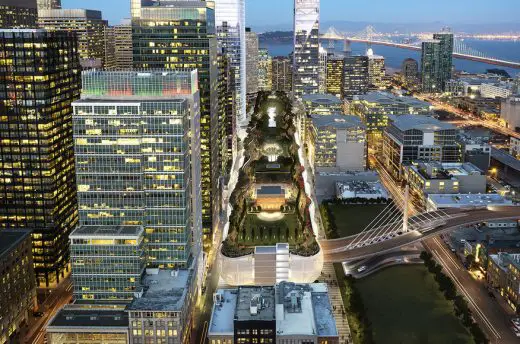 images courtesy of architects
Salesforce Transit Center in San Francisco
The Salesforce Transit Center will be a multimodal transit station in downtown San Francisco, linking 11 transit systems and connecting the city to the region, the state, and the nation. The innovative, highly sustainable design is currently under construction.
The complex will include a 5.4-acre rooftop park that will anchor the growth of a new mixed-use neighborhood. The soaring light-filled spaces will give San Francisco a grand entrance.
Jun 26, 2017
Arch at Zero 2017 Competition
Location: Romberg Tiburon Center for Environmental Studies (RTC), Tiburon, California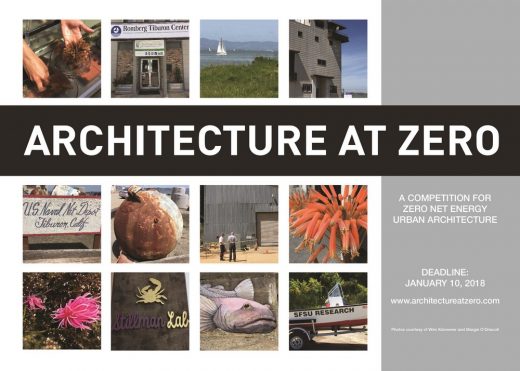 image courtesy of Architecture at Zero
Architecture at Zero Competition
Architecture at Zero is a zero net energy design competition open to students and professionals worldwide, engaging architecture, engineering, and planning students and professionals in the pursuit of energy efficient design.
Jun 21, 2017
A-to-Z House
Architects: SAW // Spiegel Aihara Workshop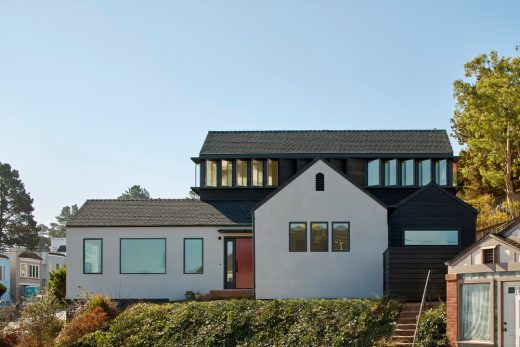 photography: Bruce Damonte
A-to-Z House in San Francisco Building
A modest home expands through aggregation, multiplying scaled versions of the original A-type pulled along a twisted Z axis. The result is a double offset – a 2nd story structure to capture sweeping views and a voided landscape carved into the hillside. New forms combine with the old, erasing boundaries.
Jun 20, 2017
Bambu Shoppe Desserts and Drinks, Millbrae, California
Design: Diebel and Company, Architects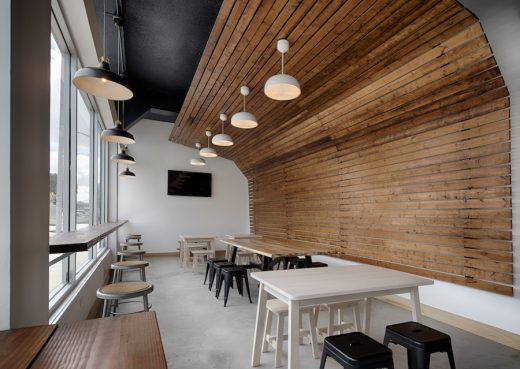 photo © Kevin Ng Photography, San Francisco
Bambu Shoppe along El Camino Real
Bambu Shoppe is and dessert and drink restaurant located along historic El Camino Real, which dates to California's Spanish colonial past. It is a counter-service cafe for Chè, a Vietnamese word for home-made beverages, dessert drinks and puddings.
Jun 17, 2017
Apple Campus 2, Cupertino, San Jose
Design: Foster + Partners with Arup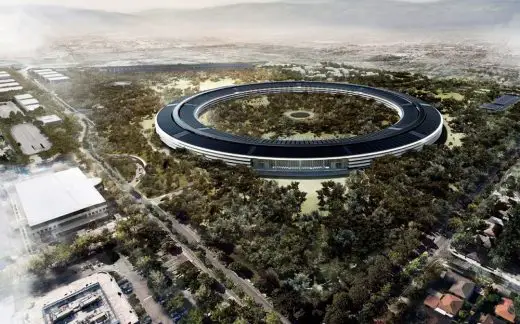 image from Apple
Apple Campus 2 Building
Jun 17, 2017
Alamo Square House
Design: Jensen Architects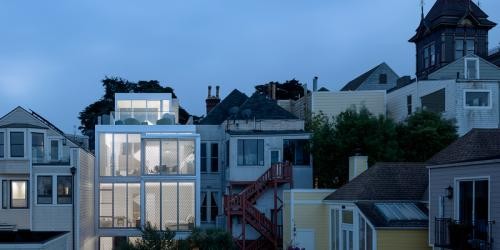 image from architects
Alamo Square House
Upon entering, the house is punctured with light from above and is organized around a sculptural staircase. The form of the stair, a twisted volume, alternates wood-clad solids with light-filled voids. The stair culminates at the roof with sweeping views that connect back to the historic city and the Bay beyond.
Oasis: Silicon Valley Technology Center, Santa Clara
Choy Residence in San Francisco
More new San Francisco Architecture News welcome for consideration
SF Building Updates 2016
Dec 9, 2016
Oceanwide Center
Design: Foster + Partners, architects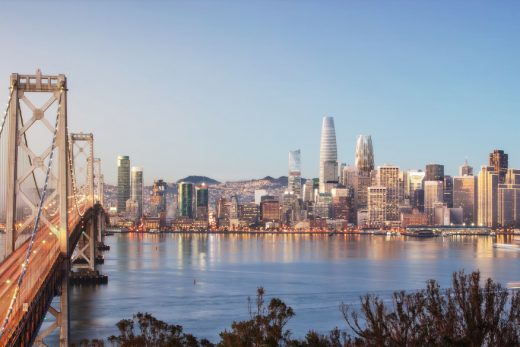 image : dbox/Foster + Partners/Heller Manus Architects
Oceanwide Center in San Francisco
Nov 10, 2016
Hupomone Ranch, Chileno Valley, near Petaluma, Sonoma County, California
Design: Turnbull Griffin Haesloop, Architects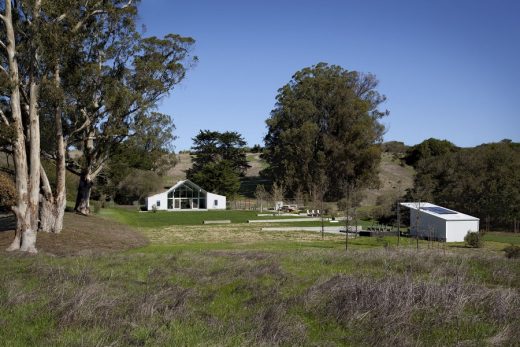 photo courtesy of architects
Hupomone Ranch in Chileno Valley
Nov 10, 2016
New Open Office Space in Mill Valley
Design: Studio VARA, architects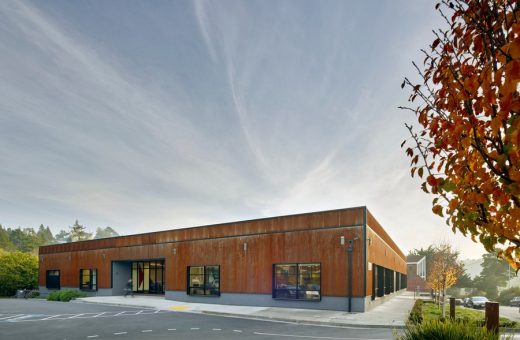 photograph : Bruce Damonte
New Open Office Space in Mill Valley
Nov 13, 2013
Golden State Warriors Arena
Design: Snøhetta + AECOM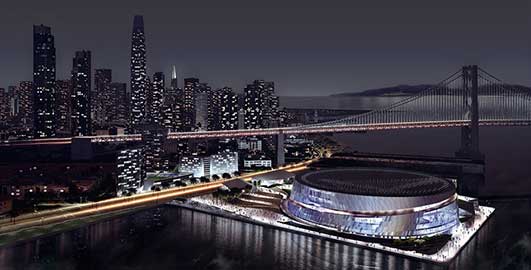 image from architect
"Right now, Piers 30-32 are a $50 million liability to the city – it's literally crumbling into the Bay. Every other previous developer has walked away because of the huge cost of fixing the pier. Well, we've got a vision for what this incredible location could be, and we're stepping up," said Joe Lacob, Co-Executive Chairman and CEO of the Warriors.
May 29, 2013
SFMOMA Expansion
Design: Snøhetta
SFMOMA Expansion
The controversial proposals include a plan to demolish the Mario Botta staircase. The consensus appears to be that this new San Francisco building is too large and that the celebrated Norwegian architects have yet to find a design that meets widespread public approval.
Mar 4, 2013
Facebook Campus Expansion, Menlo Park, San Mateo County, San Francisco Bay Area
Design: Frank Gehry architect of Gehry Partners, LLP
Facebook Campus Menlo Park
The Facebook Campus Project includes two sites and is being developed in phases. The 56.9 acre East Campus at 1 Hacker Way was previously occupied by Sun Microsystems (better known as Oracle). The site has been developed with 9 buildings, containing around 1,036,000 square feet.
More San Francisco buildings online soon
Location: San Francisco, CA, USA
Northern California Architectural Designs
San Francisco Architectural Designs – chronological list
San Francisco Architect – architecture firm listings on e-architect
San Francisco Buildings : A-Z list, no images
Architecture and the City Festival San Francisco
American Architecture
California Architecture : building images
American Architecture : major architectural developments + building designs
Comments / photos for the San Francisco Architecture News page welcome