Architecture at Zero Student Residence Competition, 2017 Design Contest News
Arch at Zero 2017 Competition
Student Residence Design Contest: Romberg Tiburon Center for Environmental Studies Building, CA
26 Jun 2017
Architecture at Zero 2017 Design Competition
Arch at Zero 2017 Competition
Location: Romberg Tiburon Center for Environmental Studies (RTC), Tiburon, California, USA
CHALLENGE
Architecture at Zero is a zero net energy design competition open to students and professionals worldwide, engaging architecture, engineering, and planning students and professionals in the pursuit of energy efficient design.
This year's competition is a science education facility in Tiburon, California. Student registration is free. Register for updates.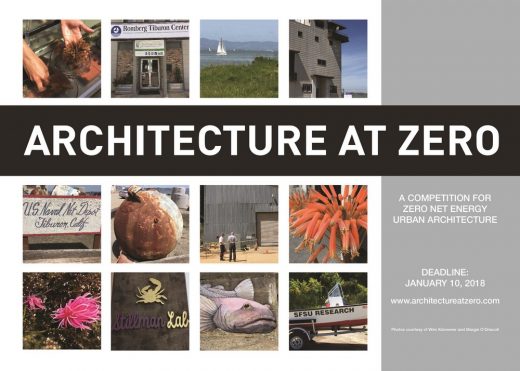 The competition challenge is to create a zero net energy bayside community education and visitor's center, in support of the mission of the Romberg Tiburon Center for Environmental Studies (RTC).  This facility is San Francisco State University's center for estuary and ocean science located on 53 acres of bayside property in Tiburon, California.
The competition has two components. First, entrants will create an overall site plan to accommodate the program. Entrants are encouraged to highlight any energy efficiency strategies or systems shown.  Second, entrants will design two buildings in detail, to indicate zero net energy (ZNE) performance. In order to demonstrate the building design and its performance, entrants will provide required documentation and may also include supplementary documentation.
Click here for Competition Program, Zero Net Energy Considerations, Design Documentation, and Submission Requirements.
ELIGIBILITY
This competition is open to students, architects, landscape architects, urban planners, engineers and designers anywhere in the world.
AWARDS AND JUDGING
Up to $25,000 in total prize money will be awarded to student and professional winners.
Entries are judged on the presentation board highlighting the project and any supplementary documentation. A separate review panel will convene to jury the technical components, which will result in a Technical Evaluation provided to the Jury. The Jury will determine the winners from all submissions. The Technical Evaluation is not the sole criterion on which entries will be judged but acts as a complement to the overall project design evaluation.
Entries are weighed individually, not in competition with others. Jury decisions will be based solely on the materials submitted. Criteria include quality of design, resolution of the program or idea, innovation, thoughtfulness, and technique.
DEADLINES
The registration deadline is January 10, 2018 at 1:00 PM PST and the submission deadline is January 30, 2018 at 1:00 pm PST. Students must complete the registration form.
Please note that the Architecture at Zero competition uses an electronic registration process. If you are submitting multiple projects, you will need to register each project separately.
Architecture at Zero 2017 Competition
Site:
Romberg Tiburon Center for Environmental Studies, San Francisco State University  
Special education school in Marin County
Address: 3150 Paradise Dr, Tiburon, CA 94920, USA
Phone: +1 415-338-6063
Location:3150 Paradise Dr, Tiburon, CA 94920, USA '
9 Jan 2013
Architecture at Zero Design Competition
Design for Student Residences
Team led by Ren Ito architect
Winning proposal of "Architecture at Zero" competition
"Architecture at Zero" competition was held by AIA San Francisco to design a residential building/administration building of new campus of the University of California. It was a remarkable competition not only because of the goal to create a self sustainable university campus but also the competition requirement of several scientific proofs.
Architecture at Zero Competition
Architecture Competitions – Selection
PFFF Inflatable Architecture Competition



image from competition organiser
PFFF Inflatable Architecture Competition
Leipzig Architecture Contest, Germany



photo © LTS-Kühne
Leipzig Architecture Competition : Monument to Freedom and Unity
Flinders St Station Architecture Competition, Melbourne, Australia



photo from Victoria Government
Melbourne Design Competition
eVolo 2012 Skyscraper Competition
Architects, students, engineers + designers invited to participate in this architecture competition
eVolo Skyscraper Competition
California Architecture



image from Apple
Building Competitions : Archive
Comments / photos for the Architecture at Zero 2017 Competition – Student Residence Competition page welcome
Arch at Zero 2017 Competition
Website: http://architectureatzero.com