Sustainable Architecture, Eco Buildings, Climate Change, Green Building Opinion, Architects, Links
Sustainable Architecture Design News
Green Building: Ecological Architectural Debate – CO2 Emissions Reduction News
post updated 19 June 2022
A sustainable building added on e-architect recently:
Columbia Building, Portland, Oregon, USA
Design: Skylab ; Partner Architect: Solarc Architecture and Engineering Inc.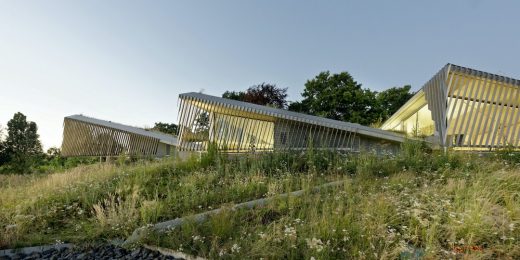 photo : Jeremy Bittermann
Housing workspace, a visitor reception area, and public meeting spaces, the 11,640-square-foot building not only supports the engineering department of the wastewater treatment facility but also functions as an immersive educational experience, all integrated within a sustainable landscape.
The project accomplished three unique objectives in one single campus site: the creation of a vibrant and efficient workspace; clean on-site stormwater filtration; and a dynamic building that stimulates conversation about the health of the region's watershed and rivers.
24 Nov 2020
City Mayors Pledge Sustainable Construction
C40 Cities connects 97 of the world's greatest cities
Commit to Clean Construction, Moving the Industry Towards a Sustainable Future
Four leading mayors are initial signatories to C40 Clean Construction Declaration, pledging to work with industry to halve emissions from construction projects in their cities by 2030
C40 Clean Construction Declaration
Sustainable Buildings News
Contemporary Green Architecture Design – selection of posts:
Net Zero Carbon Buildings News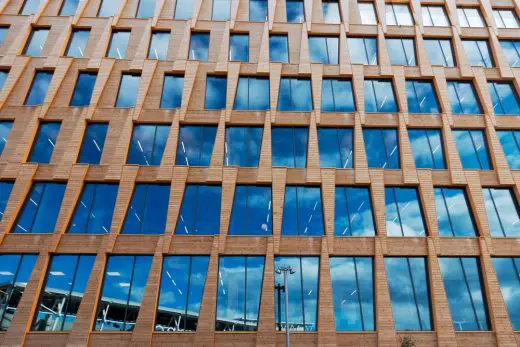 photo courtesy Anders Vestergaard Jensen, unsplash
Net Zero Carbon Buildings
Zero Carbon Buildings 2050 Report
House of Lords Zero Carbon Homes Ruling
2020: The Year of Net Zero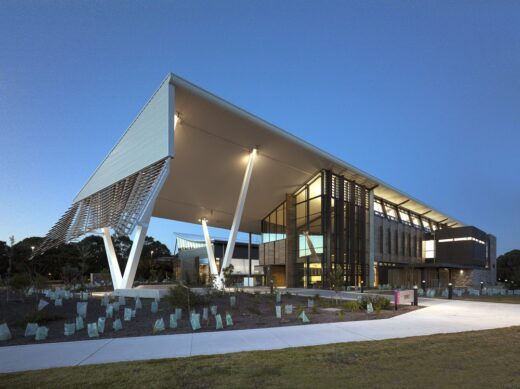 photo © Richard Glover / Matt Estherby
Sustainable Building News : Zero-Energy updates
Climate and Biodiversity Emergency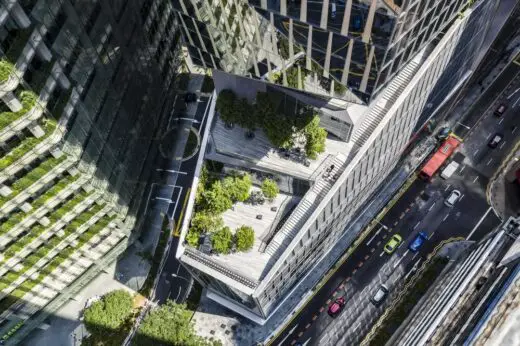 photo : Tim Griffith
Climate and Biodiversity Emergency
Zero Carbon House in Birmingham, UK
post updated 3 August 2021
Sustainable Homes of the Future
An interesting look into the homes of the future that may help the environment: Sustainable Homes of the Future
11 Dec 2020
Climate Action Event
Climate Action – #FridaysForFuture
#FridaysForFuture is a movement that began in August 2018, after 15-year-old Greta Thunberg and other young activists sat in front of the Swedish parliament every schoolday for three weeks, to protest against the lack of action on the climate crisis. She posted what she was doing on Instagram and Twitter and it soon went viral.
Construction is responsible for 23% of the world's GHG emissions,
it is incumbent on the architecture profession to help lead the way to a better future,
not only lower carbon, but also less pollution, get involved!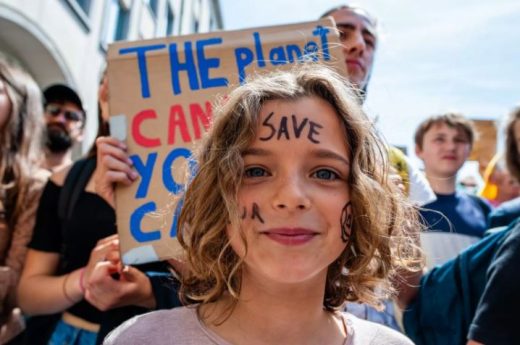 photo courtesy of #FridaysForFuture
Dec 17, 2019
Forcing Sustainable Buildings Via Legislation
Architects as Guardians of the Environment
It's official:
Local, state, and federal laws will soon require all new and existing buildings to be sustainable.
In California and other states, all new housing must be green in 2020. All other building types will follow in short order.
Why? Because buildings are primary sources of pollution, carbon emissions, electricity consumption, toxic air, and wasted natural resources.
This is the greatest opportunity ever offered to architects, engineers, and contractors.
The laws have been written; they're about to be implemented throughout the U.S. and major cities around the world.
The key links in implementation are architects and green consultants who will be leading the way in their roles as guardians of the environment.
The San Francisco Institute of Architecture (SFIA) is still the leader in green architecture degree programs, technical short courses, and continuing education.
SFIA's students, graduates, and faculty build, teach, publish books, and design the most sustainable buildings on the planet.
Although their courses are all online now, SFIA draws on the resources of the world-renowned faculty. (All posted at www.sfia.net.)
To help prepare for the most extraordinary opportunities in architectural history, SFIA is now offering extra- low scholarship-level tuitions for degrees in architecture, green building design and construction, project management—and the very popular Master of Science in Green Building and Sustainability (MSGB).
We invite you to see what's new at www.sfia.net, and if you haven't already done so, please join with our world class students, graduates, and educators in truly helping to change the world for the better.
Fred A. Stitt, Architect
San Francisco Institute of Architecture (SFIA) [email protected] www.sfia.net
SFIA
Box 2590
Alameda, CA 94501
1-800-634-7779
Dec 5, 2019
Climate Justice Groups Denounce Carbon Markets
Climate Justice Groups Denounce Carbon Markets with a Day of Protest at COP25 in Madrid
MADRID — On Thursday, December 5, 2019, climate justice organizations will lead a day of protest against carbon markets at COP25, calling to keep this false solution out of the Paris rulebook.
WHAT: Climate justice groups denounce carbon markets with day of protest at COP25
WHEN: Thursday 5 December, 10:00 – 10.30 am
WHERE: Entrance of Hall 4, IFEMA Blue Zone, Madrid
WHO: Climate justice organizations including Friends of the Earth International, Indigenous Environmental Network, La Via Campesina, Asia People's Movement on Debt and Development, It Takes Roots, SustainUS, Corporate Accountability International, and many more.
Article 6.2 and 6.4, about rules for carbon markets, will be key items on the negotiating table at COP25 in Madrid. A resolution is likely to be sold by polluting countries and corporations as a "solution" to global warming. In reality, carbon markets are a false solution—they have never, and will never, deliver on emissions reductions. Instead, they enable 'business-as-usual' and pose a grave threat to Indigenous Peoples and frontline communities globally.
From 10.00 – 10.30 am in the entrance of hall 4, at the IFEMA blue zone, the organizations will stage a theatre sketch about the destruction brought by carbon markets and carbon offsets. Representatives from frontline communities around the world will speak out about their opposition to these false solutions.
In a press conference at 9.00 am in the Mocha Room the same day, 5 Dec 2019, the organizations will launch a briefing to demystify Carbon Markets, and a petition signed by over 150 civil society organisations and social movements so far, and still rising. Printed copies of the carbon markets briefing will be available in English and Spanish.
• Carbon Markets briefing (English): https://www.foei.org/wp-content/uploads/2019/11/English-carbon-markets-briefing-OK-LOW.pdf
• Carbon Markets briefing (Spanish): https://www.foei.org/wp-content/uploads/2019/12/Spanish-carbon-markets-briefing.pdf
• Carbon Markets briefing (French): https://www.foei.org/wp-content/uploads/2019/11/French-carbon-markets-briefing-OK-LOW.pdf
Nov 5, 2019
USA Withdraws from Paris Climate Agreement
Donald Trump files to leave Paris Climate Agreement
WASHINGTON, D.C. – The Trump administration today filed paperwork to begin the formal process of withdrawing the U.S. from the Paris Climate Agreement.
In response to today's actions, Karen Orenstein, Friends of the Earth's Deputy Director of Economic Policy, issued the following statement:
Donald Trump is more concerned about protecting his golf courses than he is about climate change-fueled flooding that could threaten 300 million people living in coastal areas by 2050. World leaders must not wait for Trump, and must not use his moral bankruptcy as an excuse for inaction. The rest of the world must implement the Paris Agreement without the United States.
However, rich countries must take the threat caused by climate change far more seriously and make their mitigation and climate finance commitments commensurate with what climate science and justice demand. When the U.S. has more sane leadership and rejoins the international community, the Paris Agreement needs to be substantially more equitable and ambitious.
While Trump's White House works to destroy the environment, Congress must move the international climate agenda forward by supporting the Green Climate Fund Authorization Act of 2019, introduced by Representative Adriano Espaillat (D-N.Y.). This bill would facilitate the provision of funds needed for developing countries to deal with a climate crisis that is not of their making.
###
Friends of the Earth fights to protect our environment and create a healthy and just world. We speak truth to power and expose those who endanger people and the planet. Our campaigns work to hold politicians and corporations accountable, transform our economic systems, protect our forests and oceans, and revolutionize our food & agriculture systems.
Friends of the Earth contact
Friends of the Earth, 1101 15th Street NW, 11th Floor, Washington, DC 20005, United States.
7 Oct 2019
Sustainable Building News 2019
Population Matters statement on State of Nature 2019
Population Matters director Robin Maynard says:
"The State of Nature report leaves us in no doubt that nature and the conservation community are fighting a losing battle against the UK's ongoing assault on our wildlife. Good things are being done, but not enough. One reason this battle is being lost is only fleetingly referenced in the report – the most rapidly expanding population of any large nation in Europe (1).
Those references are telling: water abstraction, urbanisation and infrastructure development. These developments are the inevitable consequences of population growth. We all need land, we all need water, we all need infrastructure.
The report states that urbanisation accounted for a greater impact on species than any other habitat conversion and made clear one of the critical trade-offs: we can use less land if we choose to live in a Hong Kong style concrete forest of high rises and then see urban green spaces which offer vital refuges of biodiversity eradicated – or we can sprawl outwards, grubbing up land and habitat from our countryside. Either way, nature suffers.
While population growth is not the only factor driving increased housing demand, ending our population growth is essential if we are to ease that pressure. Meanwhile, our expanding population is clearly one driver of the agricultural intensification that the report identifies as another critical factor.
The 2016 State of Nature report described the UK as one of the most "nature depleted countries in the world". Overall, things are now worse. The causes are multiple and complex and they demand solutions which are far-reaching and substantial across a multitude of areas.
If, however, we ignore the fact that the ONS projects our population will grow by more than 6 million people over the next 25 years, it's hard to see how we can possibly expect the battle to protect our biodiversity to be won. If we're to do so, the UK needs a progressive, evidence-based and strategic Sustainable Population Policy as a matter of urgency."
State of Nature 2019 report https://nbn.org.uk/wp-content/uploads/2019/09/State-of-Nature-2019-UK-full-report.pdf
UK population growth. The UK population grew from to 52.1m to 66.6m between 1950 and 2018, and is projected to grow to 72.9 million by 2041. Source: Office for National Statistics https://www.ons.gov.uk/peoplepopulationandcommunity/populationandmigration/populationestimates/articles/overviewoftheukpopulation/august2019.
The UK is currently expected to become the most populous nation in Europe in the second half of the century. Source: European Environment Bureau https://www.eea.europa.eu/data-and-maps/indicators/total-population-outlook-from-unstat-3/assessment-1
Population Matters is campaigning for population issues to be addressed in the forthcoming review of the targets and action plan for the Convention on Biodiversity https://populationmatters.org/biodiversity
3 Jul 2018
Sustainable Building News 2018
UK Stakeholders for Sustainable Development Report
Built environment organisations call for urgent action on issues such as consumption, innovation and infrastructure to prevent UK slipping behind other nations on poverty, equality and the environment.
A new report released today (3 July 2018) has highlighted the UK's inadequate performance against the United Nations Sustainable Development Goals (SDGs), including those for the built environment.
The report, Measuring up, from the UK Stakeholders for Sustainable Development (UKSSD), is the first comprehensive assessment of the UK's performance against all 17 SDGs and highlights a significant danger that quality of life in the UK will worsen if action is not taken:
Sustainable Development Report News
5 Feb 2018
Population and Climate Change
Population and climate change conference
Population Matters will hold its annual conference in London on 3 March 2018.
Entitled Climate change and us: more feet, more heat? Its theme will be population growth and its impact on climate change. A panel of experts and campaigners will discuss the evidence, the problem and the solutions from a range of perspectives.

For too long, population has been ignored from discussions and plans to tackle climate change, to devastating effect. However, last year, analysis undertaken for a plan to reverse global warming – Drawdown – identified family planning and the education of girls as among the top 10 workable solutions available today. We are pleased to contribute to an initiative like Drawdown with a conference focusing specifically on the link between population growth and climate change. It is urgent.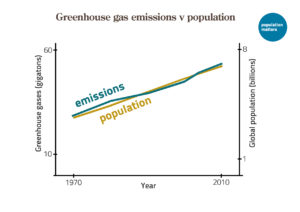 image courtesy of Population Matters
Population needs to be at the core of discussions on how we are going to combat climate change, and part of the solutions.
In 2017, more than a third of 50 Nobel prize-winning scientists surveyed by the Times Higher Education at the Lindau Nobel Laureate Meetings said that human overpopulation and environmental degradation are the two greatest threats facing humankind.
Waste and over-consumption, especially by wealthy nations, is also putting a huge strain on the environment.
Those in the architectural/construction/property sectors must keep re-evaluating what tangible steps we can make to use less energy and materials.
The event takes place on Saturday 3 March 2018, 2pm, at Conway Hall in central London.
Population and climate change conference
24 Apr 2017
Construction Carbon Reduction
Reduced carbon in infrastructure projects can also reduce costs
When you reduce carbon you can also reduce costs, but you need to consider it at an early stage. Mike Putnam, President & CEO of Skanska UK, is clear about what has to be done to reduce carbon in infrastructure projects.
"You can't just tackle carbon when you're part way through a project – because the die is already cast. What you need to do is start up-front when you're almost got a blank sheet of paper, and say 'What can we do to take carbon out?'", he says in the latest episode of Construction Climate Talks.
Mike Putnam, President & CEO of Skanska UK: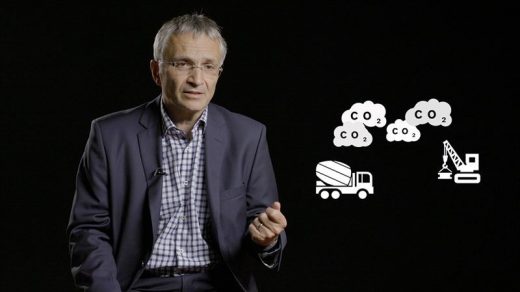 Mike Putnam is also Chair of the Green Construction Board which developed the Infrastructure Carbon Review, which sets out a series of actions to achieve carbon reductions of 24 million metric tons per annum from the construction and operation of the UK's infrastructure assets by 2050, yielding a potential net benefit of up to £1.46 billion per year.
"What we have been able to demonstrate is that by going at the low carbon, trying to take carbon out of construction – whether it's in the capital phase or the operational phase – it has the added benefit of reducing cost as well."
Mike Putnam says that it is also important to build a culture where everybody involved in the business and across the industry really understand what the green agenda is all about.
"It's only collaborating across the industry that will bring the whole industry up to a much higher level," Mike Putnam says.
See Mike Putnam talking about taking carbon out, rewarding success and collaboration, in the 10th episode of Construction Climate Talks. The episode is also released on CCC YouTube, Facebook, Twitter and LinkedIn. The Construction Climate Talks series, produced by the Construction Climate Challenge initiative hosted by Volvo Construction Equipment, highlights some of the most important issues in climate sustainability today. See all previous episodes here: http://constructionclimatechallenge.com/climatetalks/
For further information please visit Construction Climate Challenge or contact [email protected]
The Construction Climate Challenge (CCC) is an initiative hosted by Volvo Construction Equipment to promote sustainability throughout the entire construction industry value chain and provide funding for environmental research. The Construction Climate Challenge is a part of the Volvo CE commitment to WWF's Climate Savers Programme.
11 Jan 2017
Construction Climate Challenge
Construction Climate Challenge – Emission Reduction
Open source tool will help drive emission reduction
A new research project seeks to develop a tool to identify and reduce carbon in the construction supply chain. The project is a collaboration between the University of Edinburgh Business School and Costain Group and is funded by the Construction Climate Challenge (CCC) initiative hosted by Volvo Construction Equipment.
The Carbon Infrastructure Transformation Tool project (CITT) started from the need to solve two key problems facing the construction industry – the pressing need to reduce GHG emissions, and the highly fragmented nature of supply chains.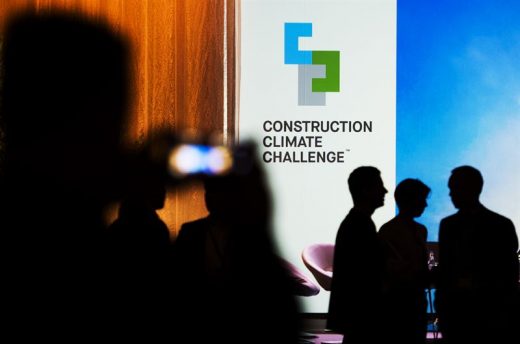 "In large infrastructure projects there are large amounts of emissions at stake. The supply chain is also very fragmented, with many different stakeholders. It's important to ensure we have a consensus across the whole chain to reduce emissions," says Dr Matthew Brander, Lecturer at University of Edinburgh Business School and Project Manager for CITT.
The research project seeks to develop and implement a tool that will help construction companies identify and reduce carbon. It will pinpoint opportunities to reduce carbon through innovation and supply chain engagement. It will also enhance the amount of communication and dialogue across the supply chain.
"The tool will be integrated into current pricing processes and will allow us to have carbon and cost together. It will put the data in the hands of the right people at the right time in contractors' processes which will allow them to make decisions to significantly reduce carbon. It will also push carbon further back towards the start of the design processes," says Damien Canning, Head of Technical Sustainability at Costain Group and Industry Specialist for Carbon Management for CITT.
The project is running for three years and the research will focus on carbon accounting methodologies, stakeholder engagement and social barriers to tool adoption, collaborative frameworks for efficient supply chain management, and decision analytics for project design under uncertainty. As the research is undertaken it will feed back into the development of the tool.
There will be close collaboration between the researchers and the construction industry and live tests have been set up with real infrastructure projects. These will take place throughout the project.
"The way to really drive this is to develop something with as much input from the industry as possible. This will help to raise standards significantly, and ensure consistency across the industry," says Damien Canning.
After the project is finished the open source tool will be publicly available and free to use, to enhance the possibility for it to be used by as many as possible.
"The key is to get the industry to use this tool. Therefore it has to be accessible and easy to understand. You can develop the best tool in the world but if the stakeholders don't want to use it, it's not going to have much impact," says Dr Matthew Brander.
CCC and research
The Construction Climate Challenge (CCC) is an initiative hosted by Volvo Construction Equipment to promote sustainability throughout the entire construction industry and provide funding for environmental research. Through supporting and initiating research projects in relevant areas of construction, CCC acts as a bridge between the industry and sustainability research. During spring 2016 CCC launched a new call for major research projects.
Two proposals were selected to receive funding. The Construction Climate Challenge is part of the Volvo CE commitment to WWF's Climate Savers Program. Volvo Construction Equipment is a Corporate Advisory Board member of the World Green Building Council.
For further information please visit http://constructionclimatechallenge.com/ or contact [email protected]
9 Jan 2017
Population Growth Drives Housing Crisis
The UK's dramatic population growth projection by the Office for National Statistics – 11 million more people by 2035, equivalent to 22 more Manchesters, mostly in England, already Europe's most overcrowded country, will have damaging consequences for everyone (except the construction industry), a new Population Matters report on housing reveals:
Sustainable Architecture – Population Growth Drives Housing Crisis
5 Jan 2017
Climate change: Fresh doubt over global warming 'pause'
A controversial study that found there has been no slowdown in global warming has been supported by new research.
Many researchers had accepted that the rate of global warming had slowed in the first 15 years of this century, reports the BBC today.
But new analysis in the journal Science Advances replicates findings that scientists have underestimated ocean temperatures over the past two decades.
With the revised data the apparent pause in temperature rises between 1998 and 2014 disappears.
The idea of a pause had gained support in recent years with even the Intergovernmental Panel on Climate Change (IPCC) reporting in 2013 that the global surface temperature "has shown a much smaller increasing linear trend over the past 15 years than over the past 30 to 60 years".
But that consensus was brought into question by a number of studies, of which a report by the the US National Oceanic and Atmospheric Administration (Noaa) published in Science last year was the most significant.
Researchers from Noaa suggested that the temperatures of the oceans were being consistently underestimated by the main global climate models. The authors showed that the ocean buoys used to measure sea temperatures tend to report slightly cooler temperatures than the older ship-based systems.
Climate Change Global Warming Research Report – BBC news link
Population Growth
Population growth increases damages to the environment and depletes natural resources. Therefore, human numbers should be reduced voluntarily to a sustainable level that enables an acceptable quality of life for all.
Population growth increases the number of wealthy carbon emitters and poorer climate change victims and hampers mitigation and adaptation efforts. In 2016, humanity used the sustainable resource output of 1.6 Earths.
Given that human activity already exceeds Earth's capacity to support it, Population Matters argues that population stabilisation should be strived for without delay.
What can professionals in the AEC field do about this? Anyone involved in construction can help combat climate change by reducing energy and material usage but wihtout controlling population growth any impact will be limited. An overnight energy revolution might mean current population growth isn't disastrous, but despite expanding alternative energ sources it doesn't look likely at present.
Comments welcome at info(at)e-architect.com
20 Jun 2015
Earth 'entering new extinction phase'
The new report – led by the universities of Stanford, Princeton and Berkeley – states that it is still possible to avoid a "dramatic decay of biodiversity" through intensive conservation, but that rapid action is needed.
Depressing news, but as architects we have a chance to make major impacts on preventing climate change. Can we better the insulation requirements asked for by new tougher Building Regulations? Did we check the plywood certificates to ensure the contractor sourced the material from sustainable forests? On refurbishments have we tried to re-use as much as possible rather than simply replace or build anew? Sometimes our little projects seem like drops in the ocean but what else can we do.
When I was at secondary school in the 1980s I read the Gaia book (by James Lovelock, published 1979) from cover to cover twice and realised as a teenager the number one problem was overpopulation (so much comes from it, deforestation to over consumption of materials and increased pollution) and architects can do little about that, or can we?
Home on the Pacific Coast of Costa Rica – light touch in nature, using timber, looks sustainable, is it truly?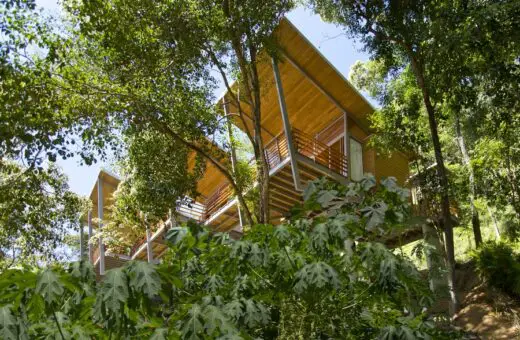 photo courtesy of architects
This is an architecture site so I won't expand on this too much but improved education and health systems appear to improve country stability and typically a levelled off birth rate. Over the years we have actively promoted groups such as Article 25 and see it as our responsibility to not only remind readers of the positive work by built environment charities (and architects of say a clinic in Sudan) in improving people's lives through ecologically-aware building but in the resulting iterations of community cohesion, population stabilisation and reducing negative impact on our planet.
Handmade bricks in Uganda, locally sourced materials saves on transport, thus pollution: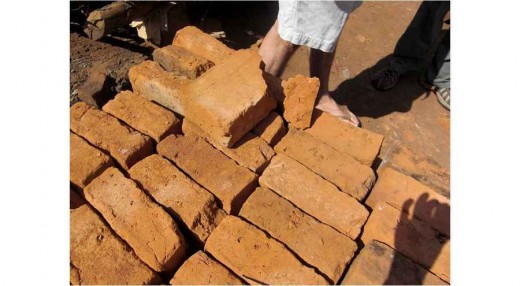 photo © Article 25
More positively it was relieving to hear the Pope recently linking humans to climate change, hopefully this can help activate and energise some global communities to work to save the planet. The encyclical, named "Laudato Si (Be Praised), On the Care of Our Common Home", aims to inspire everyone – not just Roman Catholics – to protect the Earth, reports the BBC.
The 192-page letter, which is the highest level teaching document a pope can issue, lays much of the blame for global warming on human activities. UN Secretary-General Ban Ki-moon welcomed the document, saying climate change was a "moral issue requiring respectful dialogue with all parts of society".
"The Earth has entered a new period of extinction, a study by three US universities has concluded, and humans could be among the first casualties.
The report said vertebrates were disappearing at a rate 114 times faster than normal.
The findings echo those in a report published by Duke University last year. One of the new study's authors said: "We are now entering the sixth great mass extinction event"."
Climate Change Report – BBC news link
2 Dec 2012
Global Warming – Sustainable Architecture
Carbon Emissions Too High to Stop Climate Change
With global climate talks underway in Doha a new report shows emissions continue to grow.
It is increasingly unlikely that global warming will be kept below an increase of 2C (3.6F) above pre-industrial levels, a study suggests, reports the BBC.
Data shows that global CO2 emissions in 2012 hit 35.6bn tonnes, a 2.6% increase from 2011 and 58% above 1990 levels.
The researchers say that emissions are the largest contributor to future climate change and a strong indicator of potential future warming.
"We need a radical plan."
The researchers' paper says the average annual increases in global CO2 levels were 1.0% in the 1990s but 3.1% since 2000.
Recently, the World Meteorological Organization reported that greenhouse gases in the atmosphere hit a new record high in 2011.
Other potent greenhouse gases such as methane also recorded new highs, according to the WMO report.
Carbon Emissions News – external link to BBC report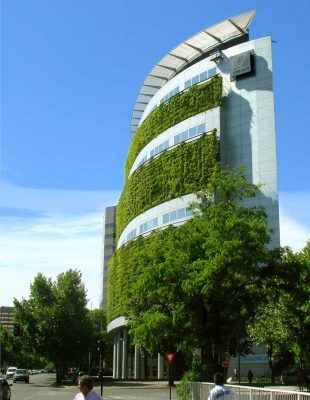 photograph : Enrique Browne
So what can architects do to assist?
The RIBA Sustainability Hub includes sustainability information such as design strategies and case studies.
Sustainable architecture aims to reduce the adverse effect of human activities on our world, particularly climate change.
Our buildings and building operations are responsible for 45% of the carbon dioxide (greenhouse gas) emissions in the UK. Architects are a large part of the problem of tackling climate change, and consequently the solution – sustainable architecture.
Long Life, Loose Fit, Low Energy
30 Oct 2012
Sustainable Architecture Videos
Films about the Built Environment and the Climate
e-architect featured a series of eight videos from Green.TV about creating sustainable cities,
sadly they deleted the links since we posted this!
Interview with Daniel Libeskind, Architect
How do you involve the local community when developing your architecture projects?
Interview with Richard Rosan, President of Urban Land Institute
Why is capturing land value not more widely used as a way to finance infrastructure investments?
Interview with Pablo Vaggione, Lead author of the UN-Habitat Guide for city leaders
What is the ideal density for a city to be sustainable?
Interview with David Cadman, President ICLEI
How are climate issues linked to urban planning and sustainability?
Four Seasons Seychelles: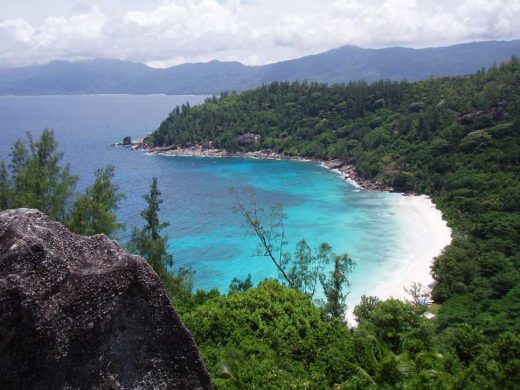 image from architects
Sustainable Architecture – external link
Sustainable Design : article by Trevor Tucker. 15 Sep 2009
Sustainable Architecture News Scotland : News
Example of sustainable architecture:
Panyaden School, Thailand
24H > architecture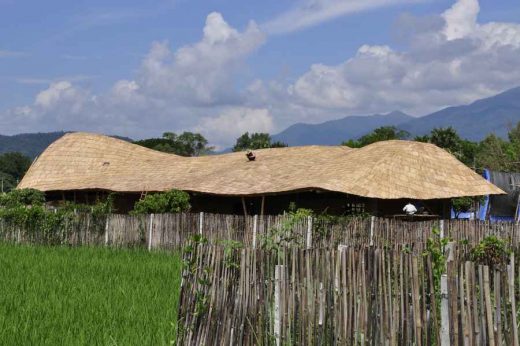 photo © Ally Taylor / Panyaden School
Thailand School Building
Sustainable architects : Bill Dunster Architects / ZED Factory
Sustainable Building Design : article by Trevor Tucker. 18 Aug 2009
Sustainable Buildings : Brief informal discussion re some of the issues
Sustainable Architecture Archive
Sustainable Architecture : Lighthouse 'Sust' Programme
Sustainable Architecture Exhibition
Sustainable architects : Bennetts Associates
Sustainable Homes
Sustainable Housing : Slateford Green, Edinburgh – 'car-free homes'
Sustainable house : Skye, Western Isles, Sctoland by rural design
Sustainable Architecture : Lotte Glob House
Sustainable Architecture : David Douglas Centre
Sustainable Architecture Links
DTI Low Carbon Buildings Programme: www.lowcarbonbuildings.org.uk – offline when checked on 1 May 2023
Population Matters: http://www.populationmatters.org/population-growth-drives-housing-crisis – Population Growth Drives Housing Crisis
Greener Homes & Buildings: www.ghbullard.co.uk
Guidance on procuring higher recycled content in construction: www.wrap.org.uk
Forest Stewardship Council – FSC: https://uk.fsc.org/
BREEAM: www.breeam.com
Healthy Building Network: www.healthybuilding.net
Sustainable Build: www.sustainablebuild.co.uk
Comments / photos for the Sustainable Architecture page welcome