Residential Properties Designs, New House Pictures, Home Photos, Architects
Residential Design Properties
Contemporary House Architecture Images – New Property : C Part 2
post updated 7 Nov 2020
Contemporary Residential Properties
We've selected what we feel are the key examples of new Residential Designs. We aim to include Residential Properties that are either of top quality or interesting, or ideally both.
19 Mar 2013
New House in Buenos Aires, Argentina – 'Casa Agua'
Design: Barrionuevo Sierchuk Arquitectas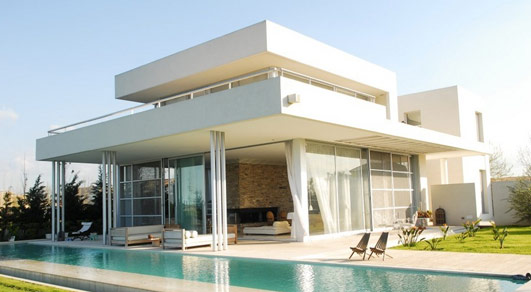 photo from architects
The site is 2,000 sqm, in the suburbs of Buenos Aires. It has 450 sqm and it is designed for a couple without kids, with, in the ground floor, a program of very large reception areas, that open and closes by very big wooden sliding doors that hide into the walls.
26 Feb 2013
Casa El Pangue, Patagonia, Chile
Design: Elton+Leniz Arquitectos asociados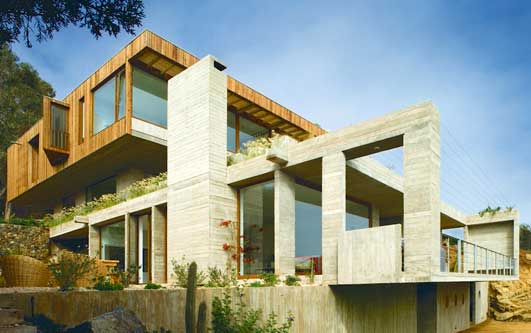 photograph : Natalia Vial
This house stands on a steep sloping site, facing the ocean. It is developed towards a central vertical circulation, connecting the 4 levels and 3 terraces in which the house is organized, in order to get as much of the view of the Pacific Ocean as possible, taking advantage of the height offered by the natural slope of the site.
20 Feb 2013
Casa Entre Arboles, Yucatan, Mexico
Architects: Muñoz Arquitectos Asociados



photo : Rolando Córdoba
The residence "Entre Arboles" (amongst trees) is the result of a deep analysis of the site. The lot is in a golf course, it is a regular rectangle of 20 by 80 meters and has 52 trees in it all of different sizes and heights.
11 Sep 2012
Canary Islands House, La Laguna, Tenerife, Spain
Architect: Alejandro Beautell, Beautell Arquitectos



photograph : Efraín Pintos
The renovated single family house is situated in the historic city centre of La Laguna, declared by UNESCO in 1999 the cultural heritage of humanity. The building is situated between party walls and is designed as a single-family house, with two floors above ground level. Its composition is simple and represents a worthy exponent of traditional domestic urban architecture of the eighteenth century in the Canary Islands.
14 Aug 2012
Clifton House, Cape Town, South Africa
Design: SAOTA – Stefan Antoni Olmesdahl Truen Architects



photo : SAOTA & Adam Letch
The clients, a British couple living in Cape Town, requested a six-bedroom, seven-level home that makes the most of the site, the views and the mountain. The lower levels of the existing structure were totally remodelled while the upper level was demolished to allow for two new levels.
23 Jul 2012
Cloud House North Fitzroy, North Fitzroy, Melbourne, Victoria, Australia
Architect: McBride Charles Ryan



photo : John Gollings
The Cloud House is an addition and renovation to a double-fronted Edwardian house in Fitzroy North. Over the course of close to a century, this house has received several additions and modifications. McBride Charles Ryan's work for the house is designed in three parts. This allows for a sequence of distinct and unexpected episodes, with glimpses previewing oncoming spaces and experiences as you move through the home.
19 Jul 2012
Country House in Suffolk, England, UK
Design: Jerry Tate Architects



image from architects
Planning received for a 500m2 country house on a greenfield site in Easton. The contemporary design integrates the building and landscape in both form and function. The form of the house is inspired by the shape and structure of a sycamore seed, and the building links physically with the proposed parkland to achieve a co-dependent self-sufficiency in terms of energy, water and food. This functionality is a traditional part of county house design, reinterpreted for 21st Century requirements.
Residential Architecture Designs – latest additions to this page, arranged chronologically:
New Houses : main page
Homes, alphabetical:
House Designs : A
New Residential Designs : Q-R
Residential Designs : C part 1 (this page)
New Residential Properties : C part 2 (this page)
Contemporary Houses : D-E
Contemporary Property Designs : F-G
New Property Designs : I-L
Contemporary House Designs : M
Contemporary Residential Properties : N
Contemporary Residential Designs : O
New Residential Designs : Q-R
New Home Designs : S
Property Designs : T-U
New Properties : V-Z
Residential Designs – C
Casa LH, Jalisco, Mexico



picture from architects
Casa La Semilla, Mexico



photo © Luis Gordoa
Casa Las Arenas, Peru


photo : Alexander Kornhuber
Casa M, Barcelona, Spain



photograph from architects
Casa Mallorca, Spain



photograph : José Hevia
Casa Materka, Mexico



photo © Luis Gordoa
Casa MB, Portugal



photograph : Brito.Rodriguez Arquitectura
Casa Mexilhoeira-Grande, Portugal



photo : Joao Morgado
Casa Mila, Barcelona, Spain



image © Adrian Welch
Casa Negra, Argentina



image from architect
Casa Negra, Mexico



photograph: Rafael Gam
Casa Orquídea, Argentina



photo from architect
Casa Oliveira de Frades, Portugal



photo : Fernando Guerra (FG+SG)
Casa Pedro Lira, Chile



picture : Carlos Eguiguren
Casa Pitch, Madrid



picture from architects
Casa Possanco, Portugal



photo : FG + SG – Fotografia de Arquitectura
Casa San Damian, Chile



image from architect
Casa Syntes Pinto, Spain



photograph : Miguel de Guzmán
Casa Wakasa, Japan



picture : Koji Nagasawa
Cascade House, Canada



image : Ben Rahn
Cavendish Avenue house, England



photograph : David Butler
Cedar Park House, Seattle, USA



picture : Lara Swimmer Photography
Charcoal House, Toronto, Canada



image : borXu Design
Claremont House, USA



picture : Christopher Barrett, Hedrich Blessing
Cloud House, Colorado Plateau, USA



image : Axis Mundi
Column and Slab House, Japan



photograph : Koichi Torimura
Comano house, Switzerland



image : Enrico Cano
Concrete Home, Edinburgh, Scotland



image from architect
Concrete House II, Madrid



photo from architects
Concrete Moon House, Australia



image from architect
Contador-Weller House, Chile



photograph : Carlos Eguiguren
Contour House, Australia



image : Shannon McGrath
Corinth Street home, New Zealand



photo © Simon Devitt
Corten House, Brazil



picture : Nelson Kon
Country House Ibiza, Spain



photograph : Peter Cook
Country House in Suffolk, England



image from architects
Country House S, Bosnia and Herzegovina



photograph : Robert Les
Cove 3 House, South Africa



photo : Micky Hoyle COURTESY OF VISI
Cox's Bay House, New Zealand



photo © Mark Smith
Craignish House, Scotland



photo © Keith Hunter
Crystal Brick Home, Japan



Atelier Tekuto, Photo : Makoto Yoshida
Cuiabá House, Brazil



photo : Éder Bispo
More Contemporary Residential Design Properties online soon
Images of quality New Houses + New Property Designs welcome
One Window house, USA
Buildings / photos for the Residential Design Properties page welcome