Brazilian House, Residential Architecture Brazil, Architects, Homes Images, Residences
Brazilian Houses: Properties
Key Residential Buildings in Brazil: Contemporary South America Properties
post updated 18 Dec 2020
Recent Brazilian Residences
e-architect choose what we feel are the key examples of Brazilian Houses. We aim to include houses in Brazil that are either of top quality or interesting, or ideally both. We cover completed houses, new house designs, architectural exhibitions and architecture competitions across Brazil.
Residential Architecture in Brazil – latest additions to this page, arranged chronologically:
8 Dec 2020
Park Way House, Brasília
Architects: ARQBR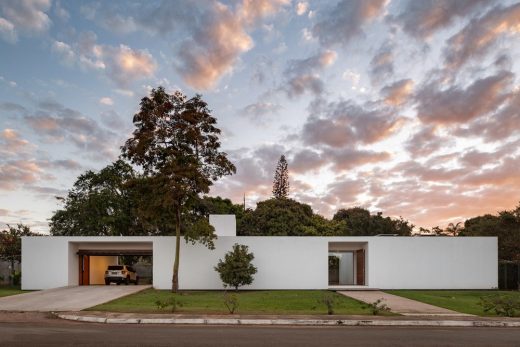 photograph : Joana França
Park Way House, Brasilia
The Park Way House is located in a closed residential condominium and far from the urban center of the city, it is the Park Way neighborhood, whose predominant occupation is single-family dwellings.
5 Dec 2020
Panoramic House, Itajaí
Design: Schuchovski Arquitetura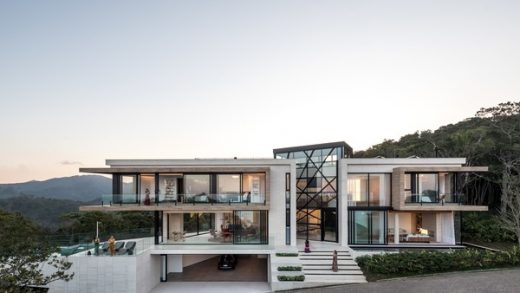 photo : Eduardo Macarios
House FY in Santa Catarina State
The terrain is located In the middle of an Atlantic forest hill facing the sea. It was carefully selected for this great project by having one of the most privileged views of the sea.
7 Sep 2020
JK House in Pato Branco, Paraná
6 Sep 2020
RG House, Pato Branco, state of Paraná
Design: Michel Macedo Arquitetos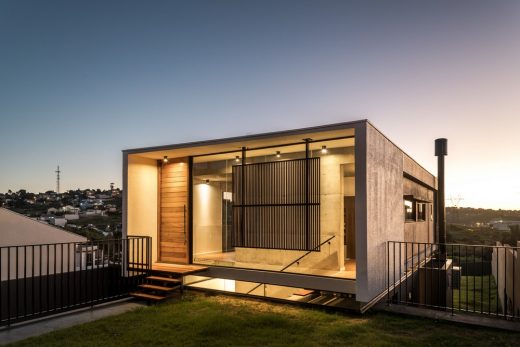 photo : Eduardo Macarios
House in Pato Branco
Conditioned by an environmentally protected area at the backyard, this residence diverges into two distinct priority facts, one environmental and another human: the uneven topography, characteristic of the city, and the contemplative value that the preserved vegetation offers to the residents on the most private limit of the lot.
27 May 2020
Casa Erechim Rio Grande do Sul, Brazil
26 May 2020
Corner House in Feira de Santana
18 May 2020
Rio House adjacent to Tijuca National Park
5 May 2020
Oasis House in Feira de Santana
1 May 2020
Sand House, Praia do Forte near Bahia, Salvador
Design: Studio Kyze Arquitetura e Design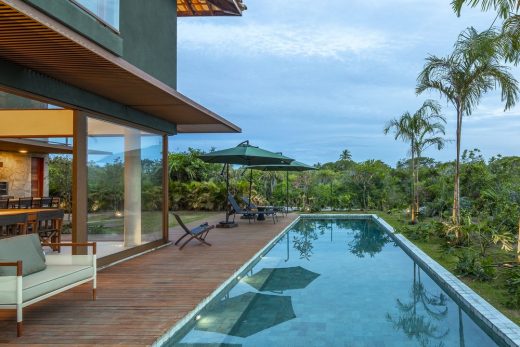 photograph : Studio Kyze Arquitetura e Design
Sand House, Praia do Forte near Bahia
An almost 5 meters swing welcomes to Sand House, inserted in one of the most valued gated community of the exclusive Praia do Forte, a tropical paradise located 80 km north from the capital of Bahia, Salvador.
22 Jan 2020
3V House, São Paulo
Design: studio mk27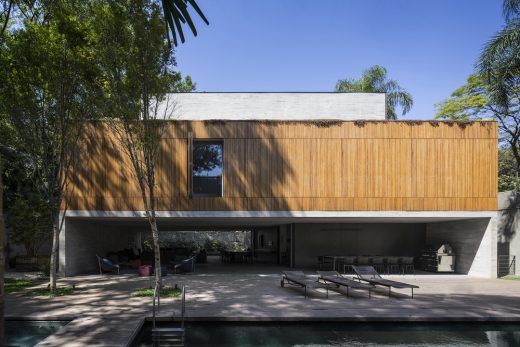 photo : Fernando Guerra
3V House in São Paulo
This new Brazilian property is located in a 'gardened' neighbourhood of São Paulo. The area was built on an old floodplain area. This condition brought us to the solution of slightly elevating the property land and its garden relative to the street level, thereby protecting it from the flooding rains that this area is subject to.
20 Jan 2020
FIO House in São Paulo
17 Jan 2020
Guaeca House, São Sebastião
Design: AMZ Arquitetos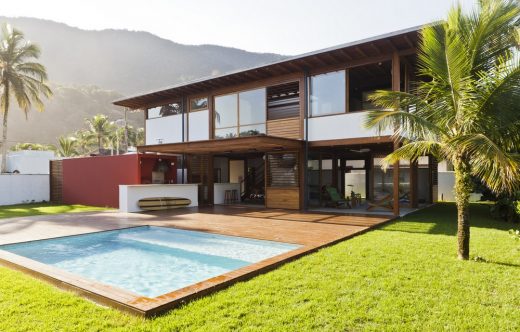 photo : Maíra Acayaba
Guaeca House in São Sebastião
This new Brazilian property is located at the seaside, on the northern coast of São Paulo, in a gated community where wide grassy streets connect the lots to the beach.
13 Jan 2020
Rio House, Rio de Janeiro
Design: Jacobsen Arquitetura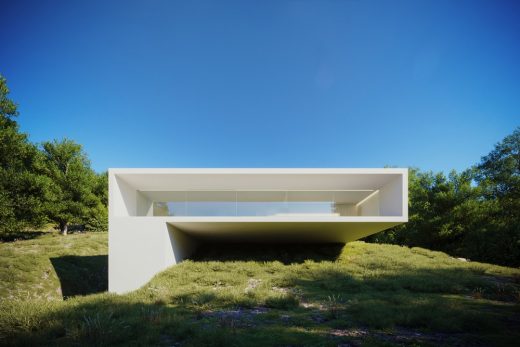 image : Omega Render
Rio House near Itanhangá Golf Course, Rio de Janeiro
Located on a hillside near the Itanhangá golf course in Rio de Janeiro, this luxury contemporary residence is composed of two volumes that are jointly deposited on the ground.
26 Dec 2019
House FY, Jaragua do Sul, Santa Catarina State
Design: PJV Arquitetura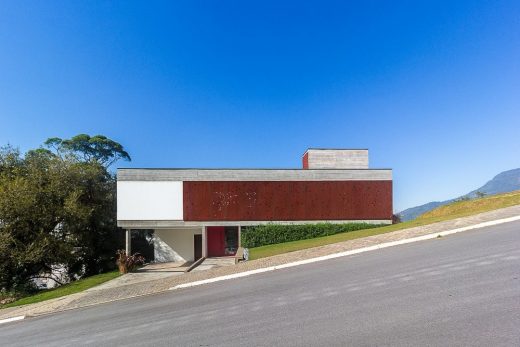 photo : Larry Sestrem
House FY in Santa Catarina State, Brazil Home
The land has a big inclination both to the back side and to the north side. Its dimensions are of 26m x 40 m and the total area is of approximately 1,087 sqm.
6 Dec 2019
CMA House, Angra dos Reis, Rio de Janeiro
Design: Jacobsen Arquitetura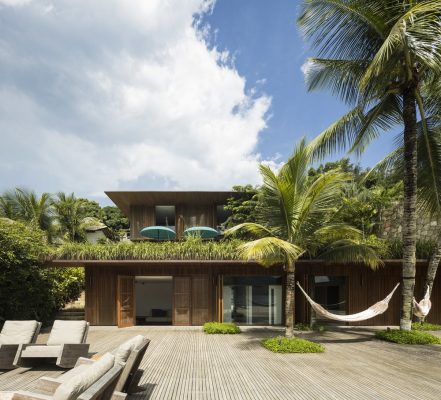 photo : Fernando Guerra
CMA House in Angra dos Reis
CMA House is built out of steel structure, rough stone, natural wood and glass, the House sits on a steep slope that falls directly in the ocean, with neighbors on both sides.
27 Nov 2019
Green House, São Paulo
Architecture: AMZ Arquitetos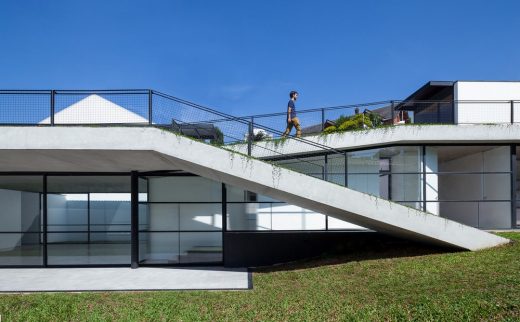 photograph : Maíra Acayaba
Green House in São Paulo
Commissioned by a young couple with three children, the house was built on one of the few remaining plots at a downtown neighborhood in São Paulo.
24 Jul 2019
Bridge House, Alphaville Private Country Club, Campinas
Architect: Diego Wisnivesky Arquitetos of ArcLab360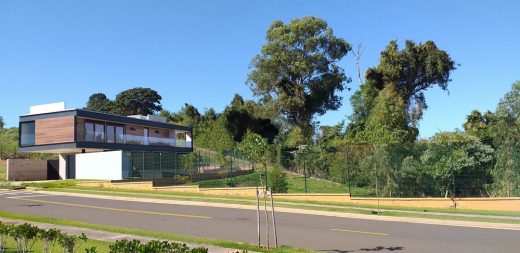 photograph : Diego Wisnivesky
Bridge House Campinas
This building links Nature and Technology: the residence stands on the site like a glider that is just about to touchdown.
10 May 2019
Lake House, Alvorada do Sul
Architects: Solo Arquitetos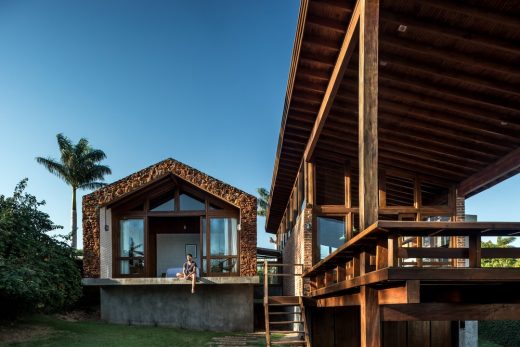 photograph : Eduardo Macarios
Lake House in Alvorada do Sul
This contemporary Brazilian property is located next to the Paranapanema River. The residence design seeks to adapt to the geography, the lengthy shape of the site and to appreciate the beautiful view over the wetlands of the river.
22 Jan 2019
Casa Erechim, Rio Grande do Sul
Architect: Luciano Lerner Basso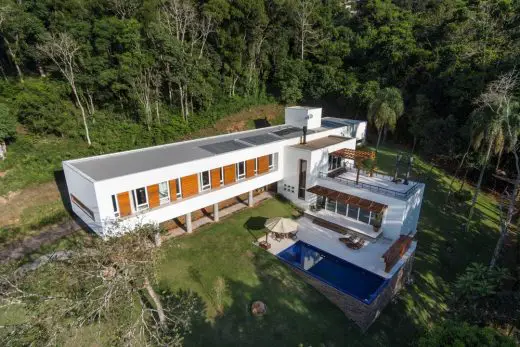 photograph : Marcelo Donadussi, architect
Casa Erechim in Rio Grande do Sul
House 4.16.3 is located in the city of Erechim, in the countryside of Rio Grande do Sul, brazilian state, around 400 km from the state capital, Porto Alegre.
15 Jan 2019
IF House, Flora Boulevard, Ponta Negra, Natal-rn
Design: Martins Lucena Architects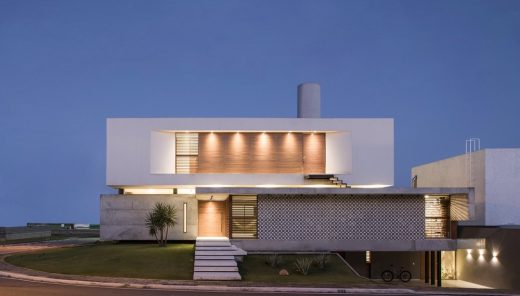 photograph : Maíra Acayaba
IF House in Natal
The interaction of the volumes of pure geometric forms give rise to large swings open to provide shaded areas permeated by large ventilation provided by the system frames in aluminum, glass and wood.
Brazilian Houses 2018
27 Oct 2018
House FY in Santa Catarian State
14 May 2018
Jardim Paulistano Residence, São Paulo, SP
Architects: Perkins+Will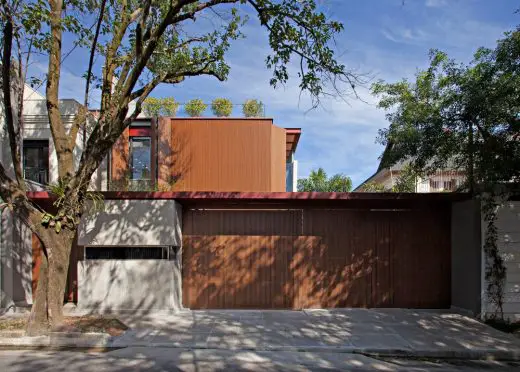 photo : Daniel Ducci
Jardim Paulistano House in São Paulo
Brazilian Houses 2017
24 Oct 2017
Cerrado House, Moeda, Minas Gerais, Belo Horizonte
Design: Vazio S/A, architects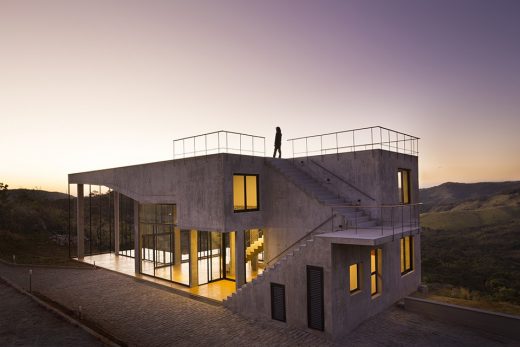 image from architects
Cerrado House in Minas Gerais
The Cerrado is one of the country's seven biomes and covers an area of 1.5 million km². It holds about a third of all Brazilian biodiversity, 5% of the world's flora and fauna, and is home to the headwaters of the three largest hydrographic basins in the country (Amazon, São Francisco, and Paraná/ Paraguay).
6 Jul 2017
Casa 01, Criciuma, Santa Catarina
Design: ES arquitetura


photograph : SLAPHOTOSTUDIO
Criciuma House
Developed from its conception by a group of professionals from different areas, the project and the work of Casa 01 was developed with sustainability premises, trying to prove that one can build in a rational way, minimizing environmental impacts, transforming an object of living into an example object of change of habits in the construction and in the use of the residence.
5 Apr 2017
Casa Clara, Brasília, DF
Architects: 1:1 arquitetura:design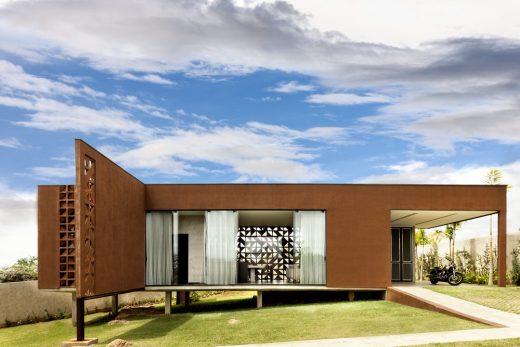 photograph : Edgard Cesar
Casa Clara in Brasilia
This property is mainly a small house, strong personality and clear solution (clear means Clara in Portuguese). The entire house is delicately supported on the downhill terrain.
14 Jan 2017
House C131, Franca, SP
Design: mf+arquitetos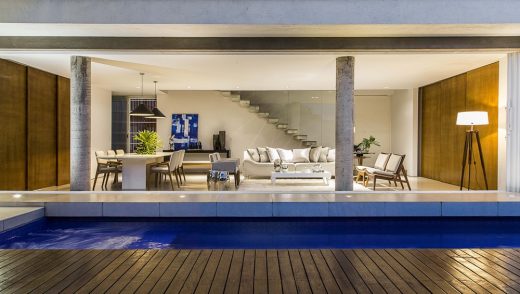 photograph : Renato Moura
House in Franca
An intriguing cantilevered box supported on large wooden façade featuring project.
13 Jan 2017
Tropical Pool House, Gravataí, Rio Grande do Sul, southern Brazil
Design: Br3 arquitetos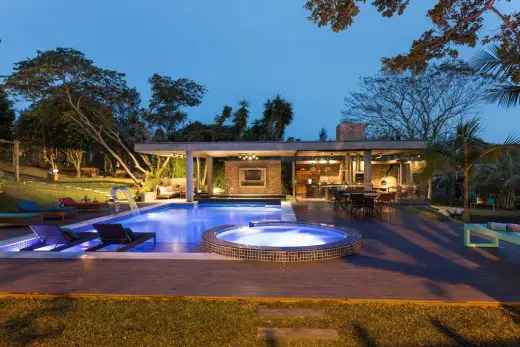 photograph : Marcelo Donadussi
Tropical Pool House in Gravataí
This work was developed to compose the leisure area of an existing residence. Thus, this project organizes the following items: a pool, a deck and a kiosk, the latter being the central element of this composition.
Brazilian Homes 2016 and beyond – Archive
More Brazilian Properties online soon
Location: Brazil, South America
Brazil Architecture
Contemporary Architecture in Brasil
Brazil Architecture Design – chronological list
American Architecture Walking Tours : city walks by e-architect
Building Developments in Brazilian Neighbours
Brazilian Buildings – no images
Brazilian Architecture Competition
Comments / photos for the Brazil Residential Architecture page welcome
Website: Brazil