Serra House, Brazil Building, Belo Horizonte Home, Brazilian Real Estate, Brasil Architecture Images
Marinho da Serra House in Belo Horizonte
31 Jan 2022
Design: Vazio S/A
Location: Belo Horizonte, Minas Gerais Estado, Southeast Brazil, South America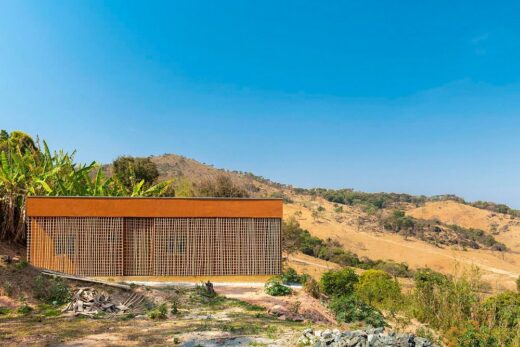 Photos by Studio Pixel / Daniel Mansur
Serra House, Belo Horizonte
Marinho da Serra (MS) house is located in a rural area of Serra da Moeda, a natural monument listed by the state heritage of Minas Gerais. The site belongs to a peasant family that has lived in the region since the 19th century, and has an orchard with banana trees, mango trees and bamboo groves.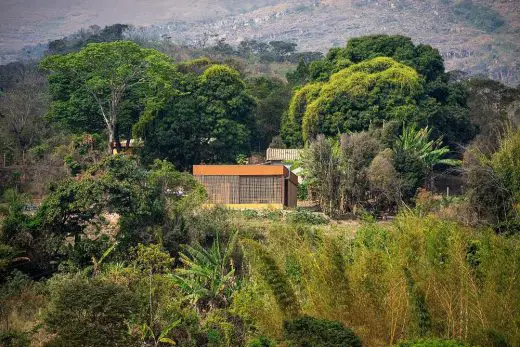 The highlight of the house is the bamboo louvers that surround the entire perimeter of the building (except for the south facade, which does not receive sunlight). The windows of the rooms, facing west or east, are protected by the bamboo weave, a natural element abundant throughout the region. Bamboo was pretreated on site with a bath of borax and boric acid, a popular preservation method because it is effective and less toxic than other wood preservatives. The bath produces an insecticide, fungicide and fire retardant effect.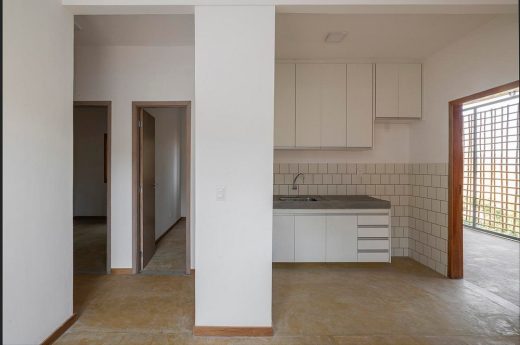 In environmental terms, the extraction of bamboo is not harmful, since the giant grass reaches a satisfactory size in about three years and is quite common in the interior landscapes of Brazil, where it is popularly used in railings, fences and ceilings. Also weighing in this account is the economy allowed by its use and also its durability when treated correctly.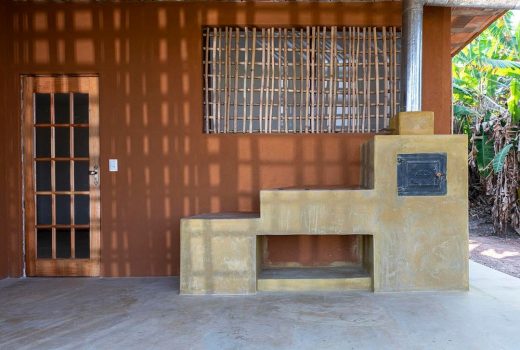 The balcony overlooks a picturesque valley to the north and its louvers run to open it to the landscape or protect it from the relentless afternoon sun. The slab is made of bricks and precast elements, and covered with thermoacoustic sandwich trapezoidal roof tile. The pre-assembled windows are made of eucalyptus, and the doors are made of MDF.
Now retired, the owner of the house worked for four decades as a cook in Belo Horizonte, and the construction resources were donated by her former employers. The house was built with local labor, all of them residing in the district of Marinho de Serra (Municipality of Moeda, MG). It has two bedrooms, a suite, service area, wood stove, balcony and 110m2 of built area. Its cost per m2 was below the CUB-MG reference for popular single-family housing, of R$ 2,074.00. (US$ 380/m2)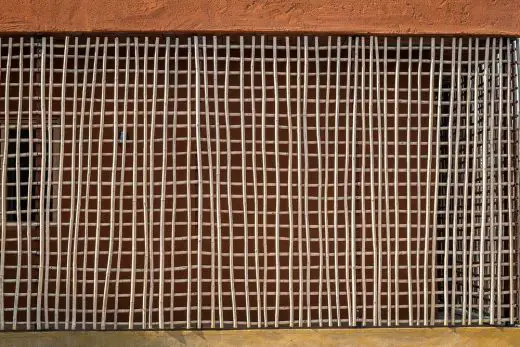 Español
Casa Marinho da Serra
Casa Marinho da Serra está ubicada en una zona rural de Sierra da Moeda, un monumento natural catalogado por el patrimonio estatal de Minas Gerais. El sitio pertenece a una familia campesina que ha vivido en la región desde el siglo XIX, y cuenta con una huerta con plantaciones de plátano, jabuticaba, mango y bambú.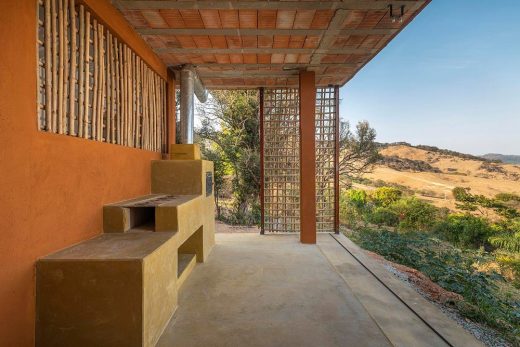 Lo más destacado de la casa son las celosías de bambú que rodean todo el perímetro del edificio (a excepción de la fachada sur, que no recibe luz solar). Las ventanas de las habitaciones, orientadas al oeste o al este, están protegidas por el tejido de bambú, un elemento natural abundante en toda la región. El bambú se pretrató en el sitio con un baño de bórax y ácido bórico, un método de conservación popular porque es efectivo y menos tóxico que otros conservantes de la madera. El baño produce un efecto insecticida, fungicida y ignífugo.
En términos ambientales, la extracción de bambú no es dañina, ya que la hierba gigante alcanza un tamaño satisfactorio en unos tres años y es bastante común en los paisajes del interior de Brasil, donde se usa popularmente en barandas, cercas y techos. También pesa en esta cuenta la economía que permite su uso y también su durabilidad cuando se trata correctamente.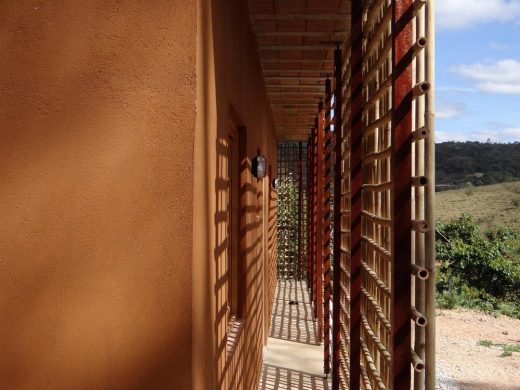 El balcón da a un pintoresco valle hacia el norte y sus persianas corren para abrirlo al paisaje o protegerlo del implacable sol de la tarde. El forjado está realizado con ladrillos y elementos prefabricados, y revestido con teja trapezoidal sándwich termoacústica. Las ventanas premontadas son de eucalipto y las puertas de MDF.
Ahora jubilada, la propietaria de la casa trabajó durante cuatro décadas como cocinera en Belo Horizonte, y los recursos para la construcción fueron donados por sus antiguos empleadores. La casa fue construida con mano de obra local, todos residentes en el distrito de Marinho de Serra (Municipalidad de Moeda, MG). Tiene dos habitaciones, una suite, área de servicio, estufa a leña, balcón y 110m2 de área. Su costo por m2 estuvo por debajo de la referencia CUB-MG para vivienda unifamiliar popular, de R$ 2.074,00.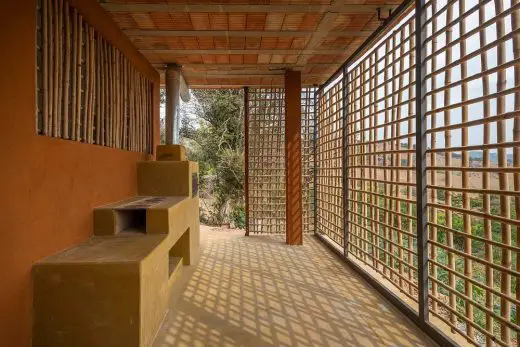 Português
Casa Marinho da Serra
A Casa Marinho da Serra fica num sítio na zona rural da Serra da Moeda, um monumento natural tombado pelo patrimônio estadual de Minas Gerais (IEPHA). O sítio pertence a uma família de camponeses que habita a região desde o século XIX, e tem um belo pomar com bananeiras, jabuticabeiras, mangueiras e bambuzais.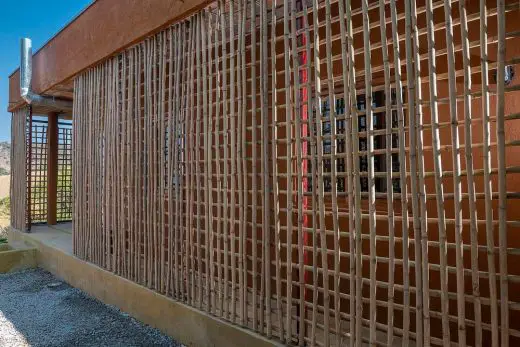 O elemento de destaque da casa são os brises de bambu que envolvem todo o perímetro da construção (menos a fachada sul, que não recebe sol). As janelas dos quartos, voltadas para o poente ou nascente, são protegidas pela trama de bambu, elemento natural abundante em toda a região. O bambu foi previamente tratado no próprio local com um banho de bórax e ácido bórico, método de preservação popular porque é eficaz e menos tóxico do que outros conservantes de madeira. O banho produz efeito de inseticida, fungicida e retardador de fogo.
Em termos ambientais, a extração do bambu não é danosa, visto que a gramínea gigante atinge um tamanho satisfatório em cerca de três anos e é bastante comum nas paisagens do interior do Brasil, onde é popularmente usado em gradis, cercas e forros. Pesa ainda nessa conta a economia permitida por sua utilização e também sua durabilidade quando tratado corretamente.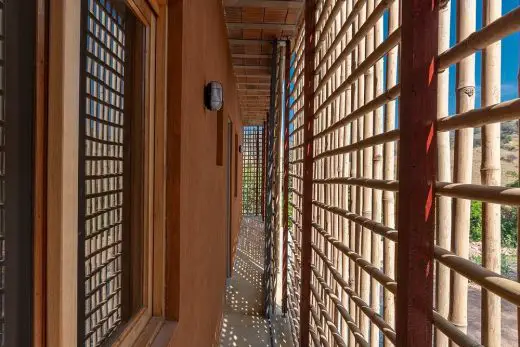 A varanda tem vista para um pitoresco vale a norte e seus brises correm para abri-la à paisagem ou protegê-la do inclemente sol da tarde. A laje é de tijolos e elementos pré-moldados, e coberta com telha trapezoidal termoacústica sanduíche. As janelas pré-montadas são de eucalipto, e as portas são de MDF.
Hoje aposentada, a dona da casa trabalhou por quatro décadas como cozinheira em Belo Horizonte, e os recursos da construção foram doados por seus ex-empregadores. A casa foi construída com mão-de-obra local, toda ela residente no distrito de Marinho de Serra (município de Moeda, MG). Ela tem dois quartos, uma suíte, área de serviço, fogão a lenha, varanda e 110m2 de área. Seu custo por m2 ficou abaixo da referência do CUB-MG de habitação unifamiliar popular, de R$ 2.074,00.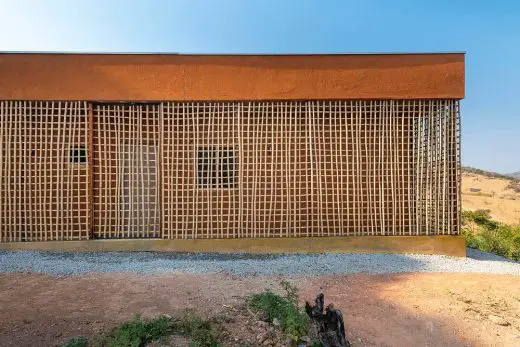 Serra House in Belo Horizonte, Brazil – Property Information
Architecture: Vazio S/A – https://www.vazio.com.br/en
Project size 110 sqm
Site size: 2000 sqm
Project Budget: BRL 220,000.00
Completion date: 2022
Building levels: 1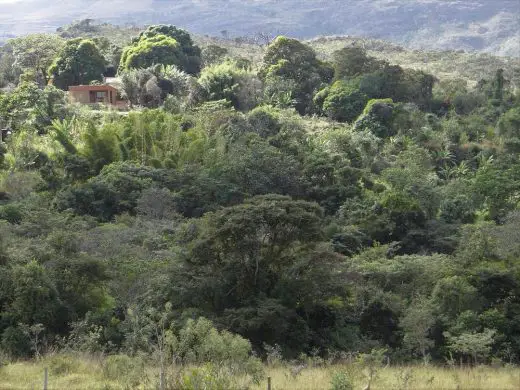 Photography: Studio Pixel / Daniel Mansur
Serra House, Belo Horizonte, Brazil images / information received 280123
Location: Belo Horizonte, Minas Gerais Estado, Southeastern Brazil, South America
Belo Horizonte Buildings
Belo Horizonte Architectural Designs – recent selection below:
CBM + BMPI Offices
Architects: Vazio S/A + Helena T Rios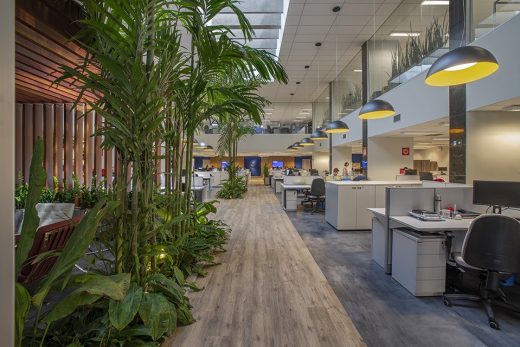 photo © Daniel Mansur (Studio Pixel)
CBM + BMPI Offices in Belo Horizonte
Marília Fit Cafe
Design: David Guerra Arquitetura e Interiores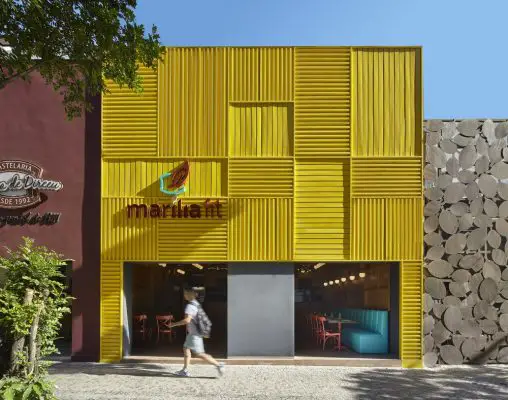 photograph : Jomar Bragança
New Cafe in Belo Horizonte
Architecture in Brazil
Contemporary Architecture in Brasil
Brazilian Architecture Design – chronological list
Cerrado House, Moeda, Minas Gerais, Belo Horizonte
Design: Vazio S/A architects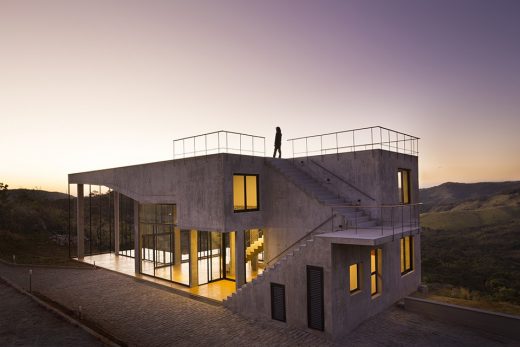 image from architects
Cerrado House in Minas Gerais
Jardim Paulistano Residence, São Paulo, SP
Architects: Perkins+Will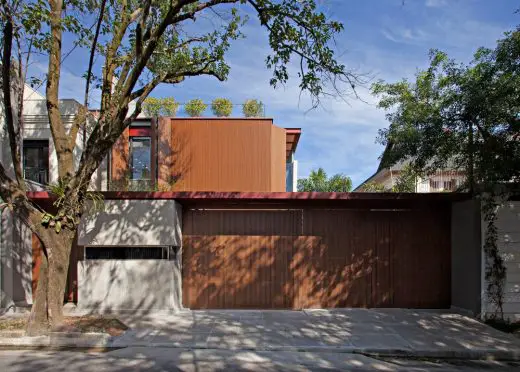 photo : Daniel Ducci
Jardim Paulistano House in São Paulo
Comments / photos for the Marinho da Serra House, Belo Horizonte, Brazil property design by Vazio S/A page welcome