Tom Kundig Architect, Seattle Architecture Studio, WA Buildings Images, USA Practice News
Tom Kundig Architecture, USA
Contemporary Washington Architects Practice, United States of America
post updated April 7, 2023
Tom Kundig Talk
22 Dec 2011
New York Public Library
Tom Kundig and Mark Rozzo – Architectural Explorations in Books, a conversation presented by New York Public Library
Jan 25, 2012
Location: Stephen A. Schwartzman Building, Margaret Liebman Berger Forum at New York Public Library
Tom Kundig, of Olson Kundig Architects, and Mark Rozzo discuss the role of place, nature, materials and craft in creating Kundig's bold and sensitive designs, and how this is reflected in Kundig's newly released book, Tom Kundig: Houses 2. The book features seventeen residential projects, ranging from a two hundred-square-foot cabin in the woods to a house carved into and built out of solid rock.
29 Sep 2011
Tom Kundig Book
Tom Kundig : Houses 2
Tom Kundig
9.5 x 11.875 in / 24.1 x 30.4 cm
256 pp / 250 color illustrations
hardcover
978-1-61689-040-7
$55.00
Princeton Architectural Press is pleased to announce the upcoming release of Tom Kundig: Houses 2, a monograph featuring residences by the award-winning architect and partner of Olson Kundig Architects. In 248 pages featuring 17 homes, the book demonstrates how Kundig is actively redefining the vocabulary of architecture and his commitment to the experiential nature of space – branding him as a unique figure among international practitioners. The book follows the critically acclaimed Tom Kundig: Houses, published in 2006.
Over the past decade, Kundig's inventive and oftentimes playful approach to kinetic architecture has been recognized with an array of high-profile national and international awards, transforming him into one of the most influential architects working today. "Tom Kundig's houses help complacent bodies reimagine themselves in a natural plenitude," says Daniel Friedman in his essay in the book. "In the lives they touch, they circulate like gift property, transmitting vitality, reviving the soul, serving an upward force."
Kundig has gained a world-renowned reputation for establishing an innovative balance between raw material and modernist design. Tom Kundig: Houses 2, showcases recent work that strikes a balance between tactile and sophisticated, and modern and warm, the effect of which creates inviting spaces well married to their native context. Whether carving a house out of rock or engineering a gizmo that opens a ceiling to the sky, Kundig is compelled to craft a dialog between people, nature, and architecture. Fearless in his use of scale and material, Kundig's homes become part of their natural setting, never outshining nor being overshadowed.
Kundig creates bold architectural statements by fusing the static with the dynamic, the fabricated with the natural—yet his homes maintain a simple aesthetic and exude comfort. That seamless sense of contentment derives in part from Kundig's collaborative work ethic.
By actively engaging with engineers, interior designers, craftsmen, artists, and other architects, Kundig's attention not only rests on the structure, but with the mechanics of moveable features, micro-architectural elements, custom fixtures—and the way each of those systems responds to the natural landscape. The 17 featured projects are Montecito Residence, Hammer House, The Pierre, Rolling Huts, Tye River Cabin, Portland Hilltop House, Highlands House, Slaughterhouse Beach House, Studio Sitges, Gulf Islands Cabin, Laurelhurst Residence, Shadowboxx, False Bay Writer's Cabin, Island Pool House, East Village Apartment, Chat-O Spapho, and Outpost. All seamlessly incorporate Kundig's signature inventive details, rich materials, and stunning sites, from majestic Northwest forests to Western high deserts and New York City's urban grid.
Designed by Dung Ngo, this volume features a foreword by noted Finnish architect and critic Juhani Pallasmaa and an essay by Daniel Friedman, Dean of the University of Washington College of Built Environments. Tom Kundig: Houses 2 will be released in September 2011.
About Tom Kundig, FAIA; Principal/Owner, Olson Kundig Architects
Best known for his "hot rodding" design approach, Tom Kundig redefines the practice of modern architecture. Drawing upon a deep devotion to craft, Tom's designs unite raw natural elements with man-made materials, transforming commodities such as steel and concrete into rich tactile experiences. A place-based designer, Tom's body of work exalts the human spirit in a multitude of ways: from the child-like delight built into his gadgets and gizmos to the physical invocation of nature through tilting window walls, houses carved from rock, and pop-up skylights.
Kundig has received a National Design Award in Architecture Design from the Smithsonian Cooper-Hewitt National Design Museum; four National AIA Honor Awards; six National AIA Housing Awards; and an Academy Award in Architecture from the American Academy of Arts and Letters. In 2011, he won the World Architecture News House of the Year Award for his design of The Pierre, and Residential Architect's Project of the Year award for Art Stable. In 2010, he was the sole North American architect chosen to represent the continent at the TOTO GALLERY MA in Tokyo, Japan. A graduate of the University of Washington, Tom Kundig became a partner at Olson Kundig Architects in 1994.
About Olson Kundig Architects
Founded in 1968, Olson Kundig Architects is a Seattle-based architecture firm led by owners Jim Olson, Tom Kundig, Kirsten R. Murray, and Alan Maskin. The 90-person office works on a wide range of local, national, and international projects, including new and renovated residences, particularly for art collectors; mixed-use buildings; museums and exhibit design; cultural centers; academic and civic projects; places of worship; urban design; and interior design. In 2009, the firm was honored with the Architecture Firm of the Year Award by the American Institute of Architects. For additional information, visit olsonkundigarchitects.com
About Princeton Architectural Press
Celebrating its thirtieth year, Princeton Architectural Press is a world leader in architecture and design publishing, both in market share and in editorial and design excellence. With over 1000 titles published, they have consistently sought the best in the field, and are privileged to be able to attract and publish it. They've made their reputation in part by identifying new trends and publishing first books on emerging talents, as well as definiteive works on established names, and by creating books of unsurpassed design quality and production values.
Jim Olson Houses – Book
Royal Academy of Arts Lecture by the Architect
Tom Kundig will give a lecture at Royal Academy of Arts on October 13, in conjunction with the launch of his new book featuring his recent residential projects.
Link: http://www.royalacademy.org.uk/events/talks/tom-kundig-landscape-community-and-craft,1781,EVl
11 Nov 2010
Tom Kundig Awards
Art Stable and T Bailey Offices, two projects by Tom Kundig of Olson Kundig Architects, each received a Citation at the 2010 Honor Awards for Washington Architecture, presented by the American Institute of Architects (AIA) Seattle Chapter.
The Honor Awards for Washington Architecture are given to the best examples of projects in a broad array of sectors from residential to commercial that are either located or envisioned in Washington State.
Images of Tom Kundig's design for the T Bailey Offices: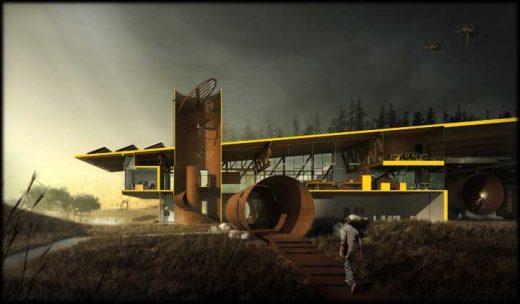 pictures from bm
Images of recently completed Art Stable:


pictures from bm
Key Projects
TOM KUNDIG, PRINCIPAL, OLSON SUNDBERG KUNDIG ALLEN ARCHITECTS, PUBLISHES FIRST MONOGRAPH
Tom Kundig : Houses
to feature contributions by Dung Ngo, Steven Holl, Rick Joy, and Billie Tsien
SEATTLE – Tom Kundig: Houses by Tom Kundig, principal of Seattle-based architecture firm, Olson Sundberg Kundig Allen Architects, will be published this December from Princeton Architectural Press. The award-winning architect's first monograph presents five projects in depth, from their early conceptual sketches to photographs of the completed projects. Edited by design writer Dung Ngo, the book also features a personal statement by Kundig and contributions from noted architects Steven Holl, Rick Joy and Billie Tsien.
Tom Kundig finalized the book during his month-long residency at the renowned MacDowell Colony, to which he was awarded one of its prestigious fellowships in 2006. Like many of the nation's top artists and architects who have received fellowships since the grant's inception in 1907, Tom Kundig used his time at MacDowell to reflect upon the highly intimate creative process that goes into his personal language of "making." The resulting book makes manifest this process, giving us unique insight into the evolution of this gifted designer's architectural vocabulary and the collaboration with craftspeople and clients that make it come alive.
"In each of the projects found on these pages, Tom reveals an empathetic sensitivity for his clients' desires, a deep understanding for the specificities of the settings, and the awareness of the architect's persona as a mediator between the corporeal and incorporeal realms of his design process," writes Rick Joy in his essay for the book.
The internationally acclaimed houses featured in the book reveal Tom Kundig's reverence for materials, while combining art, craft and the experience of built space with respect for the environment. Featured houses include Studio House (Seattle, 1998), "The Brain" Studio (Seattle, 2001), Chicken Point Cabin (Northern Idaho, 2003), The Hotrod House (Seattle, 2006), and Delta Shelter (Mazama, Washington, 2003).
Creating some of the most inventive structures today, his buildings uniquely meld industrial sensibilities and materials such as steel and concrete with an intuitive understanding of scale. A telling example is the Delta Shelter, a 1,000 square-foot weekend cabin, a steel box on stilts featuring Tom Kundig's characteristic gizmos, that can be completely shuttered when the owner is away. Lauded earlier this year by The New York Times, the cabin was recently awarded a prestigious 2006 Record House by Architectural Record.
Tom Kundig architect, Seattle
Location: 159 South Jackson St., Suite 600 Seattle, WA 98104, USA
Seattle Architect Practice Information
Tom Kundig is based at Olson Kundig Architects in Seattle, WA, USA
About Tom Kundig
Tom Kundig, FAIA, is widely recognized for his poetic, elemental and intuitive designs. His projects revere the beauty of the American West. Tom uses art, craft, and materials to connect us with the landscape, and he creates serene places for contemplation and repose.
Tom Kundig received a prestigious fellowship to the MacDowell Colony in 2006, was selected as a Finalist for the National Design Award in Architecture by The Smithsonian Institution's Cooper-Hewitt, National Design Museum in 2005 and was recognized as one of North America's Emerging Architects by the Architectural League of New York in 2004. Earlier this year his first monograph, Tom Kundig: Houses, was published by Princeton Architectural Press. Tom Kundig was a juror for the 2007 National AIA Honor Awards.
His work is extensively published in magazines and books—both nationally and internationally. Tom Kundig is a frequent lecturer and design juror. His most recent house, Hot Rod, was featured in a 2006 issue of The New York Times Magazine and his 2006 Architectural Record "Record House" -winning Delta Shelter, Chicken Point Cabin and The Brain, are all winners of 2004 National AIA Honor Awards; Sedgwick Rd, an advertising agency; the Mission Hill Winery in Westbank, British Columbia; and the Studio House in Seattle.
Current projects by architect Tom Kundig include a 37-story tower in downtown Seattle, the Pratt Fine Arts Center in Seattle, a winery near Santa Barbara, the Sun Valley Center for the Arts in Ketchum, Idaho, a destination resort in eastern Washington, numerous residences throughout North America, and a house in Sitges, Spain. In 2003, the monograph Olson Sundberg Kundig Allen – Architecture, Art and Craft was published by The Monacelli Press. Tom Kundig holds undergraduate and graduate degrees in architecture from the University of Washington.
Website: www.olsonkundigarchitects.com
2009 AIA Architecture Firm Award : Olson Sundberg Kundig Allen Architects
Sun Valley Center for Arts : Idaho building
Seattle Architecture
Contemporary Washington Architecture Designs – architectural selection below:
Seattle Architecture Designs – chronological list
The Starling's Nest, Seattle, WA
Architecture and Interior Design: Rerucha Studio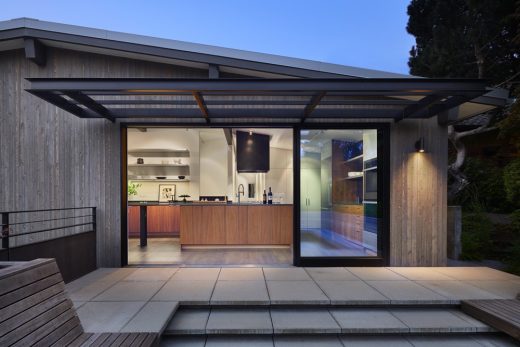 photograph : Benjamin Benschneider
The Starling's Nest House in Seattle
A shared belief among architects and their clients is that architecturally significant homes are more valuable. On a personal level, a home that reflects and enriches a client's life adds value daily. But, does the passion that created the home translate in resale?
WSECU Plaza, 121 NE 45th St, Seattle, WA 98105, USA
Architecture and Interior Design: SkB Architects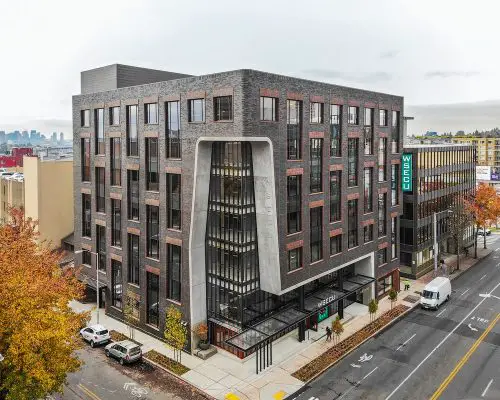 photography : Nicholas Worley and Hannah Rankin
WSECU Plaza in Seattle, State of Washington
"The building is designed to take advantage of the unique properties of the small, yet prominent site," according to Brian Collins-Friedrichs, principal-in-charge for the project.
Architectural Design
Comments / photos for the Tom Kundig Architecture page welcome