Balmy Palmy House, Palm Beach, NSW Residential Building, Australian Housing, Architecture Images
Balmy Palmy House in Palm Beach NSW
7 July 2022
Architects: CplusCole Architectural Workshop
Location: Palm Beach, Northern Beaches, New South Wales, Australia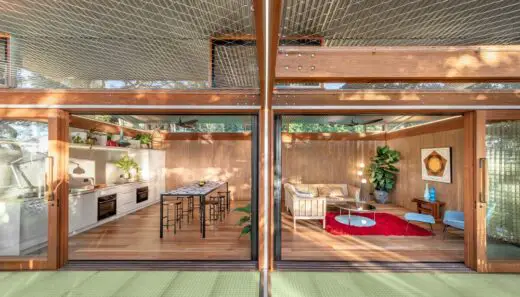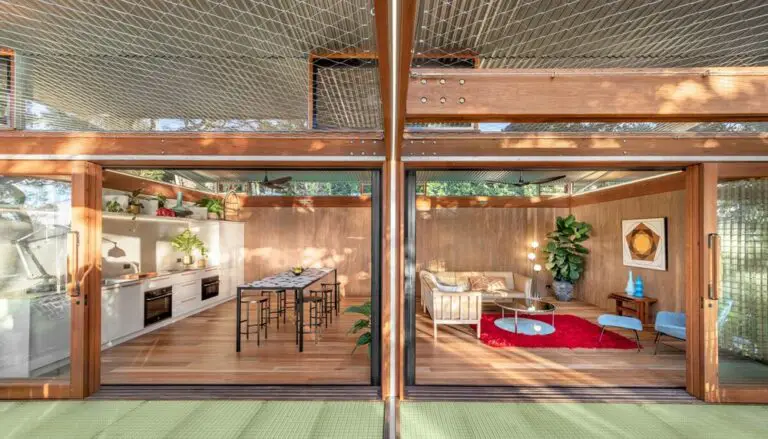 photo © Michael Lassman Photography
Photos: Murray Fredericks, Renata Dominik and Michael Lassman Photography
Balmy Palmy House, NSW
Balmy Palmy House celebrates the pleasures of modesty and the simple life. Firmly planted on a steep and rocky slope, this intimate little Palm Beach home suspends you in a bushland canopy. Immersed in sunshine, trees, breezes and birdlife, the relaxed holiday feel invites you to recharge.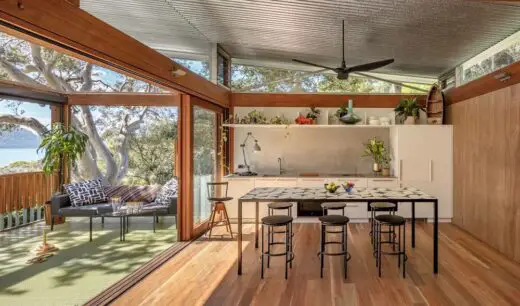 photo © Murray Fredericks
The site
The site was vacant bushland on the Palm Beach peninsula, 40 kilometres from Sydney CBD. On a steep, rocky slope, lack of stable subsoil presented a landslide risk. The structure needed to be either excavated into rock or built on concrete pier footings drilled into Hawkesbury sandstone strata, sharing space with a council-protected Port Jackson fig tree and other mature trees. With a tight budget, the design needed to be simple to reduce complexity, construction time and regular site visits.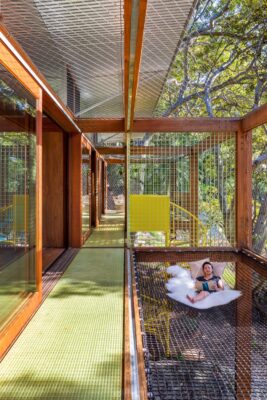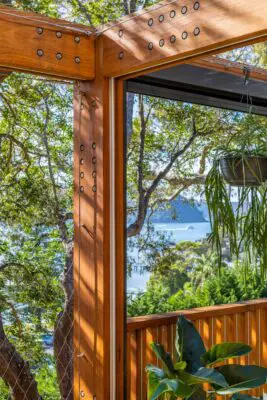 photos © Michael Lassman Photography
A Meccano set
CplusC decided to use a partially prefabricated system to reduce construction time and cost. Our builders simply slotted the pre-made timber posts and beams into three steel axis nodes and bolted them in place, a bit like assembling a Meccano set. Without site measure, there's always a risk that something won't fit. Confident in our team's exactitude and accountable for both design and build, we judged it a calculated risk. Construction went exactly as planned and was complete within a year.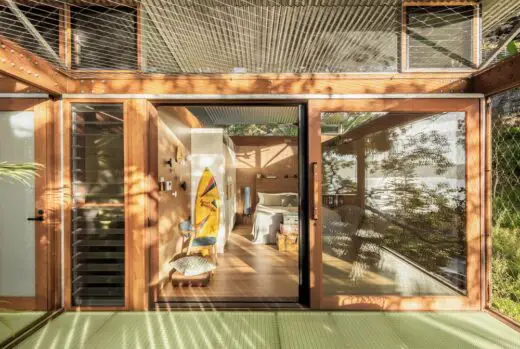 photo © Murray Fredericks
The design
The temptation at such a scenic site is to go big to guzzle up the views, often requiring tree lopping, excavation, rock sawing and extensive retaining wall construction. CplusC's vision was to keep the house humble and receptive to its environment, and to plant it proudly in the ground on bored concrete piers. The two-bedroom, one-bathroom home is a simple timber structure floating above the steep land. Oversized timber columns and beams contrast to the lightweight roof and stilt legs. Extensive outdoor decking connects all the home's spaces and the areas for sitting, relaxing and gathering. Lying suspended in the treetops on a cargo net bay, people can drink in the canopy.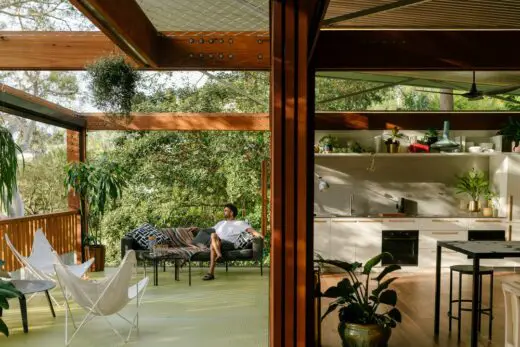 photo © Renata Dominik
Floating among the trees
Ascending the stone stairs and spiral staircase, you enter a secluded space suffused with light and leaves and open to the air. With a soundscape of bird calls, it's like being in a treehouse. Glimpses of the beach, jetty and Pittwater village shift behind foliage. The kitchen, living room, bathroom and two bedrooms are stacked along the outward-looking building. With no hallway, you're in nature whenever you leave a room.
Sustainable
The 'Meccano set' design had a multiplier effect in reducing embodied energy, first by minimising steel in favour of timber. Pre-fabricating components offsite reduced material deliveries and waste pickups. The simple construction also reduced trips by builders, architects and project managers to Palm Beach, considered remote by Sydney standards. The house is built from low-maintenance materials with low embodied energy, primarily timber and corrugated iron. Careful orientation brings sunlight inside year round and sliding doors and louvres provide cross-ventilation. Bathrooms and irrigation systems use rainwater, and there's a Tesla car charger.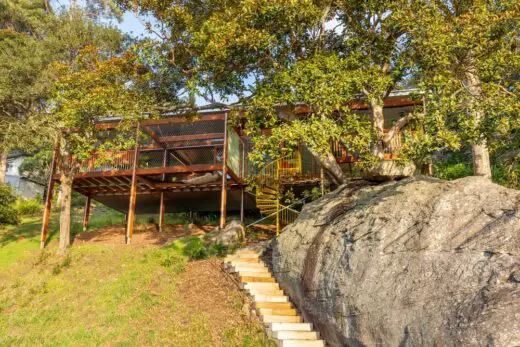 photo © Michael Lassman Photography
What was the brief?
CplusC was engaged to create a modest home in Sydney's Palm Beach for a semi-retired couple, their three teenage children and friends. After 20 years away from their home of Sydney, the clients wanted to embrace the local landscape on their bushland site. They envisioned a modest, compact home that blends with the surrounding trees and where they could recharge in the canopy among sunlight, foliage, and birdsong. With a tight budget, the proposed construction system needed to be quick to assemble and repetitive in nature to minimise supervisor site visits, requests for information (RFIs) to the architectural team and onsite labour costs. The house also needed to be easy to maintain for the visiting owners. Having worked with us before on their Iron Maiden House, the clients were extremely open minded and trusted us deeply to design and build their home.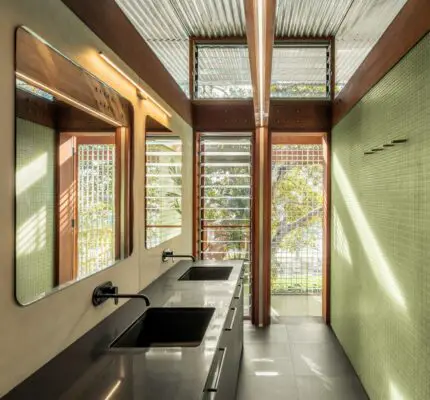 photo © Murray Fredericks
What are the sustainability features?
• Prefabricated construction method featuring steel flitch posts and beams – the timber component dramatically reduces the embodied energy
• Large sliding doors, highlight louvres and thoughtful building orientation optimise cross ventilation
• Thermal mass, insulation and passive solar strategies are carefully considered to achieve a comfortable environment year-round
• Tesla battery car charger
• Rainwater tank supplies bathrooms and irrigation systems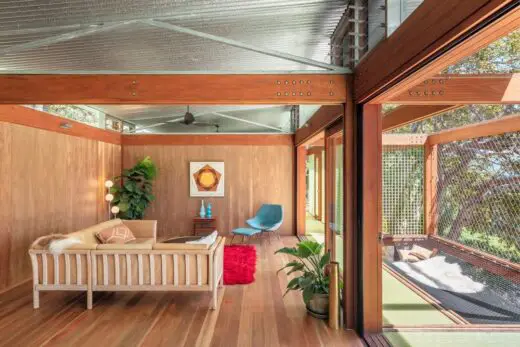 photo © Murray Fredericks
What were the key challenges?
"It's a challenging site,' said principal architect Clinton Cole. "We had to ground the house on a rocky escarpment and dance around five mature trees. Carving the house into the hill wasn't an option – why excavate the very landscape we're celebrating? So, we decided to plant it proudly in the ground on bored concrete piers. This contradicts one of architecture's most famous sayings: that 'buildings should touch the earth lightly'. But of course, buildings don't do that – the construction of buildings produces 40 percent of the world's waste. The design compensates by dramatically reducing embodied energy using a partially prefabricated building system – a bit like a Meccano set."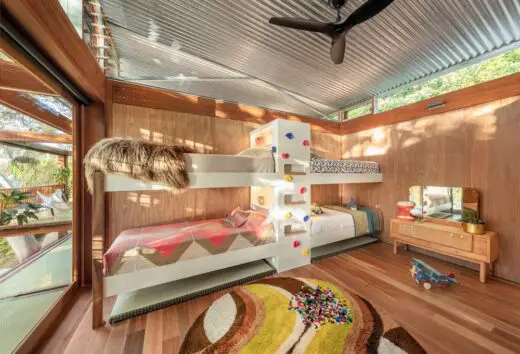 photo © Murray Fredericks
What were the solutions?
CplusC proposed a simple timber structure floating above the steep land. Oversized hardwood timber columns and beams (290x45cm) contrast to the thin, lightweight roof and stilt legs. Extensive outdoor decking connects all the spaces of the home and the different areas for sitting, relaxing and gathering. People can lie suspended in the treetops and drink in the canopy from a cargo net bay.
"The home is humble in scale, celebrating a simple way of life immersed in the view and the natural surrounds," says Clinton. "The design was all about firmly planting the home in the canopies, opening it up to the sunshine, leaves, breeze, and birdlife…. a design that celebrates the pleasures in modesty."
The clients were rapt. "When CplusC took us through their design concepts for the house we loved the simplicity – it was exactly what we wanted."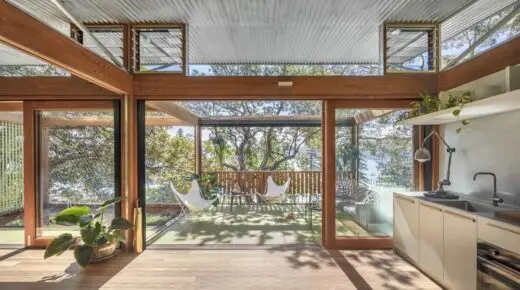 photo © Murray Fredericks
Balmy Palmy House in NSW, Australia – Building Information
Architects: CplusCole Architectural Workshop – https://cplusc.com.au/
Project size: 94 sqm
Site size: 1136 sqm
Completion date: 2021
Building levels: 1
Architect + Builder: Clinton Cole
Project Architect: Hayden Co'burn
Project Architect: Carmen Chan
Foreman: Barry Bradley
Foreman: Nathan Krstevski
Arborist: Urban Arbor
Planner: Damian O'Toole Town Planning
Quantity Surveyor: QS Plus
Geotechnical Engineer: Witt Engineering
Surveyor: Hill and Blume Consulting Surveyors
Surveyor: Elite Surveyor
Electrical: D2E
Plumbing: JH Gordon
Landscaping: Landforms
Doors and Windows: Windoor
Structural Steel: Tenze
Painting: Orange Painting
Roofing and Ceiling: Flash Metal Roofing
FRP: Staircare
Glazing: Balmain Glass
Webnet: Tensile
Joinery: Sydney Kitchen Co
Certifier: Building Certification Approvals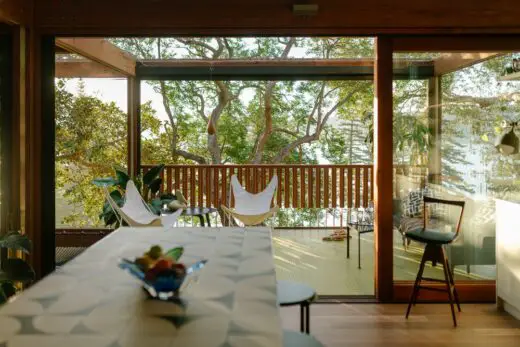 photo © Renata Dominik
Photographers: Murray Fredericks, Renata Dominik and Michael Lassman Photography
Balmy Palmy House, Palm Beach NSW images / information received 070722
Location: Palm Beach, New South Wales, Australia
Architecture in Sydney
Contemporary New South Wales Buildings
Mosman House
Design: SAOTA and TKD Architects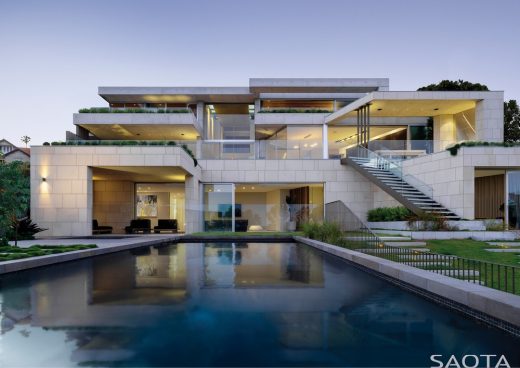 photograph : Justin Alexander
Mosman House
Hart House, Great Mackerel Beach, New South Wales
Design: Casey Brown Architecture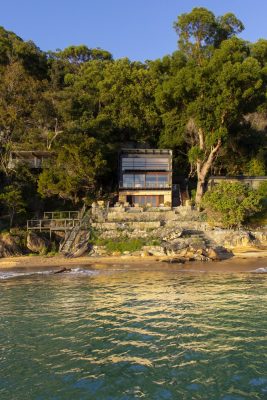 photo : Rhys Holland
House on Great Mackerel Beach, NSW
Aveo Bella Vista
Architects: Jackson Teece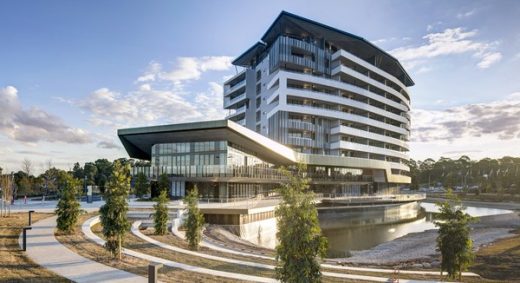 photograph : Brett Boardman
Aveo Bella Vista
NSW Properties
The Brass House, Newcastle, New South Wales
Architects: anthrosite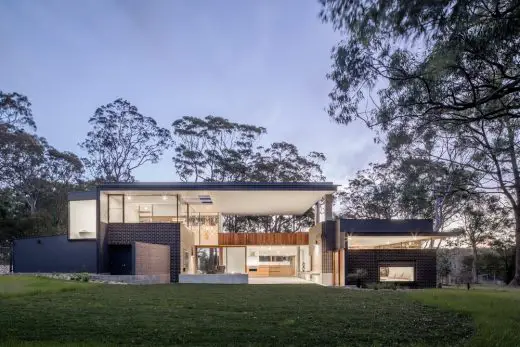 photo : Jon Reid
Contemporary House in Newcastle, NSW
Sovereign Houses, Sylvania
Architects: Tony Owen Partners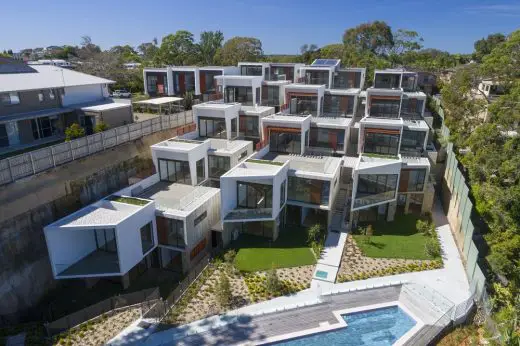 photo : John Gollings
Sovereign Houses in Sylvania
Sydney Architect Firms – architectural studio listings on e-architect
Contemporary Australian Architecture
Comments / photos for the Balmy Palmy House, Palm Beach NSW design by CplusCole Architectural Workshop page welcome
Newport, New South Wales, Australia