Seattle Developments, Washington Building Links, US Design Project News, Property, Architects
Seattle Property Information : Buildings
Building Development in Washington – Built Environment northwest USA
post updated October 5, 2021
Seattle Architecture Designs
Washington Architecture Designs
Seattle Architecture Designs – chronological list
Asian Art Museum in Seattle Building Expansion
Bellevue Botanical Garden Building
Brook Bay Residence, Mercer Island
Bruciato Pizzeria and Bar on Bainbridge Island
Burke Museum of Natural History and Culture
Capitol Hill House Seattle Residence
Charles Smith Wines Jet City Seattle Building
Cliff House Washington Residence
Computer Science and Engineering Building
COR Cellars Winery Complex in Lyle, Washington
Downtown Seattle Hotel Building
EMP Museum Experience Music Project
goCstudio architecture + design
Harvard-Belmont Residence Renovation, Seattle Mansion
Holland America Group Headquarters in Seattle
Hotel Thompson Seattle Building
Lake Cove Residence in Washington
Leschi Dearborn House in Seattle
Madison Park Tree House in Seattle
Minor + Stewart Towers in Seattle
Modern Oasis Medina House in Washington
Bill & Melinda Gates Center for Computer Science & Engineering at University of Washington in Seattle
Pike Place Market Front Building
Pike Place Marketfront Building
Push Pull Residence in Seattle
Scavenger Studio on Puget Sound
Seattle Academy of Arts and Sciences Middle School Building
Seattle Asian Art Museum Building Reopening
Seattle Fire Station 5 Building
Seattle Olympic Sculpture Park
Stone Solar Studio West Seattle, NODE Prefab
University of Washington Medicine Research Complex
Wagner Education Center Seattle
Washington Fruit and Produce Co. Headquarters, Yakima
Washington State University Visitor Center
West Mercer Residence, Lake Washington
Wild Ginger at Lincoln Square, Bellevue
Wing Luke Asian Museum Building
Location: Seattle, WA, USA
Washington State Architecture
Burke Museum of Natural History and Culture building designed by architects Olson Kundig: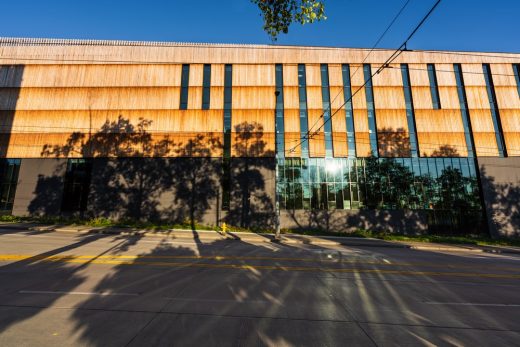 photo : Ben Roberts
Reopening of the Seattle Asian Art Museum, Volunteer Park, 1400 E Prospect St building designed by LMN Architects: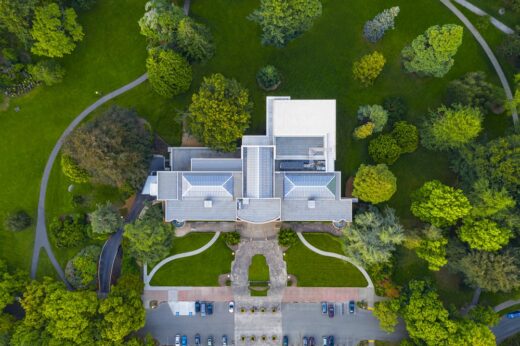 photograph : Tim Griffith
Orcas Island Retreat, San Juan Islands, Washington building designed by DeForest Architects: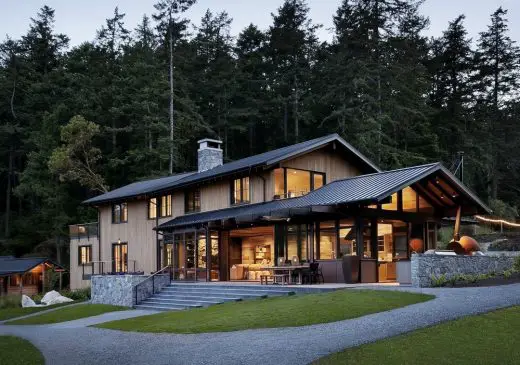 photo : Tim Bies
San Juan Islands Building
A young couple asked DeForest Architects to help create "a place to share with friends, a place for adventure and exploring, being a kid again, cooking together, experiencing nature and being part of something bigger."
Whidbey Artists' Retreat, Whidbey Island, WA, building designed by architects Prentiss + Balance + Wickline: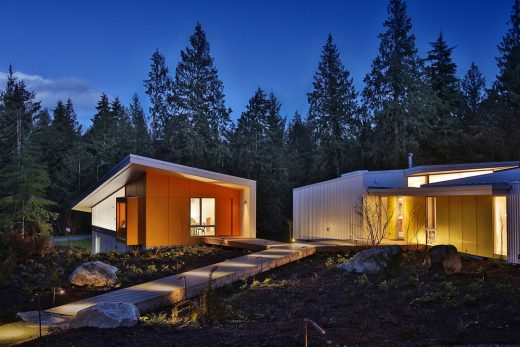 photo : Steve Keating
Artists' Retreat on Whidbey Island
Nestled into a second growth cedar forest on a 10 acre Whidbey Island parcel, this project consists of two artist's studios, a house and a garage. These buildings are carefully arrayed around the site's high point, each focused outward toward a distinct view of the adjacent cedars, gullies and small meadow.
Bailer Hill Residence, Friday Harbor building designed by US architects Prentiss + Balance + Wickline: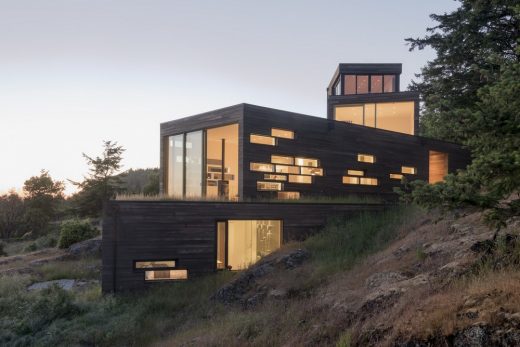 photo : Eirik Johnson
Residence at Friday Harbor
Anchored to a rocky slope and looking out over expansive water views, this house is the expression of the clients' desire to connect to both the immediate landscape and the view beyond. Cascading organically down the hill, the house remains firmly rooted to the earth even as it rises high above the ground. It is a complex form with a simple goal: capturing the beauty of this spectacular site.
Comments / photos for the Seattle Architecture Information page welcome