Seattle homes, WA Real Estate Designs, New Washington Homes, Contemporary Residences, Properties
New Seattle Houses, Washington
Key Washington Architectural Developments, Contemporary Property in Northwest United States of America
post updated August 31, 2023
Seattle Architecture Designs – chronological list
New Seattle Houses – Washington Homes
Washington Real Estate, chronological:
July 28, 2023
Othello Gardens
Design: Wittman Estes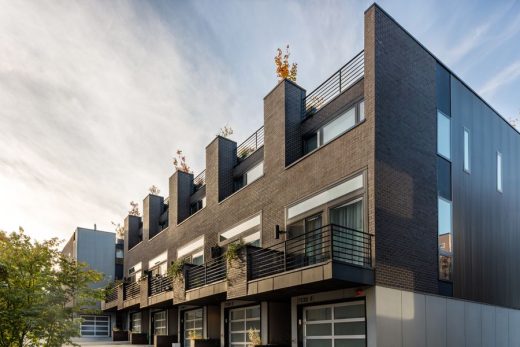 photo : Miranda Estes
Othello Gardens, WA
Apr 28, 2023
Magnolia House
Design: ALCOVA architecture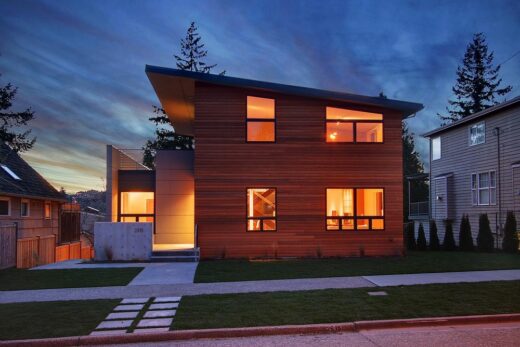 photo : Pietro Potestà
Magnolia House
The Magnolia House lot and project scope presented ALCOVA with a broad range of opportunities and it was seminal to a number of design considerations that marked our brand of architecture.
Apr 12, 2023
Broadview Residence, Hunts Point, Western Washington, USA
Design: Kor Architects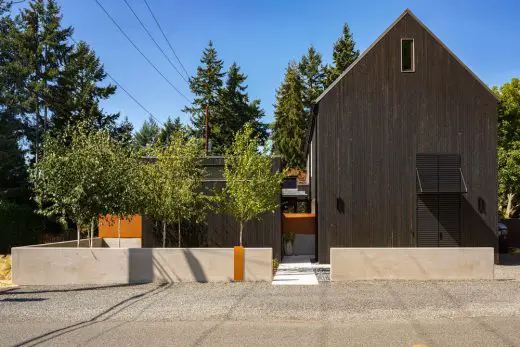 photo : Sozinho Imagery
Broadview Residence
When it came time to building the Broadview Residence, this Seattle couple knew they wanted a simple yet flexible design that would support their family now, as well as into their retirement years. The challenge was how to satisfy their quality of space needs and the daunting task of building on a budget.
More New contemporary Seattle Houses online at e-architect soon
New Seattle Houses in 2022
Dec 24, 2022
The Point Western Washington Residence, Hunts Point, Western Washington
Design: Kor Architects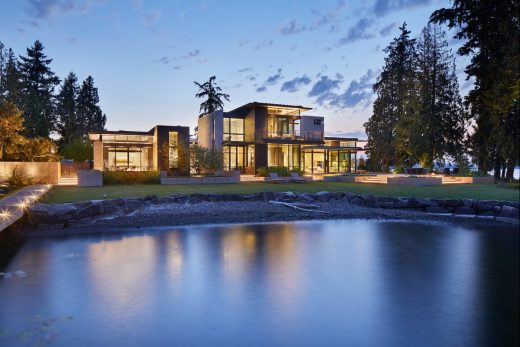 photo : Benjamin Benschneider
The Point Western Washington Residence
A family home unites the demands of an extensive program with hierarchy, plasticity, natural light, views, blurring of interior/exterior space and a unique connection to the natural landscape. Building elements are organized into attached/detached pavilions based on program, hierarchy of structure and levels of privacy.
Nov 28, 2022
Rockaway Beach Residence, Bainbridge Island, Washington, USA
Design: Eerkes Architects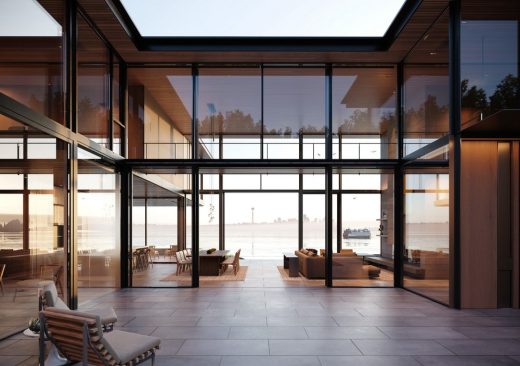 photo : Notion Workshop
Rockaway Beach Residence, Bainbridge Island
Facing east towards the iconic skyline of Seattle, the Rockaway Beach Residenceis a refined and sophisticated house occupying a double waterfront lot on Bainbridge Island's Rockaway Beach. Views capture the life of the Salish Sea—ships, ferries, and sailboats—a kaleidoscope of twinkling lights and colors.
Oct 19, 2022
Lakeside West, West Seattle
Design: Wittman Estes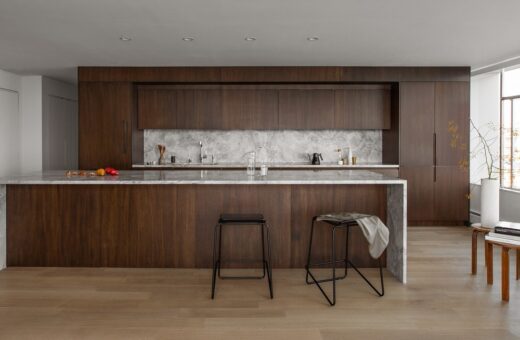 photo © Rafael Soldi
Lakeside West Apartment
Lakeside West is a re-imagined urban condominium that transforms an outdated mid-century dwelling into a highly organized and functional dwelling for a single man. The client was trained and practiced as an architect before starting a local tech company that focused on digital interface and experience design.
More modern Seattle Houses online soon
Washington Homes in 2021
Dec 22, 2021
VAVA House
Design: Fivedot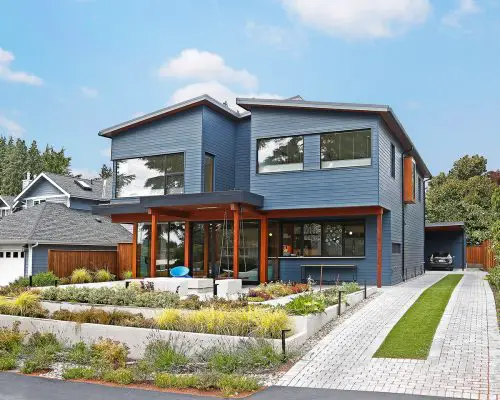 photo : Mark Woods
VAVA House Seattle
The design of the VAVA House emphasizes the creative ways families share space and help each other grow, learn, and play. Located in Seattle, Washington, the clients asked Fivedot to design a house that reinforced a connection to their neighbors and their new community.
Oct 27, 2020
The Wyss Family Container Residence on Mercer Island
Design: Paul Michael Davis Architects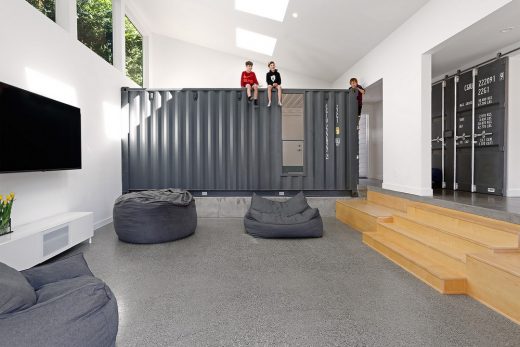 photo : Mark Woods
Mercer Island House
The Wyss family approached Paul Michael Davis Architects with a vision to design a bold, unusual, and adventurous addition to their existing ho-hum 1950s split level where they could raise their 3 active boys. And they really loved the idea of re-purposing shipping containers.
Aug 15, 2020
Tumble Creek Cabin, Suncadia Resort, Cascade Mountains, WA, USA
Architecture and Interior Design: Coates Design Architects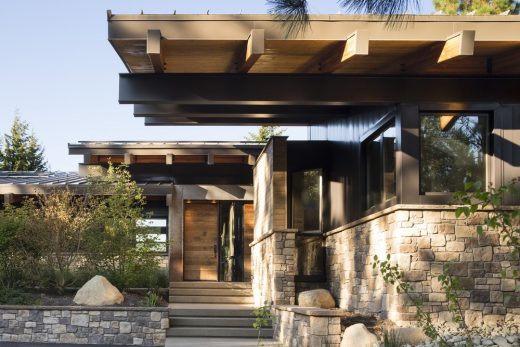 photo : Lara Swimmer
Tumble Creek Cabin, Suncadia Resort
This vacation home designed to be "net-zero" lies in the beautiful Suncadia Resort in Washington State's Cascade Mountains. The resort, located on the sunny side of the Cascades, hosts an intimate community that enjoys a rich and diverse collection of amenities.
Apr 15, 2020
Portage Bay Residence
Design: Stuart Silk Architects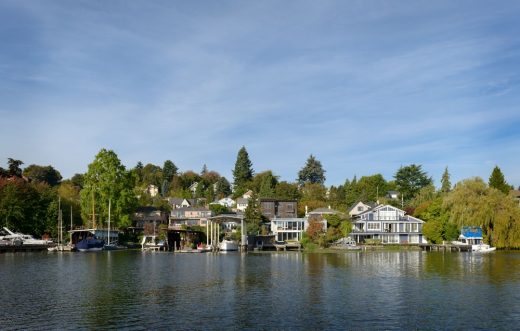 photo : Aaron Leitz
Portage Bay Residence
Tucked into a small city lot along the water's edge, this lovely new esidence was designed to live like a studio loft for a bachelor who values privacy, and a convenient spot to park the float plane.
Nov 27, 2019
Lake Cove Residence, Lake Washington
Design: Stuart Silk Architects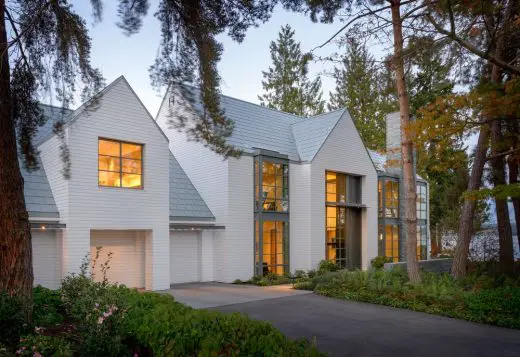 photo : Aaron Leitz
Lake Cove Residence in Washington
This Lake Washington waterfront home is situated on a tranquil tree-lined property in the Washington Park neighborhood of Seattle. It enjoys sweeping views of Mt. Rainier and the Cascade Mountains.
Dec 30, 2017
West Mercer Residence, Mercer Island, Washington
Design: Sundberg Kennedy Ly-Au Young Architects (SKL Architects)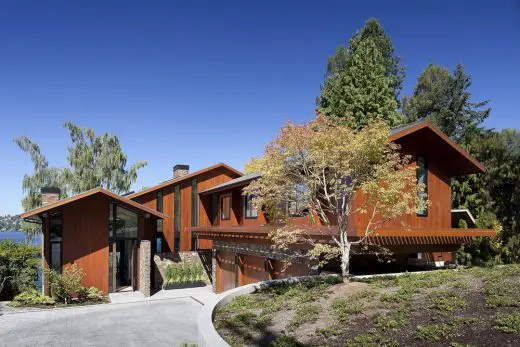 photograph : Tim Bies
Mercer Island Residence
Built for a busy family, this residence nestles into its hillside location along the shores of Lake Washington.
Dec 20, 2017
Brook Bay Residence, Mercer Island, King County
Design: Rick Sundberg, Principal-in-Charge and Lead Designer while at Olson Sundberg Kundig Allen (Rick is now a Principal at Sundberg Kennedy Ly-Au Young (SKL) Architects in Seattle)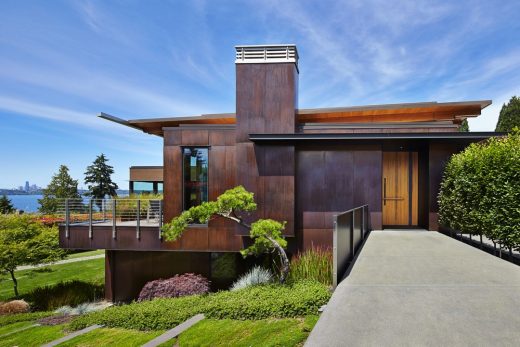 photo : Benjamin Benschneider
New House on Mercer Island
Nestled into a Mercer Island hillside, across Lake Washington from Seattle, this intimate two-story residence emphasizes craft, materiality, and connection to the outdoors.
Nov 4, 2017
The ToDD Residence
Design: SkB Architects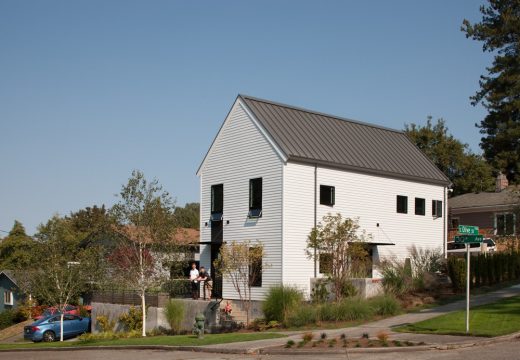 photography: Lara Swimmer, Tim Bies
The ToDD Residence
This residence for a couple with a growing family was born out of the need to get the most possible living area out of very limited space and budget. Comprised of two distinct masses, the structure is visualized as an urban farmhouse – additive forms over time with a modern extension of a more traditional structure.
Sep 22, 2017
Modern Oasis, Medina, Eastside, King County
Design: SkB Architects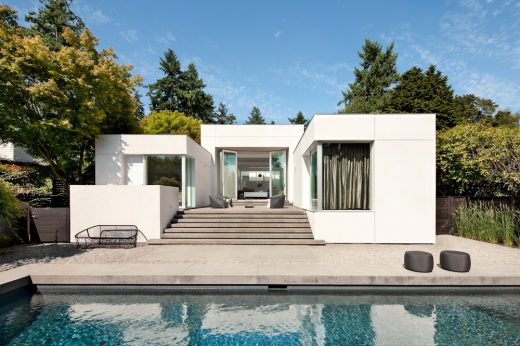 photo : Lara Swimmer
Contemporary Residence in Medina, Washington
The updated design evokes a gallery-like aesthetic, with the interiors spotlighting the owner's art collection and substituting light filled interior for what was previously dark.
Mar 17, 2017
The Elliott Bay House, Puget Sound
Design: FINNE Architects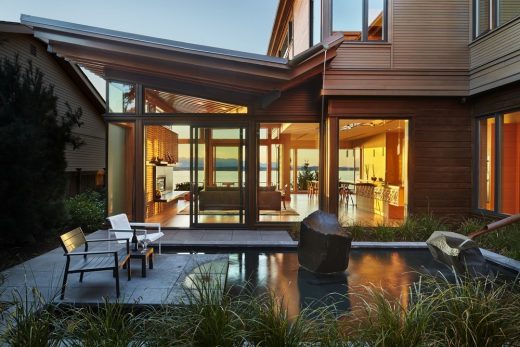 image courtesy of architects
Elliott Bay House in Seattle
The architectural massing of the house has been wrapped around a south-facing courtyard containing a large reflecting pool with two "floating" basalt boulders. The reflecting pool gathers all the roof drainage from the house, with the downspout from the living room roof providing a 10-ft waterfall.
Dec 29, 2016
Cascadia Remodel
Design: Balance Associates Architects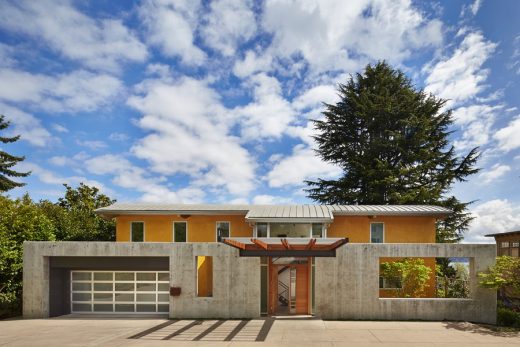 photo : Benjamin Benschneider Photographys
Cascadia Remodel in Seattle
The project focused on a 1940's house in Seattle that was previously remodeled in 1990. A salvage company came through for the windows, flooring and doors.
Nov 1, 2016
Push Pull Residence, Ballard,
Design: MW|Works Architecture+Design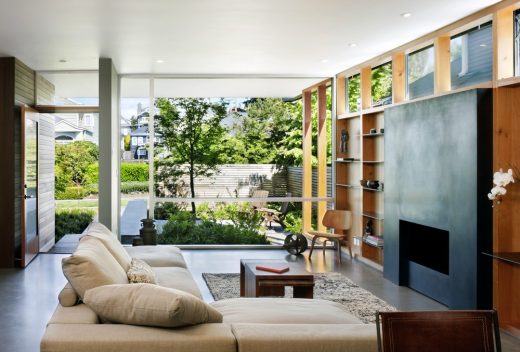 photo : Tim Bies
Push Pull Residence in Seattle
Located on a tight, narrow urban lot in the Queen Anne neighborhood of Seattle, this project explores the potential for a modern infill projects that is both lively and responsible.
page updated Oct 2, 2016 with new photos
Mazama House, Methow Valley
Design: Finne Architects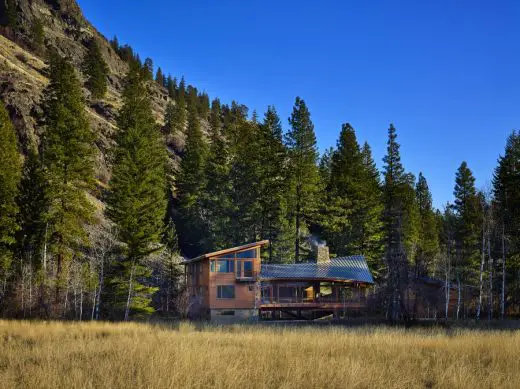 photo : Benjamin Benschneider Photographys
Mazama House, Methow Valley
This residence is located in the Methow Valley of Washington State, a secluded mountain valley on the eastern edge of the North Cascades, about 200 miles northeast of Seattle.
page updated 30 Sep 2016 with new photos
Lark Residence, Seattle, Ballard
Design: Stephenson Design Collective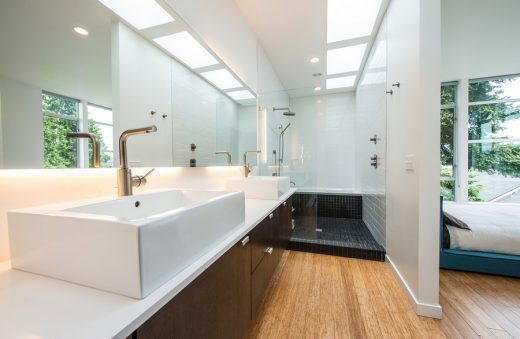 photo : Miguel Edwards Photography
Lark Residence in Seattle
A small home in the residential neighborhood of Ballard, WA was carefully dismantled by hand to save and salvage every piece of available material in order to create this contemporary home.
Feb 16, 2016
Cle Elum House
Design: Lane Williams Architects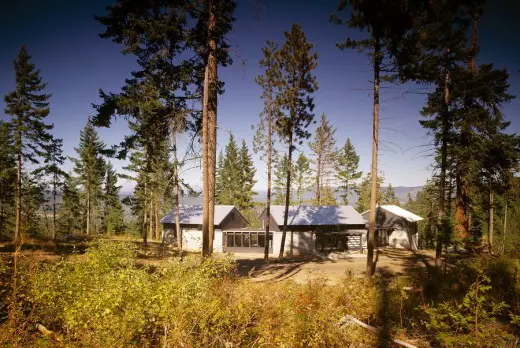 photo : Fred Housel
Cle Elum House in Washington
Echoing shapes of the mountain views in the distance, this family retreat distorts local vernacular shapes. The structure is pulled apart into three houses to provide added privacy, to protect the exterior terrace, and to inflate the scale of the building to match the heroic setting among rocks and pine trees.
Oct 13, 2015
Leschi Dearborn House
Design: JW Architects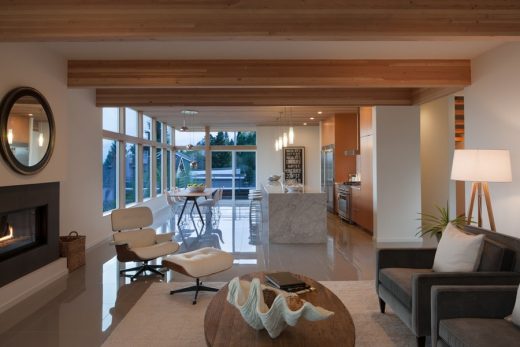 photo : Lara Swimmer
Leschi Dearborn House in Seattle
The goal of JW Architects with this home was to capture the essence of living in the urban Pacific Northwest. The architects used extensive glazing in the kitchen, dining, and bedroom areas to capture partial views of Lake Washington. The roof deck offers a broad view of Lake Washington ranging from Mt. Baker to Mt. Rainier.
Dec 2, 2014
Madison Park Tree House, Madison Park neighborhood, east central Seattle, Washington
Design: First Lamp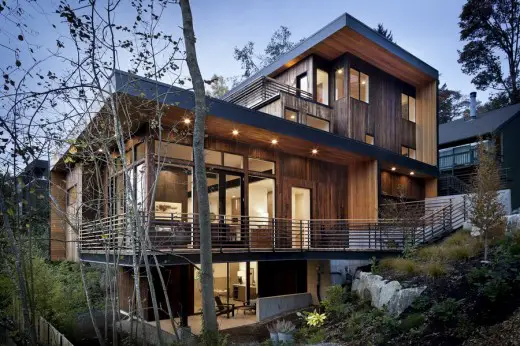 photo : Tim Bies Photography
Madison Park Tree House in Seattle
This contempoorary residence is the latest custom-spec house to be designed and built by First Lamp. Situated on an existing steep slope lot in the Madison Park neighborhood of Seattle the house grows out of the hillside and allows the main living space to float out amongst the trees.
Apr 22, 2014
Cliff House, Gig Harbor, Washington
Design: Scott Allen, Olson Sundberg Kunding Allen (OSKA) Architects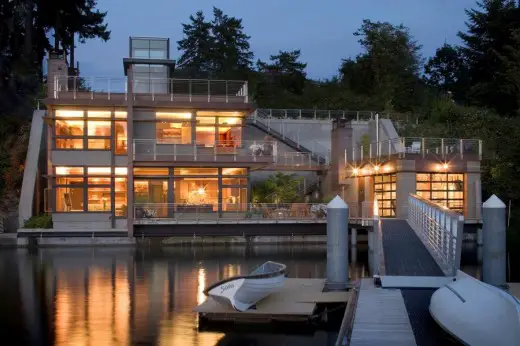 photo : Tim Bies Photography
Cliff House Washington Residence
Tucked against the wall of a natural cliff and right on the water's edge in Gig Harbor, Washington, this project answered the unique challenges of its site. The footprint for the new structure replaces an old guest house and boathouse, and was limited in its size by an agreement through a regulatory process.
Apr 2, 2014
Capitol Hill House
Design: SHED Architecture & Design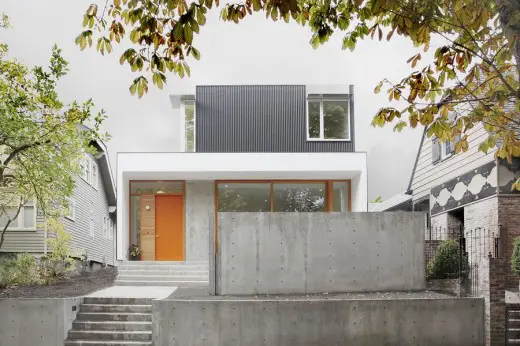 photo : Mark Woods
Capitol Hill House Seattle Residence
The clients wanted an economical, efficient, low-maintenance house with ground floor living areas that extend out to comfortable outdoor spaces. The social family chef wanted the kitchen to occupy a central and commanding position in the home.
Mar 27, 2014
Leschi Residential Property
Design: SHED Architecture & Design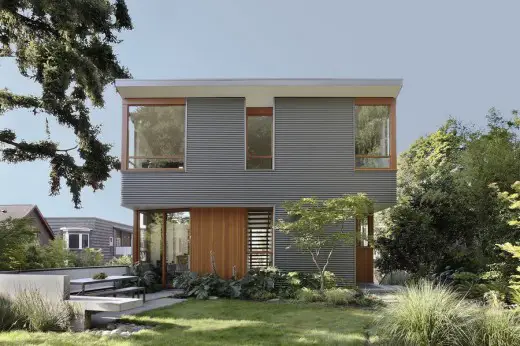 photo : Mark Woods
Main Street House
Located in Seattle's Leschi neighborhood the Main Street House takes its name from the unimproved right of way and pedestrian path that bounds its site to the north. The single family house was built for a husband and wife, both geologists, nearing retirement but actively working from home.
More New Seattle Homes online soon
Location: Seattle, Washington, USA
Seattle Architecture Designs
Washington Architecture Designs
Seattle Architectural Designs – chronological list
Washington Architecture – Selection
American Architecture : major architecture developments + designs
Comments / photos for the New Seattle Real Estate page welcome