Scottish building news 2022, Architecture photos, Scotland property images, Architects design links
Scottish Architecture News
New Architecture Developments + Buildings in Scotland – Built Environment + Architects Updates
Scottish Architecture Designs – chronological list
Scottish Architecture News – current updates
Scottish Architecture News 2022
31 Dec 2022
Glencoe Base Station, Glencoe Mountain Resort, western Scotland
Design: anderson bell + christie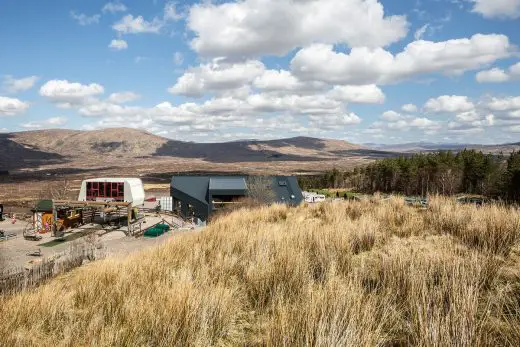 photo © Keith Hunter Photography
Glencoe Base Station Building
The new Base Station links directly to the skiing facilities and provides a cafe/bar, main reception and 24-hour WC facilities accessible to campers and users of the building.
16 Nov 2022
BDP Learning Places Scotland Awards News
BDP wins two awards and a double commendation at the annual Learning Places Scotland Awards on Tuesday 15 November in Glasgow. The architectural awards celebrate outstanding projects that support the best education outcomes:
See Ayr Education Hub Building
11 Nov 2022
Building a green heat industry
£17.6 million to support climate-friendly heating transformation.
A new drive has been launched to develop Scotland's green heat sector and ensure the right people, skills and technology are in place to make homes and buildings warmer, greener and cheaper to run.
Backed by multi-million pound funding, the Heat in Buildings Supply Chains Delivery Plan sets out the practical steps that will be taken to support the growth of the green heat sector – including supporting green jobs, leveraging private investment and helping businesses seize the economic opportunities offered by the transition to net zero.
Key commitments include:
• a review of support for green skills and training
• investment in a new mobile training centre for heat pump installation
• a new programme of industry engagement with a focus on working with installers in the heat and energy efficiency supply chain
• £17.6 million to help research and develop new and concept green heating solutions
In addition, more than £800,000 of Green Growth Accelerator funding is being awarded across all local authorities this year to help develop a pipeline of low-carbon infrastructure projects, including retrofitting existing buildings.
To launch the plan, Zero Carbon Buildings Minister Patrick Harvie visited the Vaillant Group's National Training Centre of Excellence in Glasgow.
He said:
"Decarbonisation Day at COP27 is a focus on committing to and delivering cuts to our greenhouse gas emissions which are a necessity to protect our people and our planet.
"Reducing emissions from our building stock forms a vital part of delivering on our climate obligations, and our Heat in Buildings Strategy sets a hugely ambitious vision to cut carbon and improve energy efficiency across Scotland's homes over the coming years.
"Building a strong, skilled supply chain that's capable of delivering at scale in all areas of Scotland is central to the delivery of the strategy. The development of our heating industry should be seen not only as a challenge which must be met in order to deliver on our ambitions, but as a substantial opportunity for the economy.
"The Scottish Government has a key role to play in supporting the development of the supply chain. The tangible actions set out in this document are the next step in our journey towards establishing a new industry for green heating in Scotland and I look forward to working with partners across the sector as we work to deliver the ambitions of this plan together."
Helen Melone, Senior Policy Manager at Scottish Renewables, said:
"The Heat in Buildings Supply Chains Delivery Plan is a welcome boost to the industry and will form an essential part of our drive towards the decarbonisation of heat.
"The Plan will set out the conditions that are necessary to support the growth of a new green heat sector, with jobs, skills and heat technology all playing a crucial role.
"We are pleased to see the introduction of the £17.6 million Green Heat Innovation Support Programme which will play an important part in helping develop new clean heat solutions."
Mark Wilkins, Director of Technologies and Training at Vaillant said:
"We are delighted to be supporting the launch of the Heat in Buildings Supply Chains Delivery Plan at our Centre of Excellence in Glasgow.
"Decarbonising heat is paramount to achieving the ambitious Scottish Government's 2045 net zero target. This support and funding will not only help achieve this goal, but help make green jobs more attractive, encourage existing heating installers to upskill into fitting heat pumps, future-proofing their own businesses and attract future generations into the trade."
Background
The £17.6 million Green Heat Innovation Support Programme will open on Monday 14 November 2022. It will be delivered by Scottish Enterprise and support companies to research and develop new and concept green heating solutions.
The Heat in Buildings Supply Chains Delivery Plan is available on the Scottish Government website.
The publication of the Supply Chains Delivery Plan follows the establishment of Heat & Energy Efficiency Scotland, which will build public understanding of the changes needed in how people heat and use energy in their properties, act as a centre of expertise for green heat projects and co-ordinate the delivery of investment programmes.
The Heat in Buildings Strategy was published on 7 October 2021.
The Green Growth Accelerator was launched on 9 June 2021, with a first tranche of pathfinder projects announced on 8 October 2021.
In October 2020 the Scottish Government convened an Expert Advisory Group of stakeholders from across industry to provide a series of recommendations to Scottish Ministers on the potential scope of a Heat Pump Sector Deal. The Advisory Group's final report was published on 2 December 2021. The Scottish Government's response to the final report was published On 11 November 2022, outlining the actions we are taking to address the Advisory Group's recommendations. The recommendations have informed the development of the Supply Chains Delivery Plan.
5 Oct 2022
New statistics show housing completions still below pre-Covid levels
The Scottish Government's latest housing statistics have revealed that housing completions across all tenures in Scotland are still below pre-Covid levels.
Whilst 20,767 new homes were built in 2021/22, Homes for Scotland (HFS) highlighted that this is still lower than in 2019/20 and 2018/19.
HFS Chief Executive Jane Wood said:
"After the challenges presented by the pandemic, these figures demonstrate the resilience of the home building sector after completion levels dropped below 15,000 in 2020/21. However, they also show how far behind we still are, so it is frustrating that there is such a timelag in reporting, particularly when we continue to face major obstacles to achieving sustained growth, not least of which include planning, material and labour shortages as well as increased costs.
"Up-to-date statistics are essential to supporting effective, evidence-based policy decision-making which is why we have committed to working with the Scottish Government to identify and address the data gaps that exist.
"Such collaboration between the public and private sectors and government at national and local levels is vital to delivering the homes that Scotland's people need."
6 Sep 2022
A Third Of Affordable Housing In Scotland Delivered Through Private Developer Contributions
Demonstrates need for policy environment and genuine partnership approach supporting the delivery of homes of all tenures
Around a third of new affordable housing in Scotland is directly delivered through contributions from private developers, it was revealed today.
This follows a survey undertaken by sector body Homes for Scotland which compared the output of a representative sample of its members against available Scottish Government data.
The figure was announced this morning during evidence given to the Scottish Parliament's Local Government, Housing & Planning Committee to inform its pre-budget scrutiny work.
Homes for Scotland Director of Policy Fionna Kell: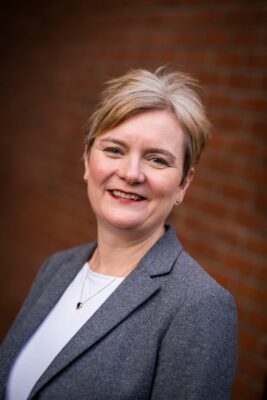 Director of Policy Fionna Kell said:
"We have long spoken of the strong interdependencies between social and private housing delivery given the partnership working that is necessary to build out sites. This is because as well as building their own homes to sell into the open market, private builders also supply land, and often the buildings, to satisfy planning requirements for affordable housing.
"Our survey results indicate that 30 per cent of affordable homes are delivered as a direct result of private homes being built. The importance of the role of the private sector is increased even further once you factor in the number of homes delivered by members that also have contracting arms, with the private sector then accounting for a total of 90% of affordable housing delivered.
"At a time of constrained public finances and increased cost pressures, when all budgets will be under the microscope, this clearly demonstrates the need for a policy environment and genuine partnership approach that supports the delivery of homes of all tenures."
Background:
Homes for Scotland represents c200 companies which together provide the vast majority of all new homes built across the country and holds awards each year in order to improve standards and promote best practice within the home building industry.
Homes for Scotland undertook a representative sample of its private home builder members member survey to compare output against latest available Scottish Government housing completion data incorporating Q1-Q3 2021 and Q4 2020.
27 July 2022
Comann Eachdraidh Sgìre a' Bhac, Isle of Lewis, West Scotland
Architects: Bard Ailteir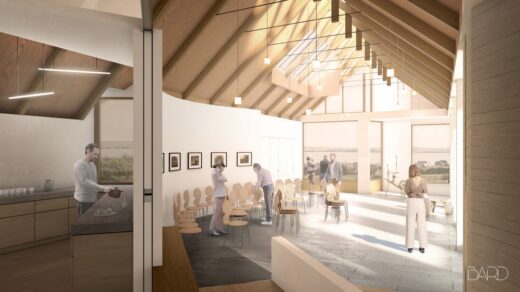 photo : Alexander James-Aylin
Back District Historical Society, Isle of Lewis
The site of the former school in the district of Back, Isle of Lewis, has been an open wound in the area ever since the school buildings were removed. It is a site of emotional connection and historical association, with many having either being educated there or being related to those who were.
25 July 2022
RIAS Andrew Doolan Best Building 2022
The five extraordinary buildings competing to be Scotland's building of the year.
Shortlist for Scotland's Best Building Award:
RIAS Andrew Doolan Best Building
21 July 20222
Scottish Education Campus is Stirling Prize Shortlisted
The six buildings contending for the UK's most prestigious architecture award have now been revealed, including Forth Valley College designed by Reiach and Hall Architects:
Stirling Prize
19 July 2022
Hoskins Architects Transitions to Employee Ownership
Hoskins Architects
Hoskins Architects has re-structured to better reflect its growing international business and, at the same time, transitioned to employee-ownership in a move that enshrines our long-held company ethos, reflecting our core vision and collaborative, collegiate approach to our work.
15 July 2022
Two Scottish winners for the UK's best new homes
The Royal Institute of British Architects (RIBA) has announced the longlist for the 2022 RIBA House of the Year. The shortlist and winner are to be revealed on Channel 4's Grand Designs: House of the Year.
Ostro Passivhaus, Kippen, Scotland, design by Paper Igloo: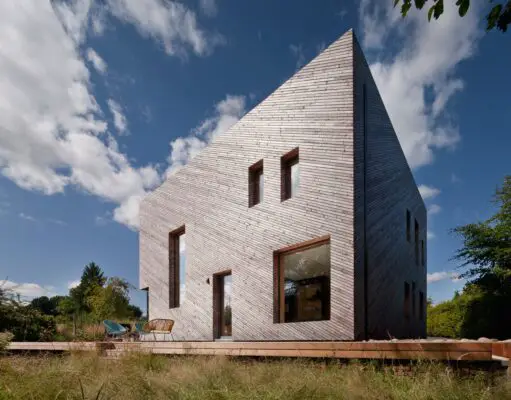 photo © David Barbour
The Den, Tighnabruaich, Scotland, by Technique Architecture and Design in collaboration with Stallan-Brand: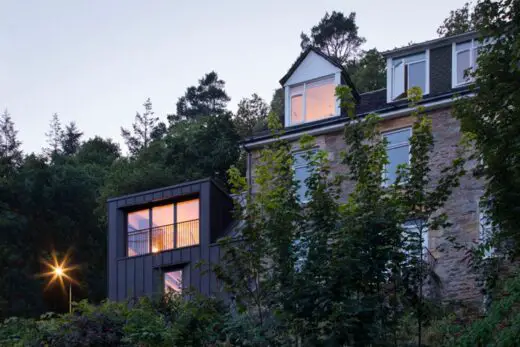 photo : Dapple Photography
RIBA House of the Year 2022 Winners
2 July 2022
Scottish Design Awards Winners
Scottish Design Awards 2022 Winners
Anderson Bell + Christie won the Architecture Grand Prix for Fielden Street, praised by judges for its attention to detail. The Design Grand Prix meanwhile was awarded to BRC Imagination Arts for the Johnnie Walker Visitor Centre, heralded as a 'celebration moment' on a street which has long needed some good news.
30 June 2022
Futures Institute at the Dollar Academy, Clackmannanshire, Central Scotland
Design: Grimshaw, Architects
Futures Institute at the Dollar Academy
International architecture practice, Grimshaw has revealed designs for the Futures Institute at Dollar Academy (FIDA) in Scotland, UK, a permanent home for the Institute which will be delivered to receive the country's first Living Building certification.
14 June 2022
Home Builders Welcome Increase In Housing Completions But Express Concern Over Affordable Housing Approvals
Latest statistics showing a 26 per cent increase in the total number of new homes completed in the year to end September 2021 compared to the previous 12 months (during which activity was impacted by Covid) have been welcomed as a step in the right direction by sector body Homes for Scotland.
With completions reaching 20,056, helping the Scottish Government to achieve its 50,000 affordable homes target, the organisation's Chief Executive Jane Wood said:
"Ensuring we have the homes that all those living in Scotland require to meet housing need and aspiration is essential to our country's social wellbeing and economic success so the increase in completions across all tenures that has been announced today is clearly very welcome. However, there is still a very long way to go. Figures are still significantly down on activity levels pre-Covid and twenty per cent below what we believe is required each year so there is no room for complacency – particularly given the very difficult circumstances currently facing home builders in terms of labour and material shortages and the significant cost pressures that result, affecting both public and private sectors.
Wood highlighted the 44 per cent drop in housing association approvals, adding:
"Unfortunately, this is consistent with member feedback and demonstrates the importance of having effective, timely data to support policy-making and the wider economy of Scotland. Urgent action must be taken to arrest this decline otherwise we will see ever decreasing numbers of affordable homes coming through the pipeline."
9 June 2022
Hydro Ness, Inverness, Northern Scotland
Design: HydroNI and P Bradley & Company with Les Hutt Architect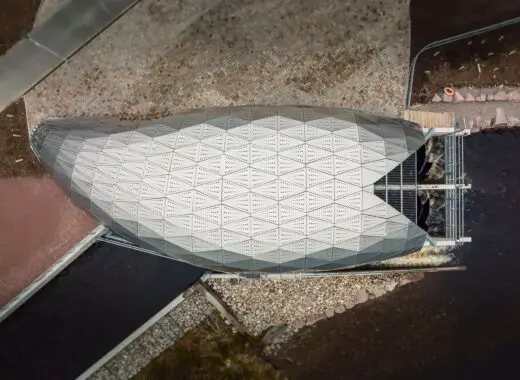 photo © The Highland Council
Hydro Ness Inverness Building
8 June 2022
University of Glasgow ARC Building News
A flagship research facility at the University of Glasgow was opened today (Wednesday 8 June) by Nobel prize winning Chemist, Professor Sir David MacMillan. The £118 m Mazumdar-Shaw Advanced Research Centre (ARC) will be the creative and collaborative heart of cross-disciplinary research at the University of Glasgow:
University of Glasgow Advanced Research Centre
7 June 2022
Usher building topping out celebration
Construction of a world-class research and teaching facility at Edinburgh BioQuarter has reached its highest point:
Usher Building Edinburgh Bioquarter
3 June 2022
RGU alumna wins Royal Scottish Academy Medal for Architecture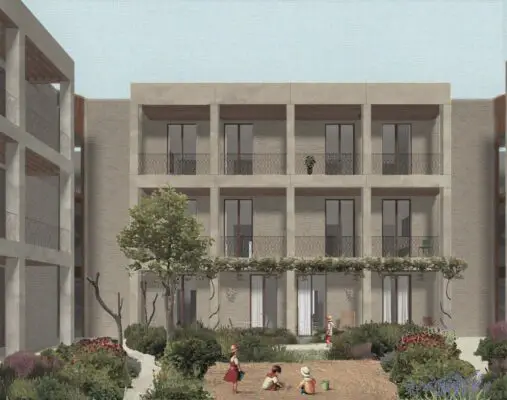 image courtesy of Claire Milnes
Scott Sutherland School of Architecture
An alumna from The Scott Sutherland School of Architecture (SSA) at Robert Gordon University (RGU) has won the prestigious Royal Scottish Academy Medal for Architecture.
26 May 2022
Collaboration Key To Delivering The New Homes Scotland Needs
The importance of ongoing collaboration between Scotland's home building sector and the Scottish Government was the focus of attention at the Homes for Scotland (HFS) Annual Lunch & Awards last Friday (20 May).
At what is a critical time for the sector and Scotland generally, that was the key message from both the organisation's incoming Chief Executive Jane Wood and Cabinet Secretary for Social Justice, Housing & Local Government Shona Robison MSP, who was also present at the event attended by 1000 senior industry figures – the largest gathering of its kind.
In her first opportunity to speak directly to HFS members, Wood stressed the need for developers of all sizes to be able to operate effectively to meet the country's housing needs.
The Cabinet Secretary acknowledged the challenging and complex landscape currently facing the sector, saying:
"The Scottish Government cannot deliver the ambitions of its 'Housing to 2040' vision alone. We need commitment and collaboration across all our partners, local government and housing stakeholders.
"The willingness of HFS to continue to engage, to innovate, to work together and bring fresh thinking to the table is to be commended. I look forward to working closely with Jane and HFS members to achieve our shared goal of delivering more homes for Scotland."
Reflecting on the day, Wood said:
"Housing is about so much more than bricks and mortar. With over £30,000 in developer contributions derived from each new private home built for vital infrastructure such as schools, healthcare, transport and affordable housing, the wider societal benefits are crucial to Scotland's success.
"Given the inextricable links across tenures, the Cabinet Secretary's recognition of present challenges and the need to work in partnership was very welcome.
"HFS and its members are absolutely committed to working together to ensure the best outcomes for our country. My top priority is to progress our positive dialogue to achieve this."
Homes for Scotland represents c200 companies which together provide the vast majority of all new homes built across the country and holds awards each year in order to improve standards and promote best practice within the home building industry. Visit www.homesforscotland.com for further information or follow us on Twitter at twitter.com/H_F_S.
Scotland's home building sector (in 2019):
• delivered 22,673 homes
• supported sustainable communities and local services
• contributed £3.4bn to the Scottish economy
• supported c80,000 jobs (equivalent to 3.5 for each home built)
20 May 2022
The Great Tapestry of Scotland Gallery, Galashiels, Scottish Borders
Design: Page Park, architects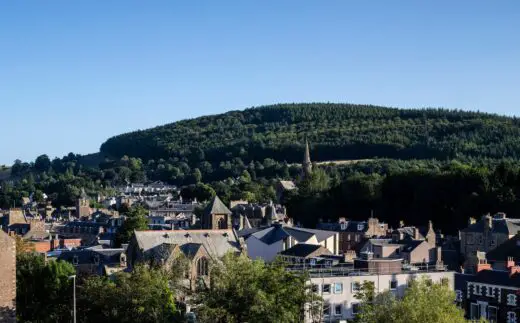 photo : Keith Hunter
The Great Tapestry of Scotland Visitor Centre Galashiels Building
The Great Tapestry of Scotland Gallery is in Galashiels at the heart of the Scottish Borders. The building was designed to house the Great Tapestry of Scotland; a unique visual history of the nation crafted by the hands of a thousand stitchers.
19 May 2022
Helenvale Street Housing
Helenvale Street Glasgow
anderson bell + christie were appointed by Parkhead Housing Association to develop proposals for a residential development on a currently derelict site in the Parkhead area of Glasgow. The scheme sits a stone's throw from Parkhead Cross and to the rear of Parkhead Library.
18 May 2022
Health and Wellbeing Centre, Edinburgh, south east Scotland
Design: PagePark Architects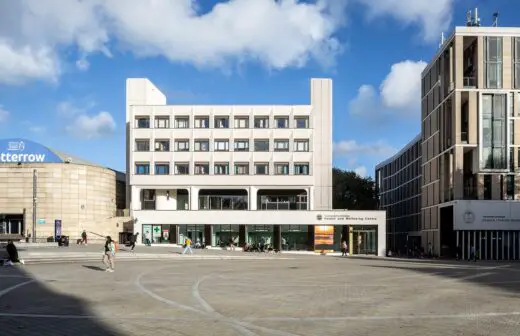 photo : Keith Hunter
University of Edinburgh Health and Wellbeing Centre
16 May 2022
Magnet – New Office Building in Glasgow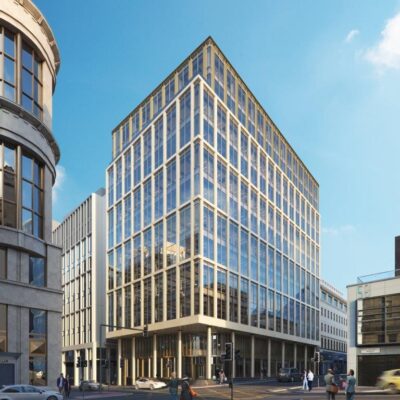 Magnet Glasgow Office Building
Mosaic Architecture + Design, one of Scotland's most experienced practices, has submitted a planning application on behalf of Garroch Investments to demolish Glasgow's Princes House and develop Magnet, a brand-new class-leading £75M Grade A office development with the highest environmental credentials.
16 May 2022
Homes For Scotland Announces New Chief Executive
Critical time as £3.4bn home building sector faces significant change and challenge. Sector body Homes for Scotland (HFS) has announced Jane Wood as its new Chief Executive with effect from Wednesday 1 June.
Read more here:
Edinburgh Building News 2022
12 May 2022
Share your views on Cumbernauld Town Centre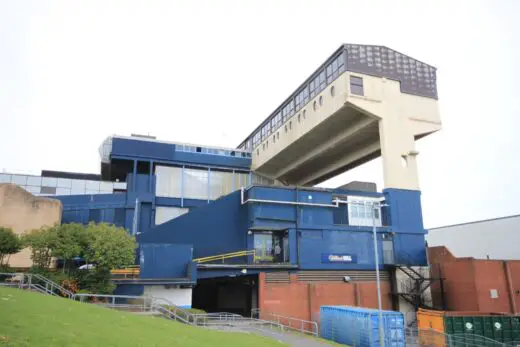 photo courtesy of HES
Cumbernauld Town Centre public consultation
Historic Environment Scotland (HES) is asking members of the public to share their views on Cumbernauld Town Centre, after the organisation was asked to consider designating the building as a listed building.
10 May 2022
The Den, Tighnabruaich, Argyll and Bute, West Scotland
Architects: Technique Architecture and Design with Paul Stallan and Stallan-Brand Architects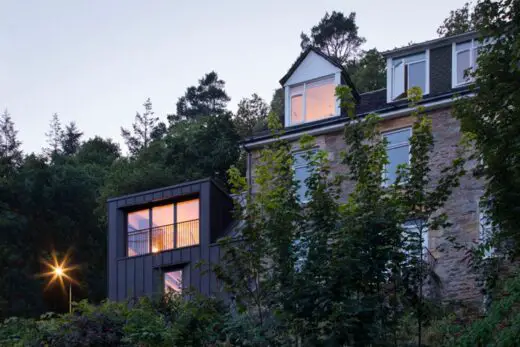 photo : Dapple Photography
The Den, Tighnabruaich
Jamie Ross, Founder of Technique Architecture and Design was the project architect, and the project was undertaken in collaboration with Paul Stallan and Stallan-Brand Architects. The main building was built in 1870s and housed 6 flats, with two further flats in the small adjoining cottage.
2 May 2022
HES sets out vision for heritage-led green recovery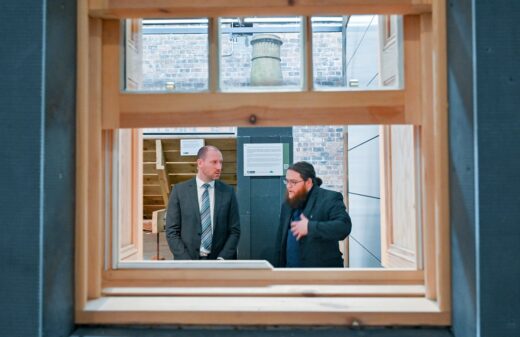 photo courtesy of HES
Historic Environment Scotland Green Recovery Statement
Historic Environment Scotland (HES) has set out its vision for how heritage can be the keystone of Scotland's green recovery with publication of its Green Recovery Statement for the historic environment on 26 April.
The Origami House
Architects: Loader Monteith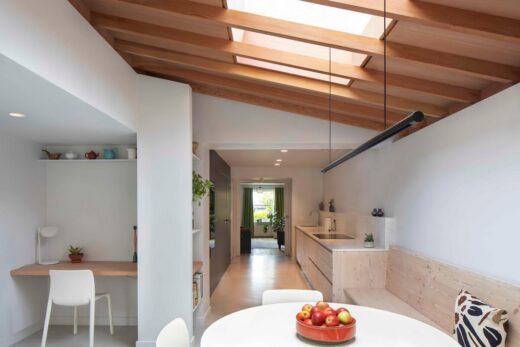 photo : dapple photography
The Origami House, Stirlingshire
27 Apr 2022
Built Environment – Smarter Transformation
Built Environment – Smarter Transformation, formerly Construction Scotland Innovation Centre, announces a new strategic focus prioritising the built environment's transition to zero carbon and improving the sector's contribution to the fight against climate change:
Built Environment – Smarter Transformation News
20 Apr 2022
Cumbernauld Town Centre Listing News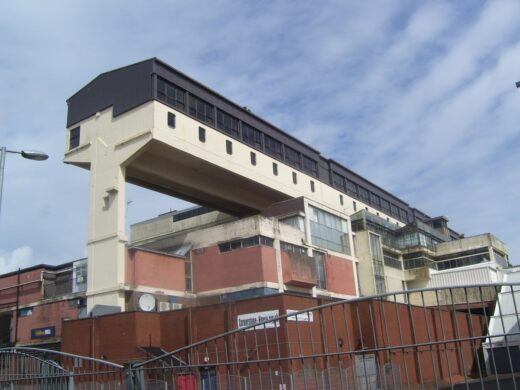 photo : Ross Watson / Cumbernauld Town Centre building, courtesy of wikimedia commons
Listing application submitted for imperilled Cumbernauld town centre, a Brutalist megastructure once voted Britain's most hated building, reports Building Design. An application has been submitted to give Cumbernauld town centre listed status amid plans for its demolition.
Cumbernauld Town Centre
12 Apr 2022
St Enoch Centre Glasgow Redevelopment News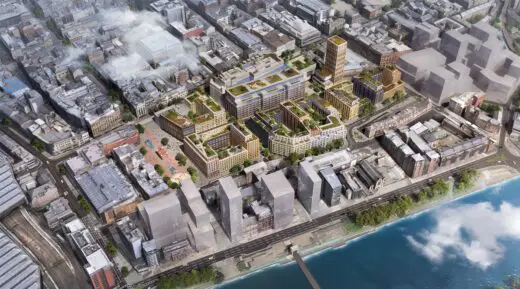 image courtesy of architects practice
Following the appointment by asset and development manager Sovereign Centros, urban renewal practice Leslie Jones Architecture (LJA) has submitted a planning application to transform the St. Enoch Centre in Glasgow into Scotland's foremost sustainable, mixed-use development with retail, leisure, entertainment, offices and hospitality:
St Enoch Centre Glasgow Redevelopment
6 Apr 2022
Kepdarroch Farmhouse
Design: Baillie Baillie
Kepdarroch Farmhouse Stirlingshire
Drawing reference from the scattered groups of barns, cottages and steadings found throughout the surrounding countryside, this new Scottish house is arranged as a cluster of forms.
5 Apr 2022
New Dumfries High School Building News
Dumfries and Galloway Council has appointed hub Southwest Scotland, the construction and infrastructure-focused partnership which works with local authorities and private sector enterprises in Lanarkshire, Ayrshire and Dumfries and Galloway, to develop the new Dumfries High School:
Dumfries Architecture
1 Apr 2022
Holmes Miller announce new Equity Director
Ryan Holmes' promotion to Equity Director follows a 20-year journey at the company, where he has championed new sustainability practices and the early adoption of digital technology.
As part of Holmes Miller Architects' growth strategy and continued expansion across the UK, the business today announces the promotion of Ryan Holmes to the position of Equity Director, based out of their Glasgow design studio:
Holmes Miller
29 Mar 2022
Burrell Museum Renewal News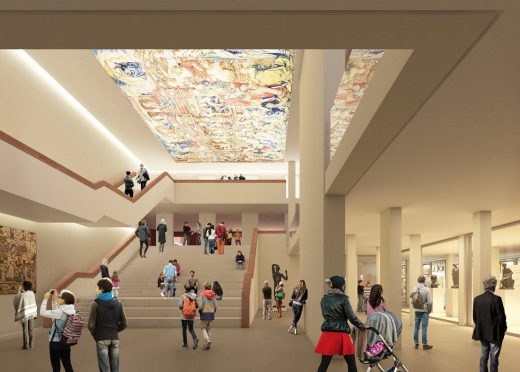 Glasgow's A-listed Burrell Museum is now open after refurbishment and redisplay, this award-winning building houses a unique collection in a beautiful woodland setting.
29 Mar 2022
Concern Over Drops In Affordable Housing Delivery As Scotland Faces 100,000 Homes Shortfall
Trade body Homes for Scotland (HFS) has expressed its concern at latest Scottish Government housing statistics which show marked drops in housing association completions and approvals.
HFS Director of Policy Fionna Kell said:
"Whilst overall levels of housing delivery are up on last year's figures, it is extremely concerning to see that housing association completions have dropped by 17 per cent (620 homes) and quite staggering that approvals have fallen by 54 per cent (3090 homes).
"Unfortunately, this chimes with what our members have been telling us. Highlighting the interconnectedness of the whole housing system, rising costs have hit those delivering homes to both the public and private sectors extremely hard. Grant funding levels must be reviewed, as a matter of urgency, to reflect these exceptional circumstances and arrest this decline otherwise we will see ever decreasing numbers of affordable homes coming through the pipeline."
Kell's comments follow a recent HFS report highlighting that Scotland's cumulative housing shortfall since the global financial crisis is now approaching 100,000 homes.
28 Mar 2022
Rosslyn Chapel Papers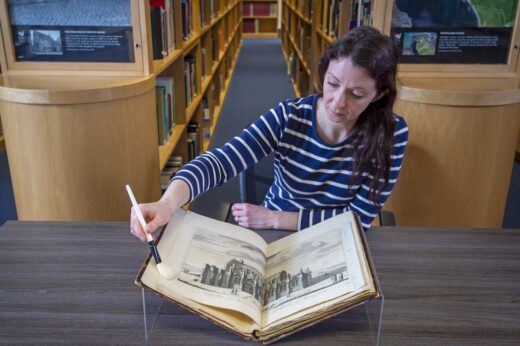 photograph © Neil Hanna
A newly acquired collection relating to Rosslyn Chapel helps to shed light on the remarkable architecture and restoration of one of Scotland's most outstanding buildings:
Rosslyn Chapel
23 Mar 2022
Homes For Scotland Announces 2022 Awards Shortlist
Home building body Homes for Scotland (HFS) has announced the shortlist for its 2022 awards programme as it plans for a return to the largest annual gathering of its kind where winners will be announced. With a focus on "going the extra mile" to deliver developments or practices which stand out from the crowd, those companies making the judges' first cut are.
Homes For Scotland 2022 Awards Shortlist
9 Mar 2022
RIAS Awards Winners in 2022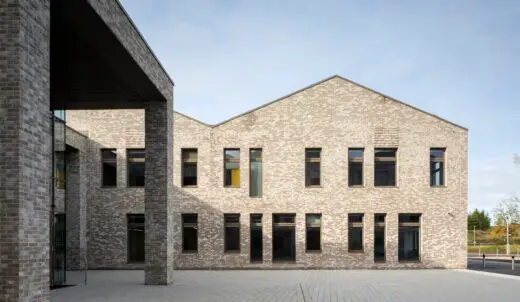 photo @ Keith Hunter
RIAS Awards 2022 Winners
The shortlisted buildings for the 2022 RIAS Awards are spread widely across the country and include new school and college buildings in Cumnock, Falkirk and Jedburgh, the restoration of an iconic Modernist house in Galashields, a community centre in Fife and pioneering low energy homes.
9 Mar 2022
The Angus Resort Given Go-ahead
New designs by 3DReid Architects, Edinburgh, approved for £100m golf resort, hotel and spa which will create hundreds of jobs for Angus and Dundee. Construction on a £100m world-class golf resort, hotel and spa in the Angus countryside will get underway this summer after councillors approved an updated masterplan for the once-in-a-generation luxury destination:
The Angus Resort
1 Feb 2022
Marking 25 years of the Scottish Design Awards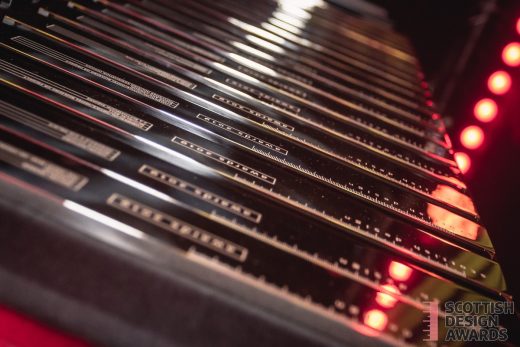 photograph : www.jwaphotography.com
Scottish Design Awards 2022
Organised by Urban Realm, in partnership with The Drum, the Scottish Design Awards have been showcasing boundary shaping work, industry best practice and sustainability in all forms for a quarter of a century. Now on the cusp of a new era, we will be celebrating a new generation of design professionals who've gone above and beyond in delivering their briefs.
25 Jan 2022
Glasgow School of Art fire inquiry unable to find cause
Fire investigators have failed to find a cause for the fire that destroyed Glasgow School of Art's world-renowned Mackintosh building in 2018, report the BBC today. The blaze broke out four years after an earlier fire had caused major damage to the building on Renfrew Street.
But following an investigation lasting more than three years, the final report concluded that the cause of the second blaze remained "undetermined". It said this was due to extensive damage and the destruction of evidence.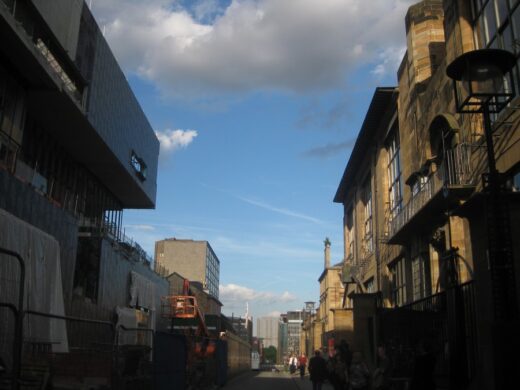 photo © Adrian Welch
The art school said it "shared the regret" that the exact cause of the fire had not been identified and would take time to consider the report and its recommendations.
The fire investigation, which lasted until 30 September 2021, involved the excavation and physical examination of hundreds of tonnes of fire-damaged debris. Witness testimonies, CCTV and photographic footage were also analysed.
The fire took hold as the Charles Rennie Mackintosh building neared the end of a £48m restoration, following the earlier blaze in 2014.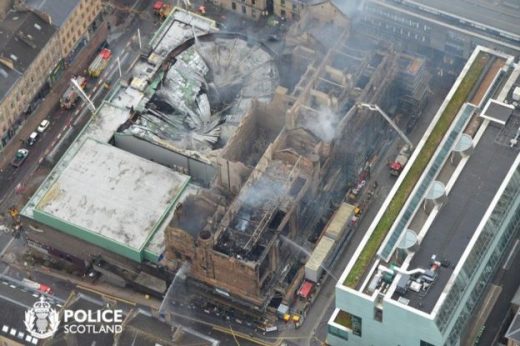 aerial photo courtesy of Police Scotland
However, investigators later learned that the first possible indication of fire in the area was one hour and 34 minutes before the first 999 call. A member of the public walking along Renfrew Street at about 21:45 smelled "burned material".
At its height, more than 120 firefighters worked to contain and extinguish the fire.
24 Jan 2022
ARC: Advanced Research Centre, University of Glasgow
The University of Glasgow welcomes the first researchers into its pioneering flagship research facility, the ARC (Advanced Research Centre). The £116 m, 16,000 sqm building will house a collaborative community of academics from across a range of disciplines and will be fully operational from Spring this year:
University of Glasgow ARC
15 Jan 2022
Milngavie Streetscape, Milngavie, East Dunbartonshire
Design: PagePark Architects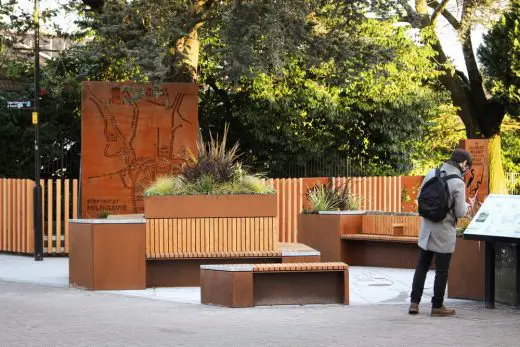 photography : ZAC and ZAC
Milngavie Streetscape
Located at a key town centre node, the central part of the project is a new gathering area, formed of seating, planters, and interpretative elements. Located at the start of the West Highland Way, the area is frequently busy with large groups of walkers and tourists, in addition to families visiting the adjacent play park.
More contemporary Scottish Architecture News for 2022 on e-architect soon
Scottish Architecture News Archive
Scottish Buildings News in 2021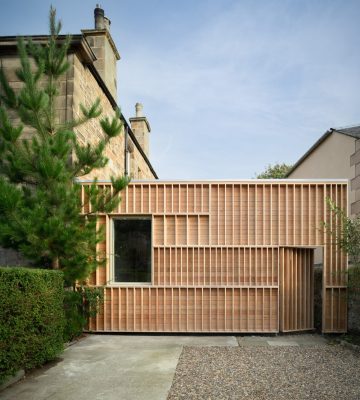 photo : ZAC and ZAC
Scottish Architecture News 2021
Scottish Buildings News in 2020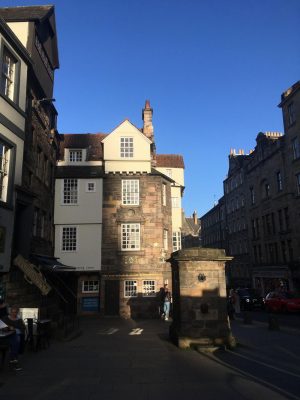 photograph © Daniel Lomholt-Welch
Scottish Architecture News 2020
Scottish Buildings News in 2nd Part of 2019
Scottish Building News 2019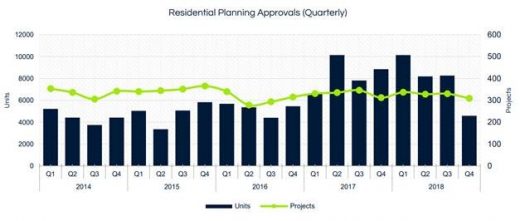 image courtesy of HfS
Scottish property news from earlier in 2019:
Scottish Architecture News 2019
More Scottish Architecture news online soon
Location: Scotland
Scotland Buildings Updates Archive
Scottish Architecture News 2018
Scottish Architecture News 2017
Scottish Architecture News 2011
Scottish Architecture News 2010
Glasgow Architecture News 2020
Scotland Architectural Resource Links
Royal Incorporation of Architects in Scotland News
RIAS/RIBA Awards 2019 Shortlist news
Best Building in Scotland Award
Architecture Design Scotland News
Buildings / photos for the Scottish Building News 2022 page welcome