Scottish Design Awards 2022 News, Scotland Buildings, Architects, Good Architecture Contest
Scottish Design Awards 2022 Finalists
10 May 2022
Finalists prepare for the Scottish Design Awards 2022
A hectic 48-hour judging programme has drawn to a close, a process which has delivered the final shortlist for the Scottish Design Awards 2022, from which all this year's winners will be named.
The bumper crop of finalists proves that architecture and design professionals are more than a match for anything that Mother Nature, societal change or geopolitics can throw at them.
With hundreds of entries to choose from, our twin panels faced the arduous task of singling out projects which stood head and shoulders above the rest, gravitating toward those schemes which address the energy crisis and lay the path for a more inclusive society.
Architecture chair Allan Murray, the founder of Allan Murray Design, said: "The Scottish Design Awards is a unique platform to showcase the work of Scottish designers. The past two years have been extraordinarily difficult for many people which is why it is so positive to see how design has remained at the heart of who we are.
"The quality of the submission designs is testimony to the continuing creativity and energy of Scotland's talent. Many submissions prompted important debates on key issues facing our professions – placemaking, energy, housing, social equality, access as well as ambition and vision.
"There is much to be positive about and celebrate and also much to be done to continue to generate debate and advocacy on the quality of environments we wish to see in the future."
When speaking about the entries in the Design categories Dave Roberts of Superunion said:
"An honour to chair the Scottish Design awards alongside a great team of people. The high standards of creativity and craft ran throughout all the categories with a strong sense of original thinking. Great to see excellence shining in areas such as experiential, moving image and animation. Some real benchmark projects."
All our winners will be revealed on the evening of 29 June following a gala awards presentation at the Radisson Blu Hotel, Glasgow. In the meantime, you can browse all the shortlisted work via the Scottish Design Awards website.
Background:
Scottish Design Awards are supported by Urban Realm, The DRUM, Cosentino, Vision Events Glasgow, Porcelanosa Scotland, Nordan and Rock Rose.
The architecture judging panel was chaired by Allan Murray, founder of Allan Murray Design; together with David Narro, Consultant at David Narro Associates; Kirsten Lees, Managing Director at Grimshaw; Dr Penny Lewis, Architectural Studies Programme Lead at University of Dundee; Thea McMillan, Design Director at Chambers McMillan Architects and Adrian Welch, founder of e-architect.com.
The design judging panel was chaired by Dave Roberts, Creative Partner at Superunion; together with Cat Leaver, Head of Brand & Content at VisitScotland; Danny Bickerton, Head of Design & Content at TBWA\Manchester; Claire Prentice, Head of Brand Scotland Marketing at Scottish Government, Leigh Dobson, Client Partner – Digital Services at Leith Agency and Steve Conchie, Creative Director at Brandon Consultants.
Previously on e-architect:
9 February 2022
Scottish Design Awards 2022 jury take their places
The judging panel for the 2022 Scottish Design Awards have been confirmed, a dozen strong line up of key movers and shakers drawn from the design and architecture sectors.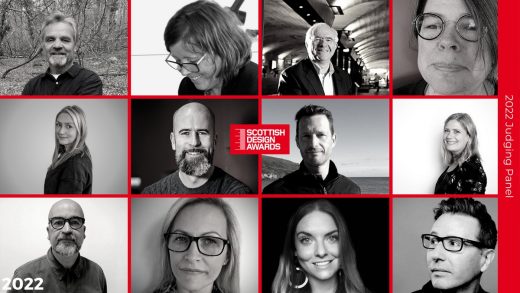 Scottish Design Awards 2022 Jury
The 12-member panel faces the arduous task of singling out the best of this year's entries from no fewer than 29 categories, split over two days of intense judging in the spring.
Stepping up to the plate from the design side this year are Steve Conchie, creative director at Brandon Consultant, who favours craft and 'big ideas' for tackling creative challenges. He is joined by Leigh Dobson, client partner for digital services at Leith Agency who brings over 20 years of experience to the table.
They are joined by Dave Roberts, creative partner at Superunion, who is best known for his contribution to repositioning Nespresso as a luxury brand. Roberts is joined by Danny Bickerton, head of design & content at TBWA/Manchester who returns to the SDA on a mission to seek out originality and ingenuity from this year's contenders.
Wrapping up our creative half dozen we have Claire Prentice, head of Brand Scotland marketing for the Scottish Government, who has spent the past seven years leading efforts to change behaviours from health to road safety and justice. Rounding out the design jury is Cat Leaver, head of brand and content at VisitScotland and a key player in Scotland's digital skills academy.
On the other side of the creative divide is Kirsten Lees, managing director of Grimshaw, a champion of diversity and equity in the workplace. Working alongside Lees will be Dr Penny Lewis, architectural studies programme lead for the University of Dundee with the University of Wuhan. Lewis also served as editor of Prospect from 2001 to 2007.
They will be aided by David Narro, founder of David Narro Associates, who brings a particular interest in 'architectural' engineering, conservation and remedial works to the table. Adding further architecture and urbanism experience to the team is Allan Murray, founding director of Allan Murray Design, who will bring a passion for positioning architects and designers on the vanguard of change to his approach.
Returning judge Adrian Welch, founder of e-architect, brings an international perspective with extensive experience working in the Middle East and Thea McMillan, design director at Chambers McMillan Architects, will bring a particular focus on designing around inclusivity.
Entries are already open for this year's event, with an early bird deadline set for 10 March.
Scottish Design Awards are supported by Urban Realm, The DRUM, Cosentino, Vision Events Glasgow, Porcelanosa Scotland and Rock Rose.
1 February 2022
Marking 25 years of the Scottish Design Awards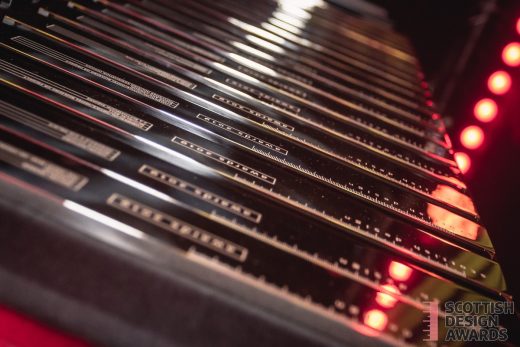 photograph : www.jwaphotography.com
Scottish Design Awards 2022 Open
1st of February 2022 – Organised by Urban Realm, in partnership with The Drum, the Scottish Design Awards have been showcasing boundary shaping work, industry best practice and sustainability in all forms for a quarter of a century. Now on the cusp of a new era, we will be celebrating a new generation of design professionals who've gone above and beyond in delivering their briefs.
Entries are now open to architects, engineers, graphic, interior and digital designers for inclusion in this year's award diet and we want to see what's been keeping you busy over the past year. Join us as we emerge from lockdown with new energy and a desire to give back to those who have given the most.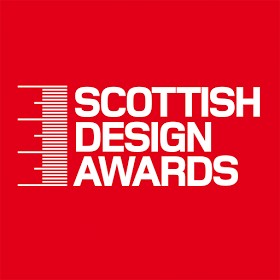 Urban Realm editor John Glenday said: "The old proverb that time flies when you're having fun couldn't be more true of my time overseeing the Scottish Design Awards, a period which has never failed to delight and surprise with a regular diet of class-leading architecture and design.
"The best design works not just within the given spatial and client constraints of the moment but remains relevant for future generations. It is only by taking a step back and observing today's success stories in the context of prior decades that presented work can be judged in terms of the greatest test of all, the passage of time.
"As we turn our attention to an unknowable future we can be certain only that today's best stand on the shoulders of giants."
All entries for each of the categories below must be received before 31 March 2022 via the Scottish Design Awards website.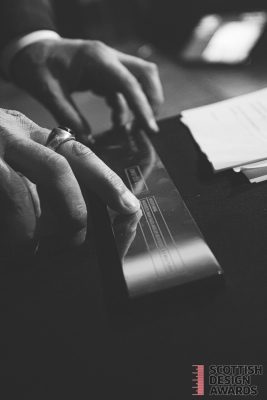 photo : www.jwaphotography.com
CATEGORIES JUDGED BY THE ARCHITECTURE PANEL
LIGHTING
• Lighting
INTERIORS
• Interior Design
ARCHITECTURE
• Regeneration
• Residential – Single home
• Residential – Multi unit
• Affordable Housing
• Health Building or Project
• Education Building or Project
• Commercial/Office/Hotel Building or Project
• Public Building
• Future Building or Project
• Retrofit
• Low Cost Project Schemes Under 200k
MASTER PLANNING/LANDSCAPING
• Public Realm/Landscaping
• Master Planning
TALENT
• Young Architect of the Year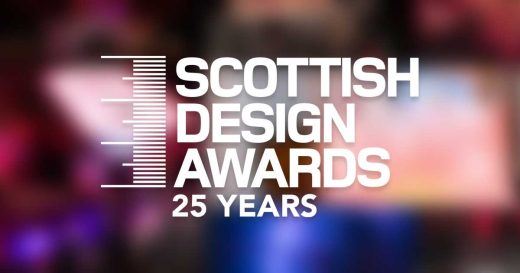 CATEGORIES JUDGED BY THE DESIGN PANEL
GRAPHIC
• Print design
• Brand Identity
• Poster
• Item of Self Promotion
• Packaging
DESIGN FOR GOOD
• Design for Good
EXPERIENTIAL DESIGN
• Experiential – Incorporating: audiovisual, graphic and object-based displays
DESIGN CRAFTS
• Craft – Incorporating: Photography, Typography, Illustration, Copywriting
DIGITAL MEDIA
• Website Design
• Mobile/App Design
• Visualisation
• Moving Imagery Design/Animation Design
TALENT
• Young Designer of the Year
2022 JURY will be announced on 10 February 2022.
Scottish Design Awards are supported by Cosentino, Vision Events Glasgow, Porcelanosa Scotland and Rock Rose.
Previously on e-architect:
Scottish Design Awards 2021
Scottish Design Award winners unlock success following a night of celebration
Scottish Design Awards 2021 Grand Prix: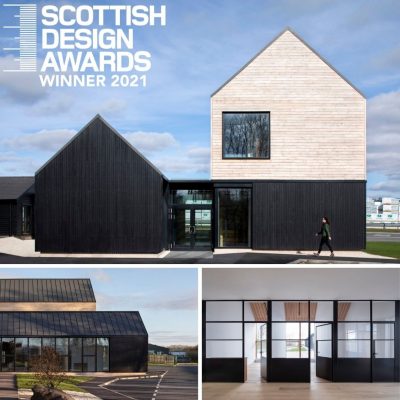 Lockerbie sawmill office & visitor meeting rooms: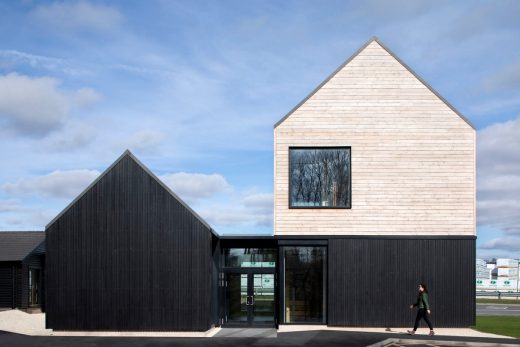 photograph : Dapple Photography
Scottish Design Awards 2021 Winners
Architecture Grand Prix
AWARD: Konishi Gaffney and Entuitive for Lockerbie sawmill office & visitor meeting rooms
Chair Award
AWARD: Brown & Brown Architects for Lower Tullochgrue
Lower Tullochgrue, Aviemore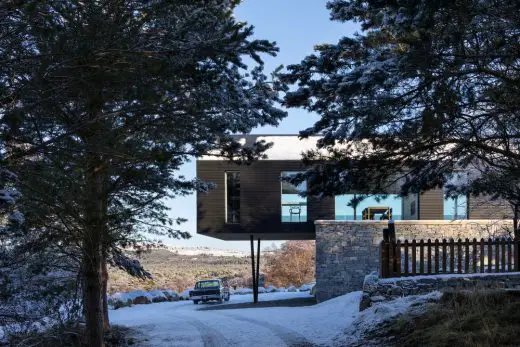 photograph © Gillian Hayes
Practice of the Year Award
AWARD: Moxon Architects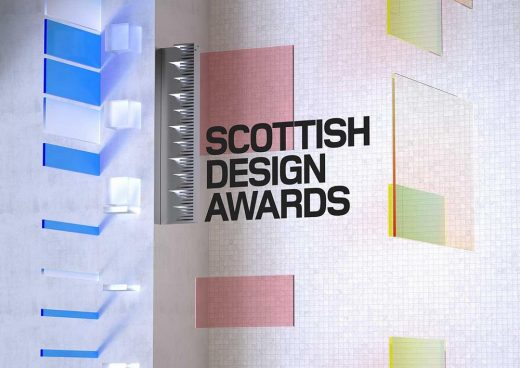 Scottish Design Awards 2021 Programme

Scottish Design Awards Archive
Scottish Design Awards
Scottish Design Awards Shortlist 2014
Location: Scotland
Architecture in Scotland
Contemporary Scottish Architecture
Scottish Architecture Designs – chronological list
Comments / photos for the Scottish Design Awards 2022 Finalists page welcome