Scottish Design Awards 2022 Winners News, Scotland Buildings, Architects, Good Architecture Contest
Scottish Design Awards 2022 Winners
2 July 2022
Scottish Design Awards Winners
The Scottish Design Awards have marked 25 years of celebrating creativity at its best from around the country at an anniversary dinner in Glasgow.
Marking a return to live events the gathering celebrated not only today's best examples of architecture and design but yesterday's greats, surfacing past winners from every year back to the formation of the awards in 1998.
Supported by media partners Urban Realm and The Drum this year's event saw Anderson Bell + Christie walk away with the Architecture Grand Prix for Fielden Street, praised by judges for its attention to detail. The Design Grand Prix meanwhile was awarded to BRC Imagination Arts for the Johnnie Walker Visitor Centre, heralded as a 'celebration moment' on a street which has long needed some good news.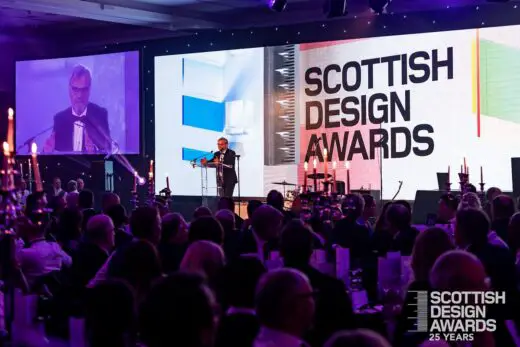 The chair's award for design was bestowed upon PimPam for BackSpin, a book celebrating a charitable art exhibition to raise funds for Drumchapel Table Tennis Club. Dave Roberts, director of Superunion London and chair of the design panel said: "There is something quite pure about it, in the world we live in today the idea of bringing people together around a sport is refreshing – ultimately it celebrates the power of creativity for good on a number of levels."
Across the design divide architecture chair Allan Murray, founding director of Allan Murray Design, opted for Ostro Passivhaus, an energy-efficient home designed by architect-clients Paper Igloo. He said: "It sends all the right messages about energy. It's full of light, beautiful spaces and energy which kick it into the clear blue water."
Urban Realm editor John Glenday remarked: "The tick of a clock can leave even the coolest among us perspiring on deadline day but ensures the steady flow of new people, fresh ideas and upstart practices to challenge the old order. Equally, the Scottish Design Awards are not just a snapshot of today's best but a continuum from yesterday's greats to tomorrow's stars, all of whom we must nurture."
With one eye to the future, this year's programme also recognised Sammi Duong as the young designer of the year for 'delivering a signature style in a corporate world of briefs'. Amy Knowles-Brown meanwhile was named young architect of the year for adhering to process, not just aesthetics.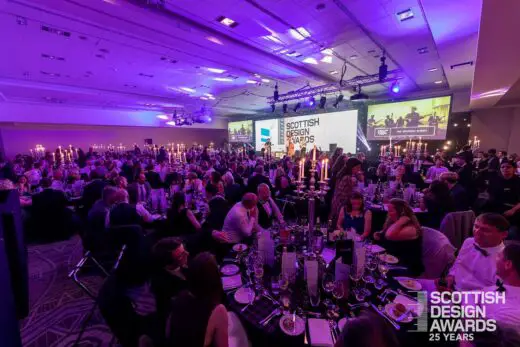 A full list of award winners is attached and available to view online at Scottish Design Awards 2022
Architecture Jury
Allan Murray, Founding director of Allan Murray Design (chair);
Adrian Welch, founder of e-architect;
David Narro, founder & consultant at David Narro Associates
Dr Penny Lewis, BA (Hons) Architectural Studies Programme Lead, University of Dundee with University of Wuhan
Thea McMillan, design director, Chambers McMillan Architects;
Kirsten Lees, managing director, Grimshaw.
Design Jury
Dave Roberts, creative partner, Superunion (chair);
Cat Leaver, head of brand & content at VisitScotland;
Claire Prentice, head of brand Scotland marketing, Scottish Government;
Danny Bickerton, head of design & content, TBWA/Manchester;
Leigh Dobson, client partner – digital services, Leith Agency;
Steve Conchie, creative director, Brandon Consultant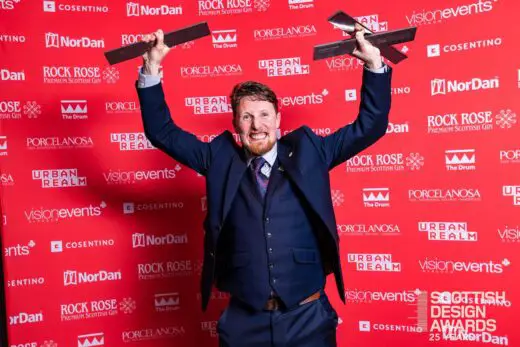 Scottish Design Awards 2022 Winners List
Architecture Grand Prix
AWARD: Anderson Bell + Christie for Fielden Street
Chair Award
for Fielden Street Affordable Housing, Glasgow: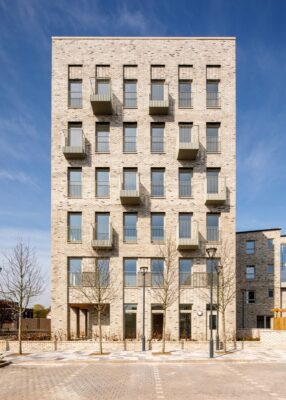 photo courtesy of architects office
AWARD: Paper Igloo Ltd. for Ostro Passivhaus
Practice of the Year Award
AWARD: Brown & Brown Architects
Interior Design
AWARD: Cabins in the City Limited for Cabins in the City Limited
COMMENDATION: Scarinish for Mamasan Liverpool
COMMENDATION: GRAS for treen
Regeneration
AWARD: Hypostyle Architects for Riverside Dalmarnock
COMMENDATION: Holmes Miller Architects, Morgan Sindall Construction, Optimised Environments (Open), Dundee City Council, Lee Simmons for Waterfront Place, Dundee
Residential
AWARD: Paper Igloo Ltd. for Ostro Passivhaus
COMMENDATION: Brown & Brown Architects for House for a Chemist
COMMENDATION: Kepdarroch Farmhouse
Affordable Housing
AWARD: Anderson Bell + Christie for Fielden Street
COMMENDATION: Anderson Bell + Christie for Helenvale Street
Health Building or Project
AWARD: Hoskins Architects for Greenock Health and Care Centre
COMMENDATION: Page\Park Architects for The Health and Wellbeing Centre
Education Building or Project
AWARD: Page\Park Architects for Campus Central, University of Stirling
COMMENDATION: jmarchitects for Calderwood Primary School
COMMENDATION: Stallan-Brand Architecture + Design Ltd for Jedburgh Grammar Campus
Commercial/Office/Hotel Building or Project
AWARD: Nicoll Russell Studios for New Headquarters for St Andrews Links Trust
Public Building
AWARD: Flanagan Lawrence Architects for Laidlaw Music Centre, University of St Andrews
AWARD: Reiach and Hall Architects for The Fruitmarket Gallery
Future Building or Project
COMMENDATION: 7N Architects for Re-Imagining Railway Stations
Retrofit
AWARD: Loader Monteith for High Sunderland
COMMENDATION: Cabins in the City Limited for Cabins in the City Limited
Low Cost Project Schemes Under 200k
AWARD: Arc Architects Ltd, David Narro Associates, ERZ Landscape Architects, Glasgow School of Art, Royal Botanic Gardens Edinburgh, Russwood, Timber Design Initiatives, Mae-ling Lokko for Future By Design
AWARD: S+Co for Corr Cabin
Public Realm/Landscaping
AWARD: rankinfraser landscape architecture, Blyth & Blyth, Foto-Ma, Four by Two for The Bowline
COMMENDATION: LUC for The Claypits, Glasgow's Inner City Nature Reserve
COMMENDATION: Historic Environment Scotland for Doune Castle – Ardoch Burn Crossing
Master Planning
AWARD: ARPL Architects for Midsteeple Quarter masterplan
Young Architect of the Year
AWARD: Amy Knowles-Brown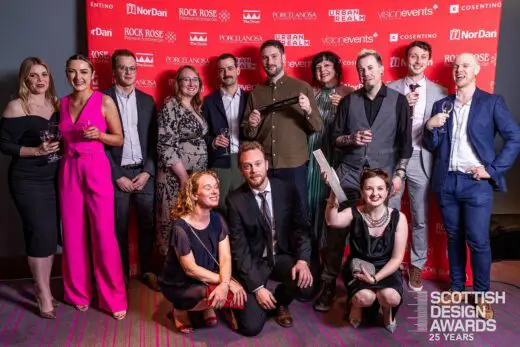 Scottish Design Awards unite past, present & future for 25th anniversary
Wednesday night was truly exceptional. Scotland's architects and graphic designers marked 25 years of creativity at an anniversary dinner where Anderson Bell Christie and BRC Imagination Arts took home the best in show awards for Fielden Street and the Johnnie Walker Visitor Centre respectively.
Design Grand Prix winners BRC Imagination said:
"It takes a village of talented and passionate people to take an experience like Johnnie Walker Princes Street from vision to reality. We feel incredibly proud and honored to be part of this historic project and team, cementing Johnnie Walker's legacy as a distinctly Scottish brand as they move into a bold future of new whisky experiences."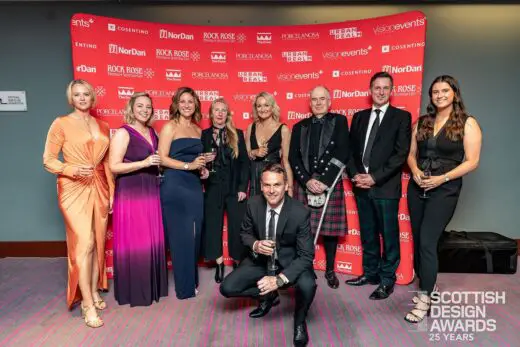 Picking up the Architecture Grand Prix in front of a sell-out audience of 400 creatives Anderson Bell + Christie said:
"We are absolutely thrilled to receive the Grand Prix award. With such a high calibre in this year's Scottish Design Awards, it really is a fantastic achievement. We would like to thank our client at West of Scotland Housing Association for their aspiration and vision. They have done fantastic work in the Camlachie area; this final phase will further enhance the quality of life for the community. A special mention must go to our Lead Architect, Alex Hobday, whose skill, dedication and determination made that vision a reality"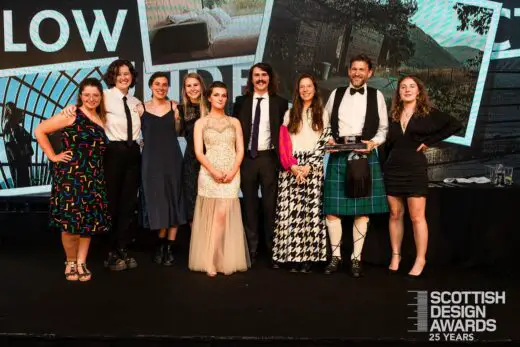 The chair's award for architecture meanwhile was presented by Allan Murray, founder of Allan Murray Design, who awarded Paper Igloo for the Ostro Passivhaus.
Last but not least the practice of the year accolade was received by Brown & Brown Architects who remarked: "Winning Architecture Practice of the Year means so much to our team. It's a humbling and slightly surreal experience, and as a small rural practice this recognition for our work means the world to us."
Against the backdrop of a hot house, the celebrations ran long into the night for a joyous celebration of Scotland's best design and architecture.
Previously on e-architect:
Scottish Design Awards 2022 Jury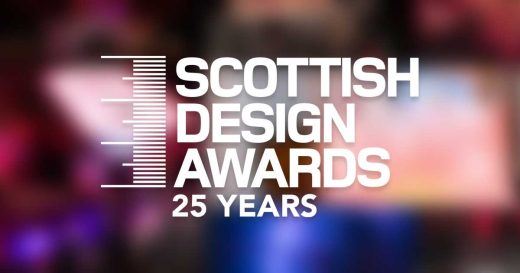 Scottish Design Awards 2021
Scottish Design Award winners unlock success following a night of celebration
Scottish Design Awards 2021 Winners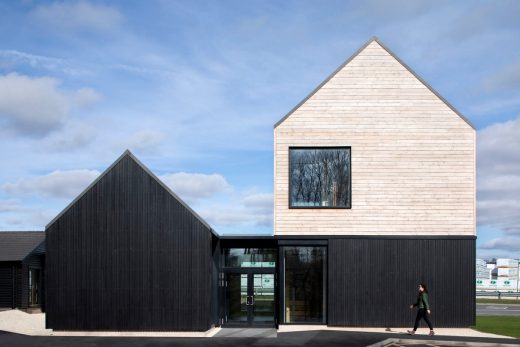 photograph : Dapple Photography
Lower Tullochgrue, Aviemore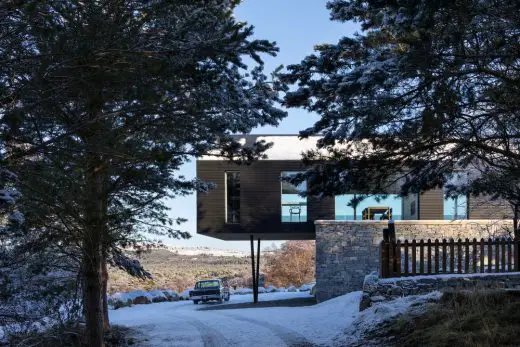 photograph © Gillian Hayes
Practice of the Year Award
Scottish Design Awards Archive
Scottish Design Awards
Scottish Design Awards 2021 Programme
Scottish Design Awards Shortlist 2014
Location: Scotland, UK
Architecture in Scotland
Contemporary Scottish Architecture
Scottish Architecture Designs – chronological list
Comments / photos for the Scottish Design Awards 2022 winners page welcome